New Age Islam News Bureau
9 March 2014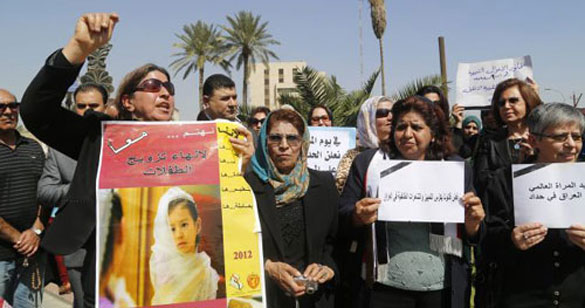 Protesters take part in a demonstration against the draft of the "Al-Jafaari" Personal Status Law in Baghdad, March 8, 2014. Photo by Reuters
--------------
• Made In Bangladesh: American Ad with Topless Model Causes Outrage
• Iraqi Women Protest against Proposed Islamic Law in Iraq
• Jakarta: Violence against Women on the Rise
• 91% Accused In Acid Violence Case Escape Punishment
• More Than 500,000 Child Brides Married In Turkey in the Last Decade
• Israel Disperses Rally of 300 Women in West Bank
• Thousands in Lebanon Shout Down Domestic Violence
• Equality for Women Is Progress for All: UN WHO Maldives Coordinator
• Syrian Women and the Uprising: Fighting On Multiple Fronts
• Voices against Women's Day Remain Rare In Tajikistan
• K-P's Laws to Protect Women Remain Inadequate
• Women Workers Still Face Inequality, Turkish Health Union Survey Says
• All Aboard! First Women-Only Bus in Pakistan
• Muslim State Schools Ordered Not To Discriminate On The Basis Of Gender
Compiled by New Age Islam News Bureau
URL: https://newageislam.com/islam-women-feminism/'don't-use-facebook-get-likes,/d/56053
------------
'Don't Use Facebook to Get Likes, But To Raise the Issues Children Are Facing': Malala
March 09, 2014
London -Malala Yousafzai has told teenagers to stop using social media to post pictures and get 'likes', and start using it to highlight women's issues.
Speaking at the Women of the World (WOW) festival at the Southbank Centre today, Malala said: "I don't use Facebook or Twitter or Instagram, it needs time, but it's my message to every teenager that this is a great way for you to raise the issues that children are facing, of child trafficking, or FGM.
"Don't use it just to post pictures and then comment on it and get likes or followers." The Pakistani schoolgirl, 16, was talking on International Women's Day, and said that British teenagers could use social medial to raise awareness about global issues and gender equality. She said: "Teenagers should use these resources in a good way as a source of highlighting the problems that women are facing. "I'm not against social media because you need some time to enjoy things, but if you use it in a good way, it can highlight issues that girls are facing in India and in Pakistan.
"It would be great for them because they know that someone is speaking out for them." Malala, who start campaigning for girls' right to an education in Pakistan when she was just 11, added that the young people should stop relying on their elders to solve issues. She said: "We shouldn't be marginalised; we shouldn't have that generation gap. We should try to understand each other. "I think the young generation is the future, and why not build it up now? Sometimes we'll leave it to the elders and think it's their job but we should say, no we want a future that's bright and we want to speak for our rights."
Malala also spoke about her disappointment in coming to the UK more than a year ago to recover after being shot by the Taliban, to find that the "modern" country still had a sizeable gender gap in its Parliament. She said: "I was quite surprised those here women are given rights. But when you go into depth, you hear that there are only 22 per cent or less [women] in Parliament and the CEOs of big companies are mainly men, you realise it's far better than other countries, but there's still so much that needs to be done." Malala, who is currently revising for her GCSEs exams, added that it is her "dream" to go into politics, but she would prefer to go back to her home country of Pakistan, to work in the Swat Valley.
http://www.nation.com.pk/snippets/09-Mar-2014/don-t-use-facebook-to-get-likes
-------------
Made In Bangladesh: American Ad with Topless Model Causes Outrage
March 09 2014
In a bid to send out a strong social message, an American company, American Apparel, has ended up being uncomfortably offensive instead. The ad features a topless South Asian woman with the phrase, "Made in Bangladesh" stamped across her chest. The phrase is meant to signify the woman, and not the jeans she is wearing, reported the Daily Mail. The message is intended as a nod to American Apparel's fair labour practices: the woman in the billboard, identified as Maks, is an American designer of Bangladeshi descent who works for AA.
The statement from American Apparel introducing its ad campaign reads as follows: "[Maks] is a merchandiser who has been with American Apparel since 2010. Born in Dhaka, the capitol of Bangladesh, Maks vividly remembers attending mosque as a child alongside her conservative Muslim parents. At age four, her family made a life changing move to Marina Del Rey, California. Although she suddenly found herself a world away from Dhaka, she continued following her parent's religious traditions and sustained her Islamic faith throughout her childhood. Upon entering high school, Maks began to feel the need to forge her own identity and ultimately distanced herself from Islamic traditions. A woman continuously in search of new creative outlets, Maks unreservedly embraced this photo shoot. She has found some elements of Southern California culture to be immediately appealing, but is striving to explore what lies beyond the city's superficial pleasures. She doesn't feel the need to identify herself as an American or a Bengali and is not content to fit her life into anyone else's conventional narrative. That's what makes her essential to the mosaic that is Los Angeles, and unequivocally, a distinct figure in the ever expanding American Apparel family. Maks was photographed in the High Waist Jean, a garment manufactured by 23 skilled American workers in Downtown Los Angeles, all of whom are paid a fair wage and have access to basic benefits such as healthcare." The ad has, however, attracted heavy flak with critics slamming it as a 'distasteful' way of using Maks' body to sell clothes. They argue AA exploited a Bangladeshi woman's body in an ad allegedly critiquing exploitation of garment workers in countries like Bangladesh. Company CEO Dov Charney has taken a strong and vocal stand against the dangerous conditions that prevail inside these factories. "In Bangladesh, the problem with these factories is that they're only given contracts on a seasonal or order-by-order basis," Charney told the LA Times. "There's so much pressure to perform, some of the working conditions are outrageous, almost unbelievable. It has completely stripped the human element from the brands … It's such a blind, desensitized way of making clothing." (Read more) And to be fair, the ad is part and parcel of the AA PR aesthetic which has long combined socially conscious messaging with risque images of the female form. And it isn't the first time Charney has been criticised for using real women's bodies, especially those of his own employees, to sell AA products. What makes the Maks image more controversial is the explicit connection to exploitation -- and the spectacle of a white male-run company using a woman of colour's body for commercial purposes. An article in the Daily Beast reads, "With dangerous conditions still affecting factory workers in Bangladesh, Charney deserves applause for his commitment to socially-responsible manufacturers. But, utilizing a topless, Bangladeshi model to promote the cause? That may not be the most tasteful route." Of course, any allegation of exploitation runs inevitably into the fact of Maks's agency. She is an adult who made the choice to bare her body and was not forced into posing for the ad. With all the attention on bare skin, few have taken note of the far more offensive cultural biases littered throughout the statement by the company which equates breaking from Islam with freedom and 'forging an identity'. By linking Maks' 'coming out' as a young woman to her breaking from her faith, American Apparel proves it is no less biased toward the very people it claims to champion.
http://www.firstpost.com/living/made-in-bangladesh-american-ad-with-topless-model-causes-outrage-1424643.html?utm_source=ref_article
------------
Iraqi women protest against proposed Islamic law in Iraq
March 09, 2014
About two dozen Iraqi women demonstrated on Saturday in Baghdad against a draft law approved by the Iraqi cabinet that would permit the marriage of nine-year-old girls and automatically give child custody to fathers.
The group's protest was on International Women's Day and a week after the cabinet voted for the legislation, based on Shi'ite Islamic jurisprudence, allowing clergy to preside over marriages, divorces and inheritances. The draft now goes to parliament.
"On this day of women, women of Iraq are in mourning," the protesters shouted.
"We believe that this is a crime against humanity," said Hanaa Eduar, a prominent Iraqi human rights activist. "It would deprive a girl of her right to live a normal childhood."
The UN's representative to Iraq, Nickolay Mladenov, also condemned the legislation. Mladenov wrote on Twitter the bill "risks constitutionally protected rights for women and international commitment ".
The legislation goes to the heart of the divisions in Iraq since the overthrow of Saddam Hussein in 2003, as Shi'ite Islamists have come to lead the government and look to impose their religious values on society at large.
It describes girls as reaching puberty at nine, making them fit for marriage, makes the father sole guardian of his children at two and condones a husband's right to insist on sexual intercourse with his wife whenever he wishes.
The legislation is referred to as the Ja'afari Law, named after the sixth Shi'ite imam Ja'afar al-Sadiq, who founded his own school of jurisprudence.
The draft was put forward by Justice Minister Hassan al-Shimari, a member of the Shi'ite Islamist Fadila party, and approved by the cabinet on February 25.
It must now be reviewed by parliament, but the draft could very well languish, with national elections scheduled for April 30, and vocal opposition among secularists.
Shi'ite religious parties first attempted to pass a version of the law in 2003 under U.S. occupation, angering secular Iraqis and promptng protests. Since then, amid Iraq's turmoil, the tug-of-war has continued between Iraq's secularists and Islamists.
Iraq's current personal status law enshrines women's rights regarding marriage, inheritance, and child custody, and has often been held up as the most progressive in the Middle East.
The proposed new law's defenders argue that the current personal status law violates sharia religious law.
"This is the core of the freedom. Based on the Iraqi constitution, each component of the Iraqi people has the right to regulate its personal status in line with the instructions of its religion and doctrine," said Hussein al-Mura'abi, a Shi'ite lawmaker and Fadila party leader.
http://english.ahram.org.eg/NewsContent/2/8/96188/World/Region/Iraqi-women-protest-against-proposed-Islamic-law-i.aspx
----------
Jakarta: Violence against women on the rise
Nurfika Osman, The Jakarta Post, Jakarta
March 09 2014
The National Commission on Violence against Women (Komnas Perempuan) called on the government to better protect women, arguing that gender-based violence had become all too prevalent.
Based on recent data from the commission, there were 279,760 cases of violence against women in the archipelago throughout 2013, up by 29.4 percent compared to 216,156 cases in the previous year.
There were 275,004 cases in the personal or domestic sphere such as in romantic or intimate relationships, an employer-domestic worker setting and within the family group.
In addition, the data showed that victims ranged in age from infants to the elderly.
Victims also spanned social groups including the disabled, migrant workers, transgender and student.
Ninety four percent of the data in 2013 was compiled from religious courts nationwide and the remaining 6 percent from 195 public services institutions like the National Police Women and Children's Protection Units (UPPA), civil organizations, hospitals and Community Service Center for the Protection of Women and Children (P2TP2A).
"We need a comprehensive policy that covers prevention, punishment and rehabilitation.
The prevention mechanism should be implemented by state and public institutions by adhering to human rights and ensuring the recruitment, promotion and supervision systems are not gender biased," commissioner Sri Nurherwati said in Jakarta on Friday.
Sri said that by having such a system violence could be reduced in the long term as it would create a more conducive environment for women to live and flourish.
Komnas Perempuan chairperson Yuniyanti Chuzaifah said that violations of women's rights should be included in the 2015-2019's RPJMN (the National Mid Term Development Plan) otherwise physical, sexual, psychological and economic abuse of women would continue.
"Protection of women is an urgent issue in our country, especially since women can suffer violence regardless of education, age and profession. We need a systemic protection mechanism because when a woman experiences abuse, it will reduce her productivity and in some cases like rape, the impact will stay forever," Yuniyanti said.
She said that there was a real land urgent need for a law on sexual violence to better resolve sexual abuse cases.
According to data from the commission, in the public or community sphere 56 percent of 4,679 cases were sexual abuse such as rape and molestation.
Moreover, the commission said there was a rising number of discriminative bylaws.
The commission recorded 342 discriminative bylaws up to the end of 2013, up from 154 in 2009, which controlled women's bodies, their profession and their legal certainty, among others.
The bylaws were implemented in 141 regencies and cities across 30 provinces.
Such bylaws actually contradict the UN convention on the elimination of discrimination against women (CEDAW), which the government adopted in 1984.
"This figure is just the tip of the iceberg because we have not collected data from every city and regency in Indonesia. Thus, we want the government to take women's issues seriously right now," she continued.
http://www.thejakartapost.com/news/2014/03/08/violence-against-women-rise.html
------------
91% accused in acid violence case escape punishment
March 09 2014
Most of the acid victims are denied justice as around 91% accused in acid violence cases manage to escape punishment for lack of stern laws as well as non-implementation of the existing laws.
Acid violence usually happens to women and the most common reasons for attack are dowry problem, conjugal problem, refusal of marriage, denial of sex and family feud.
Around 88% of the accused manage to escape arrest and remain untouched from law enforcers, according to statistic of acid crime monitoring cell of Ministry of Home Affairs.
The statistic also mentioned that a total of 1,891 cases has been filed accusing 4,926 people across the country for acid crime from the year of 2002 to 2014. Of them, 590 people arrested so far, which is only 12% of total accused.
Police has so far submitted charge sheet of 1,128 case while final report of 753 cases has been completed. Criminals got punishment in only 172 cases. A total of 293 people got punishment, of them, 13 sentenced to death, 108 jailed for life and 172 got jail in different terms.
According to Acid Survivors Foundation (ASF), a total of 3,512 people became victim of acid violence in 3,184 incidents since 1999 to 2014. Among them, 1,792 are female and 865 are male and 845 are children, said a press release issued by the ASF.
The organistation marking the International Women's Day, also formed a human chain in front of the National Press Club yesterday.
Addressing the rally, Executive Director of the ASF, Selina Ahmed said to ensure punishment against accused in acid cases, the government should set up special acid crimes tribunal.
Addressing the rally, speakers said implementation of Acid Crime Control Act 2002 was a must to stop acid violence across the country.
http://www.dhakatribune.com/law-amp-rights/2014/mar/08/91-accused-acid-violence-case-escape-punishment#sthash.YzhxsxEh.dpuf
------------
More than 500,000 child brides married in Turkey in the last decade
March 09 2014
More than 500,000 girls under the age of 17 were married in the past 11 years in Turkey, according to Family and Social Policies Ministry data, which does not include unofficial marriages.
In the past 11 years, 504,957 girls between the ages of 16 and 17 got married in Turkey according to the official marriage data.
Girls between 16 and 18 can get married with their parents' permission according to Turkish law. However, it is known that many underage girls are getting married with only a religious ceremony either if their age is younger than 16 or if official marriage is not common in the areas where they are living. The ministry said it would work against child marriages via schools, mosques, health centers and even by visiting people in their houses in places where the phenomenon is most common.
According to the ministry's data, the number of girls between the ages of 16 and 17 who married officially was 37,263 in 2002, 45,981 in 2003, 49,280 in 2004, 44,919 in 2005, 50,366 in 2006, 50,720 in 2007, 49,203 in 2008, 47,859 in 2009, 45,738 in 2010, 42,700 in 2011 and 40,428 in 2012.
The ministry also said it had given safety buttons to women who were victims of violence in two pilot cities. In Adana, 73 women received safety buttons with a court decision, along with 53 women in Bursa. The ministry also said in the first two months of 2014, more than 3,000 women and children had stayed at shelters in different cities of Turkey.
This number was 12,648 in 2013, according to the ministry's data.
http://www.hurriyetdailynews.com/more-than-500000-child-brides-married-in-turkey-in-the-last-decade.aspx?pageID=238&nID=63324&NewsCatID=341
------------
Israel disperses rally of 300 women in West Bank
World Bulletin / News Desk
March 09, 2014
Scores of Palestinian women on Saturday suffocated from teargas fired by Israeli army forces during a rally near the Qalandia checkpoint between Ramallah and Al-Quds (occupied East Jerusalem) in the West Bank.
More than 300 Palestinian women participated in the protest, which was organized by a Qalandia women's association on the occasion of the International Women's Day.
Israeli soldiers used teargas and rubber bullets to disperse the demonstration, which started outside the Qalandia refugee camp, according to an Anadolu Agency reporter.
Demonstrators carried banners critical of U.S. and Israeli policies and called for making Al-Quds as the capital of the future Palestinian state.
"We went to Qalandia checkpoint to show that East Jerusalem is part of Palestine and the capital of the Palestinian state," Magda al-Masri, a lawmaker from the Democratic Front for the Liberation of Palestine, told AA as she participated in the protest.
She added that the protest is also meant to send a message to U.S. President Barack Obama and Secretary of State John Kerry that Palestinians would not compromise on their rights.
US-brokered peace talks between Israel and Palestinians resumed in Washington last summer after a nearly three-year pause.
22 Palestinian women in Israeli jails
Twenty-two Palestinian women suffer tough human conditions in Israeli jails, the Gaza Strip's Ministry of Detainees and Ex-Detainees Affairs said Saturday.
In a statement marking the International Women's Day, the ministry said that Israel continues to violate the rights of Palestinian women.
It said that as many as 15,000 Palestinian women have been detained by Israel since 1967 and that the detainees experience "extremely bad" conditions.
"Israel practices the worst types of physical and psychological torture against female Palestinian detainees," the ministry said.
Meanwhile, the Ramallah-based Palestinian Prisoners' Club said that six Palestinian female prisoners in Israeli jails suffer different diseases.
Israel is currently detaining 5,200 Palestinians, including 80 with serious illnesses, according to the Ministry of Detainees in Gaza.
http://www.worldbulletin.net/headlines/130542/israel-disperses-rally-of-300-women-in-west-bank
-----------
Thousands in Lebanon shout down domestic violence
March 09, 2014
Protesters took to the streets of Beirut Saturday, on the occasion of International Women's Day, demanding better protection for women amid an uproar over husbands murdering their wives.
The march by some 4,000 women, men and children from the National Museum to the Palace of Justice, was led by mothers and other relatives of women they said had been the victims of domestic violence.
Many of them wept as they walked.
Calling for adoption of a bill that would criminalise abuse, they carried posters that read: "Break the silence," "We say no to abuse, do you?" and "Speak out, stop domestic violence."
Lebanon is viewed as one of the Middle East's most liberal countries, but no law protects women from abuse or violence by their fathers, husbands or brothers.
But one law does save rapists from punishment if they marry their victims.
Meanwhile, women who marry non-Lebanese men are barred from giving their nationality to their children, and husbands are allowed to confiscate their wives' passports and prevent her from travelling.
Women who do contact the police for help in domestic violence cases are often laughed at.
In mid-February, Christelle Abu Shakra died after ingesting insecticide. Her mother pressed charges against her daughter's husband.
Earlier the same month, rights groups said Manal Assi died after her husband beat her with a pressure cooker.
Last July, Rola Yaacub was found unconscious in her home in north Lebanon. She died later in hospital.
Her family has told journalists they are convinced her husband beat her to death, but the courts said there was insufficient evidence against him.
Zoya Rouhana, director of KAFA (Enough), a leading women's rights group in Lebanon, said "the fact victims' relatives are starting to talk about these crimes means that the consciousness that one must not be silent is growing."
"The media are also playing an increasingly important role, and as a whole, awareness is growing in Lebanon on issues concerning women's rights and the fight against domestic violence," she told AFP.
Protesters also chanted slogans criticising judges and forensic specialists whom they accused of falsifying reports on recent murders.
And rights activists accuse politicians of complicity with religious leaders, who have publicly opposed the passing of a law criminalising domestic violence in all forms including marital rape.
In 2011, Lebanon's highest Sunni Muslim authority described the bill as "heresy," saying it would lead to the demise "of the family as in the West."
http://english.ahram.org.eg/NewsContent/2/8/96186/World/Region/Thousands-in-Lebanon-shout-down-domestic-violence.aspx
------------
Equality for Women Is Progress for All: UN WHO Maldives Coordinator
March 09 2014
Dr Akjemal Magtymova is currently acting UN Resident Coordinator and the World Health Organization's Representative to the Republic of Maldives.
This year the United Nations in the Maldives is commemorating the 39th International Women's Day. The theme for the day is "Equality for women is progress for all". The Maldives has made remarkable achievements and addressed some critical issues in achieving gender equality.
Having endorsed a number of important international conventions and declarations, the country has made progressive efforts in positively translating these commitments into domestic legislations and policies.
The 2008 Constitution eliminated legal barriers that bar women from running for the highest public office as well as introduced affirmative measures to address inequalities for the first time. Furthermore, the Domestic Violence Act ratified in the year 2012 provided a much needed legal framework in protecting women from being subjected to forms of domestic violence and abuse.
Realizing gender equity is a road with milestones and there are difficult challenges ahead in achieving substantive results on gender equality and women empowerment. The Millennium Development Goal 3 (MDG3) can be seen as a compass in the road to "Gender Equality and Women's Empowerment": the Maldives has achieved one of the MDG3 targets of gapping gender disparity in primary and secondary enrolment while the remaining two targets on women's political and economic participation are yet to be achieved.
Statistics from 2006 Census indicate 59 percent of women participate in the country's labor force as opposed to 79 percent of men, despite the number of women enrolled in tertiary education being higher than that of men. In the Civil Service, only 25 percent of women earn more than MVR 15,000, although they represent more than half of the workforce meaning that the majority of women in civil service are working in lower ranks.
When it comes to their representation in key public positions, women are heavily under-represented in all three arms of the state. According to statistics from the Inter-Parliamentary Union (IPU), the Maldives remains at the 126th position in terms of female representation in the People's Majlis, with just 5 female parliamentarians in the 77 member legislature. Furthermore, only 59 women have been elected to office in the 2014 local council elections compared to 1,025 men. There are only nine female judges and magistrates in judiciary with no female representation on the Supreme Court bench.
These data show that the Maldives need to make significant efforts towards gender balance to translate the equality guaranteed in the Constitution and laws into equality of results.
Social norms and stereotypes that expect women to undertake the bulk of domestic work are often a barrier to greater female participation in public life. In order to enjoy equal access to employment women should have access to services such as childcare facilities. Domestic violence is also one of the factors that prevent women from assuming greater roles in the society and public.
Mere complacency in addressing these issues could reverse the gains that have been already made so far. Focus needs to be drawn on measures that are required to accelerate the achievement of substantive gender equality in the society. Sufficient budgetary and human resources need to be allocated by the state to strengthen institutions to effectively mainstream gender into legislation and policies.
Every woman and girl, regardless of her economic status or where she lives, has equal rights to shape her own future and the future of the country. Human history has shown that women can be, and have been, at the forefront of positive societal advancements.
There are many able Maldivian women who are examples and inspiration for many more. These women, not only play an effective role in the local communities and the Government, but also contribute significantly beyond the national boundaries by actively engaging in regional, international and global forums and foreign diplomacy. This is a positive example providing inspiration for individuals and their communities to help unfold the potential of women to inspire change and development.
To borrow the words of the UN Secretary-General Mr Ban Ki-moon, "the importance of achieving equality for women and girls is not simply because it is a matter of fairness and fundamental human rights, but because progress in so many other areas depends on it."
Wishing the Maldives further advancement in its development milestones and gender equity. The United Nations will remain a partner to support this progress through its collaborative programmes.
http://minivannews.com/society/comment-equality-for-women-is-progress-for-all-79237
------------
Syrian Women and the Uprising: Fighting on Multiple Fronts
March 09 2014
Syria Freedom republished this article that was published first on Syriauntold with the following comment: Before republishing this article that you can find below, we, the Revolutionary Left Current in Syria, reiterate that the emancipation and liberation of women is fully and completely part of the Syrian revolutionary process. The women have played an enormous role in the revolutionary process since the beginning and have been an essential actor in the struggle against the Assad regime and reactionary forces inside the revolution.
Regarding women's emancipation and liberation, we believe that there is an intersection between gender, class, and race ( understood not as a scientific concept because it is not, but as a social construct) oppression. This intersection must nevertheless not be understood as a simple addition or summing up of oppressions.
As a result of this very intersection, women cannot be considered as homogenous subjects. Their diversity in racial, class, ethnic and status terms and how this diversification and interaction of elements play a part in forming their subjectivity.
This is why we should not underevaluate the interconnections between gender discrimination, economic conditions and cultural and ideological oppressions, otherwise we have the risk of loosing sight of the complexity of the task of building a worker's movement of men and women. Disregarding these interconnections not only disservice women's liberation and emancipation, but is also a disservice to Marxism and to a political project that has the objective of a radical transformation of society.
The question of the relationship between capitalism and patriarchy must be studied altogether. Capitalism has maintained and instrumentalized patriarchal power relations and ideology in many ways.
The bourgeois Assad regime in its rule in the past 40 years is no different to these dynamics in maintaining patriarchy and enforcing neo liberal policies, while it has not in any way implemented policies to emancipate and liberate women from capitalist and patriarchal oppressions.
To recognize that in this context men, including working class men, have and continue to enjoy a relative benefit from gender oppression does not entail to considering men as an exploiter class, but aiming at understanding the complexity with which capitalism incorporate and employs pre capitalist power relations to establish hierarchies of exploited and oppressed, digging trenches and raising barriers.
Indeed, to build a worker's movement, we need to understand how gender, race and sectarian influence both the composition of the labour force and the processes of developing subjectivity. Moreover, it also means an end to the contest over primary oppression. The point is not whether classes comes before gender or the opposite, the point is rather how gender and class interline in capitalist production and power relations, which result in a complex reality.
We believe that no socialism is possible without feminism, and no feminism is possible without socialism.
The issue of women liberation and emancipation is completely part of the process and project of building a third force, which is based on the objective of the revolution democracy,social justice and refusal of sectarianism, that is independent from the Assad regime and the forces linked to it on one side and on the other side the islamist and reactionary groups. Both are sections of the counter revolutions.
Around the issue of the veil, our position is clear: Women only should decide by themselves and independently of its wearing or not. The veil imposed or withdrawn by force is a reactionary act which goes against any support for self-determination of women.
This is why we oppose similarly 1) the islamophobic policies implemented in Europe targeting Muslims but more especially Muslim women who are the target of racist policies from States,notably the law of 2004 in France forbidding the headscarves in schools and increasing violence from fascist and right wings political parties and groups, 2) the mandatory imposition of the headscarves in Saudi Arabia and the Islamic Republic of Iran, in addition to other reactionary laws targeting women.
This is the original article:
In Syria, women were at the core of the peaceful protests from the beginning of the uprising, in March 2011. From renowned opposition figures like Suheir Atassi and activists Marwa al-Ghamian and Razan Zaitouneh, to artists such as Fadwa Suleiman, May Scaf, Kefah Deeb, and Rima Fleihan, women have been instrumental to the civil disobedience movement since its earlier stages. The message was clear: men and women, hand in hand against tyranny.
In addition to the general struggle for human rights and social justice, the Syrian uprising was the framework for the questioning of a patriarchal society in which religion has been used to keep women under control.
Despite the shared goals of protesters, conflicting views between the secular and religious approaches emerged very early into the uprising. While some opposition activists wanted to break all taboos and question the patriarchal system as a whole, others focused on the regime while remaining committed to more traditional and conservative values. Syrian activist Noura shows her support to the Uprising of Women in the Arab World. Source: the Uprising´s facebook page
Syrian activist Noura shows her support to the Uprising of Women in the Arab World. Source: the Uprising´s facebook page
As part of the struggle for equality, many Syrian women joined the Uprising of Women in the Arab World, a free secular space for dialogue about women's rights in the Arab world that welcomes women from all religions and backgrounds: Arabs, Berbers, Nubians, Kurds, Assyrians, Arameans, Syriacs, Armenians, Turks, Turkmen, Circassian… Syrian women joined the initiative under a powerful motto: "To overthrow the repressive regime on the one hand, the oppressive religious and social power structures on the other".
Among the many comments on the Uprising's site, we found Batoul's wish: "To become the President of Syria, this is why I support the Uprising of Arab Women," and Lamar's powerful insight: "I do not make a distinction between the Syrian revolution and women's revolution, to me they are the same." Syrian activist Dana Bakdounis exercises her right not to wear a hijab. Source: The Uprising of Women in the Arab World´s facebook page.
Syrian activist Dana Bakdounis exercises her right not to wear a hijab. Source: The Uprising of Women in the Arab World´s facebook page.
Some of the comments point at the issue of traditional clothing and the Islamic veil / headscarf. "I support the uprising of women and do not want intellectuals to look at my hijab as a symbol of backwardness," an activist wrote. "I stand with women's rights and everyone's right to choose. My personal choice is to wear the Islamic veil, and I do not want to be judged for it."
Other activists made an association between clothing and restrictions on women's freedom. "For 20 years, I was deprived of feeling the air touch my body and my hair," a young woman wrote, next to a photo of herself without a headscarf, holding her passport, in which she was wearing the hijab.
According to some, the time for this kind of discussions has yet to come, a recurrent argument in the history of revolutions against oppression in the region (From Algeria to Iran, women actively participated in the struggles against oppressive rulers, only to find themselves pushed into the background as soon as those were overthrown).
"Now is the time to talk about women's rights," an activist assured. The Syrian regime is the product of a society that nurtured it. We do not only want to get rid of the regime, but also of its nurturer."
With the evolution of the popular uprising into a militarized conflict in which several external forces have intervened, women's rights, and human rights as a whole, have clashed with newly found enemies. Extremist groups such as the Islamic State of Iraq and Syria (ISIS) pose increasing threats to the diversity and co-existence characteristic of the Syrian context, including restrictions on women's movements and self-expression. From Raqqa teacher Souad Nofal to renowned activist Razan Zaitouneh, of Syria´s Violations Documentation Center, many have stood against these groups which are trying to impose their own extremist agendas on Syrians, paying a heavy price for it. Raqqa activist Suad Nofal with her one-woman demonstration´s banners. Used with permission.
Raqqa activist Suad Nofal with her one-woman demonstration´s banners. Used with permission.
"We did not take to the streets against Assad to be scared of these ones now!" was the motto repeated by many during popular demonstrations against the impositions of Al-Qaeda groups in the country.
In the words of Razan Ghazzaoui, while male activists are able to enter liberated or disputed areas, women face all kind of restrictions. "Opposition checkpoints´s main task was to ask unveiled Syrian women what they are doing here, in their own country. 'Are you really a journalist?' they would ask. And the person sitting next to them would have to vouch for them in order to pass the checkpoint."
"All the revolutionary women who are going into Syria to see how they can help are having to take extra precautions and security measures to protect themselves from all kinds of dangers," she denounced. "And this is all because they don't have a penis. That's it. And when it comes to those male, secular or otherwise, activists who enter and leave the country as they will, none of them has raised a finger or condemned these obstacles that are being put in the face of their, supposedly, partners in the revolution."
Representation of women within the political opposition leaves much to be desired as well. With a large majority of men doing the decision-making, the few women involved in the process are but pure decoration within a male-dominated scenario. In the words of Khawla Dunia, "women are like spices for men in the political opposition. They use us to add some flavor, but we do not affect the main ingredients. I refuse to take part in this cooking, as long as I am not considered an active participant."
http://internationalviewpoint.org/spip.php?article3301
------------
Voices Against Women's Day Remain Rare in Tajikistan
March 09 2014
As Tajikistan celebrates the International Women's Day (re-branded as Mother's Day in the country in 2009), social media help amplify the rare voices that speak against the holiday. Writing on his personal website, prominent religious leader and politician Hoji Akbar Turajonzoda urges [tj] Tajiks not to celebrate on March 8:
Celebrating Mother's Day or Women's Day is inadmissible. This is not our religious or national holiday. We inherited this holiday from the Soviet period.
Similar messages have appeared on social media sites, particularly on Odnoklassniki and Facebook. For example, Said Boboev argues [tj] in TAJIKISTAN Online, a Facebook group that has over 13,000 members, that marking the Mother's Day is against the Islamic tradition.
Such claims remain unpopular in Tajikistan where 90 percent of men and 87 percent of women celebrate the holiday on March 8, according to a recent survey [ru]. Following a Soviet tradition, the country's leader has congratulated [tj] the women of Tajikistan in a televised address. Reacting to Turajonzoda's comments about the holiday, one Tajik netizen tweeted [ru]:
http://globalvoicesonline.org/2014/03/08/voices-against-womens-day-remain-rare-in-tajikistan/
------------
K-P's laws to protect women remain inadequate
March 09 2014
PESHAWAR: Compared with the rest of the provinces, Khyber-Pakhtunkhwa (K-P) is far behind in the implementation and promulgation of specific laws that address challenges confronted by women.
This was stated by speakers at a dialogue with parliamentarians, organised by the Provincial Commission on the Status of Women (PCSW), titled 'Enactment of laws for the protection of women rights' on Friday to mark International Women's Day.
PCSW Chairperson Neelum Toru, K-P Assembly Speaker Asad Qaiser, Deputy Speaker Imtiaz Shahid Qureshi, Special Assistant to the Chief Minister on Social Welfare Meher Taj Roghani and MPAs from both the treasury and opposition benches, among others, were present on the occasion.
Highlighting the role of the commission towards women empowerment, Toru said they were making efforts with the help of other NGOs to ensure protection of women's rights. "The commission is engaged in removing loopholes in laws related to women, overcoming gender discrimination at all levels, rights advocacy, monitoring violence against women and bringing up legislation at the provincial level," she said. They are researching to create more awareness among rural and urban women regarding registration of nikkahs, she added.
Toru said they were also helping displaced women from conflict-hit areas, adding the fear of a fresh influx of refugees can have serious repercussions on the overall status of the displaced population, especially women and children.
"A women empowerment policy is being vetted and is in its final stages in the province," she revealed. However, Toru lamented that K-P is far behind in enacting laws that holistically deal with challenges confronted by women of the conflict-hit region and hoped the government will speed up the legislation process.
"No women are heading public accounts committees of the provincial assembly, which ultimately leaves no space for women legislators to have a say in policy making," she added.
Going through the pending legislative agenda for women, Aurat Foundation Program Officer Saima Munir said the Hindu and Muslim family laws need to be brought at par with modern times and suggested substantial amendments in the Women Protection Act by getting rid of vani, swara and forced marriages by declaring them a crime and bringing about stringent penalties in the shape of heavy fines.
Munir further said the government needs to come up with legislation declaring forced marriages decided by jirgas as illegal. She expressed displeasure over the lack of laws against sexual violence at the domestic level, adding home-based workers in K-P who have a substantial role in the economic uplift of the province have no laws for their protection and relief.
"Punjab, Sindh and Balochistan have passed domestic violence bills which provide relief to home-based workers to a great extent," she said.
Munir further said the Islamabad Capital Territory has the Right to Free and Compulsory Education Act, 2012, saying the same should be replicated across the country. Likewise, she said K-P lacks laws that penalise parents for refusing vaccination for their children.
Roghani, in her speech, highlighted efforts by the Pakistan Tehreek-e-Insaf (PTI) to protect women. This drew criticism from PTI's coalition partner Jamaat-e-Islami whose lawmaker Muhammad Ali said the special assistant should have mentioned all the government parties instead of just PTI.
She said people should follow Islamic teachings. "Females also need to bring a change in their mindset to better change their lives," suggested Roghani.
http://tribune.com.pk/story/680161/not-a-priority-k-ps-laws-to-protect-women-remain-inadequate/
------------
Women Workers Still Face Inequality, Turkish Health Union Survey Says
March 09 2014
A significant majority of women health workers, 70.6 percent, believe that housework and childcare cause them miss out on career and educational opportunities, according to a survey conducted by the Turkish health union Sağlık-Sen.
More than 79 percent of respondents said they believe there is gender inequality in Turkey that has caused poverty and disadvantages among women, in the survey conducted among female health workers. Around 69.2 percent said their household responsibilities negatively affected their working life.
The rate who said they felt tired psychologically and physically due to their working life and duties at home was 85.8 percent. Those who said they did not spend enough time with their family due to their work amounted to 78.8 percent, while 85.2 percent said they could not spend enough time on themselves.
A total of 90 percent of women health workers said their husband encouraged them to work, but those who said their husband helped with housework and childcare was only 50.8 percent. k HDN
http://www.hurriyetdailynews.com/women-workers-still-face-inequality-survey-says.aspx?pageID=238&nID=63325&NewsCatID=347
------------
All Aboard! First Women-Only Bus in Pakistan
March 09 2014
RAWALPINDI: At 7:15 am on a dusty street corner in Rawalpindi, among the dozen rickety minibuses jostling for passengers, a brand-new, bright pink vehicle stands out.
Emblazoned with the words "Ladies Transport", this is the country's first commuter bus solely for women, aimed at those sick of wandering hands and unwanted attention on regular services.
Some see it as a welcome respite, but detractors warn it is reinforcing gender segregation in a highly patriarchal and often misogynistic country.
Sat on one of the minibus's four banquette seats, Azra Kamal, who works at an electronics shop, welcomes the new project, named "Tabeer" – "fulfilment of a dream" in Urdu.
Her face half-hidden behind a black veil, she tells of obscene comments and other inappropriate gestures she suffered on mixed transport.
"I have a long journey to work and when I get there it's often only me left on board. Sometimes the driver will take advantage to give me his phone number and ask for mine," she said during the 20-odd kilometre ride to her destination in Islamabad.
Others on board described being touched by drivers, conductors and male passengers.
To add to this harassment, the tiny minibuses that ply the roads of the federal capital and its twin city Rawalpindi often have only a few seats, sometimes with only one out of a dozen reserved for women.
"I used to work in a hospital. Often there would be no space on the bus and I would get told off for being late," said Sana.
Today the 21-year-old proudly wears a pink tunic, the uniform of her job as conductor on the women's bus, as she collects the 30-rupee fare.
But the new service has not impressed everyone in a country where the forces of conservatism are seen to be growing in strength.
In a blog post for The Express Tribune, journalist Erum Shaikh called the project a "complete sham".
"The mere fact that the authorities thought it appropriate to introduce something like this should actually offend women and yet we sit there smile, look pretty and let the big, tough, muscular men build walls around us to 'protect' us," she wrote.
On board the bus, bank worker Misbah agrees.
"I really appreciate the service but we must tackle the root of the problem and make people take harassment seriously," she said.
But the man behind the project, Ali Naqi Hamdani, says it is empowering women in a society where many are not permitted to leave the house without male accompaniment.
"The women here are willing to go out to work, they're willing to go out for education purposes but they don't have such a conducive situation where they can feel secure in public transport," he said.
"So it was very important that you provide them an environment where they step out of their homes, they feel secure before they reach their universities or their offices so they are encouraged to come out."
The Tabeer project has been running for three weeks, with 12 vehicles in the capital, and is hoping to expand to other cities if there is enough demand.
Sana is already dreaming of moving on to drive the bus – for a shortage of female drivers means that currently the women-only bus has a man behind the wheel.
http://tribune.com.pk/story/680424/all-aboard-first-women-only-bus-in-the-country/
------------
Muslim state schools ordered not to discriminate on the basis of gender
March 09 2014
Following concerns raised by the National Secular Society three Muslim state schools have been told not to discriminate against job applicants on the basis of gender.
In January, the NSS submitted evidence to the Department for Education (DfE) of a number of adverts placed by the Leicester based Madani Schools Federation which prohibited women from applying from teaching and non-teaching jobs at an Islamic boys' school. Adverts included one requesting a "male science teacher" and another for a 'Male ICT Technician'. Additional adverts were placed for the Madani Girls' School requiring 'female only' teachers.
After investigating the complaints, the DfE said there "did not appear to be any justification as to why these post holders would need to be of a particular sex."
The DfE asked Leicester City Council to investigate the matter. After doing so the Local Authority advised the DfE that the schools would ensure these advertisements were withdrawn.
A spokeswoman for the City Council confirmed the advert did not comply with the act, saying: "Exceptions to the 2010 Equalities Act do not apply in this instance.''
However, the executive head teacher at Madani Schools Federation, Saqub Sheikh, refused to accept the adverts were unlawful and released a statement stating the school does not discriminate against anyone and acts "within the Equality Act 2010."
Capita Education Resourcing, which placed the adverts on behalf Madini Schools Federation issued a statement saying: "Based upon the information provided by the client, we believed we acted in accordance with the Equality Act 2010."
Another Muslim state school, Feversham College in Bradford, has been asked to provide evidence of their recruitment policy after the British Humanist Association discovered it also required every member of staff to be female.
The DfE has rejected calls from the National Secular Society for explicit guidance to be issued to schools to make clear that such discrimination must not be accommodated within the state education system.
A spokesperson for the DfE said: "We already provide non statutory advice to schools on the Equality Act 2010, which contains a link the Equality and Human Rights Commission's Statutory Code of Practice on Employment, which we expect schools to follow."
Stephen Evans, campaigns manager for the National Secular Society said: "We are grateful for the clarification from the Department for Education that such discrimination is wrong both in principle and in law – but it is concerning that faith schools appear to be acting unlawfully and with impunity until these matters are exposed by organisations such as ourselves."
http://www.secularism.org.uk/news/2014/03/muslim-state-schools-ordered-not-to-discriminate-on-the-basis-of-gender
------------
URL: https://newageislam.com/islam-women-feminism/'don't-use-facebook-get-likes,/d/56053