New Age Islam News Bureau
26 Dec 2013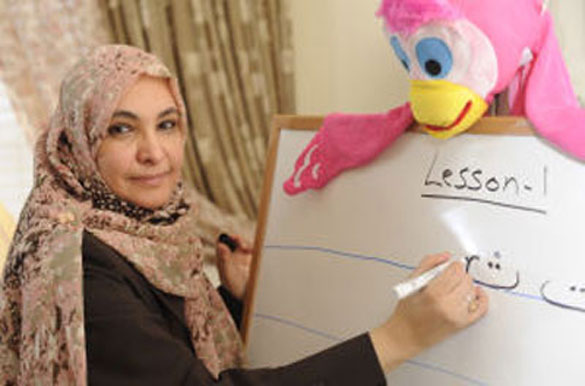 Hanadi Rashad poses with "Koko", one of her puppet video assistants, at the set area of her home in Winston-Salem, N.C. Rashad has developed a series of videos and a self-published book to help teach young children Arabic so they can better understand the Quran.
---------------
• Saudi Religious Scholar Warns Women against Working for Telemarketing Firms
• Gender Concerns Workshop on Enrolling Libyan Women in Politics
• International Women in Libya Meet and Share Cultures
• Woman Publishes Book to Help Muslim Children in the U.S. Learn Arabic
• Mothers of Terror Victims Go On Offensive against Impending Palestinian Prisoner Release
• Iran Charity Organization Provides Support to Somali Women
• JCCI Board Needs Women to Promote Business
• Over 31,000 Ethiopian Maids Ran Away Of Their Jobs in Saudi Arabia
• Women and Reporters Remain Under Threat in Afghanistan, Pakistan
• Bihari Woman Shines at Mrs. India Contest, Wins Mrs. India Queen First Runner-Up
• Holocaust Survivors Reunite With the Woman Who Cared For Them after the War
• PAF Chief for Women's Role in Grooming Next Generation
Compiled by New Age Islam News Bureau
URL: https://www.newageislam.com/islam,-women-and-feminism/new-age-islam-news-bureau/'domestic-abuse-in-saudi-arabia-threatens-society's-fabric'/d/35017
--------------
'Domestic Abuse in Saudi Arabia Threatens Society's Fabric'
Dec 26, 2013
Several experts here say that children, women, the elderly and maids are the most likely victims of physical, verbal, psychological and sexual abuse in the country.
Quoting various studies, they said domestic violence is a behavioural disorder where abusers want to exert power over weaker members of society. This results in families breaking up, and destroying feelings of trust and security among family members. The entire community is threatened when divorces take place, they say.
Sultan Al-Thoban, a psychology expert and member of the domestic violence committee at Asir Central Hospital, said abuse is caused by several factors. "The reasons for domestic violence are related to ignorance, unemployment and drug addiction. Most cases registered in Asir involve violence against weaker family members such as women and children."
He said this abuse takes various forms including incest, denying women their inheritance, or preventing them from visiting their families. "People who abuse women are sadists because torturing others gives them pleasure," he said.
A recent study on domestic violence prepared by Taufiq Al-Sweilim, president of the Charitable Organization for the Welfare of Saudi Families Abroad (Awasser), recommended that preventive measures should include anger management therapy, and for husbands and wives to respect each other's rights.
The study said that domestic violence should be solved through dialogue, understanding and self-discipline. It also found that domestic violence was linked to drug abuse, and economic, psychological, social, cultural and religious factors.
It said that those most likely to be abused are women, children, the disabled and the elderly because they cannot defend themselves. The study suggested there was a rise in domestic violence, which might be linked to people having access to new cultures through various media outlets.
The study found that most abused children have poor mental skills and are antisocial. Some also used drugs and alcohol at an early age. Children subjected to sexual abuse have low self-esteem, a need to satisfy other people, suffer from feelings of guilt and have physical symptoms such as headaches and stress.
Al-Thoban said children suffering from behavioural problems, chronic diseases or disabilities are the most vulnerable to abuse.
Abdulhameed Al-Habeeb, head of the psychology and social health unit at the Health Ministry, said government plans to set up a mental health centre to conduct research and compile statistics on domestic violence in the country.
He said the ministry took the decision after several victims of "family violence ended up in hospital." He said the ministry does have a mechanism to protect people from violence and abuse. He said 23 centres have been approved to protect children. The latest statistics show that 1,600 cases of violence against women, children and maids were registered, he said.
Maha Al-Mounif, head of the Family Security Program in the Kingdom, said that 41 teams nationwide had recorded cases of violence against children in a national register. She said there should be a way to protect weak members of families. Two programs to protect children are still under study, she said.
Al-Mounif said a free hotline staffed by experts had been established to help children. She said 6,000 calls were received in 2012 despite the fact that the line had not been officially announced.
Wajdi Shafiq, a professor of sociology and expert in family issues, said there should be more educational programs and workshops to help people prepare for married life, and to teach them how to be tolerant and kind toward each other. He said domestic violence is linked to social and economic problems.
Muneira bint Abdulrahman Al-Saud, in her study on the reasons for child abuse, said parents often lie about the injuries of their children when hospitals report cases to the police. She said children are abused by servants, relatives and even neighbours. The study showed that 91.5 percent of children were subjected to physical abuse and 87.3 percent to neglect, psychological and sexual abuse.
Nora Aal Sheikh, a social consultant, in her paper on family violence, said there are no clear statistics on domestic violence, but there is a general feeling that these problems are on the rise. However, she said that field surveys show that violence against women, children, maids and the elderly are increasing. Most of the cases were registered with the police. She said there was an urgent need for programs to counter family violence in Saudi society.
http://www.arabnews.com/news/498696
--------------
Saudi religious scholar warns women against working for telemarketing firms
Dec 26, 2013
Manama: A Saudi religious scholar has warned women against accepting to work in direct marketing or telemarketing services, saying that it could have ominous consequences for them and society.
"Such jobs, because of their nature, could result in grave problems for women," Abdul Aziz Al Fawzan, a jurisprudence professor, said. "When women call men they do not know in their homes or offices and use a soothing and coquettish tone of voice to make them accept specific offers, we have a serious problem because the conversation could ultimately lead to soliciting and blackmailing," he said during an interview on a private television channel.
Women need to be extra cautious and avoid working for such companies that want customers to swallow baits. "From a religious point of view, the companies themselves should avoid recruiting women to do their marketing with strange men because they put them at the risk of being harassed or becoming subject to vulgarities by some people whose religious values are weak and who lack good manners," he said.
Al Fawzan's advice caused uproar on social media networks where he was praised and criticized in equal measures. Those who supported him said that he spoke out of his concern for the well-being and comfort of women and that he wanted to protect society from evil.
"Thank you so much for promoting the virtue of women at a time when so many people endeavour to afflict our society with their poisonous pens," Her Father's Daughter, a blogger, posted. "We want you to be a thorn in the flesh of all the liberals and seculars who want to abuse women in all ways."
However, those who disapproved of his words said that he should allow women with no steady financial income to earn a living and that he should appreciate that women are well capable of honouring their values and virtues.
"I wish the scholar if he wanted to offer valuable advice to press men to respect good morals and to order them not to harass or bother women," a blogger under the moniker "Someone", wrote. "He should not engage in scaring people about women taking up jobs. He should not deprive women of their right to work by distorting people's views and presenting them under a negative light. He should be more positive of he really cares about the nation with its male and female citizens."
http://gulfnews.com/news/gulf/saudi-arabia/saudi-religious-scholar-warns-women-against-working-for-telemarketing-firms-1.1270925
--------------
Gender Concerns workshop on enrolling Libyan women in politics
Dec 26, 2013
Gender Concerns International organised a three-day workshop to encourage women's participation in political life from 21-23 December at the Haroon hotel, Tripoli.
The event was sponsored by the Ministry of Culture and the German embassy in Tripoli.
Participants at the workshop included various women activists, candidates for the Constitutional "Committee of 60″, Girl's Scouts instructors and teachers.
The workshop, which involved international trainers, covered numerous topics such as management skills, social and strategic networking, mass mobilization, managing dialogue and listening and planning gatherings, aimed at advancing Libyan women in their role and participation in Libyan political life.
Speaking to Libya Herald at the workshop, Kamla Mazieny, former Social Minister, found the workshop "very useful in both political and social life".
While participant Hend Saky, a former candidate at the GNC elections said that the workshop had "planted a seed in all of us and it will grow all over Libya, even to the women that could not participate in the workshop".
German ambassador, Christian Much, who participated in the handing out of certificates to attendees and trainers at the closing ceremony, told Libya Herald that the enrolment of Libyan women in political life was very important and that society could not develop if women did not participate in that process.
http://www.libyaherald.com/2013/12/25/gender-concerns-workshop-on-enrolling-libyan-women-in-politics/#ixzz2pYgbWxnE
--------------
International Women in Libya meet and share cultures
Dec 26, 2013
The sixth International Women in Libya (IWiL) monthly event was held on Saturday 7 December at the Radisson Blu Al Mahary hotel in Tripoli, attracting nearly seventy Libyan and expatriate women from various countries.
This month's event included a special cultural feature which saw volunteers dressed up in seven different traditional Libyan special occasion outfits including the Jilwa, Badla Al Kabira, Badla Al Sagira and Al-Abrouk., alongside mannequins dressed in traditional outfits from Benghazi.
Adding to the event in the hotel's 15th floor business lounge overlooking the sea, were the traditional Libyan ornaments displayed on tables, and the delicious spread of snacks and refreshments generously provided by the Radisson Blu hotel.
Life in Libya as a woman came up in conversations as not being easy, along with worries about the effect recent events will have on Libya's future. The education system in Libya was another hot topic. Claudia, a British English teacher, has only been in Libya for three months but says she has already learnt so much. "I'll be going home for Christmas, but I want to take the opportunity to travel around Libya."
Looking ahead, many took advantage of the opportunity to join in some of IWiL's other activities – including medina tours, the book club, exercise classes and 'Meet & Eat'.
IWiL's first 'Meet and Eat' event was on Saturday 15 December, when nearly 50 Libyan and expatriate women, all met up to enjoy an Indian buffet lunch at the beautiful Al Safir Indian restaurant in Tripoli's Baladia Street.
The very tasty buffet included eleven delicious dishes, including chicken tikka masala, rice, soup, falafel and kebabs. Asma told the Libya Herald, "the main reason I came was because I haven't tried this restaurant before and I wanted to see what the food is like. I really enjoyed it, especially the chicken and rice".
The friendly and relaxing atmosphere encouraged different topics of conversation. Discussions especially among Libyan women were about the electricity blackouts "It is disrupting our lives, especially when it is out for five hours" one woman said. The petrol shortages were another hot topic. "How are we going to take part in the local elections if we don't have petrol?" Asma said.
One Libyan woman said that considering the petrol problems, the buffet lunch was an afternoon she was glad she didn't miss, "It was well worth the petrol". Keen to stay in touch and try new dishes, many signed up for the chance to 'Meet & Eat' again next month.
IWiL is a local network of over 350 expatriate and Libyan women members, who meet to exchange ideas and socialise with other internationally-minded female professionals who live and work in Libya. The IWiL network was founded by Yolanda Zaptia, a director of Know Libya consultancy, and Adela Suliman from international law firm Clyde and Co.
http://www.libyaherald.com/2013/12/21/international-women-in-libya-meet-and-share-cultures/#ixzz2pYhPYOo5
--------------
Woman publishes book to help Muslim children in the U.S. learn Arabic
Dec 26, 2013
CLEMMONS – While teaching at the Annoor Islamic Center, Hanadi Rashad saw a opportunity in the marketplace — an accessible and easy way for Muslim children growing up in the United States to learn Arabic.
In Arab countries, children are taught Arabic through a professional teacher and they speak Arabic in other classes and at home. But in the United States that is not usually the case, Rashad said.
Knowing Arabic is important in reading and reciting from the Quran, the holy book in Islam.
"We have to read in Arabic," she said.
That prompted Rashad to develop a book that she self-published this year: "Little Reader 3 Steps Towards Reading Quran: From Alif to Alif Laam Meem." The book is available on Amazon.
Rashad has also produced a number of YouTube videos, called "Play and Learn Arabic with Koko," to help Muslim children to learn Arabic, using a puppet named Koko.
She said that reading the Quran in English is fine for studying and seeking understanding, but when Muslims pray five times a day they have to recite passages from the Quran in Arabic.
Rashad, who is from Sudan, first began developing the book in the fall of 2010. She started putting together a weekly handout to use with her lesson plan. In the fall of 2011, she put all those lesson plans into a book and self-published the book this month.
Habib Bendaas, the principal of the Al Hedaya school at the Annoor Islamic Center, appreciates Rashad's work.
He said many parents and teachers didn't have good resources for teaching Arabic.
Bendaas said that pronunciation is important in learning Arabic.
"If you don't pronounce correctly, you have different meanings for the verses (from the Quran)," he said.
Rashad wanted to publish the book because she knows that some Muslim parents may live in communities where they might not have access to a nearby mosque or school for their children to attend.
Some teachers of Arabic are available through Skype, but some parents might not be able to afford that, Rashad said.
Rashad was able to teach her daughter, who is now 17, Arabic from the time she was 5. By the time her daughter was 11, she could read the Quran in Arabic, Rashad said.
That could be difficult for newly converted Muslims or for children whose Muslim parents grew up in the United States, she said.
Rashad said that she plans to publish two other books for more advanced work in Arabic. She said she wants people throughout the United States to have her book as a resource.
"I hope people can find it," she said. "This is the start."
http://us.topnewstoday.org/us/article/9220191/
------------
Mothers of terror victims go on offensive against impending Palestinian prisoner release
Dec 26, 2013
Rage, ignominy and demoralization inflamed the eyes and shook the voices of several Israeli mothers who sat with images of their slain children in front of the Prime Minister's Residence on a chilly Wednesday afternoon.
They and other relatives of terror victims were protesting the Sunday release of 26 Palestinian prisoners.
As various cars honked in support upon seeing the large placards bearing the faces of the young murder victims – some of whose assailants are scheduled to go free – Ortal Tamam, whose uncle was murdered in 1984, explained why she had organized the gathering.
"I'm a 25-year-old medical student in Beersheba, and I see my future here and want to live in a country that preserves its values, and I think we lost a sense of right and wrong," she said. "I feel like the prime minister, who is supposed to be a representative of the people, is not listening to the people and is selling our values for politics."
Noting the improbability of such a prisoner release ever taking place in America or any other democratic nation, Tamam said the stakes of such a gamble were too high a risk, and imperiled Jewish tradition.
"Our values are what held us together for thousands of years in the Diaspora, and if we're not going to stick to our values now that we have our own country, eventually we will lose it," she said.
Sherri Mandell – whose 13-year-old son Koby was violently murdered in Tekoa in 2001 along with his friend Yosef Ish-Ran – said the upcoming release served as evidence that the nation had lost its moral compass and subjugated itself to American pressure.
"We're living in a country with a lack of ethics and justice," said Mandell with thinly veiled contempt. "We have succumbed to America's demands, and they would never do this. Let them release prisoners from Guantanamo Bay if they want peace with Afghanistan!" She beseeched the public to inundate Prime Minister Binyamin Netanyahu with posts on his Facebook page to denounce the ongoing releases and prevent future episodes.
"This is not a one-time thing. It's a whole cycle of capitulation to something that erodes the values of this country," she said, adding that she had created the organization The Cry of the Mothers several weeks ago in protest.
"The main thing is that this should not be just a fight for bereaved parents; it should be a fight for all the people of this country," she continued. "People are letting this go on, and there's no big wave of protest, even though everyone's against it."
Lizi Hameiri, who hasn't lost a relative to terrorism, said she viewed the release in moral and existential terms.
"I'm 38 and don't have kids, and I'm asking myself, what's the point of bringing kids into a country that does not value human life?" she said. "Not only were [these mothers'] kids murdered, but they have to suffer by seeing the murderers released and their kids' lives used as pawns in a political game."
As a case in point, Varda Akiva, whose son Shaltiel was murdered by three terrorists in 1985, said two of the Palestinians convicted in the homicide had been released in the Gilad Schalit exchange and in July's first stage of releases. The third killer, she said, was scheduled to be released Sunday.
Further exacerbating her anger, Akiva said, was that the last killer was an Israeli Arab from a village next to her community.
"If they release him, I demand he be deported out of Israel, because there is a chance that I will see the murderer of my son in the market," she said, holding back tears. "If I see him, I will strangle him! It's beyond comprehension that I will see the murderer of my son free before my eyes."
Meanwhile, Tali Ben-Yishai – whose daughter, Ruth Vogel, was brutally murdered in her home along with her husband and three children in 2011's "Itamar massacre" – said that although her family's killers were not being released Sunday, she could not remain silent.
"I'm speaking as a bereaved mother, but above all else, as a mother," she said. "I think it is an injustice, totally immoral, and an affront to the values of the nation. There should be a commitment to the ones who lost their lives, as well as to those who still live."
Asked what she would say to the prime minister if given the opportunity, Ben-Yishai responded not with anger, but with incredulity.
"Bibi, we believe in you," she said. "It doesn't suit you as one who has lost a loved one to terror and fought against it [that you] would do such an act."
Netanyahu's brother Yonatan was killed in the raid on Entebbe in 1976.
Ben-Yishai continued, "By doing this, we are giving up the most profound thing that symbolizes the nation of Israel: justice, morality, solidarity and responsibility."
In an open letter from Netanyahu to Israeli citizens in July, shortly before the initial phase of the four-stage release, the prime minister addressed his controversial decision, noting that he understood the pain it would inflict on the families of those who had been killed.
"This is an incredibly difficult decision," he wrote. "It hurts the bereaved families, it hurts all of the Israeli people and it hurts me very much."
And while Netanyahu conceded that the gesture clashed with "the principle of justice," he added that "sometimes prime ministers are forced to make decisions that go against public opinion – when the issue is important for the country."
Meanwhile, at a Wednesday Christmas event in Bethlehem, Palestinian Authority President Mahmoud Abbas said the release of the 26 prisoners on Sunday would engender a "happier holiday." He also vowed to unify the West Bank and Gaza Strip.
Earlier in the morning, Deputy Defense Minister Danny Danon held a meeting in the Knesset with the bereaved families and like-minded MKs from different parties to denounce the pending release.
"I call on the prime minister to reconsider the release of terrorists following the recent terrorist attacks," he said, referring to the spate of attacks over the past week.
"I called this meeting today first of all to show that representatives from different parties care about these precious families and remember their loved ones, remember the sacrifice they made for this country," he said.
At the meeting, MK Ayelet Shaked (Bayit Yehudi), who described the Schalit exchange as "evil," said Israel was "falling apart" by abdicating the "morality that characterizes the Jewish state." She called for legislation against future transactions of this kind.
Another participant in the meeting – whose mother was killed after she made aliya from the United States at age 50 to fulfill the "Zionist dream" – questioned the government's priorities.
"We are taking a step to build trust with our enemies, but what step is the government taking to build trust with its citizens?" she asked. "You're not protecting us, and we cannot explain this reality to our children."
http://www.jpost.com/National-News/Mothers-of-terror-victims-go-on-offensive-against-impending-Palestinian-prisoner-release-336162
------------
Iran charity organization provides support to Somali women
Dec 26, 2013
After months-long training, Iran's Imam Khomeini Relief Foundation and the Iranian embassy in Somalia held the graduation ceremony of more than fifty women and girls in Mogadishu on Wednesday. Through its training centers in Mogadishu, Iran has assisted Somali women by offering them training in the fields of tailoring and use of computers. The women and girls were issued with sewing machines and certificates upon completion of their respective courses in a colorful event that was held in capital city's Hamar Weyne district.
The beneficiaries thanked the Islamic Republic for its humanitarian role in Somalia. Iran has played a critical role in Somalia since the East African nation suffered its worst drought in six decades. For years the Iranian charity organization has provided support to poor families in many Muslim countries. A senior official from the Iranian embassy in Somalia said that the charity foundation operates according to the principles of Imam Khomeini who believed in assisting the poor and the needy across the globe. Since the end of the famine period two years ago, the Islamic Republic of Iran has remained in Somalia and initiated many projects all across Mogadishu and for that the government and the people of Somalia have hailed Iran's humanitarian aid.
http://www.presstv.ir/detail/2013/12/26/341970/iran-charity-organization-provides-support-to-somali-women/
--------------
JCCI board needs women to promote business
Dec 26, 2013
The Jeddah Chamber of Commerce and Industry (JCCI) needs women members to develop and grow businesses in the region, particularly small and medium enterprises.
This is the view of Sarah Al-Ayed, one of nine women candidates running for a board position in the upcoming polls taking place from Jan. 5-9 at the Jeddah Events and Exhibition Center, and at the chambers' centers from Jan. 5-6 in Qunfudah, Al-Laith and Rabigh.
Al-Ayed told Arab News on that she is working hard on her profile among the 47,000 eligible voters. "For the business community to trust and vote for me they need to know me, see me and know my views," said Al-Ayed.
The JCCI board consists of 18 members — 12 elected and eight appointed by the minister of trade and industry. Fifty candidates are running for the 12 seats — six trade and six industry. There are 42 candidates for the trade seats and eight running for the industry seats. The nine women are all running in the trade category.
Al-Ayed said that the number is fine because it is not about the quantity of board members but rather about aligning business objectives with achievable goals every year. However, she believes that the board should add three non-voting representatives with education, legal and operational experience for consulting purposes.
"This would help develop a holistic strategy touching on all aspects of business growth for the region. If there's representation from the education sector within more than six committees in the chamber then why not have a non-voting consultancy element," she said.
Al-Ayed said the chamber has to serve the interests of the business community regardless of sector, size and industry. "The more interaction and alignment between the chamber and businesses, the more we will see development in products and services. While the chamber is responsible for serving the business community, each and every business owner also carries a major responsibility to share their needs and help with delivery at the chamber," she said.
She said her objective is to ensure the chamber gets back to basics and provides services for everyone, including small and medium businesses (SMEs) that make up 75 percent of the national economy. The aim should be to help community development by serving businesses, work innovation and creating jobs.
"If we work on developing small and medium businesses we will see a massive boost in business growth on all fronts. When the private and public sectors align to open new areas of cooperation that attract entrepreneurs and young business owners to study the market and identify its needs, we'll witness business diversity and help set the foundation and structure for a strong SME sector."
Al-Ayed said a solid goal would be to develop opportunities for 100 new establishments that can provide over 1,000 new jobs with business opportunities worth over SR50 million. The Jeddah Entrepreneurs Competition and Meet has already helped seven companies with funding and mentoring and received over 20 business initiatives from the private sector as new SME opportunities.
She said the chamber began 60 years ago with a distinct message to support business growth and development by opening doors for business leaders across the region and globally. "Today we want that mindset to prevail. My vision is for Jeddah to be the leading city for successful small and medium enterprises in the Arab World. It is a continuation of what the JCCI is built on — a focused strategy that is timely and tangible.
"But to achieve such a vision and bring back the leadership of the chamber we need voters to choose the right candidates and open opportunities for new members to come in and work on excellence in delivery," she added.
Al-Ayed said that the chamber must serve all businesses. "That was the vision of its founders. To go about it we have to work from within, from the top down and from the bottom up. Each and every team member at the chamber has to be involved in such development, from the security team to the board."
Ayed is contesting alone but has the endorsement and support of Lama Al-Suleiman, the current deputy chair of the board. She said that the challenges faced by businesswomen in certain areas are different to that of men. "That's also a priority because if that challenge is tackled right it will help in the alignment across all levels in certain cases."
She said there has been a big increase in women's participation in the chamber including on the board and committees. However, there was a need to keep the momentum going. "The challenges and needs are different and if women aren't part of the process then it will not be possible to work on those challenges and meet their business needs. Women are major stakeholders and require the same support on all levels."
She said Effat University has launched its own campaign to support two of the women candidates. The initiative has over 100 students, with a campaign team leader and volunteers working with the respective candidates to help raise awareness about the upcoming elections and help getting votes.
http://www.arabnews.com/news/498661
--------------
Over 31,000 Ethiopian Maids Ran Away Of Their Jobs in Saudi Arabia
Dec 26, 2013
Saudi Arabia registered 31,700 cases of Ethiopian domestic workers walking out of their jobs over the past year, according to official statistics from the Ministry of Labor.
Economists estimate that citizens are left with a burden of SR300 million as a result of these cases.
The overall number of domestic workers who left their sponsors high and dry was estimated at 58,715 based on a report prepared by the Ministry of Labor. The report indicated that 54 percent of absconding expatriates were maids, while 45 percent were drivers.
Riyadh registered the highest number of runaway housekeepers, followed by the Eastern Province and Makkah. The Northern Province and Al-Baha witnessed the least number of absconding domestic workers.
The report also pointed out that around 500,000 expatriates were absent from their jobs in various companies and establishments across the Kingdom during the first quarter of the year, with rates of absenteeism pegged at 6 percent.
Around 59 percent of those who had walked out of their jobs had left the country on multiple exit/re-entry visas, while 40 percent remained in the Kingdom.
The number of absconding women working for private companies reached 9,454.
The phenomenon of runaway domestic workers was a cause for concern for many Saudi families especially since domestic recruitment offices were previously not required to supply families with alternative maids after the end of the three-month trial period.
Khalid Al-Azhari, an employee working at a domestic recruitment office, highlighted that the new recruitment regulations provide clients with guarantees against absconding maids, including providing an alternative housekeeper even if she had one remaining month of service. The new regulations are considered to be an improvement to the previous system, which compensated clients for absconding domestic workers only during the first three months of employment.
http://www.arabnews.com/news/498706
--------------
Women and reporters remain under threat in Afghanistan, Pakistan
Dec 26, 2013
This week, as 2013 draws to a conclusion, we revisit two Takeaway columns from the past year that continue to have resonance and examine new developments.
In February, we focused on concerns over the danger of advances made in women's rights in Afghanistan being rolled back in the run-up to the majority of foreign troops withdrawing in 2014.
While violence against women was dramatically rising, there had been significant gains for females since the fall of the Taliban regime in 2001: "The number of girls attending school has topped two million, and 25 per cent of government jobs and 27 per cent of the seats in parliament are now occupied by women," we reported.
Since then conditions for women have become progressively worse: a "human rights commissioner", an ex-member of the Taliban government who was handpicked by President Hamid Karzai, has called for the repeal of the Elimination of Violence Against Women law, which he said "violates Islam"; a draft law that would have reintroduced execution by stoning as punishment for adultery was seriously considered by Afghan government officials; and a recent UN report showed that reported cases of violence against women went up by 28 per cent in the last year – but prosecutions rose by only 2 per cent.
"Lots happened this year – mostly bad," Heather Barr, a researcher for Human Rights Watch, told The Review.
In June, we examined the murder of the Pakistani journalist Syed Saleem Shahzad on the second anniversary of his disappearance. The May 2011 murder of Asia Times Online's Pakistan bureau chief, one of about two dozen journalists who have been killed in the country over the past decade, remains unsolved, but many observers believe it was the work of members of the country's intelligence community.
"While the facts are never likely to surface, it was clear at the time that Islamabad's journalists blamed Inter Services Intelligence [ISI]," Tom Hussain, a regular contributor to The National based in Islamabad, told The Review.
The commission formed to investigate Shahzad's murder found no evidence of the military or intelligence agencies being involved. However, Hussain described the commission's verdict as "a predictable cover up".
Bob Dietz, the Asia programme coordinator for the Committee to Protect Journalists, told The Review this week: "Following the special investigation, testimony and recommendations nothing has changed in any significant way when it comes to investigating or prosecuting the deaths of journalists in Pakistan. There is still perfect impunity for anyone who murders a reporter.
"We've said that Pakistan's leaders are not meeting their obligation to guarantee the rule of law and fundamental human rights, and that has not changed under the Nawaz Sharif government."
The murder of the 40-year-old father of three, who went missing on May 29, 2011, while on his way to do a TV interview in Islamabad has, however, prompted action outside Pakistan.
"Maybe the best thing is that because of the string of murders, Pakistan has become the focus of the UN Plan of Action on the Safety of Journalists and the Issue of Impunity and there is movement to draft legislation to address the killing of journalists," Dietz told The Review.
http://www.thenational.ae/arts-culture/women-and-reporters-remain-under-threat-in-afghanistan-pakistan#ixzz2pYo49I00
--------------
Bihari Woman Shines at Mrs. India Contest, Wins Mrs. India Queen First Runner-Up
Madhuri Kumar, TNN | Dec 26, 2013
PATNA: A Bihari woman made it to a beauty pageant recently organized in Haryana. Sounds exciting, doesn't it? But Richa Sinha has done more than that: She has won the Mrs India Queen first runner-up crown keenly contested at Crown Plaza, Gurgaon.
Born in Bihar, Richa, now 29, did her schooling from Notre Dame Academy and intermediate in science from Patna Women's College. Her father, a senior official of South Bihar Power Distribution Company Ltd in Patna, is thrilled. And so is her husband, an IIT graduate currently in South Africa, working for a French company. In fact, it was he and one of her friends who motivated her to participate in the pageant.
Richa, incidentally, is a also a computer engineer from MIT, Pune, and a working woman. Incidentally, she came all the way from South Korea to participate in the event as her husband was then deputed there. It was when the contest began, that he was shifted to South Africa.
Incidentally, she does not intend to take up fashion or modelling as a career. It was all by chance that she decided to participate in this event. "I have recently cleared GMAT with a very good score and after a few months my husband and I will move to Paris from where I will pursue my MBA," said Richa while talking to TOI. She is now all set to represent India at the Mrs India International in 2014, which will be either organized at Atlanta or Chicago in the US.
The pageant was organized by Glamhunt and Glimmer International and was judged by eminent personalities like Femina Miss India 2013 Navneet Kaur Dhillon, Miss India Earth 2012 Vanya Mishra, president of IG International Globe Nilanga Senanayke and Cynthia Ong, Mrs Asia All Nations 2013.
Richa also performed a dance to the accompaniment of modern Hindi film number, a medley, in the opening ceremony. The contest this year had a nail-biting finish, in which a medico, Manpreet Kaur, emerged the winner, while a UP-based woman, Rubi Yadav, was the second runner-up.
http://timesofindia.indiatimes.com/City/Patna/Bihari-woman-shines-at-Mrs-India-contest/articleshow/27930529.cms
--------------
Holocaust survivors reunite with the woman who cared for them after the war
Dec 26, 2013
She was born Martha. But in the years after World War II, at an ivy-covered manse in the English town of Lingfield, the children under her care called her "Manna." Perhaps the little ones found "Martha" too difficult to pronounce.
At Lingfield, she was Manna not just in name but also in deed, fulfilling the word's biblical meaning of rescue and sustenance.
Martha "Manna" Weindling Friedmann, a German Jew, was born in Cologne in 1915 and lost nearly her entire family in the Holocaust. She survived by fleeing to England shortly before the war.
Beginning in 1946, she was employed at Weir Courtney, the estate in Lingfield where about two dozen child survivors of the Holocaust were given a home. Most of the children, ranging in age from 3 to 16, were orphans. Some escaped deportation by hiding with Christian families. Others had survived Auschwitz, Theresienstadt and other concentration camps around Europe.
Manna and the other caretakers at Weir Courtney fed the children, clothed them and gave them back their childhoods. Today, the U.S. Holocaust Memorial Museum in Washington holds an extensive collection of artifacts from the home.
"So much of what we deal with does not have a happy ending," said Rebecca Erbelding, the archivist who oversees the museum's material. "I work with people who had a happy childhood — until. Or who can tell me about their parents — until." Weir Courtney, she said, is "a story that starts out sad but is redeeming in the end."
Some years ago, through friends in Italy, I came to know two sisters who had lived at Weir Courtney. Andra and Tatiana Bucci were 4 and 6 years old, respectively, when they were deported to Auschwitz. They are believed to be among the youngest survivors who have memories of the camp.
In October, the sisters surprised me by traveling from Europe to my wedding in Ohio. My mother, who organized their trip, had promised the sisters that after the wedding, we would take them to the Holocaust Museum in Washington and then to see Manna.
Andra and Tatiana consider Manna a second mother and stayed in touch with her over the years. But they hadn't seen each other in more than a decade — not since Manna, long ago widowed and with no children of her own, left her longtime home in London and settled in a retirement community near Philadelphia, where a niece also lived.
Her niece, Helen Weindling Cohen, welcomed our visit. She said that Manna had lost much of her short-term memory but that her recollections of Weir Courtney remained largely intact. When Helen told her aunt that Andra and Tatiana were in America, Manna's face, Helen wrote in an e-mail, "lit up like the sun."
Andra and Tatiana were asleep the night in March 1944 when Nazis came to arrest them and their family at their home in Fiume, Italy, a city now in Croatia and called Rijeka. By then, their father, Nino, who was Catholic, was a prisoner of war in Africa.
Upon their arrival at Auschwitz, the girls were separated from their mother, Mira, who was Jewish, and sent to a barrack for the small number of children who were not gassed on the spot. The sisters say they believe that they were spared because they resembled twins and were therefore of potential use to the Nazi doctor Josef Mengele for his infamous medical experiments.
Mira occasionally visited her daughters at the children's barrack. But a day came when she no longer returned, and the girls assumed that their mother was dead.
Some time after the liberation of the camp in January 1945, the sisters found themselves — they don't remember how or why — in Prague at a sort of orphanage for refu­gees. At some point, the children were gathered and asked who among them was Jewish. Andra and Tatiana raised their hands.
With that, in the early months of 1946, they were aboard a plane to England and on their way to Weir Courtney. They describe their life there as a "fairy tale."
To Rebecca Erbelding, the Holocaust Museum archivist, Weir Courtney seems almost like a fairy tale, too.
"I can't tell you how long I've stared at these photos," she said, referring to the images of children dancing, painting, playing with puppies, riding bikes, doing headstands and playing dress-up. "When you stare at them long enough, you know them."
Rebecca had spoken and corresponded with Weir Courtney survivors but had never met any of them. In late October, she accompanied Andra and Tatiana on a tour of the Holocaust Museum's permanent exhibit. The sisters had never been to the museum and appeared stunned by the cattle car, one of its most noted artifacts. A similar train car had carried them to Auschwitz.
Rebecca told them that there were two ways through the exhibit — one through the car and another around it. "That was done specifically so that survivors don't ever have to be in a cattle car again," she explained. The sisters took the way around.
After the tour of the museum, Rebecca led the sisters to the archival offices and showed them the Weir Courtney collection. They leafed through the pages of periodic reports from Alice Goldberger, the headmistress of Weir Courtney, recounting to donors the goings-on there. The sisters saw the piles of drawings by the house's young residents documenting joys of childhood. A puppet show. A double-decker bus. A tree for climbing.
Many of the children remained with their Lingfield "family" for years and knew no other home after the war before they made one for themselves. But for Andra and Tatiana, life turned out differently. Their mother, Mira, had not died at Auschwitz. She stopped visiting them at the children's barrack because she had been transferred to another concentration camp. After her liberation, she returned to Italy, where she was reunited with her husband. Together they set out looking for their girls and, with the assistance of refu­gee workers, found them across the English Channel.
Dear Miss Alice Goldberger, the Buccis wrote in a translated letter dated Aug. 24, 1946, and now housed at the Holocaust Museum:
First of all I want to thank you for your kind letter and for the wonderful words you have used for my two sweet children. It is no use telling you how we suffered and are suffering far away from them. But we can call ourselves lucky that they have been protected by gentle people like you. . . . Oh! How we are waiting that moment that we can again hug them.
I will promise you that when they come their first duty is to write to you and to their dear "Manna."
I don't know the English language but I can assure you that when a friend of mine translated your letters I couldn't stop crying for all my joy.
The day came, in December 1946, when the girls left for home.
There were many farewell parties and gifts, Alice wrote in one of her reports, until they both left for London, both girls dressed in nice blue coats, with little embroidered caps and matching shoulder bags. Manna, the nurse who was specially looking after them and who was very attached to them, had made these things for them and Sophie, our cook had dressed two dolls with exactly the same outfit. Everybody turned round to see the lovely sisters who looked like twins again . . .
Sitting in a quiet conference room at the museum, the sisters carefully studied it all. They had some things to show the archivist, too. They had brought Andra's "dolly," as she calls it, and Tatiana's cap and shoulder bag, embroidered by Manna.
Manna had gotten her job at Weir Courtney by responding to a newspaper ad. The owner of Weir Courtney, Sir Benjamin Drage, belonged to the West London Synagogue and had offered his estate to house orphan children.
"I arrived there with my violin and looked through the window and saw these 6-year-old children with shorn hair, who danced, and there I stood outside and started crying," Manna once told an interviewer.
In the beginning, the boys and girls seemed to have forgotten how to be young. When a bus arrived for an outing to London, two of the children recalled years later, they feared it had come to take them away. One boy, Alice wrote in a report, "was often found walking round and repeating: 'I am a lucky boy that I have not been shot as a baby.' " He was said to have placed toy soldiers outside his bedroom door for security.
In time, the children stopped living in fear. The staff celebrated birthdays with the ones who remembered when they were born and assigned new birthdays to those who had forgotten. Some mornings, Manna woke the children with a rendition of Mozart's "Eine kleine Nachtmusik" on her violin.
"It was," Manna said, "the most wonderful work, because they were just filling you up with gratitude, and they were also therapeutic for me."
Several people who worked at Weir Courtney were associated with what is now called the Anna Freud Centre in London, an institute for child psychology founded by the daughter of psychoanalyst Sigmund Freud. Manna stayed at Weir Courtney until 1949 and spent much of the rest of her career running the center's nursery as a close associate of the founder, according to the archivist. But she called her time at Weir Courtney, with its idyllic gardens, music room and abundant space for playing, her "happiest years."
It seemed, she once wrote, as if "some fairy-like godmother" were behind it all.
We arrived at Manna's nursing home the afternoon of Oct. 26.
"You are real people!" she exclaimed, in a heavy German accent, beaming at the gray-haired women she had loved as children. There were tears.
Andra and Tatiana spent nearly seven hours with Manna that Saturday. Judith Sherman, a Weir Courtney survivor who donated the house's archives to the Holocaust Museum, came from New Jersey to see the sisters. They looked at old photos. Manna sang "Eine kleine Nachtmusik" with every Mozartean flourish. The next day, we had a second, five-hour visit.
Andra and Tatiana had brought the doll, the purse and the hat — the going-away gifts that they treasure today as much as they did when they left Weir Courtney 67 years ago. Manna stared at the hat and bag, as if reaching into the depths of her memory in search of their meaning.
"Oh, wait, yes! Oh, wait a minute. Yes!" she cried. "Yes!" She held and gazed at the doll that had traveled so far.
We talked about Mira and the "great, great joy" Manna remembered at Weir Courtney when the Buccis found their children. Andra and Tatiana regret that their mother never had a chance to meet her.
"We are lucky," Manna said.
"No, no," Andra replied. "We are very lucky."
"We are all lucky," Manna returned. "It's good to be alive."
"Today is a lovely day," said Andra. It was an expression that Manna had often said to herself when she awoke to the English morning.
'I have heard it said," Manna's niece, Helen, wrote to the sisters and to me later, "that people often die near or around an important life event." Helen would always wonder, she said, if the sisters' visit with Manna was one such event, "as she let go shortly after that."
When the sisters returned to their homes in Europe — Andra's in Italy and Tatiana's in Belgium — Helen wrote to us to say that Manna had taken ill with congestive heart failure and pneumonia. She died Nov. 16, three weeks after we had visited. Manna was 98.
The next Saturday, I attended her memorial service with Rebecca, the Holocaust Museum archivist. Judith Sherman was there with her family and spoke about the love Manna showed the children not only during their stay at Weir Courtney but also later in their lives. She was "every bit the biblical manna and more," Judith said.
Rebecca, too, spoke and remarked that she was perhaps the only person in the room who had not met Manna. "To be honest," she said, "I couldn't have imagined that Manna was still alive. Perhaps that's one of the problems with being a historian — we assume that the people we read about live only on paper."
She held up one such piece of paper — a bright drawing of a smiling lady wearing a dress the color of the rainbow. The drawing was from the museum's Weir Courtney collection, and it was labeled with a name: Manna.
"The children needed her," Rebecca said. "They clearly loved her, and she loved them in return. That's in the records, too. So while I can't offer any stories of my own, I can offer you this assurance: Manna will not be forgotten."
I spoke on behalf of the sisters.
"Manna has always been in my thoughts," Andra had written in Italian. "Now I will imagine her close by to my mother, and finally they'll be able to meet each other."
http://www.washingtonpost.com/lifestyle/style/holocaust-survivors-reunite-with-the-woman-who-cared-for-them-after-the-war/2013/12/25/21112494-61b0-11e3-8beb-3f9a9942850f_story.html?tid=hpModule_d39b60e8-8691-11e2-9d71-f0feafdd1394
--------------
PAF chief for women's role in grooming next generation
December 26, 2013
ISLAMABAD - Chief of the Air Staff, Air Chief Marshal Tahir Rafiq Butt has said that women have a vital role in the development of society and in positive grooming of future generations.
He was addressing the 35th graduation ceremony of Pakistan Air Force Finishing School held at the PAF Headquarters here.
The Air Chief said the saying that 'Hands that rock the cradle, rule the world' is an apt description of women's contribution in shaping up the destiny of a nation.
He said no society can afford to ignore women that account for half of its population.
He said it was equally essential for the daughters in particular, to develop in themselves a dignified poise in accordance with the religious and social values.
The Air Chief congratulated the graduating women who learnt different skills at the Finishing School including communication skills, management, language, c of self-presentation.
He said the PAF Finishing School had acclaimed a high stature with a programme focusing on the women to enable them handle different challenges in life.
He hoped that the personality development programme would bring an all-rounder refinement in the lives of graduating women. The Air Chief awarded certificates to the graduating students.
Earlier, Director of the school Nasreen Aurangzeb presented a report highlighting the main aspects of the training, which aims at transforming the young girls into useful members of society.
She said though the idea of the Finishing School had been borrowed from the West, however it was outlined in accordance with the local cultural, social and religious values.
http://www.nation.com.pk/islamabad/26-Dec-2013/paf-chief-for-women-s-role-in-grooming-next-generation
--------------
URL: https://www.newageislam.com/islam,-women-and-feminism/new-age-islam-news-bureau/'domestic-abuse-in-saudi-arabia-threatens-society's-fabric'/d/35017