New Age Islam News Bureau
6 May 2014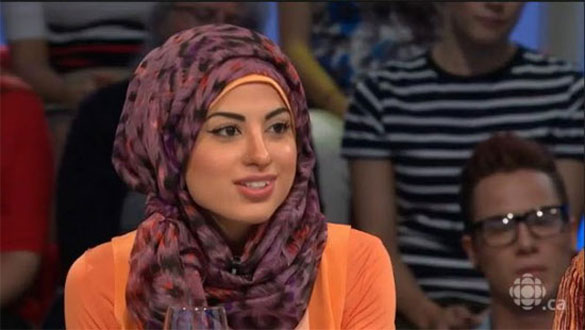 Dalila Awada on Tout le monde en parle on September 29, 2013. . Photograph by: Tout le monde en parle , CBC
----------
• Violence against Women in Saudi Arabia Protection Homes Increases
• Montreal Muslim Woman Sues for Damages after Hateful Messages
• Women Realtors May Lose Jobs in Iran
• Khyber Pakhtunkhwa to Have Women Prison
• US Officials Fear For Abducted Nigerian Girls
• Saudi Arabia's Female Pilots' Group Aiming High
• Rawalpindi: 200 Women Workers Employed Anti-Dengue Campaign
Compiled by New Age Islam News Bureau
URL: https://www.newageislam.com/islam,-women-and-feminism/new-age-islam-news-bureau/dogs-unleashed-on-female-polio-worker-in-di-khan,-pakistan/d/76894
----------
Dogs Unleashed On Female Polio Worker in DI Khan, Pakistan
May 06, 2014
DERA ISMAIL KHAN - A lady polio vaccinator was critically injured when she was bitten by dogs unleashed on her in Khyber Pakhtunkhwa's Dera Ismail Khan city, reported a private TV channel on Monday.
The female polio worker was on her door to door campaign to vaccinate children against polio virus when few male members of the locality unleashed their dogs on her.
The woman was critically injured and shifted to district headquarters hospital.
Anti-polio campaigns have been targeted by militants since US intelligence officials used a fake vaccination programme to help in their hunt for Osama bin Laden in 2011. Under cover of the programme, the CIA sought to collect DNA samples from relatives of the Al-Qaeda leader to verify his presence in a compound in Abbottabad.
Since July 2012, at least 22 polio workers have been killed.
The polio campaign has a history of controversy in Pakistan. Some mullahs have preached against it, claiming falsely that the oral vaccine leaves Pakistani children sterile.
Last year, a Taliban commander announced a ban on polio vaccines for children in the region as long as the United States continued its campaign of drone strikes.
Polio, which can cause permanent paralysis in hours, remains endemic only in Pakistan, Nigeria and Afghanistan.
http://www.nation.com.pk/national/06-May-2014/dogs-unleashed-on-female-polio-worker-in-di-khan
----------
Violence against Women in Saudi Arabia Protection Homes Increases
May 05, 2014
ABHA — Several inmates of the social protection centre here have alleged that acts of violence against them have increased, Al-Sharq daily reported. They said violence cases have particularly increased after a report on the mistreatment of Zubaida, an inmate who had already suffered at the hands of her family, was published in the media.
Zubaida was refused to marry a person of lower social class.
Al-Sharq was able to talk to some of the inmates who all complained of mistreatment and violence. They were also apprehensive of harsher treatment once the home officials came to know that they have talked to the press.
A Syrian inmate, who was admitted to the centre along with her two-year-old son, said she was referred to the centre after she got divorced from her Palestinian husband. "I didn't have any other place to go. I went to the emir of Asir and he ordered authorities to provide me with shelter and help me find a job," she said.
She worked for a seamstress for a while. However, she was kicked out because she used to bring her son with her to work, which annoyed some customers. "Ever since I came to this centre, I have been mistreated. Me and my son were forced to sleep on the floor. There was no furniture, no kitchen utensils, etc. The situation remained like this for a while until my apartment was provided with furniture six months later," she added.
A few months ago, the director of the centre offered her a marriage proposal. "I refused because the man was very old."
The director got angry and decided to treat her poorly, she said. Now, she cannot go outside her apartment nor can she go to court to follow up with the alimony case she filed against her husband because the director has her locked in. "I have talked to many officials over the phone to help me, but no one has come to my help."
Another inmate said she and her colleagues have not received their monthly allowance which the Ministry of Social Affairs pays them. She added that they have to go to school/college on an empty stomach. Other female inmates complained that the officials who run the centre keep pressuring them to get married to older men. Those who refuse the offers are sent to mental hospital as a punishment. "They keep threatening us that if we talk to the media, we'll face the same fate as that of Zubaida," she said.
Dr. Suhaila Zain Al-Abideen, member of the National Society for Human Rights (NSHR), said the Ministry of Social Affairs should allow the NSHR to pay random visits to the centre to discover malpractices and mistreatment. Dr. Al-Abideen has received innumerable complaints from female inmates who have suffered immensely inside the centre and want physical and psychological treatment.
She called upon the Minister of Social Affairs to pay surprise visits to such centres and listen to the complaints of the inmates.
However, the ministry's spokesman in Asir, Ali Al-Asmari, categorically denied harassment or mistreatment of inmates. He said he has not received any complaint from any inmate.
http://www.saudigazette.com.sa/index.cfm?method=home.regcon&contentid=20140506204219
----------
Montreal Muslim Woman Sues for Damages after Hateful Messages
MAY 5, 2014
MONTREAL — The Parti Québecois and its divisive charter of values may have been decimated at the polls last month but bitter feelings continues over the proposed law that would have banned religious garb on public servants.
A Muslim woman, who describes herself as a sociology student and staunch feminist, is suing two people and a website for $120,000 for what she alleges are defamatory things they wrote and said about her after she spoke out last fall against the charter on a popular Quebec talk show.
Dalila Awada claims Philippe Magnan, one of the defendants, posted videos and messages on YouTube, Facebook, Twitter and his own blog about Awada after she appeared on Tout le monde en parle on Sept. 29, 2013.
In her lawsuit, filed in Quebec Superior Court last week, Awada claims the video accused her of infiltrating the Quebec Federation of Women to advocate in favour of the Niqab.
The student at Université du Québec à Montréal claims the video says she associates with groups that she says she has no links to, such as the World Islamic League, the Muslim Brotherhood and the Canadian Islamic Congress.
After the video appeared online, Louise Mailloux, an anti-religion CEGEP professor who compares male circumcision and baptism to rape, sent out numerous emails containing erroneous information about Awada, the lawsuit claims.
It also claims that the website Vigile.net published several pejorative articles about Awada that she says paints her as a manipulator working for Muslim fundamentalists.
Awada, a 24-year-old who chooses to wear the Hijab, said people reacted to the video by posting hateful messages by email or on her Facebook page.
In a second video, Awada claims her image is used in a way that suggests she's associated with stoning, decapitation and cutting off hands. Another suggests she is infiltrating the separatist party Québec solidaire.
By posting defamatory and erroneous information about her over a period of six months, the defendants tried to ruin Awada's reputation and created hate toward her, the lawsuit claims.
From October 2013 on, she was bombarded with hateful messages from people convinced that she was a terrorist. Her student email inbox filled to capacity in one day and she lost many friends, the suit says.
As a result, Awada claims, she suffers from insomnia, heart palpitations and headaches. She feels constantly stressed, waiting for the next damaging article to surface. She became depressed and had to drop out of school last semester.
In her lawsuit, Awada says she will donate any money she receives from the case to the Fondation paroles de femmes, a non-profit organization that promotes and defends Quebec women who speak out publicly in support of interfaith and cross-cultural dialogue and against intimidation and harassment.
http://www.montrealgazette.com/technology/Muslim+woman+sues+damages+after+hateful+messages+over/9809131/story.html
----------
Women realtors may lose jobs in Iran
Mehrnaz Samimi
"If I would no longer be allowed to work as a realtor, I'm going to go to the Realtors Association and sit in their offices until they give me some kind of job with a similar salary," Rezvaneh tells Al-Monitor.
"Women should not work as realtors and should not be seeing loitering in real estate agencies," Hesam Oghabai said in December 2013. The announcement by the chairman of the Realtors Syndicate of Tehran Metropolitan Area, the largest in the country and the leading body in the field, surprised many women realtors.
This new restriction has not yet been enforced. Oghabai added that Amaken, the body responsible for enforcing religion-driven restrictions in commercial venues, had previously requested such a restriction. Some women are hopeful that the ban will not be enforced, some are confident about finding a job in another line of work but others are very anxious and fear the worst for their careers and lives.
Until 2007, being a real estate agent was considered inappropriate for women by society. But women gradually found their way into the business and proved that they could be as good or better at selling real estate than men. Women established themselves as realtors during the Mahmoud Ahmadinejad administration, despite the limitations women faced over those eight years. They changed society's mindset and the real estate agency owners' stance toward women. Politically conservative and strictly religious people continue to consider it an unsuitable job for women, or too masculine for their delicate feminine nature. Either way, talk of enforcing a ban on women working as realtors has become serious.
Official statistics show that 65‪% of Tehran‪'s real estate agencies are managed by accredited women‪. According to the new restrictions‪, women may apply for a permit to open a real estate agency, manage it and employ male realtors‪, but they may not work as employees or professional realtors. Conservative websites have time and again expressed disapproval of‪ the continued presence of women in the real estate business and concern that despite demands that women stop working as realtors‪, such restrictions have not been actively enforced‪. Extreme conservatives accuse young female realtors of trying to ‪"take advantage of their beauty‪, makeup or provocative style of clothing to sell or rent‪."
Following the announcement restricting women‪'s professional activity in real estate‪, Shahindokht Molaverdi‪, director of President Hassan Rouhani's Office of Women's Affairs, reacted on her Facebook page, quoting Rouhani as saying that women are absent in many history books because historians have traditionally been male, but that women have been present and active throughout the history of most professional fields. Molaverdi went on to express her disappointment over the decision to forbid female realtors to continue working, but did not clarify whether her opposition would lead to action.
Shortly after this Facebook post, the Iranian Students' News Agency reported Fatemeh Jalalvand's reaction. Jalalvand is an outspoken women's activist and the director of an organization called "The Council of Defiant Women." She had previously announced her disappointment and opposition to women working as taxi and truck drivers. Jalalvand harshly criticized Molaverdi‪'s take, saying, "These are pretentious gestures imitating the Western lifestyle through which people brag about women entrepreneurs‪. What is there about women working as realtors for us to pride ourselves on‪?"
Al-Monitor spoke to Homa, a 24-year-old single woman who recently joined a real estate agency in Tehran. She said that no one in her family knows that she works as a realtor. "I've told them I work in an advertising agency," she said. "I have a bachelor's degree in communications, but I could not find a proper job in my field."
Homa, whose husband divorced her after she was unable to become pregnant, said that working as realtor allows her to live on her own in Tehran rather than with her parents. She said that she is not an exception when it comes to hiding her job from her family, and that she knows a few other female realtors who do the same out of fear of their family's disapproval.
Before the number of female realtors grew in Iran, particularly in large cities, some people were reluctant to work with a woman as their realtor. Gradually, however, Iranian society has become accustomed to this young phenomenon.
I asked a few female realtors about their safety concerns when visiting properties or taking clients to see them. In Iran, clients pick up realtors at the agency and drive them to the property they wish to view. Women realtors don't seem to have any worries or issues regarding their safety when they go to see a property to price it, or when they take a client to see a home.
Shima, a 39-year-old realtor who has been in the business for nine years, tells Al-Monitor, "The agency has the names of the clients and the addresses of the properties, and knows exactly when we are headed out to a place, and around when we should be done, even for back-to-back appointments. I am never worried, and none of the female realtors I know are, either."
Being a female realtor also has its advantages. Men with traditional views are comfortable having their wives look for a home with female realtors. Aban, 54, who quit her job as a gym teacher seven years ago to become a realtor, told Al-Monitor in a phone interview, "Married men like the idea of working with a female realtor, and prefer for their wives to be in touch and travel with a woman while searching for a place to buy or rent."
Being a female realtor has its drawbacks as well. Some wives don't like the idea of working with a female realtor, since they don't want their husbands to travel with a woman in search of a home, especially if the woman is young, single or attractive, or if she wears heavy makeup and fancy clothes.
It is not uncommon in Iran for a law or rule to be announced and for months nothing to happen, and then suddenly, in a manner of weeks, for the restriction to be enforced. Oghabai's announcement probably means that sooner or later, the ban will take effect.
http://www.al-monitor.com/pulse/originals/2014/04/iran-female-realtors-ban-announcement.html#
----------
Khyber Pakhtunkhwa To Have Women Prison
May 06, 2014
PESHAWAR - Keeping in view the need of having a women prison, the Khyber Pakhtunkhwa government has decided in principal to set up a separate prison for women in the province by spending Rs 400 million, officials said.
The KP is going to have a prison, particularly for women prisoners. It will be a high security jail and formal construction on the project would be initiated next week, they said. Apart from that, district jails would also be established in Swat, Shangla, Malakand, Charsadda and Nowshera, while work on construction of a new central jail in Peshawar is also in progress, they said, adding that in the near future data of all jails would be computerised.
The officials said that another high security jail would also be set up in district Swat. It would help reduce the burden over the existing prisons in the province. The existing condition of jails is not as good as it should be and thus the government is striving to bring improvement in it.
http://www.nation.com.pk/national/06-May-2014/kp-to-have-women-prison
----------
US officials fear for abducted Nigerian girls
06 May 2014
US officials have said they are worried that many of the schoolgirls who were abducted in Nigeria last month may have now been smuggled across Nigeria's borders into other countries which could complicate the search to find them.
The government is still searching for the 276 students, who are aged 16 to 18, who were kidnapped in the northeast of the country by Boko Haram, an armed group designated by Washington as a "terrorist" orgnanisation.
"We cannot close our eyes to the clear evidence of barbarity unfolding before us in Nigeria," said Democratic Senator Amy Klobuchar, who was addressing the Senate.
As anger and frustration escalates in Nigeria at the government's failure to find the girls, six US senators have introduced a resolution calling for action.
"We and our African allies should do everything to help the Nigerian government rescue innocent girls and return them to their families," Senator Dick Durbin, one of the resolution's sponsors, said in a tweet, the AFP news agency reported.
The comments came as Boko Haram, whose name translates as "Western education is sinful", claimed responsibility for the abduction on Monday and threatened to sell the girls.
In a 57-minute video obtained by AFP, Abubakar Shekau, the group's leader, said: "By Allah, I will sell them in the marketplace."
State Department spokeswoman Marie Harf condemned the abduction as "despicable" and said the US was standing by to assist "in any way we think that is appropriate".
However, she declined to outline specific US help and dismissed suggestions that Washington would deploy military assets on the ground.
Under Secretary of State Sarah Sewall is on her way to Nigeria and will meet senior officials in the coming days to discuss the crisis, Harf said.
On Sunday, President Goodluck Jonathan sought help from the US and other countries, including Britain, France and China to find the girls.
Boko Haram stormed the all-girl secondary school in Chibok on April 14, placing the teenagers, who had been taking exams, onto trucks and disappearing into a remote area along the border with Cameroon.
http://www.aljazeera.com/news/africa/2014/05/us-officials-fear-abducted-nigerian-girls-2014565945897810.html
----------
Saudi Arabia's Female Pilots' Group Aiming High
May 04, 2014
A FEMALE-only pilots' group hopes to welcome its 50th member this year as it grows in strength in the region.
Established 21 years ago in Saudi Arabia, the Arabian section of the 99's International Women's Pilot Organisation currently has 47 members, including 11 based in Bahrain.
Worldwide, the organisation has 5,000 members in more than 35 countries, ranging from light aircraft pilots to astronauts.
The 99s provides a valuable support network for female pilots and aspiring female pilots, many of whom have had to fight adversity to achieve their dream of flying planes for a living.
"The Arabian section has really grown very rapidly since it was first established - surprisingly in Saudi Arabia - 21-years-ago," said group governor Alia Twal.
"During my three-year governorship I have seen membership steadily increase and now we are set to reach 50 members this year.
"Through our regular meetings we have established a really strong sisterhood among members, who are working with each other to find job opportunities or continue their aviation education.
"It is very important that women stick together in life, especially in this industry where we are the minority," she added.
The Arabian section of the 99s is set to hold its third meeting in Bahrain from October 21 to 23. The venue is yet to be confirmed.
The meeting will include a variety of aviation activities and fundraising events.
Group members include the first female captain in the history of Gulf Air, Vanessa Umba, and the first Bahraini female pilot, Maisa Hazeem.
Their fellow member Yasmeen Fraidoon has just achieved her fourth stripe and became the first Bahraini female captain in the history of Gulf Air and Bahrain.
Any companies who would like to sponsor the 99s and their third annual meeting can email Ms Twal on twalalia@gmail.com.
http://www.gulf-daily-news.com/NewsDetails.aspx?storyid=376163
----------
Rawalpindi: 200 women workers employed anti-dengue campaign
May 06, 2014
Rawalpindi- Government of Punjab is seeking approval to appoint 200 ladies sanitary patrol in connection with anti dengue campaign.
Health department Rawalpindi had sought permission from the government of Punjab for recruitment of 200 ladies sanitary patrol for conducting door to door surveillance, vaccination besides creating awareness among the people during anti dengue campaign. DCO Rawalpindi has directed health department Rawalpindi to take immediate steps for enrolment of these ladies sanitary patrol besides sending him report in this regard.
Sources said the recruitment process will start within next few days and at least matric pass ladies will be appointed against this post at union council level. Earlier permission was granted to district health department to recruit 100 ladies for sanitary patrol on contract for three months but only 46 ladies sanitary patrol could be appointed despite the posts were advertised in the newspapers.
http://www.nation.com.pk/national/06-May-2014/rawalpindi-200-women-workers-employed-anti-dengue-campaign
----------
URL: https://www.newageislam.com/islam,-women-and-feminism/new-age-islam-news-bureau/dogs-unleashed-on-female-polio-worker-in-di-khan,-pakistan/d/76894