New Age Islam News Bureau
13 October 2020
• Expat Female Lawyer Jasmin Fichte Gets 10-Year UAE Golden Visa
• Saudi Female Footballers Excited About The Upcoming League
• Prince Harry and Meghan Markle Joined Malala Yousafzai for a Discussion to Celebrate International Day of the Girl
• The Muslim Women's Coalition Builds Bridges of Understanding
• Arab News Poll Reveals Widespread Positive Attitudes among Saudis toward Women Driving
Compiled by New Age Islam News Bureau
URL: https://www.newageislam.com/islam-women-feminism/documentary-nasrin-gives-new-voice/d/123127
--------
Documentary 'Nasrin' Gives New Voice To Detained Iranian Lawyer, Nasrin Sotoudeh
12/10/2020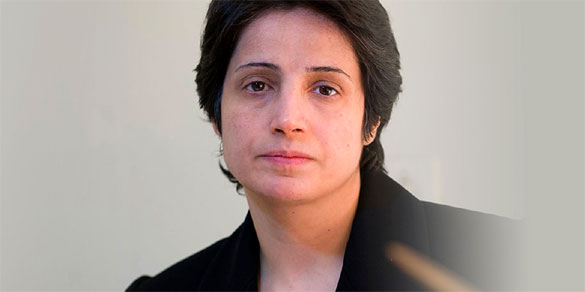 A 2013 file picture shows Iranian lawyer Nasrin Sotoudeh smiling at her home in Tehran, after being being temporarily freed following three years in prison. (AFP)
----
PARIS--Iranian lawyer Nasrin Sotoudeh reflected in March 2018 on a career that has seen her take on the most sensitive of causes in Iran, including saving juveniles from the death penalty, defending outlawed religious minorities and standing up for women's rights.
"Even though this movement did not achieve the desired results, it is an experience and an asset for our future steps. Because of this I should tell myself 'Yes! I should have the right to be happy!'" she said with a smile...
Three months later, in June 2018, Sotoudeh was jailed to serve a five-year sentence on spying charges, after a secret trial she was not even able to attend.
The following year, she received a new 12-year sentence for "encouraging corruption and debauchery".
The 2012 winner of the European Parliament's Sakharov prize and the 2020 Right Livelihood Award laureate remains behind bars in Tehran's Evin prison, and her case is generating increasing international concern.
Deprived of tools to communicate, Sotoudeh, 57, put her life on the line in a one-and-a-half-month hunger strike from August to September, calling for the release of political prisoners during the COVID-19 pandemic.
But the release of a documentary film has given Sotoudeh a new voice for her determination to campaign for justice in Iran.
The film, "Nasrin," shows Sotoudeh going about her daily work in Iran before her latest arrest, defending cases including those of women arrested for removing their compulsory headscarf.
"If we are successful in these efforts to gain our freedom through our choice of clothing then it will be a permanent freedom," she tells the camera in the film.
"We need to speak out. We need to demand. We need to insist. We need to stand our ground."
'Risk a lot'
The credits in the film, made by documentary maker Jeff Kaufman and narrated by "The Crown" actress Olivia Colman, say the filming on the ground in Iran was carried out by "anonymous" with their names withheld for security reasons.
"We found a couple of people we could work with and trusted. They were just amazing. They did risk a lot," Kaufman told AFP. "They felt that getting the story out was important."
The film, which had its premiere this month at the GlobeDocs Film Festival, shows Sotoudeh plunged into the intensity of her daily routine, negotiating Tehran's crammed traffic at the wheel of her car as she travels from her office to courthouses.
She gently guides one tearful young woman through the prospect that the judiciary is likely to impose a prison sentence for her bold protest in symbolically removing her headscarf. But the smile and kindness never falter.
"You must have one of these pastries," she tells her.
Another client is the celebrated Iranian filmmaker Jafar Panahi — who featured Sotoudeh in a cameo in his prize-winning film "Taxi Tehran," made inside a car due to a ban from filmmaking — as he seeks to have a travel ban overturned.
The film also shows the toll on Sotoudeh's family life, with her young daughter and son only able to communicate through phone calls and occasional prison visits behind a thick glass pane.
"This call is made by an inmate of Evin prison," says an automatic voice that constantly interrupts one phone call with the family.
'Freedom bleeds'
Sotoudeh was previously jailed from 2010 to 2013, during which time she staged several hunger strikes.
"One of the problems is that you can never take what they (the authorities) say seriously," her husband Reza Khandan says in the film, "It is never clear if they are telling the truth."
Taghi Rahmani, the husband of rights campaigner Narges Mohammadi, who spent half a decade in jail, adds that "Evin is where freedom bleeds and human rights are violated and raped."
In a rare flash of hope, Mohammadi was unexpectedly freed last week.
Kaufman said Sotoudeh has never had a chance to see the film.
"But Reza and the children have, and they have been incredibly supportive," he said, adding that he was optimistic the film would raise awareness of her case.
"The regime has a way of putting pressure on families to keep them silent," he said. "Nasrin and Reza believe that silence is an enemy of progress."
https://thearabweekly.com/documentary-gives-new-voice-detained-iranian-lawyer
--------
Expat Female Lawyer Jasmin Fichte Gets 10-Year UAE Golden Visa
Waheed Abbas
October 13, 2020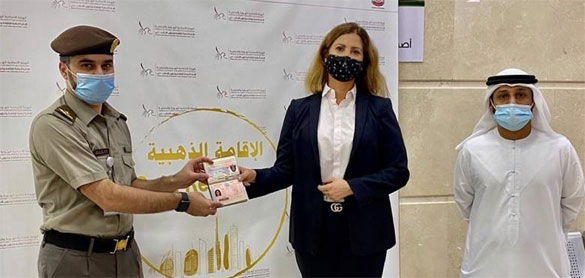 Jasmin Fichte, founder and managing partner of Fichte & Co, was granted a 10-year golden visa by Dubai authorities on Sunday, becoming the first female lawyer in the UAE to receive the visa.
----
She has been living and working in the UAE for over 20 years.
Jasmin Fichte, founder and managing partner of Fichte & Co, was granted a 10-year golden visa by Dubai authorities on Sunday, becoming the first female lawyer in the UAE to receive the visa.
Fichte is a German national and has been a UAE resident for more than 20 years.
The UAE government had chosen 6,800 investors and professionals based in the UAE, who hold around Dh100 billion in assets and hail from 70 countries, to receive the golden visa.
Among professionals, the UAE also granted permanent residency to 2,500 scientists, researchers and doctors who come from various backgrounds including gas and energy, nanotechnology, aviation, engineering and robotics.
Dubai has granted 10-year visa to around 212 doctors for their work to protect the residents against the coronavirus pandemic.
Top businessmen in the UAE such as LuLu Group chairman Yusuff Ali, Danube Group chairman Rizwan Sajan, Aster DM Healthcare chairman Dr. Azad Moopen and Pure Gold Jewellers chairman Firoz Merchant are also among the golden visa recipients.
"I have been working and living in the UAE for over 20 years. With me it has been the same story as with many other expats that you plan to work in the UAE for a couple of years, but then decide to stay on as it is the best place to be. I think my major commitment to this country was in 2004 when I decided to establish my own law firm. Opening an office in Dubai was also a decision to stay for good," said Fichte.
She said: "Dubai is a place where you as a person and your business can flourish. As a working woman, I cannot stress enough the opportunities provided for women and it fills me with pride to see the ever-growing number of successful female entrepreneurs. Having put all my trust and hard work into my business in Dubai, I am grateful that the city is recognising my efforts and granted me a 10-year visa."
https://www.khaleejtimes.com/uae/dubai/expat-female-lawyer-jasmin-fichte-gets-10-year-uae-golden-visa-
--------
Saudi Female Footballers Excited About the Upcoming League
October 13, 2020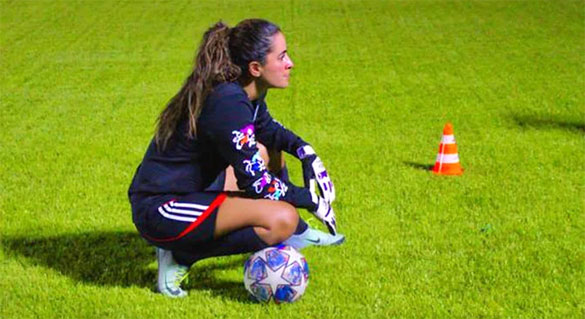 Hala Mansouri says she has been playing football since childhood. (Supplied)
-----
JEDDAH: As women across the Kingdom pursue their athletic dreams, including football, the No.1 sport in the country, anticipation for the Saudi Women's Football League (WFL) is building.
The Saudi Sports Federation first announced the launch of the WFL in February, but it was postponed with the onset of the coronavirus disease (COVID-19) pandemic.
The wait has been long, but Saudi footballers have been training throughout the lockdown period.
Coach Bireen Sadagah told Arab News: "Jeddah Eagles (one of teams selected to play in the WFL) have been practicing very hard in preparation for the league on and off the field, in terms of enhancing our fitness and strengthening our football mentally."
She added: "The lockdown did not stop us from wanting to improve ourselves. We continued training in our homes as best as we could with the space and equipment available. Workouts and football drills were sent to us. Then as soon as it was acceptable, regular training was resumed three times a week, as well as individual work for recovery and strengthening."
Hala Mansouri, a 22-year-old Saudi senior advertising student, has been playing football since she was 6, while living in West Virginia in the US, where she joined the World Alliance of the YMCA and fell in love with the game.
Returning to the Kingdom years later, she played on and off but always knew she had a knack for it, and joined Jeddah Eagles as a goalkeeper as soon as the lockdown was lifted.
"I used to play soccer and basketball when I was living in the US, depending on the season, but I just loved playing soccer more when I moved back to Jeddah," she told Arab News.
Explaining what makes being a goalkeeper different, she said it was not as hard as playing other positions, but the difference was that goalkeepers see the whole field, must keep a close eye on the ball, and concentrate while keeping their cool.
"We can speak to our teammates so they can know where to go but the difference is we have different training; they run more than us goalies. I use my whole body to block a ball and strikers are more terrified if they missed or not. As a goalie, my only worry is if the ball passed the goal line," Mansouri added.
Although goalkeepers are sometimes the under-loved players, she said, training was still rigorous, long and essential. "Goalies are the last line of defense in football."
The young athlete said that football provided her with a liberating feeling away from everyday distractions. "While in a game, I don't think of anything; everything is muted and it's just a break for a while. It's the best feeling.
"I'm honestly very proud that women found a lot of support in pursuing their dreams in sports and our families can be proud of us for doing so," she said. "It's a good feeling, even though we're a bit later than other countries, but at least we got to where we are now for women and I couldn't be more proud."
So far, only Saudi citizens will be allowed to play, but that has not dampened enthusiasm from other female footballers in the Kingdom.
Yemeni-Saudi 24-year-old marketer, Shahad Saif, who plays for Jeddah's Miraas FC as left-back, said she had played the game with her family in Jeddah since she was 10.
"I have been playing football since I was a kid with my family and brothers. I didn't get the opportunity to play with an all-women's group. So when I grew up, I used to rent a field and play football with random girls who love the sport and play without coaches and no specific requirements to play or prepare anything," she told Arab News.
Football has always been an important part of her life, and it influenced all her habits and decisions. "Finding a community for this was very important, the only thing we could do back then was go to the gym."
Miraas was established in Jeddah a year ago, and the left-back was one of the founders. "We provided everything that's needed for girls to play soccer."
Sharing the same sentiment, Amal Gimie, 26, an Eritrean midfielder for Jeddah's Kings United, has been playing soccer since she was eight years old. Although she will not be participating either, that will not stop her from pursuing her passion and bettering her skills.
"There was a match every weekend, the boys made us play as goalkeepers in the beginning, and in 2002, when I first saw the Women's World Cup, it sparked my passion to learn more about this sport," Gimie, who is also a management information systems graduate, told Arab News. She joined her first female football team "Challenge" in Riyadh in 2014.
"It was the first time I joined something organized. I was happy to be playing but at the same time, I felt like it was an unreachable goal (to become a professional athlete or join an official league) I felt like I was growing older without achieving anything," she added.
The midfielder said the rules of football have influenced her character.
"I'm someone who needs passion to live. I can't live without having a goal. Since I was a kid, I knew I wanted to be a soccer player," she said. "There has always been a drive to pursue and achieve something. Soccer has changed my personality in determination, and to learn and this was a dream that I wasn't sure it would ever come true but I had the determination to continue. And socially, I learned a lot about teamwork and how to maintain relationships with people." Kings United coach Elham Al-Amri told Arab News that women, both athletes and coaches and anyone interested in the game, had finally been given the opportunity to show their love for the game.
"What's even more exciting is the participation of Kings United players to represent the Saudi League," she said. "We at Kings United offered our players the right set of techniques and teachings to increase their chances of participating in the league."
https://www.arabnews.com/node/1748016/sport
--------
Prince Harry and Meghan Markle Joined Malala Yousafzai for a Discussion to Celebrate International Day of the Girl
13 Oct 2020
The Duke and Duchess of Sussex, Prince Harry and Meghan Markle joined Malala Yousafzai for a discussion to celebrate International Day of the Girl, an annual campaign launched by UNICEF to amplify women's voices and stand up for their rights.
Introducing the theme of the talk, the Nobel Prize laureate started the discussion with the role education played in both the growth and learning in the royal duo's life as well as their views on its access all around the world.
"When young girls have access to education, everyone wins and everyone succeeds. It just opens doors for societal success at the highest level," opened Meghan as she thanked Yousufzai.
"What I had realised very early on was that when women have a seat at the table, conversations in terms of policy change, conversations in terms of legislation and the dynamics of the community are all shifted," she added, revealing why she was an advocate working with the Association of Commonwealth Universities herself.
Discussing how the pandemic has affected young women's access to the necessity, Prince Harry too, acknowledged its importance, and how he understands it better now than he did as a child.
"When you have an education, it provides money, it provides an income which makes you less susceptible to disaster," he said, identifying its crucial role in tackling climate change and opening doors to future opportunities.
Malala too revealed the urgency of the matter since 20 million girls were on the verge of dropping out of school due to the coronavirus and the limitations it brings to studying from home.
"They might be pushed towards child marriages or to become financial supporters of the family," she said, talking about the need for investment in their futures.
"We must ensure they are protected, they do not drop out, and they should be able to return safely to school."
The activist also mentioned how all the ways in which people can extend their help would be available on her website Malala Fund, should they be interested in working for the nobel cause.
Signing off, the Duke and Duchess mentioned how the pandemic helped them spend time at home with their little one Archie.
"We were both there for Archie's first steps, his first run, his first fall, everything," celebrated Prince Harry.
"And it's just fantastic that in so many ways we are fortunate to be able to have this time to watch him grow, and in the absence of Covid, we would be traveling and working more externally. We'd miss a lot of those moments," Meghan revealed.
A fierce advocate for female education, Malala Yousufzai was a victim of a assassination when she was shot in retaliation for her activism at the age of 15.
https://images.dawn.com/news/1185887/inside-malala-yousufzais-meeting-with-prince-harry-and-meghan-markle
--------
The Muslim Women's Coalition Builds Bridges of Understanding
OCT. 12, 2020
The Milwaukee Muslim Women's Coalition (MMWC) sits on the South Side of Milwaukee, run by a group of influential Muslim women who have worked to educate people about Muslim culture for the past 25 years. The idea for the organization started to take shape when the group would meet regularly to discuss the prejudice and disparaging comments they were experiencing at work. Upset about the remarks made about their hijabs and customs, the women decided that teaching others about their culture was the solution.
"The vast majority of people are not racist by nature, but their racism is manifested as a result of fear of the unknown," says president and founding member Janan Najeeb. "If we can work to help them understand and to help them address those fears by creating opportunities to engage with them, then I think we will do a tremendous job of dismantling a lot of these hatreds that are out there."
Najeeb and the group began hosting discussions and recommending readings about the Muslim religion to non-Muslim groups. But they soon realized how few accurate books were available in the Milwaukee area. They couldn't blame people for knowing so little about their culture when most of the books they could find about Muslim culture were inaccurate and written by non-Muslims.
So, the group of women began collecting books with the right messages that they could lend out. Then, in 2009, when the group became an official 501c3 organization, they acquired their current space on the South Side and built a library. The library is now filled with thousands of books "that accurately represent who we are," says Najeeb. The shelves are also filled with children's books that have characters and stories that Muslim children can identify with. These books are not often found in our public libraries and schools. As Najeeb explains, it's important for kids to see names of characters they recognize and holidays they know. "There's a sense that they matter, that their story matters and that they are recognized. That is important when you are a minority."
Reach Out and Connect
The MMWC makes a point to reach and connect with people through multiple mediums, and the library is only one part of their extensive programming. They host book clubs, give lectures, offer job training for women, and they even started the Milwaukee Muslim Film Festival. This year, most of their events are online because of the pandemic, but that hasn't slowed them down.
Friends of the Shepherd
Help support Milwaukee's locally owned free weekly newspaper.
The organization still plans to host the film festival this year in collaboration with the Milwaukee Film Festival by giving people the chance to watch the film American Muslim online. The film follows a number of Muslim individuals that were affected by the executive order that Trump signed in 2017 banning predominately Muslim countries from entering the United States.
The film and the other events that MMWC create all come back to their core mission of building bridges of understanding between the Muslim community and the greater Milwaukee community. As Najeeb explains, "If you create opportunities to really get to know people, to have a discussion, it's really difficult to hate them." The division in our country can start to wane if we take the time to understand the cultures we know little about and get to know people outside of our circles.
https://shepherdexpress.com/news/hero-of-the-week/the-muslim-women-s-coalition-builds-bridges-of-understanding/
--------
Arab News Poll Reveals Widespread Positive Attitudes among Saudis toward Women Driving
October 12, 2020
Newsweek reports that a joint Arab News and YouGov poll reveals overwhelmingly positive attitudes among Saudis toward women driving, with approval slightly higher among women than among men.
Polling data of 500 people found that 82 percent of women agree that they should be allowed to drive, and roughly 70 percent of men share that view. It also found that 80 percent of women intended to drive by applying for a licence.
Economic and business incentives, the poll found, were key in driving approval for women driving, while the minority that rejected the idea did so based on perceptions of negative impacts on safety and because it was perceived to be "against local cultural traditions."
https://www.arabnews.com/node/1747981
--------
URL: https://www.newageislam.com/islam-women-feminism/documentary-nasrin-gives-new-voice/d/123127
New Age Islam, Islam Online, Islamic Website, African Muslim News, Arab World News, South Asia News, Indian Muslim News, World Muslim News, Women in Islam, Islamic Feminism, Arab Women, Women In Arab, Islamophobia in America, Muslim Women in West, Islam Women and Feminism