New Age Islam News Bureau
16 Jul 2016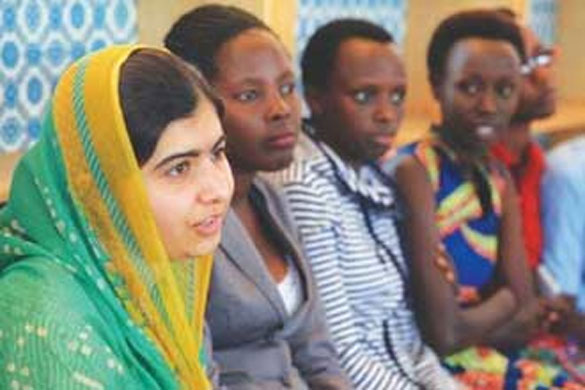 Photo: MAHAMA: Nobel Peace Prize laureate Malala Yousafzai talks to Burundian refugee girls at the Mahama refugee camp.-Reuters
---------
• Malala Shocked As Weeping Burundian Girls Recall Rape
• Pakistani Model Qandeel Baloch Shot Dead In Multan for Honour by Her Brother
• India's Supreme Court to Consider Whether Muslim Custom Violates Women's Rights
• Indonesian Woman Arrested For Posing As 'Husband'
Compiled by New Age Islam News Bureau
URL: https://newageislam.com/islam,-women-and-feminism/new-age-islam-news-bureau/do-young-girls-willingly-join-the-islamic-state-to-be-terrorists?/d/107987
------
Do young girls willingly join the Islamic State to be terrorists?
Fri, 15 Jul 2016
Why do they do it? After every shooting, hacking, suicide bombing – and we hear of one every few days in some corner of an increasingly connected world – we look dazedly at each other and wonder: Why?
The question gains urgency after recent terror attacks that were carried out by middle or upper class young professionals who attended good schools and degrees. They are not driven to despair by poverty; their families seem to have no clue about their violent plans.
As for the young girls who have left comfortable homes in liberal societies to join extremist outfits like Daesh, the imagination boggles. With reports of horrific sexual abuse, aside from the risks inherent in a closeted life in states where women are not granted equal rights – why? Who is to blame for all this?
The friendship
Tabish Khair's latest novel Jihadi Jane grapples with this question through the trials of two teenaged British Muslim girls of South Asian origin. Ameena and Jamilla go to high school together. The former is smoking cigarettes, seeking attention from boys, and struggling with authority, perhaps as a result of her parent's divorce. The latter takes her studies and her Islamic identity quite seriously, but through the lack of judgment and the offer of friendship, she weans Ameena off her old habits. The two girls become unlikely friends and then flat-mates, bonding over religion and political conflicts, particularly the oppression of Palestinians.
Cut off from other influences, including her own moderate mother, Ameena the rebel turns into Ameena the zealot. Jamilla wants to avoid an arranged marriage. Both are looking for an alternate future and it doesn't take them long to meet Jihadi recruiters online, among them a beautiful woman called Hejjiye who flaunts a pet cat and designer handbags and a husband fighting for "the faith". That the girls should leave their families without a backward glance, blindly rushing into the war-torn Syria, seems almost inevitable.
Ameena had promised herself to a Daesh commander, but Jamilla continues to resist marriage in Syria. She lives in a women's shelter-cum-orphanage, controlled by Hejjiye, cut off from all news and even religious texts that are not aligned with Daesh interests. To cope with reports of the rape of Yazidi women and children, an "imam" is brought in to lecture the women about "an 'infidel' interpretation of what actually happened: the woman had been given into the care of honourable Daesh fighters, either because the women had so wished, or for their protection".
Jamilla is not wholly convinced but she is also knows that it is no longer possible to argue. As she says, "Some had surely believed in the bearded old man; some, like me, must have chosen not to disbelieve – for can one really believe if there is no freedom to disbelieve?"
Not just one story
As the narrator, Jamilla, tells her story, we begin to see the trouble of the single narrative around the radicalisation of young Muslims. By her own admission, Jamilla, with her hijab and her Quran study group and her avoidance of pop concerts, may have helped to radicalise her friend. But she herself has been schooled well in the practice of compliance. She has learnt to listen, to obey, to not push back even when her own life hangs in the balance, and this she did not learn in Syria. She learnt it in the UK. She learnt it at home, as hundreds of millions of women do.
As much as it is an inquiry into the motivations of Jihadi Jane-like characters, the novel is also a page-turner. It tightly knits together the complexities of identity and faith with the story of a war survivor whose culpability we are never sure of, right up to the final chapter. Finally, it is not so much a jihad story as the story of teenagers, resentful of their families and teachers, but willing to trust strangers. It is the story of immigrants, struggling to hold on to a sense of self in a different culture, and of men who do not let women make decisions, of men who discard women too easily.
Khair skilfully cuts to the heart of the question of why young Muslim boys and girls who have so much going for them become enamoured of groups like Daesh. We would do well to hear a more nuanced, more human answer to "why?"
scroll.in/bulletins/12/indias-finest-films-are-making-a-rare-comeback-on-your-television
--
Malala shocked as weeping Burundian girls recall rape
July 15, 2016
MAHAMA (Rwanda): More than a dozen schoolgirls broke down in tears as one told Malala Yousafzai about the rapes they experienced and witnessed while fleeing to Rwanda in 2015 to escape fighting in Burundi
The 19-year-old Pakistani education activist was visibly moved by the sobbing Burundian refugees.
"It's extremely shocking," the world's youngest Nobel laureate said during a visit to Rwanda's Mahama refugee camp.
"It's very tragic their stories, very moving and emotional."
Burundi has been mired in a year-long crisis that has killed more than 450 people and forced 270,000 to flee since President Pierre Nkurunziza pursued and won a third term. Opponents said his move violated the country's constitution and a deal that ended a civil war in 2005.
Ange-Mireille Ndikum­wen­ayo was on a bus heading to Rwanda in May 2015 when she saw two girls being gang-raped by the roadside.
"They tried to run and asked for help but no one could help them because they had guns," said the 20-year-old, referring to the Imbonerakure, the ruling party's youth wing which rights groups say has attacked and tortured government opponents, charges it denies. "It broke my heart."
Malala's father, Ziauddin Yousafzai, compared the girls to his daughter, recalling how she had cried when she heard on the radio in 2009 that the Taliban in Pakistan had issued an edict banning girls from attending school.
"She cried as you cry," he said during the visit to the camp on Thursday. "But you know, first you cry, then you scream and then you shout and raise your voice for your rights... When there is night, there is a dawn."
The majority of the 50,000 Burundian refugees living in Mahama camp in southeastern Rwanda are children.
There are about 12 new arrivals each day, said the United Nations refugee agency's Paul Kenya, head of Kirehe field office, often children travelling alone.
"Some are being asked now to join the political party and the militia and they are refusing and then they are forced to flee," he said.
People whose families are known to have fled to Rwanda often fall under suspicion and have to leave as well, he added.
Almost 65 per cent of Mahama's refugees come from Burundi's border province of Kirundo as roadblocks make it difficult for people living further south to leave the country, he said.
"They were being beaten to explain why they were fleeing," he said. "They were accused of being spies."
Relations between Rwanda and Burundi are tense following a report submitted to the UN Security Council that accused Rwanda of training and financing Burundian rebels, charges Rwanda denies.
The Burundi crisis has sparked concerns it could spiral into an ethnic conflict in a region where memories of Rwanda's 1994 genocide are fresh.
According to the report, the rebels – including six children – said they had been recruited in Mahama camp, an issue that Malala raised on Wednesday with Rwandan President Paul Kagame.
"It is their age to get education... not [to be] sent back as fighters to their country," she said.
dawn.com/news/1271198/malala-shocked-as-weeping-burundian-girls-recall-rape
--
Pakistani Model Qandeel Baloch Shot Dead In Multan for Honour by Her Brother
July 16, 2016
Multan: Pakistan's social media celebrity Qandeel Baloch was killed allegedly by her brother in Multan in Punjab province, becoming the latest victim of "honour killings" that plague the country.
The 26-year-old actor-cum-model was killed in central district of Multan last night, police said today.
Police said apparently she was killed by her brother named Wasim, who has fled after the incident
"She was suffocated to death by strangulation. It seems to be a case of honour killing but we are investigating it," district police chief Azhar Akram said.
Her real name was Fouzia Azeem but she chose Qandeel Baloch as her pseudonym after stepping into modelling.
She had received threats from her family to quit modeling and her provocative appearances on social media. Her brother had been threatening her over her Facebook posts and videos, said the police.
Three weeks ago, she had written to the interior minister, the director general of the Federal Investigation Authority (FIA) and the senior superintendent of Islamabad asking them to provide security to her, Dawn reported.
She had said her life is in danger and that she is being threatened via calls on her mobile number and that she did not have security measures installed in her home, the paper said.
Qandeel was media sensation and unbelievably bold and was also considered highly controversial. She shot to fame in Pakistan in 2014 after a video of her pouting for the camera.
She became famous through her tireless self-promotion and suggestive "selfies" posted on social media and had amassed tens of thousands of followers.
She had expressed her desire many times to marry ex-cricketer and opposition politician Imran Khan.
Her controversial pictures recently led to the suspension of Mufti Qawi's membership from the Ruet-e-Hilal committee.
siasat.com/news/pakistani-model-qandeel-baloch-shot-dead-multan-986665/
--
India's Supreme Court to Consider Whether Muslim Custom Violates Women's Rights
July 15th, 2016
India's Supreme Court will consider whether or not certain Islamic laws that pertain to marriage and divorce violate women's rights.
One deeply engrained Muslim custom — the triple talaq — holds that a man can divorce his wife simply by saying the word "talaq" three times.
New Europe writes:
As reported by the Hindustan Times, the debate around triple talaq had received a shot in the arm earlier this year when a victim, Shayara Bano of Uttarakhand, filed a petition in the apex court seeking a ban on the practice. She also challenged the practices of polygamy and nikahhalala, which mandates that a woman has to marry another man and consummate it if she and her divorced husband wish to get back together.
"Shayara Bano in her petition said the inhuman practice of triple talaq affected her fundamental rights, besides violating her dignity as a woman," says Balaji Srinivasan, advocate on record for Bano and Gulshan Parveen, another petitioner. "Shayara Bano's challenge of the practice is the first instance of an individual from the community seeking legal recourse against the practice."
Reportedly, technology has enabled men to divorce with even greater ease as they have been transmitting the triple talaq via text message and WhatsApp.
mediaite.com/online/undercovered-india-court-to-consider-whether-muslim-custom-violates-womens-rights/
--
Indonesian Woman Arrested For Posing As 'Husband'
July 15, 2016
INDONESIA: An Indonesian woman who allegedly posed as a man in order to get married was arrested after the shocked wife discovered the deception, police said today.
Suwarti, who like many Indonesians goes by one name, was detained on Thursday after the wife alerted authorities, several months after the pair tied the knot in a ceremony on Java island.
The wife, Heniyati, became suspicious when her "husband" refused to consummate the marriage.
Suwarti has admitted to the deception and could face up to seven years in prison for falsifying her identity, according to local chief detective Muhamad Kariri.
"She falsified all the documents for the marriage... My family and I were deceived. We feel so embarrassed," Heniyati, 25, told the Jakarta Post newspaper.
Police said they were still investigating the reason for Suwarti's deception.
All Suwarti would say is that she had been disappointed by a previous marriage, from which she had a 17-year-old child, Kariri added.
When they met, 40-year-old Suwarti gave herself the male name Muhamad Efendi Saputra and said she was a police officer.
After a whirlwind romance lasting a couple of months, the pair married late last year in their home district of Boyolali, with Suwarti reportedly even hiring people to pretend to be her male alter ego's relatives at their wedding.
After several months of married life, Heniyati finally discovered an identity card in Suwarti's wallet showing who she really was, said Kariri.
Society in Muslim-majority Indonesia, particularly in rural areas, remains deeply conservative, and the lesbian, gay, bisexual and transgender community often face discrimination and a lack of acceptance.
ndtv.com/offbeat/indonesian-woman-arrested-for-posing-as-husband-1431855
URL: https://newageislam.com/islam,-women-and-feminism/new-age-islam-news-bureau/do-young-girls-willingly-join-the-islamic-state-to-be-terrorists?/d/107987
New Age Islam, Islam Online, Islamic Website, African Muslim News, Arab World News, South Asia News, Indian Muslim News, World Muslim News, Womens in Islam, Islamic Feminism, Arab Women, Womens In Arab, Islamphobia in America, Muslim Women in West, Islam Women and Feminism