New Age Islam News Bureau
4 March 2017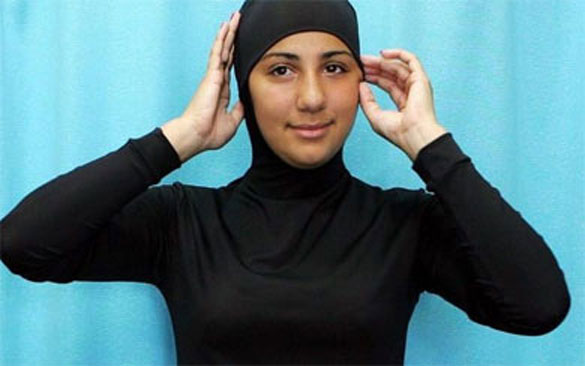 The new guidance means swimmers who wear full body suits for religious beliefs or a pre-existing medical condition, are now able to compete in all ASA licensed swimming meets and national events
-------
• Instagram Account Acknowledges Muslim Female Fighters
• Muslim Women Win Right To Wear Full Body Suits in Amateur Swimming Competitions
• From Rags to Riches: How One Bangladeshi Woman Defied the Odds and Made It
• Dubai Girl Goes Bald To Support Cancer-Struck Mother
• Vogue Celebrates Muslims in Special Feature on American Women
Compiled by New Age Islam News Bureau
URL: https://newageislam.com/islam-women-feminism/divorced-via-whatsapp,-2-women/d/110288
--------
Divorced Via WhatsApp, 2 Women in Hyderabad, India, Fight For Their Rights
Mar 03, 2017
Two women, residents of Old City in Hyderabad, are fighting against the regressive practice of triple talaq after they were given talaq over WhatsApp by their husbands.
Syed Heena Fatima married Syed Fayazuddin Hussaini in February 2013. A few weeks ago, Heena received a WhatsApp message from her husband with the three words: 'talaq, talaq, talaq.' Her husband then sent her divorce papers from the United States, where he currently lives and works.
"I have two children, who will take care of my children? Sharia law lets you divorce me, but who is going to look after our children? Doesn't Sharia law ask of you to take care of your children?" said Heena.
Heena's sister-in-law, Mehreen Noor, then faced a similar thing. Mehreen, who is married to Syed Fayazuddin Hussaini's brother Mohd Abdul Akheel, received a WhatsApp message from her husband informing her that she had been divorced.
"After marriage I found out that my husband's name is Usman Qureshi. And now, without a reason, he sent me a divorce notice. They have made marriage into a joke," said Mehreen.
The two women, along with their family members, have now lodged a complaint with the Chaderghat police and Mirchowk police station.
The regressive practice employed by Muslim men to divorce their wives instantly without their consent, by uttering the word 'talaq' thrice has been in practice in India for many years now.
Several Muslim women were forced to accept the discriminatory Triple Talaq Sharia law owing to pressure from certain elements from within the society.
http://www.timesnow.tv/india/article/divorced-via-whatsapp-2-women-in-hyderabad-fight-for-their-rights/57018
--------
Instagram account acknowledges Muslim female fighters
March 4, 2017
Muslim Female fighters is the name of the Instagram account vowing to break Muslim women stereotypes by posting pictures of women fighters from all over the world.
Managed by kickboxer Sara Kawthar, the account frequently shares pictures of Muslim women rarely captured by the media.
"The media crafts this narrative that Muslim women are submissive all the time. So I understand why people might initially think that " Sara said. "Traditionally, Muslim women haven't been involved in too many sports, let alone combat sports.
Sara has a personal motivation in showcasing the vast community of Muslim fighters. "I've grown up participating in football leagues, found my way into taekwondo, and now kickboxing," says Sara, who wears the hijab while competing. "I know a lot of women who were given ultimatums to either take that [their headscarf] thing off, or to forfeit."
However, Sara intends to change the general perception. "Women's boxing was non-existent in Pakistan and is now blossoming all over the country with hopes of Pakistan sending a female boxer to the next Olympics," she said.
"Egypt and Malaysia are grooming a lot of female Muslim MMA fighters. Even Turkey and Morocco have vibrant women's kickboxing and Muay Thai scene. And Maryam El Moubarik won a gold medal for Morocco in an international Muay Thai competition, clad in hijab," she added.
http://www.pakistantoday.com.pk/2017/03/03/instagram-account-acknowledges-muslim-female-fighters/
--------
Muslim women win right to wear full body suits in amateur swimming competitions
Telegraph Reporters
3 MARCH 2017
The Amateur Swimming Association said yesterday that it was relaxing its swimsuit regulations to allow women to wear loose-fitting full body outfits, after a request from the Muslim Women's Sport Foundation.
Until now, full body suits like those worn by Olympians have been banned, as they help streamline the shape of the body and have performance-enhancing characteristics.
The new guidance, which will only apply to amateur competitions in England, states that competitors will not be allowed to wear any suit that a competition referee believes will increase performance.
Photographs published by the governing body suggested that loose-fitting outfits would be permissible, while specifically excluding body suits similar to those worn by elite competitors.
The guidance states: "Swimmers wishing to swim in such a suit shall present the suit to the event referee for inspection prior to their swim.
"Once the referee has been informed of a swimmer wishing to wear a suit, as described above, there is no requirement for the referee to question the swimmer further, the ASA swimming management group do not want athletes being asked why they wish to wear the suit."
In a statement, Chris Bostock, chairman of the ASA sport governing board, said: "This is a very positive step forward for competitive swimming in England and one that we hope will encourage many more people to take part.
"We want everyone to be able to reach their potential. Representing your club at a national swimming competition is very special. By changing these rules we hope to encourage a new generation of swimmers."
Rimla Akhtar, from the Muslim Women's Sport Foundation, said: "Participation in sport amongst Muslim women is increasing at a rapid pace. It is imperative that governing bodies adapt and tailor their offerings to suit the changing landscape of sport, including those who access their sport.
"The MWSF is glad to have requested a review of competition laws in relation to full body suits by the ASA and are extremely pleased at the outcome.
"We thank the ASA for their leadership in this matter. We look forward to continuing to work together to ensure that this ruling is also adopted at the elite level both nationally and internationally."
http://www.telegraph.co.uk/news/2017/03/03/muslim-women-win-right-wear-full-body-suits-amateur-swimming/
--------
From Rags to Riches: How One Bangladeshi Woman Defied the Odds and Made It
March 03, 2017
Bangladesh Overseas Employment Services Limited has started a programme that protects the rights of female migrant workers travelling to Jordan, allowing one defiant woman who refused to be bogged down by societal stigma to lift her family out of poverty.
The very thought of female migrant workers conjures up an image of abuse and deception, women toiling away in far corners of the world unable to tell their stories; but some do return with positive experiences as in the case of 28-year-old Moni.
Having worked in Jordan as an RMG migrant worker for six years, Kazi Shahnaz Parvin Moni has not only managed to support her family, pay their debts, pay her brother's entire college tuition, but also managed to save enough money to pay for her own wedding last year.
Bangladesh exports both skilled and unskilled labour but in the case of RMG workers the country now has the upper hand as heavy investment has been made in that industry since the early 1980s.
In 2010, Moni got an opportunity to work at a garment factory in Jordan through Bangladesh Overseas Employment and Services Ltd (BOESL) and knew this was a better opportunity to earn more than the monthly salary of Tk5,800 at the knitting factory she was then working at the EPZ.
Also Read- Where women are the breadwinners
Her parents tried to protect her vehemently and opposed the very idea of her going to a Middle-East country having heard of the horrific stories of sexual and physical abuse in some of those countries. But her skills as an RMG worker were highly sought after in Jordanian garment factories. Their minds were too preoccupied with trying to protect her.
"There is still a stigma surrounding women migrant workers in Bangladesh, people tend to see it very negatively,"Moni said.
Nobody in her life thought it was a good idea to go, not even her then boyfriend whom she recently married. But she went anyway. Travelling 5,357km from home with five other women in search of a better life at Hi-Tech Textile in Amman, Jordan for a monthly salary of $155.
Once in Jordan, Moni and others like her worked eight hours a day from 7am with an hour for lunch break.
The women lived in shared dorm rooms with three meals a day provided by their employer which subsequently helped them save a bulk of their salary to send home: "This helped us save the money we were paid to send home every month," she said.
But living abroad is not easy, and once home sickness kicks in, it is hard for people to cope which is why many girls left for Bangladesh early, being unable to live without their families.
"The first six months were the hardest, homesickness hit the girls so hard that they cried themselves to sleep some nights," said Moni.
With the money that she saved, Moni who was only able to finish grade 8 due to financial constraints was able to bear the cost of her brother's engineering diploma for Tk8 lakh.
She was also able to revive her father's decorating business with Tk5 lakh and helped her family slowly become financially solvent.
Moni's father Kazi Nazmul Haq beamed with pride: "I am so proud of my daughter. She has single handedly changed our lives.
"At first, I was obviously uneasy about her leaving, I had heard horror stories about workers abroad, but I will admit I was proven wrong as she is a shining example of what can happen if things are done right."
Moni made friends with a Bangladeshi shop-owner next to her dorm and soon also got a part-time job there, making a little extra cash on the side, which helped her pay for her own wedding last December.
With a large savings of Tk10 lakh, Moni came back to Bangladesh to marry her almost decade-long boyfriend. And she is taking him back with her to Jordan.
In a rare case of independent spirit, Moni has taken her life into her own hands.
"I have a dream to be successful – build my own home and educate my children in Bangladesh … once I can save up for it, of course," Moni said.
The road to Jordan
Since 2010 Bangladeshi female RMG workers began going to the Kingdom of Jordan as skilled migrant workers.
In the six years, roughly 36,093 female migrant workers have gone to Jordanian RMG factories for work.
Bangladesh Overseas Employment and Services Limited (BOESL), the governing body of migrant workers, have a transparent system that is responsible for sending the workers abroad.
The system invites the best companies to visit Bangladesh and recruit workers based on their skills at a skills assessment test.
Once they have been selected, the workers get a contract that is overseen by the BOESL ensuring the workers rights.
The company will have to provide the air fare, food, housing and medical insurance along with their salary.
The migrant workers have to pay Tk17,750 for the services provided by the BOESL, there is no middleman involved in this transaction.
When BOESL first started this programme it struggled finding workers having to advertise on leaflets and distribute them near garment factories, said BOESL officials.
Bangladesh Ambassador to Jordan Mohammad Enayet Hossain told the Dhaka Tribune: "Our RMG workers are skilled when they come to this country, so they do not face that kinds of problems that unskilled domestic workers do."
Lubna Yasmine, first secretary at Bangladesh Embassy in Amman, spoke of the burgeoning industry: "We are very proud that Bangladesh is the main sourcing country of skilled RMG workers for Jordan.
"As BOESL under the Ministry of Expatriates' Welfare and Overseas Employment is the only recruiting agency to send RMG workers to Jordan and the female RMG workers do not need to go through middlemen, the process is very transparent and the female workers get good pay.
"The RMG sector here in Jordan is very organised and the country enjoys duty-free access to the American market which is why they need more RMG workers and this is why Jordan is increasingly looking towards Bangladesh to find skilled labour.
"Also the ILO and trade unions in Jordan monitors the RMG workers condition very closely."
http://www.dhakatribune.com/bangladesh/development/2017/03/03/one-woman-defied-odds/
--------
Dubai girl goes bald to support cancer-struck mother
March 4, 2017
7 year old Maria urges women to go for early detection measures.
Dubai-based Indian expatriate Premi Mathew, the founder of Protect Your Mom campaign, organised by the Hair for Hope India group, shared a video on her Facebook profile about a seven-year old girl who went bald to support her mom's journey through breast cancer.
In the video, the mother, Dubai resident Elizabeth Mathew Abraham, describes how she was diagnosed with cancer after her eldest daughter pestered her to get herself checked. Her third daughter Maria decided to shave her own hair after seeing her mother losing hair following chemo therapy. In the video Elizabeth explained how she coped with the disease due to the awesome support she received from everyone.
Premi Mathew founded Hair for Hope India in June 2013 to create awareness about hair donation since wigs with natural hair are very expensive. PYM targets children and helps them organise events in their own schools around the world. Currently, PYM has 45,000 members onboard with the support from media.
http://khaleejtimes.com/nation/dubai/dubai-girl-goes-bald-to-support-cancer-struck-mother
--------
Vogue Celebrates Muslims In Special Feature On American Women
04/03/2017
Vogue is celebrating its 125th anniversary this year with a dazzling feature on the diverse lives and stories of American women around the country. Among the subjects featured is a community of Muslim women in Maryland, whose stories serve to remind viewers of the faith community's crucial place in the American fabric.
The anniversary special, entitled "American Women," encompasses 15 portfolios of video and portraiture shot by an array of photographers. Photojournalist Lynsey Addarrio shot the feature on "Islam in America," which zoomed in on four Muslim women living in Maryland.
Addarrio has been photographing Muslim men and women for over a decade, often shooting in regions of the world that have been ravaged by war and strife. But with Islamophobia on the rise, the photographer said it's a critical time to be doing this work in the U.S.
"Since President Trump took office, he has issued executive orders directly and unjustly targeting Muslims," Addario told The Huffington Post. "In my opinion, it's important for mainstream media to show that Muslims are Americans-and many Americans are Muslims, and I hope stories like this can dispel misconceptions."
Among the women Addario featured is Zainab Chaudhary, the Maryland outreach manager for the Council on American-Islamic Relations, a major Muslim advocacy group. In her work and personal life, Chaudry also often finds herself fighting back against stereotypes about Islam and Muslim women.
"We're not a monolith," Chaudry said in the feature. "There's this idea that we're all cookie-cutter versions of one another. The fact is, we come from very diverse backgrounds. We all have unique experiences that define who we are."
That message of diversity is very much part of the ethos of "American Women," which showcases communities ranging from Standing Rock protestors to salmon fisherwomen in Alaska to Air Force service members in Honolulu.
The special wasn't "intended as a response to the presidency of Donald Trump or to the women's movement that has gained force in its wake," wrote Vogue creator director Sally Singer. "And yet, so much has changed since we began initial photography, and so quickly."
Life for many Muslim Americans has also changed in recent months. Addario shot the photographs in January ― prior to the inauguration and before President Donald Trump signed an executive order that banned visas for individuals from seven Muslim-majority countries. "There's a sense, looking at these images, of the calm before the storm," Vogue's Julia Felsenthal wrote in the feature.
Trump's order left many Muslims, especially those with family from the seven countries, feeling alienated and unfairly targeted. In the weeks since, mosques have been burned, Islamophobic fliers have cropped up at universities, and even Muslims who aren't from the seven banned countries have been barred entry to the U.S.
These incidents reflect the very kind of othering that Addario's feature aims to combat.
"Ultimately, we are all very similar, regardless of our religions," Addario said. "Most women want to be happy, successful, and if they choose to have families, want the best for their children."
http://www.huffingtonpost.in/entry/vogue-celebrates-muslims-in-special-feature-on-american-women_us_58b9b4e6e4b0b9989417618d
--------
URL: https://newageislam.com/islam-women-feminism/divorced-via-whatsapp,-2-women/d/110288
New Age Islam, Islam Online, Islamic Website, African Muslim News, Arab World News, South Asia News, Indian Muslim News, World Muslim News, Women in Islam, Islamic Feminism, Arab Women, Women In Arab, Islamophobia in America, Muslim Women in West, Islam Women and Feminism