New Age Islam News Bureau
29 Oct 2018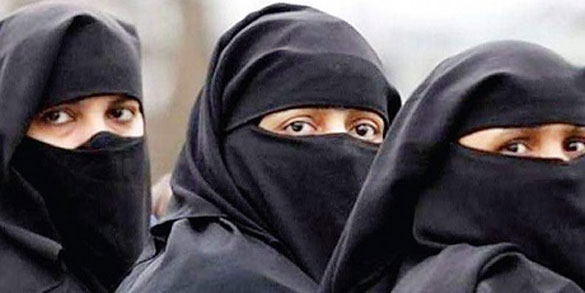 Photo: While some ulemas (Muslim clerics) say that it is the right of the woman to seek divorce and advise the couple to go to a Sharia court for justice, Mufti Ghulam Mustafa Rizvi of Ala Hazrat Dargah of Bareilly claims that the person with whom the woman performs halala remains her husband.
---------
• Two Rescue 1122 men arrested for 'raping' Sikh girl in Nankana Sahib
• Teenage girl in Muzaffargarh allegedly sexually assaulted over money dispute
• Entry of male VIPs into KP girls' schools banned
• Yazidi mothers of children by IS face heartbreaking choices
• Iranian harasser tells woman she 'deserves rape' for not wearing hijab
• First Saudi female hockey team needs a license to succeed
• How a desert-born girl climbed the world's highest mountain
• 'Twitter is a tool to silence us': Saudi women's rights activist quits social media
• Members of Britain's biggest suspected female jihadi cell including the Muslim • convert daughter of an ex-Army paratrooper are among dozens of Isis brides flocking back to the UK
• Bodies of two Saudi sisters found bound together beside New York river
• Woman kills a woman, injured three others in a Sharjah fight
• 'Pakistan's labour laws do not create enabling environment for women'
• 'Shuttlecock' burqa retains its popularity in Pakistan
Egypt's Sisi Congratulates Ethiopia's First Female President Sahle-Work Zewde
Compiled by New Age Islam News Bureau
URL: https://www.newageislam.com/islam-women-feminism/divorced-muslim-woman-caught-nikkah/d/116741
--------
Divorced Muslim woman caught in nikkah halala trap, 65-year old man refuses divorce
24th October 2018
LUCKNOW: Even after the Supreme Court struck down triple talaq calling it illegal and unconstitutional, the custom is very much prevalent in the country. In Bareilly, a woman is caught in an intriguing situation as she wants to reunite with her previous husband, but the person with whom she performed halala following the provisions of Sharia is refusing to divorce her.
Khatima resident Aqil Ahmad had married off his daughter Juhi to Moahmmad Javed of Bareilly in 2010. The couple had two sons. After three years, Juhi and Javed divorced in 2013. However, a few days after the separation, Javed went back to Juhi for reconciliation, which was accepted by Juhi.
But, in came the Sharia provision of nikah halala — the divorced woman needs to enter in a wedlock with another man and consummate the marriage before she can return to her first husband.
Juhi's relatives arranged for her to marry a 65-year-old man from Bareilly under the condition that he would divorce her soon after the marriage so that she can reunite with Javed. But, the man later refused to divorce Juhi, alleging that he couldn't do so as she did not perform halala by consummating the marriage.
While Javed and Juhi are caught in a fix, the couple's two sons seem to be worst affected by this turn of events. One of the two sons live with Javed and the other with Juhi. The couple finally approached an NGO. Activists tried to persuade Juhi's second husband to grant her divorce, but he remained firm in his stand.
While some ulemas (Muslim clerics) say that it is the right of the woman to seek divorce and advise the couple to go to a Sharia court for justice, Mufti Ghulam Mustafa Rizvi of Ala Hazrat Dargah of Bareilly claims that the person with whom the woman performs halala remains her husband till he grants her divorce. "The Sharia also suggests that if it the talaq was pre-decided and the deal was that divorce will be given the next day of marriage, in such a case, the marriage stands annulled on its own," he said. "But if this condition was not there before marriage, the elderly man will remain the husband till he grants divorce."
http://www.newindianexpress.com/nation/2018/oct/24/lucknow-divorced-muslim-woman-caught-in-nikkah-halala-trap-65-year-old-man-refuses-divorce-1889167.html
--------
Two Rescue 1122 men arrested for 'raping' Sikh girl in Nankana Sahib
October 29, 2018
SHEIKHUPURA: The police arrested two personnel of Rescue 1122 on charge of raping a Sikh teenage girl at Nankana Sahib on Sunday.
According to the first information report (FIR) registered with the City Nankana Sahib police by the victim's family, the 15-year-old girl, who was also mentally challenged, went missing. The family looked for her everywhere but found no trace.
At around 1:30am, the family members of the girl found a Rescue 1122 ambulance parked by the roadside for long time which looked suspicious. When probed further, the found both the suspects committing crime with their daughter. The police registered a case and arrested both the suspects.
Human Rights Minister Shireen Mazari also took notice of the incident and made a post on her Twitter account, saying "Abuse of vulnerable citizens will not be tolerated. Was forwarded a case of abuse of a differently-abled Sikh girl in Nankana Sahib. FIR has been registered and the SHO informed us they have arrested two persons in the case".
However, sources in Rescue 1122 headquarters in Lahore denied the allegations, claiming that according to the medical report, the girl was not raped.
https://www.dawn.com/news/1442070/two-rescue-1122-men-arrested-for-raping-sikh-girl-in-nankana-sahib
--------
Teenage girl in Muzaffargarh allegedly sexually assaulted over money dispute
Muhammad Ali
October 28, 2018
A 17-year-old girl in Muzaffargarh's Alipur area was allegedly gang raped by a man — who her father owed some money — and his two suspected accomplices on Saturday.
A first information report filed by the victim's father on Oct 27 said that he was a labourer. He was at work when he received a phone call from his wife, telling him their daughter was being taken away by a man he owed Rs4,000 and two others.
The prime suspect said that if the labourer paid back the loan, he would return his daughter to him, the FIR read.
The father, with someone's help, was able to transfer the money to the suspect via cellphone. The FIR said that he was then allowed to speak to his daughter on the phone.
He said that his daughter was crying and told him that the prime suspect and his accomplices had taken her to a house and all three had sexually assaulted her at gunpoint.
The father was able to identify the location of the house and went there with two other men, who he named as witnesses. When the suspects saw them coming, they fled, the FIR said.
The prime suspect is believed to be the clerk of Sub Inspector Bhatti of the Saddar police station.
Search operations are underway to arrest the suspects while a medical report of the girl is awaited, police said.
https://www.dawn.com/news/1441943/teenage-girl-in-muzaffargarh-allegedly-sexually-assaulted-over-money-dispute
--------
Entry of male VIPs into KP girls' schools banned
October 29, 2018
PESHAWAR: The Khyber Pakhtunkhwa government has banned entry of male VIPs into the girls' schools and directed the schools' management to invite only female members of the assembly and the role models as chief guests to the sports, annual and other functions.
According to a statement issued here on Sunday, Chief Minister Mahmood Khan directed his adviser on education Ziaullah Bangash to ensure exemplary educational environment in the girls' schools throughout the province.
Besides, the CM directed that the education department should also discourage the publicity of such social and annual functions of girls' schools on social media, adding the girls should be given education in true spirit making them aware of the social, culture and Islamic values.
Meanwhile, the chief minister took notice of a raid conducted by police on a house at Bhana Mari Peshawar and directed the police chief to probe the matter.
"The enquiry should look into different angles and dimensions of the alleged violation of the privacy as the police reportedly entered the house without any women police as complained by aggrieved family members and reported by the local media," the Chief Minister instructed.
He asked for submitting a comprehensive report determining and fixing responsibilities for the act.
The police head, he said should also look into the legal side from all dimensions and submit a comprehensive report fixing responsibilities, the logic and rationale to conduct a raid on the house.
https://www.dawn.com/news/1442048/entry-of-male-vips-into-kp-girls-schools-banned
--------
Yazidi mothers of children by IS face heartbreaking choices
OCTOBER 29, 2018
The 26-year-old Yazidi mother faces a heartbreaking choice. Her family is preparing to emigrate from Iraq to Australia and start a new life after the suffering the Islamic State group wreaked on their small religious minority. She is desperate to go with them, but there is also someone she can't bear to leave behind: Her 2-year-old daughter, Maria, fathered by the IS fighter who enslaved her.
She knows her family will never allow her to bring Maria. They don't even know the girl exists. The only relative who knows is an uncle who took the girl from her mother and put her in an orphanage in Baghdad after they were freed from captivity last year.
"My heart bursts from my chest every time I think of leaving her. She is a piece of me, but I don't know what to do," she said, speaking to The Associated Press at a camp in northern Iraq for displaced Yazidis.
The woman spoke on condition she be identified only as Umm Maria, or "mother of Maria," for fear her family and community would find out.
Umm Maria's torment points to the gaping wounds suffered by Iraq's Yazidi religious minority at the hands of the Islamic State group. When the militants overran the Yazidis' northern Iraqi heartland of Sinjar in 2014, they inflicted on the community an almost medieval fate. Hundreds of Yazidi men and boys were massacred, tens of thousands fled their homes, and the militants took thousands of women and girls as sex slaves, viewing them as heretics worthy of subjugation and rape.
The women were distributed among IS fighters in Iraq and Syria and over the following years were traded and sold as chattel. Many women bore children from their captors – the numbers of children are not known, but they are no doubt in the hundreds.
The Nobel Peace Prize this year put a focus on victims of sexual violence and on the Yazidis in particular, when one of the women abducted by IS, Nadia Murad, was named a co-winner of the award.
Many, though not all, of the women have returned home, as the extremist group's "caliphate" in Iraq and Syria has been brought down. While some of them want nothing to do with babies born of rape and slavery, some, like Umm Maria, want to keep them.
But Yazidi families most often reject the children.
That is a reflection the deeply entrenched traditions followed by the Yazidi community, seeking to preserve its identity among the mainly Muslim population, many of whom for centuries viewed the ancient faith with suspicion. The Yazidis, who speak a form of Kurdish, keep their community closed off, their rituals little known.
They have always rejected mixed marriages and children fathered by non-Yazidis. In this case, the stain is even greater since the fathers were the same Sunni Muslim radicals who sought to wipe out the community. Under Iraqi law, the children are considered Muslims.
The community has taken a relatively progressive stance toward the mothers. In Iraq's traditional society, rape can bring stigma on the victim. But the Yazidis' spiritual leader, Babashekh Khirto Hadji Ismail, issued an edict in 2015 declaring women enslaved by the militants to be "pure," with their faith intact. The declaration allowed the women to be welcomed back into Yazidi society.
But not the children.
Khidr Domary, a prominent Yazidi activist, acknowledged that the community's insular traditions need some reform and said the leadership has shown flexibility as it tries to deal with the trauma left by IS, known by their group's Arabic acronym, Daesh.
He says that in theory mothers can bring the children back to their communities, but they will face intense pressure from family members and neighbors.
"It is difficult, even for the mother, to bring a child to live in our midst when it is possible that his Daeshi father may have killed hundreds of us with his own hands, including relatives of the mother," he said.
Umm Maria was taken captive along with other women in August 2014, when the militants stormed Sinjar, near the Syrian border. She was eventually taken to Syria as the slave of an IS fighter, whom she knew only by his alias, Abu Turab.
Abu Turab was killed in fighting in 2015. His family sold her for $1,800 to another militant, an Iraqi she identified as Ahmed Mohammed. He took her to Iraq's Mosul, where she lived with his first wife and their children. Soon after she gave birth to Maria, he too was killed in fighting in 2015.
She was consigned to an IS "guesthouse" where wounded IS fighters received first aid or took a rest from the front lines – and used Yazidi women for sex.
As Iraqi security forces assaulted Mosul, the women at the house were moved from one neighborhood to another to escape bombardment. In the summer of 2017, as the city fell, Umm Maria escaped into government-held territory, though she was injured during the shelling.
At the hospital, an uncle persuaded Umm Maria to give them the child until she healed, promising to return Maria to her afterward.
"Had I known they planned on depositing her in an orphanage, I would have never given her," she said.
Umm Maria has seen the child – now around 3 years old – only once since. Several months ago, she visited her at the Baghdad orphanage, spending two days with Maria.
"She did not recognize me, but I recognized her," Umm Maria said. "How could I not? She is a piece of me."
https://dailytimes.com.pk/315880/yazidi-mothers-of-children-by-is-face-heartbreaking-choices/
--------
Iranian harasser tells woman she 'deserves rape' for not wearing hijab
28 October 2018
An Iranian man unleashed a tirade of abuse against an unveiled woman on the streets of Tehran, telling her that she "deserved to be raped."
Iranian activist Masih Ali Nejad, who has been living in the United States for years, told Al Arabiya English that she filmed her encounter with the man and posted it to Instagram, garnering more than 1 million views.
In the caption, Nejad wrote: "This pro-regime vigilante in Iran harassed me in the street. He said women like me who don't wear hijab are a dishonorable. This is how I filmed his insults. We women of Iran have had to endure these people for 4 decades. I asked him "Am I the one who is dishonorable or Saeed Tusi, a famous Quran preacher, who molested young kids in Iran, but still roams free because he is connected to the regime"? #MyCameraIsMyWeapon"
She said the daily harassment by such "pro-regime vigilantes" on the streets of Iran championed Supreme Leader Ali Khamenei's recent controversial comments on the international #MeToo campaign.
In a speech published on the leader's official Twitter account, Khamenei said that by wearing a hijab, women could have prevented the string of sexual abuse cases in the US and other western countries that have inspired the global #Metoo campaign.
In protest, Nejad is using the #MyCameraIsMyWeapon hashtag to respond to Khamenei's controversial adoption of the #MeToo phenomenon.
She posted another video showing a van trying to run over students at Azad University in Tehran, after a number of them gathered in a protest against repression and forced hijab.
https://english.alarabiya.net/en/features/2018/10/28/WATCH-Iranian-harasser-tells-woman-she-deserves-rape-for-not-wearing-hijab.html
--------
First Saudi female hockey team needs a license to succeed
October 29, 2018
JEDDAH: Girls in the city are seeking a license from the General Sport Authority (GSA) to play for what could be called the first Saudi hockey team.
A Jeddah ice sports club was behind the female hockey team, which was united with a male ice-skating team to become the first male and female hockey team in the Kingdom.
The hockey team is led by the professional ice slider duo Sultan Salama and Mohammed Bahamdeen, who started their journey in ice skating 18 years ago when the Ice Land Amusement Center was first opened in Jeddah.
What makes the concept of a Saudi hockey team special is that this game originates and was played in Canada for hundreds of years before other countries modernized it.
The hockey team is still trying to be officially registered by the GSA as they are seeking a license for the title of "The first Saudi hockey team."
The ladies' club, which consists of more than 80 players, started training in a group of ski halls under the supervision of Sultan Salama. The sport on ice enjoys a wide global audience and is accepted by many young people, including girls, nowadays.
The males-only team was established in 2003. Having started with 30 members, they won the first local hockey championship in 2004, and in 2010 they took third place in the GCC hockey championship.
Bahamdeen told Arab News: "From 2011 to 2017 we did not have enough support to develop the team, but we made an effort to add more to the concept of the game, and this year we were surprised by the huge number of members, which reached 180.
"One of the biggest struggles is affording a full uniform for each member. It costs over SR2,500 ($666) and some members find it really expensive."
A championship will be held in January next year at Al-Shallal Theme Park and will include 12 female teams and 12 male. Bahamdeen said: "We receive many invitations to participate in hockey and other ice games in Bahrain and the UAE but we cannot go as we need to get the license from the GSA first, and hopefully we will have it done soon.
"We will make sure we have a well-equipped ice skating rink," he concluded. "The success we have today came after a long path of struggle, and I look forward to taking our teams to an international level."
The hockey team includes all ages and the youngest member is a 10-year-old, Tolay Ahmad, who has been skating for two years. She said: "I come to ski here every weekend and I feel so happy to be a member of the female hockey team."
Albandari, 18, one of the most skilled players on the team, said: "I have been passionate about skiing since I was eight and now, after establishing the Saudi female hockey team, I believe that there is a chance for me and my team to excel at both regional and global levels."
Once the team receives their license from the GSA, they will have the chance to participate in tournaments at regional and global levels. Albandari added: "Practicing for such games in a specialized way contributes to the development of players. I have been pleased to be a member of the team and with a group that is keen to train and master the sport."
"We have been practicing at this sport for a while. We have gained the skills, and with the presence of experts such as captains Salama and Bahamdeen, we will learn more."
http://www.arabnews.com/node/1395351/saudi-arabia
--------
How a desert-born girl climbed the world's highest mountain
October 28, 2018
RIYADH: Saturday, Oct. 27, marked the conclusion of Tanween, Ithra's creativity season in Dhahran. The 17-day artistic event started on Oct. 11 and hosted more than 40 workshops, 61 speakers, 25 artworks, 7 live shows and over 100,000 visitors in an atmosphere filled with creativity and awe. On the last day of Tanween the adventurer Raha Moharrak shared her journey of exploration as the first Saudi woman to climb Mount Everest in her talk "Sand to Stars."
Moharrak explained how it all started with the word "No." "I never imagined that a word this tiny would change my life this way and open so many amazing doors."
She told the audience how she had found out about Mount Kilimanjaro, looked it up and decided that she wanted to go up the highest peak in Africa. "People's reaction to my decision to climb the mountain was the final push I needed to actually climb the mountain!" She explained: "People pointed out to me that I couldn't possibly climb it because I'm a Saudi girl, and that was it!" She decided to prove them wrong.
She decided to go after her calling as she knew there was more out in this world to discover. "My love of adventure was too big! I had something waiting for me out there. I can't explain how I knew it, I just did."
Moharrak added: "And that's a lesson I want you to learn: To listen to your gut, to listen to your heart — it's ok not to go with the crowd, it's ok to be different."
Her decision had been made but she needed all the courage in the world to tell her dad. "I called my dad and told him I wanted to climb Kilimanjaro. I went rumbling on about all the information I knew, like a broken Wikipedia page. I was too nervous to stop." She continued: "And when I stopped finally I heard it. He simply said: No."
That did not stop her from trying to convince her dad. She finally succeeded because her love for adventure was far greater than her fear of rejection. She then talked about her first mountain climbing expedition. "When I went to Tanzania, I started climbing Kilimanjaro and reached the peak. I knew that this would not be the last time I touch the sky." She has not stopped climbing ever since, and kept climbing one mountain after the other.
Moharrak described the moment she fell in love with Mount Everest. "I had arrived at Everest Base Camp and there was the same mountain I used to see in books, but this time I saw it with my own eyes. Then I started to climb the highest mountain in the world."
She shared how she felt the moment she was going up the Hillary Step, which every person who climbed the mountain had gone over. "At that moment it didn't matter that I was a Saudi and it didn't matter that I was a girl." She continued: "Nothing mattered other than the fact that I believed that I deserved to stand up there and that I believed I could get there. I was born in the desert and I had touched the sky!"
Moharrak concluded her talk with how she answers the often-asked question: Why would an Arab, a Saudi girl, attempt such dangerous mountains? "The truth is that I climbed simply because I believed I could, I didn't care about being the youngest or first girl in history, I would still have climbed it if I was anonymous. Because all I wanted was to prove to myself that I can attempt the impossible and maybe even achieve it." She closed by saying: "Please don't let your dreams feel out of reach. If I can why can't you!" Moharrak climbed 8 mountains in 12 months, including in Antarctica.
http://www.arabnews.com/node/1395051/saudi-arabia
--------
'Twitter is a tool to silence us': Saudi women's rights activist quits social media
28 Oct, 2018
A prominent Saudi activist has quit Twitter and Facebook, accusing the social media giants of becoming tools for despotic governments to target dissidents and rights campaigners with trolls and bots.
Saudi women's rights activist Manal al-Sharif dramatically deleted her Twitter account, which has some 300,000 followers, on stage last week at the SingularityU Nordic 'global innovation' conference. The next day she posted a video on YouTube explaining why she shut down her account, telling viewers that Twitter has become home to "trolls, pro-government mobs and bots," many of which are "paid by pro-government [agents] to silence, intimidate and harass dissidents."
Calling for a more ethical social media, Al-Sharif said that "the same tools we joined for our liberation are being used to oppress us and undermine us, and used to spread fake news and hate, I'm out of these platforms."
Al-Sharif left Saudi Arabia many years ago in a self-imposed exile, and helped start women's fight for the right to drive in Saudi Arabia in 2011. Saudi women won the right to drive in June this year.
The Arab nation has a track record of oppressing dissidents - according to Human Rights Watch. A crackdown in recent months on women's rights activists in Saudi Arabia has also seen at least 13 women arrested under the guise of maintaining national security, with prosecutors calling for the execution of one female dissident by beheading.
The recent murder of Jamal Khashoggi, a prominent Saudi journalist with dissident progressive views, in the Istanbul consulate of the country he had fled, sparked an unprecedented level of public outcry worldwide. It has since been revealed that Khashoggi was working on a project that aimed to expose Saudi Arabia's use of social media trolls before he was murdered.
Khashoggi's murder has severely undermined attempts to boost Saudi Arabia's image in the West. The Kingdom has paid millions to UK public relations firms, and to coincide with Crown Prince Mohammed bin Salman's UK visit in March this year, a number of British newspapers ran adverts promoting the prince's reform agenda.
https://www.rt.com/news/442490-saudi-arabia-media-activist/
--------
Members of Britain's biggest suspected female jihadi cell including the Muslim convert daughter of an ex-Army paratrooper are among dozens of Isis brides flocking back to the UK
29 October 2018
A group of women suspected of forming an all-female jihadi cell after travelling to Syria with their Isis husbands are seeking to return to the UK - an investigation has revealed.
Natalie Bracht, sisters Reema Iqbal and Zara Iqbal, Ruzina Khanam, Maylbongwe Sibanda are among hundreds of British women who travelled to the country with their fanatical husbands to wage jihad.
Now though, the Sunday Times reports that up to 80 widowed jihadi brides are about to return to the UK after losing their husbands on the battlefield.
About 150 British women are known to have travelled to Syria and Iraq to join Isis, many of whom have died.
But until now, only a small number of women have returned to the UK, where they face questioning by police and the possibility of having their children removed from their care.
Bracht, the Iqbal sisters, Khanam and Sibanda are known to have travelled to the war-torn region with their Portuguese-born husbands who were radicalised in London after travelling to the capital to seek careers as professional footballers.
The men, who are known associates of Jihadi John, were said to have converted to Islam after meeting notorious hate preacher Anjem Choudary - who was released from prison in Britain this week.
From 2012 onwards the men started travelling to Syria and east Africa along with their wives.
'My family was a good family, but it all changed when the girls got married to these men,' a relative of the Iqbal sisters said. 'I hardly ever saw them after that.'
Reema Iqbal's husband Celso Rodrigues Da Costa, a former Harrods sales assistant who claimed to have had a trial with Arsenal, is one of the six who made his name as a brutal killer after travelling to Syria.
Da Costa appeared in an Isis propaganda video, boasting of celebrating the Muslim festival of Eid al-Adha by slaughtering infidels.
Another of the group, Fabio Pocas, the husband of Ruzina Khanam, has been accused of filming an Isis stunt in which a captured Jordanian pilot was burnt alive.
European security officials the Portuguese men are responsible for the filming and dissemination of the series of sickening beheading videos, including the execution of British hostages Alan Henning and David Haines.
Despite his marriage to Iqbal, Ringleader Da Costa is said to have married Natalie Bracht after grooming her over the internet.
Bracht holds dual British and German citizenship having moved to the UK from Dusseldorf in 2006 with her children.
She famously hit the headlines back in 2008 after disappearing from her home in Sunderland after being told social services were planning on taking her children away.
Bracht, who police say has a personality disorder, was pictured with her children in Kings Cross station wearing Islamic robes and was eventually arrested in Munich more than a month later.
After being released without charged she was said to have fallen in with jihadi preachers in Germany, and western intelligence sources say Bracht ended up in Syria towards the end of 2014.
Bracht is now thought to be among a group of western women held in Kurdish-controlled camps in northern Syria. The fate of her three children remains unclear.
Just before her alleged departure to Syria her father John Brown, a former British paratrooper, received a dramatic phone call from Bracht saying she was in Hungary.
'She sounded scared,' said Brown. 'She told me, 'Please pick me up, I'm on my way to the Austrian border. If they find me they'll kill me.'
Many of the 80 women due to return to Britain are currently languishing in Kurdish-run detention camps in eastern Syria after the fall of Isis last year.
The Kurds are imploring Britain to take responsibility for its nationals and bring them home.
One of the relatives of the Iqbal sisters told relatives one woman in the camps had been issued with a new British passport and travel documents for her and her child.
Security sources also confirmed to the Times that several of the women had already arrived back in the UK.
'The vast majority of those returning to Britain from Syria are women and children,' an official said.
'The more concerning cases, particularly the men, have not been returning. But we will speak to everyone...because they may have been involved in terrorist activity.'
https://www.dailymail.co.uk/news/article-6325411/Dozens-British-Isis-brides-flocking-UK.html
--------
Bodies of two Saudi sisters found bound together beside New York river
October 29, 2018
JEDDAH: The bodies of two young Saudi women have been discovered bound together on the banks of the Hudson River in New York City.
Rotana Farea, 22, and her sister Tala Farea, 16, were identified on Friday by their mother from a sketch supplied by the New York Police Department (NYPD).
The two bodies were found by a passer-by just before 3 p.m. last Wednesday on the city's Upper West Side near Riverside Park. The passer-by called police.
NYPD said police responded to the 911 call and "upon arrival, officers discovered two unidentified females unconscious and unresponsive with no obvious signs of trauma." Emergency medical personnel declared them dead at the scene.
The New York City medical examiner's office will determine cause of death.
Police lieutenant Paul Ng said the bodies of the two young women were tied together at the feet and waist with what he believed to be duct tape.
Rotana Farea had been living in New York. The young women's mother lives in the state of Virginia. Both victims are Saudi nationals, from Jeddah.
Members of the family on Sunday denied claims that the two sisters had been missing for two months. In fact, the mother reported her younger daughter Tala as missing two months ago, but the report was withdrawn when she was found visiting her sister in New York, and the search was called off.
While Tala was visiting her elder sister, both young women lost contact with their mother about a week ago, and they were then reported missing.
The family has also rejected suggestions that the two women committed suicide, and they are awaiting the medical examiner's findings.
The women's father arrived in New York three days ago.
According to close family members, the Saudi consulate in New York City has been informed of the death.
http://www.arabnews.com/node/1395406/saudi-arabia
--------
Woman kills a woman, injured three others in a Sharjah fight
October 28, 2018
Sharjah: A 32-year-old Nepalese woman was stabbed to death after a fight broke out among women at a workers' accommodation in Sharjah industrial area number 12. Three other women were injured in the fight, according to Sharjah police.
All of them work for a cleaning company. Two of the injured women were taken to Al Qassimi Hospital while the two other were admitted to Al Kuwaiti hospital at around 1.30am on Saturday night.
The deceased, identified as T.R., succumbed to her injuries at 5.30am, Al Qassimi Hospital sources confirmed. The body was transferred to the forensic laboratory for an autopsy. The three injured women were reported to be in a stable condition. Two of injured identified as S.M., 23, and A.D., 22 were discharged from Al Kuwaiti hospital at around 4.30am.
Police have arrested the suspect, S.M., and are investigating the case and the motive behind the fight. One of the victims told Gulf News that the suspect was under the influence of alcohol when the fight broke out.
One of the victim's relatives told Gulf News that his wife sustained a stab wound in her abdomen but she was discharged from hospital after receiving treatment.
https://gulfnews.com/news/uae/crime/woman-kills-a-woman-injured-three-others-in-a-sharjah-fight-1.2295006
--------
'Pakistan's labour laws do not create enabling environment for women'
Aasma Mojiz
October 26, 2018
ISLAMABAD: A gender audit of Pakistan's labour laws has found that they do not create an enabling working environment for women and suffer from inconsistencies in the definitions of labour and labour rights, among other problems.
The audit was carried out by Women's Action for Better Workplaces and its findings and recommendations were revealed at an event attended by parliamentarians, political workers, civil society and working women from various fields on Thursday.
One of the organisers, Jublee Bano, said legal experts were consulted for the audit, as were scholars and parliamentarians and workers from the provinces.
Discussing the findings of the audit, a representative of the forum Rukhsana Shama said Pakistan's constitutional provisions and international commitments were consulted to devise a criteria through which the existing labour laws could be analysed. These categories included freedom of association or freedom to bargain collectively, wages, occupational safety and health, protection against sexual harassment in the workplace, equality of work and opportunities for women and maternity leave and benefits, among others.
The audit found that labour laws do not effectively combat various forms of discrimination against women, including more subtle forms of discrimination against women based on their age, marital status and reproductive role.
Ms Shama said that while laws do combat overt forms of discrimination, for example firing a pregnant woman, they do not cover "subtle discriminations" that are not documented and are a reflection of the social psyche. For example, there are fields in which women above a certain age are not hired. She added that women they spoke to said employers ask women in interviews whether they intend to get married, and if they are married, what their plans are for children.
There were also no measures to enable women to enter fields with lower representation of women, nor incentives for employers to hire more women.
Ms Shama said the workplace sexual harassment law is not mentioned as a labour law in labour law manuals. Labour departments are also not aware of the law's importance when considering the conduciveness of a workplace for women.
Labour laws lack legal provisions for paternity leave, and other than the Sindh Maternity Benefits Act, laws do not legally permit breastfeeding breaks. The provision of daycare centres and flexible timings for women and men with children are also missing.
The audit also found inconsistencies in the definitions and rights of labour. Ms Shama said there are nine definitions of 'labour' across legal and policy frameworks, and these inconsistencies came forward after the 18th Amendment.
The presentation noted that the definitions of workers "do not account for growing economic sectors - electronic media, hospitals, private schools" and drivers for ride-sharing services.
Ms Shama said labour rights and entitlements are also inconsistent. The minimum wage does not cover all types of works, and there are inconsistencies in social security as well. She added that there are also issues with maternity laws - there are seven maternity laws that do not contain provisions for adoption, and have inconsistent provisions for complications and varied durations of maternity leave.
Ms Shama also discussed the problems facing the labour administration and inspection system. She added that while the labour inspection checklist looks comprehensive on paper, it only covers a few fundamental matters, such as the minimum wage, working hours, weekly holidays and so on.
The representation of women in the labour department is very low, and as inspectors is virtually nonexistent, she added.
She said employers should be penalised for violating labour laws, and given incentives such as tax breaks for complying with them.
A panel discussion followed in which parliamentarians belonging to various political parties took part.
They discussed the importance of extending labour laws to the informal sector, which has a significant percentage of women workers, as well as the need to focus on the implementation of laws rather than just law-making.
They also noted that gender is relevant across the board, and instead of relegating such matters to be 'women's issues', women's issues should be considered across every sector.
https://www.dawn.com/news/1441345/pakistans-labour-laws-do-not-create-enabling-environment-for-women
--------
'Shuttlecock' burqa retains its popularity in Pakistan
October 29, 2018
ISLAMABAD: The burqa has grown in to a fashion industry with certain region-specific modifications of colour and style in shape of abayas and hijabs, however, despite rapid social transitions, the use of traditional Afghan burqa still persists, mainly among the traditional Pashtun and Seraiki communities.
Many Pashtun people living in Rawalpindi and Islamabad, though exposed to a cosmopolitan culture, retain their traditional veil, colloquially known as shuttlecock burqa a name dating back to colonial days.
It is phenomenal that this veiled dress, considered a fortress of a woman's modesty among Afghan-natives and Pakistan's tribal people, though mocked by so-called modern societies, endures to survive but no compromise is seen on its typical identity.
A significant number of Pashtuns and Seraiki people in Pakistan have retained the traditional blue burqa, wearing it with dignity and as a hallmark of their identity in spite of rapid modern transition in country's social sphere.
Pakistani women have transformed it by introducing new shades and adding embroidery on it without affecting its aboriginal identity.
"I know our wearing shuttlecock is mocked by so called modern segment but I confidently move in the city while performing my domestic responsibilities as my spouse is abroad for a livelihood, "said 39-year old Shazia Aurangzeb Khan hailing from Peshawar.
"We live in Rawalpindi and visit our home town on and off but we cannot afford to cut off ourselves from our moral and cultural values that give us identity," she added.
Sheena Gul, 81-year old mother-in-law of Shazia said: "The traditional burqa is our licence to women's free movement and a principle obligation bestowed by our ancestors to keep us safe from society's leering eyes. My eyesight is weak and I am too old to wear a shuttlecock but we cannot allow our young girls and women to quit this practice."
Samreena Khan, a student of intermediate in Govt Degree Women College Rawalpindi said she wears the burqa without any qualms.
"I used to wear a gown with a scarf at school, but when I started college my father asked me to wear the traditional Pashtun burqa. It was hard to adopt this change, because my friends belonging to other communities mocked me and called me a Burqa Avenger (an animated cartoon character), Samreena said.
"But I don't mind the burqa or the mocking at all in view of the fact that I am obeying my father and carrying my Pashtun culture along with me," she proudly claimed.
Hina khan another Pashtun student from Swat Valley living with her family in Rawalpindi said: "Honestly I don't feel comfortable wearing it, but I have no option as I have to continue my education on terms set by parents and follow their instruction."
A seraiki woman from Mianwali, Yasmeen Akram said she wears it when in her hometown where the tradition is followed strictly. "It is so convenient to be dressed in it, no pins and strings to hold its pieces together like other prevailing burqas," she remarked with satisfaction. No make-up no new clothing is required under this veil. "I wear it as my husband appreciates me for putting it on as well."
Dr Shaheena Niazi from Isakhel said she was completely comfortable and confident in the traditional veil. "I proudly say that I have completed my Phd and pursuing my professional career in this shuttlecock."
Dr Niazi said there was no pressure from her family to wear the traditional burqa. "My family never pushed me to wear it instead I personally like to keep my cultural values alive because I grew up seeing my mother and aunts wearing it and I am proud to disclose that my children also love to see me in it and my daughters are ready to adopt when they become teenagers," she said.
These traditional burqas has seen no modification over the centuries, but now a variety of colours and embroideries were available which was a rare phenomenon in past, said Shahid Arrain a shopkeeper in Mianwali city market. He said prices range from Rs1,300 to Rs3,000 depending on stuff and quality of stitching. But surprisingly, he told, it can cost you up to Rs10,000 for a special version.
https://tribune.com.pk/story/1836207/1-shuttlecock-burqa-retains-popularity-pakistan/
--------
Egypt's Sisi Congratulates Ethiopia's First Female President Sahle-Work Zewde
MIRNA ABDULAAL
OCTOBER 28, 2018
President Abdel Fatah el-Sisi sent a cable of greetings to Ethiopia's newly-elected first female president Sahle Zewde and congratulated her over her new post, Presidential Spokesman Bassam Rady said in a statement on Friday.
In the statement, the president said that he aspires to "further strengthen the relations of cooperation and brotherhood between Egypt and Ethiopia to achieve the common interests of the two countries, and guarantee the two brotherly peoples more development and progress."
El Sisi also praised the Ethiopian parliament for showing trust in Sahle Zewde and electing her as Ethiopia's new leader.
Sahle Zewde, 68, is a seasoned diplomat who has held positions in the United Nations and worked with peace keeping operations in Africa, as well as leading Defence Ministry and the secret intelligence agency (which is now named as the Ministry of Peace).
Prime Minister's chief of staff Fitsum Arega said on Twitter that, "in a patriarchal society such as ours, the appointment of a female head of state not only sets the standard for the future but also normalises women as decision-makers in public life."
"I am a product of people who fought for equality and political freedom in this country, and I will work hard to serve them," Ms Zewde said in her acceptance speech to Parliament.
She also added that she will focus on a lot of issues regarding women, stating, "If you thought I spoke a lot about women already, know that I am just getting started."
A week earlier, Prime Minister of Ethiopia Abiy Ahmed filled half of his new cabinet with women, which was marked as historical for the country.
https://egyptianstreets.com/2018/10/28/egypts-sisi-congratulates-ethiopias-first-female-president-sahle-work-zewde/
--------
URL: https://www.newageislam.com/islam-women-feminism/divorced-muslim-woman-caught-nikkah/d/116741
New Age Islam, Islam Online, Islamic Website, African Muslim News, Arab World News, South Asia News, Indian Muslim News, World Muslim News, Women in Islam, Islamic Feminism, Arab Women, Women In Arab, Islamophobia in America, Muslim Women in West, Islam Women and Feminism