New Age Islam News Bureau
23 Aug 2017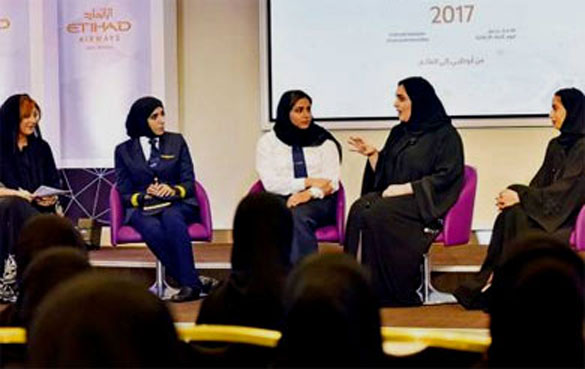 From left: Reem Al Midwali, Salma Al Beloushi, Mariam Al Obaidli, Alya Al Matroushi and MizaAl Beloushi during a panel discussion at the Etihad Training Academy in Abu Dhabi.
------
'• Sacrifice Yourself for Islam, Senior Clerics Told Me,' Says Shayara Bano
• Triple Talaq Verdict: 'It's Eid for Indian Muslim Women in Country
• More Indian Muslim Women Grappling With Mental Health Issues Will Now Seek Help, Say Psychiatrists
• Emirati Women Scale New Heights in Aviation
• We Are Unstoppable, Says Emirati Figure Skater
• Saudi Women Need Equal Rights
Compiled by New Age Islam News Bureau
URL: https://www.newageislam.com/islam-women-feminism/divorce-rate-muslim-women-twice/d/112304
--------
Divorce Rate of Muslim Women Is Twice the National Average of India
Karthik Shashidhar
August 23, 2017
In a campaign speech delivered in Uttar Pradesh's Bundelkhand region ahead of the state assembly elections, Prime Minister Narendra Modi mentioned that the government would seek to protect the constitutional rights of Muslim women, and oppose the concept of 'triple Talaq', which currently makes it easy for Muslim men to divorce their wives.
Going by data from the 2011 Census, the divorce rate among Muslim women is twice the national average for women. At the same time, the divorce rate for Muslim men is close to the national average, suggesting that Muslim law is indeed biased against women when it comes to divorce. Divorce rate is calculated as the ratio of divorced members of a population group to the total number of people from the same population group who were ever married. Men and women are calculated separately.
This discrepancy between the divorce rates of Muslim and all women remains if we group them by age group as well as Chart 1 shows. The divorce rate of Muslim men, on the other hand, is close to the national average in each group.
Contrary to popular opinion, though, Muslims don't get married significantly earlier than people of other religions. As Chart 2 shows, in each age group, the proportion of Muslims who were ever married is not very different from the national average.
Finally, not all separated couples formalize their separation as a divorce. The rate at which separated couples formally divorce varies by religion, with the lowest being among Hindus and highest among Muslims. Over 40% of all separated Muslim women are divorced compared to only 25% of Hindu women. It is however not possible to conclude from the data if the relative ease of divorce for Muslims contributes to this higher formalization of separation.
Formalization of separation is also strongly related to age, as Chart 3 shows, with younger people more likely to have formalized divorce compared to older separated couples. Interestingly, a larger proportion of very old women (70%) are formally divorced, compared to those younger than them, suggesting divorce became unfashionable at some point of time in the past.
http://www.livemint.com/Politics/t3i8jL1gaNFp1EhHYlkL0M/Divorce-rate-of-Muslim-women-is-twice-the-national-average.html
--------
'Sacrifice Yourself For Islam, Senior Clerics Told Me,' Says Shayara Bano
August 23, 2017
A landmark judgment affecting the fate of millions has finally given many women a reason to rejoice and shed the veil of anxiety. The Supreme Court today struck down the controversial Islamic practice of 'triple talaq' or instant divorce as unconstitutional. Three women who took the fight for gender justice and gender equality to the highest court of the land spoke to NDTV at on The 9'O Clock News, sharing their ordeal and revealing their resolve against the arbitrary practice.
Shayara Bano, the woman who first approached the top court after receiving the divorce through speed post said that senior clerics kept asking her to withdraw her case and "sacrifice herself for Islam".
"The Talaqnama was sent to me via speed post... I went to senior clerics, they said - sacrifice yourself for Islam," she told NDTV.
Shayara's sentiments are echoed by Ishrat Jahan who says that her husband "divorced on the phone from Dubai" and even took their children away.
Ishrat refused to accept this arbitrary divorce and challenged it. As Ishrat says, "When marriage is done before 10 people, how can a divorce take place like this?"
These brave women are among the many who lived every day of their married life in the fear of dreaded three words. Aafreen who was married through a matrimonial portal believes that now the tide has turned: innumerable women have suffered in the past, but no more.
Aafreen told NDTV that this verdict will help future generations of women - not just Muslim.
"This verdict will help all women, not just Muslim women. 19 Muslim countries have a law, we too need a law," she said.
The landmark verdict also saw political noises reach a crescendo with the BJP attributing the verdict to Prime Minister Narendra Modi's push and even Congress, saddled with the legacy of the Shah Bano case, welcoming the verdict. However Shayara, Aafreen and Ishrat appealed to all political parties.
http://www.ndtv.com/india-news/sacrifice-yourself-for-islam-senior-clerics-told-me-says-shayara-bano-1740712
--------
Triple Talaq Verdict: 'It's Eid for Indian Muslim Women in Country
Aug 23, 2017
NEW DELHI: Supreme Court's majority judgment striking down the constitutional validity of triple talaq drew varied responses from women organisations and religious groups. On the one hand, while women's rights organisations welcomed the move and said the judgment would finally put Muslim women at par with men on marital rights, minority religious groups remained more guarded in their response to the SC verdict.
On Tuesday, Shaista Amber, founder member of the All India Muslim Women's Personal Law Board decribed the day as "Eid" for Muslim women across the country, adding that the SC verdict was a landmark decision that finally gave independence to Muslim women from a regressive practice of many years.
Zakia Soman, a women's rights activist and one of the founding members of Bharatiya Muslim Mahila Andolan, described the Supreme Court judgement as "historic". "This not just a victory for Muslim women but for Indian women as a whole. We are happy that the Supreme Court stood by us in this fight for gender justice and gender equality that has been fought in a very democratic manner," Soman said. She also said there was a need now to work in mission mode to build awareness, educate and empower girls and youth with the knowledge about the teachings of the Quran so they understand its essence.
National Commission for Women chair Lalitha Kumaramangalam said the judgment was a big step but cautioned against the many challenges of implementation. "I congratulate the Muslim women who came forward, organised themselves and took up this fight not only against those who opposed them within their community but also from outside. Now that the judgment has come, I have a word of caution. The road ahead is long and tough as forces of patriarchy will raise their heads and may also try and link this with religion. We have to keep in mind that this has nothing to do with religion or politics.
It has got to do with women's rights. We have many laws for women in this country but implementation is the real challenge and this time too the focus has to be on implementation," she said, adding that she will speak to the women organisations and Muslim women at the forefront of this battle to chalk out a roadmap to ensure that the SC judgment is implemented.
http://timesofindia.indiatimes.com/india/triple-talaq-verdict-its-eid-for-muslim-women-in-country/articleshow/60182543.cms
--------
More Indian Muslim Women Grappling With Mental Health Issues Will Now Seek Help, Say Psychiatrists
Aug 22, 2017
DEHRADUN: Top psychiatrists in Uttarakhand have said that one positive fallout of the triple talaq verdict would be that more Muslim women would now come forward to seek help for mental health issues. Many psychiatrists said that one of the toughest challenges they have faced has been convincing women from the community that they wouldn't be granted triple talaq if they seek medical treatment for mental issues like depression.
The health practitioners said that while the stigma of seeking treatment for mental health kept most people away from approaching them, it was in the case of Muslim women that the problem became more glaring.
Dr Veena Krishnan, a senior psychologist from Dehradun, said, "One still sees women from other communities come in for counselling but it is rare to get Muslim women as patients. One reason for this is that the ease of triple talaq has led many women into thinking that their husbands might divorce them instantly if they were aware that their spouse was dealing with issues related to mental health."
Krishnan added, "The very few Muslim women who did come forward to seek treatment were very hesitant and constantly worried that someone from their husband's family would find out. They would come in for sessions when they were visiting their parents but almost never when they were with their husbands and in-laws."
Dr Mukul Sharma, Dehradun-based clinical psychologist, said, "Mental health requires immediate attention yet people, especially women, continue to neglect it. In one case, a Muslim woman who came in for counselling confessed that she quietly suffered domestic violence at home because she was afraid that her husband would give her triple talaq in rage. I'm hopeful that abolition of such practices will allow more women to seek help for their emotional well-being."
Many women TOI spoke to also agreed that end of triple talaq would provide women with more security and bring them out of a "constant state of fear".
Noor Aalmi (name changed) from Saharanpur Road, Dehradun, admitted that she has been suffering from depression for the past few years but never sought help. "How could I have told anybody what I was going through when it was so easy for my husband to just say talaq and wash his hand of the whole situation?" the 28-year-said.
Asked if she would now consider visiting a psychologist, Noor said, "It would certainly be easier now."
http://timesofindia.indiatimes.com/city/dehradun/more-muslim-women-grappling-with-mental-health-issues-will-now-seek-help-say-psychiatrists/articleshow/60180439.cms
--------
Emirati women scale new heights in aviation
August 22, 2017
Abu Dhabi
The glass ceiling may be real everywhere, but Emirati women shattered it years ago in the field of aviation, a group of women pioneers said in the capital today (August 22).
Reaching the ranks of pilots, managers and senior executives, Emirati women are continuing to demonstrate their versatility, and remain models of the UAE's full support towards women empowerment, they said at a panel convened by Etihad Airways to celebrate Emirati Women's Day.
"When I interviewed to become a pilot, I had to answer one of the most commonplace questions posed to professional women everywhere: how will you balance your career with family? I told my interviewers that I would excel in both, and who knew, I might even find a husband within the company," Salma Al Beloushi, 30, first officer at the Airways, told Gulf News.
Al Beloushi's prediction came true, and five years ago she piloted her first flight to Athens. The following year, she married an aircraft engineer she met at Etihad. Now mother to two young children, Al Beloushi continues to break new ground in a field where female contributions around the world are still limited.
The ambitious first officer is one of 13 pilots at the Etihad, one of the UAE's flagship carriers that boasts more Emirati women than men among its workforce. At present, 51.2 per cent of all Emirati employees at the airline are women. 295 of these women are engineers and technicians, 237 are managers, and 32 hold positions of senior management.
But the seeds for such women empowerment were laid decades ago by the nation's founding father, Shaikh Zayed Bin Sultan Al Nahyan, said Fathiya Al Nizari, 50, long-term volunteer at the Emirates Red Crescent, long-serving member of the General Women's Union and one-time member of Shaikh Zayed's personal office.
"I still remember accompanying our wise leader and the Mother of the Nation, Her Highness Shaikha Fatima Bint Mubarak, as they actively travelled the country, by road and by air, meeting women to find out where and what they needed. Today's women achievers are the fruit of their push to educate women across the UAE," Al Nizari said.
Following this leadership, the community is not far behind today in supporting women's dreams, Al Beloushi added.
"When I have to go on long-haul flights, my husband takes care of the children. He can cook, he changes diapers and he even does the laundry, and this is the kind of support that Emirati women need to excel in their chosen fields," she said.
Mariam Al Obaidli, 21, a trainee aircraft maintenance engineer at Etihad, said she could not be where she was without her parents' support.
"I start work at 5.30 am and often work for 12 hours, and my parents have only ever wished me more and more success," she said.
http://gulfnews.com/news/uae/society/emirati-women-scale-new-heights-in-aviation-1.2078460
--------
We are unstoppable, says Emirati figure skater
Sherouk Zakaria
August 22, 2017
In the lead up to the Emirati Women's Day on August 28, Khaleej Times profiles five inspiring women who have made their country proud (Part 1 of a 5-part series)
Ever since she stepped her skates into the ice rink at the age of 11, Zahra Lari knew she had a bigger goal to accomplish.
Few years later, the Emirati figure skater started rigorously training for six hours a day, six days a week to be the first to represent the UAE at the 2018 Winter Olympics next year in Pyeongchang, South Korea. Today, she is Mena region's first international competitive figure skater.
"Yes we are unstoppable," said 22-year-old Lari as the country is gearing up to celebrate its third Emirati Women's Day next week.
The skater, who sported her Nike hijab that was recently designed for female Muslim athletes, is gearing up for her upcoming Olympics qualifications in Slovenia at the end of September.
"Just to be at the Olympic qualifications is a huge deal. It is to show the world that although I'm from the desert, but I can still do a winter sport, which is more important than always winning."
But Lari's aim extends even beyond the Olympics. She has her sights set on competing at the World Figure ­Skating Championships, the next Four Continents Figure Skating Championships and the Asian Winter Games.
"There's so much more happening outside the Olympics. And even if I didn't qualify for next year's Winter Olympics, I will try harder for 2022 Winter Olympics," said Lari, who juggles her trainings with her third-year environmental health and safety studies at Abu Dhabi University.
Witnessing how far Emirati women have come, she said the "progress has been crazy".
"Even in sports, a few years ago there were only very few women, but now we have made it to almost every sport you can think of in a couple of years, which is insane," she laughed.
Emirati women have come a long way
Lari emphasised that her personal progress, along with other Emirati women, would not have happened without the government's support.
The young skater's ice training and international competitions' expenses are covered by the Fatima Bint Mubarak Ladies Sports Academy. She is also supported by the Abu Dhabi Sports Council.
"Without the government's support, I wouldn't be skating. It is a very expensive sport and they've been supporting me financially and morally since day one," said Lari.
Although she was subject to online criticism when she first started figure skating - particularly with her hijab - Lari said the country's support and the leadership's notion of positivity and progress helped her.
"I have a lot of positivity and encouragement surrounding me, so I wouldn't look at negativity and that's part of the message I want to send across to the young generation," said Lari.
"People will criticise you no matter what you do, and will tell you your goals are stupid, but you should trust yourself and surround yourself with positive people. That's what our leaders tell us too."
Beyond encouraging other UAE young nationals to join the sport and aiming to become a future figure skating coach, Lari said competing internationally will fight stereotypes surrounding Middle Eastern women.
"It is to tell girls that they can do whatever they set their mind to, even if you're the first one doing it, we must go for it," said Lari while recalling the country's goals to remain the top.
She noted that while Emirati, and Arab women generally, proved themselves in various fields internationally, they are still faced with misconceptions from time to time.
"The main misconception is that Arab girls don't do anything other than being housewives, but the message I'm trying to send through my sport is that we are doing everything we want and the government is supporting females in whatever they do," she said.
Being a partner recently in Nike's recent launch of the hijab designed for Muslim athletes, Lari said she's usually faced with the question whether she is forced to be covered. She stressed that Arab women's international participation in any field helps curb the misconceptions.
"It's important for me to tell them that nothing is forced. While at the beginning I was faced with such questions, now the international skating community doesn't only support me, but encourages me with what I am doing."
And with a "huge and general positive change of attitude" towards Arab women, Lari said now the world understands how hardworking the Emirati woman is.
"The increased female representation in the UAE cabinet, and the appointment of women to become the world's first happiness and tolerance ministers shows how hard women had to work for it, and they were cherished by the leadership," said Lari.
https://www.khaleejtimes.com/news/general/we-are-unstoppable-says-emirati-figure-skater
--------
Saudi women need equal rights
By Kim Sua
August 23, 2017
The late King Abdullah bin Abdulaziz Al Saud, who is known to have contributed significantly to the improvement of women's rights in Saudi Arabia, died January 23, 2015. Yet it is unclear how much he improved the lives of women in a practical sense in Saudi Arabia, where women are discriminated against more harshly than anywhere else in the world. It is also important to think about how the new king could modify the incredibly unreasonable customs for women's rights from now on.
close
King Abdullah made some significant gender equality reforms, including allowing women to work as supermarket cashiers and appointing a woman as a deputy minister. He also allowed women to vote and participate in politics.
However, women are still not allowed to drive. Although King Abdullah made it possible for women to vote and participate in politics, they are still unable to drive themselves to work. It makes one wonder how much difference being able to participate in politics makes when women are deprived of some of the most basic rights as they are restricted and cannot move freely or go where they want to go.
It is now up to King Salman to eliminate this deep-rooted inequality in routine and make directly improve women's rights enough to affect their daily lives.
Prohibition of driving is a small portion of the suppression of women's rights in Saudi Arabia. Women are not allowed to expose their skin over a certain extent or wear make-up to express their beauty in a way they want to. Even competing in sports is heavily criticized.
The root of daily human rights' oppression is the male guardianship system. Saudi women have to gain permission from their male guardians (typically a father, husband, brother or even a son) to engage in not only important decisions such as marriage and employment but also in trivial things in everyday life such as entering a restaurant or travelling abroad. Women even have to gain permission to go to the hospital for medical treatment.
Hence the final goal of any plan to improve women's rights in Saudi Arabia should be abolishment of the guardianship system. If the country can start small by giving back basic rights to women, not only the awareness men have of women but also the awareness that women have about themselves would change gradually. And finally the country might reach a stage where women can naturally think and decide for themselves.
On the guardianship system, there are conflicting opinions in Islamic societies as well as within the Saudi societies. Abdulaziz Al Sheikh, the Grand Mufti of Saudi Arabia, has criticized demand to abolish the guardianship system as a "crime to Islam" and "threat to the existence of the Saudi society". However, Sheikh Abdullah Al Monayea, a congressman in the prelate commission, have claimed that it is not written in the Islamic guidelines to exercise the male guardianship system except for marriages.
King Salman has the responsibility to try and establish strong and substantial changes for women's rights against the extremely conservative religious opposition. Rather than settling with employing a handful of female politicians, he should try and create changes that women can directly feel in their daily lives. I believe allowing women to drive and allowing them to be freely mobile would be a good start. Allowing women to drive will be a significant signal to the women in Saudi Arabia indicating the start of a big change to come. It will grant them the courage and hope to continue the momentum and change their own societies to a freer and equal one.
Saudi citizens are informing the world of their hope to abolish discrimination. Saudi women taking pictures of themselves driving, took the web by storm. Just this year 14,000 Saudi women signed a petition to end the male guardianship system. The world is aware and the world cares. The Saudi Arabian government should no longer ignore the efforts of their citizens who hope for equal rights.
Kim Sua is a third year student at Hankuk University of Foreign Studies' Department of English Linguistics.
http://m.koreatimes.co.kr/phone/news/view.jsp?req_newsidx=235276
--------
URL: https://www.newageislam.com/islam-women-feminism/divorce-rate-muslim-women-twice/d/112304
New Age Islam, Islam Online, Islamic Website, African Muslim News, Arab World News, South Asia News, Indian Muslim News, World Muslim News, Women in Islam, Islamic Feminism, Arab Women, Women In Arab, Islamophobia in America, Muslim Women in West, Islam Women and Feminism