New Age Islam News Bureau
4 May 2013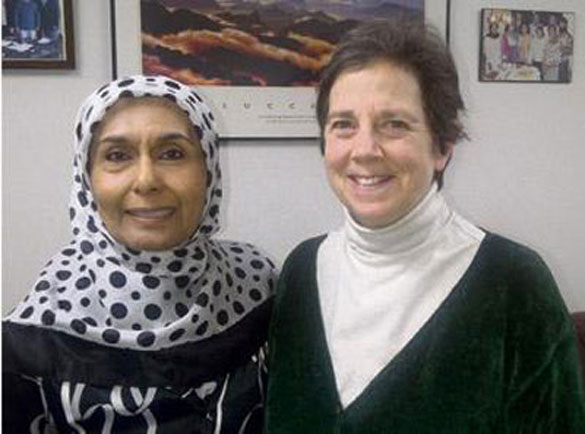 Shaheen Ashraf, left, seen here with Deena Roskies, is realizing her dream of a Montreal première for the film Out of Cordoba, which carries a message of tolerance.
---------
• 'Niqab' Pleases You, Not Allah', Woman TV Host's Argument Irks Egyptian Cleric
• Egypt minister's remarks fuel sexual harassment debate
• It's Time Saudi Labour Ministry Reviewed Laws Concerning Maternity Leave
• Muslim Women Seek Dialogue with Jews through Film
• New York's Parsons' alumnus wins American Hijab Contest
• Saluting Indian Women Who Fought Hard and Won
Compiled by New Age Islam News Bureau
URL: https://www.newageislam.com/islam,-women-and-feminism/new-age-islam-news-bureau/divorce-dictates-dire-conditions-for-muslim-women-in-india/d/11421
------------
Divorce Dictates Dire Conditions for Muslim Women in India
May 4, 2013
Shobha S V
Mumtaz Sheikh, 34, lives in Mumbra, a Muslim pocket situated around 30 kilometres from Mumbai. She was divorced by her husband about nine years ago but she does not receive a paisa in terms of maintenance from her former spouse although she supports their two children.
Mumtaz's story is not an isolated one in Mumbra. Divorce here has become a marker that further ostracises and marginalises already poor women, especially those who lack an education or the means to a livelihood. "Divorce, for most women in the community is a matter of stigma. People always blame the woman. This, when, ironically, it is the man who exercises the right to triple Talaq," says Kausar Ansari, a counsellor with Awaaz-e-Niswan, an organisation that works with Muslim women in Mumbai and in Mumbra.
What makes the situation worse is the fact that people consider it 'Haraam' (sinful) to demand money from the ex-husband, with whom they no longer share a relation. Activists say that it is this thinking that prevents women from openly demanding maintenance from their former husbands.
Mumtaz reveals that she had actually tried to demand maintenance, but did not succeed. She now works hard, doing several odd jobs every day, to support herself and her two children.
Mumbra gained the notoriety of being a Muslim ghetto after the Hindu-Muslim riots that tore through Mumbai in 1992-93. It's predominantly the Muslim population that suffers from a lack of development and poor service delivery. CAFYA, a project to monitor the Sachar Committee recommendations and the status of Muslim women was undertaken by five organisations in Mumbai. They were CEHAT, Akshara, FAOW-Forum Against
Oppression of Women, YUVA and Awaz-e-Niswan (making up the acronym CAFYA). The survey only confirmed the findings of the Sachar Committee report, showing that cultural practices of the Muslim community in terms of 'Purdah', polygamy and divorce have actually affected single or divorced women's access to services from the state.
Muslim women cannot claim maintenance under Section 125 of Criminal Procedure Code (CrPC). They became entitled to maintenance in conditions specified by the Muslim Women (Protection of Rights on Divorce) Act, 1986. According to this law, women can demand for maintenance only during the 'iddat' period - the three months after the divorce. If the husband is unable to pay the amount, the onus of maintenance shifts to the woman's family or the Waqf Board.
Says Veena Gowda, a women's rights lawyer, "After the Shah Bano case, there have been many judgments, which have recognised a Muslim woman's right to maintenance. But, as happens in other religious communities too, a lot of men end up not paying any maintenance."
The women then are left with little resource, since most are extremely reluctant to go to court. With little family support, they find the whole experience of accessing justice extremely overwhelming. Kausar Ansari, a counsellor at Awaaz-e-Niswan, adds that most of the women that she works with have not demanded any support from the Waqf board, "We had approached the Waqf board asking for details of maintenance for women belonging to the poorer sections of society. However, it has been unable to help us."
According to the Rajinder Sachar Report, only 25 per cent of Muslim women are part of the workforce. In Mumbra, the situation is no different. After their divorce, they find themselves in a labyrinth, with no income and little family support. The lack of a ration card - that could help in keeping household expenses lower - further compounds their problems.
Getting a ration card for a single or divorced woman is an extremely tough task. A public hearing organised by Awaaz-e-Niswaan, revealed very clearly that among the major requirements listed by the women, ration cards figured very prominently. Yet, most do not have them. The study by CAFYA showed that more than 70 per cent of the women they had interviewed did not possess a ration card.
In 2010, Awaaz-e-Niswan had embarked on an initiative to get ration cards for about 45 women in Mumbra. They first initiated a public hearing in the area and mobilised the women in a bid to put pressure on the authorities. It took them two long years to get ration cards for about 30 women. As for the other 15, they continue to wait. None of them, incidentally, have Below Poverty Line (BPL) cards.
Mumtaz explains why she does not have a ration card, "I don't have a house of my own and most house owners refuse to provide a No Objection Certificate (NOC), which is needed for a ration card."
The refusal on the part of house owners to give this NOC is common throughout Mumbai. This is because they fear that the ration card will be used for gaining ownership over the house, despite the fact that a Bombay High Court's order specifically states that a ration card should only be used to obtain food items. A temporary ration card does not look different from a ration card that is obtained against one's own house and this has led to the reported misuse of the card.
Mumtaz earns about Rs 8,000 per month of which Rs 4,000 is spent on rent alone. According to Ansari, most families remove the names of their daughters the moment they are married. "The husband's family does not show the same diligence in adding their daughter-in-law's name to their ration card. So if divorce should happen, the woman is left stranded."
Academics, who have studied the status of Muslim women, feel that the increasing ghettoisation and alienation of the Muslim community has resulted in the further marginalisation of the women. Observes Haseena Khan, researcher and women's rights activist, "Women are depending more and more on their community for their sustenance. This is not a particularly favourable trend, given the high levels of discrimination that already exist."
http://www.deccanherald.com/content/330099/divorce-dictates-dire-conditions-muslim.html
------------
'Niqab' pleases you, not Allah', Woman TV host's argument irks Egyptian cleric
May 04, 2013
New Delhi: The debate over Muslim women wearing veil is long and an old story. The use of veil has been accepted and resented by the Islamic society in equal measures.
Recently, an Egyptian television host, Riham Said, while talking to an Islamic cleric questioned the use of veil. Defiant and aggressive, the host asked the relevance of Niqab (veil). As a visibly upset and outraged cleric asked Said to cover her head. The host refused and called the cleric's demand a charade.
The debate got heated when the host accused the cleric of taking money to appear for the show. An outraged cleric threatened the television channel and said that he would close it down.
The host finally storms out of the television studio.
http://daily.bhaskar.com/article/WOR-TOP-naqab-pleases-you-not-allah-woman-tv-hosts-argument-irks-cleric-4254647-NOR.html
------------
Egypt minister's remarks fuel sexual harassment debate
By Aleem Maqbool
4 May 2013
A recent UN survey suggested an astounding 99.3% of Egyptian women had experienced harassment of one form or another. Sixty percent of those asked said they had been touched inappropriately.
Of course, the problems started within Egyptian society long before the 2011 revolution that ousted Hosni Mubarak, but they do appear to be worsening.
And just when the issue of sexual harassment needs decisive action, Egypt's Information Minister Salah Abdul Maksoud has caused outrage by making remarks to a female reporter that appear highly derogatory, though the minister himself is unrepentant.
"In the news conference, I asked him: 'Where is media freedom?'" says the journalist involved, Nada Mohamed.
"He said to me: 'Come here and I'll show you.' Then he laughed," she says. "This was clear harassment. I was shocked."
As it happens, Ms Mohamed's parents both accompanied her to the news conference.
"We went with Nada because things are so bad these days with security for girls, I don't want to leave her alone," says her father, Mohamed. "I call her 10 times a day if I am not with her, I am so worried."
"Then the minister said what he did and I was so angry, but it was not the place to start shouting. But I am happy other people have responded."
'Anti-Islamist prejudice'
There have been protests against Mr Abdul Maksoud and he has been questioned about his comments. But he has justified his actions by saying it was a turn of phrase that is common in Egypt.
The minister remains in his post and there his been no condemnation or apology for what he said from the Muslim Brotherhood, the Islamist movement to which he and President Mohammed Morsi belong.
Brotherhood supporters bristle at the suggestion that women's rights have been adversely affected by its rule.
Full Report at:
http://www.bbc.co.uk/news/world-middle-east-22402053
-----------
It's Time Saudi Labour Ministry Reviewed Laws Concerning Maternity Leave
JEDDAH: MOHANNAD SHARAWI
Saturday 4 May 2013
Scores of women working in both the private and public sectors have demanded that the Ministry of Labour should review the period designated for maternity leave, which is estimated at between 40 and 60 days.
Doctors and gynaecologists have unanimously agreed that it is virtually impossible for a woman to resume work after just 40 days of giving birth. They have also stressed the fact that in some cases, such as Caesarean sections, a working woman might need to double the period of rest.
Sara Obeid, an English teacher, said she faced difficulty in her first pregnancy and especially during the postpartum period where she experienced pain, and found it difficult to return to teaching after 40 days as per the maternity and pregnancy leave regulations issued by the Ministry of Labour.
"I tried hard to take a couple of more weeks off but the employer, the directorate general of education in Jeddah, declined my request."
She added that she had to take about 15 days of unpaid leave. "In normal cases, teaching is hard work, especially when I have to teach around five sessions (each of them 45 minutes) a day. When it comes to a woman who has delivered, it becomes impossible to resume teaching for at least 60 days after giving birth."
Aisha Al-Harbi, a supervisor at one of the educational supervision offices in Jeddah, told Arab News that the Saudi panel overseeing maternity is not very considerate, as the regulations allow only four weeks before giving birth and 6 after regardless of whether it is a natural birth or a Caesarean section.
She said that all three of her pregnancies were Caesareans with complications, forcing her to stay in bed for about 65 days. "Even though I provided all the medical reports from the hospital to extend my maternity leave period for 20 more days, I was unsuccessful. The only response I could get was, 'we cannot go beyond the labour regulations'," Al- Harbi noted.
Lama Murad, an Egyptian executive director at a PR company, noted that the panel should be reconstituted and that the Ministry of Labour ought to deploy female experts. "In my hometown, according to Egyptian labour regulations, a working woman can take up to 90 days paid leave. The period is divided for the duration before and after giving birth," Murad cited.
Furthermore, regulations here don't take into account postpartum depression.
Ghadeer Al-Suleiman, a Saudi businesswoman, said the regulations must cover the psychological aftermath in some cases. She recalled that when she was working at the Ministry of Health, she had experienced postpartum depression which, as she described it, was worse than physical pain.
"In fact, I couldn't return to normal for at least 70 days and I had to shoulder unpaid leave of 30 more days on my own. There was just no way could I go back to work after only 40 days," complained Al-Suleiman.
Full Report at:
http://www.arabnews.com/news/450376
------------
Muslim Women Seek Dialogue with Jews through Film
May 3, 2013
MONTREAL — A local Muslim women's group is reaching out to the Jewish community for greater dialogue through the screening of a documentary film that offers the perspective of those people of faith struggling against the hijacking of their religions by extremists.
The Canadian Council of Muslim Women (CCMW) has teamed up with the Montreal Dialogue Group (MDG) and the Canadian Friends of Rabbis for Human Rights to bring Out of Cordoba: Averroes and Maimonides in Their Time and Ours and its New York-based director Jacob Bender to Montreal.
The award-winning film, released in 2010, will be shown at the Segal Centre for Performing Arts twice on May 12, at 4 and 7:30 p.m.
CCMW board member Shaheen Ashraf said she had been trying for a couple of years to find a partner in the Jewish community to help support this effort and to hold a public program about the issues the film raises.
"I think the film is a good medium to bring about better understanding and peace between the two communities," said Ashraf, a native of Pakistan.
Founded 30 years ago in Winnipeg, the CCMW describes itself as a highly diverse organization in favour of women's equality and dedicated "to empowering Muslim women to remain true to their Islamic heritage within the rights and responsibilities of the Canadian context."
Ashraf said the CCMW has spoken out against so-called honour killings and, in Quebec, has taken the position that a women's head or face coverings should be a matter of personal choice, although its membership includes both those who do and do not wear such attire.
Ashraf has been involved with the MDG, a group that brings together Jews and Arabs, since its founding 10 years ago. While the MDG's intercultural activities are generally open to the public, the film screenings will be its first outreach program on the Jewish Community Campus, said MDG member Deena Roskies.
Full Report at:
http://www.cjnews.com/index.php?q=node/106495
------------
New York's Parsons' Alumnus Wins American Hijab Contest
May 03, 2013
Hijab, the quintessential headscarf worn by Muslim women, got an American style twist at the recently concluded American Hijab Contest, which showcased a range of highly innovative yet modest head gears by various amateurs as well as professional designers.
Held in Chicago, the contest's winning ensemble was an A-lined camel coloured Japanese organic cotton quilted shirtdress, a turtleneck, knitted hat and slim pants, designed by the New York-based Fashion Institute of Technology graduate Sarah Musa, who took inspiration from the clean, streamlined American sportswear for her creation.
In addition to the cross cultural (half-Christian and half-Muslim) technical designer Musa, Yasmeen Sabir won the style contest segment for non-designers for her tropical headscarf paired with a coral motorcycle jacket and yellow cardigan.
The competition was judged by a panel of high-profile industry professionals, including Parsons' professor Shireen Soliman and Kanye West collaborator Rhymefest.
The inaugural edition of the contest was organized by the human rights attorney and fashionista Shaz Kaiseruddin to promote the message of peace and tolerance in the United States.
http://www.fibre2fashion.com/news/apparel-news/newsdetails.aspx?news_id=145677
------------
Saluting Indian Women Who Fought Hard And Won
May 04, 2013
Real Heroes, a CNN-IBN initiative in partnership with Hindustan Times, celebrates extraordinary services of India's ordinary citizens every year. This year, the awards will felicitate 13 women who battled hard and conquered all obstacles to make a difference. Today we share four such stories.
Tulsi Munda
At the age of 12, Tulsi Munda went to live with her sister 65km away in Serenda, where she earned Rs. 2 from cutting stones and sifting iron from waste. In her free time, she would try and teach herself the alphabet. In 1961, she joined other Gandhians in their village forays. In 1964, she returned to Serenda and started an evening school for children of adivasis. In the next 40 years Munda helped establish 17 schools and educate 20,000 boys and girls, mainly tribals, in Odisha. Tulsi has received a Padma Shri award for her commendable work.
Sangita Bauri
Child marriage is an evil that has ailed our country since times immemorial and nipped many a child's life in the bud. Real Heroes brings a real life 'balika vadhu', who, at the age of 16, fought with her parents and sent prospective grooms packing. Today, Bauri, from Purulia, West Bengal, is encouraging other girls in her village to resist child marriage and instead go to school. Alongside this, she is waging a battle against alcoholism. Rural India needs more feisty young girls like Bauri to bring about a positive change.
Lateefabibi M Giteli
The 2002 Godhra carnage left behind torn com-munities, widows, and orphans and scarred lives. The riots transformed Lateefabibi M Giteli, a housewife into a crusader. Today, through her organisation Al Fazal Educational and Charitable Trust, Giteli runs communal harmony programmes, building bridges between Hindus and Muslims.
Full report at:
http://www.hindustantimes.com/India-news/NewDelhi/Saluting-women-who-fought-hard-and-won/Article1-1054475.aspx
------------
URL: https://www.newageislam.com/islam,-women-and-feminism/new-age-islam-news-bureau/divorce-dictates-dire-conditions-for-muslim-women-in-india/d/11421