New Age Islam News Bureau
29 October 2021
• Pakistani Woman Moves Peshawar High Court against Denial Of Citizenship To Afghan Husband
• 'Women Encouraged To Work In Pine Nut Industry': Taliban Minister for Commerce
• Saudi Women's Participation in Sports Events up by One Hundred Forty-Nine Percent in 4 Years
• BBC British Army Video Aimed At Recruiting Muslim Women Widely Scorned
• Afghanistan: The West Needs To Stop the Fascination Of "Saving" Afghan Women
• In Afghanistan, a Girls' School Is the Story of a Village
• YouTube Relaunches Women-Dedicated Channel YouTube Batala
• UN Commits to Long-Term Support for Afghan Mothers and New-borns
Compiled by New Age Islam News Bureau
URL: https://www.newageislam.com/islam-women-feminism/hoor-islamic-teachings-displaying-women/d/125671
--------
Displaying Women as 'Hoors' Completely Inappropriate In Light Of Islamic Teachings: Council of Islamic Ideology
Asif Bashir Chaudhary
Oct 27 2021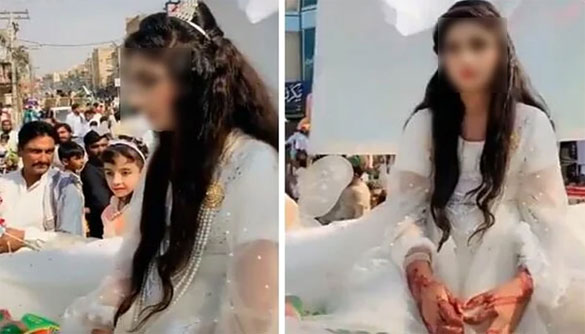 The woman who was presented as "hoor" on the occasion of 12th Rabiul Awal. — Twitter
----
ISLAMABAD: The Council of Islamic Ideology (CCI) has slammed the move to displaying women as "hoors" and termed it completely "inappropriate in light of Islamic teachings."
The body's statement came after a woman was displayed as a "hoor" (heavenly figure) during a procession on 12th Rabiul Awal, as per videos that went viral on social media.
The CII's reservations came during a meeting, during which members agreed that presenting naat, marsiya, and qaseeda as songs was against Islamic teachings.
The CII also objected to the ostentatious exhibition of religious rituals and suggested a uniform standard to be maintained when it comes to religious ceremonies.
'Well-thought-out controversy'
In response to the "hoor" being put on display, PTI Member of Punjab Assembly Seemabia Tahir submitted an adjournment motion in the house on the matter.
Tahir, in the motion, said the incident took place in Multan and termed it a "well-thought-out controversy".
Source: Geo TV
https://www.geo.tv/latest/378520-presenting-women-as-hoors-completely-inappropriate-cii
--------
Pakistani Woman Moves Peshawar High Court against Denial Of Citizenship To Afghan Husband
October 29, 2021
The Peshawar High Court building. — PPI/File
-----
PESHAWAR: A Pakistani woman on Thursday moved the Peshawar High Court requesting it to declare unconstitutional a provision of the Pakistan Citizenship Act, 1951, which allows citizenship to the foreign wife of a Pakistani man but does not extend the same to the foreign husband of a Pakistani woman.
In the petition, Peshawar resident Sameena Roohi sought the court's orders for the respondents, including interior ministry and National Database and Registration Authority, to grant citizenship to her Afghan husband, Naseer Mohammad.
She claimed that the law discriminated against the country's women citizens.
The petitioner requested the court to declare unconstitutional and discriminatory Section 10(2) of the Citizenship Act, under which the wife of a Pakistani resident is entitled to the country's citizenship but the same is denied to the foreign husband of a Pakistani woman.
Calls Citizenship Act's relevant provision discriminatory
She sought orders to declare that Section 10(2) of the Citizenship Act was not brought in conformity with the fundamental rights within two years of the commencement of the Constitution, which was a mandatory requirement under Article 8(4) of the Constitution.
The petition is filed through senior lawyer Saifullah Muhib Kakakhel and Mehwish Muhib Kakakhel. The petitioner contended that Section 10(2) of the law was discriminatory and didn't treat men and women equally.
The respondents in the petition are Nadra through its director-general, interior ministry through its secretary, and directorate-general of immigration and passport through it director general.
The petitioner said she belonged to a respectable family, was married to an Afghan national, Naseer Mohammad, in 1985 and had five children from the marriage and they all were Pakistani nationals.
She said her husband had been working in Kuwait for a long time and he had only been granted Pakistani visa for a short period of one month or so to visit his family.
The woman claimed that her husband had not been given an appointment in Kuwaitforvisa due to Covid-19 pandemic, so he could not visit his family.
She said she had visited the Nadra and immigration offices seeking citizenship for her husband, but was told that Section 10(2) of the law applied only to the foreign wife of a Pakistani man.
The petitioner contended that the Federal Shariat Court had declared in 2008 the impugned provision repugnant to the injunctions of the Holy Quran and Sunnah, and called it discriminatory, against gender equality and a violation of Articles 2(a) and 25 of the Constitution.
She said Pakistan was home to millions of refugees from Afghanistan, who shared the same culture, language, etc. and large number of them had contracted marriages with Pakistanis especially in Khyber Pakhtunkhwa and Balochistan, but only the spouses of men are granted nationality of Pakistan and Pakistani women were deprived of the same.
The petitioner also referred to several international conventions, to which Pakistan was signatory including Universal Declaration of Human Rights, Convention on Elimination of All Forms of Discrimination against Women, International Covenant on Civil and Political Rights and said by not amending the Citizenship Act, the government had been violating all those international laws, which declared that there should be no discrimination on basis of gender.
Source: Dawn
https://www.dawn.com/news/1654597/woman-moves-phc-against-denial-of-citizenship-to-afghan-husband
--------
'Women Encouraged To Work In Pine Nut Industry': Taliban Minister for Commerce
Oct 28, 2021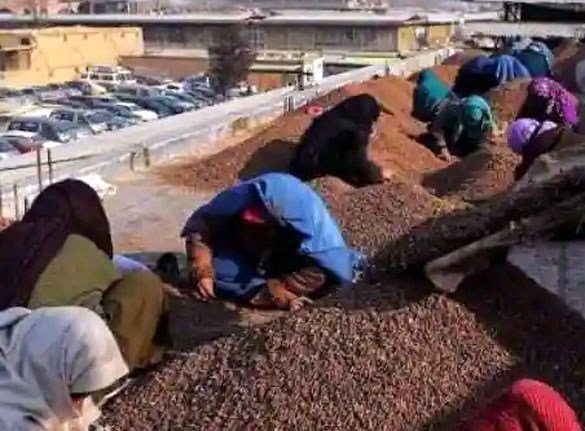 Pine nut in Afghanistan Photograph :( WION)
----
Pine nuts, popularly known as Afghanistan's 'export gold', are one of the major sources of support for the country's economy, especially at a time like this when the Taliban-controlled nation is grappling for stability.
In an exclusive interview with WION's Anas Mallick, Taliban's Minister for Commerce and Industries Nooruddin Azizi talked about capitalisation of pine nuts, future of women in the industry and the ways in which Taliban is planning to boost the declining economy.
Talking about the importance of capitalising on pine nuts to improve the tottering economy of Afghanistan, Azizi said pine nuts are an important factor of the Afghanistan. "Since Afghanistan is an agriculture country, we have been working hard to make sure that the products are capitalised on and that it reaches its final destination," he said.
Investing requests
He also claimed that China is not the only country that is looking to invest in this. Pine nuts "are an important part of Afghanistan, and they are extremely crucial. We also want to invest in it and do the marketing — the necessary marketing for it. China is not the only one interested in the product, there are countries such as United Arab Emirates, European countries, Central Asian countries. Pine nuts are involved here and they are interested and we are exporting to them and we would like any interested parties to invest in this," Azizi said.
Taliban have also urged other international governments and organisations to come forward and invest in Afghanistan. "We invite everyone to invest, who is interested in investing in Afghanistan to come forward and we welcome them," Azizi said. "One of the issues previously was the security issue which is now completely solved and there is no issue on that. We guarantee from Islamic Emirate of Afghanistan that we will ensure no security issues happen. We have provided really good opportunities for these investments in the middle and high investment sector, in terms of investment quantity, so we welcome all of them."
He reiterated his guarantee of safety for investors by claiming that violent attacks have declined and have come down to almost zero in the recent days. "If you see the security situation, the security issues have gone down by quite a bit to almost non-existent and that they will be solved to full and that there is no and would not be any security issue for any investment who wants to come here or is here," he claimed.
Women workforce
Half of the workforce in this industry used to comprise of women before Taliban took control of the country. While it was feared that women may not get their jobs back, as reports of women facing unfair restrictions were popping in media, the Taliban minister has declined these rumours.
"The international community only looks and focuses on Kabul only which is not the only part of Afghanistan. Even in Kabul there are organisations and departments where we have women presence available such as medical, education and several other sectors," Azizi started explaining. "However these pine-nuts and some others are coming from other provinces where agriculture is main part of the income and Afghanistan's new government is preparing to make work platform for women to work under Islamic and Traditional Afghan community."
However, he also added that women are not currently involved in picking out the pine nuts from trees as authorities believe it is a hard job which cannot be done by women. Other than that, he claims, women "are currently and practically taking part in the process because this is an extremely sensitive work which can not be done by anybody else so women are taking part in it".
International aid
He also opened up about the Tehran summit which was recently held and urged the international communities, especially the neighbouring nations, to come forward and help Afghanistan fight the current economic crisis.
"With regards to the trade and border economy, mostly in Torkham, Islam Qala, Heratan and such border areas – In the last two months that we have been working here - We have brought facilitations to the traders to remove any obstacles that they might have. There are several obstacles obviously and for those obstacles they have, we have created a committee that will solve such issues immediately, without any delay," Azizi said. "One of the issues that we have currently is the increase in the prices of goods and we believe that this mostly, the biggest factor playing here is the international factor that the prices of goods internationally are high."
He also added that countries such as China, Pakistan, Kazakhstan, Uzbekistan, Qatar and United Arab Emirates have provided humanitarian aid to Afghanistan, but added that the Taliban expected more from European countries and the US.
"This is the time for international community to understand that we have an upcoming winter which with it brings issues to people of that area and a lot of people," Azizi urged the western countries. "We would request the international community and the neighbouring countries to again assist us in this and not leave us alone so that we can fight this issue in our country with their assistance."
Poverty and starvation
Taliban minister also admitted that the ground reality of the country's increasing poverty and starvation is very close to the official figures released by the United Nations and other international bodies. "These figures and facts that have been provided by these organizations which have been quoted by you, can obviously not be verified to exact details from ground but it is pretty close to what you quoted and to a certain extent is true," he said.
However, he was quick to add that these problems had existed in the country from the time Taliban were not ruling the country. "The Islamic Emirate of Afghanistan inherited these issues of poverty and starvation from the previous government," he claimed.
He also blamed the international communities for the decline in country's economy as several western governments have frozen Afghan's funds. "As you know that these issues we have currently is mostly from and because of the international community because Afghanistan's money is blocked and there are restrictions imposed on Afghanistan. The Islamic Emirate of Afghanistan is again dedicated to provide services to fullest extent by all means meaning all departments are active, all the departments are working and we expect that to get out of these issues," he said.
Source: WION News
https://www.wionews.com/south-asia/exclusive-women-encouraged-to-work-in-pine-nut-industry-taliban-to-wion-424863
--------
Saudi Women's Participation in Sports Events up by One Hundred Forty-Nine Percent in 4 Years
October 28, 2021
RIYADH – There has been a significant increase in the participation of women in sports activities over the recent years, thanks to the relentless efforts of the Ministry of Sports to achieve the goals of Vision 2030.
Deputy Minister of Sports Badr Al-Qadi said that the percentage of sports practitioners increased from 13 percent to 19 percent during the period between 2015 and 2019 and this is also instrumental in increasing women's participation in various sports activities by 149 percent during the period.
Addressing the session of the Future Investment Initiative here, Al-Qadi said that the efforts of the ministry aimed to achieve the goals of Vision 2030 have been instrumental in raising the number of sports practitioners in the Saudi society.
"Practicing sports had the greatest impact on Saudi society, as 706 female players participated in fitness training programs to join the Saudi women's teams, and more than 90 women entered the field of umpiring and more than 59 women entered the world of training.
We are keen on overall improvement of the sports sector with a focus on discovering and promoting talents in all sports items in all regions of the Kingdom, through various projects such as the Mahd Academy, the School League, the Neighborhood League and the regional centers of the Saudi Football Federation," he added.
Source: Saudi Gazette
https://saudigazette.com.sa/article/612879/SAUDI-ARABIA/Womens-participation-in-sports-events-up-by-149-in-4-years
--------
BBC British Army Video Aimed At Recruiting Muslim Women Widely Scorned
28 October 2021
A video from the BBC's Asian Network highlighting the lack of Muslim women in the British Army has been met with scorn from social media users.
The video, published on the platform's Twitter account on Wednesday, showcases activity days from around the UK, designed to encourage Muslim women to join the army.
The video shows three women from Bradford taking part in different activities, from climbing to assault courses. However, online, social media users criticised the message in the video, with many voicing their concerns about joining the British military. Some also questioned why the BBC's Asian Network was promoting the video and the army-led taster days.
One account asked why the BBC was running propaganda for the British Army, while another said: "Going overseas to kill other Muslim families and you wonder why the number of Muslims joining are low"?
Major Kate Hannaford, from the Royal Artillery, says in the video that the British Army is eager to recruit a diverse range of people.
"It's really, really important to get different people in because we need different people that think in different ways, so that actually, we can be the army of the future," she says.
According to the UK's Ministry of Defence, there are only around 450 Muslims serving in the British Army, and an even smaller number are women.
Another social media user condemned the video, saying that the Asian Network was being exploited.
"This is grim - and shame on the BBC Asian Network for allowing their radio station to be cynically exploited in this way," they tweeted.
In the video, the women speak about their positive experiences at the army activity days, and say that it made them more aware of the career opportunities available in the military.
The video states that more boot camp style training is being planned over the coming months, in an effort to encourage more Muslim women to join the military.
Source: Middle East Eye
https://www.middleeasteye.net/news/british-army-muslim-women-recruitment-video-scorn
--------
Afghanistan: The West Needs To Stop the Fascination Of "Saving" Afghan Women
October 28, 2021
The west has long had a fascination with "saving" Afghan women – a theme we have seen in many media reports since August when Kabul fell to Taliban forces. It was a narrative which was also front and centre in 2001 when the administration of US president George W Bush launched the "war on terror" and the invasion of Afghanistan, with his wife Laura claiming that "the fight against terrorism is also a fight for the rights and dignity of women".
In Britain, this justification was also used by Tony Blair's government, which joined the international coalition claiming that the campaign was needed, among other things, to "give back a voice" to Afghan women deprived of human rights under the Taliban regime.
But while it is true that Afghan women faced violent injustices under the Taliban rule, it is important to analyse the misrepresentations that have accompanied this "saviour" narrative.
Ironically, this message has found common cause on both sides of the political spectrum, and has even been a rare example of the language of feminism and the language of colonialism coming together to say essentially the same thing. In this way, the Afghan woman has come to represent the opposite of what the west sees as its defining virtues in that she is represented as backward and powerless.
The 'white saviour' narrative
The problem with this white saviour narrative is that it is laden with the same orientalist civilising rationales. It's an age-old fantasy that was used to justify colonial wars – a classic example is Lord Cromer's condemnation of the way Islam treated women when Britain colonised Egypt in the 19th century.
This sort of thinking continues to foster the idea that war can both free Muslim women from their oppressive menfolk and liberate the west from Islamic terrorism. Yet, when women were assaulted by the US-backed Afghan government and Afghan warlords before the Taliban's takeover, the international community remained silent.
Read more: Afghan women's lives are now in danger from the Taliban – but they have always faced male violence
And, while the far right often expresses xenophobic and discriminatory positions against Muslims, some groups have been quick to piggyback on the Taliban takeover to promote their own anti-woman and anti-liberal agenda. Within these debates – and for both the far right and fundamentalists – women are represented in several different and important ways.
For Islamic fundamentalists, Muslim women are always seen as key representatives of their culture, thus the importance of "proper" behaviour and "proper" dress. Meanwhile, some far-right groups – despite their xenophobia – have been cheering the Taliban's victory. Both of these positions are harmful to Afghan women.
At the same time, liberal feminists on the left also express concerns for the abuses of rights of the "voiceless" Muslim woman. But opposition to the Taliban in particular and elements of Islamic culture and society more generally sets up a problem for sections of the left that are wary of opposing Islamist ideology thanks to residual colonial guilt, the honourable desire to respect other cultures and some perceived common causes with some Islamist groups.
As a result, when I have identified as a secular Muslim feminist and argued that Taliban are a danger to women, I have been accused by both Islamic fundamentalists and certain leftists of being a "mouthpiece", and a "sellout" who supports western imperialism.
Too often the outside world adopts broad generalisations about the deeply complex political, historical and social history and issues that have shaped the cultural milieu of Afghan women. We need to understand that the goals and desires of Afghan women may not precisely match the "freedoms" envisioned by white feminism.
What do Afghan women actually want?
In the end, against all this background noise, the actual voices of Afghan women are often silenced. It may be easier for outsiders, but sticking neat cultural representations of the "victimised Muslim woman" over messier historical and political narratives gets us nowhere.
Obviously it's not helpful to ignore the dangers faced by Afghan women and the oppression of Muslim women in general. But it's important to acknowledge the vastly different social, economic and political dynamics that have created the contexts in which these women live.
It's also important to understand that "Muslim women" are not a fixed, static or homogenous group. And we need to ask ourselves about what we actually mean when we use words like "agency" and "victimisation". The reality is far more complex.
We need to recognise that Afghan women (a varied group), might want different things than what westerners (also a varied group) might want for them. We need to acknowledge that, with or without the Taliban, Afghan women are the only ones who are able to resist their oppressive conditions. Therefore, we should listen to how they believe we can best help.
Source: The Conversation
https://theconversation.com/afghanistan-the-west-needs-to-stop-seeing-women-as-in-need-of-saving-170731
--------
In Afghanistan, a Girls' School Is the Story of a Village
29 October, 2021
Mina Ahmed smears a cement mixture to strengthen the walls of her war-ravaged home in rural Afghanistan. Her hands, worn by the labour, are bandaged with plastic scraps and elastic bands, but no matter, she welcomes the new era of peace under the Taliban.
She was once apprehensive of the group's severe style of rule in her village of Salar. But being caught in the crosshairs of a two-decade long war has granted her a new perspective.
Taliban control comes with limits, even for women, and that is alright, the 45-year-old said. "With these restrictions we can live our lives at least."
But she draws the line on one point: Her daughters, ages 13, 12 and 6, must go to school.
From a bird's eye view, the village of Salar is camouflaged against a towering mountain range in Wardak province. The community of several thousand, nearly 70 miles from the capital Kabul, serves as a microcosm of the latest chapter in Afghanistan's history — the second round of rule by the Taliban — showing what has changed and what hasn't since their first time in power, in the late 1990s.
Residents of Salar, which has been under Taliban hold the past two years, are embracing the new stability now that the Taliban's war with the US military and its Afghan allies is over. Those displaced by fighting are returning home. Still, they fear a worsening economic crisis and a drought that is keenly felt in a province where life revolves around the harvest.
In Kabul and other cities, public discontent toward the Taliban is focused on threats to personal freedoms, including the rights of women.
In Salar, these barely resonate. The ideological gap between the Taliban leadership and the rural conservative community is not wide. Many villagers supported the insurgency and celebrated the Aug. 15 fall of Kabul which consolidated Taliban control across the country.
But even in Salar, changes are afoot, beginning with the villagers' insistence on their local elementary school for girls.
That insistence helped push the Taliban to accept a new, small school, funded by international donors. But what the school will become — a formal public school paving the way to higher education, a religious madrasa, or something in between — is uncertain, like the future of the village and the country.
A village demand
By 8 a.m., 38 small faces framed by veils are seated on a carpeted floor looking up at their teacher, Qari Wali Khan. With a stick in hand and furrowed brow, he calls on the girls to recite from the Quran.
Rokia, 10, is the unlucky first. Merely three words of classical Arabic escape her lips when Wali Khan interrupts, correcting her pronunciation. When she repeats again, he exclaims, "Afarin!" — "Excellent," in Pashtu.
In three hours, the students, ages 9-12, will cover Quranic memorization, mathematics, handwriting, and more Islamic study. Homework: What is 105 x 25?
The school opened two months ago, marking the first time in 20 years girls in the village have ever stepped foot in a classroom, or something like it. In the absence of a building, lessons are held in Wali Khan's living room.
The classes are the product of UN negotiations with the Taliban.
In 2020, the UN began working on a program to set up girls' learning centers in conservative and remote areas, including ones under Taliban control at the time, like Sayedabad district where Salar is located.
Taliban interlocutors were initially reluctant to embrace the idea, but an agreement was eventually reached in November 2020, said Jeanette Vogelaar, UNICEF's chief of education. International funding was secured, $35 million a year for three years to finance 10,000 such centers.
Launch was delayed by COVID-19. By the time centers were scheduled to open, the Taliban had taken over in Kabul. To everyone's surprise, they allowed the project to go ahead, even using the previous government's curriculum — though they have introduced more Islamic learning and insisted on gender segregation and female teachers.
Wali Khan, a madrasa teacher by training, got the job in Wardak because most educated women had left for the capital.
The program enables girls without formal schooling to complete six grades in three years. When completed, they should be ready to enter Grade 7.
It remains unresolved whether they can continue after that. In most districts, the Taliban have prohibited girls ages 12-17 from going to public school.
Still, it's a good start, Vogelaar said. "Based on what we see now, somehow the Taliban doesn't seem to be the same as how they behaved before," she said.
Ten years ago, the Taliban were at the forefront of a deadly campaign targeting government officials in Wardak, with particular venom reserved for those campaigning for girls' schools. Two village elders recounted the shooting death of Mirajuddin Ahmed, Sayedabad's director of education and a vocal supporter for girl's' access to education.
Several public girls' schools were burned down in 2007 in the province. To this day, not a single one stands.
Times have changed.
"If they don't allow girls to go to this school now, there will be an uprising," said village elder Abdul Hadi Khan.
The shifting attitudes may be part of a broader trend in support of education. In 2000, when the Taliban were last in power, there were just 100,000 girls in school, out of a total 1 million schoolchildren. Now they are 4 million out of 10 million schoolchildren, according to the UN
Salar's villagers wanted no different. They convinced Wali Khan to teach.
"They put their trust in me, they told me, this is a need in our society," he said.
That might be one reason why the Taliban decided to cooperate; with the economy in ruins, they could not risk alienating a constituency that supported them throughout the insurgency.
There are concerns of how much the Taliban will shape the schooling. The UN is aware the Taliban enter villages and insist on more Islamic study, said Vogelaar.
Most families are not against it, either. Sayedabad district is composed primarily of Afghanistan's dominant Pashtun ethnic group, from which the Taliban are mostly drawn. Religion and conservatism are central to daily village life.
But a madrasa-type education "was not the intention," said Vogelaar.
Wali Khan said he received specific orders from the Taliban-controlled education directorate in Sayedabad to "include more religious study" in the curriculum. He obeyed.
In late October, local Taliban officials came to visit Wali Khan. They wanted to know how the classes were going.
"The girls have a hunger to learn," he told them.
A father's pride
After class, 12-year-old Sima runs home, whizzing past Salar's mud-brick houses, a cloud of dust in her wake.
Her father, Nisar, is away picking tomatoes in the fields for 200 afghanis ($2.5) a day. He is their only breadwinner.
Her mother, Mina, is still mixing cement.
Mina expects it will be a long time before her home is in one piece again.
She's rebuilding bit by bit, buying cement bags for the equivalent of $1 whenever she can. She has accumulated some 100,000 afghanis ($1,100) in debt to relatives and friends.
The family returned home just a month ago. Only one of the house's four rooms was usable. Walls are still riddled with bullet holes.
They had fled more than 11 years earlier, moving to the other side of the village where it was safer. Their home was too dangerous, located on a strategic incline overlooking Highway One, which connects Kabul to the south and was a hotbed of insurgent activity throughout the war.
She remembers standing out in the cold as American troops inspected their house for insurgents. By 2007, ambushes of army convoys on the highway became frequent. Many times, Mina saw army tanks burst into flames from her kitchen window. She has lost two brothers-in-law.
The ruins of an army checkpoint lie above Mina's home. The Afghan army held it for 18 years, until the Taliban took over the area decisively two years ago.
Mina has made slow progress with the house but fears what will happen as temperatures drop and market prices rise.
Afghanistan is grappling with an economic crisis after the US froze Afghan assets in line with international sanctions against the Taliban. Foreign aid that once accounted for 75 percent of state expenditure has also paused.
Mina has six children and they all need to be fed, she said.
Everyone who has returned has a similar story.
"You won't find one person in this village who is in a good situation," said Mahmad Rizak, 38, standing outside his home with a face flecked with cement.
Food shortages are taking a toll. The Mohammed Khan Hospital, the only one in the district, is struggling with a rising number of malnourished newborns wailing in the maternity ward.
In the surgical ward, an unusual museum of mementos hangs on the wall. It consists of bullets and kidney stones removed from patients — the first from the war, the second from poor water quality.
"Tells you everything about this place," said Dr. Gul Makia.
Drought has decimated the harvest, leaving many whose lives revolve around tilling the earth and raising livestock with no means to make a living.
When October ends, so does tomato-picking season, and Nisar will be out of work.
He joins his wife in mixing cement.
He points to the room once occupied by Afghan soldiers, and then Taliban insurgents after them. "My daughter will become a teacher one day, and we will make this into a school for her to educate other girls."
"She will be our pride," he said.
Source: Al Arabiya
https://english.alarabiya.net/News/world/2021/10/29/In-Afghanistan-a-girls-school-is-the-story-of-a-village
--------
YouTube relaunches women-dedicated channel YouTube Batala
October 27, 2021
DUBAI: YouTube has relaunched YouTube Batala, a channel by YouTube in the Middle East and North Africa region dedicated to spotlighting the next generation of Arabic-speaking women creators. Currently, YouTube Batala consists of over 250 women-led channels from countries across the region.
YouTube Batala is more of a hub than a traditional YouTube channel. It features a collection of playlists, categorized by genre, with each playlist containing a variety of creators. The playlists cover gaming, education, beauty and fashion, wellness, music, and one of the most important genres in terms of growth among women viewership and content creation, gaming.
The creators featured in the playlists were chosen based on a set of factors, which includes "responsible and impactful content creation, consistency, and whether their content was made in Arabic," according to a company statement.
"One of the things I am in awe of in my role is the immense power and diversity of the women creator community on YouTube in the MENA region. Not only are these women creating content that draws in millions of people, they're also building communities around ideas, beauty, food, and even general wellbeing," said Tarek Amin, director of YouTube MENA.
YouTube Batala is part of a larger effort toward supporting women creators across Arabic-speaking countries, which also includes a series of events and workshops for women creators to help them further their content in terms of production and storytelling.
"YouTube Batala is part of our ongoing work, which we started to help more people discover these emerging storytellers while also celebrating their diversity, authenticity and impact on YouTube. After all, these women really are the heroes of their own stories," added Amin.
Women-led content on YouTube in Arabic-speaking countries has witnessed a major shift in recent years. In 2016, when YouTube first launched the Batala project and other women-focused events and initiatives, there were only five women-led channels with more than 1 million subscribers. Today, there are more than 150 women-led channels, with more than 1 million subscribers in the MENA region.
Some of YouTube Batala's most prominent creators are Meshael from Saudi Arabia and Kafa from Tunisia, leading gaming communities; Manola from Saudi Arabia, who is taking lifestyle content to the next level by not just reviewing clothes or posing in them but by also making them; and Nedal from Egypt, who started a virtual book club on YouTube.
Source: Arab News
https://www.arabnews.com/node/1956311/media
--------
UN Commits to Long-Term Support for Afghan Mothers and New-borns
October 29, 2021
KABUL —The delivery of reproductive health services, including safe childbirth, has been seriously impacted in Afghanistan, due to the turmoil surrounding the Taliban takeover of the country.
Najaba, 36, has experienced firsthand how the dangers of pregnancy, collided with rising insecurity, according to the UN reproductive and maternal health agency, UNFPA, which continues to provide lifesaving services on the ground.
A mother of four from Zaradnay Village, she visited the district hospital just before her due date on August 17, to check on the progress of her pregnancy.
An ultrasound revealed that the fetus was in a transverse position, meaning it was lying horizontally rather than head-down, a dangerous complication.
The doctor told her she needed a Caesarean section, but Najaba was fearful of the operation. She left the hospital to give more thought to her situation.
She even considered trying to deliver at home. "When the district hospital discharged me, I decided to do the delivery at home with support of my mother," Najaba told UNFPA.
But in the following days, growing insecurity caused many health facilities to close – including the district hospital.
Najaba realized that if the delivery proved complicated, she would be unable to seek emergency assistance.
She called her mother in desperation. Her mother called many of the women elders in their community to seek advice. Finally, Najaba recalled, "My relative called me and informed me about a small clinic."
It was the nearby Ghuchan Family Health House, a UNFPA-supported facility where a community midwife was still providing services to pregnant women.
Not long after, Najaba went into labor. With her mother and husband, she rushed to the family health house. There, the midwife took her medical history, conducted a physical examination and listened to her concerns.
When Najaba expressed anxiety about the delivery, the midwife comforted her and said she would try to deliver the baby without any surgical procedure.
Four hours later, a healthy baby was born naturally.
The skilled midwife had been able to avoid a Caesarean section, and Najaba and the baby were both healthy enough to be discharged soon after.
Najaba was relieved to safely welcome her fifth baby, and her family was overjoyed. Najaba returned to the midwife for postnatal care and neonatal services for the baby.
She and her family say they plan to recommend the family health house to all pregnant women who they may meet in the future.
The family health house, located in Shahristan district in eastern Daikundi Province, provides life-saving reproductive, maternal, newborn and child health services.
It is one of 172 family health houses in geographically remote villages where people have little access to health services.
With support from UNFPA and local communities, these facilities have been able to continue operating, or to reopen after a short closure, even amid the ongoing security situation.
Services include prenatal care, safe delivery, antenatal care, family planning, nutrition services and integrated management of childhood illnesses services to children under five. — UN News
Source: Saudi Gazette
https://saudigazette.com.sa/article/612901/World/Asia/UN-commits-to-long-term-support-for-Afghan-mothers-and-newborns
--------
URL: https://www.newageislam.com/islam-women-feminism/hoor-islamic-teachings-displaying-women/d/125671
New Age Islam, Islam Online, Islamic Website, African Muslim News, Arab World News, South Asia News, Indian Muslim News, World Muslim News, Women in Islam, Islamic Feminism, Arab Women, Women In Arab, Islamophobia in America, Muslim Women in West, Islam Women and Feminism