New Age Islam News Bureau
13 Dec 2013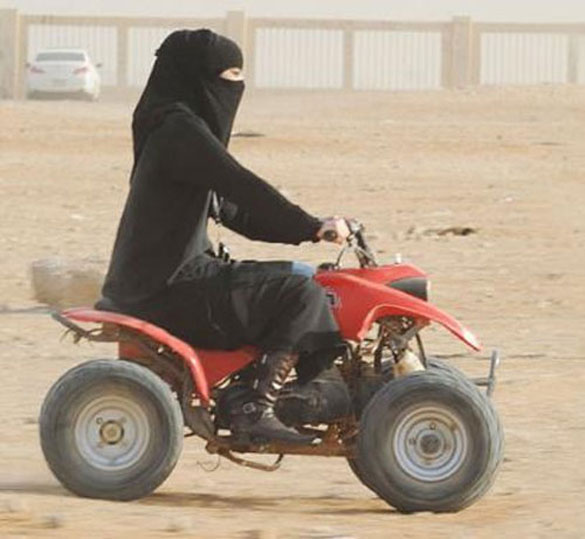 Our Borderline Is Driving Quad Bikes: Saudi Women
--------
• Child Marriage a Taboo For Turkey, Dutch Princess Says
• UNICEF Award for Nine Brave Indian Young Girls
• Our Borderline Is Driving Quad Bikes: Saudi Women
• Hijab Liberated Me: Malaysian Playboy Model
• Headscarved Women Can Become Turkish Ambassadors
• Private Firms Open the Door to Saudi Women
• Headscarved Lawmaker Takes the Floor for First Time at Turkish Parliament
• Dearths Of Muslim Career Women
• Turkish Fashion Label Wins Islamic Art Prize
• Montana Woman Admits Pushing Husband off A Cliff to His Death
Compiled by New Age Islam News Bureau
URL: https://www.newageislam.com/islam,-women-and-feminism/new-age-islam-news-bureau/disadvantaged-saudi-women,-yet-they-call-us-"queens"/d/34842
--------------
Disadvantaged Saudi Women, Yet They Call Us "Queens"
December 12, 2013
They tell us we are too delicate to drive cars, too precious to travel alone, too pretty to play rough sports. We are "queens" who have been deprived of the right to make our own decisions. Have you ever heard of a "queen" without authority? Well, they exist in Saudi Arabia.
Research has found Saudi Arabia to have one of the highest levels of gender discrimination in the world. Women are not granted mobility; they cannot drive cars and cannot travel without a male guardian's permission. There are also very few women in powerful positions in Saudi Arabia.
The gender gap in Saudi Arabia is uncomfortably large. Men not only have the freedom to travel and move without being questioned, but essentially everything in our society encourages men to succeed, yet puts the success of every woman in the hands of a man. This gender discrimination is unfair. We can see that women are just as capable of being successful as men if they are given a fair chance. All human beings should have the right to live up to their own potential, and gender should not be a determining factor for this right.
One of the most basic and obvious differences between the rights of men and women in Saudi Arabia is mobility. Women are required to get the permission of their male guardian to study abroad and to travel, and women are banned from driving their own cars. Such rules and restrictions have caused women a lot of problems. These restrictions force them to - like a child - depend on others in order to accomplish what they want to do.
Furthermore, women were absolutely nonexistent in the political organization of Saudi Arabia until 2012 when women were appointed to the Shoura Council. The Shoura Council is the official advisory body of Saudi Arabia. Its members cannot pass or apply laws as they are there to advise the King in making laws for the nation. The Council consists of 150 members appointed by the King. As of last year, women now make up 30 percent of the Council, a move that was applauded around the world.
However, this is not something to be celebrated, but rather something that must be improved. The Shoura Council should more accurately represent the women in Saudi society. According to the World Factbook, Saudi citizens are 54 percent male and 46 percent female. As women make up almost half of society, they should be more accurately represented on the Shoura Council. Considering that women's rights are in a dire state in the country, it is especially important that their voices are represented in the political realm.
Although it is a well-known fact that women can accomplish great things when given the opportunity, there are still some in Saudi Arabia who believe that women cannot handle powerful positions. One cleric recently stated that women were permitted to work, but not to hold power in a company. If a woman is capable of doing a good job, then it is wrong to refuse her a position simply because of her gender.
These sorts of restrictions on women are absolutely exhausting. We are forced to feel inferior, even though we know we are not. We do not live the lives of "queens". There is no need for this oppression to go on. We will not be silenced. I hope the government will address the status of women immediately.
http://www.saudigazette.com.sa/index.cfm?method=home.regcon&contentid=20131213189372
---------
Child Marriage A Taboo For Turkey, Dutch Princess Says
December/13/2013
Child marriage is a fact in Turkey, with 28 percent of all marriages involving children under 18, but it remains taboo and laws restricting it are not implemented, the International Girls Not Brides head and Dutch Princess Mabel van Oranje has said.
Oranje's comments were made yesterday at a meeting titled "Challenging Impossible" held by the Sabanci Foundation in Istanbul.
The contentious issue of child brides in Turkey is not getting any better, according to Oranje, who blasted the current situation in Turkey and the lack of headway being made in policy on the matter.
"The Turkish Parliament's Committee on Equal Opportunity for Women and Men wrote a report in 2009.
It's a very interesting report and it has a series of very good recommendations, but unfortunately little action is taking place to implement these recommendations," she said.
The Dutch princess said the issue remained a taboo and that first of all acknowledgement that child marriage existed and was harmful for children and society was necessary.
"We need to break the taboo of not talking about this issue and we all need to have role in abolishing it," Oranje added.
According to UNICEF, Turkey has one of the highest rates of child marriage in Europe, but the figures vary depending on the amount of data available and the region surveyed. For example, according to a national study, the average national rate of child marriage is 28 percent, but it reaches as high as 41 percent in the eastern and southeastern regions.
The philanthropy seminar took place in at the Sabanci Foundation headquarters with the attendance of Oranje and Dr. Tererai Trent from Zimbabwe's Tinogona (Achievable) Foundation.
In 2012, the Sabanci Foundation became partners with the Girls Not Brides platform in the struggle to end child marriages in Turkey.
"Sabanci cannot do it by itself, we all need to be involved," Oranje said, adding that a law against such marriages existed but was not being implemented.
"We don't know very well [the real data]. There is a lack of info. Some 28 percent of girls marry before they turn 18. But we don't know the exact data because these marriages are done through religious marriages, which are not registered. They are not legally recognized," she said.
"It is happening more in the east of the country but it's also happening in the west in cities like in Istanbul," she added.
Meanwhile, Sabanci Holding Chairwoman Güler Sabanci said girls should continue their education until the age of at least 18 to demand their own options, as this was their most fundamental human right, in a message sent to the attendees.
"Sometimes the problem's dimensions require a global organization and action, it is hard to achieve but not impossible. What we need is a social leader who can realize a radical change and challenges impossibilities," Sabanci said.
Over one in every four brides is a child, as families are increasingly applying to the court to change the date of birth of their daughters so they can legally marry, an association of Turkish female lawyers warned on May 4.
The legal age for marriage in Turkey was recently raised to 17 from 15, but the commission members said this limit should be increased to 18.
On average, 14 million girls get married every year around the world, which means that every two seconds one girl under 18 gets married.
http://www.hurriyetdailynews.com/child-marriage-a-taboo-for-turkey-dutch-princess-says.aspx?pageID=238&nID=59488&NewsCatID=338
--------
UNICEF Award for Nine Brave Indian Young Girls
December 13, 2013
Nine young women who made braved all odds will receive it on Friday
A 15-year-old girl from the remote area of Naxal-affected Gadchiroli district thwarted her family's attempts to push her into the Naxal movement. An 18-year-old girl mobilised a few villages and held a protest demanding a State transport bus facility to the nearest Taluka from her village to facilitate the education of girls and boys. Another 13-year-old girl intervened in the child marriage of an older girl in her village and stopped it.
UNICEF (United Nations Children's Fund) has brought together nine such brave-hearts in the city to award them with this year's Navjyoti award on December 13. The ceremony is held every year to celebrate the new images of young girls from rural Maharashtra. This is the 10th year.
"I realised that since there was no State transport bus to the Taluka, parents didn't send their daughters to school after class seven. I fought my parents to continue my studies but it saddened me to see my friends drop out and get married. I started mobilising the girls in the surrounding villages but faced stiff resistance. I studied the government schemes and kept petitioning to the authorities to start a bus. Finally, the authorities relented this year. Since July, we have successfully stopped 35 child marriages in our village," 17-year-old Madhuri Ganesh Pawar says proudly. She hails from Nivdunga in Jalna district, and is the daughter of a blacksmith and a house help.
Being blessed with fiery oratory, she dreams of becoming a lawyer one day to champion the cause of the poor. "My ideal is Savitribai Phule who started schools for women," she says.
For 18-year-old Monica Islawat, Kiran Bedi is the role model. "My parents are farm labourers. I had seen my cousin get married early and being abused by her alcoholic husband. I dreaded such future. After being sensitised, I started educating my friends about the ill-effects of child marriage. Not only did I stop a child marriage, I also mobilised people to ban alcohol in the village. My father was an alcoholic," she says. Last year, she flew to Delhi to share her experience on a national platform. Her village is proud of her today.
17-year-old Roshna Naresh Maraskolhe from Hivardara in Yavatmal too saw her elder sister being married off at the age of 12, but didn't want the same fate for herself. After being sensitised by UNICEF, she rejected the boy the family had selected for her. "When he kept pursuing me, I threatened to put him in jail," she giggles.
Sunita Bora Vachami (15), studies in class nine and hails from the Bhamragad taluka of Gadchiroli, which is considered the hub of naxals. "My family wanted me to either join the naxal movement or get married. I opposed them and decided to study. They have since not met me. They do not even know about my award," she says.
14-year-old Baby Uddhav Thoke from Salgaon in Jalna is in tears as she shares her story. After being abandoned by her father after the death of her mother nearly a decade ago, her grandmother and elder sister brought her up along with other siblings. Her elder sister, Savita, who suffered atrocities at the hands of her alcoholic husband, abandoned him and saved many, including Baby, from getting married at an early age.
Asha Tonde (16), a local wrestling champion, braved the odds to continue education and stop her marriage. She dreams of becoming an IPS officer. Saraswati Sarje (23), a nurse, wants to improve the economic status of her parents, who are daily-wagers, before getting married. Pranali Sontakke (13) holds gender sensitisation programmes at a very young age, and plans to become a doctor. Harsha Koli (17) too is very active in organising social welfare activities for her community. Most of the winners hail from tribal or backward communities.
"All these girls are being felicitated for being role models in their villages. They come from very underprivileged backgrounds, and struggle to study. Navjyoti awards which are partnered by Doordarshan Sahyadri and UNICEF are an encouragement for them," Swati Mohapatra, communication specialist, UNICEF, told The Hindu.
http://www.thehindu.com/news/national/other-states/unicef-award-for-nine-brave-young-girls/article5448737.ece
--------------
Our Borderline Is Driving Quad Bikes: Saudi Women
December 13, 2013
As far as some Saudi women are concerned, driving a quad bike is somehow a realization of a dream that is yet to come true – driving a car. In the remote desert regions, away from the hurly-burly of city life and public eye, they engage in driving quad bikes. They see it as fun, with a blend of some adventure and recklessness. They also enjoy recklessly speeding along zigzag desert roads, which are different from that of cities. There are dangers involved in such driving, according to a report in Al-Riyadh Arabic daily.
Speaking to the newspaper, several housewives and girls expressed the pleasure and enjoyment they feel when they drive quad bikes. While watching a number of women driving quad bikes, it was noticed that they drove recklessly through roads that were neither leveled nor paved. It was found that the vehicles were a little bit high and that made it difficult and sometimes dangerous for them to get on and off from the bike.
Big ambition
Fatin Al-Diyab said driving a quad bike was not sufficient to satisfy her desire to drive a car and move around the city. "For me, driving a quad bike is simply for fun and recreation. On the other hand, what I eagerly wished for was to drive a car to meet my needs and necessities," she said.
Echoing the same view, Ruqiyya Al-Sameer said, "I will compensate the fact that I cannot drive a car by driving a quad bike, though it won't satisfy my desire to drive a car. If I have been given a choice between driving a car and a quad bike, I would prefer a car without even thinking, even if it was for fun," she said.
Al-Sameer noted that she will still cherish her big ambition of driving a car one day. "See, there is a big difference between driving a quad bike in a remote area and a car in the city. We drive the bike in remote rugged terrains and, therefore, we cannot compare it with driving inside the city and its paved roads," she pointed out.
On her part, Amjad Al-Obaidi said a young woman's passion to drive would not restrict her to driving only a quad bike in a remote area. "The important thing is getting our right to drive in order to meet our needs, and not for just leisure."
Enjoyment
Molak Al-Otaibi said she finds partial enjoyment in driving a quad bike in the desert.
"I try to satisfy my thirst to drive in Riyadh city, at least partially, through this act. While driving a quad bike, I feel delighted as if riding with a buoyant spirit. I feel that this is a start of a world of surprises and excitement."
Agreeing with Al-Otaibi, Ghadeer Al-Hanaki said, "Though my family members are support me in having some sort of enjoyment by riding a quad bike, they worry a little that some young men might create problems for me while driving."
Sara Saad said practicing this hobby was to fulfill the desire of some women to drive vehicles, as well as to prove their ability, in addition to enjoyment and recreation.
She is confident that her skill in driving a quad bike will be helpful in driving a car one day when Saudi women are allowed to drive.
Experiment and opportunity
For Tasneem Abdullah, driving a quad bike is a different experience. "For me, it is freedom from the road network in the city and its restrictions when I go to any remote area.
"Driving a quad bike in the desert means enjoying some sort of responsible freedom with the consideration that it is one of the luxurious and comfortable means of recreation for young women."
Al-Obaidi is of the view that the decision not to allow women to drive encourages young women to drive quad bikes to prove their capability on driving. "There is also some sort of recreation in this type of driving. This could be considered as a chance for women to experience driving a car in the future," she said. She, however, added that there would be differences.
Means of recreation
Al-Diyab pointed out there are differences in the viewpoints of people with regard to women's driving. Society and family see driving of a quad bike as simply driving for recreation and enjoyment. She said, "A woman's driving of a quad bike should not be an issue purely because of its purpose. It is a means to have some enjoyment and recreation in specific places."
Al-Diyab noted that society does not see quad bikes as one of the basic means of transportation, but only as a means of recreation in remote desert regions. "Women engage in this recreation in regions away from cities. They wear abayas while driving mainly inside rented tents, away from public sight."
Echoing the same view, Noura Amer said, "I came to know that there are specialized squares for women to drive quad bikes in Al-Thumama region. This enables women to drive for enjoyment without any restrictions."
Al-Sameer said it might not be possible for women to wear her full Islamic dress while driving quad bikes.
Disputed issue
Muna Shahbal said nobody can say for sure that driving a quad bike would be immodest or offensive for woman. There could be differences of opinion with regard to the best place, suitable time, and ideal dress for a woman while driving a quad bike. Hence, the cases of one or two women cannot be taken as the norm, she said.
Al-Sameer claimed society in general is receptive to women driving quad bikes under the observation of her family members or at designated places. On the other hand, Al-Obaidi said some family members are scared of allowing their women to drive a quad bike for fear of accidents.
"They generally prevent their women from driving quad bikes, simply because they fear for their safety, but not because they might face ignominy or criticism from members of society."
She emphasized that driving a quad bike cannot be counted as a means of enjoyment or recreation, but there is a chance of danger compared to other means of transportation and recreation.
Al-Obaidi noted that there have been substantial differences in the concept of modesty with the passage of time.
"Ten years ago, women driving quad bikes in the desert was considered as something shameful. But things have changed and now it has become a means of recreation and an outlet for relaxation."
However, Shahbal said driving quad bikes continues to be a contentious issue. "Each section of society has its own reasons and justifications for preventing young women from driving. But this is purely an individual decision taken by the head of each household," she added.
http://www.saudigazette.com.sa/index.cfm?method=home.regcon&contentid=20131213189406
--------------
Hijab Liberated Me: Malaysian Playboy Model
December 13, 2013
CAIRO – When Felixia Yeap received an offer to take photo shoots while donning Islamic Hijab, according to her, the occasion gave her unprecedented feelings of protection, happiness and safety..
"I realized that I was looking forward to cover up (my body) more," Yeap told Malaysia Star on Thursday, December 12.
"When someone grows up they become wiser," the 26-year-old model added.
Yeap, who is not a Muslim, used to pose in Playboy Philippines after taking the modelling career two years ago.
During these two years, she lamenting feelings that she was "used" by men who were only out looking for fun instead of a wife for marriage.
"I crumbled time after time...I picked myself up just to crumble all over again," she said.
This all changed when she received an offer to parade in the Hijab for a commercial casting a few months ago.
At this moment, Yeap felt "liberated".
She now feels "happy, protected and safe" every time she dons the Hijab.
Though Yeap has not converted to Islam so far, she started to skip fashion shoots that makes use of her body.
"I am planning to slow down on those kind of shoots and try my best to avoid them. I only do about 30% of the requests I get," she said.
Islam sees hijab as an obligatory code of dress, not a religious symbol displaying one's affiliations.
The status of women in Islam is often the target of attacks in the secular media, with many citing the Islamic dress as an example of the "subjugation" of women under Islamic law.
Yet, the truth is that 1400 years ago, Islam recognized women's rights in a way that grants them the utmost protection and respect as well, a combination other systems fail to offer.
Islam granted them freedom of expression, political participation, business and financial rights, and asked the rest of society to hold them in high esteem and offer them due respect as mothers, sisters, wives, and daughters.
http://www.onislam.net/english/news/asia-pacific/466927-hijab-liberated-me-playboy-model.html
--------------
Headscarved women can become Turkish ambassadors
World Bulletin / News Desk
December 13, 2013
With the official lifting of the headscarf ban in Turkey after the announcement of the 'democratization package' on September 30, headscarved Turkish women are now able to work for the government without having to remove their covering. Turkey's deputy foreign affairs minister Naci Koru has said that this has opened the way for headscarved women to apply for working as diplomats.
Although there have so far been no reported cases of female staff for the Foreign Ministry opting to wear the headscarf, there is no longer any obstacles preventing headscarved women from applying for positions or employed women from adopting the headscarf. They may even work their way up to becoming ambassadors to other countries, although estimates predict it would take at least 20 years before this becomes a reality.
Following the announcement of the package, four female ministers became the first women to enter the Turkish parliament wearing their headscarves since elected minister Merve Kavakci was expelled from the parliament and Turkish citizenship in 1999 after turning up to parliament in a headscarf.
http://www.worldbulletin.net/?aType=haber&ArticleID=124814
--------------
Private firms open the door to Saudi women
December 13, 2013
Saudi Arabia is now leading in the creation of job opportunities for women in the private sector which is showing rapid growth in the employment of citizens in different areas.
The lack of women in management has made it necessary to create opportunities in the private sector to hire women for these positions. In view of this, the Saudi Lighting Company and Nardeen Company working under the General Lighting Company (GLC) have hired 125 Saudi women to assemble products in their factories.
Abdullah Lami, manager of public relations and government affairs at GLC, said that it is the first time female employees have been hired in this kind of industry. He said that female employees have outnumbered their male counterparts for the first time in the history of GLC which looks very good for the "country's economic progress."
The most noteworthy achievement of GLC is to promote qualified women to different positions which will bring out the best of their abilities and talents.
GLC has opened up a women's section in the factory for trained women to assemble various products for lighting up homes, gardens and commercial buildings.
Lami explained that the job has been divided into sections for supervisors and technical assistants to train new employees to assemble mechanically the fluorescent lighting fixtures using electrical components with screwdrivers. The testers finally electrically test the function of the end product using comprehensive testing devices, affix the authorized logo, including the endorsement of the SASO mark and specifications of the lighting unit.
Lamia added: "It's an art to assist and support the needs of a growing nation."
Nadia Al-Bawad, a supervisor in GLC, said that she feels happy working in the factory and is able to support her family. "Such job openings definitely improve the living standards of Saudi families and increase the job opportunities for women in the Kingdom," she said.
GLC is planning to expand the women's section by hiring 100 more female employees and adding new production lines with advanced facilities.
Similarly, Star Light Company, a leading supplier in the lighting field has planned to employ women in this sector. Khalid Al-Hams, showroom and project manager, said: "We have planned to employ around 10 women in the sales outlet and customer services department.
Gradually, we will increase the number of female employees and also hire them to assemble and design products in the factory."
Abdullah Hashim, manager of LED Products Company, said: "Besides women working in key positions in the corporate sector, we can now see them in the lighting business. The industry has started to take advantage of this productive work force and the policy to promote women employees has successfully increased the participation of women in this field."
This initiative has encouraged many local factories in the Kingdom to invest more money in employing women and to create economies and advanced societies that provide opportunities for men and women alike.
http://www.arabnews.com/news/491871
--------------
Headscarved Lawmaker Takes the Floor for First Time at Turkish Parliament
December 13, 2013
A headscarved lawmaker has taken the floor for the first time at a plenary session of the Turkish Parliament during a debate on the 2014 Central Governance Budget legislation.
Ruling Justice and Development Party (AKP) Bursa Deputy Canan Candemir Çelik made a speech from the rostrum, drawing the applause of lawmakers, during the discussion on the budgets of the Labour Ministry and the Transport Ministry.
Candemir Çelik was the fifth lawmaker to announce that she would don the headscarf during Parliamentary sessions after the ban was rescinded as part of the government's democratization package announced on Sept. 31.
Four other AKP lawmakers, Sevde Bayazıt Kaçar, Gülay Samancı, Nurcan Dalbudak and Gönül Bekin Şahkulubey, have also chosen to attend Parliament wearing the headscarf. The AKP comprises of 46 female lawmakers among its ranks.
The attendance of headscarf-clad deputies to the General Assembly, some 14 years after the then Virtue Party (FP) lawmaker Merve Kavakçı was expelled from a general assembly of the Parliament, was followed by the removal of a ban on trousers for female deputies.
http://www.hurriyetdailynews.com/headscarved-lawmaker-takes-the-floor-for-first-time-at-parliament.aspx?pageID=238&nID=59498&NewsCatID=338
--------------
Dearths of Muslim Career Women
December 13, 2013
The Qur'an is the only book of world Scripture in which women are frequently referred to alongside men, and both are described as being friends and partners in faith. The Quran says:
The believers, men and women, are protecting friends one of another; they promote the right and forbid the wrong, establish prayer, pay the poor-due, and they obey God and His messenger. As for these, God will have mercy on them. Surely God is Mighty, Wise. God has promised to believers, men and women, gardens under which rivers flow, to dwell therein, and beautiful mansions in gardens of everlasting bliss. But the greatest bliss is the good pleasure of God: that is the supreme felicity. (Qur'an 9:71-72)
Islam considers a woman to be equal to a man as a human being and as his partner in this life. Women have been created with a soul of the same nature as man's. Allah (SWT) says in the Quran:
"O mankind! Be dutiful to your Lord, Who created you from a single person (Adam), and from him (Adam) He created his wife (Eve), and from them both He created many men and women and fear Allah through Whom you demand your mutual (rights), and (do not cut the relations of) the wombs (kinship). Surely, Allah is Ever and All-Watcher over you." (Al-Nisa 4:1)
And in the words of the Prophet Muhammad (s.a.w),
"Assuredly, women are the twin halves of men." (Sahih reported by Abu-Dawud (r.a)
In reality, and in Islam, the rights and responsibilities of a woman are equal to those of man, but they are not necessarily identical with them. Equality and sameness are two very different things. The fact of their nature and physique do not exempt them from being part of the society and taking their roles for development.
A sit-at-home mother or a typical housewife may not be able to contribute meaningully to the growth of the society. So, she needs and has right to employment. Career Muslim women will definately add values, to the socio-economic well-being of the society than a sit-at-home mother. While Islam does not prohibit women working outside the home, it does stipulate that employment should not come before, or seriously interfere with her responsibilities as wife and mother. Her work should not cause friction within the family, and the husband's consent is required and if she is not married, her guardian's consent is required.
Her appearance, manner of behavior should follow Islamic guidelines in terms of dressing, chastity and general comportment. For a Muslim woman, her modest dress is an expression of her religion. Her dressing confers respect, dignity to her. Besides, modesty in dressing protects the society from adultery and other forms of illegal sexual relations that lead to the break up of families and corruption of society.
Women should try to seek employment in positions such as teaching, nursing other women, midwifery, medicine with specialization's like pediatric or obstetrics-gynecology. According to recent research, there are dearth of female Muslim doctors in the country. This will help to give confidence to female Muslim patients during issues of medical examination and treatment.
Question:
The month of Safar is regarded as a month of ill-fortune and bad luck, please explain?
Ask Your Imam
Answer: That is not true. It is only a superstition, and the handiwork of pagans who use that to taint Islam. Islam is a pure religion from Allah.
First of all, Allah controls everything both the good and the ugly. He is the fashioner of every thing that happens in life. The Qurans says: "No calamity befalls, but with the Leave [i.e. decision and Qadar (Divine Preordainments)] of Allah, and whosoever believes in Allah, He guides his heart [to the true Faith with certainty, i.e. what has befallen him was already written for him by Allah from the Qadar (Divine Pre-ordainments), and Allah is the All-Knower of everything." Qur-an 64:11
Again, Islam does not have any room for superstitious beliefs. Muslims should not believe in any inauspicious days, weeks, months or years, that are said to be ill-luck. There is nothing that bring bad luck in Islam.
The Messenger of Allah, (s.a.w) also condemned these in the following hadith related to the month of Safar: "There is no superstitious owl, bird, no star-promising rain, no bad omen in the month of Safar". (Muslim, Bukhari) There is no bad omen in the month of Safar and no evil spirits. (Muslim)
Muslims must shun all superstitious beliefs regarding the month of Safar. We must continuously keep reminding ourselves that anything good or bad, favorable, or unfavorable comes only from Allah (God).
http://www.vanguardngr.com/2013/12/dearths-muslim-career-women/
----------
Turkish Fashion Label Wins Islamic Art Prize
December/12/2013
The Turkish fashion label Dice Kayek on Dec. 10 won the Jameel prize at London's Victoria and Albert Museum, which honors contemporary art inspired by Islamic tradition.
The 25,000-pound ($41,100) international prize, which is awarded every two years, has Iraqi-British architect Zaha Hadid as patron, and this year's judges included Thomas Heatherwick, designer of the London Olympic Cauldron.
Dice Kayek, a company begun by two sisters in 1992, took inspiration from the robes of Ottoman rulers and mosques to create the prize-winning structured dresses of lam brocade and cotton.
Among the 10 finalists was Faig Ahmed from Azerbaijan, who has reimagined the oriental carpet by melding traditional patterns with dizzying computer-generated designs.
"I'm actually using the same technology as they (carpet-makers) have used for hundreds of years. But I'm using a computer to make the sketch," Ahmed said.
The seemingly traditional design of one of his carpets melts into pixels, while another appears to collapse into itself in one corner. "When you change a design, it's like the links between the past and future," said Ahmed, whose works can take up to four months to create. "It's making a little earthquake in the mind."
Across the gallery, Pakistani-born artist Waqas Kahn's large drawing also tricks the eye: what seem to be hundreds of undulating narrow lines turn out to be thousands of tiny dots, painstakingly drawn by hand.
Dancing retinas
Working at night and applying ink between breaths, Kahn has developed from his training in miniature painting to become the only artist who creates such work on a large scale. He sees ink as a more fluid and expressive medium than paint. "The retinas should be dancing with it," he said.
Other works are more political: Laurent Mareschal's patterned floor made out of spices represents the fragility of many Palestinian lives.
Florie Salnot's delicate jewelry made from bottles began as a project for refugees from Western Sahara.
V&A's Jameel Gallery of Islamic Art opened, and more than 150 years after the museum began collecting art from the Middle East.
With artworks consisting of everything from dresses to videos and concrete, the range of media on show is as diverse as the artists' backgrounds, with nominees coming from France, Lebanon and India, among other places.
The free exhibition runs at the Victoria and Albert museum until April 21, 2014.
http://www.hurriyetdailynews.com/turkish-fashion-label-wins-islamic-art-prize.aspx?pageID=238&nid=59397&NewsCatID=376
---------
Montana Woman Admits Pushing Husband Off A Cliff To His Death
December 13, 2013
Missoula: A Montana woman, after lying to family, friends and police about what happened to her new husband when he disappeared in July, has finally came clean to a federal judge in a surprising end to her murder trial.
US District Judge Donald Molloy told Jordan Graham on Thursday that before he accepted her last-minute deal with prosecutors to plead guilty to second-degree murder in the death of Cody Johnson, he wanted to hear what really happened.
Johnson's body was found at the bottom of a cliff in Glacier National Park three days after he was reported missing on July 8, and 12 days after he and Graham, 22, were married.
Molloy said she had told different stories to different people about Johnson's disappearance and death, and now she was going to give him the facts.
Graham said she decided to talk to Johnson, 25, about her unhappiness eight days after their wedding. So the evening of July 7, just about sunset, the couple went to a popular spot in Glacier park called The Loop. They went over a retaining wall along the Going-to-the-Sun Road and climbed down a rocky, steep slope to the edge of a cliff and a steep drop of a couple hundred feet to a ravine.
There, facing the void, she told Johnson that she wasn't really happy and that she was not feeling like she believed she ought to after being married, she said.
They argued. It escalated, culminating with Johnson grabbing her, Graham said. She thought he was going to pull her toward him.
That's when she became angry, she said.
"I wasn't thinking about where we were," she said. "I just pushed."
She said she brushed away his hand and then pushed her new husband with one hand on his back and one hand on his shoulder, and he went over.
It wasn't planned, but she said it was "definitely reckless with an extreme disregard" for life.
Afterward, she ran back to where the car was parked. She had the keys in her pocket. She drove back home to Kalispell, about an hour away, without seeking help. She sent text messages to friends on the drive back - but told nobody what had just happened.
"At that moment, I was so scared, I didn't know what to do," she said.
The next day, after Johnson was reported missing by his boss, Graham said that he had sent her a text message that he was going off for a "joyride" with friends from Washington state.
That story quickly unravelled when the versions she told to friends, relatives and authorities didn't match.
She attracted further suspicion when she was able to lead park rangers to the body, saying it was a place he wanted to see before he died.
She finally acknowledged that she was with Johnson on the cliff after investigators confronted her with a security camera photo of the couple entering the park. She told investigators it was a tragic accident and Johnson fell when she went to remove his arm.
Prosecutors charged her with first-degree murder, second-degree murder and making a false statement to authorities. Prosecutors spent three days this week laying out their case at trial.
Her team of public defenders spent Thursday morning trying to improve her image to jurors with pictures and videos of a smiling Graham before and during her wedding.
Graham did not take the witness stand in her defence.
Before closing arguments were about to begin, the attorneys for both sides announced the surprise agreement: Graham would plead guilty to second-degree murder, and prosecutors would drop the first-degree murder charge and the false statement charge.
Second-degree murder carries a maximum sentence of life in prison and a $250,000 fine.
She is scheduled to be sentenced on March 27.
http://gulfnews.com/news/world/usa/wife-admits-pushing-husband-off-a-cliff-to-his-death-1.1266577
---------
URL: https://www.newageislam.com/islam,-women-and-feminism/new-age-islam-news-bureau/disadvantaged-saudi-women,-yet-they-call-us-queens/d/34842