New Age Islam News Bureau
5 Jan 2013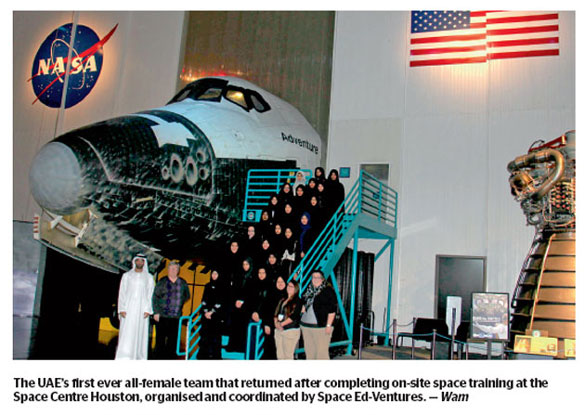 • Brother Stabs Sister to Death 'For Having an Affair'
• The Trailblazing Arabic Models Making History One Bikini at A Time
• Israel Tells Underweight Models to Gain Weight or Get off The Runway
• Another Girl Raped In Savar, Bangladesh, In Connivance with the Victim's Woman Friend
• UAE's First Ever All-Female Team Completes NASA Training
• 2013 Is Banner Year for Islamic School in Oklahoma City
• Bangladesh: Women Leaders Get Less Priority
• Cameroonian Female Inmate Held in Maldives Prison Dies in Hospital
• Philippine Embassy in Saudi Arabia, Hailed For Holding Nurses Exam
• Yemeni Girls Turn to Solar Energy
Compiled by New Age Islam News Bureau
Photo: UAE's First Ever All-Female Team Completes NASA Training
URL: https://newageislam.com/islam-women-feminism/digital-leash-women-saudi-arabia/d/9884
------------
Digital Leash for Women in Saudi Arabia Keeps Them from Crossing Borders and Escaping
By Isabel Debre
January 4, 2013
As a 16 year old who just got her driver's license, I've been hearing about phone apps that text anxious parents with their kids' whereabouts. Most of my friends consider this kind of system a drag, and probably enough to curb any Jack Kerouac-like plans to hit the road. But a new development in Saudi Arabia puts any such Western teenage grumbling to shame: the Saudi government has introduced an electronic tracking system that alerts male guardians when a woman strays too far from home.
The "wife tracker" or "digital leash" as some refer to it, reduces women to the legal status of a minor, and is just the latest restriction on the movement of women — and of the women's movement — in a culture ruled by harsh Sharia law.
As I reflect on a remarkable year of political uprisings and grassroots movements across the globe, I can't help but think about the troubling status quo for women and girls who still struggle for basic freedoms.
In Saudi Arabia, women and girls can't currently vote, date, marry for love, use contraceptives, ride bicycles, talk to men on the phone, sing or dance in public. Unless chaperoned by a Mahram (male guardian), girls — covered in black Abayas — are carted around behind tinted windows to special women-only gyms, boutiques, malls, schools, and restaurants (where they eat in the "family section," apart from single men). The Mutawwa'in, the religious police, fine or even imprisons dissenters. Victims of domestic violence and rape are often punished with lashes. Isolation is so intense that some feel that society is split between "two different species."
Just below the surface, desperation percolates. A study at King Saud University reported that out of 100 suicide cases, 96 involved women—many women, wrestling with restrictions on work, travel, and school, attempt suicide to escape Saudi Arabia's strict society. The Saudi authorities actually instituted the SMS tracking system when one Saudi woman tried to flee to Sweden — the kind of escape most Western women take for granted. Male guardians monitor the women in their custody — wives, daughters, sisters — for any attempts to cross the border. They receive a text message alerting them of their female's activity.
Surprisingly, Saudi Arabia did not even make The Daily Beast's top 10 list of the worst places to be a woman. It was surpassed by Chad, where women are married off at age 11 without legal rights, by Afghanistan, where 90% of women are illiterate, by Yemen, where domestic violence is perfectly legal, and by Congo, where 1,100 women are raped every day.
Although the statistics are grim, there may be glimmers of hope in stories like that of Malala Yousafzai, who at just 11 years old braved Taliban threats to blog about the constraints on girls' education in the Swat Valley of Pakistan. Her courage almost cost Malala her life when Taliban militants pulled her out of her school bus, and shot her in the head. Since her recovery, Malala has become a symbol for women's education and rights across the globe. "Where in the Quran does it say that girls should not be educated?" Malala writes. "I have the right to play. I have the right to sing. I have the right to go to market. I have the right to speak up."
In backward societies where girls never graduate from their minor status, Malala shows that speaking up can be a powerful way to move forward.
http://www.care2.com/causes/a-new-digital-leash-for-women-keeps-them-from-crossing-borders-and-escaping.html#ixzz2H5sQt17q
------------
Brother Stabs Sister to Death 'For Having an Affair'
January 5, 2013
SADIQABAD / KHANPUR / FAISALABAD: A man killed his sister in Faisalabad for allegedly having an affair.
Jaranwala Saddar police said that Zarqa Kanwal, a resident of Chak 54-GB, had an argument with her brother, Qayum Shehzad, after he told her not to step out of the house.
They said he had suspected her of having an affair with a boy from the neighbourhood.
Following the argument, he stabbed her, killing her on the spot.
He later hung her body from a fan to make it look like a suicide. Police registered a case against Shehzad, after his father named him as the suspect. Police said they were looking for him.
Six men harass mother of two
A woman was beaten up and tied down naked to a charpoy on Friday allegedly by six men in Khanpur. Police said they had wanted to expel the woman and her children from the land she was living and occupy it.
She was rescued by neighbours, who came to her rescue after hearing her scream for help. Police were called and a case was registered against the men. Police arrested one of the men, but let him go an hour later.
Rehana Bibi*, the complainant, said in the FIR that she had been sleeping when six armed men entered her room and threw her off the charpoy at around 2am. She said when she started shouting; they held her by her hair and dragged her around the room. They also tore her clothes and tied her down to the charpoy for two hours. She said her children were shouting for help. Finally, some neighbours heard her scream and came to the rescue.
She said the men fled on seeing the people arrive. She said when she went to the police station, the inspector on duty demanded Rs20, 000 bribe. She said she paid him the money, after which he filed a case against six men.
She said the men had wanted to occupy her land she lived on. She said when they entered her room, they told her that they wanted to set up their dera there. She said while she had named all six men, the police had arrested only one, Hassan Ahmed, and released him an hour later, apparently after he bribed them.
She said she had filed a complaint at the office of the district police officer as well.
Woman seeks police protection
In Sadiqabad a woman filed a petition at a sessions court on Friday seeking police protection for herself and her husband.
She said she had married of her free will and that her family had been threatening to kill her unless she sought divorce and returned home to them.
Farah Yaseen, a resident of Akbar Town, said that she had married Muhammad Arsalan a few weeks ago. She said her parents had not approved of the match. She said now her father Muhammad Yassen, mother Shahnaz Bibi, step-brother Gul Hassan and cousins Muhammad Waseem, Abid Hussain were after her telling her to leave her husband.
She said they had visited her house and threatened to kill her if she did not obtain divorce. She said they had also threatened to kidnap her husband. She said she did not want to leave her house and was happily married. She requested the judge to direct the police concerned to protect her and her husband and stop them from harassing her.
The judge will hear the case on Monday.
*Name has been changed to protect identity
http://tribune.com.pk/story/489057/violence-against-women-woman-stabbed-to-death-for-having-an-affair/
------------
The Trailblazing Arabic Models Making History One Bikini at A Time
Tunisian Hanaa Ben Abdesslem is her country's first supermodel and has landed a contract with French beauty giant, Lancôme
Morocco's Hind Sahli has worked for Vera Wang and appeared in the Italian and Spanish editions of Vogue
Israeli Arab model, Huda Naccache, raised eyebrows when she became the first woman to appear in a bikini on the cover of an Arabic magazine
By RUTH STYLES
4 January 2013
Stunningly beautiful and bearing a striking resemblance to Italian actress Isabella Rossellini, Hanaa Ben Abdesslem hasn't been modelling long but has already made an impact - both on the fashion industry and at home.
'This whole year has been full of unexpected and sudden changes – for both me and my country,' the Tunisian supermodel and Lancôme spokes model said. 'We've both created our own revolutions.'
The Middle East hasn't traditionally been the place to search for a supermodel due to opposition from conservative factions but a growing number have started to break through.
Now Tunisian Ben Abdesslem, arguably the most successful of the new wave of Arabic models, isn't alone.
Moroccan model, Hind Sahli, has made a name for herself on the catwalk at BCBG Max Azria, Hervé Léger and Vera Wang, while also appearing in the Spanish and Italian editions of Vogue.
Meanwhile, Arab-Israeli model, Huda Naccache, rose more than a few eyebrows when she became the first woman to pose in a bikini on the cover of an Arabic magazine.
Naccache, 23, is currently studying archaeology at the University of Haifa and attempting to put the furore behind her, although she says she intends to resume her modelling career once her studies are complete.
While the Lilac cover shocked many, more controversial by far was the appearance of German-Turkish actress and model Sila Sahin in the German edition of Playboy.
The first Muslim woman ever to be photographed topless for a magazine was applauded by many fans but she was cut off by her conservative family as a result of the shoot.
'I did it because I wanted to be free at last,' commented Sila at the time. 'These photographs are liberation from the restrictions of my childhood.'
That Muslim women are modelling at all is nothing short of revolutionary - especially in the Middle East, where attitudes to women remain old-fashioned.
But according to Sahli, while some of the reaction she's had has been negative, there has also been a considerable amount of support.
'Mostly, I have had positive reactions,' the 22-year-old said. 'Most people think it's good to have a Moroccan model.
'I have also had some young girls sending messages by Facebook asking me how I did it and how I started.
'I have had just a few bad reactions from people but I don't mind - I'm happy what I'm doing.'
Huda Nuccuche added: 'Conservative factions exist in Israel and our region but fortunately my family doesn't belong to these factions.
'I have every respect for every group of people and belief, but I have my independent way in life that I believe in.'
For others, both male and female, the reaction to their choice of career has been one of bemusement.
'My brother supported me right from the start,' says Ben Abdesslem. 'I think it's a generational thing.
'I come from quite a conservative family and my parents didn't really know what modelling was about.
'I keep them updated about what I'm doing every evening, explaining how things work and how projects progress... I Skype with them every evening!'
According to male model, Sertac Tasdelen, 29, while modelling still isn't seen as the done thing in his home country, Turkey, it is becoming more widely accepted.
'It's not seen as [being as] stable as banking or as reputable as being a doctor - modelling is obviously a bold career choice. But still just another job and a way of living your life.
'Especially in recent years, with the rapid growth of the economy and developments in the fashion industry, modelling is becoming more acceptable.'
'Before me, the profession simply didn't exist [in Tunisia],' adds Ben Abdesslem. 'They've had to create a new tick-box just for me!'
Part of the reason for the growing acceptance of modelling in the Muslim Middle East is the region's increasing appetite for Western luxury goods.
As a result, more and more brands are turning to Arabic models such as Ben Abdesslem and Tasdelen as a means of tapping in to the lucrative Middle Eastern market.
'Designers and brands have to go where the money is - and at the moment quite a lot of the money is in the Arab states,' Lauretta Roberts, a trend forecaster at WSGN, told the BBC website.
'You only have to look at the couture market, which is right at the very high end of fashion. That market used to appeal to rich Americans.
'Nowadays, if you look at those shows, it's all about appealing to the Arab consumer because those are the ones who can afford it right now.'
Tasdelen agrees, saying: 'Designers and brands tend to incline towards where the money is - and at the moment quite a lot of the money is in the Arab states.
'Tastes and trends are being reshaped by shifting economic power.'
But although money is moving and tastes are changing, for the Middle East's modelling sorority, there's still a long way to go before taking to the catwalk becomes a reputable - and accepted - career choice.
While Ben Abdesslem, whose next appearance is in the fully clothed but still risqué 2013 Pirelli calendar, says that she's proud of the achievements of her generation of Arab women, others are less sanguine.
'It's definitely revolutionary and a bold career choice, particularly because in that part of the world they are quite traditional,' Shaista Gohir, a director of the Muslim Women's Network UK, told the BBC.
'You always need that first person to actually break the boundary, break the stereotypes that will inspire other girls.'
Sahli certainly hopes so. 'The fact that I left, I'm working and I'm doing well, will give other young girls the courage to do it.'
http://www.dailymail.co.uk/femail/article-2257099/Unveiling-Middle-East-The-trailblazing-Arabic-models-making-history-bikini-time.html#ixzz2H5rLgfRp
------------
Israel Tells Underweight Models to Gain Weight or Get off The Runway
In a bid to combat growing rates of eating disorders, Israel's 'Photoshop law' bans unnaturally thin models from the catwalk and restricts ads that are digitally altered to make models look skinnier.
By Shira Rubin
January 4, 2013
"You're a knockout! Did you gain a little weight?" Israeli fashion photographer and model agent Adi Barkan crows as he greets one of his top models, a towering brunette decked out in a chic black minders surrounded by the exuberant chaos of the photo shoot in downtown Tel Aviv.
This is a celebratory week for Mr. Barkan, as a new law championed by the fashion giant took effect Jan. 1, banning the use of underweight models in local ads and on the catwalk. Its aim is to help curb a rise in eating disorders among those in the fashion industry and the general public.
"Beautiful is not underweight, beautiful is not anorexic," says Knesset member Rachel Adato, who helped push the law through. "A revolution has begun against the perception of beauty in Israel, [and] this law shatters the anorexic ideal serving as an example for the country's youth."
Daria Keller, one of Barkan's star models, came to the Simply-U agency from an agency where she says they tried to convince her that her "fullness" would stand in the way of her career. Barkan says she has the perfect measurements. Today, she smiles into the camera with natural confidence.
Recommended: Best 4 novels set in the world of fashion
"When I was 16, I ate only an apple for three full days, but now I want to stay as Daria," says Ms. Keller, who has been modelling since that age.
The new law, known as the "Photoshop law," requires models to present their employers with a current doctor's note confirming that they meet a minimum body mass index (BMI) – a calculation of weight to height proportion – of 18.5, which is considered the lowest threshold for a healthy weight. Advertisements featuring models who are "photoshopped" or otherwise digitally altered to make them appear thinner must be clearly marked as manipulated images.
Get our FREE 2013 Global Security Forecast now
'WE ARE THE PROBLEM'
Barkan says that he has always seen the campaign to promote healthy body images as a matter of life and death.
When a 15-year-old girl named Katy came to him in 1997 for help in finding modeling jobs, he instead immediately brought her to the hospital, where he sat with her every night to make sure she ate. Shortly after Katy was released from the hospital, Barkan appeared as a guest on a morning television show. The host said to Barkan, "I want to show you something, a girl whose life you saved," and Katy appeared on stage to tell her story and express her gratitude, Barkan recalls.
After his television appearance, Barkan received 174 phone calls from women pleading "Help me, I'm going to die," he recalls.
"I saw them all – children, women – everybody wanting to be good-looking. When I asked them, 'What does it mean?' they said, 'The girls that you shoot.' Then I understood that we are the problem," Barkan says.
In 2007, when another client, a girl named Hila Elmalich who was diagnosed with anorexia, died in his arms at the hospital, he was spurred to greater action – campaigning for legislation that would help suppress the rising trend of underweight models.
"We went out on the balcony and she started to smoke a cigarette. She had a heart attack, and fell down upon me. Right then, I took an oath that I would not give up until I pass this law," Barkan says.
REDEFINING BEAUTY
His campaign to raise awareness of anorexia, which he had initiated three years earlier with the coordination of Ms. Adato, the Knesset member, gained momentum, despite the fact that illness remained relatively unacknowledged in Israel. In March 2012 the law was finally pushed through the Knesset.
Adato, a former lawyer and gynaecologist, says she hoped it would promote a healthy body image among Israeli women, and consequently lower the rates of anorexia and other eating disorders. As is the case in many other countries, eating disorders in Israel have risen with globalization and the subsequent import of American goods and culture, say experts here.
Some 3 percent of Israeli girls between the ages of 11 and 18 suffer from eating disorders, a rate similar to other industrialized Western countries, says Sigal Gooldin, a Hebrew University medical sociologist.
The law is a "symbolic achievement" in the battle to confront eating disorders, she says, but admits that it's a "small step if girls are still consuming the same popular images and influenced by their surroundings."
A HARSH SPOTLIGHT
The concept of extreme thinness as the beauty ideal exploded with the rise of British supermodel Twiggy in the 1960s and Kate Moss in the 1990s. Critics say that the impossible standards promoted by designers and agencies have led to an epidemic in eating disorders, especially in young women.
The deaths of young models from complications of eating disorders in recent years have put the fashion industry in the hot seat, and put more pressure on governments to take action to change industry norms.
Italy and India banned underweight models from the catwalk in 2006. In the US and Britain, the fashion industry has internal guidelines because legislative restrictions on the industry are considered an infringement on commercial freedoms.
Despite potential roadblocks in implementation, including resistance from within the model community and the relevance of the law only to Israeli advertising companies, the law is a desperately needed response to a growing social crisis, says Dana Weinberg, director of the organization Women and their Bodies, which promotes healthy attitudes among Jewish and Arab women in Israel.
Like many other Western countries, Israel sees its model glitterati as national treasures. Daily paparazzi shots and other snippets of their daily life regularly flood Israeli websites and social media. "The very fact that the law was passed sends a significant message against extreme thinness," Ms. Weinberg says.
The flood of American cultural images, often cited as a key cause of eating disorders, may be a big factor in the rising rates of eating disorders, but US influence may also have spurred awareness of and openness to treating the problem.
In both the US and Israel, experts believe that these illnesses often go unreported because of social stigmas, but the estimated rate of eating disorders in both countries is somewhere between 2 and 3 percent. Barkan says that until Ms. Elmalich's death in 2007, there was little awareness of eating disorders in Israel, making his crusade against the fashion industry's warped beauty ideals a daunting task.
PUSHBACK
Some in the modelling community are sceptical that the law can have a real impact, and argue that legislation should focus on health rather than weight. Some models insist that genetics, not eating choices, determine their weight, and resent what they say is a punishment from the government. There is not yet a proposal for a way to evaluate the less quantifiable measure of health.
The Israeli model and television host Yael Goldman called the new law "absurd," saying "models were always skinny and will always be, that's the way it is."
Daria Keller begs to differ.
"Today, models don't have to be afraid, from them, also," she says, referring to the growing social acceptance of average-sized models. "They can say, 'I can eat pizza, or a hamburger, because actually we're too smart to ruin our lives for this.' "
http://news.yahoo.com/israel-tells-underweight-models-gain-weight-off-runway-174051006.html
------------
Another Girl Raped In Savar, Bangladesh, In Connivance with the Victim's Woman Friend
5 January 2013
Savar police early yesterday arrested four youths including a female in connection with violating a college girl and keeping footage of the incident.
The arrestees are Rayhan, 20, a second-year student of Shanto-Mariam University of Creative Technology in the capital, Mohidur Rahman, 21, a first-year student of Savar College, Danesh, 32, neighbour of the victim, and the victim's friend Liza, 20.
Full report at:
http://www.thedailystar.net/newDesign/news-details.php?nid=263953
------------
UAE's First Ever All-Female Team Completes NASA Training
30 December 2012
The UAE's first ever all-female team returned after successfully completing on-site space training at the Space Centre Houston, organised and coordinated by Space Ed-Ventures.
Space Ed-Ventures, a locally based educational platform and the region's only space exploration programme, organised a once-in-a-lifetime training session for 24 aspiring engineers, researchers and astronauts between the age group of 12 and 18. After a rigorous screening process, the all-girl cohort was selected to train at the Space Centre Houston.
"The 24 students who have embarked on this educational trip have gone through an extensive screening process to uphold the Institute of Applied Technology's (IAT) high educational standard on an international level," said the managing director of IAT," Dr. Abdullatif Al Shamsi.
Full report at:
http://www.khaleejtimes.com/nation/inside.asp?xfile=/data/educationnation/2012/December/educationnation_December24.xml&section=educationnation
------------
2013 is banner year for Islamic school in Oklahoma City
Four students at Mercy School, a private Islamic school in Oklahoma City, are preparing to become the school's first graduating class.
By Carla Hinton
January 5, 2013
When the calendar marked 2013, four students at a private religious school in Oklahoma City began their official countdown.
The exuberant quartet at Mercy School is set to become the Islamic school's first graduating class.
Full report at:
http://newsok.com/2013-is-banner-year-for-islamic-school-in-oklahoma-city/article/3743045/?page=2
------------
Bangladesh: Women Leaders Get Less Priority
Only 15pc of 73-member body are women
Shakhawat Liton and Hasan Jahid Tusher
5 January 2013
The number of women in the ruling Awami League's newly formed central working committee has come down, instead of going up as stipulated in the Representation of the People Order (RPO), the law that regulates election.
The new ALCWC announced on Wednesday night has 11 female members, including party chief Sheikh Hasina and four presidium members -- Syeda Zohra Tajuddin, Syeda Sajeda Chowdhury, Matia Chowdhury and Shahara Khatun.
Full report at:
http://www.thedailystar.net/newDesign/news-details.php?nid=263884
------------
Cameroonian Female Inmate Held in Maldives Prison Dies in Hospital
By Ahmed Nazeer
January 2nd, 2013
A female inmate serving a 25-year sentence in a Maldives prison died Saturday (December 29, 2012) after being admitted to Indira Gandhi Memorial Hospital (IGMH) in critical condition.
Local media reported that the woman – a Cameroonian national - was suspected to have died as a result of complications linked to AIDs. These claims were denied by a senior official at the Department of Penitentiary and Rehabilitation Services (DPRS), who spoke to Minivan News on condition of anonymity today.
Full report at:
http://minivannews.com/society/cameroonian-inmate-held-at-maldives-prison-dies-in-hospital-50231
------------
Philippine Embassy in Saudi Arabia, Hailed For Holding Nurses Exam
5 January 2013
The 380-member Philippine Nurses Association in Eastern Region, Saudi Arabia (PNA-ERSA) thanked the Philippine Embassy for having organized the first examination among Filipino nurses in the Kingdom.
"The Philippine Embassy, with the Philippine Overseas Labour Office in the Eastern Region, coordinated with the Philippine Regulation Commission in Manila so that the examination of Filipino nurses could be held late last year," Mary Jane Tupas, president of the PNA-ERSA, told Arab News yesterday.
Full report at:
http://www.arabnews.com/philippine-embassy-hailed-holding-nurses-exam
------------
Yemeni Girls Turn to Solar Energy
By: Nafeesa Syeed for Al-Monitor
January 4, 2013
SANAA — For Wafa Al-Rimi, Yemen's revolution brought dark days. Though power outages are frequent in the country, Al-Rimi says during the past year's unrest, some days saw less than an hour of electricity.
Attempting to study for exams in those conditions got the 16-year-old and some of her classmates thinking: How could they keep the lights on?
"We were tired of darkness," Al-Rimi says. So, they turned to the sun.
Through an entrepreneurship program at their government school, an all-female team invented solar-powered appliances and established a company, Creative Generation, through which they've vended their wares to hotels and government offices. Last month, they were named "best company of the year" in a regional competition for young Arab entrepreneurs organized by INJAZ Al-Arab, the regional member of Junior Achievement Worldwide, a Colorado-based business education organization. The Yemeni students say their motivation has always been to help their society. In the process though, they say they've also paved new possibilities of leadership for young women in a society where custom can keep females out of the workplace.
Full report at:
http://www.al-monitor.com/pulse/originals/2013/01/yemeni-girls-use-solar-energy.html#ixzz2H5rVp9C8
------------
URL: https://newageislam.com/islam-women-feminism/digital-leash-women-saudi-arabia/d/9884