New Age Islam News Bureau
20 Jul 2019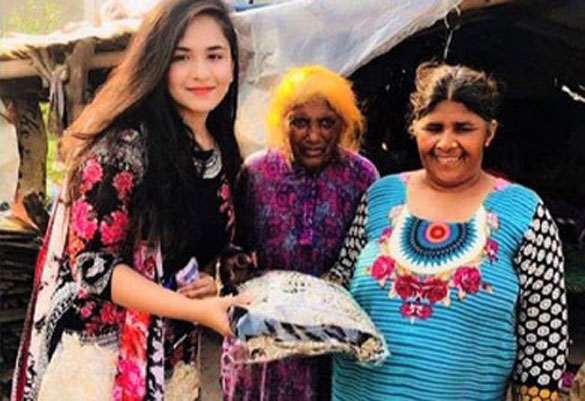 Alina Azhar has become the first Pakistani woman to receive The Diana Award for her humanitarian efforts.
-----
• Clampdown on Women in Iran Stepped Up Under Various Pretexts
• Women Quran Activists Gather in Iraq
• After Appointing New Female Judge, Will Egypt See More Women In Courts?
• Women More Likely Than Men to View Boris Johnson as Dishonest – Guardian Quiz
• PCB Congratulates Sana Mir on Induction in ICC Women's Committee
Compiled by New Age Islam News Bureau
URL: https://www.newageislam.com/islam-women-feminism/diana-award-humanitarian-efforts-first/d/119249
--------
Diana Award for Humanitarian Efforts: First Pakistani, Aleena Azhar, Bags Prestigious Accolade
By Asif Mehmood
July 20, 2019
LAHORE: Nearly two decades after her death, Diana, Princess of Wales, continues to inspire positive change in the lives of young people around the world. One such person is Aleena Azhar, who has become the first Pakistani woman to receive The Diana Award for her humanitarian efforts.
Like Diana, Aleena Azhar, too, is compassionate about the promotion of human welfare. A resident of Lahore's Johar Town, the 20-year-old granddaughter of former Lahore High Court chief justice Khawaja Sharif, has been serving the poor, needy and the out casters since she was 11.
"I got the chance to participate in social activities very early in my life. I collected donations for the flood victims when I was very young," the young philanthropist said. Described as, 'the most prestigious honour a young person aged 9-25 can receive for their social action or humanitarian work', The Diana Award was set up in memory of Diana, Princess of Wales.
For Azhar, there is no stopping. She has also established an NGO to help senior citizens and those living in old homes. "The NGO helps senior citizens in old age homes, and assists people in slum areas, specifically women," she said. Through the charity organization, Azhar is also helping members of the transgender community. "We have provided sewing machines to helpless transgender persons living in shelters, only because we want them to give up begging," the award winner said.
Her mother, Fatima, believes her daughter has always been a philanthropist at heart. "Aleena has always been interested in social work. I only encouraged her and helped her with finances," she said. Apart from her passion for philanthropy, Azhar is also a patriot. "I want to do so much more for the country," she said.
With big plans for life, the young humanitarian will soon be moving to Turkey for higher education. Since her tragic death in 1997, the charity set up in memory of Diana, Princess of Wales has focused on young people and change. The charity's website claims the annual award is the longest running accolade for young people and it is given to individuals and groups through a retrospective nomination process only.
Other recipients from Pakistan include Nawaz Ahmed, a survivor of the 2014 Army Public School attack in Peshawar.
https://tribune.com.pk/story/2017183/1-diana-award-first-pakistan-woman-bags-prestigious-accolade/
--------
Clampdown on Women in Iran Stepped Up Under Various Pretexts
Jul 19, 2019
Clampdown on women has been stepped up in Iran under various pretexts. In recent days, a charity concert by female singers has been cancelled. It has been also announced that wedding ceremonies must be sex segregated. At the same time, the State Security Force agents who had violently treated a young teenage girl were praised.
On Wednesday, July 18, 2019, Delyar musical group was supposed to hold a charity concert at Omid Hospital in Urmia, northwest Iran, the revenues of which would have gone for cancer patients. The concert, however, was cancelled.
The all-women Delyar musical group is headed by Neda Behzad, and its solo singers are Nazli Soltanzadeh and Atefeh Norouzi.
The general director of Islamic culture and guidance in West Azerbaijan province told the official IRNA news agency, that the excuse for cancelling the concert was that they did not have written agreement of the State Security Force Command of West Azerbaijan. (The official IRNA news agency – July 17, 2019)
This is while Parisa Alilou, general director for women and family affairs in West Azerbaijan Province said the Delyar musical group with its female singers were scheduled to perform for women and the concert's revenues would have gone to cancer patients. In another measure, stepping up clampdown on women and the entire society in Iran, Taghi Afarand, deputy for monitoring public places in Tehran's Public Security Police, announced that mixed wedding ceremonies are against religious standards and it is totally banned. If any case is observed, it will be dealt with. He said women and men must be completely segregated. (The state-run BORNA news agency – July 18, 2019)
In another news related to the clampdown on women in Iran, the plainclothes agents who had brutalized and arrested a young woman, 16, for playing water guns with her friends in Tehran's Tehranpars park, were praised by the Commander of Tehran's State Security Force and granted awards and cash gifts.
https://women.ncr-iran.org/2019/07/19/clampdown-on-women-in-iran-stepped-up-under-various-pretexts/
--------
Women Quran Activists Gather in Iraq
July 20, 2019
According to the Dar-ol-Quran of the Astan (custodianship) of Imam Hussein's (AS) holy shrine, representatives from Quranic centers of the holy shrines and members of Quran institutes of the country attended the program.
Amal Al-Matouri, head of the Women Quranic Center affiliated to the Dar-o-Quran of the Astan, said that the participants discussed organizing a national Quran competition for women elites as well as technical issues related to the previous contests.
Rafi' Al-'Ameri, top Iraqi Qari and director of the National Center of Quranic Sciences, said that it was decided at the program that two women Qaris and two Quran memorizers be selected as winners from among each 10 contestants in the preliminary stage of the competition in different provinces of Iraq and the competition of each 10 representatives from the holy shrines to have one women Qari and one Quran memorizer as the top winners.
He added that it was also among the decisions at the program that top participants of the last year's Quran competition of women and the Quranic women who have not competed at the international level can participate in the national Quran competition to be held for Iraqi women elites.
http://iqna.ir/en/news/3468989/women-quran-activists-gather-in-iraq
--------
After Appointing New Female Judge, Will Egypt See More Women In Courts?
Nihal Samir
July 20, 2019
Several media outlets recently reported that Fatima Qandil became the first female judge to join a judicial panel of an Egyptian criminal court.
The court was trying a case about stock market manipulation. The judicial panel was led by Mohamed El-Feki and included Mahmoud Rashdan, Abdullah Salam, and Usama Aboushaisha, alongside Qandil. Several individuals from the Mubarak regime are suspects in this case, including the former president's sons, Alaa and Gamal Mubarak, in addition to seven others.
However, Qandil is not really the first female judge in Egypt's criminal courts. She was preceded by judge Sally Al-Saidi, who was part of several judicial panels in criminal and misdemeanour courts in 2009. She ruled on 95 criminal cases that year.
Al-Saidi was one of 68 female judges appointed in Egypt's ordinary courts. She then became a member of the Cairo Juvenile Court in 2009, and later a member of the Cairo Criminal Court.
In 2013, Al-Saidi was appointed as a member of the technical bureau of the Court of Cassation (Criminal Division).
Notably, the role of the technical bureau is to conduct legal research and studies, but this would not give her the authority to try or rule on cases.
The question is: will the media interest of the presence of a female judge, Qandil, in law courts pave the way for more females to be part of the big scene in the Egyptian judiciary?
Before 2003, both the Administrative Prosecution Authority and the State Lawsuits Authority have appointed women in their offices, but no women were allowed in the Egyptian courts.
In 2003, judge Tehani Al-Gebali was the first woman to join the Supreme Constitutional Court by a presidential decree. This was followed by the appointment of 42 female judges to the ordinary courts from 2007 to 2008.
In June 2015, the Ministry of Justice announced the appointment of a new batch of 26 female judges to the ordinary courts. Unfortunately, the government did not take further steps to increase the number of women in the judiciary since then.
Are female judges banned from Egyptian judiciary?
The Egyptian judicial system is divided into three branches: ordinary courts, which are entitled to try civil, economic, and criminal cases, administrative courts, which adjudicates disputes involving government actions (and sometimes inaction) and disciplinary actions involving government employees, and the Supreme Constitutional Court, which rules on constitutional matters.
According to the Egyptian constitution, the law graduates can apply to join the administrative prosecution authority, public prosecution, the State Council, and the military prosecution, Omnia Gadallah, founder of "Her Honor Setting the Bar" support campaign of female law graduates, told Daily News Egypt.
Gadallah has filed a lawsuit against the State Council for refusing to enrol women in the body.
She explained that both administrative prosecution and Egyptian State Lawsuits Authority are judicial bodies, however, the work nature of their members is different than normal judges, as they do not rule on cases.
Even though, women are allowed to enter both. They currently account for 43% of the administrative prosecution members, and represent about 28% of the Egyptian State Lawsuits Authority.
Meanwhile, women are not allowed to join the Supreme Constitutional Court, whose members represent the best judges in the ordinary courts, the State Council, and the military prosecution.
"The female law graduates have two options; either to apply in the public prosecution to enter an ordinary court, which is difficult as the public prosecution continues to reject women, or to apply in the State Council to enter an administrative court, which is also rejecting female applicants. This means that the ban on female judges continues," Gadallah said.
In 2009, Egypt's State Council agreed unanimously to appoint male and female law graduates from the academic years 2008 and 2009.
However, in February 2010, a special committee of the State Council's general assembly convened and voted against appointing female judges, with an overwhelming majority of 334 against 42 votes.
Therefore, when the public prosecution announced the recruitment of a new batch in 2010, only males could apply.
So, when Gadallah filed a lawsuit against the State Council, this brought the issue of female judge ban to light again and this case is still ongoing until now.
Exclusion of female judges violates constitution
Gadallah told DNE that the exclusion of women clearly violates the constitutional principle of equality, citing some articles in the 2014 Constitution, mainly Article 9. It prescribes that the state is committed to achieving equality among all citizens, without discrimination.
Moreover, Article 11 prescribes that the state must ensure equality between women and men in all civil, political, economic, social, and cultural rights, in accordance with the provisions of the constitution.
Article 14 also prescribes that citizens have the right to government employment on the basis of competence, without favouritism.
Is appointing female judges in courts still a taboo?
Gadallah said that Al-Saidi and Qandil are among the 66 female judges that were appointed in the ordinary courts, representing 0.5% of 16,000 judges.
"Those female judges were appointed, not selected normally through career progression," Gadallah explained.
Despite this fact that their selection was not through the career progression, social media and newspapers congratulated the Egyptian women for being empowered.
Judge Mohamed Samir, spokesperson for the Administrative Prosecution Authority, told DNE that the media interest of appointing females in the criminal court is a result of the public argument whether women can hold judicial positions.
According to the Malik and Shafi'i schools of Islamic law, being a male is a precondition to be a judge. Meanwhile, Abu Hanifa school says that women may be judges in all matters, except "Hudud" crimes, which include theft, robbery, illicit sex, alcohol consumption, and apostasy, and "Qisas", which refers to offences that involve bodily injury or loss of life. The Hanbali school said that women may become judges in all matters.
Samir explained that the criminal court tries matters related to Hudud, thus women were always excluded.
"Seeing a female judge in the criminal court means that the picture is changing. It shows that we now follow the Hanbali school that permits women to be judges in all matters," Samir said.
What is the next step?
Samir continued that appointing women in the criminal court was a good step, however, we aspire to more progress.
He explained that the appointment of Qandil was not through the normal procedures as males. He called for ending this gender discrimination, especially in the general prosecution.
Gadallah agreed with Samir, stating that the evaluation of female judges is conducted unfairly. Male judges should not be compared to female judges, as women's career progression face more challenges than men's.
https://dailynewsegypt.com/2019/07/18/after-appointing-new-female-judge-will-egypt-see-more-women-in-courts/
--------
Women More Likely Than Men to View Boris Johnson as Dishonest – Guardian Quiz
19 Jul 2019
Women are more likely than men to view Boris Johnson as dishonest, xenophobic and politically calculating, according to a sample of more than 70,000 Guardian readers.
Analysis of participants' answers to a quiz on the character of the likely next prime minister revealed a consistent gender divide in how respondents viewed him.
The quiz presented readers with a set of contradictory statements about the Conservative leadership frontrunner and asked to choose where on a scale between the two he should be placed.
The results should not be understood as a scientific poll, since they are unlikely to represent, for example, enthusiastic Conservative voters. But they did appear to show that among users of the Guardian website, those who declared themselves women before answering the questions were far less likely to perceive Johnson as "genuinely gaffe-prone". Some 70% of female readers viewed Johnson's behaviour as part of a dishonest political act, against 55% of men.
Men were slightly more forgiving of Johnson's xenophobic comments on immigration, with 10% opting to describe him as consistently pro-diversity. In comparison, only 6% of females took this view.
Overall, the Guardian readers who responded overwhelmingly believed Johnson to be "xenophobic", with 91% of women and 86% men describing the Tory frontrunner as so.
And on whether Johnson was more more accurately described as "repellently dishonest" or "charmingly frank", respondents came close to a consensus, with 97% of women and 96% of men viewing Johnson as "repellently dishonest". More than one in eight readers (13%) put him at the furthest end of the scale.
This month Johnson was questioned at a Tory leadership hustings over his "arguably racist" comments in his newspaper column comparing veiled Muslim women to letterboxes. Johnson defended his column, describing it as a "strong, liberal defence of the right of women to wear the burqa", and said he received letters of support from Muslim religious leaders.
Last year, Johnson was reported to have said: "Fuck business" when questioned about the sector's concerns over a no-deal Brexit, but this had little bearing on Guardian readers who generally viewed the Tory frontrunner as more pro- than anti-business. 71% of women and 67% of men described Johnson as such.
The results of the quiz showed different age groups had similar perceptions of the potential future prime minister. The Guardian's youngest and oldest readers – those aged under 18 and those aged over 60 – were more likely to believe Johnson is genuinely gaffe-prone.
The online quiz received more than 70,000 entries since Monday 15 July. The interactive asked readers to define Johnson's political positions and approach to leadership.
Of the readers who looked at the quiz (although not necessarily of respondents), 73% were from the UK, with 16% from the EU. The EU countries which proved most interested were from Ireland, France, and Germany.
https://www.theguardian.com/politics/2019/jul/19/women-more-likely-than-men-view-boris-johnson-as-dishonest-guardian-quiz-sample
--------
PCB Congratulates Sana Mir on Induction in ICC Women's Committee
July 19, 2019
Lahore: The Pakistan Cricket Board has congratulated Pakistan women's cricket star Sana Mir for her inclusion in the ICC Women's Committee as one of the three current player representatives.
Former England player Clare Connor has been retained as the Chair of the ICC Women's Committee, which also includes PCB Managing Director Wasim Khan as one of the Full Member representatives.
Sana, the former Pakistan captain and leading wicket-taking spinner in women's ODIs, is joined by Australia's Lisa Sthalekar and Mithali Raj of India as current players' representatives on the committee that met for the first time in London on Thursday during the ICC Annual Conference week.
PCB Chairman Ehsan Mani said: "On behalf of the PCB, I want to congratulate Sana Mir on her inclusion in the ICC Women's Committee. I am confident that Sana will bring great insight and knowledge to the group, which will only help women's international cricket get stronger.
"Sana's latest achievement will attract and motivate our young girls, which, in turn integrates with our strategy on the growth and development of women's cricket in Pakistan."
Sana thanked the ICC for the opportunity: "It is an absolute honour to represent the current players at this elite forum and become their voice. Women cricket is growing around the world and I feel this is a very courageous and inclusive step by the ICC to have current players involved in the promotion and development of the game."
"We will be the voice of the players, we can take the notes from the committee and get the players on-board on how the ICC plans to promote the game. It is great to be a part of this committee and I look forward to giving my views and making a positive impact for the cause of women's cricket around the world."
https://www.thenews.com.pk/latest/500773-pcb-congratulates-sana-mir-on-induction-in-icc-womens-committee
--------
URL: https://www.newageislam.com/islam-women-feminism/diana-award-humanitarian-efforts-first/d/119249
New Age Islam, Islam Online, Islamic Website, African Muslim News, Arab World News, South Asia News, Indian Muslim News, World Muslim News, Women in Islam, Islamic Feminism, Arab Women, Women In Arab, Islamophobia in America, Muslim Women in West, Islam Women and Feminism