New Age Islam News Bureau
11 Apr 2013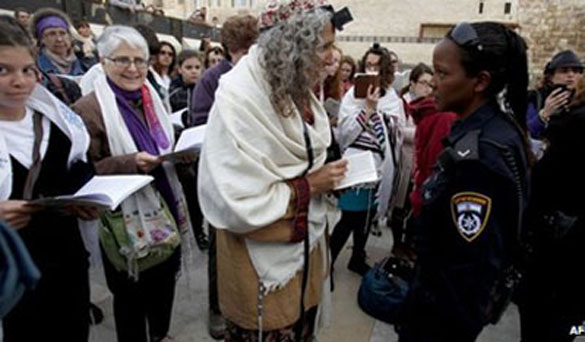 Photo: The women say they should have the right to wear religious items at the Wall like men
--------
• Female Arab Directors Honoured At Film Festival
• Tunisia Salafists Try To Kill School Principal Who Barred Full-Veiled Student
• Teenage Girl Commits Suicide during Exam in Hazara Division
• Pakistan Teacher Gang-Raped
• Only 43.5% Women Included In Voters' List in Pakistan
• Dismissal of Muslim Nurse for Wearing Hijab Rejected By French Court
• Malawi accuses Madonna of exaggerating humanitarian efforts
• Exact Role of Saudi Women Lawyers Unclear
• W H O Declares Anaemia the Most Prevalent Maternal Complication
• Morocco Slow to Enforce Laws on Women's Rights
• Women's Rights Are the Victims of Femen's Feigned Outrage
• Women Held For Breaching Ban at Jerusalem Western Wall
• SC Order Brings Joy to Bihar's Conjoined Twins
• PKR Takes Battle for Crucial Women Votes to Youtube
Compiled by New Age Islam News Bureau
URL: https://newageislam.com/islam-women-feminism/dhaka-university-women-denounce-hefazat/d/11099
---------------
Dhaka University Women Denounce Hefazat Demands
Apr 11 2013
Female students and teachers of Dhaka University yesterday denounced the 13-point demand of the radical Islamist group Hefazat-e Islam, which vehemently opposed the national women development policy designed for the empowerment of the repressed gender.
The protesters said the demands were anti-constitutional and against the spirit of the Liberation War and called upon the people to build social resistance to keep the nation free of this "evil force".
While the constitution ensures equal rights of men and women, the Hefajat demands intend to keep women confined to home and bar them from taking part in any developmental process, said Rokeya Hall Provost Prof Nazma Shaheen, addressing a protest rally at Santrashbirodhi Raju Bhaskarja on the campus.
Hefajat terms the national women development policy anti-Islamic and demands its cancellation.
Prof Gulshan Ara Latifa, provost of Begum Fazilatunnesa Mujib Hall, said Hefajat was scheming to plunge the country into "an era of darkness" by curbing women's rights.
Vice Chancellor Prof AAMS Arefin Siddique said that in the name of religion, Hefajat attempted to block women's participation in society, which would eventually hold back the country's progress.
Pro-VC (academic) Prof Nasrin Ahmad chaired the rally, while three more provosts–Prof Sajeda Banu of Shamsunnahar Hall, Prof Farida Begum of Kuwait Moitri Hall, and Prof Nilufar Nahar of Sufia Kamal Hall–also spoke.
http://www.thedailystar.net/beta2/news/du-women-denounce-hefajat-demands/
---------------
Female Arab directors honoured at film festival
11 April 2013
Women film-makers from Morocco, Tunisia and Lebanon have been honoured by the Birds Eye View Film Festival in London, which this year chose to concentrate on features by Arab directors.
On the Edge by Morocco's Leila Kilani was named best feature, while Lebanon's Eliane Raheb won the best documentary prize with Sleepless Nights.
The festival's emerging talent award, for best short, went to Leyla Bouzid.
Her film Soubresauts explores taboos among the Tunisian middle classes.
Soubresaut, a French word, translates into English as jolt or sudden start.
On the Edge, Kilani's first full-length feature, tells of four young women in Tangier who become involved in crime.
The film, first seen at Cannes in 2011, offers what the Hollywood Reporter called "a tough view of the everyday effects of globalisation".
Sleepless Nights explores attempts at reconciliation after the civil war in Lebanon that lasted from 1975 until the early 1990s.
Variety described it as "an emotionally exhausting experience", praising it for "brilliantly capturing a nation's damaged soul".
Birds Eye View creative director Kate Gerova said she was "delighted" by the response to this year's festival.
The eight-day showcase comes to a close on Thursday with a screening of the Gaza-set romance Habibi.
http://www.bbc.co.uk/news/entertainment-arts-22096663
-------------
Tunisia Salafists try to kill school principal who barred full-veiled student
2013-04-10
Tunisians face long and arduous battle against extremism as Salafists preach on TV screens, with Ghannouchi's own blessing.
TUNIS - Hardline Islamists broke into a Tunisian school on Wednesday and assaulted its principal after he barred entry to a girl wearing a full-face veil, or niqab, teachers said.
Murad Ben Hamouda of the Teachers' Union at Manzel Bouzelfa secondary school said Salafists stormed into the compound, smashed a few cars and "tried to kill the principal."
School superintendent Abdelwahed Sentati was beaten with sticks and stones, suffering several broken bones, Hamouda said, and the assailants then fled. There have been no arrests, and interior ministry police had no immediate comment.
The number of Salafists who were involved in the attack was not immediately clear. But teachers said dozens of radicals lingered on the premises afterwards, chanting anti-secular slogans.
Khalifa Dhif, another teacher, said classes at the school and others in Manzel Bouzelfa had been suspended in protest at the assault and the union was considering a strike.
After fierce and extended debate, the education ministry decided last year to preserve a classroom ban on women wearing the full-face veil.
Manzel Bouzelfa is around 45 km (28 miles) east of the capital Tunis and near Hammamet, a well-known tourist resort.
In another sign of growing Islamist-secularist friction, Habib Kozdhogli, head of the arts faculty at Tunis University, will go on trial later this month charged with slapping a veiled student who insisted on entering a class last year.
Last year, hundreds of Islamists demanding segregated school classes and the right of women to wear full-face veils at university clashed with secular students near Tunis.
Since President Zine al-Abidine Ben Ali was toppled in the first "Arab Spring" uprising two years ago, Tunisia has seen mounting strife between secularists who long held power and Islamists whose influence is increasing.
Ennahda Islamists who won a free election now head the Tunis government. But hardline Salafists are pushing for Islam to be made the law of the land, raising secularist fears for a loss of individual freedoms, women's rights and democracy.
Salafists prevented concerts and plays from being staged in several Tunisian cities last year, declaring that they violated Islamic principles. They also ransacked the US Embassy premises in September during worldwide Muslim protests over an Internet video they said insulted the Prophet Mohammed (PBUH).
http://www.middle-east-online.com/english/?id=58049
---------------
Teenage Girl Commits Suicide during Exam in Hazara Division
April 11, 2013
HARIPUR: A schoolgirl committed suicide during an exam on Wednesday in Haripur, Hazara Division.
Hospital administration said Natasha Habib's body had bruises. A message was inscribed on her right arm asking her mother to forgive her and claiming a man named Asad had made her life miserable. A mobile phone number was written on her left arm. When police tried to contact the number, it was switched off.
Farzana Manzoor, a teacher at the Government Girls Centennial Model High School, told police she was informed that a student of grade 10 had gotten hold of a bottle of acid and was threatening to consume it. The girl's classmates had already snatched the bottle from her when the teacher reached the room; however, the student took out a pistol from her bag and shot herself. Natasha had come to school that day to appear for her practical exam for Biology.
The complainant, Manzoor, failed to explain how the student managed to take a pistol with her to class.
http://tribune.com.pk/story/533905/alleged-harassment-teenage-girl-commits-suicide-during-exam/
---------------
Pakistan Teacher Gang-Raped
Apr 11 2013
Islamabad: A 26-year-old school teacher was kidnapped and gang raped while on her way to work in Pakistan's central Punjab province.
The woman was found lying in a field in Khanewal, near Multan city, yesterday. She was taken to a hospital in Jhang and a medico-legal examination at a nearby rural health centre confirmed she had been raped. Doctors at the centre said she might need surgery.
Police registered a case against three suspects named by the woman's family, The Express Tribune reported. Police officials said the teacher was kidnapped on her way to school on April 8. She was tortured and gang raped before being left in the field near her home.
Some neighbours saw the woman and informed police. She told police that three men had forced her into a car and taken her to Shorkot in Jhang district. She said five men had raped her over two days.
When her condition deteriorated, they threw her in the field and fled, she said. Residents of the area condemned the incident and demanded that the rapists be publicly hanged.
Police officer Zulfiqar Ahmd said his men were looking for the suspects.
http://www.indianexpress.com/news/pakistan-teacher-gangraped/1100904/
---------------
Only 43.5% Women Included In Voters' List in Pakistan
Apr 11 2013
ISLAMABAD: Women are nearly 50 percent of the country's population, but only 43.5 percent are registered voters, while the situation is more pathetic in the rural areas where they do not know how to vote.
There was zero turnout of women during the 2008 general election in 564 women-only polling stations, and women-only polling stations were just 25 percent of the total polling stations set up during the last election.
Nighat Siddique, an official of the UNDP, admitted that women do not recognise the importance of vote.
She underlined the need for enhancing women's participation and increasing female staff in the election process with an objective to bolster voters' turnout during the upcoming general election.
Full report at:
http://www.dailytimes.com.pk/default.asp?page=2013\04\11\story_11-4-2013_pg11_1
---------------
Dismissal of Muslim nurse for wearing hijab rejected by French court
Apr 11 2013
The controversy surrounding the Islamic headscarf, or hijab, has been rekindled in France this week after the French Court of Cassation annulled the 2008 dismissal of a Muslim nurse from a private daycare center because she refused to stop wearing the hijab.
(Ahlul Bayt News Agency) - The controversy surrounding the Islamic headscarf, or hijab, has been rekindled in France this week after the French Court of Cassation annulled the 2008 dismissal of a Muslim nurse from a private daycare center because she refused to stop wearing the hijab, Al Arabiya reported.
Full report at:
http://abna.ir/data.asp?lang=3&Id=407914
---------------
Malawi accuses Madonna of exaggerating humanitarian efforts
Singer 'saddened' by claims she sought VIP treatment on recent Malawi visit and had overstated her contribution there
11 April 2013
Malawi has launched a scathing attack on Madonna, accusing her of exaggerating her contributions to the southern African country and demanding special treatment during her trip last week.
The pop star denied the accusations. Her spokesman suggested the claims were prompted by the recent removal of the president's sister as head of Madonna's humanitarian organisation there.
Full report at:
http://www.guardian.co.uk/world/2013/apr/11/malawi-madonna-exaggerating-humanitarian-efforts
---------------
Exact Role of Saudi Women Lawyers Unclear
11 April 2013
The move by the Ministry of Justice to grant Arwa Al-Hijeli a license to practice law as a trainee has opened the door for other women to seek their place in the courtroom to argue cases.
But what kind of law Saudi women will be permitted to practice and when they can stand before a judge remains unclear. Yet Saudi legal experts say the ministry's decision marks a watershed for women in the legal profession.
Lina Al-Qhadhi, a trainee lawyer, told Arab News yesterday that she is traveling to Riyadh next week to apply for a license although she has no idea what specialty she will be permitted to practice.
Full report at:
http://www.arabnews.com/news/447753
---------------
W H O Declares Anaemia the Most Prevalent Maternal Complication
Apr 11 2013
ISLAMABAD: The World Health Organisation's (WHO's) multi-country survey on maternal and newborn health on Wednesday claimed that anaemia, postpartum haemorrhage and pre-eclampsia were the most prevalent maternal complications.
Sharing the results of the WHO survey at the report dissemination ceremony, the head of the Department, Mother and Child Health (MCH) Centre of the Pakistan Institute of Medical Sciences (PIMS), Prof Dr Syeda Batool Mazhar, informed the participants that severe maternal illness occurred at the rate of 12 per 1,000 live births ratio.
Full report at:
http://www.dailytimes.com.pk/default.asp?page=2013\04\11\story_11-4-2013_pg11_8
---------------
Morocco Slow to Enforce Laws on Women's Rights
By AIDA ALAMI
2013/04/11
MARRAKESH, MOROCCO — The girl at the police station in Marrakesh said she was not sure how old she was, 13 or maybe 14. Sitting on a chair in the unit that processes youth cases, she told a chilling account of being gang raped, and said she had no relatives willing to shelter her.
She gave conflicting statements and when she was finished speaking with two male police officers, no one was clear on what had really happened. There were only two consistent elements in her testimony: that her first name was Amal and that she was pregnant.
Like many unmarried girls in Morocco, she would be afraid to admit to having had a sexual relationship because of the social stigma but also because it is illegal to have sex outside of marriage.
Full report at:
http://www.nytimes.com/2013/04/11/world/middleeast/morocco-slow-to-enforce-laws-on-womens-rights.html?pagewanted=all
---------------
Women's Rights Are the Victims of Femen's Feigned Outrage
Susan Carland
2013/04/11
"F*ck your morals ... my body belongs to me and is not the source of anyone's honour" is what Amina Tyler, a 19 year old Tunisian woman, wrote in Arabic across her chest before photographing herself and posting it online. After she disappeared, the rumours started that her family had forcibly placed her in a mental institution and that she had been threatened with stoning - something as disturbing as it is un-Islamic.
Femen, the Ukraine-based feminist group who operate from a second-wave Western feminist approach and with whom Amina associated, hurled themselves into the fray by calling for an international Topless Jihad day on 4 April in protest against Amina's supposed mistreatment.
It is admittedly difficult for people who have bought into Western liberalism, with its elevation of individual freedom to the pinnacle of human moral evolution, to regard the Muslim world with anything other than baffled contempt.
Full report at:
Inquiry, where she is researching the way Muslim women fight sexism.
http://www.abc.net.au/religion/articles/2013/04/10/3734377.htm
---------------
Women held for breaching ban at Jerusalem Western Wall
11 April 2013
Five women have been detained at Jerusalem's Western Wall for breaching a ban on performing religious rituals Orthodox Jews say are reserved for men.
The women are part of a movement seeking to overturn the prohibition, issued by the High Court in 2003.
Authorities are working on a compromise to try to resolve the dispute.
The Western Wall - a relic of the Biblical Temple compound - currently has separate sections where men and women are allowed to pray.
At sunrise on Thursday morning, about 120 women gathered inside their section at the wall to pray.
Full report at:
http://www.bbc.co.uk/news/world-middle-east-22103508
-------------
SC order brings joy to Bihar's conjoined twins
By Giridhar Jha in Patna
11 April 2013
BIHAR'S 17- year- old conjoined twins Saba and Farah Shakeel rejoiced over the Supreme Court directive to the state government to give them a monthly allowance of ` 5,000 and keep tabs on their health.
" We are extremely happy that the Supreme Court has granted us a monthly allowance," Saba said on Wednesday. " We thank Allah and the court for it." Farah said they were thankful to the court also for understanding their plight and deciding against the option of surgical operation to separate them.
Full report at: Mail Today
------------
PKR takes battle for crucial women votes to YouTube
Apr 11 2013
PETALING JAYA, April 11 — PKR has taken the fight for women's votes to popular video-sharing site YouTube, launching today a campaign video aimed at courting the key demographic ahead of the May 5 ballot.
The video is among a series of other campaign clips touching on rice bowl issues produced by the Pakatan Rakyat (PR) anchor party as part of its Election 2013 social media push.
"Women are one of the main pillars of a country's development. Each progress and development begins at home… as a woman with a career, I hold responsibilities in office. They are all heavy.
Full report at:
http://www.themalaysianinsider.com/malaysia/article/pkr-takes-battle-for-crucial-women-votes-to-youtube/
---------------
URL: https://newageislam.com/islam-women-feminism/dhaka-university-women-denounce-hefazat/d/11099