New Age Islam News Bureau
13 Jan 2020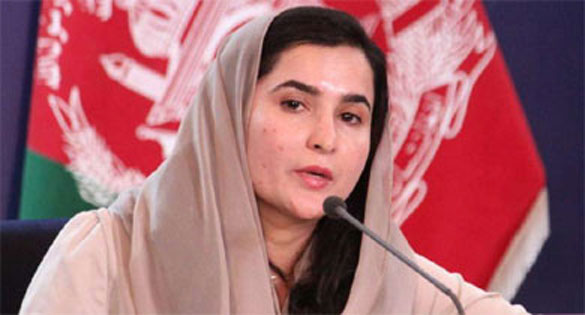 Naheed Esar, 30-year-old deputy foreign minister of Afghanistan had said women in Afghanistan are now in leading roles (Photo: Twitter)
------
• 'No Going Back On Women's Rights,' Says 30-Year-Old Deputy Foreign Minister of Afghanistan
• Women Begin Sit-In At Prayagraj Park: If Delhi Women Can Sit In Cold, Why Can't We?
• CAA-NRC-NPR: Women Lead Sit-in Protest in Kanpur's Mohammad Ali Park
• Roll Back CAA Exercise, Christian Women Ask Government
• 'Are We Not Citizens,' Asks Kolkata's 'Shaheen Bagh' As Protests Continue
• Fury at 'Virginity Repair' Operations That Prey On Fears Of Young British Muslim Women
• Malaysia's Islamic Family Laws Have Gone from Best to Worst, Says Activist
Compiled By New Age Islam News Bureau
URL: https://www.newageislam.com/islam-women-feminism/determined-mothers-unfazed-children-chants/d/120780
--------
Determined Mothers, Unfazed Children and Chants of 'Azadi': An Evening in Shaheen Bagh
12 January 2020
Barely a month after she was born, Mumtaz has found herself amid a strange gathering of mothers chanting "Azadi" and "Inquilab Zindabad" in the middle of the streets at South-East Delhi's Shaheen Bagh, a venue which has been the epicenter of anti-Citizenship (Amendment) Act and National Register of Citizens (NRC) protest since December 15.
For the last 28 days, hundreds of people, led by women, have been demonstrating at the venue, blocking a key road which links Noida to Delhi. A major part of the crowd swells between 8 pm and 12 pm when the regular protesters are joined by working professionals and businessmen once they return from work.
Besides Delhi, protests have simmered in several parts of the country over the contentious law resulting into clashes at several places, including Uttar Pradesh, where more than 20 people have died so far.
On Friday, a thin tarpaulin sheet overhead the sit-in site has been barely able to keep the bone-chilling cold away, but the Delhi High Court's decision to not entertain a plea seeking directions for removal of the demonstrators from the site has fortified the spirit of the protesters. But challenges are far from over.
It is around 8.30 pm. Mumtaz, perhaps the youngest at the Shaheen Bagh protest site has dozed off in her mother's lap, unaware that the controversial Act, which promises citizenship to only non-Muslim refugees from three neighbouring countries, has come into effect. "It's not only about my daughter, it's about the future of lakhs of children of this country whose fates would be decided by a piece of paper (documents). We will not let this happen," says Nagma, the infant's mother.
"Hum hasna bhul gaye hain. Modi ji, CAA wapas lijiye, humari hassi wapas kijiye (We have forgotten to smile. Modi ji, please roll back CAA and bring our smile back)," reads a poster that seven-year-old Reshma, who has joined the protest with her parents, has been copying the slogan sitting on a balcony of a shop across the road. Several children, none more than 10 years, have been painting placards and posters day and night as their mothers sit adamant denying to budge an inch till CAA is rolled back.
On the 28th day of the protest, septuagenarian Nurunissa rejects the ruling party's rhetoric that the protesters have not understood what the law stands for and are being brainwashed by opposition parties. "Who says we don't understand? It is our life and we know everything about it. They brought in demonetization, abrogated Article 370 in Jammu and Kashmir, then this verdict on Babri Masjid… (If they don't roll back CAA then) we will not vote in the upcoming Delhi elections…," she says.
Nurunissa, along with Mehrunissa, 50, and another 83-year-old woman is now famously known as the "Dabang Dadis" of Shaheen Bagh.
On a hunger strike for the last 11 days, Mehrunissa had decided to join the demonstration after students of Jamia Millia Islamia were allegedly beaten up by the Delhi Police on December 15. "Modi ji says 'beti bachao, beti padhao'. Then how could they beat up girl students of the university," she asks.
The Wazirabad-resident adds that several politicians have visited Shaheen Bagh in their individual capacities. "So far, we have not got any political commitment from anybody. If CAA and NPR are not scrapped, we will stay away from Delhi elections."
Sharing the stage is 45-year-old Zainul Abidin, who is on a liquid diet since the protest began here. He remains at the centre stage demanding the withdrawal of the contentious legislation. In the past 28 days, Abidin has lost 21 kg. But not a single government doctor has met to him so far, he claims.
"They call us terrorists. I want to ask them, who is a terrorist — the ones who are beating up students inside universities, or us, who are holding a peaceful protest here… Hunger strike is the best way to force the government to roll back the Act," says Abidin, who claims to be a social activist.
The blaring of microphones, as a slew of politicians from different parties hold the main stage with almost similar demands, wakes Mumtaz up frequently. But the infant is now used to the crackle.
Show them the copy of Constitution: Manoj Jha
At the protest site, RJD MP Manoj Jha urges people not to show documents if government officials come to their residence and ask for papers. "Recently, I had been to Aurangabad in Maharashtra. There, I asked people to show officials a copy of our Constitution if, in case, they have to submit documents. Tell them that this is the proof of our existence. Believe me, we will win this battle," Jha says.
'Not here as a politician': Sharmistha Mukherjee
Congress leader Sharmistha Mukherjee, who joined the women at the protest site, says she was not there to represent any party and had come to extend solidarity with the protesters.
"The CAA is against our Constitution. They say we are 'tukde tukde gang'. It's not us, they are the 'tukde tukde gang'. This government wants to divide the nation…Hats off to the mothers, brothers and children of Shaheen Bagh for taking on the government," Mukherjee says.
Kanhaiya makes surprise entry
Amid chants of "Azadi", CPI leader Kanhaiya Kumar made a surprise visit to the venue and urged protesters not to show their papers to NPR inspectors. "If they come, welcome them with a smile, give them water but don't give them your documents. Remember, NPR is itself NRC," the former JNU Students' Union leader says.
With the Delhi Assembly polls scheduled for February 8, Maryam Khan, who has been following the speeches of leaders from different political parties closely, says, "We all know why they come here. But we are not thinking of the Delhi elections right now." Claiming that most women protesters did not have any political affiliation, she says, "We have made up our mind that we will not cast our votes if the government doesn't withdraw the CAA. Till now, they thought Muslim women can't come beyond burqa. We are here to change that notion. Enough of police atrocities against our children. Now, let them arrest the mothers here. Will not back down."
https://www.newsnation.in/cities/delhi-and-ncr/azadi-shaheen-bagh-caa-citizenship-amendment-act-kanhaiya-kumar-manoj-jha-sharmistha-mukherjee-250525.html
--------
'No Going Back On Women's Rights,' Says 30-Year-Old Deputy Foreign Minister of Afghanistan
Jan 10, 2020
Sidhant Sibal
Highlighting her government's role in the advancement of women's rights, Naheed Esar, 30-year-old deputy foreign minister of Afghanistan had said women in Afghanistan are now in leading roles. Speaking to WION's diplomatic correspondent, Sidhant Sibal, the deputy foreign minister of Afghanistan lauded New Delhi's role in the advancement of the cause. She was forced to flee her country under Taliban rule and after coming back played an important role in reaching out to women especially women who suffered during Taliban rule and decades of strife. Esar is fluent in Pashto, Dari, English, and Hindi.
How do you see India-Afghanistan relations?Naheed Esar: The relationship between India and Afghanistan goes back to thousands of years. We share culture, we share values, we share the same morals and it's a heart to heart connection between Indians and Afghans
On India-Afghan ties, the role you would like to see of New Delhi in the future?Naheed Esar: India has supported Afghanistan in various areas. India has also committed to about $3 billion to Afghanistan and more importantly, they have focused on fundamental projects, fundamental areas -- education, medical area, and hospitals. Because we are shifting from aid-dependent country to being a self-reliant country, and that was one of the reasons we started our consulate general in Hyderabad to invest more in trade, in the economy. In 2017 we started the air corridor, 22 items we exported. For the future, we are shifting on economic foreign policy so we can expand to that area.
Being a young minister in the Afghan government, how do you hope to change Afghanistan?Naheed Esar: Afghanistan is probably the youngest country in the world with 65% of people constituting the young generation. Especially in the past 5 years, we have a young generation in the leading position. Before that, you could not see Afghan women and young Afghan women representing their generation at the Afghan foreign ministry. I am very much grateful to the govt for believing in the young generation and believing in women.
How has the role of women increased in the last two decades?Naheed Esar: The biggest difference I see in women's roles in the government is there is a shift in rather a symbolic role to a technocrat or proper leading position. We have women as deputy ministers in the ministry of defense, ministry of interior. We have women leading the most revenue-generating ministries. We have 25% of women parliamentarians. We have 30% of women staff in the government. With those examples, I see a very bright role for Afghan women from leading positions to grassroots young afghans going to universities, schools, more so than ever.
How will you compare it with the Taliban years?Naheed Esar: In the past 18-19 years after the fall of the Taliban, we shifted from zero percent women in the education system -- in schools and universities -- to about 30% women now. That on its own is a huge achievement. We have laws, Article 22 of the Afghan constitution talks about the equality of men and women. We have laws against harassments and parallel to that we have institutions implementing those laws. We have women in leading positions, and that is the biggest achievement in the past two decades.
https://www.dnaindia.com/world/report-no-going-back-on-women-s-rights-says-30-year-old-deputy-foreign-minister-of-afghanistan-2808798
--------
Women Begin Sit-In At Prayagraj Park: If Delhi Women Can Sit In Cold, Why Can't We?
by Asad Rehman
January 13, 2020
Emulating the ongoing protest at Delhi's Shaheen Bagh, a group of women began a sit-in against the new citizenship law (CAA) and proposed NRC at Prayagraj's Mansoor Ali Park on Sunday afternoon.
"We are against this unconstitutional (citizenship) law and the NRC. We, mostly the women, are sitting here as Indians. There are people from all age groups and religions here. We will make this sit-in like the one at Delhi's Shaheen Bagh. If women of Delhi can sit outside in the cold, why can't we? We will sit here for 24 hours and continue our protest in the coming days. It will not stop," said 26-year-old Sara Ahmed, who works at a private firm and is one of the organisers of the protest.
"I feel it is the women who suffer the most and, therefore, we will lead from the front in the fight for the rights of people," she added.
Nineteen-year-old Laiba Shamim, who is preparing for NEET, said people of all age groups are part of the protest. "Anyone who visits this protest can see that people ranging from five to 70 years old are here. Most are women and children. We are against CAA-NRC and are going to make our voices heard," Shamim said.
Another protester, 62-year-old Gayatri Ganguly (62), said, "I am here to show my solidarity with the protest. I will sit here all night because if these women can, so can I."
A mother of teenage children, 40-year-old Tarannum Khan, said that the protest is for the rights of people. "We are here for our rights. There are people from all communities here. It is not about religion but about our Constitution," said Khan, who has two children aged 14 and 16 years.
Meanwhile, police said that they are urging the protesters to call off their dharna. "A group of women have gathered at the park. Senior police officers are at the spot. They are talking to women. They are protesting against the CAA, NRC. We don't know about their plan, but we are holding talks with them. We are telling them that people in the city have already protested. We told them that it is pointless to sit in the cold. Things are under control and we are keeping a watch," said SSP (Prayagraj) Satyarth Aniruddha Pankaj.
https://indianexpress.com/article/india/citizenship-amendment-act-caa-protests-women-begin-sit-in-at-prayagraj-park-6213253/
--------
CAA-NRC-NPR: Women Lead Sit-in Protest in Kanpur's Mohammad Ali Park
Abdul Alim Jafri
11 Jan 2020
New Delhi: Since the past three days, thousands of people, mainly women, from all communities are participating in a sit-in protest from dusk to dawn in Kanpur's Mohammad Ali Park in the freezing cold. They are demanding the revoking of the Citizenship Amendment Act, 2019 (CAA) and the proposed National Register of Citizens (NRC).
The protest demonstrations, reminiscent of the ones going on in Delhi's Shaheen Bagh, as also in Shanti Bagh in Bihar's Gaya, are unique for the city. During the day, the protesters sing revolutionary songs, such as Faiz Ahmad Faiz's, such as 'Hum Dekhenge'.
Despite Kanpur recently witnessing alleged police brutality leading to three deaths, the protesters in Mohammad Ali Park sing revolutionary songs, recite poems and listen to speeches for a common cause – saving the Constitution -- but has hardly drawn any media attention so far.
"I have been born and brought up in Kanpur, got married here, lived up with my husband for more than 30 years and have many beautiful memories, but now the government is asking me to prove my citizenship, which is not only unconstitutional but is also against the basic fundamental rights of citizens. The way Shaheen Bagh has become the face of the Delhi protest because of the nature of the groups that have come together, we are also united and will fight till the draconian law is rolled back," said Yasmeen, a mother of three, who lost her husband a few years ago.
Yasmeen told Newsclick that is was the idea of a plural India that she and her late husband grew up with that she is fighting for "despite all odds". "They (Modi government) passed the triple talaq law without taking Muslim women into confidence, Babri Masjid was given away despite showing 500-year-old documents, but preferred to kept our mouths shut, but we will not stand for this division," she said.
Yasmeen is not alone among the regular protesters at this sit-in. = There are several others like Naba Zameer, Ariba, Sanjeeda, Mehwish, Farheen, Shanti, Salma, Divya and Aarti, who have been spending hours and raising their voices against CAA-NRC.
Another protester, Shanti, who travels 3 km to reach the protest site every day, told Newsclick: "This protest is not about Muslims versus Hindus, as the mainstream media is trying to portray with the help of government. It is a question of our existence. The government is using all its weapons to scare us, but we are resilient. We won't go back. The fight will go on till CAA is rolled back."
When questioned on the perception that only Muslims are taking part in this protest, Shanti said, "It is absolutely unfair to say that. Like me, hundreds of Hindus, Sikhs and Christians also joining and witnessing the protest."
Chanting slogans of "Hum leke Rahenge Azaadi (We will take our freedom)", "Awaaz Do Hum Ek Hain (We are one)", Ladenge Jeetenge (We Shall Fight, We Shall Win), Hindustan Zindabad (Long live India), etc, crowds throng to the venue, some holding the tricolour in their hands.
Iftikhar Ahmed, one of the organisers of the sit-in protest, worried that this protest was not drawing media attention despite entering the third day, said: "Unlike Delhi, we do not have prominent faces who can come here and address the people, yet people are concerned about saving the Constitution."
Ahmed said the participation of women in the sit-in protest was more than expected.
"Protests in Shaheen Bagh manage to get the international coverage while Mohammad Ali Park has hardly made news, except in social media platforms," an organiser told this reportere.
It may be noted that during the ongoing protest against CAA-NRC, Uttar Pradesh witnessed violent protests in which 19 people were killed, most of them due to alleged police firing. Of these, three deaths were in Kanpur.
"Those killed in Kanpur were not part of any protest unlike in Western Uttar Pradesh. The families of the deceased -- Mohammad Saif (25), Mohammad Raees (30) and Mohammad Aftab (22)-- are very poor. After that, some innocent persons have been named in the FIRs and those arrested are also poor people, earning their livelihood by selling vegetables and doing odd jobs" said Amit, who was in Mohammad Ali Park.
https://www.newsclick.in/CAA-NRC-NPR-Women-Lead-Sit-Protest-Kanpur-Mohammad-Ali-Park
--------
Roll Back CAA Exercise, Christian Women Ask Government
January 9, 2020
New Delhi, Jan 9, 2020: The Indian Christian Women Movement (ICWM) on January 9 urged the federal government to roll back the "unwanted exercise" of Citizenship Amendment Act (CAA) and National Register of Citizens NRC and focus on "real issues affecting" the country.
"In the stubborn insistence to go ahead with the NRC and CAA, we see nothing but a strategy to divert the attention of the people from the real issues and the development agenda," the ecumenical body says in its letter addressed to Prime Minister Narendra Modi.
The movement asks why the NRC and CAA are so important to the ruling disposition when the economy of the country is in a shambles. It lists increasing unemployment, rising prices and fall in production as the major issues of the country.
"India is lagging far behind in the recently announced Human Development Index, the Gender Index and many other measures that are important indicators of growth as a nation state," the letter points out.
The movement also expresses it "deep concern" over waves of violence being unleashed in university campus and the "divisive factors tearing apart" India's secular and inclusive social fabric.
It finds the aggressive enforcement of CAA and NRC as subtle moves to turn the country into a mono-cultural and mono-religious state.
"We strongly condemn the torture that has been meted out on peace loving protestors in UP (Uttar Pradesh) and the sexual abuse of young Muslim boys. Such targeting of a particular religious group does not live up to our secular credentials," the ICWM statement says.
Given below is the full text of the letter:
To
Mr Narendra Modi
Prime Minister of India
Dear Sir,
At this critical moment when we witness the waves of violence being unleashed in university campuses and major cities, we, the members of the Indian Christian Women's Movement wish to express our deep concerns over the divisive factors tearing apart the secular and inclusive social fabric of India.
Behind the aggressive measures to enforce the CAA and the NRC, we see subtle moves to turn our country into a mono-cultural and mono-religious state, a process that will wreck the very identity and integrity of this great nation, built on democratic and pluralistic principles.
We as Christian women stand in solidarity with students, youth, women, Tribal and Adivasi communities, Dalits, sexual minorities and most importantly religious minorities – all citizens of this country, who are engaging in an un-relenting protest to defend the spirit of the Indian Constitution and thus safeguard the soul of this great land.
Sir, we ask why the NRC and CAA are so important to the ruling disposition when the economy of the country is in a shambles – increasing unemployment, rising prices and fall in production are all clearly evident. India is lagging far behind in the recently announced Human Development Index, the Gender Index and many other measures that are important indicators of growth as a nation state.
In the stubborn insistence to go ahead with the NRC and CAA, we see nothing but a strategy to divert the attention of the people from the real issues and the development agenda. We question the huge amount allocated to this futile and unimportant exercise, when the resources could be channeled towards more urgent needs in the areas of education, health, nutrition, agriculture and employment generation. Besides these issues, we reject NRC/CAA as it is premised on an exclusion formula with a marked religious bias.
As Christian women committed to peace and justice for all people, we are deeply saddened by the culture of violence perpetrated by the so-called guardians of law and order that has led to the brutal abuse and killings even of peaceful protestors and students in many states of the country since introduction of CAA/NRC.
We strongly condemn the torture that has been meted out on peace loving protestors in UP and the sexual abuse of young Muslim boys. Such targeting of a particular religious group does not live up to our secular credentials.
Sir, we need not remind you that the role of a government is to create conditions for citizens to live together in love and harmony rather than in division and segregation in the name of religion, as it is against the ethos of our constitution.
We demand that the government rolls back this unwanted exercise of CAA and NRC and focuses on real issues affecting the country like the fragile economy, gender justice and women's safety, climate emergencies and the rights of the most marginalized. Besides, we want you to pay urgent attention to the fact that moves to implement the CAA are destroying the spirit of "Vasudeiva Kudumbakam" from the sacred text of the Upanishads that has instilled in us Indians the bonds of unity and enabled us to see the world as 'one family'. All these noble features of the Indian polity stand threatened.
In this time of celebrating the birth centenary of Dr. Savithribai Phule, we also remember Fatima Sheikh and Pandita Ramabhai and all who have contributed significantly to the emancipation of vulnerable sections and upheld justice beyond the discriminative hierarchies based on class, caste and gender. We reiterate that as Christian women of India, we will stand together with all people of good will who risk their lives in order to preserve the multi-religious and multi-cultural texture of this country.
We end with a prayer that the spirit of Wisdom may prevail on the political leaders and demand that CAA be withdrawn with immediate effect so that justice and peace may prevail in this country.
Seeking justice,
Dr Aruna Gnanadason, ICWM National Convener
National Team: Dr Kochurani Abraham, Marcia D'Cunha, Rev Dr Jayachitra Lalitha, Dr Joycia Thorat, Dr Lalnghakthuami, Sushma Ramswami and members of ICWM
http://mattersindia.com/2020/01/roll-back-caa-exercise-christian-women-ask-government/
--------
'Are We Not Citizens,' Asks Kolkata's 'Shaheen Bagh' As Protests Continue
13 January 2020
Protests in the city against the amended Citizenship Act has broadened the outlook of many people who had stopped interacting with their friends from other communities over recent socio-political developments in the country.
One among them is Muzaffar Ali, a garments trader from Beniapukur area, who had felt hesitant to discuss with his friends from other communities about certain "sensitive issues" and "felt ostracised".
Ali, in his 40s, now participates in anti-CAA rallies and an indefinite demonstration by women in Park Circus area, being touted as Kolkata's 'Shaheen Bagh', against the new citizenship law.
The businessman, who participated in one such rally at Zakaria Street recently, said he discovered a new side of the city, as strangers from other communities, many of them in their youth, turned up in droves at protests against the contentious law.
"From bright young boys and girls to social activists, writers and artistes, many people have assembled at a protest site in Park Circus and are giving speeches from a makeshift podium. This is a spontaneous, apolitical movement against CAA and NRC," Ali told PTI on Sunday.
Ali said he had never participated in similar rallies with people of other communities in the past.
"The outpour has made me realise the love and bonding among people and I have started to open up. My two school- going sons have told their friends from other communities that they will never part ways," he said.
Around 30 women have been staging a sit-in protest against CAA, the National Register of Citizens (NRC) and the National Population Register (NPR) in Park Circus since January 7 on the lines of the Shaheen Bagh protest, mainly led by Muslim women, in Delhi.
Nirufa Khatoon, one of the protesters, said, "I was born here. My grandfather was born here. During partition, my predecessors had opted to stay back in India as it is our motherland."
"But now, I am afraid that the BJP wants to take my right to live in my city. Are we not citizens of this country?" she said, vowing not to withdraw the stir till the Centre takes concrete steps to revoke CAA, NRC and NPR.
Another woman participant, Sabina said, "After several discussions, we had decided to begin the sit-in as the Muslim women, of all generations, expressed eagerness to take part in a dharna when our male family members were already out on the streets. Ours will be a peaceful protest."
Also present in the sit-in was Moutusi Banerjee, a former Calcutta University alumna who is working with a production house.
"I had first participated in a rally from Sealdah to Esplanade where thousands of people had raised slogans against CAA, NRC and NPR. Since then, I had been planning to join the Park Circus protest and finally, I am here," she said.
The women agitators have been joined by Ali and other men of the locality including Firoz Islam, a fruit-seller by profession.
"It has become my duty to be on the side of those who have left behind their work for a greater cause. I cannot stop my business as my earning depends on it. But, I can express my solidarity," Islam said.
https://www.dailypioneer.com/2020/india/---are-we-not-citizens-----asks-kolkata---s----shaheen-bagh----as-protests-continue.html
--------
Fury at 'Virginity Repair' Operations That Prey On Fears Of Young British Muslim Women
13 January 2020
British doctors are earning thousands at a time for performing 'virginity repair' operations on young women under pressure from their traditional families, it has emerged.
It is believed they are hundreds of girls being forced to go through an intimate procedure called hymenoplasty to prove they are 'pure' for their wedding night.
Known more commonly as hymen repair, the operation involves constructing a layer of skin at the entrance to the vagina that can tear when a woman first has sexual intercourse.
It takes less than an hour and is performed under local anaesthetic.
An investigation by the Sunday Times found there to be at least 22 clinics offering the service privately, mostly in London.
One such clinic, The Gynae Centre in central London, recommends having the 'small' operation because 'the hymen is considered a token of virginity and for cultural and religious reasons can be an important factor in a new marriage. In many cases marriages are even annulled if the hymen is torn.'
Some private clinics charge up to £3,000 and lure patients with advertisements that promise the surgery can 'restore your innocence' and are '100 per cent safe'.
Campaigners have accused the clinics of capitalising on the fears of patients. The majority are young Muslim women from Middle Eastern and Asian families under pressure to be 'untouched' when they marry. Extramarital sex, or zina, is forbidden by the Koran.
Guidance from the General Medical Council (GMC) says that before undertaking any procedure practitioners must obtain a patient's 'informed consent', which 'may not be valid if it is given under pressure or duress exerted by another person'.
Dr Leila Frodsham, from the Royal College of Obstetricians and Gynaecologists, said hymen repair perpetuated 'harmful myths' about virginity.
'I think people would be surprised to know this is going on. There are a lot of people making a lot of money out of very vulnerable women,' she said.
Mohammad Masood, director of MAS Gynaecology, said requests for the procedure at his Harley Street clinic had risen four-fold since 2014.
He said his patients typically found him online and were 'almost exclusively Muslim', and that girls would be the subject to stigma if they didn't bleed when losing their virginity.
Halaleh Taheri, founder of the Middle Eastern Women and Society Organisation, based in Finsbury Park, north London, said she had dealt with several cases of young women who 'grew up here' and felt they had a 'right to have sex' but were then forced into marriage. 'They don't know what to do,' she said.
She had also been contacted by mothers asking 'where they can take their girls' for the surgery: 'They are often very scared the father will find out.'
Aneeta Prem, founder of the charity Freedom, said women often feared being viewed as 'second-hand goods'. She said: 'It's a dreadful practice, but I understand why women feel under so much pressure to have it done. Sometimes the consequences are too grave not to.'
'Virginity repair' surgery is legal in the UK. Critics claim demand for the operation is based on the belief that the hymen is a 'seal' that breaks during sex.
Mr Masood denied claims that surgeons were cashing in on young women's fears. 'I have seen tragic situations where I felt as though I was saving a life. It is a very sad situation,' he said.
https://www.dailymail.co.uk/news/article-7876965/British-doctors-accused-cashing-secret-virginity-repair-operations.html
--------
Malaysia's Islamic Family Laws Have Gone from Best to Worst, Says Activist
Nicholas Chung
January 11, 2020
KUALA LUMPUR: Malaysia's Islamic family laws suffered two rounds of regression in the 1990s and early 2000s following amendments to the law, according to a rights activist.
Zainah Anwar, executive director of international rights group Musawah, said the law reforms took away many progressive reforms made previously, adding that Malaysia's Islamic family laws went from one of the best in the Muslim world to one of the worst.
"In 1984, the Islamic family law was amended and new laws were provided, which was amazing. It gave us so many rights and expanded the rights for women to get divorced," she said with divorce and polygamy decided by the courts.
"With the 1994 amendments, you can divorce outside the court. Without going to court, you can just pronounce talak.
"Your wife doesn't even know she's being divorced because the husband has disappeared. She gets a letter from the religious authorities sometime later to say that she has been divorced."
Another regression, she said, saw the responsibility of children born out of wedlock being wholly given to the mothers, which meant they could not make any claims for maintenance or inheritance from the father.
In 2003, another round of reforms meant that husbands in polygamous marriages could make a claim for a share of their wife's matrimonial assets despite taking a second wife.
"We're not even asking to ban polygamy. We just want them to ensure that the rights of the first wife and existing children are protected, especially their financial wellbeing.
"What is galling is the fact that for non-Muslim women, law reforms have moved forward to recognise equality. But for Muslim women, in the name of Islam, you can be discriminated against."
Zainah, who led the rights group Sisters in Islam (SIS) previously, blamed these regressions on the rise of "political Islam", adding that these issues remain due to the current patriarchal state of society.
She said groups such as SIS and Musawah would not have to exist if Islam was practised the way it should be.
"I go to Geneva for the women's convention sessions and it's shameful and disgraceful that Muslim governments stand before the Cedaw (Convention on the Elimination of all Forms of Discrimination Against Women) committee and say they cannot reform the laws to recognise equality because it will be against Islam.
"So you're standing there telling the whole world that Islam is an unjust religion, that Islam is a religion that discriminates against women and shamelessly say that."
However, she signalled that the "reality on the ground" was beginning to shift.
https://www.freemalaysiatoday.com/category/nation/2020/01/11/malaysias-islamic-family-laws-have-gone-from-best-to-worst-says-activist/
--------
URL: https://www.newageislam.com/islam-women-feminism/determined-mothers-unfazed-children-chants/d/120780
New Age Islam, Islam Online, Islamic Website, African Muslim News, Arab World News, South Asia News, Indian Muslim News, World Muslim News, Women in Islam, Islamic Feminism, Arab Women, Women In Arab, Islamophobia in America, Muslim Women in West, Islam Women and Feminism