New Age Islam News Bureau
2 Oct 2018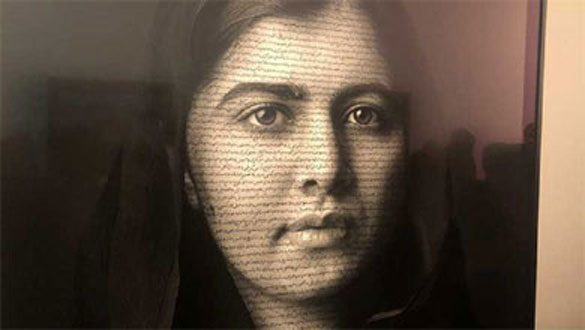 Malala's portrait at the National Portrait Gallery in London. Photo: Ziauddin Yousafzai/Twitte
------
• Malala's Portrait Unveiled at London's National Portrait Gallery
• Murders of 4 Trailblazing Iraqi Women Spark Conspiracy Fears
• Suicides Rising Among Women In Northern Pakistan
• Bombay High Court Dismisses Petition Challenging Muslim Women Ordinance 2018
• World Muslim Communities Council to Highlight UAE's Women Empowerment
• Taif Academic Gives Workshop to Remind Women of Their Rights
• Initiative to Transform Saudi Women into a Workforce
• Sotoudeh Fazeli Illegally Detained In Evin Prison Despite Old Age
Compiled by New Age Islam News Bureau
URL: https://www.newageislam.com/islam-women-feminism/despite-pleas-iran-executes-female/d/116546
--------
Despite Pleas, Iran Executes Female Juvenile Offender, Zeinab Sekaanvand
Radio Farda
02 October 2018
One day after a warning by Amnesty International, Iran has executed Zeinab Sekaanvand, a woman who was convicted for the murder of her husband at age 17.
Zeinab had married her husband at age 15, but Amnesty urged Iran not to carry out the death sentence also because "she was subjected to a grossly unfair legal process".
Regardless of the call by Amnesty and human rights activists, the death sentence was carried out in the northwestern city of Urmiya in the morning of October 2. She was 24 years old.
According to religious law, Iran considers girls as young as nine criminally liable and the age for boys is 15, based on a notion of when children reach puberty.
Amnesty International in its plea to Iran had said, ""She did not see a lawyer until her final trial session in 2014, when she retracted 'confessions' she had made when she had no access to legal representation. She also says that, following her arrest, she was tortured by male police officers through beatings all over her body."
Source: https://en.radiofarda.com/a/iran-executes-female-juvenile-offender/29521090.html
--------
Malala's Portrait Unveiled at London's National Portrait Gallery
02 October 2018
A portrait of Nobel Prize Laureate Malala Yousafzai was unveiled at the National Portrait Gallery in London. The portrait was painted by a New York-based Iranian visual artist Shirin Neshat.
Moreover, the painting had an inscribe poem in Pashto titled 'To the Malala of the Maiwand on her rebirth' by Rahmaat Shah Saail.
A London-based Twitter user Nadir Cheema took to his Twitter and tweeted about the painting.
He said, "Malala's portrait unveiled at the National Portrait Gallery painted by Shirin Neshat."
He further stated that the poem by Rahmaat Shah was written before Malala was attacked.
"Inscribed poem in Pashto 'To the Malala of the Maiwand on her rebirth' by Rahmaat Shah Saail. He wrote the poem before Malala was attacked," he tweeted.
Yousafzai has been a strong advocate for girls' education ever since she was a child, which resulted in the Taliban issuing a death threat against her.
On October 9, 2012, a gunman shot Malala when she was travelling home from school.
Earlier this year, a school built with Malala's Nobel Prize money became operative in her home district of Shangla in Swat region. She is also currently a student at the University of Oxford.
https://www.pakistantoday.com.pk/2018/10/02/malalas-portrait-unveiled-at-londons-national-portrait-gallery/
--------
Murders of 4 Trailblazing Iraqi Women Spark Conspiracy Fears
By Ammar Karim
October 02, 2018
BAGHDAD — Over the last few weeks, four go-getting Iraqi women have separately met premature deaths — two falling victim to men firing automatic weapons into their vehicles.
The deaths have sparked fear among women who dare to break the mold and visibly achieve in the conservative country.
The latest to die was 22-year-old social media influencer and model Tara Fares.
Her bloody demise at the wheel of a white Porsche convertible in Baghdad on Thursday has sparked as much debate as her racy photos.
Fares had built an Instagram following of 2.7 million people thanks to edgy fashion shoots, assertive missives and eye-catching, colorful hairstyles.
She also posted publicly about a violent ex-husband and a fiance who died after being attacked in Istanbul.
But while Fares' fearless embrace of social media inspired many young Iraqis, it upset traditionalists.
Fares was the target of a deluge of online insults over her perceived lack of modesty, in a society where many adhere to hardline interpretations of the religion.
It was this darker side of online platforms that forced the outspoken Fares to quit living in her native Baghdad and spend much of her time in comparatively liberal, secular Iraqi Kurdistan.
Assassinations a 'message'
Fares is not the only Iraqi fashion and beauty entrepreneur to have met her death in recent weeks.
In August, the managers of Baghdad's two most high profile aesthetic and plastic surgery centers died in mysterious circumstances.
The first was Rafif Al-Yassiri, whose nickname was Barbie — the same name as her business venture.
A week later Rasha Al-Hassan, founder of the Viola Beauty Center, was also found dead.
Both were found at their homes, and despite ongoing investigations, the causes of their deaths remain undetermined.
But the rumor mill has churned up plenty of theories: drugs, heart attacks and murder.
On Tuesday this week, two days before Fares was shot dead, came the first officially confirmed murder among the spate of suspicious deaths.
In circumstances that foreshadowed the social media star's assassination, activist and businesswoman Soad Al-Ali was shot several times while traveling in a car in the southern city of Basra.
Police opened an investigation and pointed the finger at her ex-husband, who is on the run.
While motivations for the two confirmed murders are far from officially established, women's rights group Amal is deeply concerned.
"Armed groups, tribes, criminal gangs... all these control positions" within the state and security forces, Hanae Edwar told AFP at the NGO's Baghdad office.
The recent assassinations are "threatening messages sent to activists in particular, but also to the whole of society," she said.
"Attacking women who are public figures is a bid to force them to shut themselves away at home", Edwar added.
The authorities have tried to distance themselves from the deaths and provide reassurance.
But Prime Minister Haider Al-Abadi appeared to draw a link between the events in Baghdad and Basra, ordering elite intelligence units to investigate.
'We go out less'
In a statement, Abadi cited "evidence suggesting that there is a plan formulated by organized parties to undermine security under the pretext of fighting against depravity".
Safaa Nasser, a stylist speaking under an assumed name who until recently organized fashion shows, said she had already changed her behavior.
"The last few days, my daughters and I go out less and I stay away from the fashion world," she said.
"There are people who don't want Iraq to develop, or for women to be visible. They want to take us backwards."
She urged security forces to investigate the deaths, saying an "organized network" was behind the "premeditated" actions.
"The women I know are saying that their turn will come" to be targeted," she said.
Chillingly, Fares, Yassiri and Hassan all died on Thursdays.
"Every time, this repeats itself", said 29-year-old Hawa Walid, shopping in Baghdad.
"Now, every Thursday, the stress rises." — AFP
On Tuesday this week, two days before model Tara Fares was shot dead, came the first officially confirmed murder among the spate of suspicious deaths. In circumstances that foreshadowed the social media star's assassination, activist and businesswoman Soad Al-Ali was shot several times while traveling in a car in the southern city of Basra. Police opened an investigation and pointed the
finger at her ex-husband,
who is on the run.
http://saudigazette.com.sa/article/544579/World/Mena/Murders-of-4-trailblazing-Iraqiwomen-spark-conspiracy-fears
--------
Suicides Rising Among Women In Northern Pakistan
October 02, 2018
Saira, 25, took her life this June, a year after she married her cousin in the Swat district of northwestern Pakistan.
Her troubled marriage took a toll on her mental health, her mother told Anadolu Agency.
Alarming increases have been reported this year among women and young students committing suicide in the region. In the first eight months of 2018, 346 people, mostly women, committed suicide in Malakand Division, a tourist spot located in the Khyber Pakhtunkhwa province, local broadcaster Geo News reported.
The highest number of cases (222) was reported in Swat, which locals call the "Switzerland of Pakistan" due to its natural beauty.
"I was not in favor of her marriage with her cousin because she was not happy. The boy was illiterate while my daughter was a university graduate," she added.
"I tried to convince her father but he termed his daughter's resistance a violation of the local culture and tradition. He won but lost her daughter."
Police say domestic violence and unemployment are the main reason for the rise in suicides.
"There are many reasons but domestic issues, misbehavior, and violence by husbands or other family members are the main causes behind suicide cases reported with police," Shah Faisal, a local police officer in Malakand Division, told Anadolu Agency.
Only two to three percent of cases were reported to the police, while the remaining 97-98 percent were hidden by local people to avoid social stigma, Faisal added, estimating the actual number could be in thousands.
Tribal customs
For ethnic Pashtun -- who hail from northern Pakistan and parts of bordering Afghanistan -- arranged marriages are a custom several generations have lived with and until recently was never questioned.
In the largely tribal ethnic group, which follows its own set of customs and values called the Pashtunwali, families can make or break an individual.
In such circumstances, marriages are often decided based on tribal affiliations -- or sometimes even to settle scores.
"Most parents and family elders in Pashtun areas decide the future of their daughters or sisters without their consent, which later causes domestic disputes and unstable relationship with husbands, leading women toward suicide attempts," said Sherin Zada, a Swat-based senior journalist.
Elsewhere, women can walk out of an unhappy marriage, but in Pashtun culture divorce is a taboo.
"If a woman gets a divorce due to family issues she is ostracized. Most men won't marry her," said Najma Shah, a local woman in Dir district.
The region was once a hotbed of Taliban militants. Many happy families were destroyed in Taliban attacks and bombings. Some locals say the attacks have severely affected mental health of residents.
"A young man committed suicide today in Talash area after battling depression," Jamal Shah, a local police officer in Dir, told Anadolu Agency.
Zada said: "Everyone was affected by militancy here and I even lost my sister, many relatives and friends during terror attacks carried out by militants in Swat.''
She said the government should launch mental health programs to address the issue.
State authorities have established a commission to figure out the root cause of rising suicides.
"This is indeed very unfortunate. We as the commission are working on establishing a gender management information system which will help us to determine causes of such incidents or suicide, and formulate recommendations for informed measures for eradication of such evil," Amna Durrani, director of the Khyber Pakhtunkhwa Commission on the Status of Women, told Anadolu Agency.
https://www.yenisafak.com/en/world/suicides-rising-among-women-in-northern-pakistan-3462441
--------
Bombay High Court Dismisses Petition Challenging Muslim Women Ordinance 2018
October 2, 2018
The Bombay High Court on Monday dismissed a petition filed by five persons challenging the constitutional legality and validity of the Muslim Women (Protection of Rights on Marriage) Ordinance 2018, published on September 18.
The counsel of Union of India informed the court that there is a similar petition pending before the Supreme Court and another petition on the same issue was filed before Delhi High Court, which was dismissed.
A division bench of Justice B R Gavai and Justice A M Dhavale, dismissed the matter and said that they are not inclined to hear the petition as a similar petition is being heard by Supreme Court.
The petition was filed by Masud Ansari, businessman, ex-Municipal Councilor and social worker, an NGO Rising Voice Foundation and its president Nasibullah Khan, Afreen Bano Ansari, a lecturer and a practicing lawyer Devendra Mishra.
The petitioners, seeking quashing and setting aside Section 4 and 7 of The Muslim Women (Protection of Rights on Marriage) Ordinance, published on September 18, 2018.
The petitioners had contended that Muslim Women (Protection of Rights on Marriage) Ordinance, 2018 is "illegal, null, void, unreasonable, arbitrary" and it seeks to criminalise the breach of civil contract in the form of Muslim marriage.
https://indianexpress.com/article/cities/mumbai/bombay-hc-dismisses-petition-challenging-muslim-women-ordinance-2018-5381868/
--------
World Muslim Communities Council to Highlight UAE's Women Empowerment
October 1, 2018
Abu Dhabi: The World Council of Muslim Communities — an Abu Dhabi-based international organisation to address challenges faced by Muslim communities across the world and fulfil their ambitions — will present UAE's model strategies including women empowerment and youth engagement to the Muslim communities across the world, a top official said on Monday.
Dr Ali Rashid Al Nuaimi, Chairman of the World Council of Muslim Communities, during a press conference said the council will spread the cultural message of the UAE to spread the culture of peace and security and to consolidate the values of coexistence and mutual respect among the peoples of the world.
He said the council aims to enable Muslim communities across the world to positively integrate in their societies, achieve full citizenship and represent Islam and its true tenets as religion of peace and tolerance.
The council, launched in Abu Dhabi in April, seeks to promote civil and political rights of Muslim communities as an inherent human right.
The council will coordinate efforts of Muslim community institutions by encouraging members to contribute to the renaissance of their countries, correcting the stereotypical image of Islam and Muslims.
"Once the charter of the World Council of Muslim Communities is endorsed and the council is proclaimed as an international organisation, a slew of initiatives and programmes will be launched to meet need of Muslim communities across the world," Al Nuaimi said.
He added the council was also designed to promote tolerance and dialogue among followers of religions.
More than half a billion Muslims — equivalent to one-third of the Muslim nation — live as minorities in multicultural, religious and ethnic countries across the world.
Al Nuaimi stressed that this council is not intended to be a substitute for local institutions operating in Muslim communities or government institutions. "Rather, it will focus on helping these institutions to develop mechanisms that will serve individuals in the service of their countries through a platform that will enable them to share experiences and work together. to build a better future for future generations in their societies and to cooperate with the governments of Muslim community countries to achieve this."
The council carries out a number of tasks that enhance the practices of Muslim communities in different countries and increase the effectiveness of their performance towards their children and communities.
The council also aims to promote cultural pluralism and respect for the cultural and intellectual specificities of the Muslim communities in the world and to promote the values of moderation, dialogue, tolerance and national belonging, and to reject religious fanaticism and hatred of others and to promote the civil and political rights of Muslim communities as an inherent human right in accordance with international and national conventions.
https://gulfnews.com/news/uae/government/world-muslim-communities-council-to-highlight-uae-s-women-empowerment-1.2285041
--------
Taif academic gives workshop to remind women of their rights
October 02, 2018
TAIF — A Saudi female academic in Taif has offered a workshop to remind women of their legal rights and duties. Dr. Abeer Alobaidy, vice president of legal administration in the University of Taif, asked women to keep in mind the fact that Islam protected their rights in every stage of life from childhood to maturity, before and after marriage, and even in divorce.
Alobaidy gave the workshop, titled "Women's rights according to Saudi regulations," in the department of community service and continuing education.
The purpose of the workshop was to make sure that women knew all their legal rights in all matters including personal affairs, work places, investigation and pleading systems, implementation, civil affairs and finally online harassment and how to report it.
Alobaidy explained the rights of a divorcee or a woman who had her marriage annulled, while emphasizing the difference between the two.
She said alimony is one of the things that keep changing depending on the situation and the amount is to be decided by the court.
She also talked about cases where alimony is either definite or annulled. "Alimony is considered a first-degree debt, which gets put above all others," she said.
The government of Saudi Arabia has made sure that women do not suffer from financial troubles, which means if the father is unemployed or doesn't have a bank account, the woman will still get a monthly allowance thanks to the alimony fund for divorces. Moreover, women shouldn't be worried because the alimony will be given to them each month without having to worry about a careless or lazy father.
Alobaidy described the basic legal principles regarding child custody and the most important laws that stand in favor of women such as the one that states that a mother can't be denied custody of her child just because she got remarried as long as the father of the child consents.
Another law in favor of mothers is the one that guarantees full guardianship over a minor child to make it easy for her at schools, ministries and the passport department.
Lastly, Alobaidy shed light on the problem of online harassment and how to report it to the authorities.
She talked about extortion and the one-year jail sentence and the fine it carries. She warned that cursing on social media is punishable by law.
http://saudigazette.com.sa/article/544609/SAUDI-ARABIA/Taif-academic-gives-workshop-to-remind-women-of-their-rights
--------
Initiative to Transform Saudi Women into a Workforce
October 02, 2018
RIYADH – A three-day career fair aimed at empowering Saudi women kicked off in Riyadh on Monday.
The event, with the theme 'A Step Ahead" is an initiative toward transforming Saudi women into a workforce in the Kingdom by providing them ample employment opportunities, developing their skills and enhancing their personal desire to learn new skills.
The fair was organized, with the support of the Human Resources Development Fund (HADAF) and the participation of a number of government institutions and international and local companies.
Addressing the opening ceremony of the fair, Noura Abdullah Al-Ridini, director of Women's Empowerment Programs at the Ministry of Labor and Social Development, said that the public and private sectors have to play a significant collective role in increasing the participation of women in the labor market.
She lauded the ministry's initiatives aimed at increasing the percentage of women workforce in the local market from 22 percent to 30 percent by the year 2030 in line with the objectives of the Kingdom's Vision 2030.
Noura said the ministry is implementing several programs aimed at supporting women to qualify and take up of jobs and these included Duroob Training Portal to give online training from home, as well as engage in self-employment, and free lancing jobs. SABIC is organizing eight workshops as part of the fair.
The first day of the forum included honoring the sponsors of the event, which was followed by the launching of the first dialogue session, entitled "Negotiating with courage and getting what it deserves at work."
In the second dialogue session, participants covered the topic "Bridging the Gap for Career Success" From the forum in the third dialogue session entitled "What makes you distinctive at work?"
The exhibition witnessed the participation of many leading companies such as SABIC, which are involved in supporting women's empowerment and attracting and developing women's talent professionally, in order to achieve the objectives of (Vision 2030).
http://saudigazette.com.sa/article/544623/SAUDI-ARABIA/Initiative-to-transform-Saudi-women-into-a-workforce
--------
Sotoudeh Fazeli illegally detained in Evin Prison despite old age
01 October 2018
Political prisoner Sotoudeh Fazeli is being detained in Evin prison despite old age, and the prison authorities have rejected her conditional release.
Sotoudeh Fazeli, 66, suffers from cancer and thalassemia. She must be released from jail according to the law because she is older than 55.
Born in 1953, Ms. Sotoudeh Fazeli is mother of two and served as a teacher and school principal for 30 years.
A retired teacher, she was arrested by agents of the Ministry of Intelligence in spring 2010 when she was leaving the country to visit her two sons, Payman and Pooya, in Camp Ashraf, Iraq. She was detained for 31 days in Ward 209 of Evin and subsequently released on bail. She was never able to make her trip to visit her children whom she has not seen for 18 years.
Sotoudeh Fazeli was tried in a court presided by the notorious judge Salavati but never received a verdict. She was arrested again on June 29, 2016, and transferred to the Women's Ward of Evin Prison where she found out that she had been sentenced to three years in jail without receiving her verdict. Then she was sent on furlough in June 2017. After her request for conditional release was turned down, she was returned to Evin Prison on May 21, 2018.
Sotoudeh Fazeli was not even allowed to visit her dying mother, Massoumeh Haj Abdorahim Khabbaz, in the final days of her life in hospital. Despite her agreement to be taken to her mother in handcuffs and in the company of prison agents, the Prosecutor's Office turned down her repeated requests.
Sotoudeh Fazeli's brother, Seyed Shamseddin Fazeli was arrested in 1981 at the age of 20. He was held in detention for three years with an undetermined status. He was eventually executed in 1985, without informing her family.
In another development, it has been reported that women's rights activist Rezvaneh Mohammadi, arrested by security forces on September 3, 2018, has been transferred to the Women's Ward of Evin Prison.
https://women.ncr-iran.org/iran-women-news/5495-sotoudeh-fazeli-illegally-detained-in-evin-prison-despite-old-age
--------
URL: https://www.newageislam.com/islam-women-feminism/despite-pleas-iran-executes-female/d/116546
New Age Islam, Islam Online, Islamic Website, African Muslim News, Arab World News, South Asia News, Indian Muslim News, World Muslim News, Women in Islam, Islamic Feminism, Arab Women, Women In Arab, Islamophobia in America, Muslim Women in West, Islam Women and Feminism