New Age Islam News Bureau
31 Oct 2017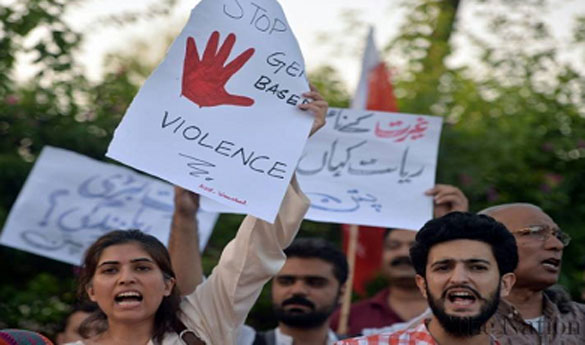 Photo: Rights activists have called for change for years, and Pakistan's young, urbanised population often take to social media for campaigns such as last year's #NoMoreKillingGirls.
-------
• PCSW takes note of violence against woman
• Kerala 'love jihad' case: Bring Hadiya here, says SC; hearing on November 27
• Two months after ban, instant triple talaq still rampant, says Shayara Bano
• Ordeal of a homosexual woman in Pakistan
• 13 deaths in family: Daughter-in-law held for spiking lassi with poison
• Quetta ATC sentences man to 14 years in prison for throwing acid on women
• Seven held over DI Khan girl torture case
• Eight held in DI Khan for parading a woman naked
• Saudi Arabia to open stadiums to women
• Girl, paramour 'behind' 13 in-laws' murder
• Video shows woman slapping Syrian soldier, calling him an 'animal'
• Bahrain appoints first woman foreign ministry undersecretary
• Saudi women seize new business opportunities
• Women find some respite in Libya's 'families only' cafes
• Preparations under way to issue driving licenses to women
• Locked in room, 17-year-old girl seeks help from Dubai cops
• Iran: Young women actively participate in student protests
Compiled by New Age Islam News Bureau
URL: https://www.newageislam.com/islam-women-feminism/despite-new-law-men-still/d/113084
--------
Despite new law, Men still killing women for 'honour' in Pakistan
October 31, 2017
ISLAMABAD: A year since new laws came into force aimed at stemming the flow of "honour killings", scores of young women in deeply conservative Pakistan are still being murdered by relatives for bringing shame on their family.
The shocking murder of Pakistani social media star Qandeel Baloch by her brother last July turned the spotlight on an epidemic of so-called honour killings and sparked a fresh push to close loopholes allowing the killers to walk free.
Long-awaited legislation was finally passed three months later in a move cautiously hailed by women 's rights activists.
But, more than a year on, lawyers and activists say honour killings are still occurring at an alarming pace.
At least 280 such murders were recorded by the independent Human Rights Commission of Pakistan from October 2016 to June of this year -- a figure believed to be underestimated and incomplete.
"There has been no change," Benazir Jatoi, a lawyer who works for the independent Aurat Foundation, a women 's rights watchdog, told AFP.
"In fact, the Peshawar High Court twice acquitted a man of honour crimes after this law was passed," she added.
The new legislation mandates life imprisonment for honour killings, but whether a murder can be defined as a crime of honour is left to the judge's discretion.
That means the culprits can simply claim another motive and still be pardoned, said Dr Farzana Bari, a widely-respected activist and head of the Gender Studies Department at Islamabad's Quaid-i-Azam University.
They can do so under Pakistan's Qisas (blood money) and Diyat (retribution) law , which allows them to seek forgiveness from a victim's relatives -- a particularly convenient means of escape in honour cases.
Bari called for a study on the murders of women over the past year to ascertain the scale of the problem.
The convoluted courts system also often sees police encouraging parties to enter blood money compromises, circumventing the beleaguered judicial system altogether.
"Forgiveness and compromise negates justice," Jatoi said.
Asma Jahangir, one of Pakistan's most acclaimed human rights lawyers, agreed, telling AFP: "The law will be implemented once the courts function."
- 'Of course, I strangled her' -
The roots of "honour" killings lie in tribal social norms which remain prevalent across South Asia and dictate the behaviour of women in particular.
Women have been shot, stabbed, stoned, set alight and strangled for bringing "shame" on their families for everything from refusing marriage proposals to wedding the "wrong" man and helping friends elope.
Men can be victims too, but the violence is overwhelmingly aimed at women .
The double standard is glaring. Generally Pakistanis will accept a man who has committed rape, a senior police official who has overseen honour killing investigations told AFP.
But "if a woman is even suspected of an affair it is considered a shame for the family and not forgiven," the official, who asked to remain anonymous as he was not authorised to speak to media, told AFP.
"People even sympathise (with) and praise the men who murder their women for so-called honour ," he said.
Even when the state does take steps to implement the law -- as with the murder of Qandeel Baloch -- the wheels of justice often get stuck in the mud.
Baloch achieved notoriety in Pakistan with her social media antics, tame by Western standards but considered provocative in a misogynistic country where women have fought for their rights for decades.
Her brother Waseem told reporters that "of course" he had strangled his sister, finding her behaviour "intolerable".
At first, Baloch's heartbroken parents vowed they would give Waseem no absolution.
But well over a year later, the trial is still grinding its way through the courts.
This length of time is not unheard of for Pakistani murder cases, but it has been long enough -- as often happens -- for Baloch's father to change his mind.
"I want my son to return home," Mohammad Azeem told AFP near the central city of Multan recently, dismissing Waseem's proud statements. "My son is innocent."
Had international revulsion over the killing not seen the Pakistani state take the unprecedented step of declaring itself an heir alongside Baloch's parents, their forgiveness could have already seen Waseem walk free.
- Outdated, arbitrary, patriarchal code -
For Jatoi, the issue goes far beyond the courts -- from the elites, where the political leadership fails to understand the issue, to the rural masses, where illiteracy and poverty help perpetuate it.
Rights activists have called for change for years, and Pakistan's young, urbanised population often take to social media for campaigns such as last year's #NoMoreKillingGirls.
But Jatoi said Pakistan as a society has been unable to move past the meaning of "honour".
"Only when we widely condemn the act will we stop seeing proud murderers... telling of how they killed a woman because she breached an outdated, arbitrary, and patriarchal 'honour' code of which no one knows the rules."
http://nation.com.pk/31-Oct-2017/despite-new-law-men-still-killing-women-for-honour-in-pakistan
--------
PCSW takes note of violence against woman
October 31, 2017
SIALKOT-The Punjab Commission on the Status of Women (PCSW) has decided to take action against a woman's in-laws who had allegedly poured acid into her throat near Daska here the other day.
According to its senior officials, the commission had expressed grave concern over the incident. They said that the Punjab Commission for Women's Right has contacted with the Daska police for the early arrest of the accused nominated in the case. Four days ago, the in-laws had forcedly poured acid into the throat of Rahila over a domestic dispute after brutally torturing her in village Waahley-Daska. Rahila was wedded to Mubashar a year ago and she is the mother of one minor son. According to the doctors, Rahila was still in very dangerous condition and fighting for life at a local civil hospital.
Four days have passed but the police remained unable to arrest the accused, as the police claimed that her in-laws had fled away after locking up their house in the village Waahley-Daska.On the report of victim Rahila's brother Waqas Ahmed, the police had registered a case (No 546/2017) Under Section 336-B against the accused including Sana Ullah (father-in-law), Zeeshan (brother-in-law), Aysha and Saba (sisters-in-law).
http://nation.com.pk/31-Oct-2017/pcsw-takes-note-of-violence-against-woman
--------
Kerala 'love jihad' case: Bring Hadiya here, says SC; hearing on November 27
October 31, 2017
Hearing the controversial Kerala marriage case, the Supreme Court on Monday directed that Hadiya (Hindu girl Akhila who converted to Islam and married a Muslim man) be produced before it on November 27.
The court said it could consider the contention of the National Investigation Agency (NIA) and Hadiya's father K M Ashokan, that she had been indoctrinated by radical groups and her consent was not free, only after it had talked to her.
"Having heard learned counsel for the parties, we are inclined to modify the order dated August 16, 2017 and accordingly direct the presence of the daughter of the first respondent at 3 pm on November 27, 2017," said a Bench of Chief Justice of India Dipak Misra and Justices A M Khanwilkar and D Y Chandrachud.
Justice Chandrachud was also part of a two-judge Bench headed by the then Chief Justice J S Khehar which, on August 16, said that "before hearing the matter finally on merits, this court shall require the presence of the concerned girl, namely, Akhila, the daughter of respondent no.1, and will speak to her in-camera before taking a final decision."
On Monday, however, the three-judge Bench said it would not speak to her in-camera but in open court. The CJI said the court only wanted to know her mind. "We will not tell her to stay here or there," he said.
Ashokan undertook to produce her in court on the given date.
The CJI repeated the question he had raised at the last hearing on how the Kerala High Court could annul a marriage while hearing a Habeas Corpus petition. The HC had annulled Hadiya's marriage to Shefin Jahan on May 24, and given her custody to her father.
Appearing for the NIA, Additional Solicitor General Maninder Singh explained that the HC had done so given the peculiar facts of the case. Akhila's conversion to Hadiya, the ASG said, had nothing to do with marriage but was for learning Islam. He said she had been married off to Jahan, who she hardly knew, by a woman called Sainaba with whom she was staying. The ASG said this was done to avoid legal problems which could result in a situation where she would be taken away from those who had indoctrinated her.
To the CJI's question on the constitutionality of the HC's order, Singh said: "Constitutionality of the law does not mean it is cast in stone and doesn't require any variation depending on the facts of a case". He added that it was a case of "psychological kidnapping".
The CJI said her consent would be vitiated if she was not in a healthy mental state.
The ASG submitted that the HC had already found that she was not in a state of mind to take decisions on her own, and added that there was a "well-oiled machinery by which even girls at that age are targeted". "In such cases of indoctrination, it would be an exception to consent," he added.
On the HC granting her custody to her father, the ASG said parental authority was a principle accepted by the judgments of both the Kerala and Madras high courts and by American law. The Kerala police had handled over 89 cases in which it suspected what is called love jihad, and the facts of nine of these were strikingly similar to the Hadiya case, he said.
NIA sources, meanwhile, said the agency's report to the SC had listed the nine cases — eight women and one man — registered by the Kerala police since January 1, 2015. Sources said all the "victims" in these cases are now with their parents.
The agency, however, is yet to examine Hadiya. "We have not examined her as yet as her father says she is still too scared and is not ready for a free-wheeling conversation with NIA officers," said an NIA officer.
The ASG also claimed that Jahan had criminal antecedents. To this, the CJI wondered if there was any law stating that a person cannot get married to a criminal. The ASG repeated that marriage was not the issue.
Senior Counsel Kapil Sibal, appearing for Jahan, opposed the charge that he had criminal antecedents.
Senior Counsel Shyam Divan, appearing for Ashokan, said there was a "huge organisational apparatus operating in Kerala… to radicalise young impressionable minds… They are preachers, have psychologists… and not just for children but for adults and even the old."
http://indianexpress.com/article/india/kerala-love-jihad-bring-hadiya-here-says-supreme-court-4914672/
--------
Two months after ban, instant triple talaq still rampant, says Shayara Bano
October 31, 2017
Shayara Bano, the first petitioner in the triple talaq case, said on Monday that the unconstitutional practice has continued even after the ban by the Supreme Court (SC). Thirty-five-year-old Bano, a native of Kashipur in Uttarakhand who fought the legal battle against instant triple talaq (talaq-e-biddat), was speaking at a press conference in Pune, organised by the Muslim Satyashodhak Mandal (MSM). MSM was established by social reformer Hamid Dalwai.
Dalwai had also taken out the first march to the Mantralaya in Mumbai on April 18, 1966, against the practices of instant triple talaq, polygamy and halala. In her plea, Bano had urged the government to introduce a legislation against triple talaq to prevent "harassment" of Muslim women.
Bano's brothers, Arshad Ali and Shakeel Ahmed, were also present at the press conference. After she moved the SC, seeking a ban on instant triple talaq, the apex court had passed an order in her favour on August 22 this year, putting a ban on instant triple talaq for six months. The SC also asked the Parliament to introduce a new law against the practice in six months.
"Two months have passed. We do not know what the government has done so far to form a new law against triple talaq. Nobody from the government has approached us. But we are hopeful that a new law to curb the practice of instant triple talaq will come into force soon. Incidents of instant triple talaq have continued even after the SC put ban on it. A strong law against it is needed. It will help women who are being harassed by instant triple talaq," said Bano, a post-graduate, who is now pursuing an MBA in Finance and Marketing.
"I have been interacting with the members of my community. I have observed that they have not yet accepted the SC order fully. We need to spread awareness. Not just Muslim women, but women from all sections of society should come out together in support a new law against triple talaq….The issue should not be politicised," Bano added.
Her brother, Arshad, narrated their struggle and experiences during the legal battle .
Professor Shamshuddin Tamboli, president of MSM, said, "We would be organising a national-level conference of Muslim women in Delhi in March next year. We need awareness on the issue of instant triple talaq and the amendments in the Muslim Personal Law."
http://indianexpress.com/article/india/two-months-after-ban-instant-triple-talaq-still-rampant-says-shayara-bano-4914684/
--------
Ordeal of a homosexual woman in Pakistan
October 31, 2017
Homosexuality is frowned upon in the Pakistan society—a common phenomenon in the Muslim world—so many belonging to the Lesbian, Gay, Bisexual, Transgender, Queer (LGBTQ) community, fearing their wellbeing, refused to come out of the closet.
Zayna* is one such example. Despite being beaten, demeaned and threatened for her sexuality throughout her formative years, she refused to deny her disposition.
"On my 13th birthday I realised I was like this," she told The Manchester Evening News, adding that "Pakistani society is very conservative."
Growing up as a young Muslim lesbian in Pakistan, the graduate says she came up against both physical and mental abuse from those that she believes had misinterpreted the messages of the Qur'an.
Despite being a taboo and a criminal offence in Pakistan, a US human rights study published in 2016 said rarely were people prosecuted based on it. 'The penalty for same-sex relations is a fine, two years' to life imprisonment, or both," the US State Department document reads.
Sharing her story with an English publication, she expressed her desire to become an activist for the LGBTQ rights, hoping to help Muslims belonging to the community.
Spending her childhood in a conservative Muslim family in Karachi, she said she was morally policed throughout her life, adding that her father, though a kind, had beaten her several times for suspicion of going out with men. "My father came upstairs and wanted to kill me and beat me like anything," she said. "He told me how to behave. That was the first time I felt unsafe in my own home."
Describing her childhood as a tomboy, she said: "I am a strong brave person but so many people like me don't have that courage. I realised I need to come out and tell everyone about my story."
Following her father's death in her 20s and her mother's death due to lungs year, Zayna was taken in by family members. Though Zayna did not publicise her sexuality she said everybody knew and she was hated for it.
She started working at an Islamic university, where she had been victimised for going out with another female colleague. She was threatened to leave the institute along with her partner, else they would be reported to police for "being prostitutes".
But Zayna is convinced that the Qur'an's messages about homosexuality have been misinterpreted by some Muslims. She said: "I was born a Muslim and I want to die a Muslim. But if someone wants to kill me then why? Just because I'm lesbian?"
Finding her life in Pakistan too difficult to bear, she decided to move to the UK. Zayna took on three jobs, surviving on one meal a day, to save enough funds to travel to Britain; she is now living in Longsight. "At that time, I changed my name and would cover my face because I was scared. I didn't want to show my face. I wanted to make myself normal."
She eventually got a work permit and enrolled for a masters course in management. Zayna has since explored the UK's gay culture and has been in several relationships, but says she faced discrimination against the LGBT community in the UK as well.
The 40-year-old, who works as a senior position in a management company, for seven years now, says she also joined LGBT International and the Birmingham-based LGBT group, Finding A Voice. "I now have peace of mind that no one is going to kill me," she says, "I can't tell you those feelings in words."
https://www.pakistantoday.com.pk/2017/10/30/ordeal-of-a-homosexual-woman-in-pakistan/
--------
13 deaths in family: Daughter-in-law held for spiking lassi with poison
October 31, 2017
MUZAFFARGARH: Police arrested a woman and her two accomplices on Monday in Lashariwala for allegedly spiking lassi with rat killing pills resulting in the death of 13 people of her family.
Dera Ghazi Khan Regional Police Officer (RPO) Sohail Tajak said this at a press conference here on Monday.
The police presented suspects Asia Bibi, her friend Shahid and relative Zareena at the briefing.
A special team of police had been formed to probe into the death of 13 family members of Akram Lashari, of Mauza Kundai, in Seetpur. The police arrested the three who have confessed to committing the crime.
The RPO said Asia Bibi was not happy with her marriage to her cousin, Amjad, the son of Akram Lashari.
During her 45-day marriage, she quarrelled with her husband and in-laws several times and left her house for her parents.
According to police, Asia with Shahid and Zareena made a plan to kill her husband Amjad and other family members. On Oct 26, she put the poisonous tablets in the curd pot. During lunch, she served the spiked drink to the family members and 19 people fell unconscious one by one. They were shifted to the Nishtar Hospital in Multan and the Dera Ghazi Khan Teaching Hospital where 13, including Amjad, have died while six others are still under treatment.
District Police Officer Awais Ahmad said a case under the Anti-Terrorism Act had been registered against Asia and her accomplices.
The Kundaie area has been under mourning since Oct 26; local residents have buried the dead on a self-help basis whereas the district government failed to announce any financial assistance despite its earlier announcement. Only Rs50,000 were given to the heirs for burial arrangements.
https://www.dawn.com/news/1367414/13-deaths-in-family-daughter-in-law-held-for-spiking-lassi-with-poison
--------
Quetta ATC sentences man to 14 years in prison for throwing acid on women
Syed Ali Shah
October 30, 2017
An Anti-Terrorism Court (ATC) handed 14-year imprisonment to Vijay Pervez Masih after convicting him of throwing acid on two women in Quetta in May 2015, DawnNews reported on Monday.
The ATC Judge Dawood Nasar sentenced Pervez to 14 years in prison and also ordered him to submit a fine of Rs1 million.
In 2015, Pervez had sprayed acid on two women, Rimsha Masih and Hina Masih — then 28 and 16 years old respectively — near Basti Panchyat area on MeCongi Road in Quetta. He was arrested by the police soon after the attack on the complaint of the victims, and was sent to District Jail Quetta and later moved to the Central Jail.
A case had been registered against the accused under Section 336-93/15 of the PPC and Section 7 of the ATA at the City Police Station Quetta.
The women were taken to Lady Dufferin Hospital and after initial treatment shifted to the burns ward of Bolan Medical College Hospital. They were later shifted to Karachi for treatment.
Hina had suffered burns on hands and legs while Rimsha suffered burn-wounds on her face and hands, hospital sources had said, adding that Hina was burnt 15 per cent while Rimsha 30 per cent.
https://www.dawn.com/news/1367278/quetta-atc-sentences-man-to-14-years-in-prison-for-throwing-acid-on-women
--------
Seven held over DI Khan girl torture case
October 31, 2017
DI Khan: The police have arrested seven of the nine people suspected of torturing and illegally confining a teenage girl in Garahmat village of Daraban tehsil here.
The girl's family had first insisted that the suspects paraded her naked in the area on Oct 27.
They however retracted the statement on Monday claiming that the girl was taken to suspect Sanaullah's house, where nine people beat her up, tore her clothes up and kept her in illegal confinement.
The girl claimed that she had got bruises on arm and knee and that the suspects had dragged her inside the house.
There are unconfirmed reports about the girl's family being pressured to retract the first statement.
The relevant Chaudwan police station registered two FIRs on Oct 27, first on the complaint of a female family member of the suspects and second on the girl's.
In a statement issued here on Monday, regional police officer Syed Fida Hassan Shah said the police had arrested seven suspects, including brothers Shahjehan, Gulistan and Ramzan, Ikram, Sanaullah and brothers Nasir and Aslam, while the two others, including Sajawal and Saidu, were at large.
He claimed that he was supervising the investigation and had formed special teams for the arrest of the fugitives.
However, the girl's family complained that no action had been taken against the Chaudwan police station SHO, who supported suspects and registered a concocted case against three of its members to pressure them to hush up the incident.
A brother of the girl, Sajid Khan, formally requested the provincial police officer to order a high-level inquiry into the incident and take strict action against the SHO.
In an application, he alleged that Sajawal and other suspects seized his sister on Oct 27 morning when she along with her three cousins went to a local pond to fetch water, and stripping her off before forcing her into running.
The man added that his sister later took refuge in a nearby house but the suspects dragged her out, beat her up and kept her in illegal confinement. He alleged that the SHO first delayed the registration of FIR on his complaint and later booked his family members on the complaint of a woman relative of the suspects.
https://www.dawn.com/news/1367373/seven-held-over-di-khan-girl-torture-case
--------
Eight held in DI Khan for parading a woman naked
Rehmat Mehsud
OCTOBER 31, 2017
ISLAMABAD: Police have arrested eight out of nine absconders nominated in the Sharifa Bibi case— a female who was forced by a gang to go home naked after beating her in the vicinity of Dera Ismail Khan (DI Khan), police said.
DI Khan RPO Fida Hussain told Daily Times on phone that the incident was the result of a three-year-old family feud, involving a marriage dispute between them, which took place in Chodhwan—an impoverished hamlet on the outskirts of DI Khan city.
"The reports of parading Sharifa naked are totally baseless and concocted. However, the men who are now behind the bars tore apart her clothes when they attacked her," Hussain added.
Sharing details about the issue, a local landlord of Chodhwan village, who requested anonymity, said that the tragic development had taken place in Garra Matt, a village in Chodhwan area. He recalled some three years back Sajjad, the brother of Sharifa, was accused by the rival group headed by Sajjawal Seheer that the former had developed illicit relations with a female of the latter's family. "However, the dispute was settled following arbitration by local elders in accordance with established norms and tradition," he said.
"But the family of Seheer had anger in their hearts and wanted to take revenge from Sajjad's family members. This led them to attack the latter's sister Sharifa," he said.
"Sharifa, along with other females of her town, was fetching water from a nearby pond when armed men ambushed her, dragged her, tore her clothes and paraded her nude.
"She was weeping, wailing and crying for help, but the men escorted her to her home while she was nude," he said.
An elderly man who was sitting nearby had to throw his shawl to cover her, the landlord said.
Wishing anonymity because he isn't authorised to speak to media, a police official at the Chodwan Police Station said that the incident had indeed taken place.
Nadeem Khan, a police official at the Chodhwan Police Station, said that police had registered a First Information Report (FIR).
He said a female complainant (Sharifa) had arrived at the police station, alleging the men of the rival group had torn her clothes. "The police registered cases under PPC 254-A, 342, 148 and 149 and subsequently, we detained eight persons while the ninth accused is still at large," he recalled.
https://dailytimes.com.pk/132668/eight-held-di-khan-parading-woman-naked/
--------
Saudi Arabia to open stadiums to women
October 31, 2017
RIYADH - Saudi Arabia will allow women into sports stadiums for the first time from next year, authorities said Sunday, in a landmark move opening up three previously male-only venues to families.
The ultra-conservative kingdom, which has some of the world's tightest restrictions on women , has long barred women from sports arenas by strict rules on segregation of the sexes in public. The announcement is in line with powerful Crown Prince Mohammed bin Salman's ambitious reforms shaking up the kingdom, including the historic decision to allow women to drive from next June.
"Starting the preparation of three stadiums in Riyadh, Jeddah and Dammam to be ready to accommodate families from early 2018," the General Sports Authority said on Twitter. Restaurants, cafes and video screens would be set up inside the venues, the authority added.
Last month hundreds of women were allowed to enter a sports stadium in Riyadh, used mostly for football matches, in a one-off event to celebrate Saudi Arabia 's national day. Sunday's announcement implies that women in Saudi Arabia will be allowed for the first time to attend sporting events inside stadiums alongside men.
Under the country's guardianship system, a male family member - normally the father, husband or brother - must grant permission for a woman's study, travel and other activities.
But the kingdom appears to be relaxing some norms as part of its sweeping "Vision 2030" plan for economic and social reforms as it prepares for a post-oil era. Last month a royal decree said women would be allowed to drive. The kingdom is also expected to lift a public ban on cinemas and has encouraged mixed-gender celebrations - something unseen before.
"First women driving, now stadiums . What's next? Night clubs?" said one Saudi Twitter user, echoing a deluge of social media comments expressing surprise over the accelerating pace of reforms.
In a rare public appearance last week Prince Mohammed pledged a "moderate" Saudi Arabia . MBS, as he is well known, promised his kingdom will return to "what we were before - a country of moderate Islam that is tolerant of all religions and to the world". His comment, while unveiling plans for a $500-billion development zone, chimes with his public image of a bold liberal reformer in a conservative country where more than half the population is under 25. But his vision for a new Saudi Arabia is fraught with risks and could trigger a backlash from conservatives, analysts warn.
"Despite the bold statements, it is important to remember that the dominance of conservative thought since the late 1970's cannot be quickly reversed," said analysis firm Eurasia Group. "Ultraconservative and radical elements continue to pose risks."
The government appears to have clipped the wings of the once-feared religious police - long accused of harassing the public with rigid Islamic mores - who have all but disappeared from big cities. Some conservative clerics - who for years staunchly opposed more social liberties for women - have backpedalled and come out in favour of the decree allowing them to drive.
http://nation.com.pk/31-Oct-2017/saudi-arabia-to-open-stadiums-to-women
--------
Girl, paramour 'behind' 13 in-laws' murder
October 31, 2017
INP-MUZAFFARGARH-Police on Monday solved the case pertaining to the murder of 13 members of a family as they had drunk lassi poisoned by the daughter-in-law who had been married against her will.
They drank poisonous lassi or a drink made with yogurt or buttermilk and died while 14 others are still hospitalised. The police said that Akram's son Amjad tied the knot with Asiya Bibi without her will a month ago. The bride left her in-laws' house and came to her parents' place after which her relatives forcefully sent her back.
Two days before the incident, Asiya put poison in the milk and gave it to her husband who didn't drink it. Amjad's mother poured the milk in the yogurt and made lassi.
At least 27 people got affected while 13 lost their lives after drinking that poisonous lassi. Others were shifted to hospital.
Sources told that the officers have arrested Asiya, her paramour and another woman, and shifted them to the police station for investigation.
RPO Sohail Habib Tajak said the police had arrested the three persons in the murder case. Talking to the newsmen at DPO Office, he said an FIR (No 134/17) had been registered Under Section 302, 324, 337J PPC and 7 of ATA at police station Kundai. Police arrested Aysia, Shahid and Zareena Bibi and recovered poison.
It may be mentioned here that the 13 members of the same family had died after drinking the toxic lassi while the others are still hospitalised. The deceased were idtentified as Amjid, Nazir, Saifullah, Shahbaz, Shahzad, Hafeezan Bibi, Rafia Bibi, Rashid Ahmed, Mohal Mai, Samara, Tasleem Mai and Safia Bibi.
Meanwhile, CIA police arrested three members of a dacoit gang and recovered cash, cell phones and illegal arm from them. DSP CIA Imran Abass Chadhar while talking to the media said that Foju Gang was involved in dozens of dacoity and robbery incidents in the province. He said CIA police have arrested the gang leader Afzal alias Foju along with two members Ali Raza and Qasim and recovered 150 thousands, cell phones and illegal arm from them.
TWO KILLED IN SIALKOT: An anguished accused allegedly killed his sister-in-law Laiba (18) by shooting fire on her head over a marriage dispute in village Tanodey-Domala (Shakargarh). She was the student of 1st year. Some unknown accused shot dead labourer Iftikhar Ahmed in front of his house due to unknown reason in village Booch-Qila Kalarwala, Pasrur tehsil. Police handed over dead bodies to grieved family for burial after autopsy.
http://nation.com.pk/31-Oct-2017/girl-paramour-behind-13-in-laws-murder
--------
Video shows woman slapping Syrian soldier, calling him an 'animal'
30 October 2017
A woman slapping and insulting a Syrian regime soldier went viral on social media networks as many condemned the woman for her inappropriate behavior.
The video dates back to October 26, while the incident happened in Latakia where associations affiliated with the Assad regime were honoring Ibrahim Alma, the national football team's goalkeeper.
According to the video, it seems the woman was trying to reach the podium to take a picture with Alma but the soldier prevented her from doing so. She then slapped him on his chest and called him an "animal" provoking the soldier who asked her to stop touching him.
The woman however called him an animal again so he responded and called her an animal too. The unidentified woman also made threats saying phrases like "I can break your head." She then attacked him and slapped him on his face. People intervened to end the dispute and the woman then approached the podium like nothing had happened.
Syrian regime supporters slammed the woman for her behavior while others who oppose the regime said they could not care less as both the soldier and the woman support the regime.
https://english.alarabiya.net/en/News/middle-east/2017/10/30/WATCH-Woman-slaps-Syrian-soldier-and-calls-him-an-animal-.html
--------
Bahrain appoints first woman foreign ministry undersecretary
30 October 2017
Bahrain has appointed Dr. Shaikha Rana bint Isa al-Khalifa as the first women Undersecretary under the kingdom's Ministry of Foreign Affairs.
Al-Khalifa has been working as an assistant under-secretary for Arab and Afro-Asian Affairs and organizations with the foreign ministry since April 2011.
She has previously participated in several of bilateral and multilateral meetings at the United Nations and various international organizations especially the Asian Cooperation Forum, the Organization of Islamic Cooperation, the Arab League and the Gulf Cooperation Council including meetings between Asean and Gulf Cooperation Council (GCC) member states, according to her bio on the ministry's website.
Al-Khalifa has completed her Master of Arts in Peace and Conflict Resolution from the American University in Washington DC in 1998. She has a doctorate in International Law from the University of Exeter.
https://english.alarabiya.net/en/features/2017/10/30/Bahrain-appoints-first-woman-foreign-ministry-undersecretary.html
--------
Saudi women seize new business opportunities
31 October 2017
LONDON: With a 130 percent increase in the number of women employed by the private sector in Saudi Arabia over the past four years, the Kingdom's workforce is undergoing a transformation aimed at ushering in a new economic era.
When Wafaa Al-Ashwali launched a startup in Saudi Arabia earlier this year, she tapped into a burgeoning community of established female entrepreneurs.
Stepping into a sphere traditionally reserved for men, she has had to work harder and be more enterprising than male counterparts, but five months later her app Serviis, which connects consumers with more than 2,500 service providers across the Kingdom, has a steady client base of more than 700.
Her success speaks for the business opportunities unfolding for women in KSA, where there has been a 130 percent increase in their number in the private sector during the past four years.
"There has been a push from government to empower more female entrepreneurs," Al-Ashwali said.
Almost 40 percent of the startups launched in 2016 were owned by women — an indication of the social and economic evolution that is underway as the Kingdom pursues ambitious aims outlined in its Vision 2030.
Speaking to Arab News earlier this month, the governor of the General Authority for Small and Medium Enterprises, Ghassan Al-Sulaiman pinpointed startups as a particular focus for development.
With plans to boost the proportion of women in the workforce to 30 percent by 2030, Saudi Arabia's once-sidelined female population is being harnessed to facilitate this growth.
At a recent job fair attended by 43,000 women and hosted by Saudi women's recruitment agency Glowork, more than 86 local and international organizations gathered seeking to source female talent for their KSA operations.
"They were there purely to hire Saudi women and it showed the appetite of the organizations to get women into their industries at all levels," said Khalid Al-Khudair, founder of Glowork, itself a startup.
Previously, companies in Saudi Arabia hired women to fill compulsory quotas. Now, Al-Khudair said, "it has become something that makes business sense for organizations," with women taking on a greater number of roles across different sectors.
"Saudi females represent a talented, well-educated pool of labor. Today, more Saudi women than men are attaining university degrees," said David Hunt, founder of Dubai-based company Lynwood Consulting.
"The educational reforms have produced a new generation of women with a high degree of training, education and knowledge who are assuming their rightful place in society."
Across the Middle East, women outnumber men in universities but countries are largely failing to utilize their female talent pools with women's participation in the workforce across the region among the lowest in the world, according to Reuters.
The upshot is a failure to fully reap the so-called "demographic dividend" that would fuel economic growth, as well as a drag on programs aimed at empowering women in order to fulfil the economic agenda set by government.
Currently, just 1.9 million of the 13.1 million women in Saudi Arabia participate in the workforce, giving it the largest gender imbalance in labor force participation among G-20 countries, according to the "G-20 Saudi Arabia Labour Market Report 2016."
New initiatives aim to redress this imbalance such as the launch of the first all-female business process services center in Riyadh by Saudi Aramco, General Electric and Tata Consultancy Services to provide employment for more than 1,000 women and the first all-women business and technology park, which aims to provide employment for 20,000 women over the next decade.
"Saudi Arabia has already invested heavily in education for women," said Jane Kinninmont, deputy head of the Middle East and North Africa program at Chatham House in London.
"Enabling more women to enter the workforce allows the economy to earn a return on that investment," she added.
"Having women in business is good for diversity and there is significant research being done internationally on the positive impact of gender diversity on management and innovation."
Doors are opening these days with more women entering the workforce, and the once male-dominated business environment is becoming a more equal place.
Hunt noticed the change during a recent trip to Riyadh. "I visited the operations of one of the leading insurance companies," he said. "In the past women would have been working behind closed doors in separate sections with separate lifts. Now men and women work side by side in large open-plan spaces.
"It was also pleasing to see women taking on more senior roles," he added, pointing to the appointment of several women to high-powered positions in KSA.
Rania Nashar became the first woman to head a commercial bank in the Kingdom earlier this year when she was named chief executive of Samba Financial Group. Latifa Al-Sabhan serves as the chief financial officer of Arab National Bank, while in February Sarah Al-Suhaimi, CEO of NCB Capital, became the first woman to chair the Saudi stock exchange.
Opportunities are also opening up lower down the ladder as Saudi women seize the moment in the wake of the latest round of reforms.
"The policy environment is becoming more favorable to women working — the recent decision (to lift the ban) on women driving is an important symbol of that," Kinninmont said.
An earlier move that means women no longer need a guardian to access government services has helped to lift the number of women establishing SMEs, she added.
However, hurdles remain, particularly when it comes to networking. "Saudi Arabia is a conservative country and we still have segregation between men and women," said Al-Ashwali.
"Business development, which relies on being there in person to access funds and engage with the business community, is a challenge." Male entrepreneurs can attend the meetings and events necessary to build a business but for women, it is still a "closed community," she said.
But the balance is shifting as economic demands compete with cultural practices that traditionally consigned women to the domestic sphere.
"I've been visiting Saudi Arabia for more than a decade, and throughout that period young middle-class Saudis have been telling me that their peers aspire to have families where both the man and the woman work, partly because of the rising cost of living," Kinninmont said.
Nouf Al-Saleem, founder of Mathaqi, a meal delivery app launched last year, spoke of the social development that has taken place with women "more welcome in the market, especially when it come to supporting productive families."
"We can see women-owned businesses rising in all areas, including the food and retail industries and many others," she added.
Al-Ashwali is confident of further progress. "I think we'll see more reforms. What's needed next is to remove the barrier for capable women who have what it takes to do business but are held back by a male guardian.
"Many government organizations are working hard to support individuals in starting their own business," she said, adding that seeing women empowered by recent reforms "will encourage and inspire more to pursue their business ambitions."
http://www.arabnews.com/node/1185726/business-economy
--------
Women find some respite in Libya's 'families only' cafes
31 October 2017
TRIPOLI: Fashionable cafes springing up in Libya's capital are shutting out single men and catering for women looking for a break from the tensions — political and personal — crowding in around them.
The cafes with European names and bright decor seem a world away from the city's traffic-clogged and still violent streets. In a socially conservative society, they also offer privacy and protection from unwanted advances.
"If I go with my friends, we chat about our problems and change our mood," said 27-year-old Haneen, eating a late breakfast in the busy La Rambla cafe. "A family place is more comfortable... there's no harassment or flirting."
For owners and managers of the businesses marketing themselves as "families-only" cafes, it is also a welcome change from the traditional clientele — hundreds of other rowdier eateries across Tripoli are packed out with young men, tables spilling out onto the streets and giant screens broadcasting soccer matches.
"Family cafes are great," said Abdulhameed Ghreetly, manager of At Home cafe, which looks out onto the Mediterranean. "They are less of a headache than the cafes for young guys. You know the problems with the young guys and their quarreling."
Most of Tripoli's economy has been in freefall since major battles between rival factions in 2014 left the country divided with competing governments.
The female clients are offering some respite — managers say they spend more on fancy coffees and juices than the espresso-sipping men. "The guys just ask for coffee and water," said Mohammed Abdurrazak, La Rambla's owner. "The women come to eat."
The menus are heavy with pastries, pancakes, waffles and milkshakes, alongside the popular "Oriental breakfast" which includes shakshouka (poached eggs in a spicy tomato sauce) and ful (fava beans with herbs and spices).
http://www.arabnews.com/node/1185881/offbeat
--------
Preparations under way to issue driving licenses to women
October 31, 2017
JEDDAH — The Directorate General of Traffic is making preparations to announce the rules and regulations for issuing driving license to women shortly.
The move comes after a royal decree allowing women to drive from June 24, 2018.
The Traffic Department held a meeting last week with the participation of senior officials from relevant departments who presented their ideas and proposals to ensure smooth driving for women in the country on the basis of the executive bylaw and traffic rules and regulations.
Participants included representatives from the interior, finance, and labor and social development ministries.
They also discussed preparations to provide driving lessons to women.
The proposals included the launch of a website under the Traffic Department to provide lessons on driving and traffic regulations. The website will teach them about vehicle parts.
Women will be asked to join driving schools. They will also be briefed on the steps to be followed to receive driving licenses.
Turki Al-Sayyed, a driving school manager in Rabigh, said there is a plan to organize lectures to teach women traffic regulations and basic principles of driving.
With a female population of 14.8 million, experts see a market for driving schools for women. It will also require the hiring of additional female staff and trainers.
Ahmed Fadhil, sales representative of an international automobile company in Jeddah, said many women have started purchasing cars after the royal decree.
Saudi Arabia is the largest importer of vehicles and parts in the region, and ranks 21st out of the 198 global auto markets, according to LMC Automotive.
The decree means there will be a lot of new potential customers behind the wheel for car companies to woo.
According to some estimates, the royal decree will put 9 million potential new drivers on the road, including 2.7 million resident non-Saudi women.
A 2017 labor survey released by the Saudi General Authority for Statistics said about 1.3 million foreigners were hired as drivers, accounting for roughly 60% of foreign domestic workers in the country. But much of that money would never stay in Saudi Arabia.
The remittances from drivers alone reach almost $4 billion.
http://saudigazette.com.sa/article/520669/SAUDI-ARABIA/Preparations-under-way-to-issue-driving-licenses-to-women
--------
Locked in room, 17-year-old girl seeks help from Dubai cops
October 31, 2017
The girl's parents said they had locked her in the room to discipline her.
When Dubai Police got a message from a 17-year-old girl on their Instagram account seeking help as she had been locked by her parents in a room for two days and prevented from attending school, it set the alarm bells ringing among the cops.
Lt Col Saeed Rashid Al Haili, director of the department of child and women protection at the Dubai Police human rights division, said that on receiving information about the situation of the teenage girl, a GCC national, a team swung into action and started searching to locate her. After a lot of effort, we managed to get the home address of the girl and reached her place, he added.
The girl's mother was surprised to see the cops. She admitted that she had punished her daughter because she went to a restaurant with her friends without telling her parents. The girl remained absent from school for a day without her knowledge, the mother said.
Al Haili pointed out that the girl's parents justified their action by saying that they confined her to the room only to discipline her.
Meanwhile, the girl said that she wanted to live with her aunt, just like her elder sister who left the house after she turned 21.
The father said that they did not subject their daughter to any kind of violence and had never harmed her in any way.
Al Haili said a special session was conducted with the girl and her parents to address the case. The girl was advised to listen and obey her father and mother, while the parents were asked to sign a pledge that they would not repeat what they did this time.
4 kids' cases referred to public prosecution
The Dubai Police have referred four cases related to children to the public prosecution.
The department of child and women's protection recorded 20 cases related to children during the third quarter of this year. One of the cases concerned an Arab mother who refused to register her children in school, forcing the father to take police help.
In another case, 16-year-old boy, Majed, whose mother abandoned him in an apartment, was handed over to his father after it became clear that the woman had shifted to the Netherlands and would not return to the country again.
https://www.khaleejtimes.com/nation/dubai/locked-in-room-17-year-old-girl-seeks-help-from-dubai-cops-
--------
Iran: Young women actively participate in student protests
30 October 2017
Student protests against Rouhani's nominee for Minister of Sciences and Higher Education continued on October 28 and 29, 2017, in various universities across Iran.
Students of Tehran University held a gathering on October 28, 2017 to protest the university's privatization policy, repressive atmosphere in the university and discrimination in the educational system.
Students of Tehran's Sharif Industrial University, Sahand University of Tabriz, northwestern Iran, Razi University of Kermanshah, western Iran, and the University of Damghan, northeastern Iran, also staged similar gatherings on October 28 and 29.
Rouhani's nominee, Mansour Gholami, however, was approved on Sunday, October 29, 2017, by the mullahs' parliament.
http://www.women.ncr-iran.org/iran-women-news/4449-iran-young-women-actively-participate-in-student-protests-2
--------
URL: https://www.newageislam.com/islam-women-feminism/despite-new-law-men-still/d/113084
New Age Islam, Islam Online, Islamic Website, African Muslim News, Arab World News, South Asia News, Indian Muslim News, World Muslim News, Women in Islam, Islamic Feminism, Arab Women, Women In Arab, Islamophobia in America, Muslim Women in West, Islam Women and Feminism