New Age Islam News Bureau
12 Feb 2019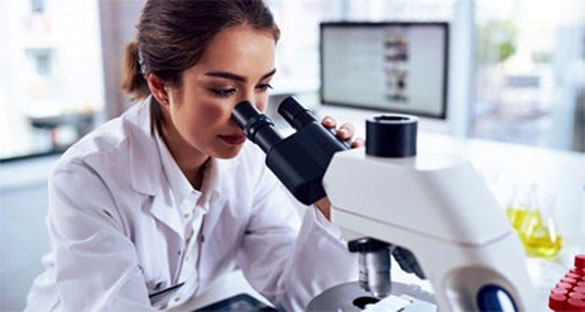 iStock Photo, According to new data released by Eurostat, women constitute 45 percent of scientists in Turkey operating in the fields of research, technology, health, engineering and R&D – exceeding the EU average of 41 percent.
-----
• Turkey Outpaces EU in Percentage of Female Scientists
• UK University Unveils Country's First Sports Hijab to Encourage Muslim Women To Participate
• India's Triple Talaq Bill Unlikely to Get Parliament Nod
• Gaps Still Remain Before Achieving Gender Balance: Mona Al Marri
• 12 Abducted Yazidi Women, Children Freed In Northern Iraq
Compiled by New Age Islam News Bureau
URL: https://www.newageislam.com/islam-women-feminism/denying-women-seat-taliban-talks/d/117725
--------
Denying Women A Seat At Taliban Talks Is A Huge Mistake
February 11, 2019
After September 11, the United States justified deep engagement in Afghanistan in part due to the Taliban's harsh repression of women. Now, after sustaining 2,351 deaths and more than 20,000 injuries, and spending north of a trillion dollars, the United States is negotiating peace with the draconian regime it once abhorred.
Like ISIS in the Middle East and al-Shabaab in Africa, the Taliban often uses ultra-conservative interpretations of the Quran to force women into cruel marriages with huge age differences where wives may be abused. Worse yet, women are barred from working outside the home, learning to read, or appearing in public without head-to-toe coverings. Defiance means public flogging or even death.
For US negotiators to turn their attention to the voices of extremists, while ignoring the voices of women, is not only wrong -- it is wrongheaded.
Afghan women and human rights advocates fear that hard-earned progress will be reversed under Taliban influence. But why might that happen? According to the Women and Peace Studies Organization in Kabul, it's because women are being sidelined from the negotiations.
Give women a seat at the table and they will protect their own rights.
Ample research supports this idea. Half of peace agreements fail within five years, but more than a third last at least 15 years when women are significantly involved in negotiations. In general terms, women work across allegiances, are less threatening, wield maternal influence, are perceived to be less corrupt, and have their fingers on the pulse of communities where the agreement must be lived out.
Let's look at a few examples.
Women were key to rebuilding Rwanda in 1994, as an ethnic cataclysm erupted leaving 800,000 dead and millions of survivors suffering unspeakable trauma. They immediately assumed critical positions -- mayor of Kigali, constitutional commissioners, chief justice of the Supreme Court, and chair of the Commission on Unity and Reconciliation. Rwandan women created a local justice system that allowed for reconciliation, not revenge. Today, though not without problems, Rwanda has the world's highest percentage of women in Parliament and one of the fastest growing economies in Africa.
In contrast, men brokering the 1995 Dayton Peace Accords to settle the war in Bosnia-Herzegovina invited only hardliners, which shut out women from the delegation. The final agreement gave those who fled horrifying atrocities the "right of return" to their homes. But the guarantee was empty. Rights aside, they could not return to places from which people were still fleeing violence.
Women across ethnic and social lines say that if they had been included, they would have first required the arrest of perpetrators, many of whom were still public officials. Instead, many women sold their homes to raise families in regions to which they had escaped, fulfilling the false stereotype of a despairingly divided society. Today, local and international experts agree that tensions are entrenched, while the country's economy stagnates.
Which will be Afghanistan's fate? To succeed, the peace agreement must go beyond broad promises of doing right by women. Those promises must be backed by measurable indicators ensuring access to mobility, health, justice and more. For example, they must guarantee that girls will be allowed education -- but at what kind of schools? And how much education will they be provided? They must insist on unfettered political participation -- not only to vote, but also to hold office, with regulations maintaining the quota of 27% of parliamentarian seats going to women.
Women's participation in negotiations is not a Western-imposed violation of monolithic "cultural norms." It is what the Afghan Women's Network, an affiliation of 125 women's organizations devoted to bettering the position of Afghan women in society, is demanding. Urban and rural, across ethnicities and social strata, these women have used the #AfghanWomenWillNotGoBack during the peace talks, where they have been virtually excluded. The hashtag, however, has been used to reach political groups meeting in Moscow to negotiate, gain attention from US Senators, and organize demonstrations in Afghanistan.
They have also shared their six-point agenda, which opens with the declaration that Afghan women historically have been and continue to be on the right side of history, supporting democracy and social progress. That manifesto then spans cessation of hostilities, law and order, economic growth, natural disaster and political theory. These are not simply lofty ideas. They are the nuts and bolts of a secure society, which is more stable because of women's advancement.
With support from the US and others, large numbers of women are taking the risk to speak their minds. Negotiators must immediately pull more chairs up to the table. Amplifying the voices of those who have repressed half the population is a strategy for failure.
The irony is dizzying. Women's rights will not be guaranteed by men who deny them the right to be at the table where women's rights need to be guaranteed.
https://edition.cnn.com/2019/02/11/opinions/afghanistan-taliban-women-negotiating-table-hunt-frogh/index.html
--------
Turkey Outpaces EU in Percentage of Female Scientists
FEB 12, 2019
Turkey has a better record than most European Union countries – including Germany, France and the U.K. – in terms of the percentage of women working in the fields of research, technology, health, engineering and R&D, recent data released by Eurostat shows.
According to 2017 education data released by Eurostat on EU members and partner countries, the proportion of female scientists and engineers in Turkey was 45 percent, exceeding the EU average of 41 percent and outpacing Germany, France and the U.K.
EU member countries had a total of 7.1 million women operating in the fields of science and engineering in 2017, according to Eurostat.
Only five EU member states had a female majority among scientists and engineers – Lithuania with 57 percent, Bulgaria and Latvia both with 53 percent, Portugal with 51 percent and Denmark with just over 50 percent.
Less than one third of scientists and engineers were women in Hungary and Luxembourg – both with 25 percent – in Finland, with 29 percent, and in Germany, with 33 percent.
Commenting on the report, European Women Rectors Association President Gülsün Sağlamer told Hürriyet newspaper that Turkey, since the founding of the Republic, has given special attention to the participation of women in the fields of science and engineering, propelling it into its position today.
Sağlamer cautioned, however that Turkey should not allow its achievements to develop into complacency.
"Europe is aware of the deficit and tries to close it with great incentives. Turkey must work to increase the proportion of female researchers and engineers. As European countries take big steps to close the gap, Turkey should not wait in its current position," she said, noting that the proportion of women in decision-making positions remains low.
https://www.dailysabah.com/education/2019/02/12/turkey-outpaces-eu-in-percentage-of-female-scientists
--------
UK University Unveils Country's First Sports Hijab to Encourage Muslim Women To Participate
FEB 12, 2019
A university in London has become the first to roll out its own sports hijab for female Muslim students.
Brunel University, which is only one of four in the UK to offer a free sports programme, spotted a gap in the number of women taking part – and in particular those wearing hijabs.
A 2017 study by Sport England found that just 18 per cent of Muslim women participate in regular sport, against 30 per cent of the UK's female population as a whole.
Traditionally the hijab, which covers the wearer's hair and neck, is made from cotton which can quickly become hot, sodden with sweat and uncomfortable when used for sport.
But Brunel's has been made from materials specifically designed to keep the wearer cool while also respecting their religious beliefs.
Faith Al Saad, a business management student at the university, said she was "100 per cent confident" the hijab would encourage more of her peers to get into sport.
"It's great; really lightweight, really easy to wear, really comfortable – it feels like you're wearing nothing on your head which is amazing, especially when doing sports," said the keen gym-goer.
"The traditional hijab is basically a cloth you wrap around your head and then pin down. You can't really run in it, it'll literally fly off. The pins come out and it falls off – it's not comfortable.
"Wearing the sports hijab makes it ten times easier, and I genuinely think it's a lifesaver."
Some sports giants already have their own hijabs on the market, however at £15 Brunel's is about 40 per cent cheaper than the one Nike launched in 2017.
The hijab will initially only be available in "Brunel blue" and in two sizes but it is hoped there will be a wider range of colours if it takes off.
Ranjeet Rathore, president of the Union of Brunel Students, has been a driving force behind the hijab.
"When we narrowed it down, we found the main gap to be in BAME female sports participation – specifically, we found there to be a barrier to Muslim women taking part in team sport," he said.
"Of course, they were participating in sports on their own and in private, but they weren't really going out to competitions, or using sport as a social tool to get involved in activities.
"There are now other unis that want to partner with us, who want to take samples off us, who want to do their own hijab – which is great news."
https://www.independent.co.uk/news/uk/home-news/sports-hijab-muslim-women-students-brunel-university-london-a8773806.html
--------
India's Triple Talaq Bill Unlikely to Get Parliament Nod
February 12, 2019
New Delhi: The Narendra Modi government is keen to get parliamentary approval for the triple talaq bill but there is no certainty that it will clear the Rajya Sabha hurdle in the remaining two days of the budget session and the measure may again be implemented through an ordinance.
Opposition parties and several leaders from the Muslim community are sticking to their stand against the bill, contending there is no need for it as the instant triple talaq has been banned by the Supreme Court.
Most leaders IANS spoke to also opposed the criminalisation of triple talaq and the provision of three-year jail to the husband.
The triple talaq ordinance was re-promulgated in January this year as the revised triple talaq bill was passed by the Lok Sabha in the last session but could not be passed in the Rajya Sabha where the government lacks majority.
Communist Paty of India-Marxist leader Brinda Karat said the government should not bring a matter from civil to criminal law for a particular community.
"We are in support of the striking down of triple talaq, which is instant and arbitrary, and which was duly struck down by the Supreme Court. Now the government wants to criminalise a practice that doesn't exist in law. If a man does leave the wife, it is desertion and abandonment, which falls in the purview of civil law. It is not a criminal offence.
"Now the question rises: if the government want to bring a matter from civil law to the criminal law, why do it selectively for a certain community," Karat told IANS.
"There are some very prominent public figures in the country who have deserted their wives. If there's to be a law it's these persons who should be first arrested and put in jail," she remarked.
'Political gimmick'
Kamal Farooqui, a member of the All India Muslim Personal Law Board, termed the bill "a political gimmick" that was not needed when the practice of triple talaq itself has been struck down by the Supreme Court.
"It is illogical. And it hurts the women as well as the unity of a family. How the two of them can reconcile when the husband is in the prison. May be (Prime Minister) Narendra Modi is trying to tell his followers see 'I can create problems for Muslims in this fashion'," he said.
Congress MP Sushmita Dev has said the Congress would scrap the triple talaq bill if it comes to power and instead go for an alternative that emerges out of discussions within the Muslim community.
"Our stand inside and outside Parliament is same. We are opposing criminalisation of triple talaq and will continue to do it. There are solid legal reasons behind it. The common man understands it," she had earlier told IANS.
The Supreme Court had declared the triple talaq practice "unconstitutional" in August 2017.
According to social activists, Muslim marriage is a civil contract between two adults and the procedures to be followed on its breakdown should also be of civil nature. Penal action to discourage the practice of instant triple talaq does not take into account issues of economic security of women, they add.
The government should strengthen the negotiating capacities of women by providing them support and criminalising instant triple talaq was not the answer.
It has also been suggested that the government should provide economic support to the affected women, children and other dependents if the husband is put behind bars.
The bill allows the aggrieved woman as well as those related to her by blood to be the complainant.
https://gulfnews.com/world/asia/india/indias-triple-talaq-bill-unlikely-to-get-parliament-nod-1.1549941559676
--------
Gaps Still Remain Before Achieving Gender Balance: Mona Al Marri
February 11, 2019
She said while there are still challenges to be addressed, some countries are focusing on implementing equal wages and more job opportunities for women.
Achieving gender balance has become a global trend but the movement isn't happening quick enough. As such, it is the role of governments to define and redefine the role of women in the public spectrum.
That was the main message that came from the 'Achieving Gender Balance: from policies to impact', session at the World Government Summit 2019 on Monday.
Mona Al Marri, vice president of the UAE Gender Balance Council said while women today, in most countries, have more opportunities than ever before, gaps still remain.
"Today, 24 per cent of people represented in parliaments around the world are women. While that is a small number in comparison to male representation, it's an increase of more than 50 per cent, compared to just 11 per cent in 1995."
She said while there are still challenges to be addressed, some countries are focusing on implementing equal wages and more job opportunities for women.
"We should have the hope that there is good practice coming as a result of this discussion and fundamental changes are possible and are on the rise as a result of government legislation."
Touching on the announcement in 2018 by the UAE leadership that the Federal National Council (FNC) will have a 50/50 split of male and female representation by the end of 2019, it is a focus on political participation like that, which is important.
"We are witnessing this leap in women political participation in the UAE already."
According to the World Bank's latest report looking at women in business across the globe, "65 countries have implemented 87 reforms in boosting women participation" in the economy.
"A good model here in the UAE is that we have more than 23,000 businesswomen with an investment worth Dh50 million. We have many SMEs that support women and young entrepreneurs when it comes to education and how they generate funds for investment," she said.
Talking about the motto of the Organisation for Economic Co-operation and Development (OECD), 'better policies for better lives', Angel Gurria, secretary general of the OECD said "trend is irreversible, unstoppable", so the fact that gender balance is a hot topic is great.
"The question is how fast are countries going regarding successful implementation? We are very proud and congratulate the UAE in its drive towards more women being represented in parliament. However, many of these things are not happening naturally."
In the UAE, for instance, this 50/50 split in parliament had to be legislated, he said.
"In Germany, the drive for 30 per cent women working as boards of directors had to be legislated too. Sometimes we have to use legislation to force things which are not happening naturally. And often it doesn't happen without legislation in place because of cultural mindsets."
In the Middle East region, Gurria said there are still big gaps regarding gender balance, but, interestingly the majority of women here are in universities.
"That means when they graduate they cannot be incorporated successfully into the job market, and if they do there is a pay gap. We need policies to change this trend."
Both agreed that it is important to create an atmosphere where demand is "gender blind".
Going forward, Al Marri said three focus areas need to be taken into account.
One is the support of the government. If communities see the leadership supporting balance, this will send a clear message to people, but more precisely to women. It will break stereotypes.
"Two, is linking up with global enablers, like the OECD, the UN, the IMF. They drive the global gender balance agenda across the globe so it is important to have collaboration with these."
Thirdly, she said there is a need for more international reports focusing on gender balance and equality, which in turn set benchmarks.
https://www.khaleejtimes.com/nation/dubai/gaps-still-remain-before-achieving-gender-balance-mona-al-marri
--------
12 Abducted Yazidi Women, Children Freed In Northern Iraq
2019-02-11
BAGHDAD, Feb. 11 (Xinhua) -- Iraqi Joint Operations Command announced on Monday to have freed six Yazidi women and their six children kidnapped by the Islamic State (IS) militants near Mosul, some 400 km north of Iraq's capital Baghdad.
"Iraq's security forces freed six women and their six children abducted by IS terrorists from Mosul," Yahya Rasoul, spokesman of the Iraqi Joint Operations Command, said in a statement.
"A joint force acted on intelligence reports and launched an operation to free the abducted women and children, and later escorted them to safety in the Yazidi town of Sinjar, some 120 km west of Mosul," Rasoul added.
In December 2017, Iraq declared full liberation from the IS after the security forces and the paramilitary Hashd Shaabi units, backed by the anti-IS international coalition, recaptured all areas once seized by the extremist group.
However, IS remnants have since melted in urban areas or resorted to deserts and rugged areas as safe havens, carrying out guerilla attacks from time to time against the security forces and civilians.
http://www.xinhuanet.com/english/2019-02/11/c_137813787.htm
--------
URL: https://www.newageislam.com/islam-women-feminism/denying-women-seat-taliban-talks/d/117725
New Age Islam, Islam Online, Islamic Website, African Muslim News, Arab World News, South Asia News, Indian Muslim News, World Muslim News, Women in Islam, Islamic Feminism, Arab Women, Women In Arab, Islamophobia in America, Muslim Women in West, Islam Women and Feminism