New Age Islam News Bureau
12 May 2020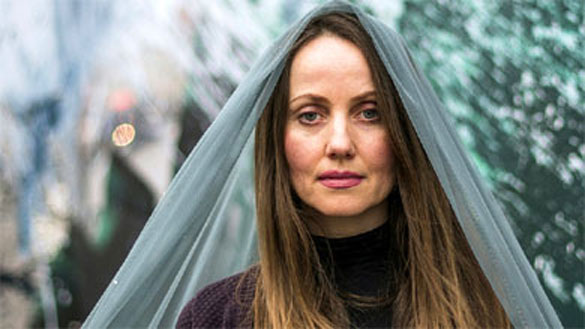 Denmark's first female imam, Sherin Khankan, has written numerous texts discussing Islam and politics [File: Jonathan Nackstrand/AFP]
-----
• Denmark's Female Imam, SherinKhankan: 'We Challenge the Structure from Within'
• Rescued Italian Aid Worker Silvia Constanza Romano Says She Converted on Her Own Will And Not By Force
• A Muslim Woman's 'Plasma Brotherhood' Campaign in Andhra Pradesh
• Niqabi Women Speak Out About the Surge in Mainstream Face-Covering
• A Saudi Woman's Journey with Coronavirus Disease
• Pandemic Highlights Moroccan Women's Value, Commitment, Potential
• Iraqi Women Face Systematic Inequalities in Their Fight to Return Home, Report Shows
• Yemen: Child Bride's Marriage Overturned, But Cases Rise
Compiled ByNew Age Islam News Bureau
URL; https://www.newageislam.com/islam-women-feminism/denmark-female-imam-sherin-khankan/d/121825
-------
Denmark's Female Imam, SherinKhankan: 'We Challenge the Structure from Within'
by JadSalfiti
28 minutes ago
Born in 1974 to a Muslim Syrian father and Christian Finnish mother, SherinKhankan, Denmark's first female imam, came into the world in a meeting of different cultures.
In 2016, along with a group of Muslim academics, she founded the Mariam Mosque in Copenhagen - one of the first in Europe to be led by women.
"Everything starts with a human voice," she told Al Jazeera. "The fact it was a Black slave who was the first to call Muslims to prayer, this is miraculous considering the treatment of Black people then - and now."
"[We] reread the Quran with a focus on gender equality. Religious institutions are patriarchal, so we try and challenge the structure from within."
The mosque has three central missions: Advocating for a woman's right to be an imam; promoting a right to interfaith marriage and supporting the right to divorce.
"We realised very quickly that one of the most acute dilemmas of our times among the Muslim youth is the question concerning interfaith marriages," said Khankan.
Before the coronavirus pandemic shuttered the mosque, an interfaith couple from Paris had a Muslim ceremony featuring speeches by the bride, groom and Khankan. In Muslim weddings, the imam usually gives a short speech on marriage.
"The Mariam Mosque ideas fit the current globalisation trend in this world. People travel around the world and meet people from different backgrounds," said Khankan.
"We can't force these people to believe what we believe. Mariam Mosque, to a certain extent, facilitates this new generation of people including myself who want to continue believing and practicing Islam but [are] living in a non-Islamic country."
Four years after opening its doors, the mosque received a request for a same-sex marriage. Although the mosque leaders had no personal objections, they did not go ahead with officiating the ceremony.
"We all believe in love. But there's a difference between favouring something and conducting it … Right now, it's not happening, but I won't be able to say about the future."
Unlike priests in Christianity, who are ordained by the Church, the role of imam is not a licensed profession; imams can be appointed or organically rise to the role within a community.
"It established rights for women at a time when they were seen as second-class citizens. Islam gave them the right to divorce, inheritance and established the crucial importance of women being educated.
But Khankan claims that examples of women's mosque can be found elsewhere in Muslim communities, for example, in China in the late 17th century.
Today, women have led prayers in countries including the United Kingdom, the United States, France, South Africa and India.
https://www.aljazeera.com/indepth/features/denmark-female-imam-challenge-structure-200512081545549.html
-----
Rescued Italian Aid Worker Silvia Constanza Romano Says She Converted On Her Own Will And Not By Force
May 11, 2020
Rescued Italian aid worker Silvia Constanza Romano, who has embraced Islam, says she converted on her own will and not by force.
Romano, 25, was abducted from Kenya's southeaster coastal town of Chakama in November 2018.
She was rescued on Sunday through joint efforts by Turkish, Somali and Italian intelligence services.
"They assured me that I would not be killed, and so it was," Romano told Italian news agency ANSA.
"It was spontaneous and not forced. In these months I was given a Koran and thanks to my captors I also learned some Arabic," she said. "They explained their reasons and culture to me. My conversion process has been slow in recent months. There was no marriage or relationship, only respect."
Italy's deputy foreign minister acknowledged Turkish cooperation during the rescue operation.
"There had been cooperation with the Turkish intelligence service to locate her and take action at the right time," Marina Sereni told LA7 TV channel.
https://www.yenisafak.com/en/news/conversion-to-islam-not-forced-says-rescued-italian-3519179
-----
A Muslim Woman's 'Plasma Brotherhood' Campaign In Andhra Pradesh
May 11, 2020
Hyderabad: A non-governmental organisation is carrying out a unique 'Plasma Brotherhood' campaign among Muslim community members during the Tahera Trust, working in the two Telugu states, says the campaign is aimed at encouraging the COVID-19 survivors to volunteer to donate their "Coronavirus took a world tour irrespective of the nations, colour, caste and race, gender and age. In this journey the Muslims took the worst resisting to the tests hence infected more. Since Tabligh is a religious organization, it was difficult for a commoner to digest the infection thread. During the recovery they faced hate, bad press and demonised at some places violence which has worsened most communities to boycott buying anything from the Muslims in
The central team from All India Institute of Hygiene and Public Health (AIIH & PH) on Sunday expressed concern over the growing number of COVID19 positive cases in Andhra Pradesh with each passing day. The state is closer to the 2,000-mark.
Presently in USA, she said she has been calling her contacts in Andhra Pradesh and requesting them to motivate the recovered persons to volunteer to donate plasma.
"Sharing the plasma without religion should be viewed in a positive manner as Convalescent plasma is very unique worldwide as it has no borders, nation, colour, race and gender. Muslims plasma can save life of a Hindus or the plasma of a Hindus save the life of a Muslims including many and vice versa," Zahra says.
Kurnool city in Andhra Pradesh, that has only depressing news of adding Corona positive cases in double digit every day for the last one month, has some news to cherish. An 80-year old man survived the dreaded infection and went home happily on Friday.
She also requested the women members of the family and friends of Tablighi Jamaat positives to get tested to be future plasma donors. "Plasma donors are the winners of corona through solidarity," she says.
Hyderabad MP and All India Majlis-e-Ittehadul Muslimeen (AIMIM) party president Asaduddin Owaisi had already given to Telangana health minister E Rajender a list of 32 persons willing to donate their plasma.
https://bangaloremirror.indiatimes.com/news/india/a-muslim-womans-plasma-brotherhood-campaign-in-andhra-pradesh/articleshow/75671338.cms
--------
Niqabi women speak out about the surge in mainstream face-covering
HAFSA LODI
May 11, 2020
DUBAI: "Bold looks coming out of the country that banned Muslim women from wearing burkas and niqabs," tweeted US photographer William Vercetti in response to images of face masks on the Paris Fashion Week runways in February.
A few weeks later COVID-19 was classified as a pandemic by the World Health Organization and face masks went from "novelty" status to an everyday essential, even in countries where covering your face for religious reasons has been banned.
The double standard is glaring. While medical masks certainly serve a different purpose than niqabs do, it's essentially the same amount of facial square footage being covered, by a similarly-shaped piece of cloth or other material.
The majority of Muslim women do not cover their faces but, with the rise of the global modest fashion revolution, there has been a movement to de-stigmatize not only hijabs, but niqabs too. There are niqabi Instagram personalities in London, Canada, the US Pakistan, the UAE and elsewhere. Saudi Arabia's Amy Roko, with more than a million followers, is one of the most prominent. She recently starred in a campaign for Benefit Middle East.
While they may form a part of the cultural fabric in the Middle East, Belgium, Austria, Denmark and The Netherlands are some of the European nations that have outlawed face veils, in addition to Morocco, and the Canadian province of Montreal.
They are banned in some places for security and identification concerns in specific buildings and, in others, the ban is widespread and covers all public spaces.
Marjaan Ali, a student from Madinah, was screamed at to "Go back to where you came from" when she visited a carnival in Texas. When landing in France she was told not only to remove her niqab – which is legally prohibited – but her hijab, too.
"When I calmly told him that I had read the law and it only banned face coverings, not head coverings, he turned red and let me go," she told Arab News. "The whole time I was there, I walked through the streets of the small village we were staying in with my face uncovered, passing people with shawls wrapped around their faces for warmth. The irony of the situation did not elude me."
Dubai resident Nadia Shafique has been wearing a niqab for 12 years, and is afraid to travel abroad, even to visit family. "I haven't traveled West – although my brother is in the UK I haven't mustered the courage to visit him. I have children and I have felt the responsibility of shielding them from anything negative or violent," she told Arab News.
But now that covering your face has become the norm, some niqab-wearing women are optimistic that the overall resistance to face veils may lessen. "It should make (those opposed) re-evaluate and reconsider their ideas," said Shafique, who hoped that the public rethinks how they view and treat niqabi women.
"I think that this gives everybody the opportunity to step into our shoes for once and experience it as somewhat 'normal' and as a necessity to whenever you step out," Sarah Wazir, who wears a niqab and lives in Pakistan, told Arab News.
Ali said that the arguments that were used to claim the niqab hindered social interaction, that it created an environment of negativity and hostility, were all false. "As we see everyone is perfectly able to communicate and interact positively even with face masks on."
Naseema Begum, who lives in London, where Prime Minister Boris Johnson notoriously used the world "letterboxes" in reference to Muslim women who veil, pointed out the feasibility of performing everyday affairs with your face concealed. "If during this time people could go around business as usual, like shopping, banks, work, and public transport, while wearing face masks or covering their faces with bandanas, then why can't we Muslims wear our veils for our religious beliefs?" she told Arab News.
While rulings against niqabs cite security as the main concern, Ali said that niqabi women did not pose a threat to society. "We happily take off our niqabs for identification purposes at banks, airports, and any other place that requires it."
Kuwait-based Shugraa Iqbal stopped wearing her niqab after being denied education and work opportunities at US institutions. "I was asked so many times if I was willing to remove it, getting into university was difficult, and so was getting an internship," she told Arab News. "I hope people will see us as independent women and not as women that are 'oppressed' who need saviors. Maybe, just maybe, what we wear and how much we cover will not affect our education, jobs and opportunities in the future."
Begum said she had been unable to go for afternoon tea with her friends at The Ritz because niqab-wearing women were not allowed in the hotel or cafe. "Come on. The Ritz, in the heart of central London, in a very Arab-dominated area, is not allowing people to come in because they wear the veil!"
Once it's safe to re-open, it's possible that establishments such as The Ritz will enforce mandatory masking – or at the very least, certainly allow those wearing medical face masks to enter. It seems only logical that women who wear niqabs, with their noses and mouths covered, will also be permitted entry.
We may, as a society, grow desensitized to the sight of covered faces, but could the mass normalization of medical masks go so far as to help reduce religious prejudice?
"While I would like to say yes, I don't think this will be the case," Liz Bucar, religious ethicist, professor and author of Pious Fashion: How Muslim Women Dress, told Arab News. "Banning face veils in the West had been about gendered Islamophobia. It's not really about covering faces … I think most non-Muslims will not make the connection that face-veiling for religious reasons and public health reasons both depend on ideas about the common good, and that they are both motivated by ethical concerns, even if those concerns are of course different. At least, that is a connection they won't make without actually learning more about religious modesty."
https://www.arabnews.com/node/1673056/lifestyle
--------
A Saudi woman's journey with coronavirus disease
LOJIEN BEN GASSEM
May 09, 2020
RIYADH: Despite an increase in the number of deaths from the coronavirus disease (COVID-19), the recovery rate is relatively high. While there are carriers with mild or no symptoms at all, others have no choice but to seek treatment at the hospital.
Arab News talked to a Saudi woman who caught the disease while she was isolated with her family, with 11 members in the house also infected. Their symptoms ranged from mild to severe.
Khuloud Mullah, 43, who works in the diplomatic sector in Riyadh, visited her family in Yanbu before the nationwide curfew was put in place.
"It all started before the government issued the curfew order, when my brother-in-law went to a weekend getaway (isteraha) and was joined by other men who just came from abroad and carried the coronavirus without knowing," she said.
"Unfortunately, the disease spread to four houses, two in Riyadh, one in Yanbu and one in Madinah, and the members of these houses all tested positive for COVID-19."
During her recovery journey, Mullah said she learned and discovered many things while at the hospital struggling with her illness. "For the first time, I feel the true values of the blessings I have and I wanted to share them with everyone."
The blessing of health cannot be compared to any other blessing, she said, adding that there were moments she felt that her death was close. "He (Allah) will hold me accountable for this blessing, whether I take care of my health or neglect it."
The blessing of freedom was also something Mullah felt while in quarantine. She started to appreciate all the things she took for granted before the virus outbreak.
"(Before COVID-19) I was free to go out, enter, decide, discuss, express, travel, change … and do whatever I wanted. And in one moment everything was taken away from me. I became trapped in a bed, imprisoned in a hospital room. It was not my choice or my decision, but forced on me for the first time in my life," she said.
Fighting the disease for two weeks, Mullah said that some of the symptoms that she and her family suffered from included "losing the sense of taste and smell, lack of appetite to eat, instability when walking or standing, always falling to the ground whenever walking, high fever, severe pain in the body … very severe and constant headaches, shortness of breath where I couldn't fill my lungs."
"I was struggling and trying to move despite the constant feeling of dizziness. I also tried to fight the headaches by taking painkillers and drinking a lot of water and fluids. I was practicing breathing exercises even though it was painful. All these pains took me 14 days to heal, I was patient," she added.
Mullah mentioned that the only thing that kept her strong during her illness was the presence of her family and siblings who supported her despite going through the same struggle. "
She learned that the blessing of real relationships is priceless regardless of the differences and conflicts which disappear during crisis. "You find them standing next to you at the time of hardship and when you need them the most, especially in your illness."
She said that all the unprecedented changes imposed on the world since the virus outbreak reminded people that they can adapt to any unforeseen circumstances life brings them face to face with.
She added: "Whoever was infected with coronavirus will relate and understand what I am saying because they have certainly gone through the period of reflection that I have been through during my illness."
Mullah has left the hospital and is now in a hotel until she fully recovers before she can come into contact with other people.
https://www.arabnews.com/node/1671896/saudi-arabia
--------
Pandemic Highlights Moroccan Women's Value, Commitment, Potential
By Taha Mebtoul -
May 11, 2020
Rabat – The Moroccan Minister of Solidarity, Social Development and Family, Jamila El Moussali, said Saturday that the lockdown period has shown the valuable role that women play in Moroccan society and in fighting the spread of the novel coronavirus.
During a virtual meeting about "The role of women in the reconstruction of the Arab world's cultural roadmap for the post-coronavirus crisis" on May 9, the minister stressed the importance of seizing the opportunities that the pandemic offers–"despite its harmful impacts"–to create a better future for women, according to a ministry press release.
The minister stressed that the crisis is a chance to reexamine cultural norms and build a culture that better facilitates Moroccan women's socio-economic progress and contributions to society.
"This transformation that the world … [is] experiencing should have a positive impact on the post-crisis period to review mentalities and establish new behaviors," said the minister. El Moussali noted that empowering women socio-economically requires great cultural support, said the source.
El Moussali also said that it is impossible to establish women's active participation in society "without shaking up mentalities and changing the negative image of women in the media," as well as societal stereotypes.
According to the minister, realizing this type of reform will require solid economic programs and legislation. She also stressed Morocco has a long history of taking steps to empower its women.
El Moussali highlighted Moroccan women's increased socio-economic participation after the country adopted the Moudawana, or Family Code, in 2004. The minister also cited the National Integrated Program for Women's Economic Empowerment (PNIAEF).
On the humanitarian level, Moroccan midwives have played a major role in supporting pregnant women as part of the first phase of the SALAMA Operation by the United Nations Population Fund (UNFPA).
The operation's main objective is to distribute medical and hygiene kits as a preventive measure against the spread of the coronavirus. Participating NGOs include the Moroccan Midwives Organization and the National Organization of Midwives of Morocco.
The first days of Morocco's state of emergency witnessed the appearance of the female caidHouria. She featured in a video that went viral on social media, committing to raise awareness among inhabitants of the Safi region about the spread of the virus.
The region's caid used simplified language to address inhabitants of all descripts. Her dedication in the face of her concerns has earned her tribute and respect from Moroccans.
"Women! keep your children home. Stay home. Children! bring out your books and study. Visit the websites where your lessons are available and study. Learn new languages," the caid cries on her loudspeaker microphone in the video.
Women also comprise a large portion of Morocco's nursing staff, playing an important role in the medical frontline fight against the virus. Nurses generally face more exposure to patients, meaning they are at greater risk of infection.
Among the government's efforts in fighting the spread of COVID-19, El Moussali underlined Morocco's measures to shield and assist women subjected to domestic violence, which has witnessed a global increase during pandemic confinement.
Between March 20 and April 20, the first month of the lockdown, Moroccan prosecutors across the country registered 892 complaints of physical, sexual, economic, and psychological abuse of women.
Morocco launched prosecutions for 148 of the complaints, while additional cases may go to court pending investigations.
In an April 30 press release, the president of public prosecution, Mohamed Abdennabaoui, called for the activation of existing platforms to receive domestic violence complaints. He also urged concerned institutions to focus on complaints regarding violence against women, "giving them importance and priority."
According to the statement, the prosecution chief also asked for more legal measures to tackle special cases, including the provision of special units in public prosecution offices to deal with domestic violence.
"I ask you to give them the necessary attention, implement them with due diligence, and notify me of the results of their implementation and the problems that confront you," Abdennabaoui said.
https://www.moroccoworldnews.com/2020/05/302269/pandemic-highlights-moroccan-womens-value-commitment-potential/
--------
Iraqi Women Face Systematic Inequalities in Their Fight to Return Home, Report Shows
May 11, 2020
Hundreds of thousands of Iraqi women who fled war and conflict are facing systemic inequalities in their fight to return to their homes, a rights report published Monday revealed about Iraq's internally displaced population.
The Norwegian Refugee Council's findings show that up to 11 percent of Iraq's female internally displaced population are facing barriers that include the inability to access property, establish ownership and seek compensation for homes damaged during the war against the Islamic State.
Sabaha Ahmad, 73, is one of thousands of internally displaced Iraqi women who say they are facing discriminatory practices as Iraq seeks to recover from years of conflict.
Speaking with The Associated Press, she said she was unable to return home because of long-standing tribal disputes since the war against the Islamic State. Instead, she has spent nearly four years in camps for the internally displaced in Iraq's northern Kurdish region.
Ahmad has not stepped foot in her home in Shirqat, a Sunni Arab district in northern Salahadin province, since late 2016 when it was liberated from IS by Iraqi security forces.
"I can't go back home to Shirqat because the tribe has banished us from the area," she said. "One of them accused my son of being an IS member, but this isn't true. It was because they wanted our land."
According to the NRC, 9% of women surveyed in the provinces of Dohuk, Ninewa, Kirkuk and Anbar said their property was being occupied by relatives, local tribal leaders, militias and security forces, impeding their return.
The report, which was based on a survey of 1,002 people, found that even the slightest suspicion of IS affiliation had denied women the ability to prove property ownership, "even if they possess official documents," the report said.
Measures imposed by the government to contain the spread of the novel coronavirus, including shutting down courts and legal services, have also prevented internally displaced women from seeking legal recourse to solve ongoing property disputes, the report added.
Iraqi laws guarantee women's property rights, but local traditions and tribal customs have put obstacles in the way of internally displaced women from realizing those rights, according to the report.
https://www.haaretz.com/middle-east-news/iraq/iraqi-women-face-systematic-inequalities-in-their-fight-to-return-home-report-shows-1.8838670
--------
Yemen: Child bride's marriage overturned, but cases rise
May 11, 2020
An extraordinary case of child marriage in Yemen has highlighted the rising number of forced, underage weddings. In rare instances, women have managed to fight back, reports Safia Mahdi from Sanaa.
When 12-year-old Hind visited her father in jail a few months ago, he told her she was to marry a fellow inmate. Her groom, 30, had been sentenced to death for drug smuggling and possession, but they would get married anyway, she was told.
When Hind's mother managed to get a court order cancelling the marriage contract, her story became one of the rare cases of reprieve in Yemen, where the rate of child marriage is rising rapidly.
There is still no clear law regulating the minimum age for marriage in Yemen and many girls are forced to marry at ages considered too young to allow for their consent.
The ongoing war, that began in 2014, is one of the main drivers contributing to the climbing numbers of child marriages, according to a recent statement by a UN Security Council working group.
Hind is not the only one in her family to have been forced to marry at a young age by her imprisoned father, her mother told DW from their modest two-room apartment on the outskirts of Sanaa.
One of her sisters, Sabrin, was married off by her father to another inmate. After the wedding she fell ill — and pregnant. Prisoners in Yemen are allowed weekly visits by their wives.
Another of Hind's sisters, Wadad, was also forced into marriage while still a child and already has two children of her own.
But even after winning the case to have the contract overturned, Hind's jilted groom threatened the mother via text message that he would take her daughter "by force" if Hind did not come to see him in prison soon. Their story has struck a chord among Yemenis.
Debate over child marriage is not new in Yemen, or the broader region. But on top of social tradition, the conflict in Yemen has exacerbated conditions that have seen a rapid rise in the practice.
Underage marriages are often justified by claims to tradition or supposed religious reasons. In recent years, some countries in the region have been backsliding after previously passing strong legal measures against them.
Yemen's chronic poverty, compounded by the war, has led to a worsening of the situation. Around 24 million Yemenis are dependent on humanitarian aid and educational programs aimed at preventing child marriages have been postponed or dropped altogether.
In 2017 the UN's Office for Coordination of Humanitarian Affairs (OCHA) reported that 52 percent of Yemeni girls and women had gotten married before the age of 18.
Between 2017 and the next year, the OCHA reported a threefold increase in under-18 marriages. In the face of increasing poverty, parents either can't afford to care for the children or believe a husband's family can offer better protection, the United Nations Children's Fund reported.
Accurate statistics are difficult to collect amid the conflict. But Ahmed al-Qurashi, president of Yemen's Seyaj Child Protection Organization, confirmed the increase in child marriages since the war began, citing a breakdown in governance as a major cause.
Yemen has no central authority that enforces children's rights. Courts, prosecutors and police no longer carry out their duties in most regions of the country, particularly in rural areas where child marriage is more common, Qurashi said.
High rates of poverty, a lack of opportunities, falling salaries and a high level of corruption in humanitarian aid circles also contribute to the problem, he said.
"It is with great concern that we observe violations and practices that violate children's rights," Qurashi said. "The lack of protection for victims makes it all the more serious."
Most girls married at a young age find it extremely difficult to escape their husbands. But Manal, who was forced to marry a man 20 years older than her when she was just 13, managed to get a divorce.
After her wedding, every day became more difficult to bear, she said. "The older I get, the more I come to feel how cruel this experience was. It was a lost time."
Yemeni psychologist Balqees Abu Lahum stressed the consequences such marriages can have for the young brides forced to have children.
Many are so young that they don't live through the birth, while those who do survive suffer psychological problems which they pass on to their children, Abu Lahum said.
Most important in addressing the situation is girls' access to education, she said, as well as further efforts to raise awareness in society.
Above all, however, it is essential to set a minimum legal age for marriage, Abu Lahum said. But with the country divided and the war entering its sixth year, Yemen still lacks a functioning government that could pass and implement such a law.
https://www.egyptindependent.com/yemen-child-brides-marriage-overturned-but-cases-rise/
--------
URL: https://www.newageislam.com/islam-women-feminism/denmark-female-imam-sherin-khankan/d/121825
New Age Islam, Islam Online, Islamic Website, African Muslim News, Arab World News, South Asia News, Indian Muslim News, World Muslim News, Women in Islam, Islamic Feminism, Arab Women, Women In Arab, Islamophobia in America, Muslim Women in West, Islam Women and Feminism