New Age Islam News Bureau
5 Sept 2015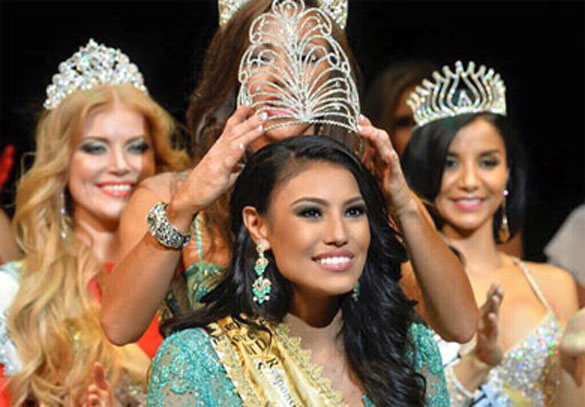 Ashley Callingbull being crowned Mrs. Universe in Minsk, Belarus. Credit: Courtesy of Ashley Callingbull's Facebook page
----------
• Delhi HC Orders Permanent Commission To Women in Navy
• Screening All Women for BRCA Gene Mutations 'Worthless'
• Mrs. Universe Calls out Canada's Neglect of Aboriginal Women
• British Mother-Of-Five Arrested After Attempting To Flee To Syria with Children
• Judge grants Salma Hayek restraining order against 2 women
• West More Afraid Of Hijab than Nukes: Pak Jamaat-e-Islami Chief
• Kenya Court Recommends "White Widow" Case Be Dropped
• Girl Who Cried Before Merkel Gets Residency
• Saudi Women Seek Fixed Jobs at Haj Ministry
• 'Are Women's Health Clubs Still Lacking in Saudi Arabia?'
• Prime Suspect In Parveen Rehman Murder Case Not Yet Traced, SC Told
• Divorced Non-Muslims Must Settle Prior Civil Issues before Marrying Muslims — Nancy
Compiled by New Age Islam News Bureau
URL: https://www.newageislam.com/islam,-women-and-feminism/new-age-islam-news-bureau/delhi-hc-orders-permanent-commission-to-women-in-navy/d/104495
---------
Delhi HC Orders Permanent Commission To Women in Navy
September 5, 2015
New Delhi, Sep 4: The Delhi high Court on Friday allowed a plea of naval women officers for permanent commission in the force, saying it would "frown upon any endeavour to block progress of women".
A division bench of Justice Kailash Gambhir and Justice Najmi Waziri said that naval women officers can now have full term service and can avail of retirement benefits, noting "sexist bias and service bias would not be allowed to block progress of women".
Nineteen serving and retired women navy officers had moved the high court for permanent commission alleging gender discrimination.
Women have been given only short-term commissions in the Navy, the maximum term of which is only 14 years. Due to this, they cannot be eligible for pension which requires a minimum 20 years of service.
In 2010, a similar high court order allowed women permanent commission in the army and the air force, noting that women officers "deserve better from the government".
http://www.oneindia.com/india/good-news-women-hc-orders-permanent-commission-women-navy-1859840.html
-------
Screening All Women for BRCA Gene Mutations 'Worthless'
4 September 2015
The researchers say that for every 10,000 women screened for BRCA gene mutations, only four cases of breast cancer and two cases of ovarian cancer will be prevented.
The viewpoint has been written by Dr. Patricia Ganz, a director of cancer research at the Jonsson Comprehensive Cancer Centre of the University of California-Los Angeles (UCLA), and Elisa Long, PhD, assistant professor at the Anderson School of Management, also at UCLA.
They calculate that for every 10,000 women screened, BRCA testing - compared with family history-based testing - would prevent four cases of breast cancer and two cases of ovarian cancer. Dr. Ganz says:
"The cost of BRCA testing would need to drop by 90% for testing to be cost-effective for the whole population."
The authors add that the impact of BRCA screening would be to extend patients' lives by an average of only 2 days.
There would be no benefit for almost all women undergoing BRCA testing, according to the authors. For the 99.75% receiving a negative genetic test, it would not mean any increase in life expectancy.
The screen would not eliminate the need for regular mammograms either, and could provide false reassurance. The article concludes:
"Even though a very small percentage of women would benefit from universal BRCA testing, at $2000 to $4000 per test, such a strategy is an inefficient use of health care resources."
Of the 233,000 breast cancers diagnosed annually in the US, BRCA gene mutations account for 5-10%, although the cases usually develop at a younger age, often in both breasts, and often as a more aggressive subtype such as triple-negative breast cancer.
Affordable in the future?
he US Preventive Services Task Force (USPSTF) recommend BRCA genetic testing - which is most commonly done with the Myriad test - only if there is a known family history of breast, ovarian, tubal or peritoneal cancer.
Dr. Long says a new $249 test recently announced by Color Genomics could encourage other companies to introduce lower-cost genetic tests and make universal screening more practical and more affordable.
Providing personalized genetic counseling services on such a large scale, though, would not be practical.
"It's like looking for a needle in a haystack," says Dr. Long. "If only 1 in 400 women across the country have one or both of the BRCA-1 or BRCA-2 mutations, universal screening would cost $1 million to $2 million to detect a single BRCA mutation, or nearly $400 billion to screen all women in the US."
Dr. Long - who carries the BRCA1 mutation herself and has recently survived triple-negative breast cancer - says there are better alternatives:
"Perhaps this money could be better spent on other diagnostic tools for young women, such as MRIs [magnetic resonance imaging], to have the greatest impact."
On a personal level," she adds, "I would have benefitted tremendously from universal BRCA testing, because I had no family history of breast cancer. But as a health services researcher, I must also consider the relative value of different medical interventions."
"Many patients wish to know more about their genetic risk factors," she continues, "and as more firms begin to offer genetic testing, we should expect the price to decrease, eventually making this an affordable policy."
Written by Markus MacGill
http://www.medicalnewstoday.com/articles/298986.php
-----
Judge grants Salma Hayek restraining order against 2 women
Associated Press By ANTHONY McCARTNEY
5 Septemebr 2015
LOS ANGELES (AP) — A judge on Friday ordered two women to stay away from Salma Hayek and not attempt to contact the Oscar-nominated actress for the next three years.
Los Angeles Superior Court Judge Carol Boas Goodson granted Hayek's request for a restraining order against Liana Philippon and Odette Bodagh, who the actress stated in court filings impersonated her and made a veiled threat to kidnap her daughter.
The order also covers Hayek's husband and 7-year-old daughter.
Bodagh said during Friday's hearing that she thought she had a relationship with Hayek but didn't realize she was scaring the actress until the temporary restraining order was granted. Philippon did not attend the hearing.
"I thought there was a relationship," Bodagh said. "I was under the impression I was talking to Salma."
Bodagh tearfully apologized for scaring Hayek.
"I am so sorry I did it," Bodagh said. She urged the judge to reject entering the order against her, saying it would affect her career.
"You have, even by mistake, become a stalker," Goodson said.
"This case arised out of a bizarre pattern of behavior by two apparently mentally disturbed individuals," Hayek's court filings stated. "Their actions include, among others, concocting ruses to meet Hayek's family members to obtain Hayek's contact information, impersonating Hayek to another celebrity, attempting to directly contact Hayek herself, and impersonating Hayek in contacting Hayek's minor child.
"In one communication while posing as Hayek, Philippon made a veiled threat regarding kidnapping and ransoming Hayek's minor child," the filing stated.
After the hearing, Bodagh said her marriage ended because of her infatuation with Hayek and she moved to Los Angeles with Philippon, now her ex-girlfriend, because she believed she was communicating with the actress.
Bodagh said she would not attempt to contact Hayek again.
Hayek, who did not attend the hearing, was nominated for an Academy Award for her starring role in the 2002 film "Frida."
Her attorney, Bryan Sullivan, declined to comment after the hearing.
http://news.yahoo.com/judge-grants-salma-hayek-restraining-order-against-2-161807485.html
-------
British mother-of-five arrested after attempting to flee to Syria with children
September 4, 2015
A mother-of-five has been arrested on suspicion of child abduction amid fears she was travelling to Syria to join Islamic State. Zahera Tariq, 33, was arrested at Luton airport on Thursday (3 September) as she arrived in the UK on a flight from Istanbul, Turkey.
Tariq and her sons Muhammad, 12, Amaar, 11, Aadid, four, and daughter Safiyyah, nine, were reported missing from their home in Waltham Forest last week.
They were pictured on CCTV on 25 August as they flew to Amsterdam from London City airport and then travelled to Turkey, where they were detained by authorities. Her four children have been taken into police protection. The Metropolitan Police said in a statement that Tariq was traced by counter terror police after an appeal for information from the public.
It's the latest report of a suspected British jihadist attempting to flee to Syria with their family.
43 British women and girls are now in Syria, many having gone to join Isis to become "Jihadi Brides," according to counter-terrorism chiefs at the Metropolitan Police. In the last two years high-profile reports of women and girls to have fled to Syria have included the Glasgow public schoolgirl Aqsa Mahmood; the three schoolgirls from East London, Amira Abase, Kadiza Sultana and Shamima Begum; and three Bradford sisters who took their nine children with them.
One woman from Manchester, who fled to Syria with her five children, is now desperate to return to the UK after experiencing the harsh reality of life under Isis. Shukee Begum left last year and made her way into Syria via Turkey.
The woman was reportedly married to an Islamic State fighter and claims she only travelled to Isil's self declared capital of Raqqa, with the intention of persuading her husband, Muftah el-Deen, a jihadist and also a British national, to return home with her.
Her husband is believed to have died in conflict and Begum is now appealing for help to return home to safety with her three daughters and two sons, who are aged between one and 12.
Just two out of 600 females who have fled from the West to join Islamic State (Isis) have returned home from Syria, government figures show.
http://www.ibtimes.co.uk/uk-british-mother-five-arrested-after-attempting-flee-syria-children-1518556
---------
West More Afraid Of Hijab than Nukes: Pak Jamaat-e-Islami Chief
September 04, 2015
LAHORE - West is more afraid of Hijab than nuclear bomb, according to Jamaat-e-Islami chief Sirajul Haq.
Addressing a Hijab conference organised by the JI women wing at a local hotel, Haq said the west wants to wipe out all signs of Islamic culture and civilization.
He said: "The colonial powers have launched a cultural attack on the Ummah, and are targeting the Islamic signs and symbols.
The Holy Prophet (PBUH), moral values, jihad, family system and Hijab are their special targets.
"In France, Holland, and Denmark, Hijab has been banned while the female students and Muslim women wearing Hijab are being ridiculed.
Hijab is not merely a piece of cloth to cover heads; it is part of a complete moral system that encompassed the whole life of the Muslim women.
"
The JI chief urged the media to project Hijab as a security and protection for the women folk and not a sign of any pressure.
The doors of educational institutions should not be closed to the women covered in Hijab; he stressed and said it is the duty of the government to provide the women all facilities to lead their lives in accordance with the Islamic teachings.
http://nation.com.pk/lahore/04-Sep-2015/west-more-afraid-of-hijab-than-nukes-ji
---------
Kenya court recommends "White Widow" case be dropped
2015-09-04
Mombasa - A Kenyan court on Friday said prosecutors should close their case against British terror suspect Samantha Lewthwaite, dubbed the "White Widow", after failing to produce her in court.
Lewthwaite is accused of possessing explosives and planning terrorist attacks on Kenya's tourist coast, but police have been unable to find her since she gave them the slip in 2012.
The trial of her alleged accomplice, fellow Briton Jermaine Grant, is ongoing in Mombasa.
"This case is just like any other case, and if the suspect cannot be found, then the case should be closed," said Mombasa Chief Magistrate Julius Nang'ea.
Kenya issued an arrest warrant for Lewthwaite in 2012 and then requested Interpol to issue a "Red Notice" in 2013.
On Friday, state prosecutor Nicholas Kitonga pleaded that police needed more time to find their suspect, whose whereabouts are unknown.
Lewthwaite, 31, from Aylesbury in England, is a Muslim convert who was married to Germaine Lindsay - one of four suicide bombers who attacked the London transport network on July 7 2005, killing 52 people - leading a British tabloid newspaper to dub her the "White Widow" years later.
She has since been romantically linked to a string of jihadists and, since evading arrest during a botched police raid in Mombasa in 2011, has been on the run with her four children.
Over the years media reports have had Lewthwaite training a company of female suicide bombers for Islamic State, masterminding a series terror attacks in Kenya, Somalia and Nigeria and being killed by a sniper in eastern Ukraine.
Kenya's foreign minister accused her of directing the 2013 assault on Nairobi's Westgate mall.
While the media - especially the British tabloid press - is quick to attribute terror attacks in the region to Lewthwaite, Western intelligence agencies do not regard her as a serious threat.
http://www.news24.com/Africa/News/Kenya-court-recommends-White-Widow-case-be-dropped-20150904-2
---------
Girl who cried before Merkel gets residency
5 September 2015
A Palestinian teen threatened with deportation who burst into tears during a televised debate with German Chancellor Angela Merkel has got a residency permit for "humanitarian reasons," a statement said Friday.
In the encounter last month, 14-year-old Reem told Merkel in fluent German that she and her family, who arrived in the north German city of Rostock from a Lebanese refugee camp four years ago, faced possible deportation.
Merkel expressed sympathy before defending her government's asylum policies, saying Germany "couldn't manage" to shoulder the burden of all those fleeing war and poverty.
Minutes later, Reem began to weep and the chancellor stroked her head and tried to comfort her in a way critics said appeared awkward and cold, and which led to a storm of protest on social media.
The Rostock city hall said in a statement that Reem and her family "had today received for the first time residency permits for humanitarian reasons".
"These permits are valid until March 2016," it said.
Chris Mueller, the Rostock mayor's deputy, said: "Reem is an example of successful integration in our city."
Europe's deepening crisis and its mounting human cost has sparked sharp divisions within the 28-nation European Union, with Germany leading efforts to get the bloc to accept more refugees while newer eastern states balk at the prospect of compulsory quotas.
http://english.alarabiya.net/en/News/middle-east/2015/09/05/Palestinian-girl-who-cried-before-Merkel-gets-residency.html
---------
Saudi Women Seek Fixed Jobs at Haj Ministry
5 September 2015
JEDDAH: Women of Makkah have demanded that they have permanent jobs at the Ministry of Haj to serve pilgrims.
They lauded the ministry's initiative to appoint a number of women from Madinah, but they want women from Makkah to be given permanent jobs as an opportunity to serve Haj and Umrah pilgrims, said an online newspaper.
Wafa Bana, a female volunteer for Haj pilgrims of Arab countries, said that in the volunteers with university degrees and not having jobs should be given priority as they have not been able to find jobs in the public or private sectors.
Thurayya Bella, an administrative officer at the Makkah municipality, said that women can play an important role. "The time has come to let Saudi women directly assist women who come for Haj or Umrah. In almost all Haj activities, women employees are required so that they can help women pilgrims wherever they are," she said.
Dr. Wafa Mahdhar, another volunteer, said that the recruitment of women at the Ministry of Haj is very important. It has been recently noticed that the ministry was using women and their experience in supporting work everywhere. It is important that their contributions and roles are recognized and that they get permanent jobs in the ministry in its various areas of services.
Najat Baqasi, head of a volunteers' committee, said that women should have an active role in life. They understand women's issues better and can help on the ground and guide them according to their needs.
http://www.arabnews.com/saudi-arabia/news/801806
---------
'Are Women's Health Clubs Still Lacking In Saudi Arabia?'
05 September, 2015
It is high time to become health conscious because people, especially the young, are depending more and more on fast or processed food and are getting very little exercise.
Real Saudi food is healthy, but young mothers don't want to put in the effort to prepare it as many of them are working women. Once they come home, they are tired and just give their children quickly cooked processed food or grab fast food on their way home from work.
Healthy food awareness and the importance of fitness should be given to parents first so that they can apply it to their children.
http://www.saudigazette.com.sa/index.cfm?method=home.regcon&contentid=20150905255553
---------
Prime Suspect In Parveen Rehman Murder Case Not Yet Traced, SC Told
04 September, 2015
KARACHI: The Supreme Court on Friday was told that the investigators were still unable to trace the prime suspect in the murder case of Orangi Pilot Project Director Parveen Rehman, although he has continually been under technical surveillance since September last year.
"He is a very shrewd character and keeps on changing his cell numbers as well as IMEIs [international mobile equipment identity]", said a progress report of police filed before a two-member bench of the apex court at the Karachi Registry.
The bench comprising Justices Sarmad Jalal Osmany and Amir Hani Muslim was hearing a suo motu case along with the application of the Human Rights Commission of Pakistan and other petitioners on the murder of the social worker.
Parveen Rehman, a media-shy social worker who devoted her life to the development of the impoverished neighbourhoods across the country, was gunned down near her office in Orangi Town on March 13, 2013.
The very next day, police killed a Taliban operative named Qari Bilal in an encounter and claimed that he was the murderer, resulting in a closure of the case.
The Supreme Court of Pakistan on April 15, 2014 ordered the authorities to conduct a fresh probe into the murder after a judicial inquiry revealed that police officers had manipulated the investigation.
Later, the HRCP, through Zohra Yousuf, moved a plea in the apex court requesting it to initiate disciplinary action against police officers involved in manipulation of the investigation into the murder case.
On Friday, the DIG-West placed on record the progress report stating that efforts were being made to track down the prime suspect, Rahim Swati, whose son, Imran, was already arrested in the case.
The report said suspect Imran told the investigators that his father had gone to the UAE. It said that the Federal Investigation Agency reported that the suspect had not travelled abroad.
The progress report said that the suspect Swati originally hailed from Malakand Agency and the local police had been contacted for his arrest.
It said that the Malakand police chief was being moved to distinguish and ascertain whether suspect Said Rahim and suspect Muhammad Rahim Sawati was the same person or otherwise.
The progress report quoted a report of the Regional Police Officer, Malakand as stating that Said Rahim was associated with terrorists and the Taliban and during the past insurgency, he along with his family moved to some unknown place, while his house was demolished by the security forces.
The progress report said that suspect Swati shall be monitored technically with the assistance of other intelligence agencies.
It said that the suspect had changed as many as 10 cell numbers and eight IMEIs since his technical surveillance.
The report said that cell numbers of Swati's son and other family members would be obtained and analysed to track him down.
The court was also informed that SSP Pir Muhammad Shah, who was nominated as the investigation officer of the case by the apex court, had been transferred and posted as Khairpur SSP.
The DIG asked the court to nominate SSP-Operation Karachi West as the IO to conduct further investigation.
The court granted the request and ordered the investigators to gear up their efforts for the arrest of the prime suspect.
The hearing was adjourned to a date to be later announced by the court's office.
Published in Dawn, September 5th, 2015
http://www.dawn.com/news/1204955/prime-suspect-in-parveen-rehman-murder-case-not-yet-traced-sc-told
---------
Divorced non-Muslims must settle prior civil issues before marrying Muslims — Nancy
05 September, 2015
KUCHING: Any divorced non-Muslim wishing to marry a Muslim must first settle previous civil marriage issues before they could embrace Islam.
According to Minister in Prime Minister's Department Nancy Shukri, this is one of the requirements regulated under the amendment to the Law Reform (Marriage and Divorce) Act 1976, which is currently being drafted by the Attorney-General's (AG) Chambers.
The de-facto law minister also said she was still discussing with the AG on the provision, which necessitated for both parents to consent to their child / children's religious conversion according to constitutional rights. This, she pointed out, would help solve problems with regard to unilateral conversions involving minors.
The amendment, Nancy said, also meant to harmonise civil and shariah laws towards protecting the welfare of former spouses and their children should the said non-Muslims decide to remarry and convert to Islam.
"A person cannot convert (to Islam) if there are outstanding issues in the civil marriage – those still not settled with the former spouse. We are coming up with an amendment to the law towards assisting individuals, as well as preventing those who have converted to Islam from taking advantage of the law," the minister told a press conference after officiating at a seminar on 'National Security Sustainability' at Sarawak Islamic Complex here yesterday.
She said there had been cases where several Muslim converts were abusing the law to make it difficult for their former spouses and family members to take action against them once they embraced Islam.
She pointed out that once these former non-Muslims settled issues pertaining to the civil marriage law, they would not have to worry about shariah laws in other countries.
"We want to tell those affected by the situation that there is room for both parties to seek assistance in solving whatever predicament that they may encounter."
For single parents, Nancy said it would be up to the individuals concerned to decide whether their children needed to convert to Islam, which would very much depend on age and the level of maturity of their children in understanding the situation.
"Dependency is taken highly into account, especially when it involves minors."
On another matter, Nancy said the government would always strive to improve and introduce new laws aimed at preserving harmony and stability among the people.
She also acknowledged the sensitivity that came with issues surrounding religious conversion in this country, pointing out that the amendments to the Law Reform (Marriage and Divorce) Act 1976, Administration of Islamic Law (Federal Territories) Act 1993 and Islamic Family Law (Federal Territories) Act 1984, were still under review.
http://www.theborneopost.com/2015/09/05/divorced-non-muslims-must-settle-prior-civil-issues-before-marrying-muslims-nancy/
---------
URL: https://www.newageislam.com/islam,-women-and-feminism/new-age-islam-news-bureau/delhi-hc-orders-permanent-commission-to-women-in-navy/d/104495