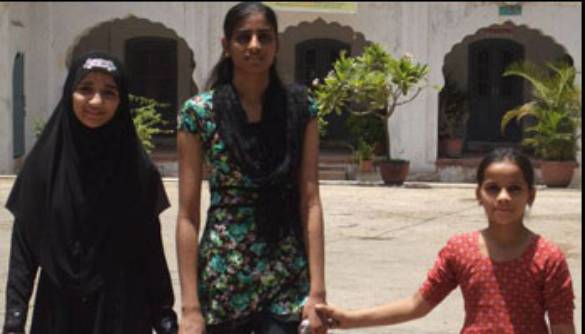 Brave Saudi Arabian Woman Confronts Religious Police Officer Harassing Her
UAE women's Twitter campaign against skimpy dress
Indonesian police consider toned-down Gaga show
Movie tells a grisly Shopian rape story
Will Saudi Arabian Women Be Allowed to Participate in London Olympics?
Prince Ali stunned by FIFA experts' hijab knock back
Complied by New Age Islam News Bureau
Photo: Anglo-Arabic school admits girls, writes new chapter in 350-year history
URL: http://www.newageislam.com/islam,-women-and-feminism/new-age-islam-news-bureau/delhi-anglo-arabic-school-admits-girls,-writes-new-chapter-in-350-year-history/d/7444
--------
Delhi Anglo-Arabic school admits girls, writes new chapter in 350-year history
Pallavi Polanki
May 25, 2012
The 350 year-old Anglo-Arabic senior secondary school took a giant leap today by admitting girls for the first time in its history.
Darakshan, Mehwish – both admitted in class XI- and Gulafshan – admitted in class VI created history by ending a three-and-a-half century old tradition and becoming the first girls to be admitted at a school, whose former students include Sir Sayed Ahmed Khan, founder of Aligarh Muslim University.
Darakshan, a bright teenager, is all smiles as she finishes filling up the admission forms. "I am very happy to join this school. I believe that opportunities for girls and boys should be equal. We should not be discouraged and must be ready to face up to challenges," she said.
Equally thrilled is Mehwish's mother Zahira Begum, "I never imagined that I would see this day. I have full faith in my daughter that she will do me proud. We have to make ourselves strong."
Speaking of the challenges of changing mindsets within the Muslim community who may be opposed to such a move, Shahina Furquan, a teacher at the Anglo Arabic Model School, says "I too live in old Delhi. You'll see many girls who cover themselves in a burqa. There are also many people who cover their minds with ignorance. When I plead with families to send their daughters to study here, they are appalled. They cannot fathom sending their daughters to study with boys. But I tell them that I will take responsibility for the safety of their children. And that's how, we have three students here today."
The landmark development comes barely two days after the Delhi High Court issued notice to the Delhi Government and police to ensure that the decision of the school management to admit girls students be "duly implemented".
The Delhi High Court was responding to a petition filed by a JNU student Fatima Alvi raising the issue that despite a 26 March resolution by the school management to admit girls, no admissions had taken place.
"There was a need and a cry for reform and better education standard from Muslim women. We took a conscious decision to admit girls into this 350-year-old institution. And we passed a resolution. The result is here for you to see," said Atyab Siddiqui, manager of the school.
A process that was set in motion almost two years ago was stiffly opposed by some members of the staff and even by some local politicians.
"Unfortunately, there was opposition from some members of the staff. Some said it was un-Islamic. There were apprehensions about the security of the girl students. (The school is spread over nine acres). Those concerns will be addressed in right earnest. We will be recruiting a woman matron, there will be a special common room for girls and a separate washroom for girls," he said.
"We talked individually to the teachers. We told them that times have changed and if society has to develop, if the Muslim community has to play a more positive role, we cannot run away from the reality that girls have to be educated."
While it remains to be seen whether those opposed to the move will cooperate in the smooth implementation of the High Court order, everyone's mood on campus today was one of joy and relief.
Describing the occasion as historic, school principal Abrar Ahmed Khan, said it was his honour that it had happened in his time. "We wish that the community will cooperate, Inshallah. I will do my best to see that the girls succeed with flying colours. This is a new chapter and we are going to celebrate the new ideas of our society."
The school's first woman teacher, Faiza Nisar Ali said that the development had put her on top of the world. "I am very happy at this historical move. Our efforts have finally borne fruit." Ali authored the feasibility report that formed the basis for the management's breakthrough decision to admit girls.
Explaining the dire need for a senior secondary school for girls in the Walled City, Azra Razzack, secretary of the Delhi Education Society that runs the school said: "This school provides science and commerce streams, both of which are not offered by other schools in the neighbourhood. That is a major reason why girls want to come to this school."
Siddiqui credited former president APJ Abdul Kalam for inspiring them to take this step. "When he visited this institution there years ago he advised us that we should seriously think of providing education to the girl child. That's when we decided we must implement this."
And what do the boy students make of this move? "It will bring about a positive change to the school environment. It is a good decision. It will also help us overcome hesitations that we often feel while interacting with girls during inter-school competitions," said Mohammad Aquib, a XI student.
http://www.firstpost.com/india/anglo-arabic-school-admits-girls-writes-new-chapter-in-350-year-history-321500.html
--------
Brave Saudi Arabian Woman Confronts Religious Police Officer Harassing Her
05/25/2012
The Hayat Mall in Riyadh, Saudi Arabia, probably sees a constant stream of religious police, or mutaween, attempting to keep a check on female morality.
But when one brave Saudi woman had enough, she flipped on her camera phone and made sure her harasser -- and the rest of the world -- knew he was out of place, Gawker reports.
"You have no right to harass anyone," the unidentified woman said in her video. "You are not the boss of me, and you can't tell me not to wear nail polish."
Instead of leaving the mall for having freshly manicured nails like she was ordered to, the woman told the mutawwa that his job is to advise people, not threaten them, and that the government had promised "no more chasing."
According to the Saudi Gazette, the video has caused the Commission for the Promotion of Virtue and Prevention of Vice to investigate the incident.
"For your information, this video is on its way to Facebook and Twitter as we speak," she said.
http://www.huffingtonpost.com/2012/05/25/brave-saudi-woman-confronts-police_n_1546375.html
--------
UAE women's Twitter campaign against skimpy dress
By Eman Mohammed
May 26 2012
ABU DHABI — The UAE may be the Gulf's most liberal Arab state but two local women have caused a stir with an online campaign against the "repulsive" habit of Western women to reveal too much flesh in public.
Hanan al-Rayyes and Asma al-Muheiri say their "UAE Dress Code" campaign is designed to promote "respect for the country's culture" among foreigners and raise awareness about what locals consider appropriate dress and behaviour.
They argue that the UAE's Western residents and millions of tourists each year often dress in skimpy outfits, show too much flesh and kiss in public, all of which are unacceptable for its conservative and Islamic culture.
"I saw a woman at the mall wearing very short shorts and she looked repulsive," said Muheiri, who along with Rayyes launched the campaign on the online microblogging site Twitter this month.
Notices at entrances to malls in the United Arab Emirates warn shoppers to dress modestly, while signs depict how much skin visitors are allowed to reveal. But the guidelines are often ignored.
Muheiri said she reported one woman to the mall management, only to be told there was nothing they could do.
Frustrated, she posted a tweet about the incident and triggered "a lot of responses supporting my position."
As far as Muheiri and her supporters are concerned, foreigners in the UAE should respect local customs. If not, they should be fined.
A Twitter search for #UAEdresscode reveals a barrage of comments, both for and against the campaign.
"Every Expat in UAE must respect the country culture ... as we respect ur country rules & laws, u shud do the same in return," reads one posting.
"Forbidding tank tops/skirts in the malls in UAE is as ridiculous as forbidding the Niqab in the streets in France," said another posting, referring to French laws which ban Muslim women from covering their face.
One posting calls on those who do not respect the local dress code to go elsewhere. "Expats/Tourists, Nobody's pointing a gun at u & force u to live/visit here. If u can't stand the LOCAL values & law, then LEAVE."
Rayyes said the actions of those who violate their view of "decent" dress were "uncivilised," such as women at shopping centres dressed in "nothing more than a shirt" or "mini shorts that reveal their underwear."
"I don't accept this and I won't stay quiet about it," she said.
Emiratis are traditionally conservative. The overwhelming majority of local women wear the full black veil, revealing only their hands and face, while most men wear the traditional white cloak known as the "thawb."
But they are also a minority in their own country. According to latest government estimates, only about 11 percent of the UAE's 8.2 million population are Emirati nationals.
Local psychologist Nadia Bouhanad says the campaign reflected a "a fear by Emiratis that they might lose their social values."
The campaign has caused a stir in the country, attracting hundreds of posts and the attention of the local press. The Twitter account @UAEDressCode as of Thursday had 420 followers.
One campaign supporter, who identified himself as Ibn Thaleth, insisted the campaign was not an attack on foreigners in the UAE.
"They (foreigners) are allowed to do all sorts of things that we don't agree with," Ibn Thaleth told AFP. "We are not against them ... We are just asking them to show our culture a little respect."
Alcohol, though forbidden in Islam, is readily available throughout the year in bars, clubs and restaurants attached to hotels in most of the UAE.
Pork is also sold in supermarkets in a separate section marked "for non-Muslims only."
The campaign's logo -- a red circle with a black, short-sleeve, knee-length dress -- is widely recognised in the UAE. It is the same image posted on signs in malls urging women to "please wear respectful clothing."
Copyright © 2012 AFP. All rights reserved.
--------
Indonesian police consider toned-down Gaga show
By Angela Dewan
May 26 2012
JAKARTA — Police in Indonesia, after refusing a permit for Lady Gaga to perform in Jakarta, said Friday they were considering an offer from her local promoters to tone down the pop superstar's racy show.
However, while the promoters indicated that a deal was being hammered out, the US singer's own management has vowed no compromise to appease religious conservatives or censors.
Jakarta police said last week they would not give a green light to the June 3 show after Islamic hardliners threatened chaos if the singer entered Indonesia, meaning she has so far been unable to obtain a permit to perform.
"We have received a document outlining an agreement by the promoters Big Daddy, which says Lady Gaga's concert will respect Indonesian culture," Jakarta police spokesman Rikwanto, who goes by one name, told AFP.
He said they would evaluate the offer and if they agreed with all the terms, they hoped to sign it Friday and forward it to the national police, which has the authority to issue the permit.
"They said that Lady Gaga would wear more appropriate clothes and change some of her lyrics and dance moves in a way that will be acceptable in Indonesia," he said.
As hopes for the concert were reignited, hundreds of Islamic hardliners protested in various spots in the capital, including the US embassy and national police headquarters.
"America is the father of demons because it is fathering Lady Gaga," a protestor shouted through a loudspeaker outside the US embassy.
At police headquarters, protesters burned posters depicting the singer -- a vocal gay rights advocate -- with devil fangs and horns and branded with the words "Go to hell".
Members of the Islamic Defenders Front (FPI), which spearheaded the campaign against Lady Gaga, said in a statement handed out at the protests that it would "burn the stage" if the star performs.
"Let's crush liberals! Let's fight gays and lesbians!" the statement said.
The promoters of the "The Born This Way Ball" show in Jakarta have sold more than 50,000 tickets.
While Big Daddy did not confirm an actual compromise offer to the police, they said they were working with "related parties" to come up with a solution.
"If a permit for the concert in Jakarta is issued, Lady Gaga's party is committed to respecting the local culture and values in Indonesia," Big Daddy spokesman Arif Ramadhoni told reporters.
Ramadhoni told AFP that Big Daddy was in "constant communication with Lady Gaga's management".
"Her team has been cooperative. They said they will respect Indonesian culture without losing the spectacular and majestic aspects of the show," he said.
However, the star's manager Troy Carter said in Singapore on Thursday that Lady Gaga would not tone down any upcoming concerts, after protests from Christian groups in the Philippines and South Korea.
He said the 26-year-old singer, whose global hits include "Just Dance" and "Poker Face", would rather cancel shows than make enforced changes to her flamboyant act.
Asked specifically whether she was prepared to compromise on issues like her wardrobe in Indonesia, Carter said: "That's not actually true. I think that's something that the promoters and the organisers want to offer to the religious groups.
"But you know the religious groups, they basically don't want her stepping foot on the soil. We play the show as it is. It's a very specific show, it's a very specific audience."
Lady Gaga was in Bangkok Friday for her latest concert, and her management team could not immediately be reached for further comment.
Indonesia's national police force said last week it would not grant Lady Gaga permission to perform without the Jakarta police's approval.
That decision was met with a public backlash, with critics accusing authorities of buckling to bigotry and intolerance.
The decision also triggered debate among the country's leaders on foreign influences on Indonesia, the world's most populous Muslim-majority nation. Ninety percent of its 240 million people identify themselves as Muslim.
After Bangkok on Friday, Lady Gaga will play three shows in Singapore next week. She was due to play in Jakarta after that, before flying south to New Zealand and Australia, and then to Europe.
Copyright © 2012 AFP. All rights reserved.
--------
Movie tells a grisly Shopian rape story
By Naseer Ganai
May 26 2012
AFEATURE film based on the horrific rape and murder of two women in Shopian was screened at St Lawrence Art Centre in Portland, US, highlighting the grisly crime that took place on May 29 three years ago.
Chris Giamo and his partner Kelsey Kobic made the film, simply named In Shopian , following an exhaustive interview with Shakeel Ahmad, whose wife Neelofar Jan ( 22) and sister Asiya ( 17) were the victims of the controversial Shopian incident of 2009.
Shot in 2010, In Shopian presents a firsthand account of the incident. Its trailer begins with a long caption that immediately reflects the story.
" On May 29, 2009, Shakeel Ahmed Ahangur, a Kashmiri man living in the town of Shopian, returned home from work to find his wife and sister missing. After notifying the police and searching through the night, he discovered their battered bodies in a nearby river. Although the initial postmortem stipulated that they had been gang- raped and murdered, the Indian government's Central Bureau of Investigation later changed the ruling to death by accidental drowning. The incident immediately sparked massive strikes and protests." Shakeel rejected the CBI report and described it as concocted.
Full report at:
Mail Today
--------
Will Saudi Arabian Women Be Allowed to Participate in London Olympics?
By Ivana Kvesic
May 25, 2012
Although the international community has maintained cautious optimism that 2012 would be the first year every participating country in the Olympic Games would be sending female athletes to compete, the oil-rich Middle Eastern monarchy of Saudi Arabia has yet to confirm if it would be sending any female participants to London this summer.
According to a recent article by Human Rights Watch, the International Olympic Committee has been pressing Saudi Arabia to include women in the global sporting competition, and back in March signs of progress seemed to be made. However, the country has still yet to confirm if women will be participating in the games and recent comments by the country's Olympic Committee president indicate that the likelihood of females participating in the games is slim.
Saudi's Crown Prince Nayef bin Abd al-Aziz reportedly said in March that he approved of women competing so long as they "meet the standards of women's decency and don't contradict Islamic laws," according to the U.K.-based pan-Arab newspaper Al-Hayat.
During the same month the Saudi Arabian Olympic Committee presented the International Olympic Committee with a list of female athletes that could potentially participate in the games. Following the meeting the IOC released a statement saying that it was "confident that Saudi Arabia is working to include women athletes and officials at the Olympic games in London in accordance with the International Federations' rules."
Full report at:
http://global.christianpost.com/news/will-saudi-arabian-women-be-allowed-to-participate-in-london-olympics-75447/
--------
Prince Ali stunned by FIFA experts' hijab knock back
May 26, 2012
(Reuters) - Evidence from FIFA's medical experts on why the ban on Muslim women footballers wearing the Islamic headscarf or hijab should remain in place was deeply flawed and had no foundation, the campaign's principal supporter said on Friday.
Prince Ali Bin Al-Hussein of Jordan, whose presentation to soccer's law-making body IFAB six weeks ago saw the approval of the headscarf pending health and safety checks, said he was "shocked and disturbed" by the evidence presented on Thursday.
"If it is true, I would accept it, but I believe it was without foundation," he told reporters.
The IFAB, or International Football Association Board, comprises FIFA and the four British Home Associations.
Michel D'Hooghe of Belgium, the head of FIFA's medical committee, said he would only recommend to the extraordinary IFAB meeting on July 5 in Zurich that extra tests should be carried out on the headscarf which is crucial to millions of Muslim women playing the game all over the world.
Prince Ali, the youngest member of FIFA's executive committee, declined to comment when asked if he faced opposition from the committee's older, more conservative officials but there was no hiding his anger when he spoke on Friday.
"I was shocked when I heard about Dr D'Hooghe's press conference on Thursday. We covered all the issues raised including heat coming out of the head, breathable material, the neck issue.
Full report at:
http://in.reuters.com/article/2012/05/25/soccer-fifa-congress-hijab-idINDEE84O0JE20120525
--------
URL: http://www.newageislam.com/islam,-women-and-feminism/new-age-islam-news-bureau/delhi-anglo-arabic-school-admits-girls,-writes-new-chapter-in-350-year-history/d/7444