New Age Islam News Bureau
19 Feb 2014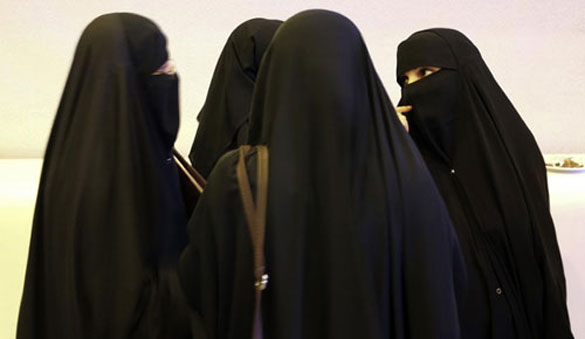 A number of academic women and specialists have accused scholars of undermining the role and rights of women. (File photo: Reuters)
-------------
• Saudi Scholars Accused Of Undermining Women
• To strip or not to strip, Lebanon's Myriam Klink asks
• Divorce Rate among Jewish Israelis Rising
• First Female Editor of a Saudi National Daily Wants Others to Follow
• Egypt Anti-Coup Bloc Vows 'Action' After Detainees' Rape Claims
• Uproar in Lebanon after Disabled Woman Banned From Flight
• Daily Life For The Children Of Syria: Yamama And Hayat's Story
• Bangladesh Indigenous Children Should Be Taught In Mother Tongues
Compiled by New Age Islam News Bureau
URL: https://www.newageislam.com/islam,-women-and-feminism/new-age-islam-news-bureau/decks-cleared-for-women's-voting-in-saudi-civic-elections/d/35832
---------------
Decks Cleared for Women's Voting in Saudi Civic Elections
February 19, 2014
Preparations have been made for women to participate in the third municipal elections next year. It was announced on Tuesday by Minister of Municipal and Rural Affairs Prince Mansour bin Miteb.
"Women have the right to contest the elections just like men without facing any discrimination," he said. Saudi woman also have the right to get permits to campaign like men, it said.
Women monitors drawn from community organizations would supervise the process for women candidates, agents and voters.
He said each woman candidate should appoint female and male agents to enter election booths.
The minister said the arrangements and regulations have been formulated in compliance with Islamic law and international standards on gender equality. Women must have their national identity cards to participate and vote.
There would be offices staffed by women officials to ensure the implementation of election regulations, forward complaints to local election committees, deal with election challenges, issue permits for campaigning, and register male and female agents for women candidates, the statement said.
He made it clear in a statement that no photographs of men or women would be required for their inclusion on the voter's roll, and to register as candidates or election agents. They would only need a card with the seal of the election committee. There would be complete separation between the women and men election processes.
Custodian of the Two Holy Mosques King Abdullah had issued an order allowing women to become municipal council members.
The announcement sent women ecstatic. Fatima Mossalli, a member of the Baladi campaign, welcomed the move. "In 2010 we demanded the right for women to vote and participate in the municipal council elections among other recommendations. We are excited to see women moving forward to hold leading positions for the benefit of the community and the nation," she said.
"The next step is for women to start working really hard on their campaigns because the pressure is on."
Suhaila Zain Al-Abideen, a Saudi activist for children and women's rights, and a member of the National Society for Human Rights, said it was time for Saudi society to start accepting its women in leading positions. "It is time for us to start educating them about the benefits of having women in municipal councils," she said.
She said women "have been a great addition to the Shoura Council" and have succeeded in dealing with a broad range of issues.
"It is healthy to have women on municipal councils because they will push other members to produce more. It will revive the councils and create healthy competition," said Zain Al-Abideen.
She called on businesspeople to support women candidates. "Not many people have the money to launch campaigns and this is where businesspeople should support their sisters," she said.
http://www.arabnews.com/news/527986
---------------
Saudi Scholars Accused Of Undermining Women
February 19, 2014
RIYADH — A number of academic women and specialists have accused scholars of undermining the role and rights of women, Al-Hayat daily reported. They claimed some scholars were misinterpreting the teachings of the Holy Qur'an and Islam in this regard.
Literature specialist Dr. Amal Al-Teaim said a number of academics specialized in the Holy Qur'an and Ahadith (Teachings of the Prophet) were relaying incorrect understandings and perceptions of women and their rights.
She noted one of the biggest challenges facing women is being deprived of their Shariah rights in addition to a lack of understanding of what they are entitled to.
During a symposium about the challenges facing Saudi women at Princess Nourah Bint Abdulrahman University in Riyadh, Al-Teaimi said women are still under the control of men due to the discourses of a number of scholars.
"A number of these scholars have not even touched on the true depth and meaning of Qur'anic verses that preserve women rights and there should be an increased perception of women's rights as stipulated in the Holy Qur'an and Ahadith," she said.
She believed that women should believe in their rights and abilities and not fall victim to degrading looks and views.
She called on those who undermine women to adhere to true Shariah teachings.
Hadith specialist Dr. Nawal Al-Eid warned that judicial authorities were ignoring women's rights and called on them to stand up for what they were entitled to.
"Women should read and be aware of their rights as stipulated in the Holy Qur'an and Shariah," she said.
She pointed out there are problems in Saudi society, like any other, and there were two perspectives consisting of those who call for complete equality between men and women and those who strongly believe women were practicing their full rights. "There must be a balanced view between these two opinions," she said.
Genetics specialist Dr. Amal Al-Hazani said the recent case of a university student who died because a male paramedic was prevented from treating her clearly demonstrates the constant violation of women's social and medical rights.
She said: "Women have been denied education by some who also believe that majoring in medicine is a door to sedition. Ironically, it is usually the same people who are now asking that women doctors attend to their wives."
She believed enforcing the role of women should be a political decision and not a social one.
She pointed out Ministry of Planning statistics reveal that unemployment in the Kingdom stands at 10 percent, of which 85 percent are women. "Saudi women should be asked to enter a court with a guardian or be employed or accepted at the university with the approval of their guardian," she added.
Shoura Council member Dr. Nourah Al-Udwan said illiteracy among Saudi women has declined to 8 percent and women's participation in government jobs has increased to 37 percent this year.
http://www.saudigazette.com.sa/index.cfm?method=home.regcon&contentid=20140219196209
---------------
To strip or not to strip, Lebanon's Myriam Klink asks
February 19, 2014
Never wanting to disappoint her fans, Lebanese model-turned-singer Myriam Klink sent out an unusual request to the public on Tuesday, sparking speculations it was linked to a recent scandal involving Lebanese skier Jackie Chamoun.
Confused over whether she should take the plunge and pose "completely naked" in an upcoming photo shoot "for an important cause," Klink asked the Lebanese public to weigh in on whether they would approve – or not.
Klink's announcement, which she confirmed to Al Arabiya News as true, sparked speculations that the planned photo shoot is linked to the widespread support of Chamoun, who was filmed naked in a raunchy video leaked last week.
In a Facebook post, Klink wrote: "Dear Lebanese people b4 I do the step I need your advices! I have a photo session completely naked it's for an important cause so b4 I accept I need you to agree or disagree!
"It's a professional photo shoot and for a huge cause! Only I need the advice of Lebanese men and women. Arabs are not allowed to give their opinion. Thank you waiting for you! (it's gonna be my first time)!" [sic]
In a statement to Al Arabiya News, Klink denied the photo shoot is linked to Chamoun.
"No it does not have to do with Jacky in any way! It is for an important cause but I did not accept yet," the model said on Wednesday.
Chamoun's video was shot behind the scenes of a calendar photo shoot in the past; however it resurfaced during the skier's participation in the Sochi Winter Olympics and has won bottomless support from Lebanese women.
It remains unknown what Klink's "important cause" is, but the model has previously stirred controversy over her provocative wardrobe and music videos.
http://english.alarabiya.net/en/variety/2014/02/19/Myriam-Klink-asks-Lebanon-Should-I-go-nude-.html
---------------
Divorce rate among Jewish Israelis rising
February 19, 2014
Last year 5.8 percent more Jewish couples divorced than in 2012, beating the previous annual increase of 4.7 percent, according to a report by the rabbinical courts.
According to the courts, the rabbis are cracking down on men who refuse to divorce their wives. The report showed a 180 percent surge in the number of penalties handed down in 2013 over the previous year, but women's groups say this figure is misleading.
Last year the rabbinical courts handed down 168 verdicts against 46 husbands who refused to grant their wives a get, a Jewish divorce agreement. In 2012 there were only 60 verdicts, reflecting the 180 percent jump.
Sanctions included barring the husband from leaving the country, nullifying his driver's license, and even imprisonment, though there were only 19 imprisonments, compared with 20 in 2012.
"The rabbinical courts are acting to improve their service to the public and have many notable achievements in this regard," said Shmuel Yosef, deputy president of the rabbinical courts.
Prof. Ruth Halperin-Kaddari, head of the Rackman Center for the Advancement of Women's Status at Bar-Ilan University, played down the data. She said the key figure was the number of husbands against whom sanctions were taken, not the number of sanctions.
"Any increase in the number of sanctions should be welcomed, but the published figures unfortunately do not point to such a dramatic increase," she said. "Often three or four sanctions are handed down to the same get refuser."
Halperin-Kadarri added that according to the figures for 2007, 86 men who refused to divorce their wives were penalized, "so in comparison to that year the trend is sadly down rather than up."
Attorney Batya Kahane-Dror from Dead End, an advocacy group for women who have been denied a divorce by their husbands, said the figures show "a very small number of imprisonment orders compared with the number of husbands who refuse to grant a get. Most of the imprisonments are brief and do not result in the husband granting a divorce."
According to Kahane-Dror, "the rabbinical courts also fail to note the length of time between the verdict and when the court actually sends the husband to prison. In our experience, years can pass before the court issues such a penalty, which the state comptroller has shown to be the most efficient way of reaching a get."
In 2013, Jerusalem led the country in the number of gets, with 733 compared with 705 the previous year. This pushed Tel Aviv into second place with 678, compared with 711 in 2012. Jerusalem, which often led the table in the past, is the country's largest city in terms of Jewish residents.
Haifa has risen to third from fourth in the country with 502 cases, compared with 426 in 2012. It now tops Rishon Letzion, whose 492 cases compared with 488 the year before. Netanya jumped to fifth from eighth place, with 379 cases, up from 346 the year before.
http://www.haaretz.com/news/national/.premium-1.575017
---------------
First Female Editor of a Saudi National Daily Wants Others to Follow
February 19, 2014
RIYADH: Soumayya Jabarti, the first female editor of a Saudi national daily, hopes to see more women take up top media posts in the ultra-conservative Muslim state.
She was named at the weekend as editor-in-chief of the Saudi Gazette, one of the two main English-language dailies in the Gulf kingdom.
"The success will not be complete unless I see my peers who are also Saudi women in the media take other roles where they are decision-makers," Jabarti said in an interview posted on Al-Arabiya News website.
"There's a crack that has been made in the glass ceiling. And I'm hoping it will be made into a door," said Jabarti, who served as deputy editor since 2011.
"Being the first Saudi woman (newspaper editor) is going to be double the responsibility... One's actions will reflect upon my fellow Saudi women," she said.
Saudi Arabia imposes a strict interpretation of Islamic laws, notably a segregation of the sexes, and does not allow women to work or travel without the authorisation of a male guardian from her family. It is also the only country in the world that bans women from driving.
https://www.dawn.com/news/1087852/woman-in-saudi-media-first-wants-others-to-follow
---------------
Egypt anti-coup bloc vows 'action' after detainees' rape claims
World Bulletin / News Desk
February 19, 2014
Egypt's anti-coup alliance has begun documenting incidents of sexual assault reported by its previously detained female supporters with a view to taking legal action against the perpetrators, according to a leading alliance member.
Hisham Kamal told Anadolu Agency on Tuesday that the National Alliance for the Defense of Legitimacy had formed hearing committees for released female detainees who said they had been subject to varying degrees of sexual assault, including rape, during their time in detention.
"Violating girls is a red line that cannot be left unpunished," Kamal said, citing reports that four detained female alliance supporters had been raped while in prison last week.
Kamal asserted that the alliance planned to "take action" once the committees concluded their hearings.
Ehab Shiha, another leading alliance member and leader of the Salafist Asala Party, told AA that his party had collected testimony from four female activists who said they had been raped while in police custody in Cairo.
Shiha said his party also planned to take legal action based on the testimonies.
A security source, however, denied the allegations.
"These claims are aimed at turning international public opinion against Egypt," he told AA.
"They should either present their evidence to the prosecution or be quiet," he said.
Egypt's military-backed government has launched a wide-ranging arrest campaign against supporters of ousted president Mohamed Morsi since the latter's overthrow last July by Egypt's military establishment.
Thousands are now believed to be in detention on multiple charges in Egyptian prisons and police stations.
Earlier this month, a number of detained activists alleged that they had been subjected to torture at the hands of security forces, drawing condemnation from local rights groups.
http://www.worldbulletin.net/world/129196/egypt-anti-coup-bloc-vows-action-after-detainees-rape-claims
---------------
Uproar in Lebanon after disabled woman banned from flight
February 19, 2014
Wheelchair-bound Rula Helou, who hails from Marjayoun, south Lebanon, said she was unable to board her flight with Middle East Airlines to Cairo because of her disaiblity. She added that the airlines' staff had also taunted her about her wheelchair.
In an interview with Al Arabiya News on Tuesday, Helou said she would file a suit against the Middle East Airlines, which has since denied her allegations.
"I won't file a complaint but a lawsuit and my lawyer is handling the matter," she said.
The 37-year old said she was a frequent flyer and had taken all the necessary steps for her flight on Sunday.
"I was on my way [Sunday] to a poetry-related event there [in Egypt] … I have flown before and followed all the procedures required for the flight," she said.
The Middle East Airlines issued a statement Monday saying while booking her flight Helou had stated she could walk from her wheelchair to the plane.
"But when she arrived at the airport counter, it became [apparent] that she needed an escort to reach the plane's seat, a matter that requires prior notification to ensure her safety and that she have a comfortable [trip]," the statement published Monday added.
The firm did however note Helou had requested assistance while booking for previous flights with the national carrier.
The firm also denied claims its staff had misbehaved toward Helou, suggesting the opposite was in fact the case.
"While expressing our respects to the feelings of Mrs. Helou, this issue should not be turned into a campaign depicting the company as heartless. [We also need] to recall the necessity of appropriate language [when dealing] with company employees," the statement said.
Helou has denied being rude to the MEA staff.
The syndicate representing Middle East Airlines employees also dismissed Helou's allegations, saying she was "blatantly exploiting the media … in a manner that does not reflect well on her profession."
"Employees and workers at Middle East Airlines have never behaved with passengers in the manner Mrs. Helou attempted to portray," the syndicate said in a statement.
Boycott threats
The Lebanese Physical Handicapped Union has voiced its support for Helou.
"This behavior contradicts all the international laws and agreements to protect the rights of people with special needs and laws governing the tourism sector," the union said in a statement.
It urged the MEA to apologize to Helou, warning of a potential boycott of the airlines.
In its statement Monday, MEA said it had a proven record of meeting the needs of people with special needs without any previous problems.
"The firm abides by all international laws and respects the needs of people with special needs," it said.
"MEA provides flights for 100 people with special needs, including four to five with complete paralysis, on a daily basis without any issues arising," the company said, adding that it had recently set up a state-of-the art center for individuals with special needs "to meet all their needs, 24/7."
Media reaction
Houla's case attracted wide media attention in Lebanon.
Privately run LBCI TV criticized the airline in its report, saying that "Middle East Airlines did not realize that taking care of disabled passengers is an obligation, not an act of benevolence."
The broadcaster said the mistreatment of the disabled travelers by the airlines has been going on for years.
It quoted a wheel-cheer bound man named Taoufiq Allouche, saying he has boycotted the MEA for two year after receiving poor treatment from the airline.
"There was no time that I traveled with the Middle East Airlines without them telling me this: 'You are not allowed to travel because you are alone, as if I am a minor," Allouche told LBCI.
The daily al-Akhbar newspaper published that Houla, a woman "who has traveled the world as a journalist, today faces all discrimination and humiliation at the Middle East [Airlines]."
News website Tayyar.org, affiliated with Michel Aoun's Free Patriotic Movement, described Helou in a report as a "victim of discrimination and lack of accountability."
http://english.alarabiya.net/en/News/middle-east/2014/02/19/Lebanon-in-uproar-after-disabled-woman-banned-from-flight.html
---------------
Daily life for the children of Syria: Yamama and Hayat's story
February 19, 2014
Yamama and Hayat are cousins. They and 13 members of their families now share a single tent in the Fayda tented settlement in Lebanon, after Hayat's family's tent in a nearby settlement collapsed due to rain.
"The wood [was] old and broken, and [when] it started raining heavily, our tent fell on us. And we came here," says Hayat. "Everything was ruined – my clothes, my school books." She fled with her parents, five sisters and one brother from the Syrian city of Homs one year and two months earlier.
"Back in Syria, I would go to school during the day, and we studied everything," Hayat said. "Here I can't go to school; I go to classes in the tent where we live. I like to draw, and I also help my mother. I clean the house. I also cook a little. I make fattayer [pastries]. I miss Syria and my school there and everything. I wish I [could] go back to Syria and live like we used to because Syria is better than here. Everything is different here. Back home, my father used to take us every week to the sea and to the park to play with swings. But here we can't go anywhere. There isn't anywhere we can go."
Hayat's mother has voiced her own concerns for her daughters: "I feel their future is lost. They used to study; they had different lives." She has attempted to register her girls for school, but a language barrier in the classroom, where English is the language of instruction, is a significant challenge for them. The cost of schooling is another impediment; Hayat's father struggles to find work and earn a living.
Yamama, her mother and older brother left their home in Idlib, the Syrian Arab Republic, three years ago, at the start of the crisis. She has three other brothers as well as a sister and has not seen her father since fleeing abroad.
"When we first came here we didn't have a tent. After some time, we got a tent," she said. She has been attending non-formal education activities supported by UNICEF and the NGO Beyond Association in a tent in the camp. "My school in Syria was nice, I used to have a teacher who was really good, and I liked him very much. I did really well in school; I used to pass all my exams and get full marks. Here I go to school in a tent. In Syria, my school was a building with classes for the big children and classes for the small children. But it doesn't matter if I am going to school in a tent. What matters is that I am going to school." Recently, however, the school tents, which are not watertight, had to be closed due to snowfall. While awaiting the arrival of UNICEF-provided winter tents, Beyond Association negotiated the use of nearby office space for schooling.
As the Syrian crisis enters its fourth year, children are bearing the brunt of the conflict. Nearly 3 million Syrian children like Yamama and Hayat have been forced to abandon their education. Resources in refugee camps are being stretched to breaking point and young Syrians are at risk of becoming a lost generation.
Donate to our Syria children's appeal now to help children like Yamama and Hayat.
http://blogs.unicef.org.uk/2014/02/17/daily-life-children-syria-yamama-hayats-story/
---------------
Bangladesh Indigenous children should be taught in mother tongues
February 19, 2014
Children of indigenous communities should be taught in their respective mother tongues at primary level to reduce their drop-out rates, said a study of Research and Development Collective yesterday.
"Drop-out rates of indigenous and other minority communities are much higher than those of their Bangalee counterparts. Only multi-lingual education system can help reduce the rates," said Prof Mesbah Kalam of Dhaka University, leader of the team that carried out the study, at a publication ceremony of the study at Jatiya Press Club in the capital.
The study titled "Mapping of Multi-Lingual Education Programs in Bangladesh" recommended recruiting qualified teachers from minority communities to teach students of the respective communities and developing more textbooks.
Research and Development Collective conducted the study with assistance from United Nations Educational, Scientific and Cultural Organization (Unesco) and Save the Children.
Civil Aviation and Tourism Minister Rashed Khan Menon said their books should also be written in their own languages.
Rasheda K Choudhury, executive eirector of Campaign for Popular Education, who presided over the programme, said, "Guardians of children belonging to minority communities want their kids to be educated in their own mother tongues but fear that this will lead to the kids being cut off from the mainstream."
http://www.thedailystar.net/city/indigenous-children-should-be-taught-in-mother-tongues-12031
---------------
URL: https://www.newageislam.com/islam,-women-and-feminism/new-age-islam-news-bureau/decks-cleared-for-women's-voting-in-saudi-civic-elections/d/35832