New Age Islam News Bureau
29 Jun 2017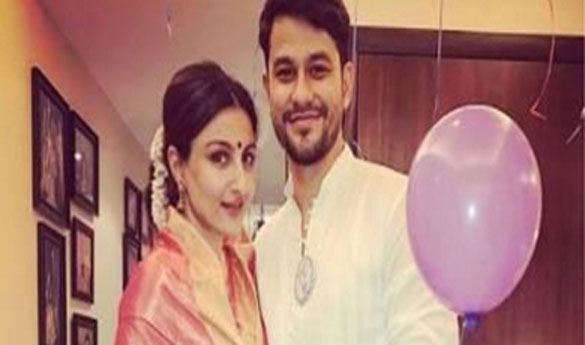 Photo: Actress Soha Ali Khan, who is expecting her first child with Kunal Khemu, was bashed by fanatics on social media for her attire.
-------
• Arab Israeli Women Sue El Al Over Profiling and Strip Searches
• Actress Soha Ali Khan Called 'Non-Muslim' For Wearing Pink Saree
• Wife and Daughters of Muslim Official Face Islamophobic Attack in Bulgaria
• French Mayor Bans Muslims from Wearing Burkinis and Headscarves at Leisure Park
• Immigrant Women Fear Deportation under Trump If They Report Domestic Abuse, Advocates Say
• Nigeria: Women Leader Chides Husbands Abdicating Responsibilities
• Trans Women in Malaysia Need Support and Accountability in the Face of Increasing Violence
Compiled by New Age Islam News Bureau
URL: https://www.newageislam.com/islam-women-feminism/death-threats-every-day-woman/d/111714
------------
"Death threats every day" for woman behind new liberal mosque
Jun 29, 2017
BERLIN -- The opening of a new mosque this month in Berlin further strained already-tense relations between Germany and Turkey, and has caused outrage in various corners of the Muslim world -- even prompting religious authorities in Egypt to issue a decree condemning the mosque as un-Islamic.
But despite recieving hundreds of death threats, the mosque's founder, Seyran Ates, says she'll continue to fight for her cause.
That cause, and the principle behind the Ibn-Rushd-Goethe mosque, is that Muslims from all of the religion's many sects are welcome to worship. Named after medieval Islamic scholar Ibn Rushd and German writer Johann Wolfgang Goethe, the mosque holds prayers every Friday in space rented inside a Lutheran church.
Ates wanted to create a place where Sunni and Shiite, Alawite and Sufi Muslims, men and women -- and members of the LGBTQ community -- could pray side by side. The 54-year-old lawyer and women's rights activist of Turkish origin has a long history of challenging conservative interpretations of her religion, which she believes are no longer compatible with modern-day life.
The progressive house of prayer offers a platform for female imams like Ani Zonneveld, from the U.S., who gave the call to prayer for the mosque's inauguration. House rules state that female visitors not wear full-body garments like the burka or niqab, as it "would only send a political statement."
While liberal Muslims who feel restricted by mainstream Islam cherish Ates' project, conservative worshippers have expressed outrage, calling it "disgusting and sinful," as it "disrespects the key elements of Islamic faith." Egypt's Dar al-Ifta al-Masriyyah, a state-run religious authority, issued a "fatwa" or official decree labelling the Ibn-Rushd-Goethe mosque an "attack on Islam."
The Egypt-based Al-Azhar, the most prestigious Sunni institution in the world, called the mosque, "religious innovation that is not approved by Islamic Sharia".
Muslims attend Friday prayers during the opening of the Ibn-Rushd-Goethe Mosque, June 16, 2017, in Berlin, Germany. GETTY
"I receive hundreds of death threats every day. I rely on personal protection, but I will continue to stand up for my organisation. Islam needs a change, and together with our supporters across the world we can make a difference," Ates told CBS News.
After Turkey's religious affairs agency Diyanet commented on the new mosque, the case became yet another point of contention between the German and Turkish governments.
The mosque's practices "do not align with Islam's fundamental resources, principles of worship, methodology or experience of more than 14 centuries, and are experiments aimed at nothing more than depraving and ruining religion. We are convinced that all fellow believers will keep their distance from such provocations," said Diyanet in a statement.
German officials were "very surprised" by Diyanet's stance. German Foreign Ministry spokesman Martin Schäfer defended one of Germany's fundamental rights; "I want to be very clear in rejecting all comments that clearly intend to deprive people in Germany of their right to freely exercise their religion and to limit the right to free expression of opinion."
Diyanet and a number of pro-government newspapers in Turkey went further, linking the Ibn-Rush-Goethe mosque to U.S.-based cleric Fethullah Gulen and his supporters, whom the Turkish government blames for a failed military coup in July 2016 and wants sent to Turkey to face prosection.
Ates told CBS News that she never expected to be accused of working alongside Gulen.
"It's getting more and more ridiculous. It's no longer a religious matter, it's about Erdogan and his aim to oppress progressive, liberal Turks," she said, referring to Turkish President Recep Tayyip Erdogan.
Ates, who is training to become an imam, sought talks with the conservative Ditib organisation which manages a few hundred mosques throughout Germany.
Human-rights activist Seyran Ates, left, chats with colleagues prior to Friday prayers during the opening of the Ibn-Rushd-Goethe Mosque that she helped found on June 16, 2017 in Berlin, Germany. GETTY
"Over the past few years I would approach conservative Islamic organisations with the aim to cooperate, but instead of a peaceful dialogue they accuse me of being a member of the Gulen movement," she told CBS News.
Germany, which has a Turkish population so large it represents Erdogan's 4th biggest constituency, was already on bad terms with the Turkish government over a number of diplomatic disputes, including the arrest of a German-Turkish journalist, Turkey's barring of German politicians from visiting an air force base hosting German planes, and Germany's refusal to allow Turkish election campaigning in German cities.
cbsnews.com/news/liberal-mosque-berlin-germany-ibn-rushd-goethe-seyran-ates-death-threats-turkey-egypt/
-------
Arab Israeli Women Sue El Al Over Profiling And Strip Searches
June 28, 2017
Three Arab Israeli students are suing El Al and Israel Arkia Airlines after the group said they were subject to extra screening and invasive searches due to their ethnicity as they tried to board a flight for Tel Aviv.
The women have sought $100,000 in damages in Israeli court after the incident in October, when they were boarding a flight from Belgrade, Serbia back to Tel Aviv - El Al was responsible for security and Arkia organized the tour of Serbia that they were on.
According to the suit, the women were forced to undress and submit to a cell phone search because of their race. The women also said that they were not to able recover their luggage for almost two weeks.
"This was a search meant to humiliate – both because we are Arab and also because we are women. I heard the security officer say explicitly that if we don't undress, we won't get on flight," one of the women told Haaretz.
forward.com/fast-forward/375861/arab-israeli-women-sue-el-al-over-profiling-and-strip-searches/
-------
Actress Soha Ali Khan Called 'Non-Muslim' For Wearing Pink Saree
Vikram Bhalla | Updated: Jun 29, 2017
Actress Soha Ali Khan, who is expecting her first child with Kunal Khemu, was bashed by fanatics on social media for her attire. Soha had shared a picture from traditional Bengali baby shower yesterday, in which she was donning a pink sari and posing with husband Kunal. Not only did she receive a lot of hate comments on that post, she was also branded un-Islamic for her choice of outfit.
This is what Soha had shared on Instagram
And some of her followers instead of congratulating Soha started posting nasty remarks on this photo. Her followers apparently also accused her of not wishing them Eid.
Soha had also shared the same photo on Twitter, where too she was shamed.
27 Jun
Soha Ali Khan ✔ @sakpataudi
It isn't a party without balloons 🎈! pic.twitter.com/VjWnntegjS
Follow
Rizwan Khan @rizwan_khan1012
@sakpataudi so finally you have become a hindu
11:02 AM - 28 Jun 2017
4 4 Retweets 3 3 likes
Twitter Ads info and privacy
But Soha's response to the entire episode was grace personified.
A few weeks earlier, Dangal actress Fatima Sana Shaikh too had to face wrath and abuses of zealots for sharing a photo in a swimsuit. We just hope trolls give bigotry a break and become more tolerant.
timesofindia.indiatimes.com/viral-news/bigots-target-pregnant-soha-ali-khan-for-wearing-pink-saree/articleshow/59366039.cms
-----
Wife and daughters of Muslim official face Islamophobic attack in Bulgaria
The wife and two daughters of the assistant to the head mufti of Bulgaria experienced a religiously motivated attack on the streets of Sofia.
Assistant to the head mufti Birali Birali's wife and daughters were passing a shopping center in Sofia when two Bulgarian women and a man verbally abused them.
The Bulgarians targeted the three women, who wear Islamic headscarves, saying, "You can't walk around like that" and similar insults.
The men and women then physically assaulted Birali's daughters, who are aged 16 and 20.
Spokesman for the Head Mufti's Office Celal Faik stated that Binali's wife and daughters were taken to hospital after the incident.
Faik said that the office and the Muslim community wanted the attackers to be found and tried, adding that they do not want this ugly incident to be without consequences.
The Movement for Rights and Freedoms Party (HÖH) brought the issue to the parliament, making a statement on the incident and condemning Islamophobia in the country.
HÖH chairman Mustafa Karadayı said, "We are all in shock. It is extremely dangerous to act out of hate. Someone should say 'Enough is enough.' We will never stop warning against these kinds of incidents. We say let's return to tolerance."
The Sofia police has stated that the suspects in the incident have been found and taken in for questioning, while a complete statement will be given once the investigation is complete.
The incident comes after Bulgarian nationalists blocked three main crossing points with Turkey in March to prevent thousands of Turks with Bulgarian passports coming to vote in Bulgaria's elections.
Bulgaria is home to a 700,000-strong Muslim minority, most of them ethnic Turks, while at least 200,000 ethnic Turks with Bulgarian passports live in Turkey. The two groups make up more than 10 percent of the population.
dailysabah.com/islamophobia/2017/06/29/wife-and-daughters-of-muslim-official-face-islamophobic-attack-in-bulgaria
-------
French Mayor Bans Muslims from Wearing Burkinis and Headscarves at Leisure Park
June 29, 2017
A French mayor is under fire for attempting to introduce a ban on women wearing burkinis and veils at a new public swimming complex in his town.
Gerard Tardy, the mayor of Lorette, south of Lyon in Central France, has said women wearing the full-body swimming costume or headscarves at the town's new leisure park will be in breach of local laws as laid down in a Town Hall decree and faces removal by the security teams or police.
View image on Twitter
Follow
FBleu StÉtienneLoire ✔ @bleustetienne
Le maire de #Lorette interdit le port du voile sur la plage du nouveau plan d'eau communal.francebleu.fr/infos/societe/loire-le-maire-de-lorette-veut-interdire-le-port-du-voile-sur-la-plage-du-nouveau-plan-d-eau-communal-1498588640 …
10:22 AM - 28 Jun 2017
14 14 Retweets 12 12 likes
The leisure park opened on June 23 and includes two man-made swimming areas and a beach the public must pay to access.
Article 4 of the decree says users must "have decent attire and a correct attitude." It also states: "On the beach monokinis, burkinis, veils that partially or totally conceal the face are banned."
A sign at the beach shows everything that is forbidden. As well as the Muslim headscarf, the Town Hall has also banned dogs, music, leaving litter, drinking alcohol and playing soccer.
Last summer about 30 resorts in the south of France tried to introduce a burkini ban but these were overturned by France's highest administrative court the State Council (Conseil d'Etat). It called the bans "a serious and illegal attack on fundamental freedoms".
Reacting to Lorette's new burkini ban, Aldo Oumouden, spokesman for the Grande Mosque in the nearby city of Saint Etienne, told The Local: "Wanting to ban the veil in this swimming area is an attack on the individual freedom of Muslims. The mayor does not realize that this decision will further increase stigma. It is not only unnecessary but also devastating for community harmony."
heatst.com/world/french-mayor-bans-muslims-from-wearing-burkinis-and-headscarves-at-leisure-park/
-------
Immigrant women fear deportation under Trump if they report domestic abuse, advocates say
JUNE 28, 2017
CHICAGO — Maria never called the police, even when her boyfriend clutched her neck and squeezed hard enough to leave bruises, she said.
Because he is in a gang, she said, she feared he would kill her if she reported him. Because she lives in the U.S. illegally, she feared the government would deport her to Mexico, where she hasn't lived since 1998.
Lawyers and advocates for domestic violence victims say under President Donald Trump's stricter immigration policies, which include plans to expand deportations of people here illegally, immigrant women experiencing domestic violence are more afraid than ever to come forward. Some victims fear their partner, often the father of their children, will be deported and taken away from their family. Others, like Maria, fear being deported themselves.
After Maria left her abusive partner, he alleged in a report to the Department of Children and Family Services that her new boyfriend was abusing their daughter. DCFS found no evidence that the claims were true, she said. But Maria — fearing that a prolonged court battle could put her at risk of deportation and separation from her daughter forever — recently decided to give up primary custody of the girl.
"Every time I feel safe," he comes up with another reason to go to court, said Maria, who asked that her last name not be used. "It's nonstop."Since federal immigration agents do not consider courthouses off limits, some women are afraid to apply for orders of protection or to testify, which could qualify them for a special visa issued to crime victims. Others, particularly Muslims, want to avoid calling attention to their communities, especially given the rise of anti-Islamic rhetoric since Trump's election.
"A lot of clients are afraid to come to the courthouse and have to choose if they want to proceed with their court cases," said Ginger Devaney,a staff attorney with Chicago's Domestic Violence Legal Clinic. "They could have a chance of getting a (special) visa but risk being detained at the courthouse."
Dropping the case "could put them in danger, and then they've lost their chance at immigration relief," she said. "It's a really bad bind for alot of folks."
To minimize the risk for domestic violence victims who are here illegally, Devaney said the clinic has been working to relocate its non-emergency services to an undisclosed location. But since most clients seek emergency orders for protection, the clinic itself must be located at the courthouse. Callers who dial the hotline are cautioned before they come, she said.
"We think it's a very small risk, but we can't give assurances that the courthouse is safe," she said. In addition, applications for U-visas, the special visa issued to crime victims, have declined among Devaney's clients, she said. Though women are granted a deferral from deportation while they wait for their visas to be approved, that process could take years due to an annual national cap of 10,000 visas — and women are not eligible for work permits during the waiting period. Many can't afford to wait and don't want to put themselves on the government's radar for that long, Devaney said.
"Making victims more afraid to come forward is bad for everyone," Devaney said. "A reason law enforcement supported the U-visa program is if immigrants are afraid to come forward, the people who commit the crimes go free. Who's not to say the next victim won't be a citizen?"
While protecting victims of domestic violence largely has been a bipartisan issue, some legislators have been wary of too many provisions for individuals living here illegally. Some have argued for more anti-fraud measures to prevent immigrants who live here illegally from making false allegations of abuse to get out of a marriage and secure a green card.
The Rev. Chuck Dahm, pastor of St. Pius V Catholic Church in Pilsen, said women who came to the U.S. illegally have always feared coming forward about an abusive partner, as that person is often the father of their children and their financial lifeline. But the trepidation is even stronger now.
"Because of Trump's real changes in the implementation of the law — going after people, knocking on their doors, waiting outside their homes — they're even more reticent than they already were because they're afraid they might come looking for the abusive spouse and take her (instead)," Dahm said. "You can't underrate the fear that is going through the community."
For one 30-year-old suburban woman from Mexico, a special petition available to victims of spousal abuse became her only path to citizenship. When her husband withdrew his support of her green card application and threatened to kill her, she said, lawyers suggested she petition for eligibility to apply without him under the Violence Against Women Act.
Every time the woman left their daughter with her grandparents to appear in court for divorce proceedings, she gave instructions about what to do if she didn't return.
"Even going to the courthouse was extremely fearful, with the president making all of these threats," said the woman, who asked that her name not be used. "Just going there drained me."
While there is no cap on Violence Against Women Act petitions, and women who successfully petition can apply for work permits, couples must have been legally married and the abusive spouse must be a U.S. citizen or legal permanent resident. If the couple only lived together, only had children or entered only a religious marriage, domestic violence victims are not eligible for relief under the act, which Congress will review again next year.
That can be a problem for some Muslims whose religious marriages aren't recognized in the U.S., said Aisha Rahman, executive director of Karamah, a national group of Muslim women and legal experts who train other lawyers on balancing American and Islamic law and provide referrals to women in search of legal counsel.
Rahman and other advocates also point to a clause in Trump's executive order — which calls for barring refugees from six Muslim-majority countries — that has further isolated some victims of domestic violence.
The order, much of which was allowed to go into effect by a Supreme Court ruling Monday, directs the Department of Homeland Security to track so-called honor killings committed by foreign nationals in the U.S. Muslims say the practice, which refers to the murders of women who shame their families with some form of sexual impropriety, is not justified by their faith.
Victims' advocates say highlighting honor killings in the executive order contributes to anti-Islamic sentiment and makes some Muslim victims of domestic violence more afraid to come forward.
"A lot of times the reason why Muslim women do not report or seek services is they are met with that kind of Islamophobic interaction," said Nadiah Mohajir, co-founder and executive director of HEART Women & Girls, a Chicago agency that promotes sexual health and sexual violence awareness in Muslim communities. Women hear comments like "'This wouldn't have happened if you had just left the community, or weren't Muslim or hadn't married a Muslim man.' Their case workers, or case manager or law enforcement is blaming their faith community and blaming their faith tradition for the situation they're in."
Neha Gill, executive director of Apna Ghar, a Chicago agency devoted to ending gender violence in immigrant communities, said victims' reluctance to involve the criminal justice system has led her organization to emphasize other options for women, such as counseling and housing.
"Our way of responding is doing outreach, specifically toward the survivors, helping them understand what's available," Gill said. "Their protection is not always tied to punishment for the abuser."
watertowndailytimes.com/national/immigrant-women-fear-deportation-under-trump-if-they-report-domestic-abuse-advocates-say-20170628
-------
Nigeria: Women Leader Chides Husbands Abdicating Responsibilities
By Abubakar Sadiq Isah
The Ameerah of the Jamaatul Da'awah (Islamic propagation) women's wing of the Fuad Lababidi Islamic Academy, Abuja ,Hajiya Rakiya Shehu Bamalli has said that the abdication of responsibilities by some husbands was responsible for many of the problems confronting Muslim women and children.
She spoke in Abuja at the closing ceremony of the 18th Tafsir focusing on the sustenance of the lessons and blessing of the month of Ramadan.
"Our organisation has existed for about 20 years and we have been assisting the less privileged in the society and especially during the month of Ramadan when we do more. We have many problems at hand that are caused by men though they should not have arisen at all.
"We all know that many husbands failed in their responsibilities, we have seen many abandoning their responsibilities including those who are knowledgeable. Some just marry women and refuse to provide for their welfare, leaving the wives to cater for themselves and the children when Islam clearly shows who as the head is responsible for the upkeep of the family," she said.
The Chief Imam of Wuye Central Mosque Abuja, Ustaz Muhammad Kabir urged Muslims to sustain the virtues and responsibilities imbibed during Ramadan.
"There are some people referred to as Ramadan slaves, they were not praying or acting righteously except during Ramadan and they go back to their old ways after Ramadan instead of being a slave of Allah who act according to the dictates of Islam at all times," he said.
The cleric expressed joy that this year's Tafsir had maked positive impact with some husbands making telephone calls that their wives were better off due to the teachings of the Tafsir.
The organisation afterwards visited the Karu Orphanage Home where they distributed relieve material to the children.
allafrica.com/stories/201706280797.html
-------
Trans Women in Malaysia Need Support and Accountability in the Face of Increasing Violence
A recent spike in violence against trans women in Malaysia has left activists and the trans community fearful but also determined in their calls for the Malaysian Government and society to be held accountable.
The most high-profile of recent cases was the murder of 26-year-old Sameera Krishnan in late February 2017, which Malaysian police dismissed as "not a hate crime": instead, they linked it to her kidnapping two years ago, whose hearing she was about to be the main witness for a few days after the murder. "I think the sexual and gender-based violence in Sameera's case is pretty blatant, and the elements of 'over kill' in the murder must be acknowledged," says Thilaga Sulatireh, organiser for trans advocacy organisation Justice for Sisters, referring to the gunshot wound and mutilation found on her body. (Gun laws are very strict in Malaysia, but there is also a growing black market for firearms.)
Internationally renowned trans rights activist Nisha Ayub stated that the cases that gain media attention are only the tip of the iceberg: there are plenty more that either go unreported. Speaking to Autostraddle, she related the case of a trans woman who privately sought help after being run over by a car by assailants to the point of no longer being able to walk and needing physiotherapy. "She was so afraid to publish this out," Nisha notes.
Nisha believes the rate of violence against trans women has been increasing, especially when taking unreported cases into account. Thilaga, however, hedges her bets: "Thing is, we don't have data to show the trend or escalation or deescalation of hate crime and murders. There's surely been an increase of consciousness regarding violence and issues faced by trans women, including some media."
The media has been a mixed bag for trans representation in Malaysia. Trans women have been consistently misgendered in reports in mainstream media, a recent example being the murder of a banker in an apartment complex in Cheras where the victim was described as male. Trans people, as well as others in the wider LGBTQ umbrella, are also often depicted as predators or degenerates – such as the 2013 State-sponsored musical Asmara Songsang (Abnormal Desire), depicting innocent young people "seduced" by LGBTQ people who were later killed in a lightning storm (unless they repented). Drawing from the response from a Facebook group for Malaysian trans women (with around 3000-4000 members), Nisha says: "Most of them actually share the fear about how in Malaysia it's not safe for trans people to walk around […] I don't blame the community. Because even nowadays you can see a lot of politicians, a lot of media – mainstream media – tend to portray negatively towards trans people. And automatically it's also encouraging hatred."
However, there also has been a growth in support for trans people in both mainstream and social media in Malaysia, from increased awareness of trans issues to open declarations support and allyship from other communities in Malaysia. The I AM YOU: Be A Trans Ally campaign, launched in 2015 by Justice for Sisters has garnered over 2700 likes on Facebook as well as engagement from notable Malaysians such as socio-political activist and writer Marina Mahathir, who is also the daughter of former Malaysian Prime Minister Mahathir Mohammad.
The increased media attention has also made a tangible difference in the policing of trans people in Malaysia by authorities. The watershed ruling by the Court of Appeal declaring laws against crossdressing unconstitutional, the first time the Syariah court was openly challenged, raised awareness amongst other Malaysians about the existence of such laws. "Once it's been exposed more, talked about more in social media and everything, people know about this. They created more awareness, and the important part – they created more allies. After that we can see the reduction of arrests from the religious enforcers – not just in Negeri Sembilan but all around Malaysia," explains Nisha.
Nisha and other members of the Malaysian LGBTQ community recently succeeded in convincing the Ministry of Health to change the wording on a recent creative video competition to refer to gender and sexuality rather than "gender confusion". This is very significant given the Ministry and the Government's general hostility toward issues primarily affecting LGBTQ people, such as HIV/AIDS prevention, often in connection with conservative Islamic forces (Islam is the official religion in Malaysia but there are both secular and Islamic bureaucratic systems, such as both civil law and Syariah law).
"When you talk about health issues, if you talk about prevention or HIV/AIDS, the Islamic [conservatives] do not condone condom distribution or anything, and then yet collaborate yet with the Health Ministry. It doesn't align. When you combine health issues together with religion, I just feel like that's gonna be some issues," says Nisha. "Also, we in Malaysia are not all Muslim, right? We have other races too. Why are they concentrating only on one race, one religion? How about the other religions? It's scary to see that Malaysia become this next Arabic country […] the most affected are the minorities."
Nisha's perspective on Islam's influence on the ways minorities, including trans people, are treated in Malaysia is interesting to compare alongside the work of Western-based Muslim activists, many of whom actively emphasise how Islam, gender, and sexuality need not conflict. Nisha thinks these activists need to look at the way Islam gets interpreted and apply what they've learned towards helping Muslims in Muslim-majority countries such as Malaysia, Brunei, and Indonesia. "They need to be the voice up there – whenever anything happens to any countries talking about LGBT and faith."
Others from outside Malaysia — both Muslim and non-Muslim — can also use their international position to support efforts in Malaysia. Malaysia, being seen as a 'small developing country', tends to lose out on international funding or media representation, and are already shut out of Malaysian governmental funding. Support organisations such as SEED Malaysia, headed by Nisha and other trans activists to prove drop-in services to trans people, sex workers, and people living with HIV/AIDS, rely on crowdfunding and donations from the public – for instance, they are currently fundraising for a shelter for elderly trans people.
People in other countries can also help raise the profile for issues affecting Malaysia by addressing their Governments. "Maybe you cannot intervene in the certain development of a country, but at least you can always ask questions," says Nisha. "If anything happens in Malaysia, question [your] Government. What are you doing about this? Rather than just keeping quiet and only concentrating on national hot stories."
Nisha has hope for the future, as bleak it may seem right now. "I see more allies coming upfront. And it is important to have non-LGBT people to also come to speak up about the issues that we face. Especially with the younger generation. Because I see more of the young generation are very open towards this diversity of gender and sexuality."
autostraddle.com/trans-women-in-malaysia-need-support-and-accountability-in-the-face-of-increasing-violence-384292/
URL: https://www.newageislam.com/islam-women-feminism/death-threats-every-day-woman/d/111714
New Age Islam, Islam Online, Islamic Website, African Muslim News, Arab World News, South Asia News, Indian Muslim News, World Muslim News, Womens in Islam, Islamic Feminism, Arab Women, Womens In Arab, Islamphobia in America, Muslim Women in West, Islam Women and Feminism