New Age Islam News Bureau
7 Nov 2015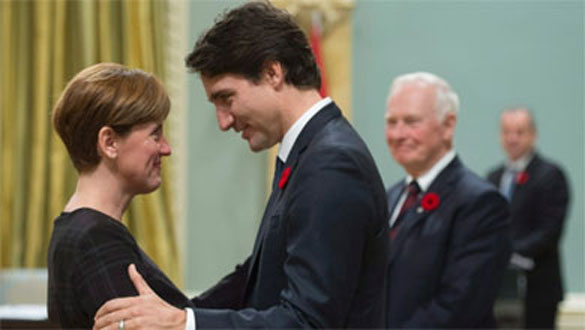 Prime Minister Justin Trudeau congratulates Marie-Claude Bibeau after she was sworn in as minister of international development and la Francophonie on Wednesday. The order in council for her appointment called her a 'minister of state,' but Trudeau's office says Bibeau, as well as four other female ministers of state, are in fact full ministers. (Sean Kilpatrick/Canadian Press)
-----------
• Ban 'Triple Talaq', Says Indian Muslim Women's Group
• Justin Trudeau's 5 Female 'Ministers of State' Are Full Ministers After All
• This Women's Group in Myanmar Is Fighting Extremism with Education
• Sixty Percent of Triple Talaqs in India Unilateral: Survey
• Quaid-e-Millat Foundation Striving For Women Empowerment
• Why Ethiopian Women Are Having Fewer Children than Their Mothers
Compiled By New Age Islam News Bureau
URL: https://newageislam.com/islam-women-feminism/dargah-aala-hazrat-hold-workshop/d/105205
----------
Dargah Aala Hazrat to Hold Workshop For Muslim Women To Spread Awareness On Their Rights, Divorce, Alimony
Priyangi Agarwal
Nov 6, 2015
BAREILLY: In a first, the clerics at Dargah Aala Hazrat will organize a special workshop for Muslim women to make them aware about their rights on the first day of 97th Urs-e-Razvi beginning on December 6. Women will be briefed about the responsibilities of their husbands towards them, and informed of provisions in place for divorce and alimony.
This is for the first time that such a workshop for women is being held during the annual Urs here.
"Majority of the women in our community are homemakers and unaware of their rights. Such women are usually exploited and they seldom raise their voice against this. Hence, we decided to conduct a special workshop to educate them. We will inform them on how to tackle these things," Mufti Mohammed Saleem Noori, who will be one of the main speakers at the workshop, told TOI.
Another speaker Mufti Anwar Ali said, "As per Islamic law, a man can never abuse or physically assault his wife. It is the duty of the man to take care of his wife's comfort according to his financial status. He should provide enough money to his wife for running the house and fulfilling her hobbies, including shopping, outing and eating out. Besides, the women has every right to visit her paternal home and he cannot stop her. Even he should bear the journey expenses when his woman wishes to go to her parents' house."
The cleric added, "Both the partners should play equal role in bringing up their child. Even as Islamic law, the man is more responsible than his wife for rearing of kids."
In the workshop, the women will also be taught about their rights related to divorce and alimony. "We will inform them about the correct process of triple Talaq, Mehr, Nafaqah (alimony) and Khula (women's unilateral right to divorce)," Noori said.
He added, "However, we will advise them that if there is dispute between the two partners, they should approach senior clerics rather than directly moving the court. Once a person files a case in a court, it hurts the sentiments and ego of another partner and hence, no scope of compromise is left. It affects the future of children. It is also mentioned in the Quran that the couple should be counselled first and divorce should be the last option."
Apart from these two clerics, three Muftiah (women clerics) will also participate in the workshop. Nearly 5,000 women from the district and adjoining areas are expected to attend this workshop. The annual Urs-e-Razvi of Aala Hazrat Imam Ahmed Raza, founder of the Barelvi movement, will be organized from December 6-8.
http://timesofindia.indiatimes.com/city/bareilly/In-a-first-dargah-to-hold-workshop-for-Muslim-women-to-spread-awareness-on-their-rights-divorce-alimony/articleshow/49693909.cms
----------
Ban 'Triple Talaq', Says Indian Muslim Women's Group
6 November 2015
New Delhi: The Bharatiya Muslim Mahila Andolan (BMMA) on Friday called for a ban on the "triple Talaq" divorce system, saying it was un-Islamic and outlawed in several Muslim countries.
"The Quran gives rights to Muslim women during marriage and does not recognise triple Talaq," the group said in a resolution passed at its ninth annual convention here.
"Yet, this evil practice prevails in India. It should be banned like several Muslim countries (have done)," it added.
At the same time, the gathering rejected the idea of an Uniform Civil Code and called upon the government to initiate urgent measures towards reforms in Muslim personal law.
A BMMA statement quoted co-founder Noorjehan Safia Niaz as saying how India urgently needed a codified Muslim personal law based on the Quranic principles of justice and equality.
Zakia Soman, another co-founder, spoke about how an Uniform Civil Code was not the answer to Muslim women's' quest for justice.
This can happen only by reform in Muslim personal law where matters such as age of marriage, divorce and polygamy can be regulated, she said.
"The panel agreed that the patriarchal elements in the community had blocked any reform move for too long and this must change."
The convention was attended by some 500 Muslim women and men from different states.
On the occasion, a report titled "No More Talaq, Talaq, Talaq: Muslim Women Call for a Ban on an UnIslamic Practice" was released.
Authored by Niaz and Soman, it carries case studies of 117 Muslim women who have been victims of "triple talaq".
The case studies were gathered from Maharashtra, Rajasthan, Madhya Pradesh, Tamil Nadu, Odisha, West Bengal and Karnataka.
In his foreword to the report, National Minorities Commission's former chief Tahir Mahmood said the report read like a horror story "and reveals what havoc a gross misuse of the noble Islamic law on divorce as a whole is playing in the society".
http://www.abplive.in/india-news/ban-triple-talaq-says-muslim-womens-group-240354
----------
Justin Trudeau's 5 female 'ministers of state' are full ministers after all
By Janyce McGregor, CBC News Posted: Nov 06, 2015
Fifteen men and 15 women walked side by side into Ottawa's Rideau Hall in an apparent show of gender equality on Wednesday to be sworn into Justin Trudeau's cabinet.
But when the orders in council making all the new ministerial changes official appeared online, five of the women appeared less equal: designated as more junior "ministers of state."
Were the cabinet optics a sleight of hand? Was a third of the women ranked lower than all the males?
Not so, says the office of the new prime minister: It's just a matter of the Treasury Board statutes catching up to reality.
Previous cabinets have offered a mix of "full" ministers and lower-ranking ministers of state. Wednesday's oath-taking swore in 30 men and women who used the word "minister" only.
The list of ministers on the newly revised government website also lists only ministers, not ministers of state.
But the orders in council for Nov. 4 included the following language:
Kirsty Duncan, a minister of state to be styled minister of science, to assist the minister of industry in the carrying out of that minister's responsibilities.
At first blush, that seemed to suggest Trudeau had, in fact, opted for a model used previously where some junior ministers, paid a lower salary and lacking the full powers of a cabinet minister, are nevertheless sworn into the Privy Council to function as assistants to the senior ministers in certain complex, large departments.
When asked to clarify the discrepancy Friday morning, a senior government source speaking on background told CBC News that what was presented to the public on Wednesday is, in fact, what's real: all 30 are full ministers.
Some of the Treasury Board statutes pertaining to cabinet roles, however, have to be changed to give all these roles full ministerial status and salaries, retroactive to Wednesday.
The new president of the Treasury Board, Scott Brison, was, after all, only sworn in a few minutes before the female ministers in question.
Now that the Liberals are calling the shots at Treasury Board, they're in a position to begin the legal changes required to realize the kind of cabinet they've designed.
In the meantime, the orders in council had to be signed the old way, the senior source said. But the official paperwork will eventually reflect the oaths taken by the five women, which all said "minister," not "minister of state."
When asked about the five junior ministers and whether their salaries would be equal, Foreign Affairs Minister Stéphane Dion said Friday that his colleagues were full ministers.
"I will have the great pleasure to work with Minister Bibeau. Let me tell you, she's not junior in my mind, one minute."
http://www.cbc.ca/news/politics/justin-trudeau-cabinet-fine-print-women-junior-ministers-1.3307122
----------
This Women's Group In Myanmar Is Fighting Extremism With Education
11/06/2015
On Sunday, the people of Myanmar, also known as Burma, will go to the ballot and vote in the country's parliamentary election. However the situation will look different for the members of Myanmar's minorities, particularly for the country's Muslim community, which constantly faces religious persecution.
Even though their families have lived in Myanmar for generations, they are still being denied citizenship. In many cases, they can't vote, and have no right to education or healthcare. Many fear that the discrimination and isolation felt by the community could lead to extremism or terrorism.
Journalist Khazar Fatemi met a group of women who are trying not just to fight for their rights, but also educate the Muslim community. The women say they are already seeing some young Muslims become more isolated and extreme in their beliefs.
"I try to push them, to encourage them, to get education, education, education," Zubayda, the group's leader said. "Without education, we cannot fight, we cannot get our rights."
Watch Khazar Fatemi's report in the video above. The story is part of HuffPost's 'Women of War' series, which documents the daily lives of women in conflict zones.
http://www.huffingtonpost.com/entry/muslim-women-myanmar-education_563cea8fe4b0411d3070d382
----------
Sixty Percent Of Triple Talaqs In India Unilateral: Survey
Himanshi Dhawan
Nov 7, 2015
NEW DELHI: A survey of Muslim women—victims of triple Talaq-- found that 6 out of 10 women were given divorce unilaterally by their husbands. In almost all other cases the divorce was one-sided with the woman informed about it by her relatives, the local Qazi or through sms or e-mail.
An earlier study by the NGO Bharatiya Muslim Mahila Andolan (BMMA) had found that 92% of Muslim women were opposed to triple Talaq.
The present survey conducted on 117 women based across the country revealed that in 54% cases, the husband remarried almost immediately and almost 80% women were deprived of maintenance. About 16% of women did not know the mehr (payment or possessions given by the groom's family to the bride) amount fixed during the nikah and in 56% of the cases they were deprived of this token amount itself.
BMMA co-founder Zakia Soman has demanded that 'triple talaq' should be banned. ``We are not in favour of uniform civil code but for reforms in the Muslim personal law and banning triple talaq will be the first step towards it,'' she said.
The study conducted by BMMA reads like a "horror story and reveals what havoc gross misuse of the noble Islamic law is playing in society,'' said Prof Tahir Mahmood, a legal scholar.
Like Lubna Choudhury, who was beaten so mercilessly by her husband that glass shards were found in her uterus. "I was married at 20 and was a mother within months of marriage. But my husband had a flirty nature and did not pay any attention to his family. When I spoke about it, I was beaten,'' she said.
The feisty girl, who fought with her mother when she tried to stop her from studying and even went to the extent of breaking the lock on her house door to appear in class VIII exam, found her spirit broken by the incessant torture but refused to give up. "One day he locked the door and pulled out a rod. I couldn't fight back. I don't remember how long I was beaten but when the door opened it scared the relatives enough to take me to a hospital,'' she said.
The injuries proved to be a turning point. Choudhury, a Mumbai resident, has now given up her naqab, is taking taekwondo lessons, and has learnt how to ride a bike. She has refused to accept the 'triple talaq' given to her in 2008 and is fighting for her maintenance rights.
But it is a lonely battle. Take Bhopal-based Shama (name changed to protect identity) who was married in the family of an influential religious cleric. Her lean frame covered in a burqa and gloves can barely hold her two-year-old but her voice is steady and eyes dry as she rattles off her story. "They just wanted a domestic help. I was beaten and not allowed to be with my husband. Then one day my father-in-law beat up my husband forcing him to say talaq thrice. I tried very hard to mediate, to make peace but I was not allowed to meet my husband,'' she said.
Fortunately for Shama, her parents supported her. "I am fighting my case in court. Except I cannot shame them publicly because they are influential and I have my old parents and children to think about,'' she said.
http://timesofindia.indiatimes.com/india/60-of-triple-talaqs-unilateral-Survey/articleshow/49695517.cms
----------
Quaid-e-Millat Foundation Striving For Women Empowerment
November 07, 2015
NOORPUR THAL
The Quaid-e-Millat Foundation (QMF) Khushab has launched a programme in collaboration with USAID for the financial empowerment of the women living in far-flung rural areas of Thal.
QMF Chairman Malik Gulzar Hussain Jara stated at a certificate-distribution ceremony held at USAID Computer Training Centre here the other day.
National Rural Support Programme (NRSP) District Programme Officer Mazhar Buzdar was the chief guest on the occasion while NRSP district engineer Zahoor Ahmed, field unit incharge Ali Raza and a large number of students participated in the event. Local Support Organisation (LSO) Jharkil General Secretary Malik Ghulam Abbas Maiken conducted the proceedings.
The QMF chairman said that at least 350 women from the different villages of the Thal had completed different courses under the programme. He said that the project would empower the rural women. He claimed that the programme would leave long lasting impacts on rural families and become a message of prosperity for the underdeveloped areas of the Thal.
Speaking on the occasion, USAID Computer Training Centre Principal Malik Qutab Sher Jara said that students from different areas of the Thal had showed great interest in computer training course.
He highlighted the importance of information technology. Later, the chief guest distributed the training certificates among 48 students, who completed their training session successfully.
http://nation.com.pk/national/07-Nov-2015/qmf-striving-for-women-empowerment
----------
Why Ethiopian women are having fewer children than their mothers
6 November 2015
Ethiopia has seen a massive cut in its fertility rate, from an average of seven children per woman in the 1990s to 4.6 currently. But how has it managed this?
Experts say the country has made this turnaround because of a combination of factors.
"Women stay longer in school, the standard of living is increasing so people don't want to have too many children and more importantly, family planning is becoming more popular," explains Faustin Yao, the United Nation Population Fund (UNFPA) representative to Ethiopia.
The country's economy is among the fastest growing in the world, and as the quality of life improves, people tend to have fewer children.
Muluwork Tesfaye, a nurse in Addis Ababa, says she could not afford to support a large family in the capital.
The mother of two grew up in a family of eight and her parents struggled to provide for them.
"My husband is the one who took me to college," she says. "I wanted a better life for my children."
Muluwork Tesfaye says she can give her two children her "undivided attention"
In the capital, Addis Ababa, the fertility rate is estimated to be 1.7 - lower than the rate needed to keep the population steady.
More educated women and a higher cost of living often mean fertility rates are lower in urban areas.
Contraception
In Ethiopia, the availability of contraceptives has also played a big role.
"The increase in contraceptive use during 2000-2011 emerged as the single most important source for the recorded decline in TFR (Total Fertility Rate)," said a UNFPA report.
However, a quarter of all women who need contraceptives are still not able to get them.
Rural areas have also recorded a decline in the number of children per woman, albeit slower.
Ayenalem Daw, a mother of six living in Weyo Rafu Hargisa village about a four-hour-drive out of Addis Ababa, is in her late thirties.
She says if she had heard about family planning earlier, she would have had four children.
Fertility rates are also falling in rural areas
Women in her village hold regular meetings called "shene" to discuss contraception and other health issues.
"Things are changing now. I think my children will have only two babies each," says Mrs Ayenalem.
Health extension workers also regularly provide health education in the villages, including information about contraception to those who need it.
The programme entails home visits by government-employed community workers who engage families on a one-on-one basis.
The big leap in contraception use between 2000 and 2011 is largely attributed to health extension workers.
This was also helped by an increase in the number of girls going to school over the same period.
"We go to the churches and mosques to talk to people about family planning," said one of the women in the village of Hunta, in the Oromiya region.
While it is known that the major religions in Ethiopia - Orthodox and Muslims - do not openly approve of family planning, the health workers said religious leaders were generally supportive of their work.
Ethiopia is among nine African countries whose rate of population growth is declining.
Others are Ghana, Kenya, Madagascar, Rwanda, Senegal, Tanzania, Togo and Uganda.
But many other African countries whose fertility decline was on course have now stalled, while others are yet to begin the transition.
http://www.bbc.com/news/world-africa-34732609
----------
URL: https://newageislam.com/islam-women-feminism/dargah-aala-hazrat-hold-workshop/d/105205