New Age Islam News Bureau
7 Feb 2018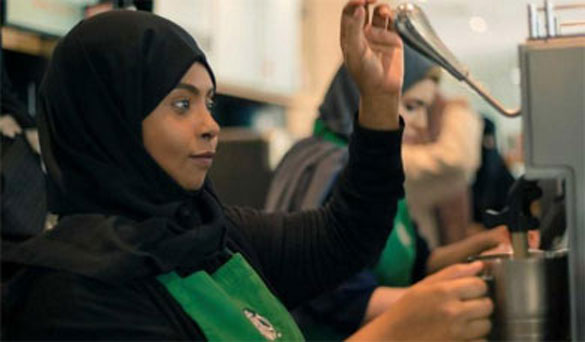 Manal Ghazwan manages a Starbucks branch located in Saudi capital Riyadh that serves both men and women.
-----
• Saudi Women Join the Workforce as Country Reforms
• First Afghan Women Coders Create Game On Fight Against Drugs
• Iranian Women Defiant Against Compulsory Hijab
• Ending Violence against Women in Pakistan
• Rohingya Women Find Peace in 'Widows' Camp' Barred To Men
• Lindsay Lohan Says Coming to KSA For All-Female Film
• 28 Women Killed, 25 Sexually Harassed In Turkey In January: NGO
Compiled by New Age Islam News Bureau
URL: https://www.newageislam.com/islam-women-feminism/danish-government-proposes-ban-full/d/114200
--------
Danish government proposes ban on full-face veils
6 Feb 2018
The Danish government has proposed a ban on Islamic full-face coverings in public spaces. "It is incompatible with the values in Danish society and disrespectful to the community to keep one's face hidden when meeting each other in public spaces," said the justice minister, Søren Pape Poulsen.
He added: "With a ban on covering the face we are drawing a line in the sand and underlining that in Denmark we show each other trust and respect by meeting face to face."
The proposal will be assessed by non-governmental human rights organisations and possibly rewritten to take their remarks into consideration.
The centre-right government is expected to present a bill to parliament in the spring. With the support of the country's second largest party, the anti-immigration Danish People's party, the proposed legislation is likely to be adopted.
A violation of the ban would entail a fine of 1,000 kroner (£120). Repeated violations would lead to fines of up to 10,000 kroner.
It is not known how many women wear the niqab and burqa in Denmark. "I don't think there are many who wear the burqa here in Denmark. But if you do, you should be punished with a fine," Poulsen said.
Last year the European court of human rights upheld a Belgian ban on wearing full-face veils in public.
France was the first European country to ban the niqab in public places, in 2011. In 2013 Spain's highest court annulled a similar ban brought in three years earlier by the region of Catalonia.
https://www.theguardian.com/world/2018/feb/06/danish-government-proposes-ban-on-full-face-veils
--------
Saudi women join the workforce as country reforms
by Sarah Hassan
February 7, 2018
Not many women in Saudi Arabia have a day similar to that of Manal Ghazwan and her two colleagues.
Ghazwan, 30, who has a master's degree in food safety management, is the manager of a Starbucks branch located in the Riyadh head office of Alshaya Company, which operates the franchise of the American brand in the Middle East.
"Both the girls in my team have bachelor's degrees, but they were drawn to the challenge and opportunity that working for a multinational company like Starbucks offers," Ghazwan says.
They are among the trendsetting Saudis moving away from lucrative government jobs to compete for posts in the private sector, and challenging gender roles along the way.
"Implicit" acceptance of gender mixing
For years labor laws in Saudi Arabia prevented gender mixing in the workplace. But Ghazwan and her team are unique, in that they serve a clientele of both men and women.
"Lately, there has been an implicit and unofficial acceptance of gender mixing in the work environment here," says Bader Aljalajel, who opened his coffee shop, 12 Cups, in one of Riyadh's new glitzy boulevards in 2016.
The shop is manned by five male Saudi baristas and some expats. Aljalajel now plans to open a second shop, this time staffed by female baristas.
"Women who sent us their applications know that they will deal with men at work," says Aljalajel. "Those who have an issue with that will become the black sheep."
The laws have been trending in this direction for years. In 2011, a law was passed that all shops selling women-related products, such as lingerie, should only have female sales representatives. In 2016, drug stores and optics shops could request permits to hire Saudi women, too, so long as the female staff remained separate from male workers and customers.
The Saudi Vision 2030 strategy, set by Saudi Crown Prince Mohammed Bin Salman, aims to increase female participation in the workforce from 22% now to 30% in all sectors in 2030.
"There are now 600,000 Saudi women working for the private sector, 30,000 of whom joined the market last September and October," says Khaled Abalkhail, a spokesman for the Ministry of Labor and Social Development. "This figure stood at 90,000 Saudi women only back in 2011."
Shifts in a young society
It is not just Saudi women who are joining the private sector workplace -- more men are, too.
With the unemployment rate in the kingdom at 12.8%, according to official government figures, the Crown Prince in 2016 unveiled an ambitious set of reforms that include creating private sector jobs for thousands of Saudis with the goal of lowering the jobless rate to 7% by 2030.
"When I joined university around 10 years ago, I asked my father for permission to get a part-time job as a barista for $530 per month," says Aljalajel. "He felt it was socially embarrassing to have his son serving coffee, and offered instead to pay me the same amount of money as a monthly allowance in return (for me) focusing on my studies."
The resistance wasn't just on the part of potential employees' families. For a long time, Saudi nationals were not an attractive option to employers who could hire expats often willing to work six days a week for a fraction of the salary that a Saudi employee requests.
For example, a Saudi working as a full-time barista at 12 Cups makes about $1,600 per month, says Aljalajel. A full-time expat barista at the same shop takes home $533 per month.
The average monthly wage per Saudi stands at $2,670, according to Saudi's General Authority for Statistics.
In 2017, in an attempt to deter companies from hiring expats, the government imposed a monthly tax on each non-Saudi employee. Companies now pay as much as $107 for each foreign employee, with that levy set to rise each year.
Women no longer a burden
While more Saudi women are entering the private sector, the challenge is persuading them to stay there.
"From our experience, four out of 10 women leave the jobs that we secure for them a few months after joining because their families' asked them to," says Redwan Aljelwah, who in 2016 founded Riyadh-based recruitment consultancy, Mada, which operates in the retail, F&B, and IT sectors.
Furthermore, Aljelwah says that demand for female employees remains much lower than for males. The unemployment rate for Saudi women in the third quarter of 2016, the most recent figures available, was 34.5%
"All sectors are open to Saudi women, provided that they secure them a safe working environment," says Abalkhail. He added that the Ministry of Labor and Social Development runs courses to teach Saudi women soft and hard professional skills to help them find jobs.
"When women work, they are no longer looked upon as burdens that their families have to bear until they get married." adds Aljalajel, "They have the option to become independent."
Ghazwan and her team of baristas agree.
"Many of the women and men that we serve coffee come to us and say: 'We are proud of what you are doing.'"
https://edition.cnn.com/2018/02/06/middleeast/saudi-women-in-the-workforce/index.html
--------
First Afghan women coders create game on fight against drugs
Feb 06, 2018
A group of young Afghan women in the deeply conservative western Herat province is breaking traditional barriers as their war-torn country's first female coders in an overwhelmingly male-dominated tech field.
The game they created at the Code to Inspire computer training centre in the city of Herat, the provincial capital, underscores Afghanistan's struggle to eradicate vast opium poppy fields ruled by the Taliban.
For 20-year-old Khatera Mohammadi, one of the students at the centre, it was more than just a game: "Fight Against Opium" was based on her brother's real-life experience years ago as a translator for US troops in Helmand province and the stories he told her.
"Each time he came back home, he would tell us about the poppy fields, the terrible mine blasts, battling opium traffickers and drugs," Mohammadi recounted to The Associated Press.
She and her colleagues at the centre thought that if they create a game, it would raise awareness, especially among the young. It's not dropping bombs form planes or battling insurgent in the battlefields, but it's a way to combat drugs - through a computer game.
In the game, with five supporting lives, an Afghan soldier mimics a real-life mission in Helmand to clear out drugs. The soldier encounters various obstacles in the process: the enemy hiding in tall corn fields, land mines, drug traffickers and hidden heroin labs.
Afghanistan is the world's top cultivator of poppy, from which opium and heroin are produced. The country produces more opium than all other countries combined, according to UN estimates. The southern provinces of Helmand and Kandahar are where most of the poppy fields are and where the majority of the production takes place, while Herat lies along a key smuggling route to neighbouring Iran and beyond.
The Taliban, who have been waging war against the Afghan government since 2001, are heavily involved in poppy growing, which has increased in recent years, all but halting government eradication efforts.
Mohammadi says she and her teammates completed the game in one month and her brother was the first person she showed it to. She declined to give her brother's name, fearing for his safety and the family's because he worked with American soldiers.
Her dream, she says, is that one day the opium poppy would be replaced by the saffron crocus - so she put that in the game, having the soldiers encourage local poppy farmers to cultivate saffron instead.
"Saffron is more expensive and it would be better for the country," she says.
The Herat girls-only computer programming school, Code to Inspire or CTI, was the brainchild of Fereshteh Forough, who was born an Afghan refugee in Iran and only returned to Herat after the 2001 fall of the Taliban. A former Herat university professor now living in the US, she seeks to break gender barriers and empower girls to learn to code as a way to change their lives.
The school houses more than 80 girls, both high school and university students. They learn to create their own websites, mobile applications, games and other web development projects.
"It's not easy for a girl to find a job and go to work outside of her home in Afghanistan," said Hasib Rassa, the CTI project manager. "Now, with just one laptop at home, she can work online and earn money and help her family."
He added, "The plan is to go big, to have more schools across Afghanistan."
As young Afghans increasingly use social media, 20-year-old Frahnaz Osmani, a student of graphic designer at the CTI, decided to develop Afghan female character stickers. Her stickers show a little girl in colourful traditional Afghan clothing, a red dress and a green headscarf, with the sticker messages in Dari, one of Afghanistan's two official languages.
"I wanted the world to see that Afghan girls can do something, and that we can have our own creations," she said.
For 18-year-old Samira Ansari, another student at the centre, coding was an unfamiliar, strange word. Now, it's a pathway to her dream of becoming a web designer - which she hopes to study after a two-year course at the centre.
"When I first heard about coding, I laughed and wondered what it means," she said.
"But when I found out that all these creative and skilled people designing websites had started from coding, I became very interested," she said, breaking into a smile.
https://www.hindustantimes.com/world-news/first-afghan-women-coders-create-game-on-fight-against-drugs/story-8vNXJZVWyfeBYAKbndJAoJ.html
--------
Iranian women defiant against compulsory hijab
Shirin Shakib
06.02.2018
For almost four decades since the start of the Islamic Revolution in 1979, Iranian women have tried to push the boundaries of the compulsory hijab rule imposed upon them. Their struggle gained momentum late last year after a 31-year-old woman nicknamed the "Girl of Enghelab Street," stood bareheaded on an utility box on Enghelab (or Revolution) Street in Tehran, waving her white headscarf on a stick.
The woman, later identified as Vida Movahed, a mother of a 19-month-old child, is being hailed as a hero among Iranian women fighting against the compulsory hijab. Movahed's defiant protest and her subsequent arrest drew attention worldwide.
She was detained for several weeks before being released from custody on January 26.
Another Iranian activist, Narges Hosseini, was also arrested on January 30 for having followed suit on the same street, in an apparent act of solidarity with Movahed. Hosseini was imprisoned and her bail was set at $110,000 (€88,600).
Women who fail to observe the Islamic dress code in the Islamic Republic can be jailed for up to two months or fined about $100.
'Girls of Enghelab Street'
Movahed's act has been followed by a wave of defiant protests nationwide as pictures of women standing on benches or pedestals, waving their headscarves on sticks, have gone viral on social media. Internet users have dubbed them the "Girls of Enghelab Street" and their images are marked with the hashtag #دختران_خیابان_انقلاب (#girls-enghelab-street). In a show of solidarity, some men have also done the same.
But Iranian authorities have cracked down on the protesters, with reports suggesting that some 29 women have so far been arrested for flouting the dress code. Iran's Tasnim News Agency quoted the police as describing those arrested as "people who have been deceived by the 'My Stealthy Freedom' movement."
During a press conference on February 3, Iranian conservative politician, judge and judiciary spokesman Gholamhossein Mohseni Ejei categorized the anti-hijab protesters into two groups.
Speaking to Iran's semi-official ISNA news agency he said, "The first group has been deceived by others and can be set free after signing a commitment form. But the second group was organized by foreign-based groups and was under the influence of industrial recreational drugs."
Ejei went on to say that dire consequences await the second group.
'White Wednesday' and 'My Stealthy Movement'
Initiated on May 27, 2017, the "White Wednesday Campaign" encouraged women and men to wear white scarves or tie them round their necks and post their photos on social media platforms as a show of protest against the compulsory hijab in Iran.
The color white was deliberately chosen by the founder, Masih Alinejad, as a symbol of peace as opposed to "the black color of force."
Alinejad, a female journalist in exile, also initiated "My Stealthy Freedom," an online movement inviting women in Iran to post pictures of themselves without headscarves in public places.
Some connect the latest protests with the recent campaigns against the compulsory hijab, but gender expert Nayereh Tohidi from the California State University views these sporadic peaceful protests as part of the history of the women's rights movement in Iran.
"These young women have reached a level of maturity in social development and are now exerting their identity. Therefore, for them the issue of the hijab becomes more existential," Tohidi told DW.
But not everyone shares the view that the issue of mandatory hijab is the most important problem facing Iranian women. Anthropologist and researcher Kameel Ahmadi believes that the demand to do away with the compulsory hijab is not applicable to all women in Iran. "The hijab is not an issue for women in smaller cities and rural areas and the concern is limited to modern women in larger cities," Ahmadi told DW.
Read more: Saudi women drivers spark Iranian social media buzz
Politicizing the demand
Although the protests against the compulsory hijab in Iran have been politicized, this has not demoralized women activists, some observers say.
Instead, they claim, it has emboldened them to be more vocal with their demands. "It is the Islamic Republic which has made the hijab an important issue. They have been so obsessed with women's hair and bodies that they have spent millions of dollars to create state organs to control women's dressing," said Tohidi.
In this way, a basic civil right has been misconstrued as a political demand, making it easy for the government to accuse women activists of political motivations. "The mandatory hijab is the Achilles heel of the Iranian regime," Tohidi stressed.
"Those who have been fighting for women's civil rights for decades have been accused of Westernization and having political motivations. Even if the current protests remain as campaigns, it will evolve into other forms later," Ahmadi said.
"It depends on how the actors involved are going to interact with each other. It depends on international support and the visibility these protests achieve. The higher the visibility, the more women will be encouraged to become involved," Tohidi noted.
Society set for change?
The important question raised here is whether Iranian society is ready for doing away with the compulsory hijab or if doing so will expose women to increased street harassment and violence?
Gender specialist Tohidi underlined it should be up to the women to decide what to wear and how to cover themselves to guarantee their safety. She added that the protesters were not demanding for the hijab to be banned but rather for it to be non-mandatory.
"If there are fanatics who might harass women for not wearing the hijab, it is the duty of the security forces to protect women," she said.
Ahmadi, however, argued that Iranian society was not yet ready for this change. "Any rule change without appropriate changes in the educational and cultural landscape would result in societal intolerance, which could manifest itself in the form of sexual harassment on the streets and violence against women."
http://www.dw.com/en/iranian-women-defiant-against-compulsory-hijab/a-42465236
--------
Ending violence against women in Pakistan
Tahmina Rashid
7 FEBRUARY 2018
Pakistan ranked 150th out of 153 in the Women, Peace and Security Index. Around 27 per cent of women in Pakistan experience intimate partner or domestic violence in their lifetime and only 51 per cent perceive themselves to be safe in their communities.
These depressing figures are despite the existence of a raft of strong legislation focused on women's rights that has come into force over the past decade.
It was only in 2006, through the Protection of Women Act, that Pakistani laws finally separated rape and adultery. The new laws defined rape as a man having "sexual intercourse with a woman against her will or without her consent". This includes sexual intercourse with a person with a physical or mental disability, or with a person under 16 years of age, irrespective of consent. However, the Act does not include 'object rape' – vaginal or anal penetration with an object – or oral sex. It also excludes the possibility of male rape as an offence, which will continue to be dealt with as an unnatural offence under the penal code.
The Act does not restrict the offence of rape to sex outside marriage, which legally makes marital rape an offence. However, no case of marital rape has yet been brought before the courts, so we do not know what position the judiciary would take on such an offence.
Another key passage of legislation was the Protection Against Harassment of Women at the Workplace Act in 2010. Harassment is rampant in Pakistan, and since the law was enacted many more cases have been reported to the authorities. But harassment cases are slow to resolve, and only time will tell if it has led to a change of the popular mindset. Despite the law, the attitude of the police, lawyers and judges, as well as general public, towards harassment is apathetic at best.
Pakistan is a patriarchal society. It has internalised misogyny to such an extent that incidents of acid throwing by jilted lovers, or angry predators whose advances are rejected, continue to permanently disfigure women, often leading to a painful death.
To deal with this problem, in 2011 the government enacted the Acid Control and Acid Crime Prevention Act. Although perpetrators of such crimes can be punished for anywhere from 14 years to life imprisonment, there are no provisions for financial compensation for lifelong care and rehabilitation of victims. Nor are there any limitations on the sale of acids, which are freely available from retail outlets.
After years of advocacy, the Prevention of Anti-Women Practices Act 2011 was passed to protect women's right to inherit property and to prohibit forced marriages, including to settle disputes. It prohibits 'marriage to Quran', which culturally bars women from marrying, thereby forcing them into lifelong loneliness merely to deny their rights to marry by choice or inherit property. It also protects the right of a woman to dissolve her marriage should her husband falsely accuse her of adultery.
Although Pakistan has a high incidence of domestic violence, the Domestic Violence (Prevention and Protection) Act was only passed in 2012. The Act prohibits violence in private spaces and mandates a quick resolution of cases within 90 days. Unfortunately, regressive political parties like Jamiat Ulema-e Islam and advisory bodies like the Council of Islamic Ideology continue to argue that these laws are un-Islamic and will make men insecure.
While the Anti-Honour Killing Act 2016 declared murders in the name of family honour a criminal offence and set a tougher penalty than for other instances of murder, the law has failed to prevent such crimes. Nonetheless, the new laws do prevent murderers who are the legal heirs of victims from 'self-forgiveness' for an honour killing.
But a legal loophole still enables legal heirs to pardon the murderer if they are sentenced to capital punishment, though such arrangements are at the discretion of the courts. This means, for example, that the father of a victim could pardon the husband who killed her, leading to a lesser sentence. The Pakistani state continues to fail the victims by not prosecuting the murders as the legal heir of its citizens in such cases.
Another step in the right direction has been the Anti-Rape Act of 2016, which provides legal aid to victims and prohibits the disclosure of their identity. Importantly, it also mandates that the police register a First Information Report (FIR) in the presence of a female police officer, as well as conduct a DNA test with the consent of the complainant as a matter of urgency.
All these laws are valuable, yet police officials lack appropriate training, knowledge, resources and attitudes to collect evidence, conduct medical examinations and make a sound case for prosecution. They remain reluctant even to register an FIR and in many instances register such cases as an unnatural offence rather than rape, hindering any chances of convicting perpetrators.
As a result, victims' families are often forced to settle the matter with the perpetrators. In extreme cases, when doubts are raised by the police about the veracity of the rape claim or even assertions that it was a consensual sexual relationship, families face social stigma and are forced to flee their homes for fear of social exclusion.
Despite changes in the law, lawyers continue to bring into question the sexual history of victims. Often the verdicts of judges, especially in the lower courts, are reflective of prevailing cultural norms and biases against women. The victim's past becomes a key factor in a reduced sentence or no punishment at all for perpetrators. This remains a major reason why Pakistani women so often do not report rape, withdraw their complaint, or fail to secure a conviction.
Finally, it is unfortunate that the most recent of this raft of laws, the Alternate Dispute Resolution Bill 2016, has allowed informal and traditional 'courts' to settle 23 types of civil and criminal disputes. These courts are run by tribal and community elders primarily in rural areas. The disputes include matters such as the dissolution of marriage and payment of maintenance, personal injury, and various disputes over property settlement.
Civil society organisations and human rights activists are of the view that these traditional courts have historically been detrimental to women's rights in Pakistan. Their legitimisation without any safeguards will undermine many of the gains made in recent years – yet another example of how the country's justice system has done little to end violence against women in Pakistan.
https://www.policyforum.net/ending-violence-women-pakistan/
--------
Rohingya women find peace in 'widows' camp' barred to men
February 07, 2018
Annie BANERJI, Redwan AHMED - It is known as "widows' camp" - a sanctuary off limits to men inside Bangladesh's congested refugee settlements, where Rohingya women and children traumatised by violence find rare moments of peace .
The cluster of orange tarpaulins strung across bamboo offers a safe haven for dozens of widows and young children left fending for themselves after fleeing into Bangladesh in an exodus of nearly 690,000 Rohingya Muslims from Myanmar.
They escaped atrocities likened by the UN to "ethnic cleansing" but their husbands did not, leaving them to compete for food, shelter and survival in a border zone teeming with close to one million refugees.
Among them is Swaleha Begum, who crossed alone after her husband of just three months was killed in an army-led crackdown on their village.
At just 18 she oversees the women-only encampment separated from other refugee tents in a crowded and dusty valley.
The sense of ownership and pride in their basic refuge is strong among the 60-odd widows , who maintain their own bathrooms, run prayer sessions and share responsibility for scores of children and orphans.
"Those who have husbands can make their own accommodation using bamboo and tarpaulins," Swaleha told AFP. "We got this by the grace of god," she added, gesturing at the simple tents lined with thin sleeping mats and cooking utensils.
One of her primary tasks is ensuring men - even teenage boys - venture nowhere near their shelters, where the inhabitants are comfortable enough to eschew the veil worn by most Rohingya Muslim women in public areas.
- 'Sisters' in the camp -
Aid workers say women and girls are most at threat from predators and human traffickers lurking in the poorly supervised camps.
This risk is compounded when Rohingya women - uncomfortable at sharing toilets with men - venture far away for privacy in the forest after dark.
The International Organization for Migration has documented cases of refugee women being lured away from the camps with promises of marriage or jobs that end instead in forced labour or sex work.
More than half the Rohingya refugees who escaped the bloodshed in Myanmar's westernmost Rakhine state are women and children, the UN Women agency said.
They made it out alive but not without scars.
The UN Women agency says almost every woman and girl in the sprawling Balukhali camp is a victim of unimaginable violence - a survivor of rape, or witness to the sexual assault, murder or burning alive of their family and friends.
Mabiya Khatun, who said her husband and two sons were butchered as their village was razed by soldiers, cherished the solidarity among her "sisters" in the widows' camp.
"I like it here. I find it very peaceful. We get to live a life of respect here, a dignified life," she told AFP.
The mood shifts at talk of returning to their homeland.
Bangladesh and Myanmar have agreed to a two-year timetable for repatriating some 750,000 refugees to Rakhine on a voluntary basis, but the process has stalled.
Despite the safety in Bangladesh, and the horrors inflicted against their people in Myanmar, some Rohingya living in the widows' camp yearn for the lives they left behind.
Kushida Begum, a 30-year-old refugee whose husband and children were killed in Rakhine, said no amount of relative comfort in Bangladesh could ever replace her ancestral lands.
"I was born there. So was my mother, father and grandparents. We only came here because of the torture and killing and arson," Kushida said. "If we get justice for what happened, we want to go back."
But others are looking forward to rebuilding a new life in Bangladesh surrounded by the only people who can understand their pain.
"I won't go back. I don't have anything to go back to - no home, no husband, no children, nothing," said Mabiya, who gave her age as 50. "At least I have something like a family here."
https://nation.com.pk/07-Feb-2018/rohingya-women-find-peace-in-widows-camp-barred-to-men
--------
Lindsay Lohan says coming to KSA for all-female film
7 February 2018
JEDDAH: Lindsay Lohan will begin filming an all-female movie in Saudi Arabia this April.
This was revealed in a profile interview of the "Mean Girls" actress with magazine on Monday.
"To do an all-female project [in Saudi Arabia] is a milestone," she said.
"Everything happens for a reason. I would have never expected to do a movie at this time that I have such a say in, and coming out of Shadi, Riyadh, and Abu Dhabi. I feel lucky."
Last month, Lohan first revealed plans to shoot "Frame" in the Kingdom on American talk show "The Wendy Williams Show."
She said the movie will follow the story of an American photographer who leaves her husband in the US to move to Riyadh. The character becomes immersed in Saudi culture and is taken in by a group of women who introduce her to their lives.
"She starts to understand the culture and how the women there are," Lohan told Williams. "Like fencing is a big thing there, so there are a lot of fencing courses and horseback riding ... the women take her in to understand why they cover and why they do these things."
In December, Lohan, who now calls Dubai home, tweeted out an article about the cinema and stadium reforms in Saudi Arabia, saying, "Please support this incredible #movement … I look forward to being a part of this with the movie #FRAMETHEMOVIE."
The 31-year-old actress also told W magazine about her new projects, including a beauty line that includes a cream lipstick-blush duo, a clothing line that's "closer to haute couture," a new Mykonos location of her Lohan Nightclub in Athens, Greece, and an appearance in the upcoming season of the British sitcom "Sick Note."
http://www.arabnews.com/node/1240971/offbeat
--------
28 women killed, 25 sexually harassed in Turkey in January: NGO
February 05 2018
Some 28 women were killed in January and 25 others were subjected to sexual violence, according to a report released on Feb. 4 by the Kadın Cinayetlerini Durduracağız Platformu (We Will Stop Femicides Platform), a women's rights organization that monitors violence against women.
According to data provided by the platform, 21 percent of the 28 women killed in January were murdered for making decisions regarding their own lives, while four percent of women were murdered for refusing to reunite with their former partners.
Of the 28 victims, in January, 43 percent of women were between 36 and 65 years old, 14 percent were older than 66, and 11 percent were between 25 and 35 years old.
Seven of these women were murdered by their husbands, two were murdered by their fathers and two were murdered by their sons. One woman was killed by her boyfriend and another one was killed by her ex-boyfriend, the organization stated. A majority of the women were killed at home, the report stated.
Istanbul saw four reported incidents of violence against women in January while the western province of Bursa, the eastern province of Gaziantep and the northern province of Samsun saw a total of six incidents, with two in each.
Meanwhile, the report revealed that 25 women had been subjected to sexual violence and 147 children had been sexually abused.
The platform said the total number of femicides fell slightly this month compared to the final months of 2017.
In 2017, a total of 409 women were killed and 387 children sexually abused in Turkey, according to data compiled by the same group.
http://www.hurriyetdailynews.com/28-women-killed-25-sexually-harassed-in-turkey-in-january-ngo-126826
--------
URL: https://www.newageislam.com/islam-women-feminism/danish-government-proposes-ban-full/d/114200
New Age Islam, Islam Online, Islamic Website, African Muslim News, Arab World News, South Asia News, Indian Muslim News, World Muslim News, Women in Islam, Islamic Feminism, Arab Women, Women In Arab, Islamophobia in America, Muslim Women in West, Islam Women and Feminism