New Age Islam News Bureau
28 January 2021
• Pakistan Actress Sanam Saeed Asks Fans, What Kind Of Content Do They Want To See In Dramas On Television And In Films?
• Somalia's Minister of Women Says Lawmaker Quota for Females Too Low
• Nigeria: 300 Female Soldiers Deployed to Fight Bandits On Kaduna-Abuja Road
• Female Footballers From Remote Chitral Bring Their Game To Pakistani Capital
• Cervical Cancer Awareness: Help Eradicate The Disease That Kills 7,500 Arab Women Yearly
• UAE Expat Scales Jebel Jais 7 Times To Help Blind Women
• Kuwait- Women's First Weightlifting Tournament Concludes
• Iranian-Italian Webinar Pays Tribute To Iranologist Anna Vanzan
Compiled by New Age Islam News Bureau
URL: https://www.newageislam.com/islam-women-feminism/danish-author-sara-omar-uses/d/124166
--------
Danish Author Sara Omar Uses Her Voice To Denounce Violence Inflicted On Women In The Name Of Reactionary Islam
28/01/2021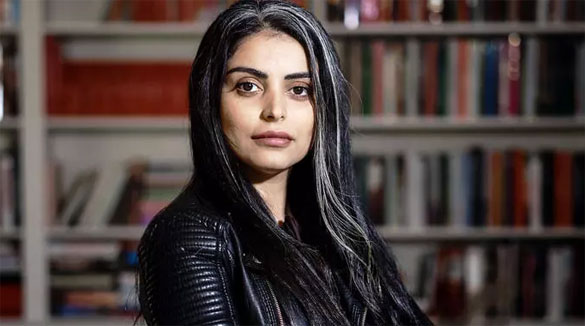 Danish author Sara Omar, 34, uses her books to break taboos for Muslim women Thibault Savary AFP
-----
Born amid the horrors of war in Iraqi Kurdistan, Danish author Sara Omar now uses her voice to denounce violence inflicted on women in the name of reactionary Islam, a "calling" that has left her living under police protection.
"I broke the taboo. I talk about the things you are not supposed to talk about. If I don't do this, who will?" the 34-year-old tells AFP in an interview in Copenhagen.
Her first novel "Dead Washer" sold more than 100,000 copies in Denmark when it was published in 2017, a literary feat in the country of 5.8 million where it was hailed as the "MeToo of Muslim women."
PUBLICITÉ
It has since been translated into several languages, including Norwegian, Swedish and French.
In her writing and when she speaks out publicly, Omar describes abuse inflicted on women and children behind closed doors -- rapes, beatings, female genital mutilation and so-called honour crimes.
Her depictions have angered a small fringe in Muslim societies and required her to now live under 24-hour police protection.
- 'Given me a voice' -
Her bestseller tells the story of a girl named Frmesk, which means "tear" in Kurdish.
It follows her from her birth in Sulaymaniah, Kurdistan, in 1986 -- just like Omar -- to a hospital bed in Denmark in 2016 where she meets a medical student, also a young Kurdish woman, who dreams of breaking free from her overly controlling father but doesn't dare.
Omar says that many Muslim women -- especially in the Nordic countries, where they often find themselves caught between the liberalism of their adopted country and their parents' conservative values -- have approached her to thank her for bringing their sufferings to life through Frmesk.
"My books have started a very quiet movement among women, especially women of Muslim background in Scandinavia, because they identify themselves with the topics and the characters in the novels," Omar says.
"A reaction that affected me, and touched me in a way that I started crying, was from a woman between 45 and 50 years old. She came to me and she whispered in my ear: 'Thank you for giving me a voice'."
As combative as her protagonist, Omar now refuses to speak about her personal life, "due to her security situation and since her words can bring about severe consequences," according to her assistant.
- A 'calling' -
What is known from earlier interviews is this: After several years in refugee camps, Omar came to Denmark at the age of 15, like Frmesk. They also share a distinctive look -- a streak of white in their jet-black hair.
Omar has previously revealed that she has been married, is "the mother of a murdered girl" and began writing Frmesk's story while in a psychiatric ward after several suicide attempts.
For her, writing books is not "a dream."
"I see it as a calling, because I have sacrificed everything for it," she says with a fiery look in her eye, which gives way to a melancholic smile as she refers to her security situation.
While she calls herself an "agnostic Muslim", the author is not out to criticise Islam as such and says her message is universal.
"Any monotheistic religion has a dark side and a light side. Islam also has this dark side but it is still up to interpretation. It's all about who is holding the book," she says.
In a country preoccupied with immigrants who don't assimilate and which is still recovering from the explosive Mohammed cartoons scandal, Omar's ardent defence of freedom of speech has been warmly welcomed in Denmark.
"As long as we have other people who are threatening authors and people fighting for the right to use words... then we have a problem," she says.
Omar isn't done telling Frmesk's story.
A sequel was published in 2019, "Shadow Dancer", it too the recipient of literary prizes in Denmark.
"I'm not finished with Frmesk's story because I think she's more than an abused child and an oppressed woman. She's more than that. She's a fighter and I need to write the rest of the story," she says.
Omar is currently studying for a Masters in Political Science, and is translating her own books into Kurdish and Arabic, which she plans to publish at her own expense to avoid any censorship.
https://www.rfi.fr/en/danish-author-sara-omar-breaking-taboos-for-muslim-women
--------
Pakistan Actress Sanam Saeed Asks Fans, What Kind Of Content Do They Want To See In Dramas On Television And In Films?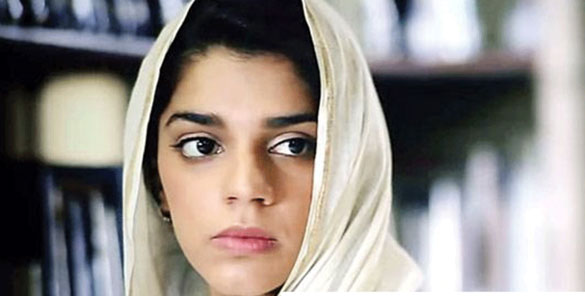 Pakistan Actress Sanam Saeed
-----
January 28, 2021
Sanam Saeed is asking all the right questions! The Cake star recently took to Twitter and asked fans, followers about their preferences on what they would like to see on the television. Lately, there has been much debate about the deteriorating content on television as dramas such as Nand, Jalan, Meray Paas Tum Ho raised eyebrows. Many called out the makers for highlighting problematic narratives.
"What stories do we want [to be] told? What is your favourite genre? What kind of content do you want to see in dramas on television and in films?" Saeed tweeted. And the ideas that came forward were brilliant.
"Stories about brave women who existed before partition, during colonial rule, before colonial rule, during the Mughal era, I want to learn about incidents from our south Asian history, well-researched content about real people from our past,' a user shared.
"Separation and heartbreaks are overrated," another user penned (and we agree), adding, "I feel a soft simple story could click [with the] audience too if the execution is done right and all the emotions are portrayed perfectly. Also, I wanna see more of thriller kind of stuff too."
"I can't watch a drama whose main theme is love and separation," commented another one. "It could be a part of the drama but I want to see other things - it could be a thriller, inspirational, spiritual, things other than love that happen in this world. I like the romance factor but that shouldn't be the only thing happening."
"Zindagi Gulzar Hai struck a balance beautifully, Kis ki Ayegi Baraat did too. A group of friends - adult women taking a 'girls trip' and a Zindagi Na Milegi Dobara type Pakistani movie. To echo what everyone else has said just not more of the same. And thank you for asking this question!" said one user.
"True stories of religious historic figures," one wrote, sharing another idea. "More Stories based on spirituality, that project Islam the way it is and how it would make us appreciate it. Coverage of what really happens in our countries - social/political issues."
And many more ideas floated around.
Earlier, celebs like Mahira Khan, Sarwat Gilani and others hoped for a better narrative will be portrayed on television.
https://tribune.com.pk/story/2281690/sanam-saeed-asks-fans-tv-film-preferences-and-they-arent-holding-back
--------
Somalia's Minister of Women Says Lawmaker Quota for Females Too Low
By Mohamed Sheikh Nor
January 27, 2021
MOGADISHU - Somalia's prime minister this month announced a 30 percent quota for female lawmakers chosen in upcoming elections. If upheld by the clans, it would raise the number of female representatives in parliament by 6% — but women's groups see even that slight jump as doubtful in patriarchal Somalia. 
Prime Minister Mohamed Hussein Roble's spokesman, Mohamed Ibrahim, says that the prime minister has pledged to solicit the support of clan elders and all stakeholders in his efforts to reach the 30 percent quota.
But Somalia's female activists remain skeptical that the male-dominated clans, who will choose lawmakers in the indirect election, will follow the government's lead.
Jawahir Barqab, chairwoman of the Benadir Women Organization, says Somali male leaders' history of ignoring the importance of women's input has had clear costs.
She says that since men killed each other, destroyed the country, and still do not agree, women have realized it is their turn to show leadership, beginning with the 30 percent quota in both houses of parliament.
Women currently have 24 percent of the seats. 
Female leaders note that mothers and wives have played a key role in reconciling communities torn apart by years of conflict in Somalia.
Hanifa Habsade, Somalia's Minister of Women and Human Rights Development, says that women are more than 50 percent of the population and deserve the right to equal representation in the executive and legislative branches of government. Women's rights are a new phenomenon in Somali culture, she adds, but women deserve more seats. 
The vote in Somalia is to take place by February 8, but may be postponed while political leaders try to finalize the election process.
https://www.voanews.com/africa/somalias-minister-women-says-lawmaker-quota-females-too-low
--------
Nigeria: 300 Female Soldiers Deployed to Fight Bandits On Kaduna-Abuja Road
28 JANUARY 2021
By Aza Msue
The Nigerian Army has deployed 300 female soldiers to reinforce security along Kaduna-Abuja highways to tackle incessant kidnapping and banditry.
No fewer than 100 of the soldiers from Nigeria Army Women Corps (N.A.W.C) were yesterday formally received and welcomed to Kaduna State in the first batch by governor Nasir El-Rufai.
The army said the deployment of women soldiers is to complement the existing operations along the highways and environs.
Speaking at the occasion, governor Nasir El-Rufai, expressed the hope that with the deployment of the female soldiers, the insecurity along the highways will soon be a thing of the past.
Governor El-Rufai expressed gratitude to the military for deploying the troops and assured them of the continued support of the Kaduna State government as they work to improve security in the state.
"The problem of Abuja-Kaduna road will be over with these female soldiers because what a man can do a woman can do better. We believe in the capability of women in this state.
"I am confident the road will be the safest in Nigeria. We will do everything possible to make this operation comfortable. We are very happy to have you. Your presence will inspire other girls to join the military. That is why we have female deputy governor to inspire other women," El-Rufai said.
Earlier, the General Officer Commanding (GOC) 1 Division, Kaduna, major general Usman Mohammed, acknowledged the support the Kaduna State government has provided to the military in its internal security operations.
https://allafrica.com/stories/202101280100.html
--------
Female footballers from remote Chitral bring their game to Pakistani capital
January 28, 2021
RAWALPINDI: Forty young football enthusiasts in matching black tracksuits jogged down the cement bleachers framing the expansive football pitch of the Islamabad Sports Complex on Tuesday, egging one another on and cheering as they embarked on a new day of sports and fun.
While athletes of all stripes could be seen on the many fields and tracks of the complex, what made this particular sight unique was that all of the athletes were young girls from Pakistan's northernmost, long-neglected region of Chitral. The girls were brought to the capital by the Chitral Women's Sports Club, the brainchild of national football star Karishma Ali.
Running a football club for girls from poor families in a remote, mountainous area of Pakistan is not easy during a pandemic, but Ali has not let the challenging circumstances stop her from pursuing her dream of helping girls in her native Chitral region.
"Usually when we do our activities, it's kept secret and done far from their villages for security reasons," Ali, 23, told Arab News on Tuesday, at the Islamabad Sports Complex. "This is why I brought them here, to give them a more comfortable environment. You can already see the change in their confidence, how they are playing out in the open versus at home."
Ali started her club two years ago with 60 girls between the ages of 8 and 16. Now the club has over 150 members who ski and play volleyball, cricket and football.
Ali hopes the club will help the girls overcome both sexual discrimination and poverty in a country where boys' education and sports are prioritized. Her dream is to help her girls win sports scholarships in professional colleges in Pakistan and beyond.
"These girls have talent," said Ali, who has represented her country at international football tournaments. "If we get requisite support, we can have 1,000 female footballers from Chitral."
In Islamabad, the footballers are attending a week-long camp from Jan. 23-29 under Coach Jose Alonso who runs a Spanish Football Academy in the capital. The camp has also given them the opportunity to interact and play with other female football stars.
"I am excited and happy because I see the girls smiling every day," said Ali. "I haven't seen a single upset face. They are getting the chance not only to play the way other athletes get to play and practice out in the open, but also to have fun."
Indeed, for many of the girls, aged between 12 and 16, this is their first time away from home and in the capital.
"We do not get opportunities like this back home. Just having the chance to come and play every day has been really fun," Zakira Nida, 14, said. "That's what we lack the most: opportunities."
"Boys get a lot of chances to play in our region," said Mehek Sultan, 15. "But our society does not just consist of boys. We are here, too. We should also get to play because participating in sports is good for everyone."
The Pakistani women's football team, which faced a FIFA ban due to inactivity in 2013, remained dormant even after the ban was lifted in 2017. Last year in October 2020, the Pakistan Football Federation began work to revive the sport by organizing football camps.
Ali's own passion for football began when she was nine years old and watched the 2006 FIFA World Cup with her father.
"I just knew this is the game for me," she had said in media interviews last year.
But it was not easy. When the community discovered Ali's football career, some were deeply hostile, and she received messages threatening to kill her if she continued.
"It was seen as inappropriate culturally because I would wear shorts, thereby baring my skin," she told reporters.
The situation eased in 2019 when Ali was selected for Forbes magazine's 30 Under 30 Asia list of rising stars and the community began to recognize her achievements.
Now, Ali says it is high time people in Pakistani sports management begin to believe in women.
"Women's teams are becoming famous all over the world," she said. "In the US, they are winning the fight to be paid equally and we are still fighting for our right to play."
https://www.arabnews.com/node/1799616/sport
--------
Cervical cancer awareness: Help eradicate the disease that kills 7,500 Arab women yearly
Afkar Abdullah
January 27, 2021
Cervical cancer is taking away from us a little girl with the dream of a better future.
Every year, 7,500 women die of cervical cancer in the Middle East and North Africa — a staggering number, considering that vaccination could possibly prevent the disease. Sheikha Jawaher bint Mohammed Al Qasimi, wife of His Highness the Ruler of Sharjah, and Founder and Patron of Friends Of Cancer Patients (FoCP), has called on everyone to stand together and join the global movement to raise awareness, protect women, and eradicate cervical cancer.
Sheikha Jawaher was among the key international personalities and top government officials who came together on Wednesday for the second edition of the Cervical Cancer Forum. Held virtually, the two-day global event was organised by FoCP in partnership with the United Nations Population Fund (UNFPA). More than 35 pioneering actors and global stakeholders from 11 countries took part in the forum.
"(Cervical cancer is) taking away from us a little girl with the dream of a better future, a sister helping look after her family with love and care, or a mother raising her precious family. Therefore, it is our duty as individuals, institutions and societies to join hands in the fight against cervical cancer so that all women and young girls stay safe and healthy," Sheikha Jawaher said in her opening address.
In the UAE, national preventive strategies and health awareness programmes have been in place for the early detection of cancers, including cervical cancer, said Abdulrahman Al Owais, the UAE's Minister of Health and Prevention,
"Raising awareness about the importance of early screening for cervical cancer, and its vital role in minimising the death rate between females in the UAE is very important and we are focused on it," Al Owais said as he addressed the forum.
Touching on the UAE's response, Sawsan Al Fahoum Jafar, chairperson of the Board of Directors of FOCP, said: "Following the first Cervical Cancer Forum hosted in the UAE in 2018, the UAE's Ministry of Health and Prevention had announced a country-wide rollout for the vaccination.
"Accordingly, in the year 2019-20, against a target of 16,590, a total of 13,874 were vaccinated for HPV1, HPV2, and HPV3, providing an extensive 84 per cent coverage. I am confident that the discussions over the next two days will bring us new insights on how to incorporate global best practices in our healthcare policies."
Another key speaker at the event pointed out that the UAE is one of only two countries in the Arab region that have included the HPV vaccine in the national immunisation programme. The other one is Libya.
Diene Kieta, deputy executive director for programmes at the UNFPA, said: "This forum is an excellent opportunity to remind ourselves that the 2030 Agenda for Sustainable Development aims to achieve a life of dignity for all people and calls for reducing by one-third premature deaths from non-communicable diseases. While applauding the success of cervical cancer screening in many high-income countries, we have a responsibility to replicate this progress in all settings, in all countries.
"UNFPA will take the lead on executing the Global Strategy to eliminate Cervical Cancer and is ready to support documenting good practices to inform regional and national policies on prevention, early detection and treatment of cervical cancer in the Arab region."
Sheikha Jawaher noted that although the healthcare industry had faced challenges in the time of Covid-19, international efforts rose to the occasion and managed to boost awareness campaigns.
"The FoCP continues to mobilise efforts, locally as well as globally, to develop sustainable programmes aimed at eliminating cancer. The first edition of the Cervical Cancer Forum resulted in the launch of the 'Sharjah Declaration on Cervical Cancer 3X3'.
"We trust that this edition will achieve outcomes that will facilitate and expedite regular examination, treatment and vaccination for those who need them, as well as adopting polices and strategies to deal with the ongoing challenges, helping save the lives of many women and ending the emotional suffering of their families," Sheikha Jawaher said.
Several talks on the first day of this year's forum — conducted by some of the world's top experts on cervical cancer — shed light on how primary healthcare is providing screening, prevention and access to HPV vaccinations amid Covid-19. Other sessions were about ensuring equity and access in cervical cancer care.
The forum will continue tomorrow, with three panel discussions and two keynote addresses, and propose a set of recommendations and a call for action that integrates the pillars of prevention, treatment, palliative care, and social aspects globally and specifically in the Arab region.
Cervical Cancer Forum 2021 is FoCP's first joint event with the UNFPA, since the two entities signed an MoU in November 2020 to boost collaborative efforts in reducing the burden of cervical cancer on the Arab states.
https://www.khaleejtimes.com/news/uae-health/cervical-cancer-awareness-help-eradicate-the-disease-that-kills-7500-arab-women-yearly
--------
UAE expat scales Jebel Jais 7 times to help blind women
Saman Haziq
January 28, 2021
The 42-year-old Sharjah resident covered a distance of nearly 9,000 metres, surpassing the height of Mt Everest above sea level.
On Australia Day on Tuesday, expat Scott Melgaard did something 'unusual'. He biked up and down Jebel Jais mountains — seven times in 33 hours, all for a noble cause. He wanted to give sight to hundreds of blind women in developing countries.
With such an incredible feat, the 42-year-old Sharjah resident covered a distance of nearly 9,000 metres, surpassing the height of Mt Everest above sea level. He was able to raise Dh27,000 for an Australian charity, the Fred Hollows Foundation, which will use the fund to help restore the sight of almost 300 women.
A science teacher at Victoria International School of Sharjah, Melgaard became the face of his school as he personally took up the fundraising campaign for Australia Day. He started the challenging ride at around 1pm in the afternoon and finished it the next day at 9.45pm.
Melgaard said his school regularly ties up with the charity every year for fund-raising. However, the campus had been facing issues this year because of the pandemic, so he stepped forward and embarked on the extreme adventure.
"I decided to do something unusual to mark Australia Day, as we are living in unusual times because of the pandemic crises. One of the major push behind this project was living and working with people of so many nationalities," Melgaard said.
"Since I am from a small rural area in Australia and was restricted to only a very small community, I was amazed at the multiculturalism I witness here in the UAE. I worked with people of different nationalities, such as Pakistanis, Indians, Syrians, and coincidentally the charity Fred Hollows foundation is also working in some of these developing countries. This made me reflect that the money that will go the charity will in some way benefit the communities of my lovely colleagues."
The funds were donated to the charity's global 'She Sees' campaign, which helps restore the sight of more than 300 women and girls in developing nations.
Melgaard, who is also a triathlete, said that since he teaches science to students in Grade 6-12, he decided to wear different shirts representing each grade in each of the seven laps. "The idea was to represent the seven senior school classes that I teach by climbing the mountain seven times from the base to the summit on my bike and cross 8,848 metres, which is the height of Mt Everest."
Melgaard thanked his wife, three kids, teachers and students who had come to Jebel Jais to cheer him on and motivate him to achieve his target as he biked day day and night uphill and downhill, at times under freezing temperatures, without a minute of sleep.
https://www.khaleejtimes.com/news/uae-expat-scales-jebel-jais-7-times-to-help-blind-women
--------
Kuwait- Women's First Weightlifting tournament concludes
1/26/2021
Kuwait's first Women's weightlifting tournament concluded on Tuesday its competitions that took place at Al-Tadamun SC over the course of three days.
This tournament was held to serve the purpose of improving player-lifting abilities.
Chief of Kuwait Weightlifting Association Talal Al-Jassar said to KUNA, that the tournament witnessed the participation of 34 players in different weight categories.
"The goal behind this tournament is prepping and scouting for lifters to represent Kuwait in future tournaments," he added.
"Kuwait has many talents and the National Team includes a lot of star players not only locally but also regionally, and the association supports those players in order to represent Kuwait and achieve goals internationally," he noted.
Al-Jassar mentioned that a lot players have achieved first places and honored on the podium in different weight categories such as 49kg, 55kg, 59kg, 71kg, 76kg ,81kg and 87kg. (end)
https://menafn.com/1101497279/Kuwait-Womens-First-Weightlifting-tournament-concludes
--------
Iranian-Italian webinar pays tribute to Iranologist Anna Vanzan
January 27, 2021
The webinar was organized at the center of the Italian Encyclopedia of Sciences, Letters and Arts, best known as Treccani.
"Undoubtedly, Ms. Vanzan will remain in our memories by around 200 articles and books of hers, and nearly 100 papers for international meetings," Iranian cultural attaché Mohammad-Taqi Amini said at the webinar.
He pointed to the Career Award for Translation she received from the Italian culture ministry in 2017 and the International Prize Feudo di Maida for her book "Muslim Women in Italy's Collective Imagination" in 2006, and said, "Luckily, her cultural activities were acknowledged over her life."
"The Iranian Cultural Center in Rome plans to show appreciation for those scholars who help improve mutual understanding across the world by organizing international meetings and conferences," he added.
Simone Cristoforetti of the International Association for Mediterranean and Oriental Studies (ISMEO) also attended the webinar.
He praised Vanzan for the great endeavors she made to introduce books from Persian literature to Italian readers.
Italian writer Antonello Sacchetti, the author of "Misteri Persiani" and several other Italian literati, including Maria Vittoria Paladinoa and Tiziano Buccico, also attended the meeting.
Born in Venice in 1955, Vanzan held a degree in Oriental languages and cultures from the University of Ca' Foscari of Venice and a Ph.D. in Near Eastern studies from New York University.
Although she was interested in West Asia in general, her research was focused especially on Iran, Central Asia and the subcontinent – Pakistan, Afghanistan and Muslim India.
She worked in gender studies with a particular interest for contemporary fictional literature produced by Iranian women.
She was the author of many publications in Italian and English, including "La Storia Velata: le Donne dell'Islam Nell'Immaginario Italiano", "Figlie di Shahrazàd".
Her book "Le Donne di Allah, Viaggio Nei Femminismi Islamici" offers a collection of conversations and discussions with Muslim women who are engaged in finding their way to feminism.
She was a co-founder of the Italian journal Afriche&Orienti. She regularly lectured in various Italian institutions on issues of multiculturalism.
Vanzan was teaching culture and mediation at Ca Foscari University in Venice before her death.
https://www.tehrantimes.com/news/457458/Iranian-Italian-webinar-pays-tribute-to-Iranologist-Anna-Vanzan
--------
URL: https://www.newageislam.com/islam-women-feminism/danish-author-sara-omar-uses/d/124166
New Age Islam, Islam Online, Islamic Website, African Muslim News, Arab World News, South Asia News, Indian Muslim News, World Muslim News, Women in Islam, Islamic Feminism, Arab Women, Women In Arab, Islamophobia in America, Muslim Women in West, Islam Women and Feminism