New Age Islam News Bureau
30 Jun 2013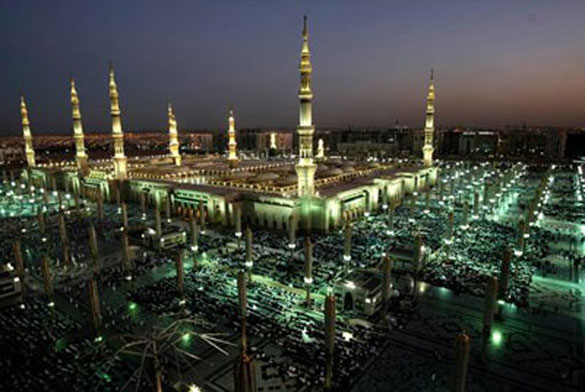 Photo: The Prophet's Mosque in Madinah
-----------
• Pakistan 'Blasphemy' Girl, Rimsha Masih Moves to Canada
• As Ramadan Closes In, Cost Of Hiring Housemaids Jumps in Saudi Kingdom
• Cross-Dresser Caught At Prophet's Mosque's Female Section
• Saudi Man Fined For Letting Sister Drive Family Car in Al Qateef
• Girl from Mumbai's red-light area goes to US performing arts camp
• Mind the Gap: Lack of Arab Women in the Workplace
• UAE Continues Its Efforts to Empower Women
• Syria Air Strikes on Homs Kill Woman, 2 Children: NGO
Compiled by New Age Islam News Bureau
URL: https://newageislam.com/islam,-women-and-feminism/cross-dresser-caught-at-prophet-s-mosque's-female-section/d/12361
----------
Cross-Dresser Caught At Prophet's Mosque Female Section
June 30, 2013
MADINAH — Security officers in Madinah detained an Arab expatriate for entering the female section in the Prophet's Mosque. Female security personnel at the mosque became suspicious of the manner in which the suspect walked. She approached the suspect and confirmed her suspicions that it was man in woman's dress. She immediately informed the mosque security. Madinah police spokesman Col. Fahd Al-Ghannam said the man entered the mosque disguised in female clothing to snatch purses from women worshippers busy performing prayers.
http://www.saudigazette.com.sa/index.cfm?method=home.regcon&contentid=20130630171751
----------
Calls Mount for Easing Of 'Mahram' Curbs in Saudi Arabia
June 30, 2013
JEDDAH — Many women living in the Kingdom who spoke to Saudi Gazette said they felt traveling laws should be flexible enough to take account of emergencies and cases of a male guardian's absence.
Saudi law dictates that women cannot travel without their male guardian's (Mahram's) permission and in some cases can only travel with them. Saudi and foreign women living in the Kingdom who wish to travel are often tied down by the "Mahram" rule.
Aisha Mahmoud, a 48-year-old Pakistani widow and a mother of four living in Jeddah, said, "Laws are just walls put up for women. Anytime I want to go back to my country I have to rely on my son who is only 21 years old and is my official guardian to give me permission to travel. It is disturbing and sometimes he makes it look like a favor. I am a woman and a homemaker who looks after these children. I feel handicapped and ashamed to ask him for permission to be honest. I should have the right to decide when I want to leave."
Other Gulf Cooperation Council (GCC) countries have varied policies for Saudi and non-Saudi women traveling within the region.
Saudi women can travel within the GCC without visa formalities but still need their Mahram's permission to travel. However, laws that dictate that women cannot travel without a visa, their Mahram's permission and in most cases can only travel with their Mahram restricts non-Saudi women even further.
Women living in the Kingdom have expressed dismay over the emphasis placed on their travel. Many women feel the Mahram law gives advantage to men who can abuse the power granted to them to control their daily lives.
"I feel really sad for women living in the Kingdom who suffer due to these rigorous laws and cannot travel because their Mahram is not able to accommodate their travel plans," said Shania Mohammed, a 28-year-old Saudi real estate agent living in Jeddah.
She said fathers, brothers and husbands usually exploit women using the law. "My father till date decides if I can travel. I usually have important work abroad for real estate and he says I am unfit to travel 'so frequently' as a woman. Now, in any other situation I could take my passport and leave but there is no point in fighting. It's a battle to get him to sign a paper. As an adult it is very humiliating to be treated as a helpless handicap. I hope they can relax the law for women, at least for adults. I want to have the same rights as my brothers," she added.
Farah Idrees, a 26-year-old Saudi housewife living in Jeddah, said her husband does not let her travel alone and on many occasions he is unable to travel with her. "Does that mean my husband should quit his job to accompany me? I have family matters to tend to in Qatar and he won't let me travel. There have been times I have cried and begged him. I feel claustrophobic and trapped by the law, but he does not budge."
Her brother Sameer Idrees, a 23-year-old student, thinks the rules are in accordance with the law of the Kingdom. "Women need to be protected. If they really want to travel, they should go with a male companion who can take care of them."
Sarah Ali, a 27-year-old Lebanese living in Riyadh, believes the law to restrict women from traveling whenever they desire is harsh and subjective.
"If an 18-year-old boy can travel, then his mother, sister or grandmother should not have to ask, plead and beg for a man's permission," she said.
"My friend's husband refused to get her exit/re-entry once and she was stuck at home for months. There was nothing she could do. She did not want to call the embassy to embarrass her husband. It is hard to keep your self-respect and balance in life living in such a predicament where your move is controlled and monitored. After all these women don't have a help line," she told Saudi Gazette.
Ahmad Zaki, a 34-year-old British math teacher living in Dammam, said the law should be made lenient for women in case of emergency and unavailability of their male guardians.
"One of my colleagues' mother was sick and she wanted to travel but she couldn't because her husband was away on a business trip. Her mother passed away and honestly at that point it really seemed unfair to stop a woman from traveling just because her Mahram was not available to give her permission to do so."
He added that he would want to empower women's role in society and give them social independence. "As a man, I want to give the women in my house and in the world the freedom of movement. Equality and freedom is their human right."
http://www.saudigazette.com.sa/index.cfm?method=home.regcon&contentid=20130630171762
----------
Pakistan 'Blasphemy' Girl, Rimsha Masih Moves to Canada
June 30, 2013
ISLAMABAD — A Pakistani Christian girl who was arrested for alleged blasphemy last year and forced into hiding for fear of her life has moved to Canada, an activist said Sunday.
Rimsha Masih could have faced life in prison if convicted over allegations that she set fire to pages of the Qur'an in the poor, run-down neighborhood where she lived on the edge of Islamabad.
She was arrested last August and spent three weeks on remand in one of Pakistan's toughest jails in a case that drew widespread international condemnation.
She was released on bail and the case against her was quashed in November, but she and her family were forced into hiding, living under government protection in fear of their lives.
But a Christian activist in Pakistan told AFP on Sunday that Rimsha and her close relatives had moved to Canada.
"Rimsha and her family have arrived in Canada," Sajid Ishaq said.
"The Canadian government is supporting them. They are presently doing a foundation course to learn basic English," he said.
Basharat Masih, a Pakistani policeman who said he had been assigned to Rimsha's protection, also confirmed that they had left.
"They are being taken care of by the Canadian government and attending church services," he told AFP.
Local media said Rimsha was as young as 11, but an official medical report classified her as "uneducated" and 14 years old, but with a mental age younger than her years.
Pakistani Christian leaders last year paid tribute to Muslim clerics, members of the media and civil society for highlighting the injustice done to Rimsha.
Cleric Hafiz Mohammed Khalid Chishti has been accused of desecrating the Qur'an and tampering with the evidence against her.
In 2011 politicians Salman Taseer and Shahbaz Bhatti were assassinated for demanding that the blasphemy law be reformed. — AFP
http://www.saudigazette.com.sa/index.cfm?method=home.regcon&contentid=20130630171801
----------
As Ramadan Closes In, Cost Of Hiring Housemaids Jumps In Saudi Kingdom
June 30, 2013
RIYADH — With Ramadan around the corner, the unofficial fees for the sponsorship transfer of housemaids have reached astronomical figures, Al-Riyadh daily reported.
The increase of fees, which can be as high as SR22, 000, can be attributed to failed negotiations between the Saudi authorities and their counterparts in Indonesia to recruit domestic helps from the country.
Demand for domestic helpers witnesses a drastic increase during Ramadan because of the Saudi tradition of holding parties and family get-togethers during the holy month.
Another reason is the increasing cases of runaway African housemaids who have recently entered the Kingdom on domestic helper visas.
The Kingdom's maid shortage started three years ago when a moratorium on recruitment from Indonesia and the Philippines as well as some Asian countries was imposed.
Despite the Ministry of Labor's efforts to sign recruitment agreements with new countries and solve this problem, the domestic helper market is still waiting for drastic solutions that will put an end to inflated sponsorship transfer fees sparked by a select group of brokers.
A number of manpower recruitment experts have warned the general public against dealing with such brokers, especially as Ramadan approaches. They said the brokers rent maids out on an hourly, daily or monthly basis and demand huge amounts of money.
Most of the domestic helpers they provide had run away from their sponsors and might have even be involved in criminal activities.
Economist Waleed Al-Sebai'ee called for setting up special day-care centers where mothers can leave their children during the day. The absence of such centers has undoubtedly exacerbated the problem during high seasons such as Ramadan, he noted.
"Those families who succumbed to brokers and agreed to pay up to SR5,000 a month for a housemaid have also played a role in encouraging brokers to continue this practice," he said, while encouraging Saudi families to reconsider their heavy reliance on housemaids and only recruit domestic helps when absolutely necessary.
Abdullah Al-Harbi, who runs a recruitment office, attributed the problem to the fact that many of the newly-licensed recruitment companies have not begun operating yet. Many brokers seize this opportunity to make money illegally, he said.
http://www.saudigazette.com.sa/index.cfm?method=home.regcon&contentid=20130630171763
----------
Saudi man fined for letting sister drive family car in Al Qateef
June 30, 2013
Manama: A Saudi man was fined SR900 for letting his sister drive the family car.
The woman, 23, was arrested by a police patrol in Al Qateef, in the Eastern Province, for driving, even though her brother, 17, was riding with her.
The traffic police impounded the car for seven days, asked the young woman, who works at a local hotel, to sign a pledge not to "repeat the violation" and booked her for breaking the rules by driving without a driving licence, Saudi daily Al Sharq reported.
The case will be reviewed by an interior ministry agency.
Women are not allowed to drive in Saudi Arabia even though there is no legal text that bans the practice.
Attempts to change the situation and lift the restrictions have been fiercely resisted by conservatives who saw in it a source of immense social and moral problems.
In November last year, Nassima Al Sadah became the third Saudi woman, after Manal Al Sharif and Samar Badawi, to file a lawsuit over the ban for women to apply for driving licences in Saudi Arabia.
In December, Dr Thurayyah Al Aredh, writing for the Saudi Gazette, defended the right of women to drive, arguing that Saudi women would be "a lot safer" driving themselves.
Dr Thurayyah said that, although she held a driving licence that she acquired while she was a university student abroad, she was unable to drive in her own country.
"I have not been able to use this driving licence since I returned home," she wrote. "Three decades have passed with me waiting hopelessly for the Interior Ministry to reach a decision allowing women to drive. Such a decision will rid us of the need to employ foreign drivers and live under their mercy. Women driving cars is not a fashion trend or an ostentatious phenomenon, but a real and pressing need."
Dr Thurayyah said that "importing of drivers has become more perilous than the recruitment of housemaids."
"As soon as the drivers know our streets, they will not fail to find those who will give them all kinds of criminal advice," she wrote.
"Time has come to do away with the millions of the foreign drivers in our country. Let Saudi women drive and the problem will be solved forever. By driving our own cars, we will save a lot of resources for the economy. We will be a lot safer as well and we will sleep in peace and security," she wrote.
http://gulfnews.com/news/gulf/saudi-arabia/saudi-man-fined-for-letting-sister-drive-family-car-in-al-qateef-1.1203546
----------
Girl from Mumbai's red-light area goes to US performing arts camp
Bhavya Dore
June 30, 2013
After several weeks of uncertainty and despair, Pinky Sheikh, the girl from Mumbai's red-light area selected for a performing arts summer camp in the US, finally got a passport.
After several weeks of uncertainty and despair, Pinky Sheikh, the girl from Mumbai's red-light area selected for a performing arts summer camp in the US, finally got a passport.
She left the city on Friday night after her passport arrived on Thursday and the visa on Friday.
The trip had seemed almost out of reach for Sheikh, 16, the only Indian to be selected for the camp, with several bureaucratic hurdles coming in the way of procuring documentation. HT had first reported about Sheikh's predicament on June 10.
"We did the police verification and dispatched the passport on Monday [June 24] itself," said VK Choubey, regional passport officer, Mumbai.
"The system is so difficult. What is a girl in this situation supposed to do?" said Robin Chaurasiya, founder of Kranti, a non-profit group working for girls in red-light areas.
"There were times that I cried, but you get over it and see what can be done next. There were also a lot of wonderful people who helped us".
Raped, trafficked, living in the city's red-light areas, her mother often absent and her father dead, Sheikh now has an opportunity to create a different identity for herself.
"She says the only time she loves her body is when she dances," said Chaurasiya, with whom Sheikh now lives. Her love for song and dance has now flowered into a passion.
Sheikh has already missed a few days of 'Songs of Hope', a 6-week performance camp for young people from around the world in Minnesota, as it started on June 17. Participants were selected through a written application.
"[She] submitted a thoughtful application and we were impressed," Jeanne Junge, programme's artistic director said by email earlier.
They also waived 75% of Sheikh's fees and the rest is covered through donations.
http://www.hindustantimes.com/India-news/mumbai/Girl-from-Mumbai-s-red-light-area-goes-to-US-performing-arts-camp/Article1-1084649.aspx
----------
Mind the gap: Lack of Arab women in the workplace
June 30, 2013
Women in the Arab world continue to suffer from low representation in the workplace. This week, Arab businesswomen gathered in London to promote and highlight the role of their gender in Arab economies. Discussions focused on how women need to penetrate the professional sectors, and how education is the key to ensuring that this takes place.
Educating women does lead to their success, but it also helps combat traditional and cultural mentalities.
Due to the recent upheavals in the region, some Middle East economies have taken a turn for the worse. Low wages are one of the many factors that keep women at home. An easy way out is to get married.
"It's about unlocking the economic potential of countries, particularly at a time when many countries see unemployment rising and growth falling under pressure," Justine Greening, British secretary of state for international development, was quoted as saying by Asharq Al-Awsat newspaper.
Also at the London conference, Lord Green, UK minister for trade and investment, urged international and regional employers to hire women and provide them with better prospects. "A huge, untapped reservoir of talent and energy lies in women, and we really can't afford to ignore it any longer," he told participants.
In the Arab world, people seem to trust men more, since they are not used to seeing women in the workplace as often. This is a stereotype that the media can help break down by highlighting successful Middle Eastern businesswomen, something that is not often done. The problem is traditional mentalities in Arab societies, with parents prohibiting daughters from working alongside men, and using religion as a form of manipulation.
Young girls in the region need female role models. This will stir aspiration and imagination in the younger female generation. Instead of feeling like they have to hold back on pursuing a career due to parental pressure, religious views or cultural values, they can finally take the leap of faith and break into male-dominated professions such as economics, entrepreneurship, science and law.
Some young women have taken the region and the world by storm with their academic achievements; a Yemeni economics expert, Manahel Thabet, was recently selected as part of the World Genius Directory representing Asia for 2013.
First and foremost, education for young girls needs to become more accessible, and a culture of equality needs to be implemented, starting at the government level. Discrimination on the basis of gender should be abolished, with women being given the chance to excel and break patriarchal barriers.
Women in the Middle East and North Africa have $3,300 less disposable income than men, representing one of the largest financial gender gaps in the world, according to Euromonitor. "The main factor is the low rate of female employment in the region. In 2012, the female employment rate in [Gulf Cooperation Council] countries was only 44 percent of the economically active female population," Euromonitor analyst An Hodgson told Al Arabiya English.Employing women will not only contribute economically, but will empower them at a time when the spirit of revolution is sweeping the region. It will also break the mindset which believes that "women belong at home." It is high time for women in the Arab world to be acknowledged and recognized.
— Sophie Ghaziri is a Shift Editor at Al Arabiya English. Follow her on Twitter @sophieghaziri
http://www.saudigazette.com.sa/index.cfm?method=home.regcon&contentid=20130630171743
----------
UAE continues its efforts to empower women
(Wam) / 30 June 2013
The United Arab Emirates has pledged to continue its efforts aimed at empowering women's positions in all fields, both nationally and internationally.
Dr. Moza Al Shehhi, representative of the General Women's Union (GWU), in a statement made at the annual session of the executive board of the United Nations entity for gender equality and the empowerment of women (UN Women), which concluded last night, stressed that the UAE welcomes the draft updated Strategic Plan which has been approved by the board for the period 2014 - 2017.
She stressed that the UAE has made great achievements thanks to the directives of Shaikha Fatima bint Mubarak, in the field of women's empowerment in all fields, citing the appointment of four women ministers in the cabinet along with an increase of women's representation in the Federal National Council by 18 per cent. She also drew attention to the appointment of Emirati women in the Diplomatic Corps and the judiciary.
Dr. Moza noted that the UAE government recently completed the necessary efforts to achieve women's participation in decision-making positions as per the decision issued by the Cabinet stipulating the promotion of women's participation in the boards of government bodies and companies .
UAE's officials also emphasised that the UAE government is currently implementing the final stages of renovation of the final national strategy for advancement of women in the UAE for the period 2013 - 2017.
http://www.khaleejtimes.com/nation/inside.asp?xfile=/data/nationgeneral/2013/June/nationgeneral_June474.xml&section=nationgeneral
----------
Syria air strikes on Homs kill woman, 2 children: NGO
June 30, 2013
BEIRUT — Syrian army air strikes in the central city of Homs on Sunday killed three civilians, as regime forces pressed forward with a new bid to to retake several rebel-controlled districts, a watchdog said.
"Syrian warplanes carried out air strikes on the Old City of Homs a little while ago, destroying a house and causing three deaths," the Syrian Observatory for Human Rights said.
"Regime forces also carried out heavy shelling of the districts of Khaldiyeh and the Old City, and the sound of explosions could be heard," the group added.
Observatory director Rami Abdel Rahman said at least three civilians, a woman and two children, were killed in the air strikes in the Old City, and that dozens of people had been injured since the army assault began on Saturday.
"The army is continuing its attempt to enter Khaldiyeh, but it hasn't succeeded so far," he said.
On Saturday, the group said regime forces were engaged in "unprecedented" bombardment of several parts of Homs, including Khaldiyeh, Bab Hud, Hamidiyeh and Bustan Al-Diwan.
A security source in Damascus confirmed fierce fighting was underway in Homs.
"Military operations never stopped in Homs, but their pace increases according to priorities," he told AFP on Saturday.
"What's important is to cleanse those neighbourhoods of Homs that are in the hands of armed terrorists, particularly Khaldiyeh, Hamidiyeh and the Old City," he added.
Syria's Al Watan daily, which is close to the government, said on Sunday that the army had "made qualitative new advances in the city of Homs amid fierce clashes with armed militias in Khalidiyeh and Bab Hud."
The operation prompted Syria's key opposition National Coalition to issue a statement late Saturday urging "battalions of the Free Syrian Army to come to the aid of Homs with all means possible".
The group also called on international backers of the uprising to establish a no-fly zone and carry out air strikes against regime military bases.
Homs, the third largest-city in the country, was one of the first to join the revolt against President Bashar al-Assad's regime more than two years ago.
Khaldiyeh and the Old City have been under siege by the army for around a year. — AFP
http://www.saudigazette.com.sa/index.cfm?method=home.regcon&contentid=20130630171797
----------
URL: https://newageislam.com/islam,-women-and-feminism/cross-dresser-caught-at-prophet-s-mosque's-female-section/d/12361