New Age Islam News Bureau
18 Jan 2015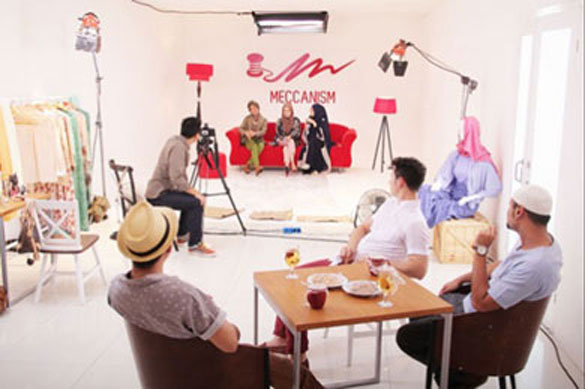 The women in Hijab succeed beyond their wildest dreams after going into business selling Muslim women's wear online. (Dapur Film)
------------
• Fear of Ebola Curbs Genital Mutilation of Girls in West Africa
• Women Helping Women In The Middle East And North Africa
• The Case for Improved Female Empowerment In The Workplace
• K-Pop Artistes Aim To Erode Muslims' Faith: KL Religious Body
• Divorce Ban Shows Catholic Church Power in Philippines
• Egyptian Women Take To Social Media to Expose Harassers
• 'Hijab' Captures Indonesia's Muslim Wear
• UN 'Barbershop' Event Aims to Dispel Stereotypes, Promote Gender Equality
• Children in Northeastern Nigeria In Need Of Protection from Violence: UN Envoy
• UK: Preston Muslim Girls High School Pupils Get Creative to Leave Artwork Legacy
• Map: The places where Islamic face veils are banned
Compiled by New Age Islam News Bureau
URL: https://www.newageislam.com/islam,-women-and-feminism/new-age-islam-news-bureau/courageous-survivors--how-these-three-radicalised-women-beat-islamic-state/d/101090
-------------
Courageous Survivors: How These Three Radicalised Women Beat Islamic State
18 January 2015
SULIMANIYA, Iraq - In an attempt at Middle East domination, Islamic State terrorists have murdered, raped, and abused thousands of women. Now, some of these courageous survivors want to share their stories with the world.
CBN News Sr. International Correspondent Gary Lane traveled to Iraq to talk with three women who stood up against the barbarity of ISIS.
Each one has struggled to overcome their painful experiences. One is a soldier. Another a young Yazidi, and another is a Syrian refugee.
Women Marching to War
After a summer of terror, ISIS is now on the defensive. Iraqi Kurds say American bombing raids have helped them beat back the advance.
American airstrikes have definitely had a devastating impact on Islamic State fighters. But there is one thing that they fear more than American bombs: female Peshmerga fighters, with guns.
Meet the women of the Second Battalion, a force guarding Iraqi Kurdistan. More than 500 women serve in this unit.
Lt. Col. Nasreen Hamlawa is the battalion's deputy commander.
"These women are the best examples of Peshmerga. They are very brave women," she told CBN News. "When it comes to being a hero, there is no difference between men and women."
She's no stranger to war, fighting for years against Saddam Hussein, and Iran. She convinced family members to join up.
But that came with a fatal cost. Last fall, an ISIS sniper killed Nasreen's 26-year-old daughter, Rangin.
"She was really good, a high example to the girls, very smart and brave. She gave herself as a sacrifice for the sake of Kurdistan," Nasreen said.
Rangin left behind a husband and two children. Tears flowed as Nasreen spoke of her grandchildren growing up without their mother.
"The difficult part is my grandchildren - they miss their mom. Usually when I see them, I cry," Nasreen said.
Her pain appeared to ease as she proudly explained that her daughter gave her life for the homeland.
Nasreen said she is more determined than ever to stop the kidnapping, selling, and sexual abusing of women.
"If anyone should fight against ISIS, it should be the women!" she exclaimed.
A Woman Called 'Shanar'
One 22-year-old Yazidi woman - we'll call her "Shanar" - was one of thousands kidnapped by ISIS militants.
It happened last August as many Yazidis fled to Sinjar Mountain to escape ISIS militants. They captured Shanar and put her with about 100 other Yazidi girls, some as young as 10 years old.
"They were forcing the girls to convert to Islam and then marry ISIS members," Shanar told CBN News. "They beat our legs, heads, and arms, demanding all of us to serve them or be used as sex slaves."
Shanar said ISIS fighters came to the house and offered the girls money for sex and many of them were sold for as little as $1.
"They were really determined to harm us," she said. "They abused us and took pleasure in it. Most of us wanted to die."
Some of the girls have attempted suicide to escape the abuse. An alarming number have succeeded.
Last November, Shanar secretly contacted an uncle who helped rescue her, her young sister, and five other girls. Freedom, however, did not bring joy.
"I didn't rejoice because even when I was rescued and was over the border inside Turkey, I realized that 27 of my family members were missing," she said.
While she said life is difficult without them, Shanar said she's glad she at least helped some of the girls escape ISIS.
"I helped them a lot and I am very happy that I could help return the girls and my sister who were with me," she said.
Meet 'Hanifa'
"Hanifa" escaped Syria after fighting between the Syrian government and the Islamic State destroyed her home.
Once there, she landed a job with a Christian organization and started reading the Bible.
"I learned a lot about Jesus," she recalled. "He's not just a normal human; He's God. He cleansed me of my sins. I was dead and now I have a new life."
A miraculous healing caused Hanifa to leave Sunni Islam.
Doctors had scheduled surgery to remove a life-threatening tumor so she prayed the operation would be unnecessary.
She said her doctor was surprised moments before the surgery when he discovered the tumor had miraculously disappeared.
"The doctor kept saying, 'It's impossible, it's impossible! Where's your tumor? What have you done?'" she recalled.
"I told him I just prayed to God. He said, 'You are okay. That's impossible!' But I didn't care what he thought because I knew God had healed me!" Hanifa told CBN News.
As a Christian, Hanifa's life is in jeopardy because she is considered an apostate.
"It is dangerous for me, but Jesus is with me. He is God. He saved me, so he'll keep me safe. I am not afraid," she said.
Today, she organizes clothing and other items to distribute to those in need.
As ISIS seeks to eradicate Christianity, Hanifa is trying to increase Christian numbers by sharing her testimony. She said she has a special burden for refugees from Kobani.
"I tell them my story. I want the Kobani people to know Jesus," she said.
Hanifa, Shanar, and Nasreen -- three courageous women overcoming ISIS with guns, determination, and God's word.
http://www.cbn.com/cbnnews/world/2015/January/Courageous-Survivors-How-These-3-Women-Beat-ISIS/
---------
Fear of Ebola Curbs Genital Mutilation of Girls in West Africa
18 January 2015
As the death toll from Ebola approaches 9,000 in West Africa, the illness has at least temporarily disrupted female genital mutilation, a centuries-old practice that brutally harms young girls.
The respite is giving human-rights activists an opportunity to more permanently curb the tradition, which involves circumcision to partially or completely remove female genitalia. That pits organizations such as Unicef against mothers like Ballu Johnson of Sierra Leone, who is eager for her 10-year-old daughter Mariatu to undergo the rite of passage to womanhood.
"Initiation lowers a girl's urge for sex and helps her stay a virgin before marriage," said Johnson. She intended to take Mariatu to the local head of the Bondo secret society last month to arrange the ceremony, but found that the procedure has been banned because of Ebola, which is spread by contact with bodily fluids.
Sierra Leone has set a fine of 500,000 leones ($118) for performing female circumcisions, typically done on girls between the ages of 9 and 15. At the same time, groups like Unicef -- the United Nations Children's Fund -- and the World Health Organization are trying to engage secret society leaders in the fight against Ebola and perhaps eventually change attitudes toward
"This is providing us with a phenomenal opportunity," Kshitij Joshi, head of communication for development at Unicef in Sierra Leone, said by telephone. "If we're looking at a timeframe of March or April for the Ebola crisis to simmer down, from that period up to the next initiation period, we have five, six months to keep on building around the gains we're making."
Infection Rate
Transmission of Ebola remains intense in Sierra Leone, with more than 300 new infections recorded in the last week of the year. Curbing the epidemic has led to the suspension of deeply ingrained cultural practices, such as traditional burials, that risk spreading the virus. The circumcision ban is both curtailing initiations and exposing the persistence of female genital mutilation.
While rates of female circumcision have declined over the last 30 years in several countries, more than 130 million girls and women have been cut in the 29 nations in Africa and the Middle East where the practice is most common, according to Unicef. It estimates that about 90 percent of women in Sierra Leone aged 15 to 49 have had the procedure.
Family 'Shame'
The arguments against female genital mutilation don't impress Johnson. Initiation into the Poro society for boys and Bondo for girls is an important mark of success in Sierra Leonean society, and many influential people are members.
She said the idea that secret society leaders, called sowei, have endorsed the ban is making her uncomfortable, as it risks discouraging suitors for her daughter's hand. "It is a shame on any family, especially the mother, for the sowei to declare that their daughter was no longer innocent when she was initiated."
The practice, most prevalent in rural areas, typically takes place during school holidays in the summer and also in December and early January. This year, the National Soweis Council is policing Bondo centers, called "bushes," to make sure initiations aren't held, said Koloneh Sesay, a sowei of 30 years and president of the council. They are suffering financially as result, she said.
No Funding
"Unlike other groups that have been receiving financial support from government and NGOs to sensitize their members about Ebola, the council has not received such support," Sesay said in an interview in Freetown, the capital.
Khadija Bah-Wakefield, a Sierra Leone-born social anthropologist, joined the WHO last month to help the Geneva-based agency better understand cultural practices that contribute to or hinder Ebola's spread, including the initiations. She says circumcision has been slowly losing favor as more girls become educated.
Bah-Wakefied studied rural sociology at Cornell University in upstate New York and earned a master of philosophy in social anthropology at Cambridge University, where she wrote her thesis on the relationship between initiation rituals and education in sub-Saharan Africa.
Bah-Wakefield is working in northeastern Sierra Leone, where Ebola hotspots exist. She is engaging traditional leaders of secret societies to help spread messages about how to stop transmission of the virus.
Most Ebola cases have occurred in Sierra Leone, Liberia and Guinea, which share borders. The WHO is collaborating with anthropologists in all three countries. Liberia's rate of female genital mutilation is lowest, while Guinea's is the highest. Some male secret societies also initiate young boys with circumcisions, which have been banned in Sierra Leone.
As with traditional burials, which were suspended because the touching of dead bodies spreads Ebola, circumcisions may return once the outbreak is contained, said Unicef's Joshi.
Many Africans say female circumcision is a deeply rooted practice, much like foot-binding was in China, and eradication won't be achieved by Western outsiders whose cultures engage in body mutilation such as breast implants and cosmetic vaginoplasty.
"Change has to come from within," Bah-Wakefield said. "With education and access to information, the change is slowly happening."
http://www.bloomberg.com/news/2015-01-14/ebola-forces-secret-societies-to-curb-circumcision-rites.html
---------
Women Helping Women in the Middle East and North Africa
18 January 2015
Middle East (MNN) — Civil war, the rise of Islamic State, and the ineffectiveness of reformist governments made last year one of turmoil for the Middle East and North Africa.
More than any group, it seems like women were cheated out of their hope for change in Arab Spring countries.
Debbie Brink is the executive director for Women for Middle East Hope (WFMEH), a specialized arm of SAT-7. She explains, "Women were coming alongside people in the streets. They wanted to see change for themselves, but it sadly didn't produce what they had wanted. In fact, as I've looked at different reports and studies since then, conditions have gotten worse for women in the Middle East."
Under more totalitarian rule, coupled with the rise in extreme Islam, women were soon marginalized, their voices silenced. Knowing their stories and speaking up for them is one reason SAT-7, a Christian satellite television ministry to the Middle East and North Africa, launched WFMEH as an international initiative.
It was meant to address the plight of women a world away who suffer from oppression, fear, and lack of hope. Brink says, "If women in the West understood more of the issues concerning women in the Middle East and North Africa, they would want to get more involved with us, in helping us provide specific television programming for the women in the region to help them cope with issues that they deal with."
Women for Middle East HOPE believes that increased exposure to the love of Jesus Christ will affect real change in the hearts of women and men across the region, as old attitudes, values, and ideas gradually move into alignment with the Word of God.
Here's how it works: participants will begin by educating themselves about the socially-challenging realities facing women and children in the Middle East and North Africa.
From there, the sky's the limit. Women can participate in study programs, individually or in groups, or travel to the Middle East with other concerned women to engage with the women of the region and to understand how Women for Middle East HOPE can help meet the challenges they face.
By helping support SAT-7's programs, the women WFMEH participants study can be reached with the message of hope. Brink adds, "SAT-7 is very careful about our programming. In order for us to be in the region and have studios in the region, we cannot be seen as evangelizing, but we can talk to Christians in the region on our programming."
She goes on to say that just like in North America, not everyone participating in church or in a program may actually have a personal relationship with Christ. The same is true of the Middle East. However, Brink says, "The reality is that the majority of the region is not Christian, and they are watching our programs. So, the ones that aren't Christians don't feel like they're being attacked or criticized because that's not our purpose. But they become curious about 'what do Christians really believe?'"
Segments of SAT-7's television programs for men and women contrast the culture of injustice with biblical concepts of freedom and forgiveness. "They listen and they become intrigued, and they begin to think, 'This isn't the Jesus that I had always heard about.' They want to know more, and they continue to watch."
Because roughly half of the women in MENA are illiterate and house-bound, they spend much of their day watching television. Satellite television programming is the perfect medium to transmit information.
https://www.mnnonline.org/news/women-helping-women-middle-east-north-africa/
---------
The Case for Improved Female Empowerment in the Workplace
18 January 2015
VENTURES AFRICA – In the course of the past two decades, the gender equality and female empowerment movement has gained significant traction all over the world and has resulted in an increase of the number of women occupying top and middle management roles in the corporate world; however, more remains to be done especially in getting women to participate actively on corporate boards.
This is according to a recent United Nations report, prepared in collaboration with the International Labour Organization (ILO), which contains substantial insights and findings drawn from 80 countries. According to the report, women have, over the past two decades, attained 20 percent or more of all board seats in a number of countries. Norway has the highest global proportion of companies with a woman as company chair, and Turkey follows closely.
"Our research is showing that women's ever increasing participation in the labour market has been the biggest engine of global growth and competitiveness. An increasing number of studies are also demonstrating positive links between women's participation in top decision-making teams and structures and business performance," said Deborah France-Massin, Director of the ILO Bureau for Employers' Activities.
The report continued with the assertion that, despite the headway made in equalizing the gender gap at management levels, only about five percent of the world's largest corporation have female CEOs; in fact, the larger the company, the less likely it is that a woman will be at its helm. Apparently, a concentration of women continues to be restricted to specific organizational functions like Human Resources, Administration and Communications.
"It is critical for more women to reach senior management positions in strategic areas to build a pool of potential candidates for top jobs such as CEO or company presidents. Further action in reducing gender equality is critical; else it could take 100 to 200 years to achieve parity at the top. It is time to smash the glass ceiling for good to avoid controversial mandatory quotas that are not always necessary or effective. Having women in top positions is simply good for business," France-Massin continued.
Additionally, the report finds that women own and manage over 30 per cent of all businesses but, in what could be another restriction; they are more likely to be found in micro and small enterprises. This presents a new imperative for helping women grow their businesses as it can facilitate the dual outcome of increasing gender equality and promoting overall national economic development.
http://www.ventures-africa.com/2015/01/the-case-for-improved-female-empowerment-in-the-workplace/
---------
K-Pop Artistes Aim To Erode Muslims' Faith: KL Religious Body
18 January 2015
KUALA LUMPUR — Malaysia's federal Islamic authority yesterday warned Muslims to beware of Korean artistes, saying they have an ulterior agenda and that their brand of entertainment was a process to erode the religion and identity of the faithful.
The Malaysian Islamic Religious Development Department (JAKIM) said there were "tricks and agenda" behind Korean pop culture that would go unnoticed among those who possess "shallow thinking".
JAKIM's comments came amid a furore over a video posted online of a mini-concert by South Korean boyband B1A4 last Saturday, which had shown the band hugging and kissing three tudung-clad Malay girls. The clip caused an outcry among Muslim groups and religious authorities.
"We might not realise the tricks and agenda brought by the morals and culture behind the entertainment. For those who are of shallow thought, it is merely entertainment," JAKIM said, referring to K-pop. "But if we study deeply, we will see the answer behind the question, what are the values, manners, culture and morals which they are bringing."
The sermon's topic yesterday touched on the threat of globalisation, which it said will see Muslims dragged into a war and destruction in various ways.
But it also warned Muslims of the obstacles to their faith posed by both Western and Eastern cultures. Among others, the sermon claimed that Muslims' morals and culture are polluted into worshipping popular culture spread through media, Internet, books and magazines.
"When our brethren are facing pain and sorrow from the flood disaster in some states, we are shocked by the action and involvement of some teenagers these days in entertainment programmes brought from overseas which transgress the limits of religious values," the sermon said.
"They are so fanatical and are willing to worship, and even hug their adored idols in public," said the sermon, referring to the three fans at the centre of the controversy.
Islamist group Ikatan Muslimin Malaysia (ISMA) claimed last week that Korean pop artistes from the Christian-majority nation may be using their music to covertly spread the religion, alleging that many K-Pop artists are secretly "church activists" and have been directly involved in proselytisation programmes abroad.
The girls have also come under scrutiny by the Federal Territory Islamic Religious Department (JAWI), with the authority saying earlier this week it was investigating them for public indecency and outraging Muslims. JAWI director Paimuzi Yahya reportedly said the department would apply for a court order to arrest the girls if they refused to come forward to help in the investigation.
Its director-general Othman Mustapha had on Monday said it would haul up the organiser over the band members' inappropriate behaviour and for not adhering to the entertainment guidelines in Islam issued by JAKIM.
Meanwhile, Perak's Islamic authority, in its official sermon yesterday, claimed that the incident at the concert was proof that liberalism has "succeeded".
The state sermon called the concert as a "tragedy" to Muslims nationwide and was written by Perak deputy mufti Zamri Hashim, who is also the Ipoh chief for ISMA.
"Indeed, this tragedy proved that the violent stream of liberalism — an ideology that tries to fulfil all human needs even by destroying religious and cultural values — has succeeded in tearing down the dividing wall of Islamic identity that has been built before," it said.
The sermon also dismissed claims that religious authorities are only interested in punishments, insisting that any controversies could be sidestepped if only organisers had referred their events to them. AGENCIES
http://www.todayonline.com/world/asia/k-pop-artistes-aim-erode-muslims-faith-kl-religious-body?singlepage=true
---------
Divorce Ban Shows Catholic Church Power in Philippines
18 January 2015
MANILA, Philippines (AP) — The courts did not grant Chatto Realuyo a divorce when it allowed her to end her marriage, 10 years after her husband moved out. They can't. They best they can do is say the marriage never happened.
The Philippines is the only country in the world — aside from the Vatican — where divorce is forbidden, a testament to the enduring power of Roman Catholicism that has flourished since Spanish colonizers imposed it nearly 500 years ago.
Visiting Pope Francis, the church and many of its followers in this Southeast Asian Catholic stronghold of 100 million believe strongly in the indissolubility of marriage. But a growing number of Catholics would support a change.
The independent pollster, Social Weather Stations, found in March 2011 that 50 percent of Filipinos surveyed favored divorce for couples already separated so that they can remarry, while 33 percent opposed it. In 2005, the two sides were about even. Catholics account for about 80 percent of the country's population.
Realuyo, a 58-year-old insurance broker, said she would have gotten a divorce if it had been available back in 1989 when she filed for an annulment. She said her husband didn't provide for their family, used drugs and was uncooperative in counseling sessions.
She was jubilant and celebrated with an "Independence Day" party when the civil annulment was approved in 1991, 12 years after her church wedding and 10 years after her husband left their home.
The annulment will allow Realuyo to remarry in civil ceremonies, but not in Catholic rites because her marriage has not been annulled by the church. If she remarries outside the church or has a live-in relationship, that would be considered immoral by the church and she would be denied communion, a form of excommunication.
Realuyo paid her lawyer about 7,000 pesos, less than $1,000 at the time, to take care of her annulment petition 25 years ago. It has gotten substantially more expensive, too costly for many in this impoverished nation to afford.
For 23-year-old Kate Briola, who wants to formalize her separation from her husband, getting a civil annulment would be very expensive.
Briola, who works for a non-governmental organization, would like an annulment from her husband, who she said is verbally abusive and an alcoholic. But when she inquired about attorney's fees, she was first quoted a high of 200,000-250,000 pesos ($4,450-5,570) and a "special price" of 100,000 pesos ($2,230), which she still can't afford.
"Of course, I want an annulment, but now that I have a child, it's no longer my priority," she said.
Under the country's Family Code, marriages can be ended three ways: through legal separation, which does not allow remarrying; an annulment; and a third, through what is called "a declaration of nullity of marriage."
An annulment cuts the marital bond because it was void from the beginning for reasons such as fraud, or the couple were too young to marry, or were married by someone with no authority.
To get "a declaration of nullity of marriage" one must show that a spouse is not fulfilling his or her marital obligations due to "psychological incapacity" that existed even before the marriage but manifested only later. Such a case could be particularly expensive because it could require expert testimony.
Despite the rising cost, there has been a 40 percent increase in annulment petitions in recent years — from 4,250 in 2001 to 10,528 in 2012 — according to the Office of the Solicitor General, which represents the government in such cases.
Lawyer Evalyn Ursua, a women's rights advocate, said the large annulment expenses deprive the poor of a way out of an oppressive or violent relationship. She said annulment on grounds of psychological incapacity also shows "intellectual dishonesty" in declaring there was no marriage at all, even for couples who were married for years and had children.
"If the Catholics don't want to have divorce, fine. But don't deprive the others. Don't impose the Catholic dogma," Ursua said.
Professor Sylvia Claudio, a medical doctor and clinical psychologist who headed the Center for Women's Studies at the University of the Philippines, said she has counseled numerous battered women who want divorce to get away from their violent husbands.
Claudio said that while some Catholics take pride in the Philippines being virtually the last holdout against divorce, the near-universal recognition of divorce suggests that "there must some rationale that (it) is good for all, across cultures and nations."
The church recently lost a significant fight in the Philippines when President Benigno Aquino III pushed through a reproductive health law that goes against Catholic doctrine by allowing the government to provide artificial birth control to the poor.
Aquino, however, has said divorce is not a priority for his administration. The Gabriela Women's Party, which holds two seats in the House of Representatives, has introduced divorce bills three times over the past decade, most recently in 2013, but they've gotten just one congressional hearing, said Rep. Emi de Jesus.
"What we are stressing here is the right to enter into and get out of a contract . if the marriage is irreparable," she said.
Max de Mesa, a former Roman Catholic priest who is now chairman of the Philippine Alliance of Human Rights Advocates, cites the Universal Declaration of Human Rights provision that says that men and women "are entitled to equal rights as to marriage, during marriage and at its dissolution." He said divorce does not solve all marital problems, but "it gives at least the chance to make the decision to liberate oneself."
"If within a relationship you are being oppressed, divorce becomes an expression of standing for dignity," he said.
For the Rev. Ruben Tanseco, the 83-year-old founder of the Center for Family Ministries, divorce is a closed issue.
"I am holding to the very covenant that the husband and the wife made when they got married: until death do us part," the Jesuit priest said.
He said that even if divorce is legalized, Catholics will not resort to it if they want to remain Catholic, and those who do should be ready to face the consequences.
Getting a divorce is "a conscience decision that the Catholic church does not agree with but the Catholic church cannot stop," he said. "A conscience decision is something that you can live with, die for and face God with."
http://news.yahoo.com/divorce-ban-shows-catholic-church-power-philippines-065228047.html
---------
Egyptian Women Take To Social Media To Expose Harassers
18 January 2015
Egyptian women have been using a number of hashtags — among them #Idon'tFeelSafeOnTheStreet, #AntiHarassment and #ExposeHarasser — on social networking sites to speak up about the daily sexual harassment they experience. These campaigns are part of an effort to expose harassers and break the silence surrounding their crimes, which are haunting women in Egypt. Women have tweeted myriad incidents along with advocating the courage to expose and confront harassers.
Nancy Atieh, 20, published a post on Facebook Jan. 12 in an attempt to expose a man in his 50s who regularly takes the bus from a station downtown, during which time he molests females. She took and posted a picture of him to warn her colleagues who transit the same station. "Photographing harassers and exposing them is the best way to confront them," she wrote.
Haitham Tabi, an Egyptian journalist, called on women to tweet their concerns using the hashtag #Idon'tFeelSafeOnTheStreet, after a number of reports he wrote on the public harassment of women. "Let people know that your concerns about walking on the streets are real and not exaggerated," he told Al-Monitor of his encouragement to women. Tabi also said, "Calling on girls to talk about their suffering was a way to challenge those who are in denial about widespread sexual harassment."
He said people should be careful since the situation has degenerated, stressing, "Women are greatly threatened in Egypt." Tabi emphasized the need for the state to protect women and make them feel safe. "The state, which is fighting terrorism, has to protect girls on the streets," he said.
On Dec. 8, a 19-year-old woman jumped into the Nile from the Qasr al-Nil bridge and drowned in a bid to escape a harasser who had been following her. No passers-by intervened to protect her. Eyewitnesses said that the offender threatened to throw nitric acid on her.
Former interim President Adly Mansour issued a decree June 6, 2014, amending some provisions of the penal code to deal with sexual harassment. Days later, on June 10, a woman suffered severe burns after she was sexually abused in Tahrir Square during the inauguration of President Abdel Fattah al-Sisi.
The Egyptian penal code includes three articles relating to sexual harassment. They stipulate the issuance of sanctions for crimes committed by force or threat or involving obscene acts toward women. In such instances, harassers face six months to five years in prison, in addition to a fine of up to 50,000 Egyptian pounds ($6,991).
No law in Egypt, however, addresses sexual harassment as a social problem, and the punishments do not suit the level of physical, sexual or verbal abuse. Moreover, the laws do not clearly state implementation mechanisms or compel the state to provide security for women.
Egyptian official and security institutions have stressed through the media that they have taken action to address the phenomenon of sexual harassment against women, including creating departments in the police force to combat it. Despite this, many women have complained of the ill-treatment they received at police stations when they tried to lodge complaints against harassers.
Amani Abboud, 26, told Al-Monitor, "I was verbally and physically abused by a man about 50 years of age in a public transport vehicle in the city center and in front of a police station." She explained, "Judging by the traffic in the street, I thought I could expose the harasser, so I tried to scream and pull him toward the police station. To my surprise, the police refused to issue a citation against him." Abboud stated, "The officer told me that a citation would be of no benefit to me and that it was better for me to go home without causing problems."
Amani later tried to lodge her complaint with human rights organizations in Egypt. "I have given up on being granted my right to police protection," she said.
Fathi Farid, coordinator of the I Saw Harassment initiative, told Al-Monitor, "The laws in Egypt have failed to deter sexual harassment against women." According to him, "The law that is supposed to prohibit sexual harassment should be amended. The amendments should include a clear definition of what an anti-harassment law is as well as protect witnesses and informants from media defamation."
Not many people have high hopes of being able to rely on the Egyptian police to fight sexual harassment in the streets. "We cannot trust the anti-harassment division in the regular police when the person in charge of this department believes that harassment is only triggered by revealing female attire," Farid said.
A Dec. 26 report by I Saw Harassment on a case of sexual harassment 100 days into Sisi's term pointed to the involvement of some police officers and administrators in violations against women. At the time, the most recent such incident had occurred Dec. 21 and involved the rape of a university student in a police car.
Said Sadiq, a professor of political sociology, told Al-Monitor, "The lack of the security and judiciary performing their role and the weakness of the concept of respect for personal freedoms are both behind the exacerbation of the problem in Egyptian society."
Sadiq described sexual harassment, an act of violence against women, as a "complicated issue" in Egypt. "No solutions can be found as long as the official institutions do not realize the seriousness of the issue," he said.
Campaigns and initiatives are being launched to address sexual harassment in Egypt, and training sessions are being held for women to protect themselves on the streets. Many women are also daring to speak publicly, on social networking sites, about what they have experienced. The political establishment must act to protect women from the daily violence they are being exposed to since the state's attention does not appear to be focused on fighting harassment.
http://www.al-monitor.com/pulse/originals/2015/01/egypt-women-sexual-harrassment-social-media.html#ixzz3P2GpLjbO
---------
'Hijab' Captures Indonesia's Muslim Wear
18 January 2015
Film director Hanung Bramantyo nicely portrays this phenomenon, capturing the trend and how it has become a huge market in the nation's fashion industry in his first movie this year, Hijab.
Hijab was made after Hanung's wife, Zaskia Adya Mecca — who also starred in and produced the film — had an idea to put that trend onto the big screen.
The 100-minute drama revolves around a group of four women who run a Muslim wear business. The film begins with Bia (Carissa Putri), Tata (Tika Bravani) and Sari (Zaskia Adya Mecca) sharing their experience in wearing hijab.
Bia wears a hijab after being known in social media as the girl who gets guidance after taking part in an Islamic seminar, Tata wears it to cover her baldness, and Sari, who already wears a hijab, starts to wear a dupatta (a long scarf loosely draped across the head and shoulders), after she marries the Arab-descent Gamal (Mike Lucock).
Anin (Natasha Rizky) is the only girl among the three who do not wear a hijab and does not want to get married although she already has a boyfriend (played by Dion Wiyoko).
Bia marries a celebrity, Matnur (Nino Fernandez) while Tata's husband is a famous photographer, Ujul (Ananda Omesh).
The three are actually the type of independent women who do not mind working hard to support their own lives. But after they get married, their husbands ask them to just stay at home and take care of the house and the kids.
They are very close as a group that they organize an arisan social gathering once a month where each couple put into a pool an equal amount of money.
During an arisan, Gamal says that the activity is more like a husbands' gathering, as the men pay.
Annoyed with what he says, Tata then suggests that the girls to do something, which is immediately welcomed by Sari, who thinks of doing an online hijab business together.
In the business, Bia becomes the designer, as she likes to make her own clothes; Tata and Anin handle marketing while Sari deals with the finances.
However, as their husbands oppose the idea of working wives, they do not tell them that they have a joint venture.
But slowly, in line with the significant growth of the business, the women become busier than before and the men sniff out something different with their wives.
They plan to open a boutique and promise to tell the husbands about the truth. But until the boutique is open, they do not have the courage to do so.
The plot gets more complicated when the men lose their jobs, except Gamal.
Gamal, however, leaves after he finds out that Sari works without his consent, while the other husbands refuse to accept the fact that their wives are now the breadwinners.
Hanung said that Hijab, which hits theater on Jan. 15, was not a "religious" movie despite some religious messages in it. The film is more entertaining, with many comedic scenes, although the jokes are sometimes too much.
The chemistry of the cast as a group is great and the audience can feel the real closeness among them. Wrapped in a simple but engaging storyline and pleasing visual images, Hijab is more than just a regular chick flick and should not be missed.
http://www.thejakartapost.com/news/2015/01/17/hijab-captures-nation-s-muslim-wear-phenomena.html#sthash.8eOAaxC5.dpuf
---------
UN 'Barbershop' Event Aims to Dispel Stereotypes, Promote Gender Equality
18 January 2015
Looking to promote change in how men and boys think and talk about women's empowerment and gender equality, the United Nations is hosting at its New York Headquarters a two-day high-level "Barbershop" event, which this afternoon focused on initiatives that aim to support non-sexist male attitudes and behaviours between men.
The Barbershop Conference aimed at reflecting the casual setting in which men get their hair cut, while delving deeper into gender stereotypes perpetuated by social norms, and helping dispel the fallacy that women and girls cannot be equals in the economic, social or political life.
The event also highlighted that while historically women and girls have led the fight against gender inequality, discrimination and violence against women and girls, the recent UN HeforShe initiative encourages men and boys to stand at forefront of the global discourse.
"Today's Conference is a creative way of moving the dialogue into uncharted territory," said Sam Kutesa, President of the UN General Assembly, who was joined at the event by UN Deputy Secretary-General Jan Eliasson, Executive-Director of UN Women Phumzile Mlambo-Ngcuka, several UN Ambassadors, Ministers, civil society representatives, journalists, and activists, as well as entertainers.
"Increasingly the world has come to recognize that achieving gender equality will require the active participation of all segments of society and that men and boys have a critical role to play," added Mr. Kutesa, adding that he was happy to add his voice to the Barbershop initiative and also make the empowerment of women and girls a key priority of his General Assembly session.
Among other things, the initiative aims to supports non-discriminatory and non-sexist male attitudes between men, commit to discussing the role of men in realizing gender equality within the UN, and further engage men to end violence against women and girls.
"This must be the biggest barbershop conversation ever," Deputy Secretary-General Jan Eliasson said, emphasizing that today's discourse came at an opportune time to "jolt our thinking" as the world prepares to marks the 20th anniversary of the Beijing World Conference on Women, held in 1995.
"The Secretary General and I are convinced that this has to be the century of women and girls," he added.
And while there is ample evidence that society gains and grows socially, economically, politically and even psychologically as a result of gender equality, women's participation in politics and the labour force continues to remain "too low". When women lack economic autonomy, their rights are undermined.
"Until we have a better balance among lawmakers, it will be difficult to achieve that balance in real life," Mr. Eliasson said, urging men to bring forth transformative change, end sexist behaviour and eradicate violence against women.
The emancipation of women is the emancipation of mankind as a whole, he said. "We all benefit, we are all empowered. This is potentially a liberating moment for all of us so let's seize it."
Delivering today's welcoming remarks were Gunnar Bragi Sveinsson, Minister for Foreign Affairs of Iceland, and Ismanto Adna, Minister of Sport and Youth Affairs of Suriname - both co-conveners of the event. Introductions were made by UN Permanent Representatives of Romania and the State of Palestine.
"All the male ministers in Iceland have signed up for HeforShe initiative," said Mr. Sveinsson, Iceland's Foreign Minister.
On a more personal note, he added: "As a father of five boys, I'm conscious of making them useful and productive in society... that means [showing that] being a real man does not mean being a wild man... it is about establishing healthy relationship with women and even other men."
"You may wonder why two such different countries have joined forces to combat violence and gender inequality. We say: why not? It is a testament to the fundamental issue at hand. We see the common cause and are prepared to work for it," said Mr. Adna, the Minister of Suriname.
Closing the first day of the conference, the head of UN Women, Ms. Mlambo-Ngcuka, said today's Barbershop is about breaking social norms that oppress women and restrict men and boys. And the HeforShe campaign is about both men and women getting outside of their comfort zone.
"It is not enough to be a good boy and a good man in a bad system. Our challenge is to change the system because a bad system will always bring a good man down," she said.
"We're in this for the long-haul." Ms. Mlambo-Ngcuka said, underscoring that the post 2015-framework must create a world that will be totally different by 2030.
"We are asking you to stand up and speak out so that you can create more Barbershop conversations of this nature."
http://allafrica.com/stories/201501161413.html
---------
Children in Northeastern Nigeria In Need Of Protection from Violence: UN Envoy
18 January 2015
(Xinhua) -- Children in northeastern Nigeria were in desperate need of protection from relentless violence, a UN spokesman said on Friday.
Leila Zerrougui, special representative for children and armed conflict of UN Secretary-General Ban Ki-moon, expressed her concerns about sexual violence against girls, including forced marriages and rapes, after her visit to Nigeria to assess the conflict's impact on children, UN spokesperson Stephan Dujarric told a daily news briefing.
"Ms. Zerrougui said that throughout 2014 there has been a dramatic rise in violence, growing recruitment and use of children, sometimes very young, as well as countless abductions and attacks on schools," said Dujarric.
On Jan. 10, a suicide bomb attack struck a market in the capital of northeastern Nigeria's state of Borno, during which a 10-year-old girl was used to detonate a bomb, killing at least 20 people.
Last April, about 270 girls from Chibok community in northeastern Nigeria's Borno State were abducted. Extremists group Boko Haram claimed responsibility for the act and threatened to sell the girls.
In November last year, leader of the Nigerian Boko Haram insurgents, Abubakar Shekau, said in a video that the over 200 abducted schoolgirls have been married to members of the group.
Nigeria is currently grappling with security challenges, including the insurgency of Boko Haram.
http://news.xinhuanet.com/english/africa/2015-01/17/c_133925619.htm
---------
UK: Preston Muslim Girls High School Pupils Get Creative to Leave Artwork Legacy
18 January 2015
Children with life-limiting conditions joined forces with high school pupils to create a lasting legacy of artwork.
A wooden mural tree surrounded by animals will now take permanent pride of place at the Safe Play Centre in Preston.
It has been created by students from Preston Muslim Girls High School, who have worked with children from The Rainbow Trust Children's Charity, an organisation that cares for families with a child who has a life-threatening or terminal illness.
The artwork was designed with input from staff at the Safe Play Centre, which provides a multi-sensory environment for children and adults with special needs.
Centre managing director Claire Jones said: "Connecting was organised by Zahida Hanif the art teacher at Preston Muslim Girls High whom Safe Play has links with.
"In the past, girls from the school have volunteered at Safe Play in order to learn more about the disabled community."
Zahida teamed up with Becky Atherton, from ArtFull to run the scheme.
Claire said: "This project has been thought about for over a year. Zahida and I are very passionate about young people understanding their community and felt that the girls from would benefit from learning a bit more about people with disabilities and the people who visit Safe Play would benefit from their artwork.
"The idea of nature came around by likening local community to a tree - the tree being the base and all the different wildlife connecting within that base just like people from different backgrounds and with different needs connecting within their community.
"Safe Play was involved in the first design session of the project - the girls from PMGHS, came and saw the space on the wall where the artwork will be, chatted to me about various disabilities and needs and how they can be likened to nature. For example we have lots of mums with babies visit; the girls thought a bird feeding her chicks in the nest was reflective of those visitors.
"Children from Rainbow Trust who visit Safe Play Centre regularly helped on this design afternoon too, designing and colouring pictures of wildlife alongside the young ladies from PMGH."
http://www.lep.co.uk/news/preston-muslim-girls-high-school-pupils-get-creative-to-leave-artwork-legacy-1-7054501
---------
Map: The Places Where Islamic Face Veils Are Banned
18 January 2015
This week, Chinese state media reported that Xinjiang Uighur Autonomous Region had approved a ban on the wearing of the Islamic burqa in public spaces in the city of Urumqi. Xinhua News Agency reported that the garment, which is worn by some Islamic communities and covers the face and body, was being banned to target "growing extremism" in an area inhabited by many Muslim members of the Uighur minority.
As Xinhua noted, China's move comes after some national bans on the burqa in Western Europe. In 2010, France passed a law that banned burqas and other full face coverings (including another item of Islamic dress, the niqab) in public places. Soon after, neighboring Belgium passed a similar measure. Regional bans that prohibit Islamic garments, like the one that was approved in China, exist in areas of a number of countries, including Italy, Russia and Germany.
It's tempting to see a trend in restrictions on Islamic attire like burqas, niqabs, and hijabs, but there's conflicting evidence. Research by WorldViews finds a number of countries have dropped their bans on Islamic headgear in recent years: Turkey, where religious attire was abolished long ago in a move toward secularism, lifted a ban on head scarves in government offices in 2013. In 2011, Syrian President Bashar al-Assad reversed a ban on teachers wearing the full Islamic veil he had implemented less than a year earlier. And in Australia, plans to implement restrictions on the burqa in parliamentary buildings were reversed after controversy.
Then there are also countries which have laws in place that enforce female modesty. Laws in both Saudi Arabia and Iran require women to cover themselves. In many countries in the Middle East and North Africa there's a strong societal pressure for females to cover themselves, even if there's no actual law.
When French lawmakers banned full face coverings, they cited concerns about security and a desire for French citizens to "live together." However, while most Muslims do not support the wearing of the burqa or the niqab, after the Charlie Hebdo attacks the subject has gained new prominence: Some wonder why the free speech that allowed the satirical newspaper to draw the prophet Muhammad does not also allow a Muslim woman to wear a veil if she wants.
In Xinjiang, the ban on burqas comes after a variety of other restrictions placed on Islamic culture. The Chinese government says these measures are taken in a bid to prevent terrorism related to extremism. However, as The Post's Simon Deyner has reported, often the war on terror looks like a broader attack on Islam – and it often appears to lead to a hardening of Islamic values.
Adam Taylor writes about foreign affairs for The Washington Post. Originally from London, he studied at the University of Manchester and Columbia University.
http://www.washingtonpost.com/blogs/worldviews/wp/2015/01/16/map-the-places-where-islamic-face-veils-are-banned/
---------
URL: https://www.newageislam.com/islam,-women-and-feminism/new-age-islam-news-bureau/courageous-survivors--how-these-three-radicalised-women-beat-islamic-state/d/101090