New Age Islam News Bureau
13 Sept 2015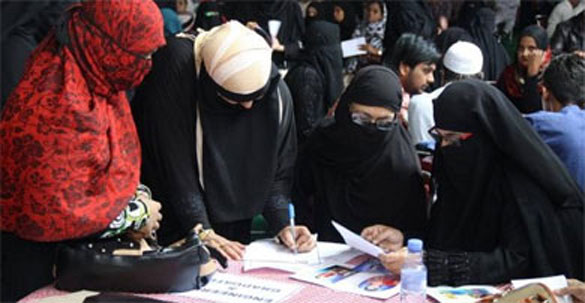 The 47th Du Ba Du programme is being organised by Siasat and Minorities Development Forum for settlement of marriages of Muslim boys and girls
-----
• Couple Stoned To Death By Taliban On Adultery Charges In Sar-I-Pul
• Siasat, MDF to Organise Du Ba Du Matrimonial Programme Today
• Geeta Officially Recognised As Indian Citizen: Faisal Edhi
• 100 Workers Mostly Women Fall Sick at Bangladeshi Garment Factory
• Saudi Public Schools to Accept Yemeni Children
• Arifa of Jammu & Kashmir Shows How Business Is Done
Compiled by New Age Islam News Bureau
URL: https://newageislam.com/islam-women-feminism/couple-stoned-death-taliban-adultery/d/104564
-----
Couple Stoned To Death by Taliban on Adultery Charges in Sar-I-Pul
By KHAAMA PRESS - Sun Sep 13 2015
A man and woman have been stoned to death by Taliban militants in northern Sar-i-Pul province for having immoral contacts.
Abdul Jabar Haqbin, acting governor of Sar-i-Pul province said that Taliban had kidnapped the man and woman three days before.
He said Taliban planned to execute the hostages on Friday but it was delayed due to an airstrike by Afghan forces.
Haqbin added that the execution was ultimately carried in Kata Qala area of Suzma Qala District on yesterday.
Reports suggest that both the woman and man have children.
Taliban announce punishment to villagers based on the decision of their illegal courts, also called 'desert courts'.
They assign judges in large areas coming under their control.
Before this incident, Taliban have publicly executed people in different parts of the country including Nangarhar, Logar, Ghazni, Helmand, Zabul and Farah provinces.
http://www.khaama.com/couple-stoned-to-death-by-taliban-on-adultery-charges-in-sar-i-pul-3897
-----
Siasat, MDF to Organise Du Ba Du Matrimonial Programme Today
Hyderabad, September 13, 2015
The 47th Du Ba Du programme is being organised by Siasat and Minorities Development Forum for settlement of marriages of Muslim boys and girls and suitable match-making on Sunday, September 13, 2015, from 10 am to 4 pm, S A Imperial Garden, Tolichowki.
Siasat editor Mr. Zahed Ali Khan will preside over the programme while Mr. Mohammed Moinuddin President Federation of Toli chowki Colonies will attend as chief guest.
Hundreds of matches are available. Registration will begin at 10 am. Separate counters will be set up for boys and girls where registration cards and ribbons will be given to the parents. Boys' parents will be given yellow ribbon while girls' parents will be given green ribbons so that both can easily be identified.
Boys' photos will be displayed on screen. Separate counters will be setup according to qualifications. Round tables will be arranged for both parties to discuss mutually. Computer section comprising of 10 computers is being set up under the supervision of Mr. Zahed Farooqui so that photos and biodatas can be displayed on computer screen.
Parents and guardians are requested to bring two photos and bio data of prospective brides and grooms. For details please contact Mohammed Abdul Qadeer Vice President on phone no 9394801526.
http://www.siasat.com/news/siasat-mdf-organise-du-ba-du-matrimonial-programme-today-835020/
-----
Geeta Officially Recognised As Indian Citizen: Faisal Edhi
By Rabia Ali: September 13, 2015
Geeta, a deaf and mute girl, who has been stranded in Pakistan for the last 13 years has officially been recognised as an Indian citizen.
"Two days ago, I received a call from an official of the Indian High Commission in Pakistan, PK Jain, saying that Geeta has been recognised as an Indian citizen from the proof they have collected," Geeta's custodian, Faisal Edhi, said while speaking to The Express Tribune.
"The Indian government is now making travel arrangements and will send a letter to the Edhi Foundation and Pakistani government in this regard," Faisal added.
Further, he said the Indian government would issue her temporary travel documents and will request the Pakistani government to issue her a visa.
"However, her family has not been located so far," Faisal further said.
When informed about the development, Geeta celebrated the news at Edhi's shelter home.
Faisal Edhi also posted the news on a Facebook page, Please Help find Geeta's Home. An Indian girl stranded in Pakistan. Expressing his happiness over the news, he wrote, "This moment was very happy for me. I rushed to Geeta to give her this news, but she was not there, she went to attend the inmate girls marriages at Edhi Home Sohrab Goth."
But when he finally got the chance to tell her, Faisal said Geeta was very happy. "Geeta and my mother (Bilquis Edhi) became very happy after hearing this news all the children and people at Edhi Home Mithadar celebrated."
Faisal also thanked Indian Foreign Minister Sushma Swaraj and Indian High Commissioner Ragawan for their help. "We will never forget the steps taken by Sushma Swaraj to help solve Geeta's case."
Earlier, a District and Sessions Court South dismissed an application filed against Geeta's 'unlawful detention' under Section 552. The court accepted Edhi lawyer's argument that proper procedure should be adopted through the Foreign Office for Geeta's return to her native country, India.
An application had been filed by an Indian lawyer, Momin Malik, through Pakistani lawyers, under Section 552 of the criminal procedure code, which empowers the judge to compel restoration of abducted females.
http://tribune.com.pk/story/955967/geeta-officially-recognised-as-indian-citizen-faisal-
----
100 Workers Mostly Women Fall Sick at Bangladeshi Garment Factory
September 12, 2015
Dhaka: Around 100 workers fell ill on Saturday at a garment factory on the outskirts of the Bangladeshi capital here, a police official said.
The workers belonging to Keya Knit Composite Factory were mostly women, and were hospitalised when they started vomiting and reported stomach pains shortly after joining work in the morning, Xinhua reported, citing the police official.
No spokesperson of the factory was available for comment.
According to the police official, the workers were out of danger and many had already been discharged from the hospitals they had been admitted to.
"We've collected water samples and sent them to a laboratory for testing," he said.
Such incidents happen mainly due to water contamination, the official said.
In June 2013, nearly 500 workers of a garment factory in Ashulia on the outskirts of Dhaka were hospitalised after drinking contaminated water. IANS
http://www.siasat.com/news/100-workers-fall-sick-bangladeshi-garment-factory-834944/
------
Saudi Public Schools to Accept Yemeni Children
By Mohammad Makki | Okaz and Saudi Gazette
Sunday, 13 September 2015
Yemeni parents with visitor's cards will be able to enroll their children in public schools in Jazan starting Monday.
Education Minister Azzam Al-Dakheel said the decision was made by Crown Prince Mohammad Bin Naif, deputy prime minister and minister of interior.
"The Ministry of Education was quick to implement the decision. School administrations have already begun accepting student applications," said Al-Dakheel.
He added Yemeni students would be tested to ensure they are integrated into the appropriate grade level. "Sabya Education Directorate will be holding a meeting to discuss the integration program and to formulate the appropriate tests.
All Yemeni parents may visit the education directorates of various governorates in Jazan Province for any inquiries," he said.
https://english.alarabiya.net/en/News/middle-east/2015/09/13/Saudi-public-schools-to-accept-Yemeni-children.html
-----
Arifa Of Jammu & Kashmir Shows How Business Is Done
Jammu and Kashmir, 10 September 2015 -
Surrounded by rugs embroidered with green paisleys, autumnal maple leaves and cherry blossoms Arifa is a picture of a poise and confidence that belies her young age. After all, for a woman in her late twenties running a business in the busy streets of Lalbazar in Srinagar, Kashmir, is indeed a rare sight.
Arifa with the exquisite merino wool numdha rugs which she retails through her Incredible Kashmir Crafts located in Srinagar's busy Lal Bazaar. (Credit: Renu Agal\WFS)
In Kashmir, where shutdowns and strikes are common and violence is a part of daily life, women are forced to lead sheltered lives. Their struggle is to keep themselves and their families out of harm's way. Arifa's lower middle-class family is no exception. Her father is a state government employee while her mother manages the home. Her elder brother repairs mobile phones and her younger sister is studying.
Like other girls her age, Arifa would have finished her studies and her parents would have started looking for a groom for her. But she had other ideas. Arifa says she had made up her mind to start a business, "I always wanted to be an entrepreneur. When I was in high school I had made up my mind and so I graduated in commerce."
Learning and starting out on her own
Her unconventional career happened entirely by chance. Trying to find work for one of her relative's widowed wife, she discovered the Srinagar-based Craft Development Institute (CDI). At CDI, which provides education to young people and creates new avenues for innovation and entrepreneurship in handicrafts, Arifa figured out that she could get training in business administration and start her own enterprise. All she needed was the money to pay the fee and a nod from her parents.
At Rs 95,000, the course fee was indeed a princely sum for her, but the tougher battle was to convince her parents. Her father, an illiterate man, feared the reaction of his relatives and friends and generally of the conservative society they lived in. His only advice to his young daughter was "Kuch Bhi Karna, Par Ghar Ki Izzat Bani Rahey (Do what you want, but make sure the family's honour remains untouched)".
Of course, neither has Arifa disappointed her parents nor has she looked back ever since. Convinced of her talent and zeal, the Crafts Council of India gave her a grant and she also managed to get two business partners. Mohammed Salim Sofi and Farooqh Amar Ghanai were both pashmina weavers before they decided to team up with Arifa to start Incredible Kashmir Crafts that sells hand-made 'numdha' rugs.
Making numdha rugs is a long and labourious process that involves carding the wool, spreading it on a grass mat and compressing it manually. The work is not just back-breaking but often leaves the artisans with bleeding palms. This, of course, is not the end – the painstaking embroidery on these merino wool rugs, done by women, is no easy task either. Says Arifa, "I want to revive numdha making. The artisans are paid so less that they are no longer interested in this craft. These days only old artisans know this specialised craft. The youngsters are getting educated and they are ready to do lowly paid jobs rather then this back-breaking hard work."
Arifa wants to change that attitude. She hopes to one day set up a company with artisans as shareholders so that everyone benefits from the revival of this dying craft. She started out by employing 15 workers, paying them three times the amount they would usually make. It was her empathy towards the craftsmen that convinced Sofi to become a partner in her business. He says, "I decided to join her because I saw she was very innovative and had her heart in this. She has an attachment to the artisans and thinks differently."
Her other business partner, Ghanai, is enthused with the response their effort is getting. He acknowledges that "the peace which has prevailed in Kashmir over the last two-three years has helped," adding, "Tourists are coming and they bring business. That means artisans get regular work and they do not think of alternate employment."
Arifa's life has completely changed. This shy, diminutive girl, who till a few years back, was being reprimanded for coming home late, is now travelling on her own looking for new markets and attending exhibitions. Says the youngster, "I could only do this because of the full support of my father. Some of my relatives still do not know what I do. Even my brother doesn't like my doing business."
Challenges for women entrepreneurs
Kashmir is certainly not the easiest place to do business. But the successive state governments have been making efforts to help young women entrepreneurs. In fact, former social welfare minister of Jammu and Kashmir, Sakina Itoo, had made available a fund of Rs 10 crore to the Women Development Corporation of the state (JKWDC) for supporting women entrepreneurs in their ambitions.
Accepting that it's not been easy for Valley women to start enterprises, Dr Naheed Soz, Managing Director of JKWDC, says, "The last 20 years or so has seen the women getting house-bound because of the law and order situation. The Kashmiri woman is very able and has been sewing, embroidering and doing small work from home. Now, we need them to come out and we are helping them market their products directly. Once they get the courage to stand on their feet, they will be able to succeed in their business."
Gazalla Amin, an agricultural entrepreneur, who has an aromatic oil business, is a rare example of success. She has been in the business for the past six years and today her agri-business has a turnover of Rs 1.5 crore. She says, "Being an entrepreneur in Kashmir is challenging because we are a developing society and a conflict zone and if you are a woman it's even more so."
Gazalla enumerates the many difficulties women like her encounter. "The finances are hard to come by, society doesn't accept women entrepreneurs easily and it takes years before one can establish oneself. All of these make it an extremely daunting task and that's why it's rare to see women entrepreneurs," she explains.
It is tough for a woman to gather enough finances because there is always a question mark about her ability to sustain her business and market her produce. Moreover, the conservative Kashmiri society doesn't take kindly to women, who travel by themselves, are out of home for long hours - something that needs to be done to ensure success in business. "There are often problems for such women when they want to get married," adds Gazalla.
Young Arifa, however, brushes aside these concerns and prefers to be optimistic and focus on the positives. She says, "I think, today the mindset has changed quite a bit. Even the thinking of boys has changed. Now, I can think of becoming someone, before becoming someone's wife."
Surrounded by the chaos and cacophony of the alternating violence and peace in the Kashmir Valley, Arifa is content; she has managed to create an oasis for herself and her dreams
http://indiatogether.org/arifa-shows-how-business-is-done-women
------
URL: https://newageislam.com/islam-women-feminism/couple-stoned-death-taliban-adultery/d/104564