New Age Islam News Bureau
21 Nov 2013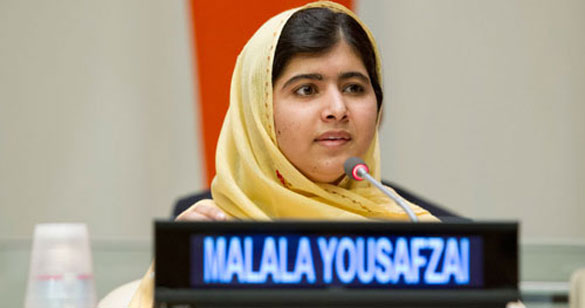 Malala Yousafzai
------------
• Palestinian Authority Shuts Down Islamist Seminar on Women in Bethlehem
• No Woman, No Drive: Saddo Hackers Lob Android Nasty at Saudi Women's Rights Campaign
• It Was a 'Big Mistake' To Allow Boys and Girls to Study Together: Turkey's AKP Leader
• Housemaid's death in Dhaka veiled in mystery
• State to appoint lawyer for Filipino woman charged with smuggling three kilos of cocaine
• Malala would not be able to work in Marois' Quebec
• Mystery bidder who bought £89m Francis Bacon portrait dubbed the most powerful woman in art'
• Pak President vows to protect child rights, promote education
Compiled by New Age Islam News Bureau
URL: https://www.newageislam.com/islam,-women-and-feminism/new-age-islam-news-bureau/country-of-educated-people-is-real-superpower,-says-malala/d/34527
----------
Country of educated people is real superpower, says Malala
Nov 21 2013
PARIS: "A country with talented, skilful and educated people is the real superpower and not the one with tonnes of soldiers," said education campaigner Malala Yousafzai at a ceremony where she was given the European Union's Sakharov Prize for freedom of thought on Wednesday.
She is the first Pakistani to be awarded this honour.
Malala was shot by Tehreek-e-Taliban Pakistan (TTP) gunmen last year for promoting girls' education. She now lives in the UK after she was flown there for medical treatment.
Dedicating the award to Pakistan's unsung heroes, she urged that the "fittest among us should struggle for the survival of the weak."
"If we leave the disadvantaged one behind, even the fittest can't survive," she added.
The Sakharov prize
The Sakharov Prize for freedom of thought has been awarded by the European Parliament each year since 1988 to commemorate Soviet scientist and dissident Andrei Sakharov. Malala was chosen on October 10 by a vote among the heads of all the political groups in the 750-member parliament.
Past winners include South African anti-apartheid hero Nelson Mandela and former UN secretary-general Kofi Annan.
Three jailed Belarussian dissidents, along with Edward Snowden, were shortlisted for this year's Sakharov prize.
Last year's award went to detained Iranians, lawyer Nasrin Sotoudeh and film-maker Jafar Panahi, to honour those "standing up for a better Iran."
http://tribune.com.pk/story/634350/country-of-educated-people-is-real-superpower-says-malala/
----------
Palestinian Authority Shuts Down Islamist Seminar on Women in Bethlehem
Nov 21 2013
The Palestinian Authority on Tuesday night banned a radical Islamic group from holding a seminar in Bethlehem under the title: "Women's groups and societies seek to corrupt women."
The seminar was sponsored by Hizb ut Tahrir [Party of Liberation], a radical group whose goal is to create an Islamic state or caliphate ruled by Islamic law.
The group, which has a few thousand supporters in the West Bank, recently launched a campaign against women's organizations and societies, accusing them of corrupting Palestinian women.
The campaign is being held under the motto "Women's honor must be protected and the infidels and their tools are conspiring against women."
The campaign by Hizb ut Tahrir drew strong condemnations from women's groups in the West Bank. The groups accused the radical Islamic party of inciting against women and appealed to the Palestinian Authority to take action to stop the fundamentalists from pursuing their campaign.
Hizb ut Tahrir accused the PA governor of Bethlehem, Abdel Fattah Hamayel, of succumbing to the "shameless intervention" of the women's groups to prevent the seminar from taking place.
"The governor ordered the closure of the meeting hall without any legal or moral basis," the party said in a statement.
The party reiterated the charge that women's organizations were "puffing Palestinian women with ideas of decadence and encouraging them to rebel against the rules of Islam."
The party's main attacks have been directed against Western-funded women's NGO's in the West Bank.
Hizb ut Tahrir is particularly concerned about the fact that the organizations have been educating Palestinian women about their rights.
The party accused the NGOs of accepting financial aid from "infidel countries that are hostile to Islam."
http://www.jpost.com/Middle-East/PA-shuts-down-Islamist-seminar-on-women-in-Bethlehem-332424
----------
No woman, no drive: Saddo hackers lob Android nasty at Saudi women's rights campaign
Nov 21 2013
Reactionary hacktivists have brewed up a strain of Android malware targeted against the Alsharif campaign, which encourages Saudi Arabian women to defy their county's ban on female drivers.
Women have long been effectively banned from driving in the Middle Eastern kingdom, thanks to local interpretations of Islamic customs not shared elsewhere in the Muslim world. There is no law on women driving, as such, but anybody who wants to drive in the country needs to obtain a local driving licence – and women are not allowed to take the test.*
A grassroots movement, dubbed the Oct 26th Driving Campaign, is fighting for the right for women to drive in Saudi Arabia. Local police have arrested women who allegedly drove around the country before uploading videos of their activities to YouTube.
In addition, the driving campaign website has been under constant attack - including defacements - from forces who would wish to see the ban kept in place.
This turn of events is perhaps not too surprising given that Saudi Arabia is a "region of the world where the penalty for hacking a website is less than the penalty for female found defying the ban on driving a vehicle," according to mobile security researcher Irfan Asrar.
More recently, hackers who share the same patriarchal point of view have upped their attempts to mess with the car-driving-for-women movement by cooking up an Android trojan.
The malware, dubbed Hackdrive, comes disguised as an Android app to support the campaign, even featuring the icon that has come to symbolise the movement of the Oct 26th Driving Campaign - a pink car. In reality, the app is designed to spew the same hate-filled propaganda that accompanied the earlier defacement campaign, Asrar reports.
"Firstly, audio is jammed by the app repeatedly playing the audio from the YouTube video hit "No woman, no drive"[embedded below for our readers' delight], making it impossible to listen to anything else on the device or carry out a phone conversation," he writes.
"Additionally, a message in Arabic text is displayed similar to the defacement messages used on the hacked website."
Routines in the malware contain the ability to scour through the contact database of compromised smartphones, harvesting names and numbers before uploading the information to a remote server. However the functionality is not turned on, something that might change with possible follow-up versions of the malware.
Asrar - whose write-up of the threat, complete with screenshots, can be found in a guest post on security researcher Graham Cluley's blog - writes that it would be a mistake to interpret the malware as a childish prank.
"On the surface the antics used in the app and the website defacing may seem juvenile. But make no mistake, this is hate and prejudice manifested into an Android app," he concludes.
http://www.theregister.co.uk/2013/11/20/android_malware_targets_saudi_woman_drivers/
----------
It was a 'big mistake' to allow boys and girls to study together: Turkey's AKP leader
Nov 21 2013
A senior member of Turkey's ruling party stirred up a new furore on Thursday over the imposition of Islamic values in the country, saying it was a "big mistake" to allow boys and girls to study together.
The comments by deputy parliament speaker Sadik Yakut followed a storm of controversy over a push by Prime Minister Recep Tayyip Erdogan earlier this month to do away with mixed-sex dorms at universities.
Erdogan's Islamist-leaning government has increasingly come under fire over what critics see as attempts to enforce Islamic norms in the predominantly Muslim but staunchly secular country.
"Having girls and boys educated at the same schools in the name of a pro-West approach is unfortunately a mistake that has been made from the past up until now," Yakut told a parliamentary gathering.
Yakut, a member of Erdogan's Justice and Development Party (AKP), said the situation would be "corrected" soon, without elaborating.
Yakut's comments drew criticism from the main opposition secular Republican People's Party (CHP), with women lawmakers accusing him of being backward minded.
"It is complete nonsense to talk about these things in the 21st century," CHP deputy head Perihan Sari said in parliament.
Another CHP lawmaker, Aylin Nazliaka, asked: "When will you make women sit behind curtains?"
Erdogan earlier this month said the government would act to stop male and female students living together in university dorms, ordering governors of the country's 81 provinces to monitor student residences and speak out against immoral behaviour.
Critics say that Erdogan's 11-year rule has left Turkish society more polarised than ever, with opponents of the government openly voicing concerns that Turkey is sliding toward conservative Islam.
Last month, four female AKP lawmakers wore headscarves in parliament for the first time, breaking a long taboo.
And this week, Deputy Prime Minister Bulent Arinc angered Greece when he voiced hope that Hagia Sophia, an ancient Byzantine complex in Istanbul, be converted into a mosque.
http://english.ahram.org.eg/NewsContent/2/8/87118/World/Region/-It-was-a-big-mistake-to-allow-boys-and-girls-to-s.aspx
----------
Housemaid's death in Dhaka veiled in mystery
Mohammad Jamil Khan
November 21th, 2013
Rita Akhter was found dead on the road in front of the building around 8:30am on Monday
The death of a domestic help in the capital's Shewrapara remains shrouded in mystery as police are yet to file any case two days after the killing, even after arresting her employer.
Rita Akhter, who had been working as a domestic help at the house of Additional Superintendent of Police Kutub Uddin for the last four months, was found dead on the road in front of the building around 8:30am on Monday.
Soon after the incident, police detained Sonia Akter Munni, 26, wife of the ASP, who has been working in Sudan as part of the UN Peacekeeping Mission for one year. It was preliminarily suspected that the deceased might have been pushed from the rooftop of the eight-storey building. But police could not found blood on road when recovered the body from the spot.
An official of Kafrul police station, who preferred to be anonymou,s said it was quite impossible to push a person from the rooftop under daylight. "We have got some mark of blood injures inside the employer's flat."
Nevertheless, the body was sent to DMCH morgue for autopsy after 14 hours of the incident. Asked about delay of sending the body to the morgue, Kazi Wazed Ali, officer-in-charge of Kafrul police station, said: "We sent the body in time after completing some legal procedure. Police will file a case in this regard after getting autopsy report." About Munni's current position, he said they had placed her at court under section 54 after showing her arrest.
http://www.dhakatribune.com/crime/2013/nov/21/housemaid%E2%80%99s-death-veiled-mystery
---------
State to appoint lawyer for Filipino woman charged with smuggling three kilos of cocaine
By Ahmed Nazeer | November 20th, 2013
The Criminal Court has asked the state to appoint a defence lawyer for a Filipino woman arrested in Male airport after attempting to smuggle three kilograms of cocaine into the country, as she was not able to afford one.
According to local media present at the court today, the woman asked the court what would happen if a lawyer was not appointed and the Judge told her that the court was now working with the Attorney General (AG)'s office to appoint a lawyer.
The judge also said the court found it difficult to conduct such serious cases without the respondent having a defence lawyer.
The woman told the court that she would keep trying to make her family appoint her a lawyer.
On September 17 customs reported that its officers at the Ibrahim Nasir International Airport had seized 3368 grams of drugs inside the suitcase of the 33 year-old woman.
The customs department said the woman came to Maldives from Rio de Janeiro after transiting in Dubai.
At the time customs said the case was also being investigated by Dubai police and relevant authorities, concerning the case's possible connections to drug lords around the world.
The customs also said that the street value of the drugs would be over US$400,000.
Speaking to Minivan News today, Criminal Court spokesperson Ahmed Mohamed Manik said the court had given the woman the opportunity to appoint a lawyer previously, but she had not.
According to Manik this was the second chance the court had given her the chance to appoint a lawyer.
http://minivannews.com/crime-2/state-to-appoint-lawyer-for-filipino-woman-charged-with-smuggling-three-kilos-of-cocaine-72135
---------
Malala would not be able to work in Marois' Quebec
November 21th, 2013
Malala Yousafzai wears a chador, which would run afoul of the Parti Québécois bill to ban religious attire for those on public payroll.
You know Malala Yousafzai, the Pakistani girl shot at by the Taliban for going to school who has since become a campaigner for Muslim and other girls everywhere. When she grows up, she wants to be a politician. If she were living in Quebec, she would not be able to run for a seat in the national assembly.
She wears a version of the chador that would run afoul of the Parti Québécois government's bill to ban religious attire for all those on public payroll, including members of the provincial legislature.
In the discussion on banned items — the Jewish kippa, the Sikh turban and the Muslim hijab and the face-covering niqab — there had been no mention of chador until last week.
Liberal charter critic Marc Tanguay said, answering a reporter's question, that the party would welcome a chador-wearing woman as a member of the national assembly (MNA). This was endorsed by party leader Philippe Couillard (who has said the charter would pass "over my dead body"). He had only one caveat — her face should not be covered, which is usually the case with those who wear the chador.
It is a cape of varying lengths worn differently in different parts of the world. In Iran, the Islamic regime decrees that the shawl be drawn tightly over the head covering hair. But in non-Taliban parts of Afghanistan and Pakistan, as well as in India, it is placed loosely over the head, like a scarf. A shorter version is the dupatta, which is what Malala uses to cover her shoulders and part of her head, as did Benazir Bhutto, the late prime minister of Pakistan, with her designer dupattas.
Covering the head is also cultural practice followed by many Christian and Hindu women, as did Indira Gandhi, the late prime minister of India, who often covered her head with one end of her elegant saris.
Ignorant of this background, or deliberately ignoring it, Quebec's only Muslim MNA, Fatima Houda-Pepin, said she was "flabbergasted," "hurt" and "shocked" that her party was flirting with the chador, "the ultimate expression of oppression of women, in addition to being the symbol of radical fundamentalism."
She wondered whether on gender equality her party was following Iran and Saudi Arabia.
(In Saudi Arabia, they don't have chadors but rather the decreed all-enveloping abaya, which covers the face as well. But in Quebec, anything "Islamic," or one deemed so, is toxic).
Houda-Pepin's words were music to Premier Pauline Marois, who tried to conscript the Morocco-born MNA into the Parti Québécois.
That prompted Couillard to reverse himself: No, he'd never sign the nomination papers for a woman in a chador. "It's a garment that represents a total social withdrawal, which is incompatible with our way of doing politics."
By Tuesday's party caucus meeting, he had capitulated some more. Emerging with her, he announced: 1) the party would consider her idea of examining Islamic fundamentalism, 2) she would be part of that process, and, worse, 3) he would consider banning religious clothing for people in positions of authority.
The 2007-08 provincial commission on reasonable accommodation had suggested that judges, prosecutors and police officers eschew religious symbols to project state neutrality. The minority PQ government, however, wants the ban to apply to all those in the civil service and the broader public sector, including hospitals compensated by the government, such as Montreal's Jewish General, and also private daycare centres that receive a per-child subsidy. The Liberal party had opposed that — until Tuesday. Coalition Avenir Québec, the third party in the legislature, had advocated limiting the ban to people in authority, including school teachers. But last week, it hinted that it might agree to extend the ban to colleges and universities.
The PQ is crowing.
It zeroed in on the Liberal dilly-dallying: "What do you do with teachers who work with children? They are also in a position of authority." Muslim women wearing the hijab or the chador are the PQ's real target, as they are of Houda-Pepin.
Couillard is putting on a brave face. Whatever the compromises, "I'd never want to live in a society where Malala could not work in a daycare, where Mother Teresa could not work in a hospital and where Indira Gandhi could not be in the public sector."
But by acknowledging that it's fine to ban judges and others from wearing religious symbols, he has conceded that the bigoted PQ bill is reasonable — that a kippa-wearing Jew or a turbaned Sikh or a hijabi Muslim cannot be trusted as a judge, prosecutor, police officer, teacher, doctor or nurse. He has undermined the principled position taken by the Jewish General, which is challenging the very premise of the bill.
By conceding that a piece of cloth denotes Islamic fundamentalism and gender inequality, he has surrendered to the ignorance of anti-Islamic demagoguery.
Both Houda-Pepin and Marois want to dictate to Muslim women what they can or cannot wear. This is not feminism but fascism, the reverse of what the male Iranian ayatollahs and Saudi mullahs and the Afghan-Pakistan Taliban dictate to women.
Houda-Pepin is entitled to her opinions as "a secular Muslim." But why is the Liberal party letting her play her Muslim card to potentially strip Quebec Muslims of their Canadian rights? One can't imagine the party taking dictation from a dissident or bigoted Catholic to guide its policy on the rights of Catholics.
Haroon Siddiqui's column appears on Thursday and Sunday. hsiddiqui@thestar.ca
http://www.thestar.com/opinion/2013/11/20/malala_would_not_be_able_to_work_in_marois_quebec_siddiqui.html#
---------
Mystery bidder who bought £89m Francis Bacon portrait dubbed the most powerful woman in art'
19 November 2013
The mystery buyer who paid a record £89million for Francis Bacon's Three Studies Of Lucian Freud is a member of the Qatari royal family dubbed the most powerful woman in art, it was claimed today.
Speculation has been rife about the identity of the successful bidder after the triptych last week made history by becoming the most expensive work of art ever to be sold at auction.
Today, the latest name to emerge is that of Sheikha Mayassa, the sister of the emir of Qatar who has around $1billion a year to spend on art in her role as head of the Qatar Museums Authority (QMA).
Page Six says it has been told by 'numerous sources' that the painting was bought by New York's respected Acquavella Gallery on behalf the Mayassa, whose official title is Her Excellency Sheikha Al-Mayassa bint Hamad bin Khalifa Al-Thani.
Last month, Mayassa was named the most influential figure in the art world in a 'power list' published by Britain's ArtReview magazine.
The 30-year-old climbed the list after coming in 11th place last year because of her 'sheer buying power', the magazine said.
The QMA bought French post-impressionist Paul Cezanne's masterpiece The Card Players for $250 million last year, making it the most expensive painting sold to date.
'If and when Doha finds it has bought enough art, there's going to be a hole in the market that no one else can fill,' ArtReview said.
A spokesman for Acquavella declined to comment and calls by Page Six to the Embassy of Qatar in Washington, DC, were not returned.
The 1969 triptych, never before offered at auction and which carried a pre-sale estimate of about $85 million, easily eclipsed the $119.9 million price of Edvard Munch's The Scream, achieved in May of last year at Sotheby's.
The painting sold after a protracted bidding war in a packed New York salesroom and via telephone.
The jaw-dropping price easily broke the 2008 Bacon record, months before financial markets crashed and sent the art market into a brief decline.
Since then, new, deep-pocketed collectors from around the globe have driven prices to record levels.
At a recent preview, Christie's head of postwar and contemporary art, Brett Gorvy, noted that collectors from Asia, Russia and the Mideast flush with cash were determined to assemble world-class collections featuring trophy works.
In May, Christie's achieved the highest total in the history of auctions when it sold $495 million worth of art at its postwar and contemporary sale.
The auction house said Bacon's three-paneled work, which depicts the Dublin-born painter's friend and fellow artist Lucian Freud on a chair, with a view from each side and one face on, was 'a true masterpiece that marks Bacon and Freud's relationship' and their 'creative and emotional kinship.'
'The juxtaposition of radiant sunshine yellow contrasting with the brutal physicality and immediacy of the brushstrokes in this celebrated life-size triptych is what makes Bacon's art so remarkable,' said Francis Outred, the head of European postwar and contemporary art for Christie's.
'This suddenly becomes a very important conversation between two masters,' Outred said in an interview.
He noted that Three Studies Of Lucian Freud is one of only two existing full-length triptychs of Freud, a grandson of the founder of psychoanalysis Sigmund Freud, and that the three panels were separated for 15 years in the 1970s before being reunited.
Christie's also offering a Warhol Coca-Cola, which carries an estimate of $40 million to $60 million, and a sculpture by Jeff Koons, Balloon Dog (Orange) expected to fetch $35 million to $55 million.
On Wednesday, Sotheby's will try to break the $71.7 million record price for a Warhol when if offers the monumental Silver Car Crash (Double Disaster), which has an estimated sale price of $60 million to $80 million.
http://www.dailymail.co.uk/news/article-2509908/Bidder-bought-Francis-Bacon-portrait-Qatars-Sheikha-Mayassa.html#ixzz2lKcDHzoV
----------
Pak President vows to protect child rights, promote education
Nov 21 2013
ISLAMABAD: President Mamnoon Hussain on Wednesday vowed to protect child rights and said that Pakistan's prosperity depended on its bright and promising next generation.
Addressing a function here at the Pakistan National Council of Arts to mark the Universal Children's Day, the president said educating the female child was all the more important, as it would positively impact the future generations.
President Mamnoon Hussain made a fervent appeal to the nation and all stakeholders for focussing on education, as it was the basic necessity and could open numerous avenues for progress.
The president said it was unfortunate that children were subject to inhumane attitudes and were used as labourers, denied basic health facilities, marginalised, forced to live on streets and suffered by disputes be it religious or social.
"Violence harms the physical and mental growth of children and thus holds them back from becoming a productive part of the society," the president said.
He said the theme for this year "Stop Violence Against Children" stressed the importance of protecting children from abuse and maltreatment and draws attention towards providing safeguards to children.
He said the protection of the rights of children was guided by the Islamic injunctions and the Constitution of Pakistan.
He said, "Pakistan is committed to implementing the United Nations Convention on the rights of the child and its provisions in letter and spirit."
The president said the government was striving to achieve the Millennium Development Goals to fulfil these obligations by taking all stakeholders onboard.
"We believe that social justice and equality are the cornerstones on which a firm structure of a healthy society is built."
He said the state was well cognizant of its responsibilities towards protecting the rights of children and ensuring their welfare. However, a collective response of the communities and families was also needed.
He said the government had undertaken measures to invest in children and youth so as to promote the welfare of future generation and accelerate the country's development. The president said the government was determined to ensure easy and affordable education to all children across the country.
"We are committed to improving both the quality and the coverage of education and healthcare through effective policy interventions," he said.
The president appreciated public and private organisations, the UN, the NGOs, volunteers and philanthropists for promoting the well-being of children and creating awareness about their rights.
Mamnoon Hussain also drew attention towards the rights of children who required extra attention and had special needs.
"We need to gear up for providing children with adequate infrastructural, legislative, social and other support to help them lead a healthy life," he added.
The president urged all stakeholders to join hands and work together for providing children with a bright and a promising future for a progressive and developed Pakistan.
Earlier, the president witnessed skits and speeches by students belonging to the schools under the Federal Directorate of Education, the Pakistan Baitul Mal and the Special Education Department.
Children in a skit showed how corporal punishments at schools led to increased dropout rates and the need to impart education with greater understanding and care. The children also presented songs including a famous prayer by Allama Iqbal.
Law Secretary Barrister Zafarullah Khan said any sort of violence against children led to life-long traumas that negatively impacted their social behaviour. He mentioned a number of legislations that had either been enacted or were in various stages to provide legal protection to children.
The UNICEF country director and the representatives of PLAN Pakistan stressed the need for implementing existing laws for the protection of children.
They said at least nine years of minimum education for girls helped a great deal in helping them bring up their children. It was also pointed that still a large percentage of schools failed to stop corporal punishment.
It was stressed that children needed to fully explore their skills and potential. app
http://www.dailytimes.com.pk/default.asp?page=2013%5C11%5C21%5Cstory_21-11-2013_pg7_9
----------
URL: https://www.newageislam.com/islam,-women-and-feminism/new-age-islam-news-bureau/country-of-educated-people-is-real-superpower,-says-malala/d/34527