New Age Islam News Bureau
30 March 2020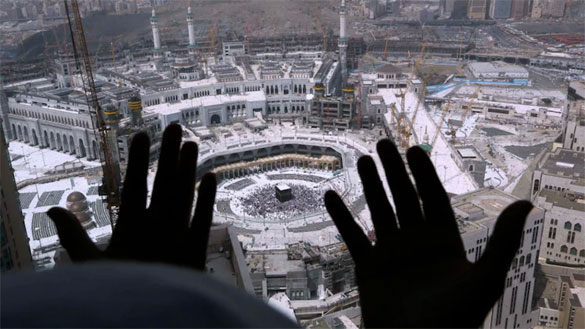 The woman, who saved Rs 5 lakh for Hajj, was forced to defer her plans for the pilgrimage to due to ongoing lockdown. (Image for representation: AP)
----
• Coronavirus: Impressed with Welfare Work, Muslim Woman Donates Savings for Hajj To 'Sewa Bharati', RSS-Affiliate
• Low-Paid Women in UK At 'High Risk Of Coronavirus Exposure'
• Carolina Women in Business Strives to Achieve Gender Equality In The Professional World
• Coronavirus Outbreak: Three Women Create Panic After Deliberately Coughing on Streets in UK
• How The Women Of Orange County Stepped Up To Respond To WWI And The Spanish Flu
• How These Female Entrepreneurs Are Using Technology to Thrive Amidst COVID-19
• Taiwan: The Liberal Democracy Where Adultery Remains A Crime
Compiled By New Age Islam News Bureau
URL: https://www.newageislam.com/islam-women-feminism/coronavirus-impressed-with-welfare-work/d/121441
-------
Coronavirus: Impressed with Welfare Work, Muslim Woman Donates Savings for Hajj To 'Sewa Bharati', RSS-Affiliate
March 30, 2020
A Muslim woman from Jammu and Kashmir has donated her savings of Rs 5 lakh, meant for the Hajj pilgrimage, to the RSS-affiliated 'Sewa Bharati' after apparently being "impressed with the welfare work" done by the outfit amid the lockdown due to the novel coronavirus pandemic.
Khalida Begum, 87, who saved Rs 5 lakh for Hajj, was forced to defer her plans for the pilgrimage to due to ongoing lockdown. Hajj is the annual Islamic pilgrimage to Mecca in Saudi Arabia, the holiest city of Muslims.
"Khalida Begum ji was impressed with the welfare work done by the Sewa Bharati in Jammu and Kashmir during the tough time the country is passing through due to sudden outbreak of Covid-19 and decided to donate Rs 5 lakh to the organisation," Arun Anand, head of RSS media wing Indraprastha Vishwa Samvad Kendra (IVSK), said.
"The woman wants that this money should be used by the community service organisation Sewa Bharati for the poor and the needy in Jammu and Kashmir. She had saved this amount for performing Hajj, plans for which she deferred due to the present situation," Arun Anand said.
"Khalida Begum ji was among the first few women in Jammu and Kashmir who got educated in English medium a convent. She is the daughter-in-law of Colonel Peer Mohd Khan, who was president of the Jana Sangh," he said.
Arun Anand said despite her age, she had been very active in welfare works for the women and the downtrodden in Jammu and Kashmir. Her son, Farooq Khan, a retired IPS officer, is presently serving as an adviser to the Jammu and Kashmir lieutenant governor.
Meanwhile, since the lockdown was announced, Sewa Bharati volunteers across the country have been providing food and other essential items to the needy. The Sangh-affiliate's volunteers were seen on Saturday managing crowd and providing food to them at the Anand Vihar bus terminal in Delhi.
https://www.indiatoday.in/india/story/coronavirus-india-impressed-welfare-work-muslim-woman-donates-savings-hajj-rss-1661133-2020-03-30
-----
Low-paid women in UK at 'high risk of coronavirus exposure'
29 Mar 2020
Low-paid women are at high risk of exposure to coronavirus as they are more likely to be in jobs such as social care, nursing and pharmacy, a study has found.
Out of 3.2 million workers employed in the highest-risk roles, about 2.5 million are women, according to Autonomy, an economics thinktank. As many as a million of those workers – who are considered to be at highest risk because they normally work closely with the public and people with diseases and infections – are also among the lowest paid, according to the study.
The study comes as thousands of retired nurses are being urged by the government to return from retirement to help in the NHS fight against Covid-19, and care homes call for recruits to come forward to fill vacancies left by workers who are self-isolating or sick. Eighty-nine percent of nurses and 84% of care workers are women.
"This pandemic has exposed deep inequalities at the heart of our economy," said Will Stronge, the director of Autonomy. "Frontline key workers are part of the foundations that make our society tick: we rely on them to go to work, to keep basic services running and to care for us.
"This study has shown not only that many of these occupations are at a high risk of exposure to the Covid-19 virus, but that are often paid at poverty wages and are carried out overwhelmingly by women. It is about time we pay these workers properly for the valuable work they do."
Autonomy plotted 273 different UK-based occupations according to numbers employed in each, the level of physical proximity that each job requires and the exposure to diseases or infections that each job entails.
The impact of the disproportionate exposure of women may be offset by emerging evidence internationally suggesting women are less likely to test positive for the disease and less likely to die than men. In Italy, men have accounted for 71% of deaths and in Spain, data released last Thursday suggested twice as many men as women have died.
Dr Mary-Ann Stephenson, the director of the Women's Budget Group, which analyses the impacts of policies on women, said: "We'd known that workers on the frontline at most risk of Covid-19 were often badly paid and mainly women, but these figures are still a shock.
"It can't be right that many of those at the sharp end, providing services under pressure and at high risk of getting sick themselves, are earning so little. Many will not even qualify for sick pay. This should be a wake-up call – we don't just need action now, we need change in the future to properly value this essential work."
John McDonnell, the shadow chancellor, said: "With 3 million people working in jobs where there is significant social contact and hundreds of thousands of those below the poverty line, the government must provide people with the economic security to stay at home if needed.
"The fact that so many people working in jobs with significant social contact are key workers shows that the government must do everything it can to support, value, and protect these workers, including urgently getting personal protective equipment to them."
https://www.theguardian.com/world/2020/mar/29/low-paid-women-in-uk-at-high-risk-of-coronavirus-exposure
-----
Carolina Women in Business strives to achieve gender equality in the professional world
7 HOURS AGO
BY ALEXIS DUMAIN
Nearly 7 percent of top Fortune 500 companies are led by a female chief executive officer, and 29 percent of Kenan-Flagler's Business School Class of 2021 are women.
CWIB is a student-run organization in the Kenan-Flagler Business School that seeks to not only provide female students with career development and support resources, but also to involve male students. The Masters in Business Administration CWIB program also partners with undergraduate students to mentor and connect with female business students.
CWIB President Harmonie Jacobson, a second-year MBA student, said the disproportionate representation of females in the business school is a challenge.
Melissa Atlas, the vice president of prospective student initiatives at CWIB and an MBA student, said one strategy that distinguishes CWIB as a recruitment tool is its persistence.
She said MBA students have told her the reason they decided to attend Kenan-Flagler was because CWIB was so hands-on and welcoming.
CWIB hosts an annual Women in Business conference for business professionals and students. The group also plans various networking programs, including Coffee with CWIB, where visiting applicants can meet with a female MBA student to learn more about the program.
Jacobson said just having access to like-minded female MBA students as a welcoming community and network of support was helpful for her.
"The MBA is pretty rigorous, and we're all here obviously to make potential pivots or changes for bettering our careers, but it's very stressful," Jacobson said. "Beyond just academics, there's a lot going on with recruiting, and landing our dream job and also networking, and so Carolina Women in Business has been a great community and support system."
Atlas agreed and said that she was drawn to CWIB because of its welcoming atmosphere. She said she knew she needed the support, given the smaller proportion of women at Kenan-Flagler.
MaryKate Fitzpatrick, a second-year MBA student and CWIB's executive vice president of operations and finance, worked in the restaurant industry before coming to Kenan-Flagler to pursue her MBA.
She said that while she was used to working in a male-dominated environment before joining CWIB, she values how it has allowed her to expand on her appreciation for diversity in the business world and her ability to communicate it.
But Fitzpatrick said this year, CWIB has worked more to include males in the conversation. She said the next step is expanding CWIB's programming from this base.
Few CWIB events are actually restricted to females only, and male members meet about once a month to discuss articles, pertinent issues and how they can better support their female peers and future colleagues.
"That's so important because as females going into middle management or upper leadership roles as we come out of school, a lot of us are likely going to be reporting to males and also working in a lot of male-dominated fields," Jacobson said. "So some of the men that we'll be working with are some of our biggest supporters."
She said that to achieve progress, male allies need to be present during tough conversations about gender inequality in business.
Atlas said that for now, women can't let a lack of women in business roles prevent them from becoming involved in the field.
"If you want to see more women in business, don't let the fact that there aren't many currently stop you," she said.
https://www.dailytarheel.com/article/2020/03/women-in-business-0330
----
Coronavirus Outbreak: Three Women Create Panic After Deliberately Coughing On Streets in UK
March 30, 2020
By Vishal Tiwari
The world has turned upside down after the recent coronavirus pandemic has taken the world by storm. Following strict lockdown and travel restrictions, people have resorted to staying inside their homes, in an attempt to fight COVID-19. Strict precautionary measures are being continuously carried out by people, including maintaining hygiene and social distance. While the world continues to be home quarantined and isolation, three women, on the other hand, completely ignored the precautionary measures by freely roaming outside, and on top of that, coughing loudly when anybody crossed their path.
The unexpected act of the three ladies came after a lockdown was imposed on the entire country of the UK in order to fight against COVID-19. However, a few citizens from Govanhill were unable to comply with the rules that were imposed on them. The three ladies went around the streets of Govanhill, coughing at every person who passed them on the streets. Cough, being the main symptom of coronavirus, was being showcased, openly and deliberately, creating a situation of panic and worry for people around them.
https://www.republicworld.com/world-news/rest-of-the-world-news/coronavirus-govanhill-women-spread-panic-on-streets-during-lockdown.html
----
How the women of Orange County stepped up to respond to WWI and the Spanish Flu
12 HOURS AGO
BY EMMA KENFIELD
World War I called on the women of America to serve their country as best they could. But expected to be housewives and caretakers to their families, American women had lives that were far from independent.
"Prior to the war, women weren't allowed to vote except in certain states. Women moved through public space subject to very strict notions as to where women should and shouldn't be," he said. "They were virtually excluded from far more occupations than they were allowed to participate in."
"During WWI, some of women's organizational capacity was harnessed to the war effort," Brundage said. "There were increases in employment for women. There were tens of thousands of women who went and worked in Europe and France as nurses."
While Orange County is a tiny dot on a map of the world, its women worked hard and their efforts in WWI did not go unnoticed. Annie Sutton Cameron, who was born in 1896, wrote "A Record of the War Activities in Orange County, North Carolina" as a Hillsborough resident during the war.
In early February 1917, before the United States' entrance into WWI, K. J. Brown, a graduate nurse, formed a class in First Aid and Surgical Dressings. The class met bi-weekly for two hours for the entire spring, until the U.S. joined the war in April. Brown's class developed into much more and eventually formed a Red Cross Chapter in June with 71 members.
The chapter shipped 44 cases of Red Cross supplies, including almost 19,000 gauze dressings and 9 cases of Belgian relief clothing. Its membership grew to 687 by October 1918.
Women also formed various war circles, in which they made hospital gowns, garments for refugees, bed pads and various medical supplies. These circles were the accessible alternative to Red Cross Chapters for rural women of Orange County who lived in more isolated areas.
Orange County was home to at least three women who saw active service with the Red Cross during the war, Cameron said in her book. Marion Williamson, Laura Hutchins and Jean Blue were stationed across the country to give aid to returning soldiers battling pneumonia, influenza or battle wounds.
Chapel Hill needed aid at home, too. Sarah Carrier, a research and instructional librarian, explained the severity of the Spanish Flu outbreak in Orange County during her presentation at Wilson Library in January.
The influenza pandemic of 1918 was "the most severe pandemic in recent history," according to the U.S. Centers for Disease Control. An estimated one-third of the world's population became infected with the virus, about 675,000 in the United States alone.
Shortly after the University opened its doors for the 1918-1919 school year, many cases of influenza started appearing. In October 1918, the Orange County Board of Health ordered the closing of all churches, schools and theaters, according to her presentation.
The Woman's Association at UNC mobilized to make gauze masks for the hospital. They gathered several times a week during the influenza epidemic, altogether producing 120 masks. The Red Cross members also offered their services, either as volunteer nurses or to help with supplies. The County Board of Health organized many of these efforts, but Red Cross members did most of the work.
Women across the country worked in factories making all kinds of war supplies, no matter how dangerous or tedious to produce. At this time, Black women also began to transition into the workforce for the first time. These women of color were called on to work in offices and factories rather than in the domestic situations they traditionally worked in.
"As women were devoting themselves to defending the nation and supporting democracy, they leveraged that in other important ways," he said. "Most importantly, demanding the right to vote."
https://www.dailytarheel.com/article/2020/03/oc-women-ww1-0320
-----
How These Female Entrepreneurs Are Using Technology To Thrive Amidst COVID-19
Janice Gassam
Mar 29, 2020
Every March, the United States celebrates Women's History Month—a time for national recognition of all the accomplishments women have made throughout the country's history. In 2020, the month-long celebration of women's achievements has been out shadowed by the global pandemic that is COVID-19. Some reports indicate that women will be the most negatively impacted by the virus in comparison to their male counterparts: a number of industries that are most affected by the virus (healthcare, teachers, flight attendants) are dominated by women. COVID-19 has also impacted entrepreneurs in unimaginable ways. For female entrepreneurs, trying to stay afloat amidst this catastrophe may seem impossible. Women starting businesses already experience barriers to entry and a lack of funding compared to men, research indicates. Despite these challenges, many female entrepreneurs have developed creative online strategies to propel their businesses forward during these times of uncertainty. Three women entrepreneurs sat down to discuss how their business is thriving despite the COVID-19 crisis.
Angely Rojas, founder of AR30: Even though the AR30 Challenge [is] a fitness virtual program with our interactive chat, one-on-one support system, and exercise app, after COVID-19 hit, it has impacted us in many ways. The gyms closed down, the ladies are out of work and some are financially stressed. Most of them are dealing with children being at home and on top of that, fighting off the urge to not eat all the snacks at home in a day. All of this naturally results [in] most of them [not having] much motivation to even workout at home or…eat well.
Instead of having everyone go to the gym we brought the gym to them, virtually via Zoom! And twice a day…holding 12:30pm and 8pm sessions, five times a week. I also made sure to regroup the girls by making an IGTV video, reminding them of why this is the time to actually focus on their health goals, and that we need have a strong and healthy immune system, now more than ever.
How have you utilized social media since COVID-19 to connect with your customers and audience? Initially I was offering the virtual workouts just for the AR30 participants. But then I decided to open it to the public. This has allowed [me] to not only unite and support my audience, but also, I want the AR30 to stand for positivity. In today's world, we wake up to negativity, fear, sadness and dark days, so I am hoping to be a positive light, in which we provide a safe space…to help them focus on being optimistic—women's empowerment and also enjoying a great workout. A lot of the ladies tell me it's their 'highlight of the day'. To see them smiling and clapping after each virtual session is priceless. I also started holding Q&As virtually about health and fitness to educate and connect with my followers. I really believe that during these difficult times, it really allows people to unite for a greater cause. Now more than ever, I feel so connected to all of them, and I cherish this so much...and this is truly why the AR30 is #MoreThanAFitnessChallenge.
Rachel Laryea, founder of Kelewele: My business, Kelewele, is a cultural lifestyle brand dedicated to making plantains, reimagined. As part of the hospitality industry, some areas of our business, namely our restaurant partnerships, has come to an indeterminate halt. We have had to revisit the strategic business planning we made for this quarter and next and find creative ways to supplement the lag in business. It hasn't all been bad news, however, as we've been able to double down on our social media efforts and in return, raise our brand recognition and educate people about our mission and service offerings in light of COVID-19.
Since we offer pick-up and delivery services in New York City, we, like many other food services, are ramping up our marketing efforts to make sure people know that they can count on us as a safe, reliable food option during this time. We are also working with restaurants that are still in business…in order to reach as large an audience as possible on social media. Without question, our digital platforms are more important than ever before during this time, as we provide our customer base with real-time updates on our business.
How have you utilized social media since COVID-19 to connect with your customers and audience? While social media has always been an integral part of our business model because of its ability to evoke feelings of togetherness despite physical distance, now more than ever before, we are focused on utilizing online platforms to create as much person-to-person engagement as possible through videos and live sessions. One recent example of this is our collaboration with BET International for their CultureVibes Home Sessions. My business was able to teach users on BET International's highly trafficked Instagram platforms how to make our chocolate plantain cupcakes in a 20-minute live session. This partnership, made possible through social media, was a unique way to connect with a large audience, raise awareness of the brand, and most importantly, share some much-needed happiness and joy in such a devastating time.
Alex Wood, consultant, speaker, and creator of Creative Business School: I've noticed brands and clients reaching out about ways they can quickly innovate and still provide value with the current climate. What I've been suggesting is quality virtual programming (i.e. virtual summits, online events, etc.) I understand the circumstances are unfortunate but it's truly an optimal time for brands to build a deeper emotional connection with their audience by proving to be a valuable source of inspiration and education during this vulnerable time. If customers can trust you now, they'll trust you forever.
I've changed my messaging to be more sensitive. People are responding strongly to the posts that are aggressively encouraging productivity. I think it's important to give people the space they need to process what's happening. This is bigger than the virus causing a biological liability. There are political and economic shifts that people have to adjust to and embrace, which will be difficult for many.
I was honestly born to use social media for times like this…within seven days of the lockdown, I was able to book an eight-stop "virtual tour" with some of the biggest influencers and multi-cultural platforms online. I'm a consultant and I'm a speaker, so I can still provide my value and speak to large audiences even if it's through the screen. It's been nice. Platforms that would've otherwise not have thought to provide curated virtual programming started to think about what else they can host [and] how to expand their schedule with online events after I reached out about speaking for them.
https://www.forbes.com/sites/janicegassam/2020/03/29/how-these-female-entrepreneurs-are-using-technology-to-thrive-amidst-covid-19/#17fc760f276e
------
Taiwan: The liberal democracy where adultery remains a crime
by Erin Hale
9 hours ago
Taipei, Taiwan - Wendy had just moved in with her new partner when the couple found themselves unexpectedly charged with a crime: criminal adultery.
The old childhood friends had started seeing each other after Wendy, a dual Taiwanese-American citizen in her 40s, returned to the island.
But in Taiwan, where divorce typically requires mutual consent, his decision to move in with Wendy meant their actions could be considered a crime.
"We were really freaking out because we had no idea," Wendy said of the period after being served lawsuits for attempting to pòhuài jiātíng, or "break the family".
Wendy, who asked to be identified by another name due to Taiwan's defamation laws, soon found that even after going through a divorce in the United States, dissolving a marriage in Taiwan was far more complicated.
"Adulterous" couples like Wendy and her partner risk as many as 22 months in prison under Taiwanese law, according to Hsiao-Wei Kuan, a professor at National Taipei University's Department of Law.
In practice, most of those found guilty are "sentenced" to three to four months in prison for which they can pay a fine, averaging around 90,000 New Taiwan dollars ($3,000), but that figure does not include the thousands more in legal fees many individuals are forced to pay to defend themselves.
Despite its increasingly progressive reputation after legalising same-sex marriage, Taiwan is one of the only non-Muslim places in the world to still criminalise adultery. It is also the last place in East Asia following South Korea's decriminalisation in 2015.
In 2015, South Korea's Constitutional Court abolished a 62-year-old law that made adultery a crime. Taiwan is now the only country in the region with such legislation [Lee Jin-man/AP Photo]
Even as the law is seen to unfairly target women, it has largely remained on the books because of its overwhelming popularity. It was supported by 80 percent of the Taiwanese public, according to the last available survey in 2013 by the Ministry of Justice.
Times, however, may be changing as Taiwan's constitutional court prepares to hear oral arguments on the criminal adultery law on March 31.
Experts like Kuan say while many women support the adultery law - they are also the ones who are more likely to face prosecution. Women make up slightly more than half of those prosecuted in adultery cases.
While that might not sound excessive, that compares with other crimes in Taiwan where women account for only about 5 to 15 per cent of defendants.
In many cases, it is common for a married woman to initiate a suit against their estranged husband and his new partner only to later "forgive" the man and withdraw the suit while continuing to prosecute the "other woman". Married men, by contrast, are more likely to pursue charges against both equally.
The law can be used for a variety of reasons, a key one being that unlike countries such as the US, Taiwanese cannot obtain a "no-fault divorce". Spouses must either mutually consent or prove a reason for the divorce, such as adultery or abuse.
In many cases, however, the adultery law has become a way to secure more attractive divorce settlements, with cases withdrawn after couples agree to settle out of court.
"Why would you use this criminal procedure to get money? I think that's the failure of the civil court: you can't get as much money for their alimony or other compensation," she said.
The threat of prosecution is also used by spouses to encourage an errant partner to return home - either through a direct threat of prosecution or by making their lives more difficult.
Anna, a European living in Taiwan who also asked that her real name not be disclosed, found herself threatened with expulsion from her graduate programme several years ago when the wife of her then-Taiwanese boyfriend contacted administrators in a bid to break the couple up.
While her partner had separated from his wife before he met Anna - something she later learned his ex-partner was still unhappy about - she said she did not fully understand the consequences until she was summoned to a university office several months later.
"She said this [relationship] is illegal in Taiwan and you can get into prison or get arrested and also if we find out that this is true you might have to be expelled from the university. To save my own a**, I said it was all a lie," Anna said, believing at the time - in her mid-20s - that she was too young to fully understand the consequences.
"I was so in love with him and we had a good relationship," she said. The relationship ended several months later due to other strains but not before she was harassed on Facebook and forced to defend herself for a second time to her university.
As a review of anti-adultery law progresses in the constitutional court, Bob Kao, a Taiwanese-American lawyer who writes about legal issues in Taiwan, said the legislation could finally be overturned.
In the past, the constitutional court has been the government's favoured avenue to push through controversial issues that have not received widespread support from the public.
In 2017, the court interpreted Taiwan's definition of marriage as unconstitutional, paving the way for the legalisation of same-sex marriage last year even after it was rejected in a nationwide referendum amid opposition from conservative Christian groups.
"It's like the same-sex marriage issue where the government and the Legislative Yuan didn't want to do something about it because of its popularity, so they punted the responsibility to the constitutional court," he said.
The criminal adultery law was last ruled as constitutional in 2002, but the legalisation of same-sex marriage may present a new and significant challenge.
For historical reasons, the law refers to a couple as being composed of one man and one woman - the same issue as its former marriage law - raising questions of equal protection before the law, according to the Taiwan Alliance to Promote Civil Partnership Rights.
The TACPR, however, said they will submit an amicus brief to have the law struck down entirely rather than extended to include all couples.
"Right now the government excessively interferes with private relationships," said Hannah Liu and Allison Hsieh, a paralegal and legal manager respectively, interviewed together at the TACPR offices in Taipei.
"Who can enter into marriage and who can divorce should not be interfered with by the government and should be the decision of individuals."
The adultery law also faces challenges from privacy laws which have reduced the amount and kind of evidence - often collected by Taiwan's vast industry of private investigators advertising "marriage health checks" and "adultery checks" - that can be presented at court.
A review by the Ministry of Justice of adultery cases between 2009 and 2019 found that two-thirds ended without prosecution, the most common reasons being "insufficient evidence" in nearly half of all cases followed closely by "withdrawn" prosecutions.
In Wendy's case, dozens of photos were taken by a private investigator showing her and her partner entering and leaving their home or walking outdoors, whereas in the past, photos of "adulterous couples" would have caught them in more intimate moments.
The case was ultimately thrown out this year due to insufficient evidence, but not before her partner's ex-wife reportedly spent $100,000 to secure evidence against the couple.
Wendy says her legal problems are not over yet because she has been threatened with an independent prosecution while her partner's and his future ex-wife's divorce proceedings continue.
"Honestly, initially I was very, very worried," Wendy said. "Am I going to go to jail for this? This is crazy. But then as I started to learn more and more about it, in the end it's just about money and it's sad. She's getting compensated … but she spent 100,000 US dollars on bogus evidence. I think somebody took advantage of her."
https://www.aljazeera.com/news/2020/02/taiwan-liberal-democracy-adultery-remains-crime-200226062636747.html
-----
URL: https://www.newageislam.com/islam-women-feminism/coronavirus-impressed-with-welfare-work/d/121441
New Age Islam, Islam Online, Islamic Website, African Muslim News, Arab World News, South Asia News, Indian Muslim News, World Muslim News, Women in Islam, Islamic Feminism, Arab Women, Women In Arab, Islamophobia in America, Muslim Women in West, Islam Women and Feminism