New Age Islam News Bureau
19 Oct 2014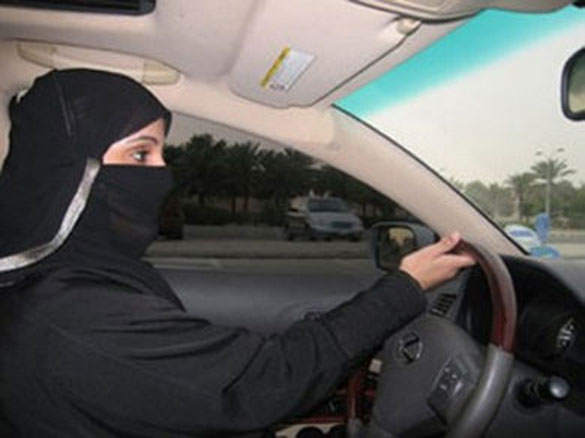 Saudi Woman Drives, a file photo
-----------
• Saudi Woman Drives, Urges Others to Follow Suit
• Kuwait 'Keen On Achieving Gender Equality, Female Empowerment'
• Ban on Children at Haj under Study
• Swaziland: King Mswati to Pay Girls £11 a Month to Remain Virgins in Bid to Tackle HIV
• Islamic State Militants Luring Western Women as Wives
• Palestinian Women Stitch Their Way to Independence
• Protecting the Rights of Saudi Divorcees
• Nobel Prize Puts Children's Rights on World Agenda
• Korowa Anglican Girls' School Students Put Together Birthing Kits for Women in Need
• 'Witches' Accused of Making Men Sexually Impotent Hacked To Death in Tanzania
• Ebola Crisis Putting Pregnant Women, Infants Lives At Risk - UN
Compiled by New Age Islam News Bureau
URL: https://www.newageislam.com/islam,-women-and-feminism/new-age-islam-news-bureau/converted-wife-can-seek-divorce-only-after-renouncing-islam--gujarat-hc/d/99602
-------------
Converted Wife Can Seek Divorce Only After Renouncing Islam: Gujarat HC
TNN | Oct 19, 2014
AHMEDABAD: A non-Muslim woman who converted to Islam for marriage can seek divorce from her Muslim husband only on the basis of reconversion to her original faith, said Gujarat high court.
The HC further said that such divorce petition cannot be turned down by the family court without conducting proper trial because section 4 of the Dissolution of Muslim Marriage Act does not come in between.
According to case details, Vadodara-based Christian girl Shinu married Muslim boy Javed Mansuri in February 2003 by entering into nikah according to the Muslim marriage laws. Shinu complained of ill-treatment by her husband and renounced Islam and reconverted to Christianity in March 2012. Immediately, she moved a family court and sought divorce decree on the ground that her husband was not maintaining her as well as her renunciation of Islam leaves her nikah null and void. The husband also moved the court questioning her reconversion and asserting that section 4 of the law prohibits the automatic dissolution of marriage.
In August 2013, a family court in Vadodara rejected Shinu's application saying that she had alleged cruelty but not sought dissolution of marriage on any of the grounds of section 2 of the Act — desertion and non-maintenance of wife. The court held that section 4 of the Act — which prohibits automatic dissolution of marriage at woman's renunciation of Islam - would not apply in this case because Shinu was a Christian, who became a Muslim and then re-embraced her original faith.
The rejection from family court brought Shinu to the high court, which cancelled the lower court's order and sent the matter back for adjudication after recording evidence. The HC said that Shinu had to establish at any rate necessary facts by supplying evidence that she was a Christian first and now she has renounced Islam. She then will have to show legal fallout of her reconversion. She does not have to seek divorce by raising the ground of desertion and husband's default in maintaining her.
http://timesofindia.indiatimes.com/india/Converted-wife-can-seek-divorce-only-after-renouncing-Islam-HC/articleshow/44872660.cms
--------------
Saudi woman drives, urges others to follow suit
19 Oct, 2014
Manama: A Saudi woman defied a social ban on driving by taking to the roads in the capital Riyadh and urging women to overcome fear and be self-confident.
"I am driving in total safety and security in Riyadh and it is around midnight on Friday," the woman who referred to herself as Om Abdul Mohsen, said.
"If you drive well and you are not tense, no one will approach you. The obstacle of fear among women should be dismantled and we women are the only ones who can do it. Every woman should do it.
"Women should not wait for the support or assistance from their brothers or fathers. Every woman should rely on herself," Om Abdul Mohsen said in the clip she posted on YouTube.
She said that women deserved a better status regarding the possibility to drive.
"We women today have an education and we work and contribute to the development of the country. We should not remain depended on drivers who often abuse our situation to ask for higher wages. Otherwise, there is no chance for us and no-one should expect the situation to change," she said.
Women are banned from driving in Saudi Arabia although there is no legal text that states the ban. The women who are caught driving are briefly detained for taking to the streets without valid driving licences.
The debate over allowing women to drive has been heating up in Saudi Arabia between the two opposing and supporting camps that used religion interpretations, social norms and economic reasons to win support in the socially conservative society. The presence of thousands of male drivers to drive mainly Saudi women and girls has been regularly used by supporters of allowing women to drive to highlight negative social and economic problems.
The arguments have also been boosted by "grave concerns" felt by several women when riding with taxi drivers.
Last year, No Woman, No Drive, a Saudi tongue-in-cheek version of Bob Marley classic No Woman, No Cry garnered millions of views on YouTube.
The video has turned comedian Hesham Faqeeh into an international internet sensation for his take on Saudi Arabia's ban on driving for women.
The nomination of 30 women to the Consultative Council last year has bolstered hope that the issue of women driving will be taken up and possibly approved.
The de facto ban on driving has been at times challenged by women, but they were accused of "stirring up public opinion."
King Abdullah, who has stressed national reforms, particularly on women's rights, since he became ruler in August 2005, has stressed that "balanced modernisation compatible with Islamic values was a significant necessity."
http://gulfnews.com/news/gulf/saudi-arabia/saudi-woman-drives-urges-others-to-follow-suit-1.1400702
------------
Kuwait 'keen on achieving gender equality, female empowerment'
19 Oct, 2014
New York: Kuwait has reaffirmed its commitment to implementing the UN Beijing Declaration and Platform for Action in attaining gender equality, protecting women, strengthening their rights and eliminating all forms of discrimination against them.
According to Kuwait News Agency, Kuna, Sultan Al Aradah, Third Secretary, member of the social, humanitarian, and cultural committee, delivered Kuwait's assertion in a speech for the Kuwaiti Permanent Mission to the United Nations, on the sidelines of the 69th session of the UN General Assembly on Tuesday evening.
Kuwait is keen to continue its financial and spiritual contributions to supporting activities of the United Nations Entity for Gender Equality and the Empowerment of Women (UN Women), stemming from its belief in the importance of women's empowerment and advancement of their civil, political, economic, and social rights, and in appreciation to the role of UN Women in directing gender equality issues, protecting women's rights, and boosting international cooperation in this regard, Al Aradah said.
On the national level, he noted that Kuwait has pushed towards strengthening Kuwaiti women's empowerment through supporting their political rights in candidacy and voting, as well as boosting their role in decision-making areas, adding that some recent achievements had been attained in Kuwait in the field of women's empowerment such as penal code legislation, prison regulations and equal pay for women doing the same work as men without overlooking their maternal privileges.
http://gulfnews.com/news/gulf/kuwait/kuwait-keen-on-achieving-gender-equality-female-empowerment-1.1398385
------------
Ban on children at Haj under study
19 Oct, 2014
Manama: Senior Saudi pilgrimage officials are looking to ban children under 10 as a precautionary measure to protect them from the scorching summer heat.
According to the proposal, children under the age of 10 will not be allowed to accompany their parents as they perform the Islamic ritual required of all adult Muslims at least once in their lives.
Officials at the Haj ministry said that children would face huge problems dealing with the high temperatures that reach 44 degrees in the summer months, local daily Al Watan reported.
Pilgrimage was held this year in October, but with the Islamic calendar based on lunar months, the annual event will gradually be marked in the summer with soaring temperatures in the region. The Islamic calendar is made up of 354 days, 11 days short of the Gregorian year.
The call to impose the ban was triggered by ministry reports that thousands of children were seen with their parents in the areas where around three million Muslim men and women congregate for the Haj.
The reports said that most of the children were accompanying parents or family members who did not have regular tents and slept on the roadsides.
Around 65 per cent of the children were under the age of six and 20 per cent were aged less, the reports added.
The reports estimate the number of children who were at the Haj to be between 5,000 and 7,000.
Several children had to be given medical treatment for problems caused by the high temperatures and the large crowds. Parents and families were blamed for their lack of awareness in protecting the children.
The sources quoted by the daily said the talks to impose the ban have not reached the point of becoming a binding decision.
"When the talks reach an advanced stage, the proposal to impose the ban will be referred to the high scholars' commission for its views," the sources said, quoted by the daily. "The decision will be naturally based on the need to protect lives, a highly significant tenet in Islam."
The major divergence in the talks is reportedly whether the ban should be confined to the families that do not have proper accommodation in the pilgrimage areas. While some support the view, others insist on a blanket ban on all children under the age of ten.
According to an official familiar with Haj, most of the families who brought their children this year were from Britain.
"The numbers are very limited, and some families bring their children with them because there is no one to look after them back home," Tariq Anqawi, the head of Mutawafs (Guides) of pilgrims from Turkey, Europe and Australia, said. "Large tents were set up just to look after the children of the pilgrims and make sure they are not exposed to overcrowding situations," he said.
http://gulfnews.com/news/gulf/saudi-arabia/ban-on-children-at-haj-under-study-1.1400744
------------
Swaziland: King Mswati to Pay Girls £11 a Month to Remain Virgins in Bid to Tackle HIV
19 Oct, 2014
Teenage girls in the Kingdom of Swaziland, South Africa, will be paid 200 rands (£11) per month if they refuse to have sex, according to reports.
The decision was approved by the government of King Mswati III in a bid to curb HIV transmission in the sovereign state. The programme is said to be financed by the World Bank.
"The government will pay girls the allowances so they will have money to purchase necessities and can turn down money offered to them for sex", said Thabsile Dlamini, a health care worker in Manzini, as reported by South African website IOL.
A pilot programme will be conducted to test the effectiveness of the initiative and ensure the girls will not have sex after they receive the money.
Critics argued the programme aims at ensuring that the King – who already has 15 wives - will have HIV-free Swazi virgins he can choose from as future brides.
Potential wives are selected during the annual Reed Dance, during which up to 70,000 girls dance before the royal viewing box.
However, IOL said a source with the royal family denied the allegation.
According to estimates by the UN Programme on HIV and Aids (Unaids) 200,000 out of 1.5 million people in Swaziland had HIV in 2013.
The National Emergency Response Council on HIV and Aids in Swaziland said World Bank money had been already used to adjust the behaviour of teenage girls in other African countries, although those programmes focused on education.
One teenager in Manzini, Zodwa Fakudze, 16, argued that R200 was not sufficient to discourage girls from accepting gifts from older men to have sex.
"Today's girls need things, like airtime for our cellphones. R200 is not enough. That is how much government gives my gogo [grandmother] each month and she will never get Aids because no one over [the age of] 40 has to have sex," she said.
Another girl, Thandi Tfwala, 17, said: "A girl could get R200 for just one sex act. Government must pay more.
"You don't know Swazi girls. If they don't get more money they will keep on doing what they do now, even the Christian girls. Our king will have to go to Cape Town for his brides."
http://www.ibtimes.co.uk/swaziland-king-mswati-pay-girls-11-month-remain-virgins-bid-tackle-hiv-1469088
------------
Islamic State militants luring Western women as wives
19 Oct, 2014
The teenage girls are lured online, seduced by video testimonies, text messages and a romantic notion of living in Syria and Iraq as wives of warriors — a portrait of domestic bliss starkly different from videos of beheadings and the repressive rule of the so-called Islamic State.
Three Toronto girls of Somali heritage, aged between 15 and 18, fell prey to this recruiting drive and recently left Canada bound for Syria, part of the growing trend of young women joining the terrorist group.
Security and community sources familiar with the case told the Toronto Star that two of the girls were sisters. Along with a third teenager, they flew to Cairo and then Istanbul, from where they planned to head for the border.
But the girls' parents discovered their plans and alerted authorities. In what is being hailed as a good example of co-operation between the security services and Toronto's Somali community — whose relations have been strained in the past — the girls were intercepted by Turkish authorities and sent home.
"The parents felt comfortable in contacting police to prevent the young girls from ruining their lives," said Hamilton lawyer Hussein Hamdani, who has worked in the past to help bring together Muslim communities and the police. "This is something we want to encourage and keep building those bridges."
Hamdani had tried to help another Canadian family who discovered this summer that their son had left for Syria — but intervention came too late. By the time the RCMP and CSIS were working with relatives of Mohamud Mohamed Mohamud, the 20-year-old was fighting in Syria. He was killed a few months later.
The recruitment of Canadians and other Westerners into foreign wars in the name of jihad is not a new phenomenon. But the numbers now joining the Islamic State (also known as ISIS and ISIL) are far greater than in past conflicts.
What makes the Islamic State unique is the group's ability to appeal to young people. There have been other well-known orators who have encouraged Westerners, including New Mexico-born Yemeni preacher Anwar Awlaki, who was killed in a U.S. drone strike two years ago, and the elusive Canadian Fadumo Jama, known as "Mama Shabab," who ran a safe house for foreign fighters in southern Somalia and whose current whereabouts are unknown.
But none of the other groups fighting for Al Qaeda's vision of a caliphate had such a widespread and savvy social media campaign. Messages blend passages of the Qur'an with smiley emoticons; gruesome images of the dead with kitten pictures.
Most startling is the aggressive outreach to female recruits, a small group of whom are becoming fighters themselves. The majority, however, are being enticed by the prospect of becoming "ISIS wives" and mothers to populate the new world order.
Aqsa Mahmood, a young woman from Glasgow who left for Syria last year and goes by the name Umm Layth, has become a famous online recruiter. "Sometimes it would be easier for you to accept your parents disowning you and wanting nothing to do with you," she writes on tumblr, saying it is difficult to hear mothers and fathers crying and begging recruits to come home. "But as long as you are firm and you know that this is all for the sake of Allah then nothing can shake you."
Umm Haritha is also a popular figure, and has identified herself as 20-year-old Canadian who went to Syria to marry a Palestinian fighter from Sweden. He was later killed and Umm Haritha reportedly began living with other young widows in a town near the Turkish border.
Mia Bloom, a professor of Security Studies at University of Massachusetts Lowell, who has studied the phenomenon of female recruits, says young, impressionable women are especially vulnerable to romantic notions and promises given by the Islamic State. "They're told you're going to get benefits in this world and in the next, they're combining all the permutations of what these women might find appealing," said Bloom.
Bloom says many of the women who have left Western societies complained that they were tired of permissive environments, citing their disdain for a culture where homosexuality is accepted. But many of the women — especially the recent converts — also complain of Islamophobia.
"You have these two completely different dynamics. On the one hand, the West is too permissive, and on the other hand, the West is too racists and non-inclusive," said Bloom. "Society generally is not both, but this is the narrative."
There are other contradictions — the professed desire to eschew the modern world — a message communicated on social media apps on smartphones.
A large aspect of the recruitment seems to be the promise of romance — relationships that begin with online dating but with promises of being devoted to a greater cause.
Shannon Conley, 19, pleaded guilty in Colorado last month to one count of conspiracy to provide material support to a designated foreign terrorist organization, after being intercepted before she travelled to Syria. FBI agents arrested her on April 8, before she boarded a flight to Turkey, and she is reportedly co-operating now with authorities.
According to her guilty plea, Conley met a man online named Yousr Mouelhi in early 2014. Mouelhi professed to be a member of Al Qaeda and after weeks of communications the two decided to marry; Conley was to join Mouelhi in Syria. Before she was arrested, Conley travelled to Texas to be trained in military tactics and the use of firearms with the U.S. Army Explorers.
Perhaps the most perplexing case is that of Sally Jones, a British mother of two and former guitarist in an all-girl punk band, who fled to the Syrian town of Raqqa, where she married a fighter she reportedly met online. The 45-year-old convert to Islam told The Sunday Times last month that she now goes by the name of Sakinah Hussain and has branded Britain and the U.S. as "terrorist" nations. On Twitter, she threatened to behead Christians with a "blunt knife."
Two young French girls, Sahra Ali Mehenni and Nora El-Bahty, were just 15 and 17 when they made elaborate plans to sneak off to Syria earlier this year before their parents could stop them. El-Bahty's family told The Associated Press she was recruited on Facebook, videos of veiled women firing machine guns and images of Syrian children killed in the warfare striking a chord. She pretended to go to school one day and never returned.
Their parents now believe the girls are being held against their will.
That may also be the case of two Austrian girls, wanted by Interpol since they left Vienna in April, but who now say they want to come home. Samra Kesinovic, 17, and Sabina Selimovic, 16, have told family that they are tired of the bloodshed and fighting, according to Austrian media reports.
Although the Toronto girls could also be charged with terrorism offences under Canadian law, Hamdani and Somali community leaders say they are happy the RCMP has not prosecuted them and hope instead they will glean intelligence from the case to stop others.
While women joining the Islamic State are coming from many different countries and backgrounds, there is fear that Somali communities, already vulnerable from years of recruiting from the East African-based Al Shabab, are at a high risk.
The FBI is investigating the cases of three girls of Somali heritage from the Minneapolis-St. Paul area who have been missing since August, according to community leaders.
Osman Ahmed, co-author of a University of Maryland report looking at how to counter violent extremism, said much work has been done in the last five years to try to bring Minneapolis-St. Paul's Somali community closer to authorities.
"I think we helped educate parents, who used to be scared to come forward and are now ready to inform authorities if they see anything suspicious," said Ahmed, who became involved in community advocacy in 2009, after his 17-year-old nephew was recruited by the Shabab and left the U.S. for Somalia. He was later found dead in Mogadishu, shot in the head.
http://www.thestar.com/news/world/2014/10/17/islamic_state_militants_luring_western_women_as_wives.html#
------------
Palestinian Women Stitch Their Way to Independence
19 Oct, 2014
Iman Darawi, a soft-spoken Muslim woman wearing a traditional grey headscarf, doesn't look like a pioneer. But Darawi is a divorced self-employed Palestinian seamstress from the town of Beit Sahour near Bethlehem, who is responsible for teaching other seamstresses, and a symbol of how roles are changing for Palestinian women.
"I enjoy this work and it enables me to make a living and raise my children," Darawi told The Media Line at the Al-Balad workshop in Jerusalem's Old City where her work is sold. "I am responsible for seven women. I bring them the material and I teach them how to embroider."
Darawi's intricate work uses bright colours and designs and is sewn onto purses, shawls, vests, and wallets. She says she works several hours each day while taking care of her two sons. She travels around the village, distributing and collecting the other women's work, and brings it to Jerusalem, where it is sold.
"All of this work gives me courage," she says.
The shop just inside New Gate is just one project run by the Arab Orthodox Society, an NGO dedicated to helping and empowering Palestinian women. The Society provides the cloth and the thread, the women get paid per piece, and the coordinators like Darawi get an additional salary.
"We are trying to teach the women how to fish, not just to give them fish," Hala Jahshan, who runs the Balad shop told The Media Line. "For many years, Palestinian women would take money or help without any dignity. We want to give women a chance to work and improve her skills."
Palestinian society remains traditional, and many men frown on women working outside the home. According to the Palestinian Central Bureau of Statistics, women make up only 18 percent of the labour force. Women marry young, and especially in the villages, have many children.
The work that is sold is all handmade, and prices are higher than in nearby shops in the Old City, where many of the goods come from China. The bulk of the customers are tourists, and therefore business is dependent on tourism. Nora Kort, the president of the Arab Orthodox Society, says that when tourism is good, the shop can employ up to 500 women. These days, in the wake of the fighting between Israel and Hamas in the Gaza Strip, tourism has declined significantly and 150 women are employed. They each make about $200, which can go far in the West Bank where food is comparatively inexpensive.
"When many of these women come to us, they are broken," Kort told The Media Line. "When a man doesn't work, he often takes out his anger on his wife. But once these women start working, I see the development of their feeling of value and self-worth."
She says many of the women use the money for their daughters' education, which especially pleases her. Although about one-third of the women she employs are either illiterate or have only a rudimentary education, most of their daughters attend university.
Another employee at the shop is Suad Abu Sa'ada, a Christian mother of five also from Beit Sahour. She works as a tailor two days a week in the shop, as well as doing embroidery at home. In her spare time, she helps her husband in his tourism shop in the village.
"Life is very expensive for us and it is not possible to survive on just one income," she told The Media Line. "I feel good when I can help my husband with money and we can provide for our children."
Beyond the employment aspect, the Balad shop helps keep Palestinian tradition alive. While most women used to wear hand-embroidered dresses, many today wear Western clothes, or machine-stitched imitations.
Kort says she sees the shop as a way of preserving traditional Palestinian culture, and helping to build a Palestinian identity.
"Palestinian skills and crafts have died out because of the competition with China," she told The Media Line. "Chinese items are all over the place and they're very cheap. We revive the culture in a loving way. It's like a baby that you pamper."
The traditional embroidery was done with red thread, says Jahshan, a reminder of the importance of blood tribes. Palestinians in the Ramallah area still prefer these traditional designs. Americans like blue, while Israelis prefer colours that refer to nature, like greens. Some of the pieces for sale in the shop have intricate designs of flowers and clouds, while others sport the more traditional geometric designs.
Besides the embroidery project, the Arab Orthodox Society has a medical clinic in a building owned by the Greek Orthodox Church, a new museum of Palestinian culture, and a bakery which serves traditional Palestinian sweets. Kort says her goal is for the various projects to make enough money to cover their expenses, a goal she hasn't yet reached.
Kort says she sees the traditional embroidery as a way to unite all three religions in Jerusalem. Many of the shop's customers are Israeli Jews, a few of whom have even asked for embroidery lessons. The women who sew are both Christian and Muslim.
"Religion is important to us but not religious fundamentalism," Kort says. "Religion is tolerance, love and peace, and I read a lot of these messages in the symbols of the embroidery."
http://www.jpost.com/Middle-East/Palestinian-women-stitch-their-way-to-independence-379111
------------
Protecting the rights of Saudi divorcees
19 Oct, 2014
The increase in the number of divorces in Saudi Arabia has led to the formation of a society to protect the rights of divorcees and their children. Many Saudi men pronounce divorce recklessly apparently not bothered about the breakup of the family. Many of these men refuse to shoulder the responsibility of taking care of their children and fulfilling their educational and financial requirements.
Some of these Saudi men pronounce the word divorce like a football commentator repeating the word "goal" in a football match. Divorcees often find that they have no means to raise their children, and there are also cases in which women are subjected to harassment from their estranged husbands. For these reasons, a new society was created to protect the rights of women before and after divorce.
Let us hope that the creation of the new society will play a significant role in putting an end to such situations and guaranteeing the rights of divorcees. The society can also lend a helping hand to the government in drafting new rules and regulations in this regard.
For several years, the government of Saudi Arabia has been striving to develop a legal mechanism for divorce instead of relying on a verbal pronouncement. The judicial authorities want to introduce a mechanism based on legal and written procedures that puts an end to the practice of swift and reckless verbal divorce.
They are racing against time to rein in the rising tide of divorce cases and to protect as many families as possible from disintegration. The authorities are keen to ensure the rights of women for alimony and child maintenance. According to statistics, 25 percent of marriages in the Kingdom end up in divorce in the very first year and most divorces are reported in the first five years after marriage. Many Saudi houses have at least one divorcee.
Each one of these divorcees suffers from either psychological problems or financial difficulties. The judiciary and government organizations play a major role in protecting divorcees who suffer from the injustice of their former husbands who deny or delay alimony payments.
Some divorcees are forced to live for several years without receiving a divorce document. This puts them in a precarious position in which they can neither seek remarriage nor take advantage of the social security schemes offered by the government. Let us hope that the creation of the new society will play a significant role in putting an end to such situations and guaranteeing the rights of divorcees. The society can also lend a helping hand to the government in drafting new rules and regulations in this regard.
http://www.saudigazette.com.sa/index.cfm?method=home.regcon&contentid=20141018221485
------------
Nobel prize puts children's rights on world agenda
19 Oct, 2014
Almost two decades ago, long before the ubiquity of the search engine, the only article about child labour at my tiny local library was a piece about Kailash Satyarthi. The activist had been unjustly arrested, accused of "kidnapping" the very child slaves he had been freeing in India.
I showed the photocopied article to classmates, who agreed something must be done. We launched a petition for Satyarthi's release. We were determined that all of our signatories -- 3,000 in total, signed in ink before the advent of the viral campaign, pleaded for at community centres and on doorsteps -- would be under the age of 18. Copies were sent to the governments of Canada and India. In shoeboxes.
After Satyarthi's release, we became pen pals. When he visited Canada later, he called the children's petition heart-warming, and said it was "the most powerful action taken on my behalf." He was touched that so many children stood up for him.
Satyarthi's Nobel Peace Prize, announced last week, is now a global acknowledgement that peace cannot be achieved without recognizing the rights of children. He was named joint recipient of the peace prize, along with fellow child rights activist Malala Yousafzai. I've had the honour to witness the fearless work of both of this year's recipients firsthand.
At 12, I travelled to South Asia on a fact-finding mission with Free the Children, the charity I'd started with 11 classmates. During my trip, in a remote village outside of Varanasi, Satyarthi kicked down the doors of a carpet factory, freeing 22 children from bonded labour.
The boys emerged from the dark, blinking out the sun's glare. I remember their raspy breathing and coughing to clear the wool dust from their lungs; their tiny hands blistered and pitted from skin infections left untreated. Many bore scars from punishments, a gash on the head for falling asleep at the loom or crying out for mom.
"We are free?" the children said, at first as a question and then a statement: "We are free!"
All of the boys had been lured from the same village with false promises to their parents about paid work learning a trade. I accompanied Satyarthi when he took them home.
We brought each boy, in turn, to his doorstep. Satyarthi must have seemed like a messenger from heaven, bringing children back into the arms of their weeping mothers.
A few days later, I stayed with Satyarthi in Delhi where we prepped for a joint press conference to raise global awareness of child labour. His home was far too small for himself, his Great Dane, Tiger, his two children, the frenzy of the impending event, and me.
His daughter Asmita, 10, and I stayed awake all nigh, anxiously getting ready to face the two dozen journalists and TV crews that would witness testimony from two previously liberated children, Satyarthi, and myself.
Malala's story, of her campaign for the rights of girls to get an education that made her a target for the Taliban, is well known. This summer, I welcomed this remarkable young woman and her family to our development projects in Kenya. It was her first trip to Africa. We all helped build Oleleshwa All-Girls' Secondary School, a joint project of the Malala Fund and Free the Children.
Satyarthi is a trailblazer for children's rights; Malala is the next generation. She is the youngest person to receive the Nobel Peace Prize, and at 17, the first teen. This is a profound and long-overdue recognition for the role of youth in changing our world for the better.
It puts children's rights in the foreground of the global agenda and signifies children are more than passive recipients of aid; they can speak up for their own rights.
Craig Kielburger and his brother Marc founded a platform for social change that includes Free the Children, Me to We, and We Day.
http://www.forterietimes.ca/2014/10/17/nobel-prize-puts-childrens-rights-on-world-agenda
------------
Korowa Anglican Girls' School Students Put Together Birthing Kits for Women in Need
19 Oct, 2014
MANY hands make light work for students at Korowa Anglican Girls' School.
More than 50 Year 12 students gloved up and got to work putting together 1000 birthing kits for women in Africa.
The event, part of the school's Make a Difference Project, meant students, family and friends gathering to assemble the kits on behalf of The Birthing Kit Foundation (Australia), an organisation dedicated to improving conditions for women who give birth at home in developing countries.
Year 12 tutor captains Sophie Cashin, Katherine Latorcai, Antonia Horafiaris and Moriah Russo headed the project.
Katherine said the packs included a plastic sheet for the mother to lie on, a piece of soap, two gloves, three gauze squares, three cord ties or two clamps and a sterile scalpel blade in a small press-sealed plastic bag.
She said the packing went "really well" and "many hands made light work".
"It was a really good turnout," Katherine said.
"Everyone was really keen to get involved and help the women in Africa. We really loved the idea, it's a brilliant cause."
http://www.heraldsun.com.au/leader/central/korowa-anglican-girls-school-students-put-together-birthing-kits-for-women-in-need/story-fngnvlpt-1227092764309
------------
'Witches' Accused of Making Men Sexually Impotent Hacked To Death in Tanzania
19 Oct, 2014
Two women in Tanzania were hacked to death after accusing them of casting spells that made men sexually impotent, police said on Friday.
The killing took place in the village of Ihugi in Tanzania's northern Shinyanga province late on Tuesday, a report said.
The victims, mother and daughter, were aged 80 and 45 respectively.
Three men slit their throats and then chopped their bodies up.
Their neighbour was suspected of carrying out the attack after he believed they had made him unable to have sex.
A 40-year-old man, who also accused the women of poisoning his mother last year, has been arrested.
"The victims were attacked as they were about to take their evening meal," the report quoted local police chief Justus Kamugisha as saying.
The attack comes after seven people were killed in western Tanzania last week. They were accused of witchcraft and burned alive in their huts.
Belief in witches and black magic remains strong in many parts of Tanzania.
A local rights group has estimated as many as 500 "witches" are lynched every year.
Many of those killed were elderly women.
The rights group said some are targeted because they have red eyes - seen as a feared sign of witchcraft - even though this is often the result of the use of dung as cooking fuel in impoverished communities.
http://indiatoday.intoday.in/story/witches-make-men-sexually-impotent-hacked-death/1/396342.html
------------
Ebola Crisis Putting Pregnant Women, Infants Lives At Risk - UN
19 Oct, 2014
Dakar — The Ebola crisis is putting the lives of pregnant woman and infants at risk with the spread of the virus in West Africa eroding health services needed for a safe birth and postnatal care, a United Nations official said on Thursday.
The United Nation' Population Fund (UNFPA) said up to 800,000 women in Guinea, Sierra Leone and Liberia were expected to give birth in the next year but many are afraid to visit clinics or turned away from overstretched health facilities.
It warned more than 120,000 could die of complications of pregnancy and childbirth if the required life-saving emergency obstetric care, such as caesarean sections, was not provided.
The warning came as a leading medical aid group, Medecins Sans Frontieres (MSF), was forced to shut down a 200-bed emergency paediatric and maternity clinic in Sierra Leone on Thursday due to fears that the medical staff could not guarantee safety for patients or staff from infection.
Ebola, a hemorrhagic fever spread through contact with infected fluids that kills about half its victims, has so far killed almost 4,500 in West Africa and infected almost 9,000 others since it first emerged in Guinea in March.
The World Health Organisation (WHO) has warned Ebola could infect up to 10,000 people per week by December unless international efforts are stepped up to control the disease.
"The reality is that pregnant women are facing a double threat - dying from Ebola, and from pregnancy or childbirth, due to the devastating impact of Ebola on health workers and health systems," said UNFPA Executive Director Babatunde Osotimehin in a statement.
"Ebola is not only killing those infected, but also those affected. Pregnant women and girls are at greater risk."
RISK TO NEW MOTHERS
In Sierra Leone, around one in every 100 births result in the mother dying which is 100 times more than in northern European countries like Britain.
One in every 10 children in Sierra Leone dies before the age of one, according to the World Bank.
Brice de le Vigne, MSF Director of operations, said the closure of the Gondama Referral Centre in Bo, 250 kms (155 miles) southeast of Sierra Leone's capital Freetown, was a difficult decision to make.
"The safety of our staff must remain our top priority and if we cannot guarantee flawless infection control in the hospital, we are putting our staff and patients at risk," he said.
Doctors and nurses are at the frontline during Ebola outbreaks as they are the first port of call for victims infected by the deadly virus and many have died as a result.
The WHO says at least 230 health workers have died since the outbreak began - about five percent of the death toll to date.
Despite the recent arrival of 150 Cuban doctors and nurses last week in Monrovia, aid agencies working on the ground have found it increasingly difficult to find health workers to come and work in Guinea, Sierra Leone and Liberia.
UNFPA says it is providing emergency safe delivery kits, personal protective equipment and infection prevention supplies, such as chlorine bleach, gloves and masks.
Osotimehin said urgent funding was needed to meet the reproductive health needs of women in affected countries.
"The situation for pregnant women in Ebola crisis countries is devastating. Gains in maternal health and family planning are being wiped out and women are desperate for information and services to protect their health and that of their babies," said Osotimehin.
http://allafrica.com/stories/201410171436.html
------------
URL: https://www.newageislam.com/islam,-women-and-feminism/new-age-islam-news-bureau/converted-wife-can-seek-divorce-only-after-renouncing-islam--gujarat-hc/d/99602