New Age Islam News Bureau
15 Nov 2016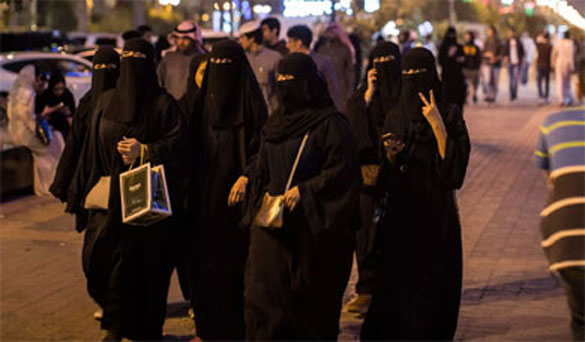 Women sit in a cafe in Riyadh, Saudi Arabia October 6, 2016. (Reuters)
--------
• Women in Riyadh Feel More at Ease without Niqab
• Abandoned Syrian Women Fend Alone Under Daesh Rule
• IS Recruit Mentions Indian Woman in Mosul: NIA
• How Muslim Women Differ All Over the Globe
• Disturbing Video of Kidnapped Afghan Kid Goes Viral
• Women Who Married Afghan Men Stage Protest in Peshawar
• 'Children of a Lesser God?' Transgender Woman Targeted In Brutal Pakistan Attack
Compiled by New Age Islam News Bureau
URL: https://www.newageislam.com/islam,-women-and-feminism/new-age-islam-news-bureau/convert-represents-russia-at-all-women-quran-contest/d/109107
-------
Convert represents Russia at all-women Quran contest
November 14, 2016
Though her parents were non-Muslims, they never tried to hold her back or prevent her conversion.
A 21-year-old woman who was born a Christian memorised the Holy Quran in full and is now representing Russia at the Shaikha Fatima Bint Mubarak Int'l Holy Quran Competition.
Elena Dmitrienko said: "I converted to Islam six years ago when I was 15, but my Christian father and Tatar mother have not yet."
Talking about her journey with Islam, Dmitrienko said she used to study in a private school where most students were Muslims. "I was inspired by their noble ethics, lifestyle, and dedication to their religion.
"I moved to the Zayed bin Thabit Quran study centre where I learnt the Quran at the hand of competent teachers."
Though her parents were non-Muslims, they never tried to hold her back or prevent her conversion. "They were affected by the thorough change in my way of talking and dealing with them, and even encouraged me to memorise the Quran in full."
Dmitrienko's journey with the Quran started four years ago. "I managed to learn the Quran by heart a year ago with the help of my non-Muslim parents who are following me now on TV," she said.
Wishing she would be able to rank first and win the big prize, she said it would be the biggest prize in her life. "The competition is perfectly organised, and it is a good chance to meet this big number of contestants from across the globe."
So far, up to 51 out of 72 contestants have sat the final test of the competition for female memorisers being held at the Dubai Cultural and Scientific Association, Al Mamzar.
http://www.khaleejtimes.com/nation/general/convert-represents-russia-at-all-women-quran-contest
-------
Women in Riyadh feel more at ease without niqab
14 November 2016
The land-locked Saudi capital Riyadh has long been culturally conservative in comparison to other areas in the kingdom requiring its women to cover their faces with what it is known as niqab.
But women there no longer feel fully obliged to move around its streets covering their faces - except their eyes - with a veil known as the niqab, now considered by many as non-mandatory requirement in Islam anyways.
Instead, more and more women are opting to wear the Islamic veil that covers the hair known as hijab, sometimes even with strands of their hair showing, combined with colorful abayas or cloaks instead of the traditional black color.
"I know families [in Riyadh], the eldest sibling could not wear hijab alone - she had to wear niqab, but the youngest sister can now walk even without a scarf on her hair in some places," Rawan Al-Wabel, a mother of three and a health care worker, told Al Arabiya English.
Wabel, who is also a columnist, has long enjoyed the cultural freedom of a being a modest Muslim woman, wearing her hijab and not niqab, as she originally hails from Dammam city, the capital of Saudi's Eastern Province.
"I have been living in Riyadh since last four years, but I am the daughter of Dammam," she said. "In Dammam, it was much easier to be a hijabi," attributing her home city's much liberal climate due to its "diversity" where "people come from different areas."
With the intermingling spurring more of a freer space in Dammam, the port city of Jeddah on the Red Sea and a gateway for pilgrimages to the Islamic holy cities Makkah and Madinah "is the most liberal," Wabel said, where "one could see Saudi ladies without scarfs over their heads."
Asked if women in Riyadh are becoming bolder in their dressing like their eastern and western counterparts in the kingdom, Najla Al-Sulaiman, 30, told Al Arabiya English, "Of course."
People in the capital are becoming "bolder, and more accepting," said Sulaiman, who works as a compliance manger in an international bank in Riyadh.
Sulaiman, who has did a Masters in the United States from 2011 till 2015, said "the difference through the three years was extremely striking" when she returned to Riyadh."You see more colorful abayas, more women who are not covering their faces."
Sulaiman, who does not wear hijab when traveling outside Saudi Arabia like many other compatriot women from her country, said: "While the overwhelming majority are still covering the hair, I have seen girls without head scarfs."
"Before, when we used to see girls wearing really bright colors and not wearing veil to cover their hair, we used to feel surprised," she added. "But now we see this and not at all feel surprised."
Nouf Al-Wabel, 33, who works in the human resources sector in Riyadh, said the "change itself is in wearing more colors and not just black."
"While there are women, who wear the traditional abaya with hair showing," they are "still not the majority in Riyadh," she said.
"We see it in hospitals, medical centers, and banks," she added. "The change is happening in media, and media is changing many people."
[Najla Al-Sulaiman says she likes Saudi fashion blogger Sausan Al-Qadhi (pictured) as she is not a regular fashionista but a person who studied fashion]
No abaya means strange
This "noticeable change," however, cannot be "generalized all over Riaydh," said Sulaiman, who nevertheless dons her trendy abaya with colors ranging from baby blue to beige and brown, and head scarf not to be an "oddball."
"There are parts of Riyadh more modern than others," said Sulaiman. "When I go to south of Riyadh or other areas in the capital, status quo is still there."
The compliance manager is from northern Riyadh, considered "more modern."
But with all the changes, Sulaiman still feels "surprised" if she sees a woman not wearing abaya.
Like her, the human resources employee Wabel also concurred that it is "strange" to see a woman not clad in abaya.
Saudi fashion blogger Sausan Al-Qadhi pictured]
Reasons for change
Different cultures coming together, whether it is Saudi Arabians coming from different parts of the kingdom or expats, social media, globalization or women going to work and earning their own income, are all factors these women consider behind the change. A law passed by the Saudi cabinet in April, which restricts the Committee of Promotion of Virtue and Prevention of Vice, often referred as "religious police" or "hai'a," to pursue and arrest violators, has also helped.
"The law passed has helped but it was not an obstacle earlier," the columnist said. "Before, women did not prefer to appear when they [religious police] were present."
Sulaiman said "people were leaning toward being bolder, more courageous which led to the formulation of the law," dubbing it as a "request."
The religious police "harassed people on the street as well as at the mall. They would collect and destroy goods, angering retailers… enter shops and shut it down, and sometimes, impose its powers," she added.
But to due cultural changes, it is now "embarrassing" for those conservatives to enforce their opinions. "It is no longer acceptable," she said.
Dubai-based Alanoud Badr is a Saudi fashion blogger and designer. She is behind the label Lady Fozaza.]
Changing discourse
Nouf Al-Wabel also said college girls now enjoy far more freedom than her time when she graduated in 2007, as now they could leave their campus with their faces uncovered, although there are colleges that mandate young women to cover their faces.
"This is a far cry from my time," she said, remembering her high school days when it used to be drilled into them how niqab was compulsory, that it became almost "holy."
"But we started reading and learning as we grow older, and we started comparing with other cultures," she said. "I have realized that moderation is the way to go, and it will always succeed."
For her, a Saudi woman is far more "protected with good morals than a piece of cloth on her face," stressing that modesty begins from within.
But the change taking place in Saudi is not only about a face veil or a hair cover. In late September, about 15,000 women signed a petition, which they sent to the government, calling for an end to male guardianship.
If approved, this will herald a sweeping change favoring Saudi women to gain more rights.
https://english.alarabiya.net/en/features/2016/11/14/Women-of-Riyadh-feel-more-at-ease-to-show-faces-sometimes-hair.html
-------
Abandoned Syrian women fend alone under Daesh rule
Nov 15, 2016
Ain Issa, Syria — Prevented from reuniting with their husbands and fending off marriage proposals from militant fighters, women living alone under Daesh militant group rule in Syria face a special set of challenges.
Huda, who speaks using a pseudonym, is one of thousands of Syrians who have fled Daesh territory since a Kurdish-Arab alliance began a campaign to capture the group's Syrian stronghold of Raqa.
Like many others, she is now stuck in a temporary camp on the outskirts of Ain Issa, some 50 kilometers (30 miles) north of Raqa, after fleeing her village of Al-Heisha with her five-month-old son Nur.
"Daesh (IS) destroyed our families," says Huda, whose village fell to fighters from the Syrian Democratic Forces alliance on Friday.
"My husband works in Lebanon and hasn't seen his son except once, in a photo sent on WhatsApp, because Daesh prevented all communication," she says.
"I desperately wanted him to see his son, but IS (Daesh ) prevented him from returning to the village," she says, without explaining why the group insisted on preventing contact.
Her tired face suggests the separation has been taxing.
"He was not at my side during the most difficult moments," she says.
The camp is dominated by women, some pregnant, and children, with relatively few men among them.
All around, women sit on the dusty ground, some breastfeeding babies, while older children with dirty, matted hair play.
Most of the displaced have not eaten in a day and are waiting for aid, while a few have beans they were able to grab as they fled towards Ain Issa.
Huda and many of the women around her didn't hide their rancor when describing their absent husbands.
"Most of the men who left to work in other countries never came back and abandoned their children," she says.
Nearby, 35-year-old Maram speaks bitterly about life without her husband, her face wrapped with a scarf that leaves only her eyes uncovered.
"I have five children. My husband works in Lebanon and remarried there, and I live in difficult conditions to provide for my children," she says.
At the entrance of the camp, members of the Kurdish Asayesh security forces inspect belongings, looking for weapons or documentation that could indicate ties to Daesh.
"Everyone undergoes this inspection because Daesh is trying to infiltrate among civilians and we will not allow that to happen," one officer says.
The women are interrogated about their ties to Daesh, with some villagers suggesting locals were lured into matrimony with extremist fighters.
"Most of the women in our village were married to militants from IS (Daesh), who seduced them with money," says Fatima Abbas, a 38-year-old from Al-Heisha, balancing her son on her knees.
"They would pay a dowry of a million Syrian pounds ($2,000) and they pampered them," she adds.
Roqaya, 25, also from Al-Heisha, says she was the target of one Daesh fighter's affections but fended off his offer of marriage in return for money.
"I refused, I hate them," she says.
In the village, the rumor spread that "when IS (Daesh) fighters go on a suicide mission, they ask their wife to marry a militant friend," she says.
"Otherwise they won't be pardoned for their sins… when they're in heaven," she says mockingly.
Daesh has reserved some of its harshest restrictions for women, forcing them to stay largely at home, moving around outside only fully covered and in the company of a male guardian.
The group has also gained notoriety for sex slavery, particularly of women from the Yazidi minority captured in Iraq and traded in IS strongholds including Raqa by the Sunni extremists who consider their sect to be devil worshippers.
Daesh now faces the prospect of losing both its remaining strongholds, as fighters target Raqa and the group's Iraqi bastion Mosul. — AFP
http://saudigazette.com.sa/world/mena/abandoned-syrian-women-fend-alone-daesh-rule/
-------
IS recruit mentions Indian woman in Mosul: NIA
VIJAITA SINGH
November 14, 2016
The arrested man from Tamil Nadu allegedly told investigators about a couple from Maharashtra in the war zone
In a first-ever confirmation of an Indian woman's presence in the Islamic State(IS)-held territory in Iraq and Syria, a Tamil Nadu resident, who fought for the terrorist outfit in Mosul, has told interrogators that he met a couple from Maharashtra during his five-month stay there.
The accused identified as Subahani Haja Moideen (31) was arrested on October 6 by the National Investigation Agency (NIA) when he was trying to arrange explosives from Sivakasi. The NIA chanced upon him while investigating another case where six men from Kerala, inspired by the IS, were allegedly planning attacks against BJP/RSS leaders and High Court judges.
Moideen reportedly told interrogators that he was not sure whether the 'couple' were fighting for the IS.
"He told us that he met the Maharashtra-based couple in Iraq and they were the only Indians he came across in the war zone. He said he met them briefly in a public place," said a senior NIA official.
The official said that till now there has been no known case of an Indian woman in IS-held territory. In July this year, 21 people from Kerala, including three women and six children, travelled to Afghanistan to join the Wilayat Khorasan of the IS. The women travelled with their husbands.
The official said investigating agencies are trying to look into the records of missing people from Maharashtra to determine if the woman went from India or travelled via a third country, to escape detention.
Moideen had allegedly told interrogators there were hardly two to three Indians in the war zone and India was not the immediate target of IS leaders.
Returns from carnage
"He was a low ranking cadre but says that whatever information he gathered did not suggest that the IS leaders had any plans for India. They were more interested in targeting western countries," said an NIA official. Moideen left India in April 2015 but came back in September 2015 after telling the Indian authorities in Turkey that he had lost his passport. Till he was arrested, the authorities here did not know that he fought for the IS in Mosul. He told interrogators that he decided to return as he could not withstand the violence and war misery in Mosul, after he saw two of his friends getting charred during shelling.
More than 60 Indians have been arrested in the past two years for IS links and 25 Indians have already travelled to Syria to fight alongside the IS.
http://www.thehindu.com/news/national/is-recruit-mentions-indian-woman-in-mosul-nia/article9341153.ece
-------
How Muslim Women Differ All Over the Globe
11/14/2016
How does the role of women in the public sphere differ between Islamic and non-Islamic societies? originally appeared on Quora - the knowledge sharing network where compelling questions are answered by people with unique insights.
Answer by Dalia Mogahed, Director of Research, Institute for Social Policy and Understanding (ISPU), on Quora.
Just a few points to start off: There are no "Islamic countries" as in countries that are in perfect compliance with Islam's normative teachings. There are certainly Muslim majority countries however, so I will answer the question based on this. Muslim majority countries, more than 56 of them, are widely diverse. One cannot make a single general statement on the role of women that would apply everywhere. Bosnia is different from Yemen is different from Indonesia. What I can say however is this: The status of women in any country, including Muslim majority countries, is more the product of human development than religion. We love to blame religion for everything and it's not hard to understand why. When fathers marry off their child in Yemen, they may say Islam allows this. Yet, other factors predict child marriage far more than religion. In Yemen, 52% of girls are married before 18. However, in Algeria, the average age of marriage for women is higher than it is in the US (female general public). The difference between Yemen and Algeria is education and economic development, not Islam.
To further illustrate this point, American Muslim women are among the most educated women in America, more likely than the general public to hold a higher degree and to work outside the home in a professional job. Same religion, but different economic and educational opportunities. If you want to help women in the so called "Muslim world", work on human development, not religion.
That said, misogynistic interpretations of Islam exist and are used to justify anti-women policies and practices. It is the role of Muslims to challenge these within the tradition. Western advocates for Muslim women support this effort by listening to these activists and scholars, not by preaching to them. Demonizing a faith that women overwhelmingly revere emboldens the enemies of women's equality.
http://www.huffingtonpost.com/quora/how-muslim-women-differ-a_b_12969078.html
-------
Disturbing video of kidnapped Afghan kid goes viral
Nov 14 2016
A disturbing video which purportedly shows a kidnapped a child has gone viral and is widely being shared in media since last week.
The video which apparently emerged for the first time a month ago, has started to catch attraction in media, specifically in social media during the recent days.
A bare child is shown in the video as he cries and makes to plea to her mother to rescue her.
According to reports, the child was kidnapped from the 3rd police district of Farah city and his captors have reportedly asked for a ransom of $100,000.
Identified as Naweed, the child was taken by the kidnappers nearly 40 days ago as he was standing in front of his house, his father Abdul Jalil said.
Kidnap for ransom cases still continue in parts of the country despite the Afghan intelligence nabbed two MAFIA bosses involved in major kidnappings who were later executed by the government.
The two top MAFIA leaders, Habib Istalif and Raees Khudaidad, were executed late in 2014 and early in 2015 after they were arrested by intelligence operatives.
In the meantime, a provincial council member was sentenced to death by a primary court in western Herat province of Afghanistan after he was found guilty of kidnappings and murder.
The provincial council member, Askar Anwari, was sentenced to death during a court hearing last month as he was present with his four other colleagues.
http://www.khaama.com/disturbing-video-of-kidnapped-afghan-kid-goes-viral-02278
-------
Women who married Afghan men stage protest in Peshawar
November 15, 2016
PESHAWAR: Pakistani women who have married Afghan men staged a protest on Tuesday claiming that their husbands have been deported to Afghanistan.
The women said that they had been left alone to fend for their children. Some said that they were starving with their sole breadwinner deported.
The protesting women demanded that the government save their future and give Pakistani nationality to their husbands.
The Pakistan government has launched a clampdown on foreign nationals holding fake national identity cards. This month Nat-Geo famed Sharbat Gula was also deported to Afghanistan.
https://www.geo.tv/latest/120612-Women-who-married-Afghan-men-stage-protest-in-Peshawar
-------
'Children Of A Lesser God?' Transgender Woman Targeted In Brutal Pakistan Attack
November 14, 2016
A harrowing video that shows a group of men beating a transgender woman is being shared widely on social networks in Pakistan, shining a spotlight on violence targeting the long-oppressed community.
Police arrested 10 suspects on November 14, after the two-minute clip posted on the Internet over the weekend prompted calls for action.
The video shows a man pinning the transgender woman face down on a bed with his foot and beating her bare buttocks with what appears to be a leather belt. The victim can be heard whimpering and then screaming in pain.
Another man also flogs the victim, who is wearing a red sari, a traditional dress worn by women on the subcontinent. Another man can be seen twisting the arm of the victim. Several other men, and several transgender women, can be seen standing around watching the brutal beating.
The arrests on November 14 were made in the eastern city of Sialkot, in Punjab Province. Police said five of those arrested have been charged with torture and extortion, while the other five were under investigation.
Pakistan's Express News identified the main suspect as Jajja Butt.
TransAction, a local transgender rights group, posted a video interview with a transgender woman who identified herself as Julie and who said she was also abused and witnessed the attack.
"We were beaten up and gang raped all night," a visibly shaken Julie said in a video on Facebook. "They hit us with shoes, spat on our faces, and made us drink their urine," she added, while claiming that the torture continued for the entire night.
"This country has laws for everyone, even animals, but not for us. Are we children of a lesser God?" Julie asked.
Transgender people, known officially as "third gender" citizens in Pakistan -- a group that includes cross-dressers, transsexuals, eunuchs, hermaphrodites, and transvestites -- face widespread violence, intimidation, and abuse.
The community, estimated to number around 500,000, is known in the Urdu language as "hijras."
In recent years, the minority group has made groundbreaking gains in Pakistan, a deeply conservative country where ethnic, religious, and sexual minorities have often been victims of violence and persecution. Yet those gains have done little to hide the difficult life facing the third-gender citizens.
Many describe themselves as "professional wedding dancers," but supporters say they are many times forced to earn income through begging and prostitution. Often dressed in brightly colored saris and wearing heavy makeup, some roam the streets asking people for money, making them targets for extortion, sexual violence, and other crimes.
They also often show up uninvited at major family gatherings such as weddings and birthdays, singing and dancing until they are paid or given gifts, after which they depart. Transgender people are often seen as a sign of good luck in such ceremonies, while the curse of an unappeased transgender person provokes fear.
Following their official third-gender classification handed down by the Supreme Court in 2011, members of the community were granted the rights to vote and run for office.
The roots of the transgender people on the subcontinent go back centuries, to the time of the Mogul emperors, who kept transgender people as courtesans and caretakers of their harems. Some transgender people held important roles in the courts, held influence over the affairs of the state, and also acted as confidants to their masters.
But with the disintegration of the Mogul empire and the advent of British colonial rule in the 19th century, their status diminished and their ensuing neglect forced many to the fringes of society.
http://www.rferl.org/a/pakistan-video-transgender-woman-beaten-social-media/28116587.html
-------
URL: https://www.newageislam.com/islam,-women-and-feminism/new-age-islam-news-bureau/convert-represents-russia-at-all-women-quran-contest/d/109107
New Age Islam, Islam Online, Islamic Website, African Muslim News, Arab World News, South Asia News, Indian Muslim News, World Muslim News, Womens in Islam, Islamic Feminism, Arab Women, Womens In Arab, Islamphobia in America, Muslim Women in West, Islam Women and Feminism, Moderate Islam, Moderate Muslims, Progressive Islam, Progressive Muslims, Liberal Islam