New Age Islam News Bureau
3 Jun 2015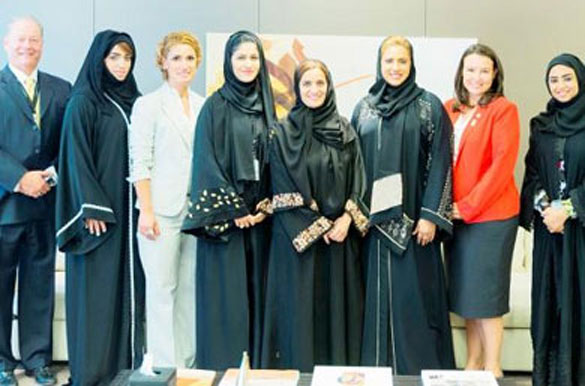 Sheikha Lubna Bint Khalid Al-Qasimi, Minister of International Cooperation and Development, with participants of the Women in Nuclear (WiN) Chapter event in Abu Dhabi. — Courtesy photo
-------------
• Women's Rights Activist, Atena Farghadani, on Trial in Iran
• Missing Moscow Woman Believed to Have Joined Islamic State
• Tokyo Woman's Quest to Help Africa's Child Soldiers Return to Normal Lives
• Two Brides Honoured For Lowest Dowry in Al-Ahsa
• Mideast's First 'Women in Nuclear' Chapter Celebrates Anniversary
• Record Number of Americans Find Polygamy Morally Acceptable Says Gallup Poll
• 'I'm Not a Terrorist': Coast Muslim Woman Clears up Myths
• After the World's First Female Premier, Sri Lanka Struggles For Equality in Politics
• Afghanistan: Outgoing Rights Official at UN Mission Pledges Commitment to Advancing Women's Rights
Compiled by New Age Islam News Bureau
URL: https://www.newageislam.com/islam,-women-and-feminism/new-age-islam-news-bureau/conservative-cleric-calls-iran-s-veiling-policy-wrong-headed/d/103317
--------
Conservative Cleric Calls Iran's Veiling Policy Wrong-Headed
03 May, 2015
A conservative Iranian cleric has sharply criticized enforcement of the obligation for women to wear the Islamic head scarf, or Hijab, since the 1979 revolution and the creation of Iran's Islamic republic.
For more than three decades, Iranian clerics and officials --mostly men -- have praised the purported benefits of the Hijab while employing punishment, including violence, to force women to fully cover their hair and body in public.
As a result, tens of thousands of women have been harassed physically and verbally, detained, or forced to pay fines for noncompliance with the state-imposed dress code.
Enforcement usually intensifies during the hot months of summer, when hard-liners frequently call for more action against women who are pushing the boundaries by showing more hair and wearing tighter and shorter coats.
Hojatoleslam Mohammad Reza Zaeri, a former editor of the popular Hamshahri daily, agrees with his conservative fellows that hijab is a "value" that they claim keeps society safe. But he acknowledges what critics have long argued: that the policy of enforcement has been a failure.
Speaking last week on the compulsory Hijab at a seminary in Qom, conservative home to many of Iran's senior clerics, Zaeri was quoted by Iranian news sites as saying: "I strongly believe that the policy of mandatory Hijab has been totally wrong."
The cleric, who has authored two books on the Hijab, added that giving women a choice would make it easier to convince them of the perceived benefits.
"If the Hijab were free, there would have been more respect for its sanctity," Zaeri said at the May 27 seminar.
He said promotion of strict Islamic dress would be easier in Jakarta than in Tehran or Qom, for instance, because the Hijab is not compulsory in Indonesia.
He also said the popularity of the chador, which is being promoted by Iranian authorities as the "superior Hijab," has been on the decline as most women opt for scarves and short coats.
Zaeri has made similarly controversial remarks before, including in an hour-long debate focused on the Hijab that was aired on state-controlled television in March.
"It's as if I closed the door of this room and told you that you had to stay here for three hours and watch a movie, then I repeatedly explained to you that this movie had won an Oscar for its artistic value. When you're forced into [something], the praise is meaningless," he said on the show.
In a May interview with the conservative Alef.ir, Zaeri said Iran's Islamic establishment had put too much focus on the Hijab while neglecting the issue of "social justice."
He said he agreed with those who suggest that seeing women who are not properly veiled leads to "sexual excitement" among young people and "trauma and emotional abuse" in society.
But he questioned whether seeing luxury cars and homes was not a greater source of distress in a society in which many are struggling with economic problems.
In another debate held last year, Zaeri said a dialogue with what are often described as "badly veiled" women was more important that talks with the United States.
"How come we're ready to hold talks with Ashton" -- a reference to former EU foreign-policy chief Catherine Ashton, who at one point led international nuclear negotiations with Iran -- "out of necessity and compulsion but we don't see this necessity in our social issues?" he asked.
A young woman in the Iranian capital told RFE/RL that the cleric had a point.
"He's right that the policy has failed, [authorities] have failed to convince us to respect the Hijab -- we wear head scarves because we have to, not because we want to," she said.
However, she added that she believes if women were given a choice in Iran, the majority would go without the Hijab. She said that the authorities "know it -- that's why they use force."
Last month, senior Ayatollah Makarem Shirazi suggested that the Islamic establishment could not exist without the compulsory Hijab. "If one day the Hijab is removed [from Iranian society], the establishment will be removed, therefore there should be investment on the issue of Hijab," the hard-line cleric was quoted as saying on May 25.
In recent months, hard-liners critical of the social policies of Iranian President Hassan Rohani have increased their warnings about improper veiling. Rohani, a self-proclaimed moderate, has spoken in favour of the Hijab while offering some criticism of the use of force to impose it.
http://www.rferl.org/content/conservative-cleric-calls-iran-veiling-policy-headed/27049428.html
---------
Women's Rights Activist, Atena Farghadani, on Trial in Iran
03 May, 2015
Atena Farghadani, a 29-year-old Iranian painter and women's rights activist, is on trial in Tehran, Iran.
She is charged with spreading propaganda against the ruling establishment, insulting MPs and insulting the supreme leader, but she is considered by Amnesty International to be a prisoner of conscience.
She is known to have spoken against restrictions to access to contraception, for meeting with the families of political prisoners, and for drawing cartoons deemed insulting to the Iranian regime and leaders.
She was previously arrested in August 2014, liberated in December 2014 and arrested again in January 2015 for posting a Youtube video describing her maltreatment while being imprisoned:
"One of the guards opened the cell door violently ... and shouted 'take off your clothes'. I told them that what they were doing was illegal," she said in the video. "One of the guards who swore a lot, held my hands up, because I was resisting the body search... My right hand hit the wall and my wrist became swollen and bruised... I told them that I was on 'dry' hunger strike and that I would file a complaint. One of them told me 'Shut your mouth or I will hit you so hard that your mouth will be full of blood.'"
http://www.huffingtonpost.com/womens-rights-news/womens-rights-activist-on-trial-in-iran_b_7492150.html?ir=India&adsSiteOverride=in
---------
Missing Moscow Woman Believed to Have Joined Islamic State
03 May, 2015
A 19-year-old Muscovite student has run away to Turkey in an apparent attempt to join the ranks of the Islamic State terrorist organization in neighboring Syria, her father told The Moscow Times on Tuesday.
Varvara Karaulova, a second-year student of philosophy at the city's prestigious Moscow State University, left Moscow on a one-way ticket to Istanbul last Wednesday. Pavel Karaulov, her father, says his daughter left the apartment she shared with her mother in the middle of the day and gave no indication that she would not be home for dinner that night.
The student, whom her father described as an introvert, was last seen at Istanbul's Ataturk Airport and is thought to have gone from there to join a terrorist group in neighboring Syria or Libya. Her current whereabouts are unknown.
РЕКЛАМА
Karaulova's mobile phone was last traced to a location near the Turkish border with Syria, according to an unnamed source in Russian law enforcement cited by the Gazeta.ru news site Monday.
The student's disappearance comes in the wake of numerous reports that a number of teenage girls from other countries, including Britain, France and Germany, have joined the Islamic State. The story of the philosophy student represents the first high-profile suspected Islamic State recruitment case in the Russian capital.
Karaulova's parents filed a missing persons report with the Moscow police last Thursday, never dreaming that their daughter could have headed for the Islamic State, a terrorist organization that has gained control of large swaths of territory in Iraq and Syria, leaving a trail of shocking executions in its wake. Karaulov said he had not noticed any suspicious behavior in his daughter, who had been baptized into the Russian Orthodox Church, but said he had learned from her classmates since her disappearance that she had been wearing traditional Islamic clothing at the university, apparently changing her clothes after leaving her Moscow apartment.
The press attache of the Russian Consulate General in Istanbul, Andrei Yegorov, told The Moscow Times that Russia's diplomatic representation in Turkey was using "all methods" available to find Karaulova, but declined to elaborate on the details of the search operation.
Yegorov also refused to speculate on the objective of Karaulova's trip to Turkey, but said that information about it could emerge in the future.
A Broken Chain
Karaulova was brought up in the Russian Orthodox faith, according to her father, and wore a cross around her neck until recently.
Karaulov said he noticed in mid-April that his daughter was not wearing the religious pendant that had always hung around her neck.
"She told me the chain had broken," Karaulov told The Moscow Times in a telephone interview on Tuesday, his voice breaking. "I told her we would have it fixed."
The philosophy student was interested in Arabic studies and read extensively on the topic, according to Karaulov. She had started learning Arabic in September. As part of her degree, Karaulova studied world religions.
"She read about Islam," Karaulov said. "But she also read about Russian Orthodoxy and other religions. It was part of her program. I didn't think anything of it."
A representative of Moscow State University's philosophy faculty said they were unable to comment on the missing student on Tuesday.
Karaulov, who plans to travel to Istanbul to assist in the search for his daughter, said he did not know how she had obtained the necessary funds to pay for her trip to Turkey.
He said at the time of her disappearance, he did not even know his daughter had valid travel documents, but subsequently learned through personal connections at the Foreign Ministry and the Federal Security Service (FSB) that his daughter had applied for and received an international passport.
No Trend
Russian media speculated this week that Karaulova could have been lured into abruptly abandoning her studies in Moscow by romantic promises of marriage from a radical Islamic fighter she could have met on the Internet.
Karaulov made no mention of this theory in Tuesday's phone interview. Last week, he wrote on his Facebook page that his daughter must have been under "serious mental pressure" from extremists.
Alexander Verkhovsky, head of the SOVA Center, a Moscow-based think tank specialized in extremism, said that teenage girls did not necessarily need to become enamored with a radical to join an extremist group. He said that conversions with a romantic aspect are in fact a rarity and that the roots of terrorist recruitment in Russia stretched far beyond the recent media coverage.
"Recruitment by terrorist groups in Russia did not begin with the emergence of the Islamic State," said Verkhovsky. "I would not say that it has increased in Russia with the Islamic State. The phenomenon was already present in the North Caucasus," home to several impoverished, restive and predominantly Muslim regions.
Alexei Malashenko, chair of the Carnegie Moscow Center's religion, society and security program, said it was too early to conclude that Karaulova's case was part of a broader trend of Russian teenagers being recruited to join the Islamic State.
"We know that men from [the Russian republics of] Chechnya and Dagestan, as well as [former Soviet state] Tajikistan are fighting alongside the Islamic State," Malashenko said. "But we don't know what the women who reportedly head to join the organization actually do. There is no information coming from the other side. In two or three weeks, if a similar case [to that of Karaulova] occurs, then we could start pondering whether this is becoming a trend."
Southern Precedents
Although Karaulova is the first Moscow woman reported to have left for Syria, there have been a handful of recent cases in which teenage girls from Russia's North Caucasus have reportedly become ensnared in international terrorism.
Petimat Oisayeva, an 18-year-old Chechen, was detained in the southern Russian city of Nalchik in April as she was heading to Syria to join her Chechen fiance, who had been fighting alongside an unidentified militant group there, Russian media reported at the time.
In January, 18-year-old Diana Ramazova, a native of Russia's restive republic of Dagestan, carried out a suicide bombing outside a police station in central Istanbul, killing one policeman. She had reportedly married an Islamic State militant who was killed in Syria in December 2014.
Syria's ambassador to Moscow, Riad Haddad, said in December 2013 that some 1,700 Chechens were fighting in his country, the Kavkazsky Uzel (Caucasian Knot) news site reported. That figure was significantly higher than an estimate made in May 2014 by FSB head Alexander Bortnikov, who said that some 200 Russians had joined armed groups in Syria.
In March, the Kremlin's envoy for the North Caucasus, Sergei Melikov, said that about 1,500 people from Russia's North Caucasus region were fighting alongside the Islamic State and other militant groups in Syria and Iraq.
Individuals suspected of financing or preparing to join the Islamic State have faced criminal charges in Russia. The Interior Ministry's anti-extremism department said in March that criminal cases had been opened against 300 people suspected of having joined terrorist organizations abroad.
Individuals found guilty of participating in foreign armed conflicts face up to 10 years behind bars under Russian law.
http://www.themoscowtimes.com/news/article/missing-moscow-woman-believed-to-have-joined-islamic-state/522939.html
---------
Tokyo woman's quest to help Africa's child soldiers return to normal lives
03 May, 2015
A UNICEF child protection officer from Japan is helping child soldiers in the Central African Republic return to society and lead normal lives.
"We hope that they will return to being normal children and be allowed to play and laugh freely," Ryoko Ogawa, 35, said during an interview in Tokyo.
The African nation has been mired in conflict between Muslim and Christian armed groups until recently, with about 10,000 children under 18 forced to serve as soldiers and others falling victim to abductions. But in a hopeful development, the two sides reached a cease-fire in early May and agreed to release their child soldiers.
"Many of the children at first show no emotion, but start displaying lively expressions several months later," Ogawa said in describing the most rewarding aspects of her job at the U.N. Children's Fund.
Children were forced to fight on the frontline and also had to transport goods or engage in spying, she said. Girls sometimes became victims of sexual assaults.
"We are trying to make them feel they can relax through sports, dancing and drawing," she said.
After having worked for a travel agency and the Foreign Ministry, Tokyo-native Ogawa moved to the Central African Republic as a UNICEF child protection specialist in February 2014.
Her first experience of the country was being stranded at the airport after arrival as a gunfight raged nearby. "It felt like I had received a baptism of fire," Ogawa said.
She decided on a career in humanitarian assistance for children during a visit as a university student to Croatia, where she met street children. Some were smoking while others were begging for money at a station at midnight. The East European country was still reeling at the time from the effects of the Balkan wars of the 1990s.
"In Japan, I went to school and got a good education," Ogawa said. "The same educational opportunities should be offered to children (in the Central African Republic) for the future of the country."
Ogawa said she has become used to life in Africa but is still frightened by indigenous worms. For a change, she enjoys watching DVDs at home of comedy shows she brought from Japan.
http://www.japantimes.co.jp/news/2015/06/03/national/tokyo-womans-quest-help-africas-child-soldiers-run-free/#.VW6ZV9Kqqko
---------
Two brides honoured for lowest dowry in Al-Ahsa
03 May, 2015
JEDDAH: The Charity Society for Simplifying Marriage and Family Care of Ahsa honored two brides who demanded the lowest dowry, with a cash award of SR15,000, in a mass wedding function in the Eastern Province on Monday evening.
Al-Ahsa Gov. Prince Badr bin Jalawi attended the function in which 420 brides and grooms — the largest number so far — participated.
The event aims to contribute toward a sound basis to start stable families.
The events of the day included a grooms' march accompanied by folk songs and performances with audience interaction. The youngest groom with the lowest dowry was a youth with special needs. There were also prize draws for household utensils and gold jewelry.
Nasser Al-Nuaem, chairman of the society, said mass marriages promote the values of cooperation and social solidarity between different social categories in the Kingdom. They also clearly signify the commitment of business establishments and their owners to the responsibility toward their fellow citizens, he added.
Adel Al-Khoufi, director-general of the charity, said the event registered a 400 percent leap in the number of couples compared to the last three years.
"The current celebration underscored the bold step we have taken since the last two years, as we did not keep any couple in the waiting list," he said.
The society has so far organized 13 mass marriages, which benefitted 1,904 young men and women, at a total cost of SR13,880,000 since its humble beginning 10 years ago. A total of 40 men and women had participated in the first collective marriage.
Al-Khoufi said that Monday's mass marriage was the largest of all the 13 events the society has arranged in the Eastern Province.
http://www.arabnews.com/saudi-arabia/news/756181
---------
Mideast's first 'Women in Nuclear' chapter celebrates anniversary
03 May, 2015
Abu Dhabi — The Emirates Nuclear Energy Corporation (ENEC) this week celebrated the first anniversary of the region's first Women in Nuclear (WiN) Chapter, the global organization that supports the role of women in the nuclear industry around the world.
Established in 2014, ENEC's WiN Chapter is the first of its kind in the Middle East and is supported by Sheikha Lubna Bint Khalid Al-Qasimi, Minister of International Cooperation and Development.
"I am extremely proud to be supporting the ENEC WiN Chapter," said Sheikha Lubna.
"Developing women in such an important industry that will enhance the future social and economic growth of our nation is innovative as well as necessary. Women have an important role in communicating the benefits of nuclear energy and reassuring society on the facts about health and safety. The UAE's commitment to on-going development is recognized internationally as setting a high standard," she added.
ENEC's WiN Chapter marked its first anniversary with two industry events held in Abu Dhabi and at ENEC's Barakah site in the Western Region of Abu Dhabi, held under the sponsorship of Westinghouse Electric Company – one of the subcontractors of ENEC's Prime Contractor, the Korea Electric Power Company (KEPCO).
The event saw a gathering of industry leaders, and included opening speeches from Jeff Benjamin, Senior Vice President of New Plants and Major Projects, and Joni Falascino, Vice President of Project Delivery in the New Plants and Major Projects, at Westinghouse – who together have more than 50 years of experience in the nuclear industry.
"To safely deliver a project of the scale and complexity of the UAE peaceful nuclear energy program it takes a large and diverse team, and I am proud that of our 1400 employees today, over 21 percent of these highly skilled professionals are female, more than the global average of just over 20 percent for females in nuclear professions worldwide," said Mohamed Al-Hammadi, ENEC's Chief Executive Officer.
ENEC also supports an increasing number of female students through its Energy Pioneers scholarship program – the future nuclear energy leaders who will oversee safe operations of the country's first nuclear energy plant when it begins operations in 2017. Currently over 29% of students in ENEC's educational programs are female, with that figure increasing to 34% in the Higher Diploma in Nuclear Technology (HDNT) program.
"These talented females are playing an active role in delivering a project that will have a direct and lasting impact on the continued growth and development of our nation, contributing to an industry that will deliver up to a quarter of the nation's energy needs by 2020. ENEC is committed to providing a world-class and supportive working environment for all our employees, and the success of our WiN Chapter over the past year is yet another example of how we are bringing this vision to life," added Huda Al Hashimi, ENEC's Group External Affairs Director.
By 2020, ENEC will need approximately 2,000 employees to operate its four nuclear plants at Barakah, in the Western Region of Abu Dhabi, with 60 per cent of these roles to be filled by Emirati women and men. Construction of the UAE's first nuclear energy plant continues to progress safely and steadily at Barakah, with Unit 1 now over 70% complete and all four units more than 45% complete. By 2020, ENEC's four plants will provide up to a quarter of the UAE's electricity needs, and save up to 12 million tons of carbon emissions annually.
http://www.saudigazette.com.sa/index.cfm?method=home.regcon&contentid=20150603245923
---------
Record Number of Americans Find Polygamy Morally Acceptable Says Gallup Poll
03 May, 2015
A growing number of Americans consider polygamy morally acceptable, according to the latest poll.
The percentage has more than doubled since 2001, according to the results of a Gallup survey tracking opinions on moral issues since the early 2000s. In 2001, only 7% of Americans deemed polygamy morally acceptable; it's now up to 16%.
The rate of acceptance is growing the fastest among almost all other social issues Gallup tracks, including attitudes toward abortion, gambling and stem cell research. Even more intriguing is that Yanks are more accepting of polygamous marriages than of extramarital affairs in monogamous marriages.
The idea is still far from popular, but it is gaining momentum, and some supporters see a possible future when having many mates could become legal just as gay marriage is in a growing number of states, the Daily Beast reports.
Polygamy could become legal in US by 2040
Conservative New York Times columnist Ross Douthat predicted that polygamy could be legalised in the US as early as 2040 given the growing rate of acceptance.
Observers credit increased acceptance in part to popular TV series like Sister Wives and Big Love for broaching the long-taboo subject and bringing it into Americans' living rooms.
Estimates place the US polygamous population at up to 100,000 people, mostly in fundamentalist Mormon and Muslim families. But continuing concerns about the practice are linked to studies revealing detrimental impacts for women and children — including domestic abuse and paedophilia — as well as for lower-status men who tend to be shut out of marriage in polygamous communities.
The vast majority of polygamous families in the US and around the worldwide are polygynous (men with more than one wife) rather than polyandrous (women with more than one husband).
The high-profile trials of Warren Jeffs, leader of the Fundamentalist Church of Jesus Christ of Latter-Day Saints in Texas and Utah, on charges of rape and child abuse, revealed the dangerous side of polygamy.
Teenage boys stepped forward during Jeffs's trial to tell the media about being ousted from the community with little support so they wouldn't compete with older men for young brides. Jeffs was sentenced in 2011 in Texas to life in prison for having sex with under-age girls whom he took to be his "spiritual brides." Prosecutors said Jeffs took a total of 78 plural wives, including several as young as 12.
http://www.ibtimes.co.uk/record-number-americans-find-polygamy-morally-acceptable-says-gallup-poll-1504105
---------
'I'm not a terrorist': Coast muslim woman clears up myths
03 May, 2015
ISLAMIC convert and Nambour resident Chloe Sinclair is fed up with hearing hate-filled criticism of her religion.
"I know it can be confronting but instead of keeping misinformed hatred, I'd like people to approach me and kill their curiosity," she said.
"I'd love to answer their questions as a Muslim, true blue Australian."
These are some of the most common questions strangers on the Coast ask Chloe:
Does your husband force you to wear the hijab?
A: No. He himself actually had to come to terms with my decision to cover as it isn't common for the women in his home country to cover how I have.
Are you a terrorist?
A: No I am not a terrorist and do not intend on becoming one. This is a common misconception. Nothing in my moral or religious being encourages me to terrorise people.
Where are you from?
A: I'm Australian - born and raised on the Sunshine Coast. Most people will continue with "yeah, but where are you originally from?" which is hard to answer. Islam isn't a country but a religion and Muslims come from all over the world.
What made you become a Muslim?
A: When I first encountered Muslims, I was told a lot of misleading stories. I wanted to clarify for myself what this religion was about and researched to find that the religion held answers. Learning more about Islam only helped deepen my understanding of life, what our purpose is and how we should live it.
How do your family cope with your differences?
A: Thankfully for me, God blessed me with a very understanding family. Any decision I've made in my life has been totally supported and encouraged by my family. My specific diet has been the only difficult thing to overcome as pork was something we all enjoyed but they are mindful and trust my decisions. They have also seen a positive outcome of me finding the religion through my behaviour.
http://www.sunshinecoastdaily.com.au/news/these-are-some-of-the-most-common-questions-strang/2659578/
---------
After the World's First Female Premier, Sri Lanka Struggles For Equality in Politics
03 May, 2015
COLOMBO, Sri Lanka – Sri Lanka elected the world's first female prime minister in 1960 but four decades later the island nation is still struggling to achieve equal representation for women in politics.
Fresh electoral reforms, which include combining the proportional representation and first-past-the-post system, promised by its new government could be the answer to the female shortfall.
Though women's rights campaigners say the changes are not legally binding and fail to introduce a quota system, which they argue is essential to achieve equality in Parliament.
In 1931, Sri Lanka became the first country in Asia to give women the vote.
By 1960, Sirimavo Bandaranaike was appointed as the island's sixth prime minister, the first woman in the role. She served three terms and retired from office at the age of 84. Her daughter, Chandrika Bandaranaike Kumaratunga, became Sri Lanka's first woman president in 1994 and completed two terms in power. After blazing a trail, albeit a dynastically driven one, female representation in wider Sri Lankan politics has remained abysmally low, say rights' advocates.
In Parliament, the percentage of women hasn't gone above 6.5% since independence in 1948. Currently only 13 out of 225 parliamentary members are women – that's just 5.8%.
In provincial councils, women's representation has never exceeded 6%. For local councils, the statistics are even more dismal, with women's representation hovering between 1 to 2%.
Slow progress in political empowerment has also damaged the country's attempts to bridge the gender gap. In 2014, Sri Lanka slipped 24 places in the global Gender Gap Index published by the World Economic Forum, despite scoring well on education and healthcare, ending up 79 out of 142 countries.
"Transformation of the current political culture is crucial to create an environment in which women can equally run for political office," said gender rights activist Kumudini Samuels and director of Sri Lanka's Women and Media Collective. Legally binding mandatory provisions for elected bodies and political parties that include compulsory nominations, closed lists and reserved seats have been successfully used worldwide to increase women representation, she argues.
Over a 100 countries have used quota systems to raise political empowerment, including Sri Lanka's neighbours Pakistan and Afghanistan. But such reforms have received little attention from local legislators.
Sri Lanka's six-month old government is scrambling to push through electoral reforms in Parliament before calling for elections. Minority rights have received significant attention resulting in proposals to increase the present 225 seats in Parliament to 255 to accommodate more Tamil and Muslim legislators. But Ms. Samuels says little has been done to provide sufficient representation for women who make up 52% of Sri Lanka's 20 million population.
The reform process to include women has also been criticised for lacking transparency, despite verbal support from both Prime Minister Ranil Wickremesinghe and Elections Commissioner Mahinda Deshapriya.
Female representation is an issue that is usually dropped by the wayside, acknowledges Deputy Foreign Minister Ajith Perera.
"Previous women political leaders were appointed because of the power of dynastic politics in Sri Lanka. Now we must look at how professional middle-class women can climb the ranks," Mr. Perera said. Perera was the only politician to propose a quota system but it has received little traction with political parties.
Outside of politics women have done better. Female adult literacy levels have consistently hit 90% or higher with those in the 15-24 age bracket reaching 99%. Girls also outnumber boys in secondary education and 60% of undergraduates are women, according to the Census and Statistics Department.
Even though women make up only 35.5% of the 8.8 million-strong labour force, many more are employed in the informal sector. Agriculture is the largest employer of women at 33.9% while 42% work in the services field and just under one in four women are engaged in industries. As many as 600,000 women employed as migrant workers earned US$6 billion in 2014, helping to make remittances the highest foreign exchange earner.
The government says proposals to increase nominations and appoint women to non-elected seats of parliament have been included in the latest set of amendments. Yet these are not legally binding and only call on political parties to "consider" women representatives.
"These measures will allow more women to enter Parliament," said government spokesman and Health Minister Dr. Rajitha Senaratne, "even the [male] MPs will be more enthusiastic to come to Parliament now," he quipped.
http://blogs.wsj.com/indiarealtime/2015/06/03/after-the-worlds-first-female-premier-sri-lanka-struggles-for-equality-in-politics/
---------
Afghanistan: outgoing rights official at UN mission pledges commitment to advancing women's rights
03 May, 2015
While the outgoing senior United Nations rights official in Afghanistan said she expected the human rights advances made "will be sustained, will not be rolled back, and will not be sacrificed," she lamented the high level of violence against women and the need for the Government to do "much more" for women's rights.
Georgette Gagnon, Human Rights Director of the UN Mission to Afghanistan (UNAMA), also said in an interview released today, that while UNAMA's work did result in government and international forces adopting procedures to limit their actions' impact on civilians, the figures of civilians killed or injured is higher in 2015 than at any previous recorded stage in the conflict.
Speaking after completing more than five years as senior UN human rights official in Afghanistan, she said "civil society in Afghanistan is vibrant; it is very human-rights based and human-rights friendly, and it is taking forward the human rights struggle here."
"That, of course, is very encouraging," Ms. Gannon said.
But Ms. Gagnon referred to the case of Farkhunda, the Afghan woman who was brutally murdered by a Kabul mob on 19 March and whose death prompted calls within and outside Afghanistan for authorities to protect women's rights.
"Many women's groups and others went on the street to demonstrate for proper, prompt justice," she said. "Unfortunately, there has not been proper, prompt justice." "There still are many serious issues with women's rights," she said. "The level of violence against women is still high; the government does need to do much more to address it."
In the interview, Ms. Gagnon said highlighted positive and encouraging indicators against a backdrop of enormous challenges posed by conflict, as well as by the complex political and economic situation.
"We're expecting that the gains made will be sustained, will not be rolled back, and will not be sacrificed," she said.
She noted that civil society groups, in particular, are advancing the human rights struggle in Afghanistan.
Ms. Gagnon also spoke about critical issues for Afghanistan, such as civilian protection during armed conflict, children in conflict, women's issues, detention practices and peace and reconciliation initiatives.
On protection of civilians, she said that, during the last five years, UNAMA had dedicated resources to meticulously documenting the impact of the conflict on civilians across the country to get the parties to the conflict to take concrete steps to mitigate the effects on civilians – to protect lives.
Ms. Gagnon described how the United Nations continues working with all parties to abide with their national and international obligations to protect civilians.
"We're bringing forward our findings, our documentation, our reporting, and we're urging and putting forward recommendations, practical ways and means to reduce civilian casualties," she said. "We have regular dialogue in the field with the military actors, urging them to abide by their obligations to protect civilians – ensure they have directives in place, rules of procedure, rules of engagement that put the protection of civilians at the centre."
http://www.un.org/apps/news/story.asp?NewsID=51036#.VW6e7dKqqko
---------
URL: https://www.newageislam.com/islam,-women-and-feminism/new-age-islam-news-bureau/conservative-cleric-calls-iran-s-veiling-policy-wrong-headed/d/103317