New Age Islam News Bureau
13 March 2019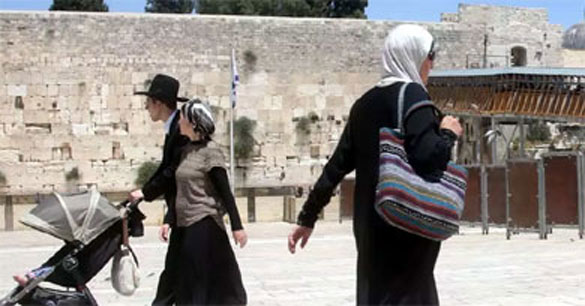 AN ARAB woman walks past a Jewish couple at the Western Wall. (photo credit: MARC ISRAEL SELLEM)
------
• Nike Star Ibtihaj Muhammad Attacks French Attitude To Sports Hijab
• Sudan Court Scraps Lashes for Nine Women Protesters, Says Lawyer
• U.S. Muslim Activist Saddened By Conflict over Women of the Wall
• Women Key to Democracy: Turkish Minister
• American Woman Stuck In Saudi Arabia Granted Residency after Years of Repression
Compiled by New Age Islam News Bureau
URL: https://www.newageislam.com/islam-women-feminism/congress-muslim-congresswomen-ilhan-omar/d/118013
--------
Congress' Muslim Congresswomen, Ilhan Omar and Rashida Tlaib, Criticize Saudi Arabia on Yemen
Umar Farooq
13.03.2019
WASHINGTON
Congress' two Muslim female lawmakers on Tuesday called out Saudi Arabia and criticized the U.S. for supplying the kingdom with weapons for its war in Yemen.
"Saudi Arabia is consistently ranked among the worst human rights abusers in the world and is responsible for famine/cholera outbreak in Yemen. Yet it is the top buyer of U.S.-made weapons," congresswoman Ilhan Omar said in a tweet. "Why is Donald Trump siding with weapons manufacturers over human rights activists?"
U.S. lawmakers have recently taken up more efforts to criticize U.S. President Donald Trump for his continued support for Saudi Arabia's war efforts in Yemen, which has left the country in ruins and created one of the worst humanitarian catastrophes in the world.
Last month, the House of Representatives voted to pass a measure to end support for the war efforts.
Saudi Arabia has been leading a coalition of countries against Yemen's Houthi rebels since 2015, when Riyadh and its Sunni-Arab allies launched a massive air campaign in Yemen aimed at rolling back Houthi gains that began in 2014.
The campaign has devastated Yemen's infrastructure, including its health and sanitation systems, prompting the UN to describe it as one of the worst humanitarian disasters of modern times.
Omar's tweet was in response to a post by fellow Muslim lawmaker Rashida Tlaib, who said Trump would "rather give Lockheed and the Saudis money for missiles," than provide funding to Medicare and Medicaid services.
Both congresswomen have been vocal about Saudi Arabia in the past, with Omar also saying "we need to reign in arms sales to human rights abusers like Saudi Arabia.
"I will not shy away of criticism of any government when I see injustice —whether it be Saudi Arabia, Somalia, even our own government!" she tweeted in January.
https://www.aa.com.tr/en/americas/muslim-congresswomen-criticize-saudi-arabia-on-yemen/1416438
--------
Nike Star Ibtihaj Muhammad Attacks French Attitude To Sports Hijab
March 12, 2019
PARIS: American Olympic fencer Ibtihajj Muhammad and representatives of her sponsors, Nike, criticized French attitudes to the hijab on a promotional visit to the country.
Muhammad was attending a long-planned event in Paris at which the US sportswear brand launched their strips for 14 nations, including the hosts, in the women's World Cup in France this summer.
In February, the American sportswear company was embroiled in a controversy when retailer Decathlon withdrew sports Nike's hijab from its French stores after one day following threats.
"I'll be in my @Nike pro hijab every damn day," Muhammad, who in 2016 became the first American to compete in a hijab in the Games, tweeted before traveling to France.
"It's sad to me that France has not joined the global conversation around inclusively, around diversity. To prohibit a company from selling a sport hijab is shameful," the Olympic bronze medallist told AFP on Monday.
"I think that it hurts much more than it helps your nation here."
Bert Hoyt, a Nike vice president, said the company were looking forward to the women's World Cup in France.
"Our goal is to provide the access for all women to have the opportunity to play sport and to play women's football," he said.
"We believe that we are at the beginning of a journey and we believe that the World Cup in June will be a tipping point for the future of the women's game."
The Nike hijab provoked a strong reaction in France.
A spokeswoman for President Emmanuel Macron's centrist party, Aurore Berge, said the sports hijab goes against French "values."
Lydia Guirous of the center-right Republicans said it went hand in hand with "the submission of women."
Muhammad disagreed.
"I think you're not a feminist if you believe that wearing a hijab is not a choice," she said. "Anyone who believes in individual rights, freedom of choice, should support women who choose to wear it.
"It's not your choice. It should be our choice.
"And anyone who sees a problem with that does not belong in sport, because sport is a place that it supposed to be inclusive of everyone, not matter where you're from, your sexual orientation, your faith, your skin color, your gender, it doesn't matter," she said.
In the French government, only Sports Minister Roxana Maracineanu supported the sale of the hijab.
"I want to go and get women, mothers, girls wherever they are and as they are, to encourage them to practice sport, because it is, I am convinced, a powerful lever of emancipation," Maracineanu said.
Muhammad's hijab is not visible once she dons her fencing mask.
"I do not necessarily need a sports hijab to practice the sport I'm doing, but I know it has made my life easier," she said.
"I hope it will help women all over the world to be more integrated by being active. There are so many stereotypes and bad perceptions that exist about the Muslim community," she said.
http://www.arabnews.com/node/1465731/sport
--------
Sudan Court Scraps Lashes for Nine Women Protesters, Says Lawyer
12 March 2019
A Sudanese court on Tuesday overturned flogging sentences for nine women for taking part in protests against President Omar al-Bashir's three-decade rule, a defense lawyer said.
The emergency appeals court scrapped a verdict issued on Saturday by a lower court which had sentenced the women to 20 lashes and a month in prison each.
"The appeals court canceled the punishment of flogging the women," defense lawyer Enaam Atieg told AFP.
The court ruled that the women had already spent enough time in jail and ordered their immediate release, she said.
"Banned demonstration"
They were arrested on Thursday for participating in a "banned demonstration" earlier in the day in the capital's eastern district of Burri, a site of regular protests against Bashir's rule.
The authorities have set up special emergency courts to investigate violations of a nationwide state of emergency, imposed by Bashir on February 22 after an initial crackdown failed to suppress the protests.
On Monday, Sudanese parliament approved a six-month state of emergency across the country instead of a year as originally declared by Bashir.
The president also banned all unauthorized rallies and gave sweeping powers to security forces for carrying out raids and searches.
Bashir has dissolved the federal and provincial governments, and appointed 16 army officers and two security officers from the National Intelligence and Security Service as governors of the country's 18 provinces.
Protests initially broke out in Sudan on December 19 following a government decision to triple the price of bread.
They quickly mushroomed into nationwide demonstrations against Bashir's rule, with crowds calling on the 75-year-old leader to step down.
Bashir himself has acknowledged that the protests were led by youths, the majority of them women.
Officials say 31 people have died in protest-related violence so far, while Human Rights Watch says at least 51 people have been killed including children and medics.
https://english.alarabiya.net/en/News/middle-east/2019/03/12/Sudan-court-scraps-lashes-for-9-women-protesters-lawyer-.html
--------
U.S. Muslim Activist Saddened By Conflict Over Women Of The Wall
MARCH 13, 2019
Soraya Deen, a Muslim woman from California, was present on March 8 when scuffles broke out between ultra-Orthodox worshippers at the Western Wall in Jerusalem and members of a Jewish women's group who have been seeking the right to pray at the holy site in their own – decidedly non-Orthodox – way.
"When I heard that for 30 years, the Women of the Wall were agitating for this change, it really made me sad because I always looked up to my Jewish reformist community to lead me in a lot of activism," Deen told The Media Line. "I didn't know they were stuck here with this deep-rooted unwillingness by the ultra-Orthodox to change."
The prayer service was part of a regular activity by the Women of the Wall to mark the start of each Hebrew month. It was also part of the organization's celebration of 30 years since its founding, and Deen, an interfaith activist, had been invited to take part.
"No matter where we live, women's struggles are the same, and some of these struggles are deeply entrenched in religious dogma," she said.
Anat Hoffman, who chairs Women of the Wall, told The Media Line that "we are at the top of the agenda of religion and state in Israel. Women wearing tefillin [phylacteries] and tallitot [prayer shawls], and reading from the Torah, is now considered local custom."
Hoffman was referring to Jewish religious traditions generally practiced only by men.
The women's group felt moved to lodge a complaint criticizing police for their failure to protect the participants at the Western Wall service.
A founder of the Muslim Women Speakers Movement, Deen, from the Los Angeles area but a native of Sri Lanka (where she has served on the National Women's Political Caucus), became an interfaith activist after her son was bullied and called a terrorist.
She began speaking at events held by the Muslim community but grew frustrated that she could not speak in her own mosque, so she decided she wanted to be part of an effort to expand Muslim reforms in the U.S.
"There is a kind of apathy in the Muslim community because we are taught that Islam is the last and most perfect religion, and nothing in the Koran needs to be altered," she told The Media Line. "What we are saying is that we need to change ourselves. We don't necessarily have to alter the Koran, but let's adjust the way we think about it."
Deen particularly wants to change how women are treated within Islam, advocating against polygamy and female genital mutilation (FGM). She also wants women to be able to speak in holy places and lead prayer.
She described going to a Paris mosque with her daughter last year and being forced to cover her hair and dress in a certain way, saying the experience gave her the impression that "there are men leading our mosques that might know something about the text, but they have no understanding of the context."
At interfaith events, she made Jewish friends who advocated on her behalf, which in turn spurred her to speak out against anti-Semitism.
"It was a personal crusade for me to really educate Muslims that [distrusting the Jewish community] is a value that should not be taught," she said.
Her efforts have not been without consequences within her community.
"I'm called an Islamophobe and a Zionist, so this is not easy work to do," she explained.
Deen said that by joining in the anniversary celebrations of the Women of the Wall – and witnessing the disturbances – she learned that women have to demand power.
"No one," she explained, "will ever come to a woman and say, here, have some power. Do you want it?"
She added that this proved a need for more women in politics, including in Israel.
"If this was the case, [the situation at the Western Wall] wouldn't be this bad," she proclaimed.
The Women of the Wall's 30th anniversary celebrations over the weekend included an awards ceremony. Among those honored were some of the Israeli paratroopers who captured the Wall area and other parts of Jerusalem in 1967.
"We won over the Jordanian Army, but we didn't liberate the Kotel," Micah Eshet, one of the paratroopers, told The Media Line, using the Hebrew word for Western Wall. "The Kotel is still in captivity, held by the extreme-right Orthodox under the protection of [Israel's] Chief Rabbinate and government."
https://www.jpost.com/Israel-News/Altercation-during-womens-service-at-Western-Wall-saddens-US-Muslim-583275
--------
Women Key to Democracy: Turkish Minister
Umar Farooq
13.03.2019
WASHINGTON
The representation of women in public is one of the key principles for democracy, Turkey's minister of labor, social services and family said Tuesday.
Zehra Zumrut Selcuk said equality between men and women is strengthened in Turkey, where legal reforms are being made to not only gender equality, but to make sure there is "zero tolerance towards violence against women."
She spoke in New York at a conference, "the Role of Women-Friendly Policies in Empowerment of New Generations", organized by Turkey as a part of the UN's 63rd Session of the Commission on the Status of Women.
Selcuk said there were training programs conducted on combating violence against women throughout his country, and 120,000 police officers, and more than 100,000 health care professionals had taken part.
The minister outlined "the Strategy Paper and Action Plan on Women's Empowerment", a five year plan to ensure women's equal access to rights and opportunities.
As of 2017, Turkey ranks 69th in the world in gender equality, a rank the UN noted as being 'high human development'.
And according to data from the World Bank, the amount of salaried female workers in Turkey rose more than 20 percent between 2000 and 2017.
Other initiatives created by Turkey include: supporting young girls who want to be engineers, providing stipends to grandmothers who are taking care of grandchildren, various vocational trainings, organized seminars on financial literacy and provide benefits to working moms.
Selcuk mentioned one other program funded by the EU which planned to increase the number of babysitters for working mothers who find it difficult to get back into the workforce due to having to take care of their child.
She also highlighted the rate of women representation in Turkish parliament, which rose to 17.4 percent after last year's elections, up from 4.4 percent in 2002.
"We will continue to work resolutely in order to ensure that women take part in all spheres of life in a more active, productive and stronger way," Selcuk said.
https://www.aa.com.tr/en/americas/women-key-to-democracy-turkish-minister/1416462
--------
American Woman Stuck In Saudi Arabia Granted Residency after Years of Repression
March 13, 2019
An American teacher who was trapped in Saudi Arabia after her marriage fell apart due to the country's draconian guardianship laws that give men power over women's movements has been granted residency in the kingdom and given access to her bank account.
Bethany Vierra, who is originally from Washington state and taught at a women's university, said in a statement Sunday that Saudi officials had intervened in her case.
"I was never trying to escape Saudi Arabia," she told The New York Times, who first reported the story. "I have dedicated my life's work to this country and being a part of its growth, development and vision for its future."
In 2011, Vierra met a Saudi businessman. Two years later, they wed and had a daughter named Zaina. After the marriage went south, she had her rights stripped and got a taste at what life as a second-class citizen in the kingdom felt like.
Her cousin Nicole Carroll said the kingdom's guardianship laws, which give men power over women, prevented Vierra from using her bank account, leaving the country, traveling with her daughter or even seeking legal help.
"She is completely stuck," Carroll said at the time. "She is out of options."
Saudi Arabia's restrictions on women aren't new – but they are severe.
Under the guardianship system, Saudi women are given a legal status similar to that of a child. Women must have a male "guardian" with them whose permission they need in order to obtain a passport or even receive certain medical procedures. Male guardians can grant or deny permission to travel through a government app and can even be notified when any woman they have oversight over passes through the airport.
Even though Vierra was granted residency as the mother of a Saudi citizen, her 4-year-old daughter is still under the legal guardianship of her father, Vierra's ex-husband. Zaina is forbidden to leave the country without his permission - something he has refused to grant.
Still, the new development in Vierra's case is seen as progress for women's rights in the notoriously male-dominated country.
"If it is true and this is a possibility, I suppose it means the country is actually moving forward in the right direction on this," Carroll said of her cousin's new ability to travel to see relatives in the United States.
The kingdom's restrictions on women were highlighted earlier this year when a Saudi teenager ran away from her vacationing family and barricaded herself in a Thai airport hotel. Her case grabbed global attention after she mounted a social media campaign via Twitter for asylum. Her efforts picked up enough public and diplomatic support to convince Thai officials to admit her temporarily under the protection of the United Nations. Eventually, Canadian Prime Minister Justin Trudeau announced his country would allow the teen in as a refugee.
The case highlighted the plight of women's rights in Saudi Arabia. Several Saudi girls and women who have tried to flee alleged abuse by their families have been caught trying to seek asylum abroad and forced to return home.
Saudi Arabia has come under fire for its treatment of women. Last year, Crown Prince Mohammed bin Salman boasted the country had loosened some restrictions on women, letting them drive and allowing them into sports stadiums.
During a "60 Minutes" interview, he said that men and women were equal. "We are all human beings, and there is no difference." However, when asked about guardianship rules in a different interview, he said his country needed to "figure out a way to treat this that doesn't harm families and doesn't harm the culture."
https://www.foxnews.com/world/american-woman-stuck-in-saudi-arabia-granted-residency-after-years-of-repression
--------
URL: https://www.newageislam.com/islam-women-feminism/congress-muslim-congresswomen-ilhan-omar/d/118013
New Age Islam, Islam Online, Islamic Website, African Muslim News, Arab World News, South Asia News, Indian Muslim News, World Muslim News, Women in Islam, Islamic Feminism, Arab Women, Women In Arab, Islamophobia in America, Muslim Women in West, Islam Women and Feminism