New Age Islam News Bureau
21 Jan 2014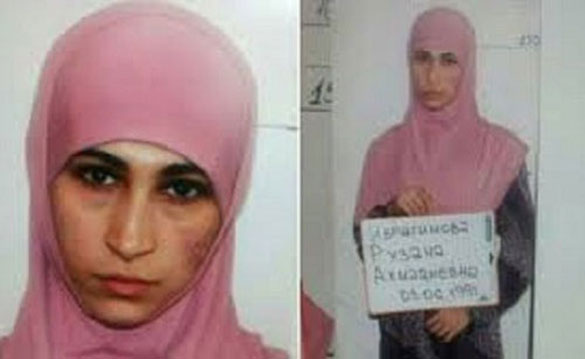 Ruzanna Ibragimova, the "white widow" of a dead terrorist, has reportedly travelled to Sochi where US counterterrorism agents are helping to locate her. Source: Supplied
-----------
• Show Me Five Victims of 'Love Jihad': Sara Aboobacker, Kannada Writer
• Woman Mayor Becomes New Central Africa President
• Modern Orthodox High School in New York Allows Girl to Wear Tefillin
• Forced Marriage Is Alive and Well in the US
• EU and Afghanistan: Mission Accomplished, Women Abandoned?
• US, Russian forces hunt 'white widow' kill squad
• Riyadh Shariah Court Asks Maids to Pay Sponsors SR43, 000 for Quitting Job
• Arab women encouraged by Arab Spring: Activists
Compiled by New Age Islam News Bureau
URL: https://newageislam.com/islam-women-feminism/confronting-sexual-rite-passage-malawi/d/35373
-----------
Confronting a Sexual Rite of Passage in Malawi
January 21, 2014
CHIRADZULU, Malawi — A slight frame gives her the appearance of a child, but the hardened look Grace Mwase wears makes her seem older than her 14 years. In many villages across Malawi, a largely agrarian sliver of a country in southern Africa, custom dictates that both boys and girls as young as eight attend a rite of passage known as "initiation," after which they are no longer seen as children. The practice is most entrenched in the country's south, where Mwase's Golden Village is located.
Mwase was just 10 when she was led, along with about a dozen other girls, to remote huts outside her village during winter vacation from school in August. The girls were accompanied by older women from their village in Chiradzulu district, near the border with Mozambique. The women, known as anamkungwi, or "key leaders," told them that when they returned to their villages they should cook and clean—and have sex. According to Mwase, most of the two weeks she spent at the initiation camp were dedicated to learning how to engage in sexual acts. She had been excited for this time with friends away from home, but that feeling quickly gave way to dread as she learned the true purpose of initiation.
"They taught us only how you can handle a man," she says, looking down at her hands. "So you should be dancing for the man. The man should be on top of you and you should be dancing for him, making him happy."
The anamkungwi told the girls to lie on top of one another and get a feel for the various positions described to them. They then encouraged the girls to "practice" what they had learned. In fact, girls in Malawi are often told that if they don't have sex upon concluding initiation, their skin will become dry and brittle. This will mark them for life, and they will be ostracized if they don't complete the custom as their mothers and grandmothers did before them. These guardians often force their daughters to go through with the ritual for fear of breaking with tradition.
Initiation is a centuries-old practice in the region, according to Harriet Chanza of the World Health Organization. In many agrarian communities, she notes, "There's nothing like adolescence. You are either a child or an adult." Initiation is meant to establish the gender norms that boys and girls are expected to follow as men and women. The emphasis on having sex may also have a darker purpose in a country where nearly three-fourths of the population lives below the poverty line. Chanza, who is based in Malawi, says that some parents may actually want their daughters to get pregnant at a young age. A girl is often married soon after she is found to be pregnant, deferring the cost of caring for her and her baby from her parents to her husband.
Mwase was told, "'You are a woman enough'" by an anamkungwi in her village, and informed, "'If you come out [of the initiation camp], you should sleep with a man to cleanse you of your childhood thing.'" Worse, Mwase says though a translator, "They said you should do your sexual cleansing but not use a condom. You should do it plain."
Mwase sits in an uneven plastic lawn chair in an empty hall used for community gatherings as she recounts her experiences. She had walked to our meeting point in Chiradzulu district from her village to speak with foreign journalists, and agreed to discuss a topic that few women are willing to broach because we didn't share ties to her community or culture. "You're like a visitor so you don't know anything," she says. Conversing with us, in other words, isn't as difficult as telling women in her village how she feels about a custom they might support.
Her small, sharp eyes aglow in the dimly lit room, a grain mill whirring in the background, Mwase says the anamkungwi who oversaw her initiation told her to find an older man to have sex with after she left the camp. In defiance of tradition, however, Mwase refused to do so, fearing the costs to her health from unprotected sex. Like many first-born daughters in Malawi, Mwase was raised by her grandmother. She says her grandmother, who had sent her to the camp, didn't force her to have sex—likely because Mwase never told her about her decision not to do so. If her grandmother had learned the truth, she might have paid a man to take Mwase's virginity. In some villages, young men hired for this task are called "hyenas," and they occasionally have sex with many girls in a single village who have gone through initiation together.
Thera Rasing, an anthropologist who has studied girls' initiations in Zambia, writes that the secrecy surrounding these rituals increased during the colonial era and has remained in place to keep missionaries and churches from "trying to control and christianize these rites." Still, as abominable as such customs might seem, Rasing adds that initiations are associated with honor for many women: "A woman's capacity to elicit change, to be powerful and empowered arises from her relative success in being a proper woman. Through this she acquires the respect of her spouse and of the neighbourhood as a moral community. This is what a girl learns during her initiation into womanhood, and that she is told during her wedding ceremony."
Despite the social role of initiations, there are numerous public health concerns surrounding the custom in Malawi. Young girls largely unaware of the risks are being told to have unprotected sex in a country where a tenth of the population is HIV-positive. (While this figure is on par with other countries in the region, it is far higher than rates elsewhere in the world; 70 percent of AIDS-related deaths occur in sub-Saharan Africa.) And teenage pregnancies also abound in Malawi, where one in four teen girls under 18 is a mother (in sub-Saharan Africa as a whole, more than 50 percent of births take place during adolescence). The young age at which girls become pregnant complicates their deliveries and puts them at greater risk for losing their babies, losing their lives, or developing an obstetric fistula—a condition where a rupture in the birth canal leaves women suffering from incontinence and ostracized from their communities.
Female genital mutilation, which often entails the complete or partial removal of the clitoris, is not common in Malawi, though it can take place during similar rites of passage in other parts of Africa. But initiation can leave lasting trauma even without physical injury. The Malawi Human Rights Commission, a government agency, has reported that initiations impinge on girls' rights to education, health, liberty, and dignity. The Commission further elaborates on some of these rituals, stating that girls are taught a dance known as chisamba "as a way of preparing them for their role of satisfying their husbands in bed," and that they are made to perform this dance at the end of their initiation "bare-breasted in a very explicit manner as they are being presented to the whole community." The study also notes, however, that initiation rites vary widely, and that in some communities girls attending initiation are advised not to have premarital sex.
For boys in Malawi, and in several other African countries, initiation sometimes involves circumcision. According to the Malawi Human Rights Commission, Malawian boys live in camps on the outskirts of villages and are occasionally forced to consume foods prepared with urine and "medicine" made with their severed foreskins. The report notes, "Once the boys undergo circumcision they are considered mature and are actually advised to have sexual intercourse with any girl as soon as they go back home."
Initiations for boys can easily go awry, since the circumcisions are often performed by people without medical training wielding ritual knifes. Last year in South Africa, an estimated 60 young men died after their initiation ceremonies as a result of botched circumcisions and dehydration due to "survival tests." Local government officials were hesitant to intervene because of "cultural sensitivities."
"The difficulty with culture is you deal with the [village] chief and he says, 'I have changed. I have put [in] bylaws [to prohibit initiations]. [Then] you come [back] and [initiations] are quietly being done," says Jean Mwandira, a specialist in reproductive and adolescent health with the United Nations Population Fund in Malawi.
We speak over dinner beside the glittering but parasite-ridden Lake Malawi. Here in southern Malawi, where initiations are most widespread, girls are often married off as soon as they reach puberty and literacy rates are among the lowest in the country. In the district of Mangochi, which borders the lake, 48 percent of teenagers have begun bearing children—the highest incidence in Malawi. Mwandira says it is hard to persuade local leaders here and elsewhere in the country to stop a custom that has such a long history, especially since annual initiations for boys and girls have become a kind of industry.
"Those people who perform such tasks are paid, either in cash or kind, so it's difficult for the whole thing to die [out]," she explains. Even "the chief gets something for allowing that initiation ceremony to take place."
In the face of public scrutiny, those who have a vested interest in keeping the custom alive try to do so covertly. Initiation camps are held outside villages in temporary shelters built just for this purpose and then burnt to the ground once children are sent home, Mwandira says. Adults who aren't involved in managing the camps are not permitted near them. What's more, the girls who take part in initiations are loath to talk about them.
I spent a day in Mangochi, asking every young woman I could whether she had been initiated. Each time I got a shy smile and swift 'no' in response. This despite what Mwandira told me: "It's not possible to live in Mangochi and not be initiated."
In Chiradzulu, a few hours south by car, Grace Mwase was the rare exception willing to speak about her experiences with initiation. When I asked if she wanted her testimony about this deeply private matter to be kept anonymous, she said, "No, use my name." Her lack of shame may well stem from her involvement in the Girls Empowerment Network, a locally run coalition of young women.
The group is led by a woman named Joyce Mkandawire. She says that when she first arrived in Chiradzulu, where Mwase lives, she was struck by the lack of freedom afforded to girls. "A girl leaves a school [because she is] pregnant, nobody cared. A girl gets married today, nobody cared," she recalls. Mkandawire is now advocating for new bylaws in local villages to bar teenage girls from getting married. She has also reached out to local headmasters, who notify her when a girl has dropped out of school so that she and the Girls Empowerment Network can try to convince her to return—and to focus on education rather than marriage.
In speaking out about these issues, Mkandawire has inspired girls like Mwase to do the same. About her work as a leader in the Network, she says, "I am there just to help the community and to encourage myself. If there is anything [wrong], I go to the elders and speak to them." Mwase also goes to the initiation camps outside her village every year to speak to the girls there. "I go to tell them after your initiation, if you go out, don't do the sexual cleansing thing because it's bad for us," she explains.
And she's pleased with the progress she's made so far. "If I go talk to them, they listen to me," Mwase says, breaking into a smile.
http://www.theatlantic.com/international/archive/2014/01/confronting-a-sexual-rite-of-passage-in-malawi/283196/
--------------
Show Me Five Victims of 'Love Jihad': Sara Aboobacker, Kannada Writer
January 21, 2014
Kannada writer Sara Aboobacker sought to assert that the claims of 'love jihad' are baseless.
Participating in a roundtable meeting on safety of women organised by the Democratic Youth Federation of India here on Saturday, she pointed out at the loud talks about what is alleged to be 'love jihad' — Muslim men luring Hindu women to convert to Islam by pretending to be in love, marrying them and then abandoning them — asked people to "show me five women (who are victims of love jihad)". She said she has known cases women converting to Islam on their volition but not victims of 'love jihad'. In one case, which she was well aware of, the woman was happily married.
Supporting the views of Ms. Aboobacker, retired principal of a private PU college and writer Chandrakala Nandavar narrated the case of an RSS activist and politician, who married a Muslim woman and underwent a lot of change of heart.
She regretted that Hindu organisations had not backed her when she spearheaded a protest against rape of eight girls in an ashram several years ago though all girls were Hindus. She said she was supported by a Christian organisation and one of the girls, who had troubled life, found solace after a Christian youth married her.
Without referring to 'love jihad', writer H.S. Nagaveni said people converted from one religion to another out of the need to end their hunger and fulfil their love life, which she highlighted in her works, particularly in Gandhi Banda, a novel based on a true story.
'Lack of interaction'
She and lecturer in a PU College at Haleyangadi Jyoti Chelyaru urged women to develop awareness about their rights and ways and means of protecting them. Highlighting attempts being made to divide people in the coastal region, Ms. Nagaveni regretted the lack of interaction between the two major communities.
Ms. Chelyaru wanted girls to fight back if they find men making unwanted advances towards them. Women would suffer untold miseries until men changed the way they look at or treat women.
http://www.thehindu.com/news/cities/Mangalore/show-me-five-victims-of-love-jihad-sara-aboobacker/article5596683.ece
-----------
Woman mayor becomes new Central Africa president
January 21, 2014
BANGUI, Central African Republic — Members of a national transitional council have chosen the lady mayor of Central African Republic's capital to lead the country out of chaos.
In a vote Monday, Mayor Catherine Samba-Panza won with 75 votes in a runoff vote against the son of a former president.
Samba-Panza now faces the enormous task of stemming anarchy and bloodshed in Central African Republic, where more than 1,000 people were killed in just two days in the capital last month.
The country's political crisis following a March 2013 coup has devolved into a sectarian conflict pitting the rebel leader's Muslim fighters against an armed Christian militia. The rebel leader who seized power stepped down 10 days ago, clearing the way for Samba-Panza's election. Her government will be tasked with organizing national election before year-end.
http://www.saudigazette.com.sa/index.cfm?method=home.regcon&contentid=20140121193174
-----------
Modern Orthodox high school in New York allows girl to wear tefillin
January 21, 2014
Salanter Akiba Riverdale (SAR) High School, a Modern Orthodox institution in Riverdale, New York, is now allowing girls to wear tefillin.
Rabbi Tully Harcsztark, head of the school, sent out an email explaining that two girls were granted permission to wrap tefillin at the school's daily all-girls meeting, reports the Boiling Pot, the online student newspaper of Shalhevet High School in LA.
"I have given permission to two female students… to put on tefillin during tefilah," Rabbi Harcsztark wrote on December 8, in an email to the school's faculty, obtained by The Boiling Point. "They do so every day and have not been permitted to do so in school until now. "I believe that it is halachically permissible although it is a communally complicated issue."
Ronit Morris ('15) and Yael Marans ('16) will now be wearing tefillin every day, the SAR Buzz reported.
"[This mitzvah] has been very important to me for a very long time and I'm really glad to be doing it at SAR," Morris told the Buzz. "I started putting on tefillin after my Bat Mitzvah. I lay tefillin for three years straight at [Solomon] Schechter every morning, and then I came to SAR and it did not seem like that was a thing that the school was going to go for at the time, and we put it off for a while."
Marans told a similar story, adding that her mother also wore tefillin every day. "Just before my Bat Mitzvah, I began putting on tefillin. It was just what my mom did, and, of course, what my brothers did," she explained. "But I was one of a few girls in my grade that did. It made me think a lot about individuality, and eventually, when I wasn't so overwhelmed by this new ritual, I realized it was making me think about God. I'm not going to say that every time I lay tefillin I feel a renewed awe of God, but sometimes it really makes me think. It's just something in my day that makes me really conscious and concentrated."
According to a Ricki Heicklin, a senior at SAR, meetings with every grade were held to address the reasoning behind the controversial decision.
"There were a handful of students who saw tefillin as something strongly correlated with the Conservative movement." Heicklen told The Boiling Point, adding: "I strongly support the girls and I think it's absurd that anybody would be upset about Rabbi Harcsztark's decision."
"Regardless of my personal choices, I think everyone at SAR should be allowed to connect to HaShem in whatever way they find meaningful, as long as it falls within the scope of halakha, which this clearly does," Heicklen said.
Praying with tefillin - boxes containing the Shema prayer that are wrapped around the head and arm - is an obligatory mitzvah for boys. Girls are not forbidden to do so by halakha, but rabbis from different streams of Judaism disagree as to whether or not they should.
http://www.haaretz.com/jewish-world/jewish-world-news/1.569684
-----------
Forced marriage is alive and well in the US
January 21, 2014
Vidya Sri was a typical American teenager in the Queens borough of New York. She went to school, hung out with her friends and took dance classes. But all that changed when she was 18 and started dating her first real boyfriend, a sweet Irish Catholic boy.
That was in 1987. Alarmed that Sri was dating someone who wasn't Indian, her father shipped her off to India to live with relatives. Nearly every day for four years, she was pressured to get married. It became a condition of her return to the United States. Finally, she gave in and married a man she did not know.
"I was introduced to him, and a week later we were married," said Sri, now 44 and divorced.
The marriage was recognized by the U.S., and the couple moved to New York. But Sri didn't love her husband, wasn't attracted to him and said she felt as if they came from "two different planets." Despite not wanting to consummate the marriage, Sri gave in to family pressure and had two children with her husband.
Sri was a victim of forced marriage, a practice in which women — and sometimes men — are forced to marry against their will. The Tahirih Justice Center, a national nonprofit organization that helps immigrant women and girls who have been abused, determined that there were as many as 3,000 confirmed or suspected cases of forced marriage in the U.S. from 2009 to 2011.
That the numbers aren't clear is part of the problem.
"We hide. We hide very carefully," said Sri, who now works at her own organization to help prevent forced marriages like hers. "This whole thing is so humiliating. It's so shaming, all you really want to do is drop dead."
For those who might think that forced marriage isn't much of an issue in the U.S., a host of organizations, scholars and victims beg to differ. A constellation of factors — from cultural misunderstandings to lack of legislation — keeps the issue in the shadows here, although activists are hoping that a growing awareness in Europe will bring changes in the U.S. as well.
The AHA Foundation, an advocacy organization founded by vocal women's rights defender Ayaan Hirsi Ali, who escaped her own forced marriage in 1992, funded a recent survey of immigrant populations in New York conducted by researchers at the John Jay College of Criminal Justice in Manhattan. The results show that the issue of forced marriage is very much alive and probably underdocumented.
"Forced marriage is only one variant of the honor violence that happens in these communities," said Ric Curtis, a professor of anthropology at John Jay, who led the survey.
Forced marriage in context
While forced marriage may sound like the concept of arranged marriage — with parents playing matchmaker for their children — the element of coercion when a marriage is forced often leaves women feeling "like slaves," according to Tanya McLeod, senior campaign organizer at the Voices of Women Organizing Project (VOW), an organization dedicating to providing help and resources to victims of domestic violence in New York.
Sri, who was forced to marry in India, now runs GangaShakti, a New Jersey–based nonprofit organization dedicated to helping victims of forced marriage find resources. She said the fact that the issue is often conflated with arranged marriage is a problem when protecting victims like her.
"They say forced marriage doesn't happen (in the U.S.). You really mean arranged marriage," she said. "But in my case, this was not an arranged marriage. There was violence. There was coercion. There was fraud."
While Sri was not a victim of physical violence, she said that the "mental torture" from her father drove her to attempt suicide.
She is also a fellow at the Carr Center for Human Rights Policy at Harvard's John F. Kennedy School of Government. Her work aims to raise awareness about forced marriage all over the world. She recently published a paper in which she outlines the dearth of resources for forced-marriage victims in the U.S.
In June 2012 the United Kingdom announced it would criminalize forced marriage, following the lead of Norway, Denmark, Austria, Germany, Belgium, Cyprus and Malta. In 2012 alone, the U.K. Forced Marriage Unit noted 1,485 cases related to possible forced marriage.
Curtis said that current research only scratches the surface of a problem he suspects is more widespread but largely hidden from public view.
His team interviewed 100 students at several City University of New York campuses, focusing on Middle Eastern, North African and Southeast Asian (MENASA) countries to try to determine how widespread forced marriage really is.
According to the AHA Foundation's 2013 annual report, of the people surveyed by John Jay, 88 claimed that they knew at least one person who did not want to get married but did. Of those, 31 said they knew three or more people forced into marriage.
"All that we are seeing is the ugly tip of the iceberg, but how much more is there?" Curtis said.
In 2013 the AHA Foundation helped 54 victims of forced marriage and honor violence, a 54 percent increase from the previous year. Through interim direct services, the foundation refers women seeking help to local social services, legal specialists and law-enforcement officers in their area who can offer protection.
Fraidy Reiss grew up in Brooklyn's ultra-Orthodox Jewish community and at 19 was married to a man after only a few brief interactions over three months.
"There is intense pressure not to reach the age 20 and still be single," Reiss said. "Because that's a death sentence. You don't want to be the old maid at age 20."
After she escaped her forced marriage, Reiss started Unchained at Last, an organization dedicated to helping victims of forced marriage escape. During her marriage, she faced death threats from her husband and eventually had to get a restraining order to protect herself and her two daughters.
Currently her organization, which she founded two years ago, is helping 70 women from communities ranging from traditional Jewish to MENASA in the New York-New Jersey area.
Difficult to prosecute
For Curtis, the fact that forced marriage falls outside the scope of New York and federal laws makes the issue hard to define and prosecute.
Among U.S. jurisdictions, only nine — California, the District of Columbia, Maryland, Minnesota, Mississippi, Nevada, Oklahoma, the Virgin Islands and Virginia — have legislation that could encompass forced marriage, according to the Global Justice Initiative. New York has no forced-marriage law on the books. There is no federal law protecting victims.
"Here if you go to the police with a marital problem, the first thing they are going to do is arrest your husband," Curtis said. "They are just not trained to deal with those kind of problems. They need to build some expertise around this issue."
Chris Boughey is a detective from Peoria, Ariz., who has made it his mission to combat forced marriage and subsequent honor killings nationwide. According to Boughey, honor violence occurs when someone who is seen as defying her family's culturally based expectations is harmed or threatened by relatives in order to protect the family's social status and respectability.
In 2009, he and fellow Peoria detective Jeffrey Balson investigated the case of Noor Almaleki, a 20-year-old Arizona woman who was run over and killed by her father in order to, in her relatives' eyes, protect her family's honor.
Now, since dealing with Almaleki's case, the two detectives have been brought on as law-enforcement liaisons by the AHA Foundation. Since joining forces with the group, Boughey and Balson get referrals to cases of forced marriage and honor violence nationwide. According to Boughey, law-enforcement officials often have no knowledge of the practice.
"I think law enforcement and social services don't understand the notion of honor violence and/or forced marriage and they kind of check it off as a family problem that should be dealt with at the family level," he said. "And that's a huge mistake."
Hiding behind tradition
Khalid Latif, imam and executive director at New York University's Islamic Center, said that culture is often used as wrongful justification to force young Muslim girls to marry. For Latif, as a religious leader, this practice is morally incompatible with religious practices and mainly occurs because of precedents in communities.
"When somebody is getting married against their will, that is where it becomes religiously impermissible," he said. "By no means is forced marriage sanctioned and allowed within Islam as a tradition."
Latif counseled a young woman in New York City who every night, he said, "felt as if (she) was being raped" after she was forced to marry by her traditional Muslim family.
There can be severe psychological issues for victims, according to VOW's McLeod, who is a survivor of domestic violence.
"A lot of times we see them being shunned because it is shameful not to be married," she said. "It is shameful to leave your husband even if you are being abused. We have seen men who keep women constantly pregnant as a way to keep them controlled."
McLeod said the U.S. needs better ways to educate women in communities at higher risk.
"Some of them learn their rights, go into shelters, and that's when they begin the process of educating others," she said. "It's a really rampant thing that is really silent. These women are basically hostages until they can get themselves out."
How to combat the issue
Sayoni Maitra is a legal fellow at Sanctuary for Families, a nonprofit agency in New York state that provides crisis intervention for victims of domestic violence, sex trafficking and forced marriage. Like Curtis and Boughey, Maitra agreed that the lack of legislation targeting forced marriage causes victims to fall through the cracks.
The U.S. lags behind other countries when it comes to recognizing forced marriage as an issue of violence against women, Maitra said. And many agencies and individuals could help but don't get involved because they think of it as a cultural practice and not domestic violence.
Forced marriage often goes "hand in hand with other forms of gender violence," she said. If the victim is under 18, it could be considered a form of child abuse. For victims over 18 years old, crimes associated with forced marriage include physical violence, marital rape, stalking, female genital mutilation — carried out in preparation for marriage — kidnapping and abduction.
"A lot of times, particularly with school-aged children, they are told right before their summer vacations they are going to go abroad to visit relatives and to learn about their parents' home countries," Maitra said. "She boards the plane, and when she arrives there, that's when she realizes that she is going to be forced into marriage."
Maitra, who works on an immigration project at Sanctuary for Families, cited various immigration remedies — U nonimmigrant status visas, T nonimmigrant status visas, VAWA self-petitions and asylum — for victims without green cards who are experiencing gender violence.
"The main thing is that forced marriage does not happen in isolation," she said.
For victims like Fraidy Reiss who have found resources, there is hope that the cycle can be broken. Her 18-year-old daughter is in college and has a boyfriend. She has no plans to get married anytime soon, if at all.
"There is completely no pressure on her," Reiss said. "She can get married. She can not get married. She can have children. She can never have children. She could get her Ph.D., or she could drop out of college. Whatever she wants, she can do. I've always told her, 'There is nothing in the world that you can do that would make me consider you dead.'"
http://america.aljazeera.com/articles/2014/1/21/forced-marriage-isaliveandwellintheus.html
-----------
EU and Afghanistan: Mission Accomplished, Women Abandoned?
JANUARY 21, 2014
UK Prime Minister David Cameron may feel that his country's Afghanistan mission is "accomplished," but Afghan women paint a much bleaker picture.
Despite 12 years of armed conflict, investment and capacity-building by foreign governments in Afghanistan, including by European Union governments and the EU itself, women's rights remain in peril.
Violence against women and forced marriage are rife, while high-profile female government officials and civil society activists face threats and attacks by the resilient Taliban insurgency.
All too often, the government appears unable or unwilling to bring to justice the perpetrators of these crimes. Worse, in the last year Afghan government officials have themselves attacked some of the most basic legal safeguards for women.
On the International Day for the Elimination of Violence Against Women on 25 November, news broke that Afghan government officials had participated in preparing a draft law that would have reinstated the Taliban-era punishment of execution by stoning for adultery.
This is only the latest example in a recent string of serious setbacks or attempts by government officials and parliamentarians to roll back women's rights.
These attacks threaten to unravel the fragile but important advances in women's rights in Afghanistan since the fall of the Taliban regime in 2001.
Those gains are real and deserve recognition, particularly in the areas of education, health care, and the role of women in government and politics. But delivering long-term, sustainable improvement in the rights of women and girls in Afghanistan is still a distant goal: literacy and female school attendance remain low while maternal and infant mortality remain high.
The Taliban insurgency has largely maintained the same approach to women's rights as that of the Taliban regime, which barred women from education, working—or even leaving their homes unescorted.
The threats to women's rights in Afghanistan demand meaningful EU action.
On 20 January, EU foreign affairs ministers have an opportunity to take concrete steps to address the threat to Afghan women's rights when they meet in Brussels to discuss the EU's Afghanistan strategy.
This matters because the EU institutions, together with the 28 EU member states, have significant influence in Afghanistan, both politically and financially.
As we told ministers in a recent letter, at this crucial time the EU and its member states need to make it absolutely clear that women's rights are a non-negotiable, core aspect of the EU's relationship with Afghanistan.
The EU has committed itself to women's rights often enough.
High Representative Catherine Ashton and other officials have stressed that a country cannot be safe and secure unless its women are, and that "women are essential to democracy."
Now is the time to put those words into action.
In recent meetings, Human Rights Watch had in Brussels and other European capitals to discuss these attacks on women's rights, diplomats and officials largely agreed that women's rights matter and that they face increasing threats in Afghanistan.
But their expressed concern about these abuses didn't always extend to offering meaningful support in combatting them.
Some officials claimed that this was the "wrong time" to discuss women's rights. Others reasoned that women's rights are not linked to security, "which is what matters right now."
There were concerns by a few officials that pushing women's rights was awkward or inappropriate at a time when - in their view - the government and Taliban are negotiating and a deal could be achievable.
The timing of the upcoming April presidential election was also seen as a potential complication to advocating for women's rights.
And - too often - we heard that even if this would be the right time for such advocacy, and even if this were a true emergency, they didn't have the leverage to do anything more.
The women and girls of Afghanistan do not have the luxury of time. If now is not the time to discuss women's rights, when is? After more police women get murdered? When more women's rights activists have fled the country out of fear?
The lack of vocal, consistent criticism and concern by the EU and others about the deterioration in women's rights in Afghanistan makes it easier for those inside and outside the Afghan government to roll back advances women achieved since 2001 without fear of international protest.
For example, in May 2013, the Afghan Ministry of Justice added a provision to a new criminal procedure law that prohibits family members from testifying against each other. That prohibition would effectively prevent prosecutions for domestic violence, forced marriage and child marriage.
On 18 May 2013, conservative parliamentarians attacked the Law on Elimination of Violence Against Women (EVAW), the most important law on women's rights since the constitution, calling for it to be overturned as counter to Islam.
Also in May, the lower house of parliament reduced reserved seats for women on provincial councils.
Afghanistan President Hamid Karzai has compounded the government attack on women's rights by informing women's rights activists that he will no longer publicly back EVAW.
The EU needs to ensure that Afghan leaders and activists on the frontlines of the battle to protect women's rights receive firm political and financial support.
In the words of High Representative Ashton: "The battle for women's rights is becoming the decisive contest between prejudice and democracy."
On 20 January, the EU has an opportunity to ensure that message is heard in Kabul loud and clear.
http://www.hrw.org/news/2014/01/20/eu-and-afghanistan-mission-accomplished-women-abandoned
-----------
US, Russian forces hunt 'white widow' kill squad
January 21, 2014
UP to four vengeful widows bent on murder have gone to ground inside the Winter Olympics zone, security agents fear, with only weeks until the Games open.
American counterterrorism operatives have joined Russian security agents in the hunt for one particular 'jihadist white widow' who is thought to already be inside the security zone set up in Sochi.
Ruzanna Ibragimova, the 22-year-old widow of a terrorist killed during the Moscow theatre attack, is believed to have travelled from Dagestan to Sochi on or around January 11.
A known member of a Chechen jihadist group, she was recently spotted on the street outside the foreign ministry near Sochi, according to FoxNews.com sources.
A bulletin put out by the Russian security force FSB states: "According to our information Ms Ibragimova may be used by the ringleaders of illegal armed groups for the organisation of terrorist acts in the zone of the 2014 Olympics."
According to US security forces, "the notice is the first sign that terrorists may have managed to penetrate the security cordon."
Ibragimova has been dubbed a "white widow" - the term used to describe jihadists' widows who seek to "blend in" to mount attacks.
British woman Samantha Lewthwaite, the widow of 7/7 London suicide bomber Germaine Lindsay, became infamously referred to as a "white widow" after being implicated in several recent terror attacks. She is alleged to be a member of the Somali radical Islamic militant group al Shabaab and is now one of the world's most wanted terrorism suspects.
But the term "black widow" is also prevalent as a description particularly of Chechen widows whose husbands have been killed in the ongoing fight against Russia. According to FoxNews.com there are fears as many as four "widows" could be on the loose in Sochi.
White widow ... Alleged terrorist Samantha Lewthwaite.
US forces are working with their Russian counterparts inside the massive, 2,400km security zone set up to prevent attacks during the Winter Olympics.
"Russia has deployed 40,000 police and security personnel in a 'ring of steel' around Sochi to deter attacks by Islamist militants from the nearby North Caucasus republics," according to a US security bulletin.
US and international experts have become increasingly concerned about security in the zone, in light of recent attacks and a call from Doku Umarov, the jihadist leader who has been described as Russia's Osama Bin Laden, for attacks and to stop Russia from hosting the Games.
The news comes after a video was posted online by a group identifying itself as Vilayat Dagestan by two men claiming responsibility for recent suicide bombings of a train station and bus that killed 34 people in Volgograd. In the video, the men warn that other suicide attacks will follow.
On hours before the video was released, President Vladimir Putin had assured visitors to Sochi that they would be safe.
Security assurance ... Vladimir Putin has said visitors to Sochi will be safe.
"We will try to make certain that the security measures are not intrusive or too conspicuous, so they are not too noticeable for the athletes, the Olympics' guests or journalists," Mr Putin said.
"But at the same time, we will do our utmost to ensure that they are effective."
However, US Senator Angus King, a member of the Senate Intelligence Committee, told CNN on Sunday that he wouldn't go to the Games "and I don't think I would send my family".
There has been no reaction to the terror threat video from the Russian security services as yet.
In addition to the Volgograd attacks, there has also been violence in recent days in the southern republic of Dagestan - the latest unrest linked to a long-running Islamist insurgency in the North Caucasus region.
Vilayat Dagestan is one of the groups that make up the so-called Caucasus Emirate, which seeks to establish an independent Islamic state in the North Caucasus, a region just to the east of Sochi on Russia's southern border.
Dagestan, one of several predominantly Muslim republics in the North Caucasus, has become the centre of the Islamic insurgency that has spread throughout the region following separatist wars in neighbouring Chechnya.
The Chechen leader of the Caucasus Emirate, Doku Umarov, had ordered a halt to attacks on civilian targets in 2012, but he rescinded that order in July and urged his followers to try to undermine the Olympics.
The Kremlin-backed leader of Chechnya claimed last week that Umarov was dead, but the claim couldn't be verified.
The Vilayat Dagestan statement said the Volgograd attacks were carried out in part because of Umarov's order, but didn't specifically say he had ordered them.
http://www.heraldsun.com.au/news/world/us-russian-forces-hunt-jihadist-white-widow-feared-inside-olympic-zone/story-fni0xs61-1226806369071
-----------
Riyadh Shariah Court Asks Maids to Pay Sponsors SR43, 000 for Quitting Job
January 21, 2014
RIYADH – A Riyadh Shariah court has ordered three Sri Lankan housemaids to pay their sponsors SR43,000, the fees for their recruitment and procurement of residency permits, because they refused to work and insisted on being sent back to their home country, a section of the Arabic press reported on Monday.
The sponsors recruited the maids a few months ago and were surprised when they demanded deportation to their home country.
The Domestic Servants' Affairs Center at Riyadh police tried several times to talk the housemaids out of quitting their jobs. But when their efforts failed they referring the case to the court.
The housemaids even refused to have their sponsorship transferred to another employer.
They are still being held at the center and won't be released until they have paid the above amount to the sponsors.
Regulations on the rights and duties of domestic helpers and sponsors, which were approved by the Council of Ministers on July 15 last year, came into force last October.
According to the regulations, a domestic helper does not have the right to reject work, or leave a job, without a valid reason.
It is also the duty of the domestic helper to ensure the safety of the properties of the employer and family members, and not harm anyone of them, especially children and the aged.
Workers are also required to keep secrets of the household. They have no right to do any other work for their personal benefits or engage in any activities that are harmful to the family.
There are provisions in the bylaw to punish violating employer or domestic helper. If the employer commits a violation, he will face one-year recruitment ban or SR2,000 in fine or both.
In case of repetition of the violation, the fine will be increased to SR5,000 in addition to a three-year recruitment ban. If the violation is committed for a third time, permanent recruitment ban will be imposed and fines will be doubled.
In case of violation of any provision of the regulations, a fine of SR2,000 will be imposed against the worker besides a ban on working in the Kingdom. The worker will also bear the cost of the final exit trip.
The new rules require employers to pay domestic helpers the agreed monthly salary without delay, and give them a day off each week. Employers are also required to provide domestic helpers with suitable accommodations, as well as granting them time to rest for at least nine hours each day.
Under the new guidelines, workers are entitled to paid sick leave and a one-month paid vacation after putting in two years of work as well as end of service compensation equal to one month salary after four years.
The employer has no right to compel domestic helpers to do a job that does not come under the purview of the labor contract.
http://www.saudigazette.com.sa/index.cfm?method=home.regcon&contentid=20140121193234
-----------
Arab women encouraged by Arab Spring: Activists
January 21, 2014
The Arab Spring has inspired women in the Middle East to obtain greater rights, according to participants in a regional training in Morocco aimed at furthering women's rights and gender equality.
Latifa Jbabdi, a Moroccan activist for human rights and women's rights, gave a presentation on the struggle of Moroccan women in light of constitutional reforms. A speech by Moroccan King Mohammed VI on 9 March 2011 brought with it sweeping reforms, especially for women. Women rights groups and organizations quickly formed a broad coalition called the Feminist Spring for Democracy and Equality Coalition. Through the coalition's work, Moroccan women effectively pressured the government to put international conventions into law and to hold the state responsible for safeguarding and implementing them. Women have also fought discrimination and violence, and to call for equality in civil, political, social, and environmental circles.
Jbabdi added that the ripple effects from the upheavals in the region are still being felt, and could lead to the liberation of women and have put them in the forefront of important events.
Forty activists and women rights experts from Egypt, Libya, Morocco and Yemen attended the training organized by Karama, a regional NGO, in collaboration with the UN Fund for Gender Equality, in order to share experiences and open a dialogue about advancing women's emancipation and rights in their own countries.
The regional training consisted of a workshop and a roundtable, and ran from 9 to 13 January.
Jane Connors, president of the special procedures branch of the Office of United Nations High Commissioner for Human Rights (OHCHR), urged the revision of the United Nations Universal Periodic Review that require a periodic review of the human rights records of all UN member states. She said doing so would push states to meet obligations toward human rights.
With regards to Egypt, President of the Complaints Office in The National Council for Women Fatma Khafagi floated a demand among Egyptian women to revive a women's front founded by Egyptian feminists in 1923.
The Egyptian constitution must include articles on improving the status of women, Egyptian Lawyer Aida Nour El Din added, especially that women are facing troubles with personal status laws. One of law states that a woman must prove through witnesses that she has been abused, which is overly difficult in most cases.
El Din also spoke about the importance of the including all international agreements that Egypt has signed into the constitution and that the Egyptian government must enforce them.
http://english.ahram.org.eg/NewsContent/2/8/92137/World/Region/Arab-women-encouraged-by-Arab-Spring-Activists.aspx
-----------
URL: https://newageislam.com/islam-women-feminism/confronting-sexual-rite-passage-malawi/d/35373