New Age Islam News Bureau
8 Apr 2013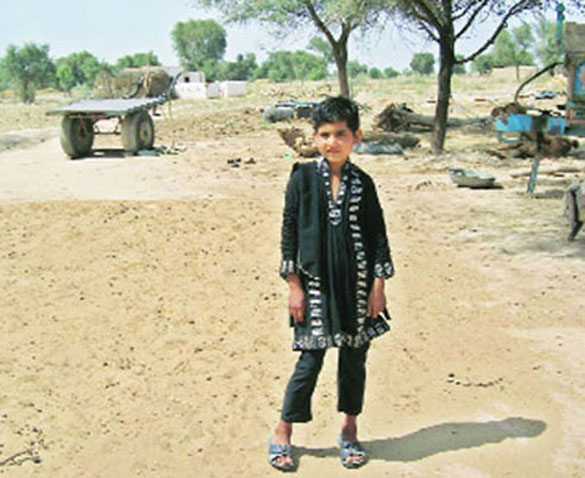 Photo: Pooja wears the new salwar suit and slippers gifted by Pak forces
----------------
• Sharia Courts Putting Women at Risk
• 'Society Is Still Not Ready To Accept Saudi or Arab Nurses'
• Muslim Women Organize Online Counter Protest to Femen's Topless Jihad Day
• 'Pak Forces Said They Would Treat Pooja Meghwal Like Their Daughter... And They Did'
• Women Activists Teach Girls in Afghanistan
• World Champion Female Triathlete Slams Saudi's 'Gesture' Of Allowing Women to Cycle
• Muslim Women Debunk Stereotypes at Local Church's Event
• Indonesian Police Arrested Five in Teen Gang Rape
• Hijab Becomes Crunch Issue in Bahrain Talks
• Most Divorces in the Emirate of Ras Al Khaimah, Due To Financial Reasons
• Woman's Licence Revoked over Qatar Road Rage Incident
• Nigeria: Police Arrest Woman over Selling of Babies
• 'Do What You Love': Interview with Egyptian Lady CEO
• Tanzania: How Pippi House Helps Runaway Girls Reunite With Their Families
• Jeddah: Women Tell Tales of Taxi Drivers
• In Saudi Arabia Women Paid 50 Percent Less Than Men in Private Sector
• Bali Court Upholds Death Sentence for British Grandmother
• A Fig Leaf Is Dropped in Islamic Societies
• Rwanda: Govt Urged to Increase Access to Sanitary Towels in Schools
• Women Must Be Empowered for Prosperity in Mideast, North Africa
• 1,800 Women Registered On First Day For Foreign Jobs In Bangladesh
Compiled by New Age Islam News Bureau
URL: https://newageislam.com/islam,-women-and-feminism/new-age-islam-news-bureau/commercial-sex-business-flourishes-in-dar-es-salaam/d/11049
------------
Commercial Sex Business Flourishes in Dar es Salaam
BY BILHAM KIMATI, 7 APRIL 2013
AT LEAST 15,000 male clients meet female sex workers every night in Dar es Salaam. Findings have revealed that there are 7,500 female sex workers, a research by the Ministry of Health and Social Welfare on HIV Behavioural and Biological Surveillance (2010) has revealed.
The study conducted through National AIDS Control Programme (NACP) aimed at providing information on the prevalence of HIV infection, Sexually Transmitted Infections (STIs), Reproductive Tract Infections (RTIs) and associated risk factors among commercial sex workers. A total of 537 samples of sex workers aged between 15 and older were collected and the respondents also provided blood specimens for HIV, Hepatitis B (HBV), Hepatitis C and Syphilis among other infections.
Dr Hezekiah Owenya, a seasoned psychologist, says as long as frustrations in life are there, and love relationships are constantly in dilemma, extra marital affairs are inevitable. "Marriage, for example, continues to face challenges, misunderstanding and bitterness. Under such circumstances male clients will not stop meeting female sex workers," Dr Owenya says. He adds; "It is, therefore, very unfair to accuse female sex workers alone and leave the male clients who go out to look for girls in the streets and pay as much as they could. Some of the frustrated eventually get addicted to and make it a way of life.
Sex workers are there to stay despite the fact that they earn a living in a very dangerous manner," Dr Owenya warns But the 'Daily News on Saturday' wanted to assess the situation further. A world of its own guiding regulations was uncovered. Different groups of sex workers, for example, operate under different 'philosophy.' Daring girls are permanently stationed near Kinondoni Makaburini area.
They would stop every passing vehicle. Skilful swaying of the body appears to be part of the training before joining the business to attract customers. Asked if not afraid of being assaulted by thugs while waiting for customers late at night, another lady CDE (real name withheld) says she had nothing to worry about because the 'loot' was also shared with the potential aggressors.
The road section between Sinza kwa Remy, Mori to Africa Sana in Kinondoni district is another hotspot 'conquered' by a 'generation' of teens. Anyone above 23 is not welcome there. Starting as early as 9:00pm the girls descend at the scene dressed in miniskirts with pleasant perfumes. "Potential customers will always slow down their vehicles ready to talk to us.
We stand a distance apart to avoid clashes. Lucky ones for the day reap handsomely," explains OPQ (identity withheld). More than 30 girls line up both streets of the road. Some of them appear weak but not unwell, slender but not malnourished but majority obviously not above 18 years old. Judging from the youthfulness of the girls, one might think that customers expected should be of particular age, predominantly young men but this is not the case. "Come on, you are not serious. Age of a client does not matter.
Although some prove to be stubborn or too strong in action and too demanding, we accommodate them pleasingly. They need us and we need them. The payments must be agreed upon in advance," she explains. The peculiarity of Sinza site is that older females already with children are not welcome. "Number one disqualification from the 'membership' here (Sinza) is child bearing. Customers flock to this place to pick us every night. They say they like girls more than older women. This is good because it helps set a good price ranging between 20,000/- and 50,000/- per night.
On lucky days one gets up to 100,000/- or more," OPQ explains. Asked if not afraid of the police surveillance, she smiles, looks at the roof of the colourful sparkling ceiling of Corner Bar decorated with flash lights. She picks up a glass of beer offered for the talk and takes deep sip and says; "Night patrol policemen are our friends. Those in white Land-Rovers, popularly known as defenders and those in blue Land-Cruisers are our companions as we appease them with whatever we gathered the previous night.
"They (police) stop for a friendly chat," she takes a deep breath and poses. We usually make contributions to calm them down. They leave us uninterrupted because they too benefit from our presence," briefly explains the girl and runs away back to the street. The investigation team also visited another location known as Rozana in Buguruni, Ilala district.
The locality is another world of its kind. This is the place where 'service providers' of different ages meet. Again, the location offers perhaps the cheapest deal as low as 2,000/- per round. Asked about awareness in Aids preventive measures, a woman there says; "Aids is not the only killer disease on earth. There are so many causes of death. Besides, better die of Aids than hunger." Another setting is Manzese kwa Mfuga Mbwa where local brews are sold nearly in every household. Rooms furnished with dim kerosene lamps for the business are rented at a cost of 1,000/- and chances for HIV/ Aids infection are equally high.
Other social groups known to be pushed to the business without their consent include students especially from higher learning institutions. Some of commercial sex workers are employed but admitted to have grown interest in the business to supplement their income. For example, there are 'secret' houses in Dar es Salaam specifically known as 'Dada Poa Danguro' meaning that ladies especially from upcountry regions are accommodated and 'sold' but the income goes to the business owner. This paper revealed the trick employed by sex workers at a place known as 'Kwa Babu'.
At this location, educated girls gather and employ the following trick to 'milk' clients. This is the trick; a sex worker would invite a customer for a "quick service." But secret communication with the police stationed in tinted cars parked in the vicinity goes on for timely 'arrest'.
http://allafrica.com/stories/201304080403.html?viewall=1
------------
Sharia Courts Putting Women at Risk
By Josie Ensor
07 Apr 2013
The courts, which issue rulings according to Islamic law, have been found to be giving Muslim women advice which experts warned may place them in danger.
Undercover filming in some of the 85 councils operating in mosques and houses across the country has revealed that the courts, which are run by Sharia councils, are ruling in favour of men meeting estranged wives or having access to children when they have found to have been abusive.
Sharia law has no formal place in any of Britain's legal systems. However, the investigation found courts in London which follow it were making rulings on domestic and marital issues according to Islamic law which appeared at odds with English family law.
Although they are not legally binding, those who were subject to the rulings them felt they had to follow them as a matter of religious belief - or because they felt under pressure from family and community to do so.
In one case filmed by a BBC reporter for the Panorama documentary, an Islamic scholar from a Sharia council ruled in a custody dispute that the children should be taken away from their mother and be placed with their reportedly violent father.
The woman, known only as Sonia, who lives in Leeds, had already been granted a civil divorce in a British court, which had given her husband only limited access to the children.
However, when she went to Leyton Islamic Sharia Council, in east London, to be granted a divorce in the eyes of her religion it was ruled the children should be given to the father.
One Islamic school of thought decrees a father can take custody of a boy at the age of seven and a girl as young as nine.
When she told the Islamic scholar of the domestic violence she and her children had suffered, his advice was to not inform the police as that would be the "very, very last resort".
Sonia told the reporter: "I could not bear the thought of such a violent person having my children. What was even more shocking was when I explained to Leyton why he shouldn't have access to the children their reaction was - well you can't go against what Islam says."
Sonia stood her ground and eventually the Leyton judges dropped their demand.
In another case in West Yorkshire, a woman who had an injunction preventing her abusive husband from contact with her and her children was told by the Sharia council she should meet him to try mediation to avoid divorce.
The woman had told the scholars she was too terrified to meet him and had to hire an outside family lawyer to stop the meeting going ahead.
Nazir Afzal, the head of the Crown Prosecution Service in the north-west of England, who is a Muslim who has spoken out against honour-based domestic violence, said he was "disappointed but not surprised" by what he was shown.
"Most of them are fine are absolutely fine, but there are some who are putting women at risk," he said of the courts.
"And doing so for ridiculous reasons, namely that they are somehow responsible for the abuse they are suffering."
Secrets of Britain's Sharia Court will be shown tomorrow at 8.30pm on BBC1.
http://www.telegraph.co.uk/news/religion/9976822/Sharia-courts-putting-women-at-risk-CPS-warns.html
------------
'Society is still not ready to accept Saudi or Arab nurses'
April 07, 2013
JEDDAH — A nurse is a person who is by the patient's side from the beginning to the end of the hospital experience, no matter how long or short the patient's hospital stay is.
It is the nurse who is there to reassure the patient, console, comfort, talk, and even administer their treatment.
A nurse is adorned with a soothing smile and the virtuous qualities that help the patient recover, such as being caring, hard working, self-sacrificing, kind, patient, humble, and helpful.
So why is it that in most Arab societies when a young girl announces that she dreams of becoming a nurse — instead of encouragement and admiration from her parents — she receives lamentation and disapproval?
Why are nurses not treated with the respect and appreciation that they deserve?
Tuqa Droubi is a 12th grade student who loves helping people, serving her family, and is also interested in science and is amazed by the workings of the human body.
When she shared with her family that she wants to be a nurse, her parents' reaction was not a supportive one.
Droubi's parents and even her friends at school were exasperated and they hailed down on her with one question after another, "What? Is that all you could come up with for yourself as a career? If you want to help people, what don't you just study medicine? Why can't you be an engineer like your brother?"
"Society is still not ready to accept Saudi or Arab nurses. They still have the mistaken belief that nursing is only a job for expatriates from the Far East.
"They disapprove of the mingling of sexes that occurs on the job and some closed-minded people even claim that a girl who wants to be a nurse is a bad person," said Droubi.
"I strongly disagree. I believe that nursing is a noble and a humanitarian profession. The only thing standing between me and entering nursing college is my parents' rejection.
"I will continue to try to convince them and push for what I want and pray that they have a change in heart, but in the end I cannot go against them," she added.
The shortage of qualified nurses is a major challenge facing the healthcare system in Saudi Arabia today. The number of Saudi nurses has always been insufficient to meet workforce needs.
Thus, the hospitals rely heavily on recruiting expatriate nurses from all over the world into the workforce which makes it more difficult to retain nurses for long term and also creates communication problems between the patient and nurse.
According to 2009 data from the Ministry of Health, out of the 110,858 nurses across all healthcare sectors in the Kingdom, only 32.3 percent of them were Saudi.
Saudi and Arab nurses are needed because they can provide culturally sensitive nursing care, who understand our patients' religion, need for privacy, cultural concerns and values, and who speak the same language.
Having such nurses can make a huge positive difference in the patient's treatment and recovery process.
"I am a Saudi nurse and I am proud. Nursing is challenging, exciting, and very rewarding. Few other professions can give you the chance to touch the lives of people and make a difference in someone's life as much as nursing does.
"It is time for society to realize that nurses are intelligent, committed, educated, and sensitive to their patients' needs.
"Today, nursing is a career that is in high demand and has a high potential in both government and private hospitals in the Kingdom," said Rana Mulla, a registered and practicing nurse.
Now in the middle of her nursing program at Umm Al-Qura University, Duaa Al-Harbi said she had a hard time convincing her family that she wanted to be a nurse.
She graduated from high school with very high scores and they were baffled why she didn't choose a major that was better in their view.
"I wanted to serve the sick, communicate with them and tend to their needs and help, especially the elderly. When I entered the nursing program they were not too happy in the beginning. Slowly, I started telling my family about success stories of inspirational Saudi nurses or about the interesting new things I learned or about a patient I helped who prayed for my welfare.
"I showed them that I can easily practice my job while always wearing my hijab," said Al-Harbi.
"In the past, our society completely refused to accept the idea of a Saudi nurse, but that is starting to change.
"Gradually we can heighten the awareness in society on the importance of the nurse's job. Just like education for girls in the Kingdom was opposed earlier, but now it is flourishing.
"I think us nurses have the duty to reach out to the society and to go to the girls' schools and colleges to conduct educational workshops about this vital field of healthcare.
"When Umm Al-Qura University first opened the nursing program, which is a five year program, only 20 students enrolled. In the second year 45 students enrolled and in the year after that, 72 young women sat for their first year of nursing," said Al-Harbi.
Nursing in the Kingdom has come a long way but there is still room for growth. King Abdulaziz University introduced the first baccalaureate nursing education program in the Kingdom in 1977, with only six female Saudi students declaring nursing as their major that year.
The number of students increased annually to reach a total number of 756 nursing graduates by the year 2007.
The nursing curriculum is usually a four-year academic program followed by one-year internship at the hospital during which students consolidate clinical skills and academic knowledge.
Al-Farabi Medical College is a private university that offers dentistry and nursing programs.
"There has lately been an increasing interest in the nursing profession among young Saudi women. During the times of the Prophet Muhammad (peace be upon him) women played a vital role in nursing and tending to the wounded during battles.
"Women today can aspire to work as nurses, just as these noble and honored female companions of the Prophet (PBUH) did," said Dr. Sabah Abu Zanada, the head of the nursing division in the Saudi Commission for Health Specialties.
http://www.saudigazette.com.sa/index.cfm?method=home.regcon&contentid=20130408160361
------------
Muslim Women Organize Online Counter Protest to Femen's Topless Jihad Day
BY VICTORIA TAYLOR
APRIL 6, 2013
A group angered by the actions of topless feminist protestors is making its presence known on social media.
The members of Muslim Women Against Femen are encouraging supporters to participate in Muslimah Pride Day to show that they do not agree with the Ukraine-based group's actions, including Thursday's Topless Jihad Day.
"This is an opportunity for Muslim women to get a say and show people that we have a voice too, that we come in many different shapes and sizes that we object to the way we are depicted in the west, we object to the way we are lumped in to one homogenous group without a voice of agency of our own," the group wrote on the event's Facebook page.
Muslim Women Against Femen urged those in agreement to post pictures of themselves no matter what they opt to wear.
"Muslimah pride is about connecting with your Muslim identity and reclaiming our collective voice," organizer Sofia Ahmed wrote on the event's Facebook page. "Whether we choose to wear hijaabs or not is (nobody's) business but ours."
Femen dubbed Thursday Topless Jihad Day. Members all over Europe held bare-breasted demonstrations to show their support for Tunisian activist Amina Tyler, 19, who received death-by-stoning threats for posting topless pictures online in which "F--k your morals" and "My body belongs to me is not the source of anyone's honor" were written in Arabic.
"This day will mark the beginning of a new, genuine Arab Spring, after which true freedom, freedom without mullahs and caliphs, will come to Tunisia! Long live the topless jihad against infidels! Our tits are deadlier than your stones!" Femen wrote in a statement on its Facebook page.
In honor of in Muslimah Pride Day, women shared pictures of themselves holding signs with sayings like "Femen can't tell me what I can and can't wear" and "Nudity DOES NOT liberate me and I DO NOT need saving."
"We have a brain. We don't need your advice, Femen," another counter-protestor wrote on her sign.
http://www.nydailynews.com/news/world/muslim-women-organize-topless-jihad-day-article-1.1309582#ixzz2PqZ1bl1x
------------
'Pak forces said they would treat Pooja Meghwal like their daughter... and they did'
Sweta Dutta
Apr 08 2013
Khajuwala : On March 29, just like any other day, seven-year-old Pooja Meghwal and her elder brother took the cattle for grazing. But instead of waiting for her brother, Pooja decided to return home alone, after collecting some firewood. However, she only made it home after three days, having strayed across the border, where some Pakistani Rangers looked after her, gave her a new salwar suit, slippers and a hamper of sweets, chocolates and chips.
"The weight of the firewood on my head made me lose direction. I kept walking till I reached a BSF checkpost. I asked the people there for some water. I then set out for home again, though the route did not look familiar," says Pooja at her home in 43 KYD village in Khajuwala, 150 kms from Bikaner.
"I somehow managed to squeeze through the barbed wire on the border. Each time, I first removed my slippers and slipped these through first. I have lost my slippers several times and my mother had warned me that if I lose these, I will not get a new pair," she recalls.
Lost and alone, she fell asleep crying on the first night. When she woke up the next morning, she found three Pakistani security personnel staring at her. "They took me to a room, and an aunty came and stayed with me. At first, I was really scared and cried. She hit me on the head and told me I would be kept there forever if I did not stop crying," says Pooja.
"So I stopped crying, and was very happy when they gave me a new salwar suit and slippers. They also gave me roti and subzi, and some toffees, biscuits, chips and sweets. I had a lot to eat," she adds.
Meanwhile, her family members approached the BSF for help. "Several flag meetings were held between BSF and the Pakistani Rangers. For three days, there was no clear word on whether they had the girl or not. All they said was that if they found her, they would treat her as their daughter. And of course, they did treat her very well," said Ravinder Kaswan, sarpanch of this border village.
Late on April 1, the villagers came to know that the Pakistani Rangers had handed over Pooja to the BSF.
Since her return, the Pakistani Rangers have reportedly been asking the BSF personnel to get Pooja to the border so they could meet her again. While her family members are grateful to the Pakistani forces, the BSF personnel have warned them to be on guard.
The BSF personnel don't want Pooja to wear the salwar suit gifted by the Pakistani side. They have summoned her father at least thrice, asking him if she gets nightmares of being "tortured".
But Pooja, like any seven-year-old, is happy with her new salwar suit and slippers, munching on the sweets and chips that she got from across the border.
http://www.indianexpress.com/news/pak-forces-said-they-would-treat-her-like-their-daughter...-and-they-did/1099128/
-------------
Women Activists Teach Girls in Afghanistan
April 07, 2013
(CHICAGO) -- Through Tuesday, April 9, 2013, the Council on Foundations Annual Conference takes place in Chicago. It features activists who help people around the world.
Among them is Dr. Sakena Yacoobi, Executive Director of the Afghan Institute for Learning. She is taking great personal risk in order to help educate girls in Afghanistan.
Dr. Yacoobi and Chicago-native Kristin Lindsey, CEO of The Global Fund for Children, came into our ABC7 studio to tell us about their efforts.
Council on Foundations Annual Conference (web.cof.org/2013Annual/)
(www.afghaninstituteoflearning.org)
(www.globalfundforchildren.org)
http://abclocal.go.com/wls/story?section=resources&id=9055138
------------
World champion female triathlete slams Saudi's 'gesture' of allowing women to cycle
Helen Russell says there is no move towards the independence cycling can give women
Sarah Barth, April 7, 2013
A world champion female cyclist has slammed the move to allow women to ride bikes in Saudi Arabia, calling it gesture politics and saying that it gives women no more independence than they had before.
Helen Russell, from Bromsgrove, has written a column for Metro, saying that telling women to avoid riding in areas where there are young men, so as not to be harassed, means that "women's lives have to be restricted to avoid men's unacceptable behaviour."
An official from Saudi Arabia's religious police quoted in the newspaper Al-Yawm said that women would be able to ride bicycles or motorbikes in recreational areas, with the proviso that they are accompanied by a male relative and also wear the abaya, the Islamic garment that covers the body from head to toe.
Full report at:
http://road.cc/content/news/80340-world-champion-female-triathlete-slams-saudis-gesture-allowing-women-cycle
------------
Muslim Women Debunk Stereotypes at Local Church's Event
April 7, 2013
Inside an Evanston church Saturday night, Rana Yurtsever recalled how she would have to explain why she wore a Hijab, the headscarf worn by Muslim women, at the beginning of every school year in Washington, D.C. When she moved to Chicago during high school, she saw other girls with Hijabs and thought she'd no longer have to answer questions about her religion from her peers and teachers.
"I was wrong," said Yurtsever, a sophomore at the American Islamic College in Chicago. "People still didn't understand that it's an identity, not just a cloth over your head."
Yurtsever and two others spoke about their experiences as Muslim women to an audience of about 30 at the Lake Street Church, 607 Lake St. The panel, titled "Women in the Islamic Tradition," was created by the church's interfaith committee as part of efforts to debunk misconceptions about Islam and the role of Muslim women.
Full report at:
http://dailynorthwestern.com/2013/04/07/city/muslim-women-debunk-stereotypes-at-evanston-church-event/
------------
Indonesian Police Arrested Five in Teen Gang Rape
April 08 2013
The police arrested five men implicated in the rape of a 13-year-old girl, identified as ERS, after a month-long investigation.
City police spokesman Sr. Comr. Rikwanto said on Sunday that the men were apprehended late on Saturday.
"The suspects are a university student, two high school students, an unemployed man, a supermarket employee and a public bus assistant. They admitted their crime to the investigators," he told The Jakarta Post.
Full report at:
http://www.thejakartapost.com/news/2013/04/08/police-arrested-five-teen-gang-rape.html
------------
Hijab becomes crunch issue in Bahrain talks
By Habib Toumi
April 6, 2013
Manama: Hijab has emerged as a hot issue in Bahrain's national talks, styled as a unique chance to restore suspicions and doubts to healthy and positive relations between all the components of the nation.
The talks, launched on February 10, have brought together eight participants from Al Fateh coalition, another eight members from a coalition of opposition societies, eight independent parliamentarians and three government ministers.
Although the participants have so far held ten rounds, tension has prevailed and on Wednesday, the situation was compounded when during a heated argument, Jameel Kadhem, the spokesperson for the coalition of the opposition, reportedly criticised Lateefa Al Gaood, the first woman in the Gulf to be elected to parliament, for claiming that communists wore turbans at the height of the protests and told her that she started wearing the veil only two or three months ago.
Full report at:
http://gulfnews.com/news/gulf/bahrain/hijab-becomes-crunch-issue-in-bahrain-talks-1.1167353
------------
Most Divorces in the Emirate Of Ras Al Khaimah, Due To Financial Reasons
Ahmed Shaaban / 8 April 2013
Financial mismanagement and wastefulness from husbands, wives, or either represent the main obstacles hampering families' stability in the emirate of Ras Al Khaimah.
According to a senior official, these impediments are mostly followed by, and associated with other family disputes, such as jealousy, stubbornness, and lack of marital awareness.
Chief Judge of the Personal Status Court in RAK Dr Mohammed Al Khatiri said the majority of divorce and maintenance cases registered with the court are derived from economic grounds.
"The wife predominantly gets angry about the husband's wastefulness, inability to manage the financial affairs of the family, and getting deeply implicated in bank loans."
Explaining, he said such debts mostly accrued after marrying another woman, building a luxury house, medical treatment, family needs and other unnecessary purchases: "Failing to pay back loans makes the husband unable to care for the family needs and ends in disputes, and even separation."
Full report at:
http://www.khaleejtimes.com/kt-article-display-
------------
Woman's licence revoked over Qatar road rage incident
By Habib Toumi
April 8, 2013
Manama: A court in Qatar has revoked a motorist's driving licence after convicting her of assault in a road rage incident.
The woman, a foreign national, was also ordered by the traffic court in Doha to pay a QR5,000 (Dh5,043) fine and had her car impounded for two months.
Qatari daily Al Sherooq on Monday reported that the woman was driving at great speed when she was forced to slow down by cars moving slowly ahead of her.
Frustrated with the snail's pace, she honked her horn continuously, but the vehicle in front of her was stuck in the traffic jam at the roundabout and could not move.
The motorist stepped out of her car and went to vehicle in front of her and started banging on the window and yelling.
Full report at:
http://gulfnews.com/news/gulf/qatar/woman-s-licence-revoked-over-qatar-road-rage-incident-1.1167954
------------
Nigeria: Police Arrest Woman Over Selling of Babies
BY KOLA NIYI EKE, 8 APRIL 2013
Police in Asaba Delta State have arrested a 40 year old woman identified as Gladys (surname withheld), at Oduke camp, near Asaba who allegedly specialised in harbouring young pregnant girls in her house with the intent to selling their babies after delivery to herbalists.
The state police commissioner, Mr Ikechukwu Aduba told LEADERSHIP that the suspect, a native of Owerri, in Imo State, lures young girls to the camp with the promise of getting jobs for them in Asaba, adding that one of the victims hinted the police detectives who swung into action and arrested the suspect in her operational base. The police boss disclosed that the suspect hoodwinks parents and relations of the girls by promising to send them to school or train them in other vocations.
Full report at:
http://allafrica.com/stories/201304080543.html
------------
'Do what you love': Interview with Egyptian lady CEO
As part of a series on pioneering Egyptian women, Ahram Online talks to Nevine Loutfy, first ever female head of an Islamic bank, who shares her passion for banking and what it takes for women to reach the top
Deya Abaza
6 Apr 2013
Nevine Loutfy is managing director and CEO of the National Bank for Development. After an international career spanning over three decades with global behemoth Citibank, the fearless banker left Citigroup's EMEA Commercial Bank in London where she had held the positions of chief operating officer, managing director and business senior credit officer to head NBD in 2008.
Full report at:
http://english.ahram.org.eg/NewsContent/3/12/68219/Business/Economy/Do-what-you-love-Interview-with-Egyptian-lady-CEO-.aspx
------------
Tanzania: How Pippi House helps runaway girls reunite with their families
6 APRIL 2013
Pippi house is a complete solution for girls who without financial help will have very small chances of gaining education, self-sufficiency, marriage and other things that we all want for our children. Right now we have 11 girls staying with us. They are between 15 and 24 years old. Our work method is similar to having foster children.
Social workers build them psychologically and socially, Pippi house also receives English speaking volunteers from abroad on a regular basis. We provide longtime accommodation for three years with comfortable beds, good food, education, domestic skills and time for resting. There are today many different kinds of NGO-centers specialized in one specific area. Because of the tuff conditions the girls comes from, offering one service is often not enough for a sustainable positive development. Offering a complete solution helps the girls to focus on their schoolwork.
Full report at:
http://allafrica.com/stories/201304080146.html
------------
Jeddah: Women Tell Tales of Taxi Drivers
April 07, 201
JEDDAH — Women who rely on taxis, limousines, or what is known as "on call" drivers, are faced with myriad problems when dealing with them.
Wafa Mohammad, a private sector employee, said that there are always deductions from her monthly salary, because she arrives late for work. The reason, she said, is that the driver with whom she agreed to transport her to work is often late, as he is transporting other women to their work, and he has a full schedule.
She said that after a long argument with the driver, she began searching for another driver only to find out that they also have full schedules.
She finally resorts to limousine drivers who at first agree to be paid at the end of the month.
However, a few days later, they ask for their money claiming that they are leaving Jeddah.
Haniyah Khalid, a private sector employee, said that single employed women are not allowed to be issued a driver visa. This increases their problems with transportation and life in general.
Full report at:
http://www.saudigazette.com.sa/index.cfm?method=home.regcon&contentid=20130408160362
------------
In Saudi Arabia Women Paid 50 Percent Less Than Men in Private Sector
8 April 2013
Women workers in the private sector earn on average SR 2,824 a month, while men get about SR 5,686, according to the Ministry of Labour's 2011 annual report released recently.
"There is a minimum wage. The difference in wages is due to the different types of work. Ministry of Labour regulations mandate that males and females should get equal pay if they are in similar jobs," said Hattab Al-Anazi, spokesman for the ministry.
Samir Hassan, chairman of the human resources commission at the Jeddah Chamber of Commerce and Industry (JCCI), said the difference in pay was due to the different work done by women, which was mostly administrative. In some cases, a business has to cut the working hours for women because of the nature of their work, he said.
Full report at:
http://www.arabnews.com/news/447408
------------
Bali Court Upholds Death Sentence for British Grandmother
April 08, 2013
Denpasar. An Indonesian court on Monday upheld the death sentence handed down to a 56-year-old British grandmother found guilty of trafficking cocaine into the resort island of Bali.
A spokesman said the Bali High Court, sitting in the island's capital Denpasar, had confirmed the death sentence given to Lindsay Sandiford in January, which had been a shock verdict after prosecutors recommended 15 years imprisonment.
The court "decided to uphold the decision of the Denpasar district court," said spokesman Makkasau, who like many Indonesians goes by one name.
Full report at:
http://www.thejakartaglobe.com/home/bali-court-upholds-death-sentence-for-british-grandmother/584324
------------
A Fig Leaf Is Dropped in Islamic Societies
By JANET MASLIN
8 APRIL 2013
"Men in Egypt, in the gulf, they always want to have sex in the wrong place," one Egyptian woman whispered to the writer Shereen El Feki, while she conducted her research into sexual proclivities in a rapidly changing Arab world.
The comment was about anatomy, not geography. And it's indicative of the frankness Ms. El Feki's "Sex and the Citadel" sometimes achieves. Though she warns her readers that she is not writing an encyclopaedia or staging a peep show, Ms. El Feki does ask an array of highly personal questions about present-day sexual relations in Muslim societies, with particular emphasis on Egypt, Tunisia, Lebanon, the United Arab Emirates and Morocco. A number of people tell her that anal sex gains appeal when a culture places a high premium on virgin brides.
Full report at:
http://www.nytimes.com/2013/04/08/books/sex-and-the-citadel-by-shereen-el-feki.html
------------
Rwanda: Govt Urged to Increase Access to Sanitary Towels in Schools
BY MARIA KAITESI, 7 APRIL 2013
Stakeholders working to improve women's health have urged the government to increase access to sanitary towels in schools in order to improve menstrual health management.
Bridget Mukanyandwi, a teacher at Duha Complex School in Eastern Province's Rwamagana District, said the budget allocated for pads was insufficient as not all girls can have access to them.
She said some students end up using rags because they can't afford pads and the schools don't receive enough pads for use by their students.
"If girls are in their monthly periods and have no access to pads, most likely they will miss school which will also affect their grades," she said.
Full report at:
http://allafrica.com/stories/201304070255.html?viewall=1
------------
Women Must Be Empowered for Prosperity in Mideast, North Africa
BY JANE MORSE, 8 APRIL 2013
Washington — If the nations of the Middle East and North Africa are to enjoy economic prosperity and political stability, they need to fully include women, says Under Secretary of State for Public Diplomacy and Public Affairs Tara Sonenshine.
Speaking April 4 at the Brookings Institution, a Washington-based policy research organization, Sonenshine said, "Study after study has confirmed that any country or region that ignores half of its population will undercut its chance of success politically, economically and democratically."
"The cost of systemic discrimination and of failure to harness the contributions of women will have consequences for prosperity, stability and violent extremism," she said.
Full report at:
http://allafrica.com/stories/201304051226.html?viewall=1
------------
1,800 women registered on first day for foreign jobs in Bangladesh
The government yesterday started preparing a database of qualified female workers for foreign jobs through online registration process.
On the first day, around 1,800 females got their names registered through local union parishad and ward level information service centres in three of the seven divisions in the country, said Begum Shamsun Nahar, director general of the Bureau of Manpower, Employment and Training (BMET).
Full report at:
http://www.thedailystar.net/beta2/news/1800-women-registered-on-first-day/
----------
URL: https://newageislam.com/islam,-women-and-feminism/new-age-islam-news-bureau/commercial-sex-business-flourishes-in-dar-es-salaam/d/11049