New Age Islam News Bureau
18 Jan 2020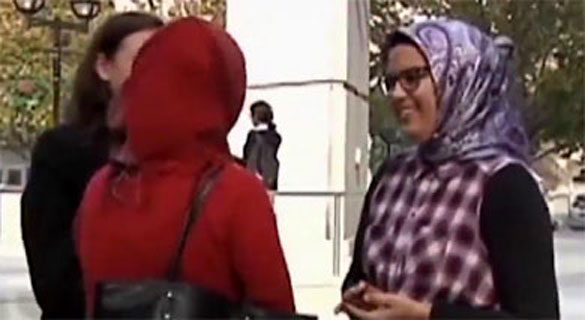 The Columbus Police department said it's now looking at changing its Hijab ban.
-----
• Shaheen Bagh in Kolkata's Park Circus
• 'How Can Kota Women Be Behind?' Say Protesters after Launching Shaheen Bagh-Like Protest in City
• Muslim Women, Kids Stage Peaceful Protest at Clock Tower
• Poverty, Laws and Traditions among the Causes of Child Marriages in Malaysia
• Jos Muslim Women Embrace Physical Exercise to Keep Fit
• Saudi Working Women Not Keen On Saving Money For Marriage
• Republican Challenger for Ilhan Omar's 5th District Seat Is Also a Muslim Refugee
• Why Many Muslim Women in the US Are Skipping the Women's March This Year
• Senator Assailed for Denouncing Women's Rights March
• Tarek Fatah Got It Wrong. Pakistani Woman Did Not Refuse Polio Drops For Her Children
Compiled By New Age Islam News Bureau
URL: https://www.newageislam.com/islam-women-feminism/columbus-police-weigh-eliminating-hijab/d/120827
--------
Columbus Police Weigh Eliminating Hijab Ban for Officers
Jan 17, 2020
COLUMBUS (WCMH) — As the city diversifies, local government agencies are evolving as well.
The Columbus Police department said it's now looking at changing its Hijab ban.
A hijab is a head covering Muslim women wear in public.
The ban was originally implemented out of safety concerns for officers who wear them.
Columbus City Council President Shannon Hardin thinks this change is a great thing.
"There are folks who've argued safety concerns," he said. "The hijab, as we look around the country, other communities have instituted new policies around the hijab. As we all agree, our police forces should match and reflect the diversity of the city that we live. We think it's one of those steps towards getting to that goal."
Hardin said he looks forward to seeing the department grow with Muslim women serving as police officers once the change starts.
"You have to remember Columbus has 40,000 Somalis alone, let alone other Muslim populations that make up our rich diversity, so we have to think outside the box and be innovative as we strive to make sure we reflect the community that they serve," he said. "We have to continue to evolve. Continue to find ways to make sure that, not just the police force reflects the community, but the community feels safer."
There isn't a clear cut timeframe of when this change will take effect.
https://www.nbc4i.com/news/local-news/columbus-police-weigh-eliminating-hijab-ban-for-officers/
--------
Shaheen Bagh in Kolkata's Park Circus
Jan 17 2020
Kolkata, Jan 17 (IANS): They clap in rhythm, shout "Azadi" slogans, cry "Halla Bol", clench their fists in solidarity and display high spirits. The tri-colour is omnipresent, as are the faces covered with hizabs -- this is City of Joy's own version of Delhi's Shaheen Bagh in Park Circus Maidan in south Kolkata, where primarily Muslim women have been on a sit-in against the CAA, NRC and NPR for 11 days now.
On January 7, taking a page out of the Shaheen Bagh protests that has been going on for over a month now, some women from the largely muslim-dominated neighbourhood of Park Circus descended on the local park expressing their anxiety, disappointment and anger over the goings on in the country.
They started the protest against the Citizenship (Amendment) Act, a proposed nationwide National Register of Citizens (NRC) and the National Population Register (NPR) exercise, as also the "state repression on anti-CAA protesters in Uttar Pradesh".
Their stock grew as the days passed. First their friends, families and acquaintances came, followed by women belonging to all societal strata from various areas of the city -- be it Topsia, Ripon Street, Khiddirpore, Metiaburuz or Prinice Anwar Shah Road. Top professionals like medicos, lawyers, teachers, professors, to those earning a living by cooking or washing utensils in others' homes -- everybody is joining in, and the numbers continue to go up every day.
"Tumhari lathi se tez hamari awaz hai" (our voice is stronger than your batons) says a poster, as the participants shout "Halla Bol, Halla Bol".
There are hundreds of women wearing the hizab, who have come from conservative Muslim households, and are participating in a protest for the first time in their lives. They sit on spread out matresses, plastic sheets, blankets, durries and simple clothes they brought from their houses or offered to them by the volunteers.
NGOs, social groups and solitary individuals also arrive at the spot every day, bringing in tea, coffee, drinking water and even 'haleem', to keep the protesters going amid the dwindling temperature.
Asmat Jamil, a resident of Ripon Street who runs the NGO Azzumar, is considered the pivot of the protests. "It is a movement to claim our rights as citizens. It is a movement to show the power of people's voices to the powers that be in Delhi," she said.
Some of the demonstrators sleep under the open sky every night, while others make their daily trips to the venue after completing their household work or meeting their professional commitments. While a group of women have stayed put since the start of the protests, most faces change every couple of days, as people take turns in gathering for the protests.
"We have left our homes, schools, kids. Thousands of women have followed us. They have come out of their homes for their freedom," said a burqa-clad woman in her 70s, pointing to the chants of "Azadi" (freedom).
"Look, not only do we demand scrapping of the CAA, NRC and NPR, we are also looking at the larger picture. Women here are also voicing their demand for freedom to move freely and fearlessly, the liberty to study, freedom to pursue their vocation and profession of choice and even the freedom to choose whom to marry," she said.
A young woman -- a teacher -- joined in.
"Most of the people in this gathering are poor. Majority of them don't have any papers to show. I am a teacher. I have seen the mothers of my students cry.
"I support my country, I support India. We don't want to go on a troubled way, right? That's why we should all come together," she said.
Apart from the huge number of women, men are also there in strength, chanting slogans, singing songs of protests, waving the tri-colour and reading the Constitution. But they are not allowed into the main protest area, which is encircled by a plastic rope.
The Park Circus protests, after Shaheen Bagh in Delhi, has emerged a rallying point for the dissenters and the fiery young turks. From former student leader Umar Khalid, to Swaraj Abhiyan leader Yogendra Yadav, and city's very own balladeer Kabir Suman -- the venue is drawing famous names daily.
But sitting around pictures of Mahatma Gandhi and B.R. Ambedkar, the young and the old commoners are the soul of the Park Circus protests -- determined to soldier on till at least January 22, when the court will hear the petitions moved against the CAA from all around India.
http://www.daijiworld.com/news/newsDisplay.aspx?newsID=664481
--------
'How Can Kota Women Be Behind?' Say Protesters after Launching Shaheen Bagh-Like Protest in City
Jan 15, 2020
After Kolkata and Prayagraj, New Delhi's Shaheen Bagh protest against the Citizenship (Amendment) Act or CAA and a proposed pan-India National Register of Citizens (NRC) inspired a similar sit-in in Kota.
More than a hundred Muslim women from different localities of the city began the sit-in outside the Eidgah grounds, calling it the Shaheen Bagh of Kota, on Tuesday night.
"When the women of the country are organising protests against the CAA and the proposed NRC, how could women of Kota be behind? The new law is a black law against the spirit of Constitution," said 28-year-old Shifa Khalid, convenor of the sit-in.
"Women in Kota got inspired by the protesters of Shaheen Bagh. Our sit-in is also indefinite," she added.
Khalid said women in the sit-in are getting food and blankets from the neighbourhood because most of the women are from Kishorepura locality, close to the venue of the sit-in. Women of all age groups from localities such as Vigyan Nagar, Waqf Nagar and Kishorepura are sitting in the protest since Tuesday night.
"I have joined the dharna because the government wants our documents to prove we are Indian citizens even though several generations of my family have lived here," said Maqbool, 75, of Indira market locality.
Shabana Farhat, 39, travelled nine kilometre from her home near the railway station to join the protest. Despite the cold wave conditions in the city, she spent the night at the spot with more than half a dozen women.
"Many women go home to finish the household chores and return to the sit-in later. The sit-in will continue until the CAA is withdrawn," she said.
In New Delhi, hundreds of people have occupied a stretch of road in Shaheen Bagh to protest against the Citizenship (Amendment) Act and a proposed pan-India National Register of Citizens (NRC) for almost a month.
The protest has spread to other cities such as Kolkata and Prayagraj. In Kolkata's sprawling Park Circus Maidan, hundreds of Muslim women have held a round-the-clock sit-in for eight days. The sit-in in Kolkata began on January 7 following social worker Asmat Jameel's call for it. Many of the participants are first-time protesters, mostly students and homemakers.
The CAA to fast-track the citizenship process for non-Muslims, who have entered India from Afghanistan, Pakistan and Bangladesh before 2015, has triggered protests across the country.
In Prayagraj, an indefinite sit-in against the CAA, NRC and NPR and police excesses against the student protesters entered its third day on Tuesday. "The sit-in at Mansoor Ali Park began as a small gathering on Sunday. It has now turned into a full-fledged agitation against the government's actions, which are not in the country's interest," said Saira Ahmed, a protester.
https://www.hindustantimes.com/jaipur/how-can-kota-women-be-behind-say-protesters-after-launching-shaheen-bagh-like-protest-in-city/story-vgy6BhajL1KkwKGVhkf8eL.html
--------
Muslim women, kids stage peaceful protest at clock tower
Jan 17, 2020
A number of Muslim women and children staged a peaceful protest against the Citizenship Amendment Act and the National Register of Citizens (NRC) at Clock Tower in the Old City here on Friday.
Describing CAA as a black law, the women said it was discriminatory. "We have assembled in solidarity with protesters at Shaheen Bagh (Delhi)," they said.
"We, along with our children, came out of our homes to stage a peaceful protest. The government is taking unilateral decisions," a protester said. She alleged administration had switched off the lights at the clock tower to quell the protest.
"We have to give a message to the government that we can no longer be divided on the basis of religion. That is why we went there and prayed for our country's peace," said a woman, who was spearheading the anti-CAA protests.
All Indian Democratic Women Association (AIDWA) president Madhu Garg said it was commendable that women were leading the protest, be it at Shaheen Bagh (Delhi), Prayagraj or in Lucknow.
"Women are out to oppose the draconian law. It shows how hard this anti-people act of the government has hit the public," she said.
https://www.hindustantimes.com/lucknow/muslim-women-kids-stage-peaceful-protest-at-clock-tower/story-fWnNtDhTUZ9rNvPhEMKb3M.html
--------
Poverty, laws and traditions among the causes of child marriages in Malaysia
01/17/2020
Kuala Lumpur (AsiaNews/Agencies) – Poverty, limited education (especially in reproductive health), and social pressure to marry to solve problems are some of the factors identified by the Malaysian government as the main causes of underage marriages.
To address the widespread problem, federal authorities yesterday outlined a five-year plan (2020-2025) with seven goals, 17 strategies and 58 programmes and actions.
Speaking at a press conference, Deputy Prime Minister Wan Azizah Wan Ismail said that the plan would not merely tackle the causes of underage marriage, but also indirectly help overcome other social issues affecting families and children.
"Underage marriage," she explained, has "a profound effect on the health of a teenager and there are studies that found that girls aged between 15 and 19 who are pregnant face a higher risk of death during pregnancy or birth."
Dr Wan Azizah, who is also Minister of Women, Family and Community Development, noted that 61 agencies would be involved in implementing the government plan.
The latter includes strengthening the existing socio-economic and outreach support programmes, increase the minimum marriage age to 18 for girls as well as providing children-friendly, reproductive health services.
To achieve its goal, the Ministry of Women, Family and Community Development will set up a steering committee to monitor the plan.
Deputy Women, Family and Community Development Minister Hannah Yeoh said the government would also engage with non-Muslims, the Orang Asli[*] and natives of Sabah and Sarawak in order to get every community onboard to stop child marriages.
"Getting states' consent to change the law is only for the one that affects Muslim marriages," said Hannah Yeoh. "Our data, however, shows that customary marriages in Sabah and Sarawak are equally high. Underage marriage is also high among the non-Muslims too."
So far only the State of Selangor has raised the legal marrying age for Muslims to 18, whilst the process of changing the law is underway in Federal Territories.
Penang, Sabah, Johor, Melaka and Perak have agreed to amend their marriage laws but seven other states – Sarawak, Pahang, Terengganu, Perlis, Negri Sembilan, Kedah and Kelantan – have not agreed to change theirs.
Fuziah Salleh, Deputy Minister in the Prime Minister's Department, announced that the government was introducing guidelines that would require applications for underage Muslim marriages to go before the Syariah (Sharia) High Court.[†]
"Parents must present medical and mental health reports from healthcare officials and the Social Welfare Department to the court," Fuziah Salleh explained. "They would also be interviewed by Syariah High Court judges to determine the underlying factors surrounding their applications."
In Malaysia, Islamic and civil laws allow minors to marry. Under civil law, non-Muslim can only marry when they are 18; however, non-Muslim girls can marry at 16, provided they obtain the consent of the chief minister of their state of residence.
For Muslims, the minimum age for marriage is the same as for non-Muslims, but Syariah courts may allow marriage below those ages.
According to official figures, some 10,240 child marriage applications were made between 2005 and 2015, an average of 1,024 each year.
Among non-Muslims, 2,104 girls aged 16 to 18 got married between 2011 and September 2015, i.e. 420 per year.
http://www.asianews.it/news-en/Poverty,-laws-and-traditions-among-the-causes-of-child-marriages-in-Malaysia-49061.html
--------
Jos Muslim Women Embrace Physical Exercise to Keep Fit
Jan 18, 2020
"We wear big long head cover (Hijab) on top of tracksuits and canvas and come out as early as 6am for exercise. We cover our body – from head to toe – properly to ensure that our dress code is in agreement with our religion and culture," says Sadiya Ibrahim Muhammad, captain of Peace Fitness Centre who noted that they have discovered that physical training exercise is a solution to the pervasiveness of health challenges bedevilling them. Muslim women, especially married ones in Jos, are not known to public sporting activities particularly among Hausa communities but the prevalence of endemic diseases, according to them, have been a driving factor that forced them to key into physical exercise. Regular exercise according to medical doctors helps prevent many health problems but the culture of going out to improve health condition through exercise is uncommon among Muslim (married) women generally. Daily Trust gathered that lack of awareness of the significance of exercise, coupled with cultural or religious belief are part of the reasons why Muslim women dissociate themselves from physical exercise.
The new trend, which is gradually gaining acceptance in the state, presents the women during training hours in their traditional Hijab which symbolises their dress codes in some sport scenes, with others jugging along major roadsides just to maintain fitness. The prevalent cases of health challenges such as diabetes, obesity, hypertension, heart and liver related diseases among others, have made people to realize that physical exercise has a big role to play in the general wellbeing of the body.
Before now, it was very rare to see Muslim married women in Jos, kitted in canvas and sports wears along roadsides jugging or deliberately forming a drill team, aimed at maintaining their health conditions. But half a kilometre from Bauchi Road Dutse Uku Junction to Jilek football pitch, a group of Muslim women are seen enjoying their morning training. Our correspondent who visited the training ground as early as 6am on Wednesday witnessed how the women arrived the training ground one after the other, being very passionate and keeping to time. Speaking to our correspondent on their reason for embracing physical exercise, Sadiya explained that "Muslim women have been left behind in terms of exercise and it's high time we embrace it because some of us are diabetic or hypertensive patients, while others suffer from ailments that require frequent exercise. You see this woman (pointing a friend), she had a serious heart disease confirmed by a medical doctor, but through her active participation in the training, she's getting stronger." Sadiya noted that most Muslim women don't partake in this kind of training because they are ashamed of moving around wearing tracksuits and canvass, adding that "I enjoy it more than anything because I feel healthy and comfortable anytime I go for the training." She said knowing the importance of the training, she always invite more women to enrol. "When we started, we were three but today, we are more than fifty because more women are beginning to see the impact of the training. Prior to the commencement of the training, I was huge and heavy but through constant training, I have reduced weight and equally lowered my sugar level. I don't want to miss a day without doing the exercise." Mrs. Sadiya further said to ensure commitment, respect and discipline among them, the team put in place rules and regulations which include wearing of long hijab that covers the entire body, adding "without hijab no woman will be allowed to participate." She also said everyone is expected to adhere to the stipulated time which is from 6am to 7am every Saturday, Sunday and Wednesday. This according to Sadiya has brought sanity, discipline, and commitment to the team. Muhammad Kabir, who trains the women, explained why the centre was initiated for the women. He said "life has changed. There are lots of infectious and communicable diseases nowadays and it's also worthy to note that incessant drugs usage for treatment of those diseases have effects on the health conditions of people; but regular exercise happens to be the only platform for continuous relief from most of these illnesses, that's why we are here today. We are here to treat our major and minor health cases by exercising, maintaining some degrees of fitness and remaining active."
https://www.dailytrust.com.ng/jos-muslim-women-embrace-physical-exercise-to-keep-fit.html
--------
Saudi Working Women Not Keen On Saving Money For Marriage
January 17, 2020
By Anas Alyusuf
Saudi Gazette
JEDDAH – Saudi working women are mostly apathetic to save money for their marriage purposes, according to an official survey, carried out by the General Authority for Statistics. It was revealed in the survey that 99.6 percent of the employed women are not interested in the idea of saving money for the purpose of marriage. Only 0.4 percent of the working women are eager to save some money for their marriage. At the same time, 34.82 percent of the male employees are saving money to meet their marriage expenses. The overall percentage of Saudi men and women employees, who save money for this purpose, did not exceed 28.38.
According to the Saudi Youth Development Survey of 2019, the largest number of working Saudi men and women, with 39.69 percent, see meeting emergency needs is the main reason for their saving. More than half of women employees (58.80 percent) give first priority to this while 35.28 percent of men employees consider this as their first priority.
In the survey, women employees also excelled in their choice to save for "other reasons" by 33.53 percent while their male counterparts stood at 10.51 percent, with an overall percentage of 14.82 percent.
However, males excelled in their reason for saving for the purpose of housing by 19.38 percent, while women's percentage in this respect stood at 7.27 percent, and the overall rate for both sexes was at 17.11 percent.
According to the survey, the percentage of young employees, who are fully satisfied with their job, accounts for 23.54 while 54.12 of them did not face any difficulties during their work at present or in the past. The breakup of this among male and female staff accounts for 54.67 percent and 51.47 percent respectively. It also showed that 45.88 percent of young employees reported facing some sort of difficulties during work.
The survey also identified the reasons for the difficulties. The low salary was attributed to as the reason by 19.31 percent of the young staff, with a breakup of 18.86 percent of male and 21.49 percent of female staff. The work pressure and length of working hours were attributed to as the reason by 10.04 percent and their percentage by sex reached 8.94 percent of male and 15.34 percent of female. Around 5.25 percent of the staff saw working in a distant city as the third reason and their percentage by sex is 5.86 percent of male and 2.29 percent of female staff.
The length of time taking to reach workplace due to traffic congestion or the distance is the reason for difficulties for another 3.9 percent of staff, with a breakup 4.25 percent of male and 2.25 percent of female. The difficulty in obtaining leave was found as the reason by 2.93 percent of staff and these include 3.09 percent of male and 2.16 percent of female staff while another 2.52 percent, including 2.26 percent of male and 3.78 percent of female, found inappropriate treatment of superiors as the reason.
The survey, which was conducted during the second quarter of 2019, aims to provide many important indicators about the real situation of youth in the social, demographic and economic aspects, highlighting issues and challenges facing young people, providing an opportunity to get acquainted with their needs, and extracting many indicators and measures.
In the survey, all young employed people endorsed to the existence of all kinds of values in society. However, percentage of their voting varied from one to another in certain degrees. A total of 98.55 percent of the youth voted for the value of a "person's sense of responsibility" while hard work received 98.12 percent of vote; tolerance 98.26 percent; perfection 97.46 percent; prudent spending 89.22 percent; compliance with regulations 94.64 percent; justice 97.95 percent; moderation 97.42 percent; determination and perseverance 98.41 percent while 92.64 percent of the young staff voted for transparency.
It was also revealed in the survey that the Saudi population in the age group of 15-34 years makes up 36.70 percent, of which men constitute 51.03 percent while women represent 48.97 percent.
http://saudigazette.com.sa/article/587146
--------
Republican Challenger For Ilhan Omar's 5th District Seat Is Also A Muslim Refugee
January 17, 2020
MINNEAPOLIS (WCCO) – A new Republican challenger to Rep. Ilhan Omar is, like her, a woman, a Muslim and a refugee.
Dalia Al-Aqidi announced this week her campaign for Minnesota's 5th Congressional District. In a campaign video, she criticized Omar for "sowing seeds of division" in the country.
Omar, who was born in a refugee camp in Kenya and came to the U.S. as a child, was one of the first Muslim women elected to Congress in 2016, winning the 5th District in a landslide. Since then, she's become a prominent critic of President Donald Trump.
Al-Aqidi was born in Iraq and fled the regime of Saddam Hussein. In the U.S., she worked as a journalist, covering the White House as a political correspondent.
On her campaign website, Al-Aqidi describes herself as a proud Muslim who sought a better life in America. She says the difference between her and Omar is that while she has championed the United States, Omar's rhetoric and comments have been harmful for Minnesota and the country.
Al-Aqidi is seeking the Republican nomination. Omar is also facing a primary challenge from community organizer John Mason.
https://minnesota.cbslocal.com/2020/01/17/republican-challenger-for-ilhan-omars-5th-district-seat-is-also-a-muslim-refugee/
--------
Why many Muslim women in the US are skipping the Women's March this year
By Azad Essa
17 January 2020
Asma Elhuni says she is done with the national Women's March.
A devoted attendee and participant since 2017, she even spoke at Vermont's March in 2019. But the community organiser says she no longer sees a place for herself within the movement.
"This year I made a clear stand that I will not be going because their feminism and human rights [advocacy] is very selective," she told Middle East Eye.
"If you are really for the liberation for women, then you should seek the liberation for all women and the Women's March doesn't do that," Elhuni added.
The Women's March is a US nonprofit group that evolved from the initial Washington march in 2017 following President Donald Trump's inauguration.
The movement describes itself as a platform "created by women and for all people" with a mission to enable everyone to live safely and "free from structural impediments".
But Elhuni is one of a growing number of Muslim women and women of colour who have publicly disavowed the Women's March this year over repeated concerns that the movement remains overwhelmingly white and tone-deaf to the issues faced by other communities. "This country has a history of a type of feminism that leaves out certain women. Through the Women's March, this practise of valuing the experience of some women over others continues today," Elhuni said.
A number of Muslim women say the March is neither inclusive nor interested in moving beyond Muslims and women of colour as tokens.
Nausheena Hussain, who was on the advisory board of the Minnesota chapter of the March in 2019, told MEE that the way some progressive spaces treat outspoken Muslim women is not very encouraging for others looking to get involved in public service.
"Watching Linda Sarsour and then seeing Zahra Billoo included on the board - you know, people who speak up on issues - was a big deal. But then the moment they spoke up, they were attacked and attempts [were] made to silence them," she said.
"A lot of Muslim women see how vulnerable these women are because they speak out and then choose to steer clear from these positions as a result," the executive director of Reviving Sisterhood, a Minneapolis-based non-profit, said.
Sarsour, a community activist based in New York City, was one of the co-chairs of the March. As an outspoken Palestinian-American, she routinely faced accusations of antisemitism throughout her tenure.
In mid-2019, she stepped down from the board.
Silencing the community
The Women's March has been under intense scrutiny since it voted off activist Billoo from the board over her criticisms of Israel, which her detractors called antisemitic - an allegation ultimately endorsed by the board when it dismissed her.
The decision created a wedge within the Women's March, and for months, concerned activists have sought clarity from the March over the treatment of Billoo, only to be met with silence. Marcie Wells, a member of the 2019 steering committee, resigned over the affair.
Elhuni, the community organiser from Vermont, says that for the March to sideline Billoo, who speaks out about issues facing the community, it was akin to silencing the community itself.
"She has spoken up on profiling by the FBI, and the Muslim ban, and she has a long history of speaking up on important issues that matter to us," Elhuni said.
Billoo told MEE that the Women's March "has had many months to make things right with Arab and Muslim communities".
"Unfortunately, they haven't done so," Billoo said.
The Women's March did not reply to Middle East Eye's request for comment.
In a statement released in September, the March said that Billoo had been removed with immediate effect after concluding that "some of her public statements [were] incompatible with the values and mission of the organisation".
But it is not just Muslim women who feel marginalised by the Women's March.
Similar complaints of one-dimensional politics have also been levelled by others who argued that the Women's March did not take up issues close to the Black community, such as police brutality.
Tokenism
But Zainab Khan, a community organiser based in Atlanta, says that a lack of intersectionality has dogged the March from the very beginning.
"I went for the first one in 2017. And immediately, I didn't feel that my values were represented. I felt tokenised.
"I remember there were these posters of a Muslim woman in an American flag hijab. That is all I needed to know," Khan says.
Observers say the lead-up to this year's event has been a lot quieter than normal, which is a sign that all is not well within the movement.
While the first edition of the March and its sister events drew millions across the country, observers aren't predicting a similar turnout this year.
"I think the jury is still out as to what the purpose of the March is today," Hussain said.
"We still need to figure out what it has achieved besides bringing people to the streets."
Ruby Khan, a student activist based in NYC, told MEE that the failure of the movement to be intersectional, together with what she calls "collective compassion fatigue", means she doesn't foresee as big a turnout as there was in 2017.
Ruby Khan said that though the turnout has been in decline, she wouldn't completely discount "the efforts of gender, queer and women's interest groups who meet on the eve of the march to coordinate and reflect on shortcomings".
On Thursday, Mei Mei Chan from Equality Rights, a group that advocates for gender justice in workplaces and schools across the country, argued that there were many reasons to be upset with the movement.
"For many people, the fact that the Women's March has made so many decisions in conflict with their mission is good enough reason to cancel them," Chan wrote.
"Today, I'm not casting aside the Women's March. I hope that in the future the Women's March won't cast me aside, either."
But Elhuni says it's imperative to take a stand.
"If we don't send a message, this will continue. They need to know: leaving Palestinian women out, leaving Muslim women out, is not okay," she said.
https://www.middleeasteye.net/news/why-many-muslim-women-are-skipping-womens-march-year
--------
Senator assailed for denouncing women's rights march
January 18, 2020
ISLAMABAD: A discussion in the Senate on the annual report of the National Commission on Status of Women (NCSW) on Friday took a bizarre turn when a Pakistan Tehreek-i-Insaf (PTI) lawmaker attempted to justify honour killing and ridiculed women's rights movements.
"Honour killing is a problem," Senator Mohsin Aziz admitted but in the same breath said honour and culture were important too. He said that women should lead their lives in accordance with Shariah.
He also criticised the NGOs that organised the Aurat March protests across the country last year where slogans such as "heat up your own dinner" were chanted.
Pakistan Peoples Party's parliamentary leader in the Senate Sherry Rehman, while reacting to the remarks that linked culture and oppression of women, said: "When it comes to women's rights I expect all parties to adopt a bipartisan approach in parliament. You cannot justify honour crimes or any other oppression, let alone condemn entire rights movements, in the name of culture. We [women] are neither a second gender nor will we condone honour crimes in this house."
Thanking those who played a pivotal part in women's rights movements over the decades, Ms Rehman said: "Those women spearheaded the women's movement with an unprecedented bravery, offering invaluable sacrifices as they faced a dictator like Ziaul Haq. But we were not doing it for our own rights. We don't fight for ourselves. We fight for those who are without privilege or power as honour crimes are mostly faced by those living in deeply vulnerable situations, in rural or tribal areas or situations where they don't know their rights or are unable to exercise them, with no access to lawyers or justice."
Ending her remarks on a lighter note, she said: "The new women's movement too must be supported and if Senator Mohsin did not like slogans like 'heat up your own dinner' from last women's demonstrations, he should be careful as we will make sure he has to heat up his own dinner too."
Pakistan Muslim League-Nawaz (PML-N) Senator Nuzhat Sadiq said that the NCSW report pointed out that though steps had been taken in some areas like academia, corporate sector and media to improve conditions of women, yet concerted efforts were needed to uplift them in some sectors including rural women and home-based workers. Quoting one of the recommendations of the report, she said that a mechanism should be formed to collect data of those women who work in non-formal sectors, mostly home-based workers.
Jamaat-i-Islami Senator Mushtaq Ahmed quoting the report deplored that over 12 million women registered with the national registration authority were still missing from the electoral rolls.
https://www.dawn.com/news/1528992/senator-assailed-for-denouncing-womens-rights-march
--------
Tarek Fatah Got It Wrong. Pakistani Woman Did Not Refuse Polio Drops For Her Children
REVATHI KRISHNAN
15 January, 2020
New Delhi: Pakistani-Canadian author Tarek Fatah shared a video early Wednesday of a woman screaming at two polio vaccine volunteers and refusing to allow her children to take the drops.
Fatah had tweeted the video claiming it was from Pakistan, but deleted it later in the day.
In the clip, the woman can be heard saying: "I will never allow my children to take these drops. My children will never drink this."
The columnist and author, whose Twitter bio says he has been imprisoned by successive military regimes in Pakistan, had shared the video on Facebook as well.
While the Facebook clip was viewed more than 6,000 times until the time of filing this report, the video has been retweeted more than 3,000 times and liked by over 8,000 people on Twitter. Many criticised the woman and the state of affairs in Pakistan.
Fact check
The video is actually from a Pakistani movie called Load Wedding, which was released on 22 August 2018. The movie's lead actor, Mehwish Hayat, replied to Fatah's tweet, debunking his claims.
Hayat also asked him to check his sources.
"It's a scene from my movie 'Load Wedding', the polio worker is me & that woman an actress. Through the film we were raising awareness on the issue. Glad to see our performances were so convincing (sic)," she wrote.
Mehwish Hayat TI
✔
@MehwishHayat
Thank u for giving ur 2 cents on this but pls first verify the source b4 posting next time. It's a scene frm my movie"loadwedding",the polio worker is me & that woman an actress.Through the film we were raising awareness of the issue.Glad 2 see our performances were so convincing https://twitter.com/tarekfatah/status/1217209562433871872 …
21.6K
5:50 AM - Jan 15, 2020
Twitter Ads info and privacy
8,846 people are talking about this
Load Wedding is a romantic social comedy, shedding light on issues prevalent in Pakistani society.
It isn't the first time that Fatah, who is known for his anti-Islam views, has fallen prey to fake news.
In November 2019, he had tweeted a doctored image of a madrassa teacher explaining to students why Islam was superior to Hinduism. At the time, Fatah had said: "No, the mullah is not playing knots & crosses. He is teaching Muslim girls in an Indian Islamic school the comparative superiority of Islam over Hindusim."
The image was actually from a madrassa in Gorakhpur, Uttar Pradesh, which was in the news for teaching students Sanskrit along with subjects such as English, Hindi and Urdu.
https://theprint.in/hoaxposed/tarek-fatah-got-it-wrong-pakistani-woman-did-not-refuse-polio-drops-for-her-children/349765/
--------
URL: https://www.newageislam.com/islam-women-feminism/columbus-police-weigh-eliminating-hijab/d/120827
New Age Islam, Islam Online, Islamic Website, African Muslim News, Arab World News, South Asia News, Indian Muslim News, World Muslim News, Women in Islam, Islamic Feminism, Arab Women, Women In Arab, Islamophobia in America, Muslim Women in West, Islam Women and Feminism