New Age Islam News Bureau
13 Sept 2019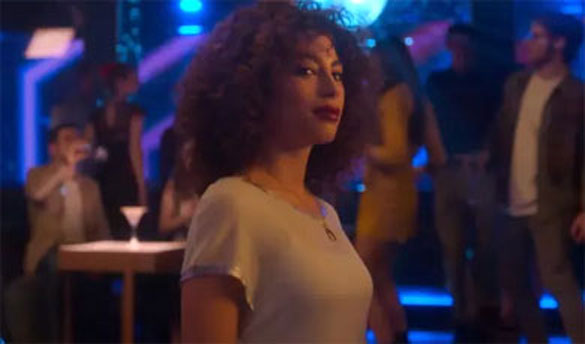 Where is the nuance for female Muslim characters? (Picture: Netflix)
-----
• Abuse of Female Political Prisons on Rise in Bahrain: Rights Groups
• TV Needs To Stop 'Empowering' Muslim Women By Removing Their Hijabs
• Why Kuwaiti Women Are Increasingly Turning To Egg Freezing
• French Court Finds Saudi Princess Complicit In Violence against Workman, Gives Jail Term
• Women Workers Return Scarred From Saudi Arabia
• Survey Finds Modest Gains in Support for Arab Women's Rights
• Saudi Women's Economic Participation Up By 23.2% In Q2
• UN experts: UAE forces sexually abuse inmates in Yemen
Compiled by New Age Islam News Bureau
URL: https://www.newageislam.com/islam-women-feminism/college-up-denied-entry-some/d/119734
--------
College In UP Denied Entry to Some Girl Students for Wearing Islamic Hijab or Burqa
ANI
September 13, 2019
The SRK College in Firzoabad denied entry to some girl students allegedly because they were wearing Burqa.
However, the College administration said that the attire has been forbidden because it is not a part of the uniform.
"This is an old rule that students have to come in Uniform and with ID cards. Since admissions were going on, this was not followed strictly. Now it has been completed. So after 11th September, entry without uniform and ID Card is not being allowed. Burqa doesn't come under dress code. Only the uniform which has been decided by the College will be allowed," College Principal, Prabhaskar Rai said.
Girls who came wearing Burqas were not allowed entry into the College premises.
"Don't know why they are not allowing it. I did try to get inside but they refused permission for it," a girl said.
The students said this was not the case earlier. "No, it did not happen like this before," another student said.
District Magistrate Chandra Vijay Singh termed the issue as an internal matter of College.
"The incident has come to my knowledge. This is an internal matter of College. Some of the girls were told that they need to come in uniform and that entry would not be allowed without uniform and ID," he said.
He also refuted allegations that they were pressurised to remove Burqas.
"No, they were not forced to remove their Burqas. They were told to come in Uniforms. Students should follow the rules decided by the College," Singh said.
https://www.business-standard.com/article/news-ani/up-girl-students-wearing-burqa-denied-entry-in-college-119091300204_1.html
-------
Abuse of Female Political Prisons on Rise in Bahrain: Rights Groups
Sep 12, 2019
Human rights organizations blow the lid off widespread torture and abuse against female political prisoners in Bahrain, implicating the US and the UK in the Manama regime's human rights violations.
In a report on Wednesday, Americans for Democracy & Human Rights in Bahrain (ADHRB) and the Bahrain Institute for Rights and Democracy (BIRD) said that human rights violations against female activists and human rights defenders have increased since 2017, when Bahrain's domestic spy service, the National Security Agency, was reinstated.
The 135-page report — titled Breaking the Silence: Bahraini Women Political Prisoners Expose Systemic Abuses — revealed that female political prisoners in Bahrain have been subjected to abuse at every stage of the criminal procedure, including illegal arrests, physical, sexual and psychological torture to extract confessions, sham trials and inhuman prison conditions.
Since early 2017, the groups have been conducting interviews with nine women, their relatives or their lawyers, and when available, have analyzed their legal documents.
Seven experts from organizations including Amnesty International, Human Rights Watch and the World Organization Against Torture, have provided commentary throughout the report.
The female activists said that, following unlawful arrests – including three cases of enforced disappearance – they endured coercive interrogations without legal representation. According to the report, coerced confessions were used to convict at least six of the women in sham trials.
While all the women said that throughout the process, officials threatened them with rape or death. Half of them said they were physically assaulted with beatings, kicks and punches.
The report said that the political prisoners were subjected to other forms of ill-treatment, including prolonged solitary confinement, forced standing, and being held in cold or dark rooms in painful.
"The torture started from the first moment in the car by masked, armed, civilian-clothed men," said Medina Ali, one of the women.
"I was blindfolded and tortured with violent beatings aimed at the face and hitting my head against the wall violently," she said.
The report exposes the complicity of the UK and US governments, which continue to supply arms, training and political support to the Bahraini regime in flagrant disregard of international human rights concerns.
These abuses continue uninvestigated as oversight bodies trained with funding from the UK and US governments are complicit and fail to hold the perpetrators accountable, said the report.
ADHRB and BIRD called on the Al Khalifah regime to allow access to the Special Rapporteur on torture and other cruel, inhuman or degrading treatment or punishment, as well as the Special Rapporteur on violence against women.
They said that Bahraini authorities need to conduct a "timely, transparent and thorough investigation into allegations of arbitrary arrests, coercive interrogation tactics and physical and sexual assault, ensuring that all responsible officers are held accountable."
Thousands of anti-regime protesters have held demonstrations in Bahrain on an almost daily basis ever since a popular uprising began in the country in mid-February 2011.
They are demanding that the Al Khalifah regime relinquish power and allow a just system representing all Bahrainis to be established.
Manama has gone to great lengths to clamp down on any sign of dissent. On March 14, 2011, troops from Saudi Arabia and the United Arab Emirates were deployed to assist Bahrain in its crackdown.
Scores of people have lost their lives and hundreds of others sustained injuries or got arrested as a result of the Al Khalifah regime's crackdown.
On March 5, 2017, Bahrain's parliament approved the trial of civilians at military tribunals in a measure blasted by human rights campaigners as being tantamount to imposition of an undeclared martial law countrywide.
Bahraini King Hamad bin Isa Al Khalifah ratified the constitutional amendment on April 3 last year.
https://www.presstv.com/Detail/2019/09/12/605985/Bahrain-women-activists-torture-rights-groups
--------
TV Needs To Stop 'Empowering' Muslim Women By Removing Their Hijabs
Mariam Khan
13 Sep 2019
This week season two of Elite, the juicy drama following three working class teens entering private school in Spain, arrived on Netflix. The very binge-watchable show is like a Spanish-language cross between Gossip Girl and Pretty Little Liars. Nadia Shano, played by Mina El Hammani, is an intelligent and focused scholarship student. In season one, Nadia wears hijab. When she's threatened with expulsion if she doesn't remove her hijab on the first day of school, she begins to only wear hijab to and from school, but not at school itself. In a key scene in season two, we see Nadia walk into a bar, looking undeniably fierce as she crosses the floor of the club. She't not wearing her hijab. She goes on to drink alcohol, and finally, she has the courage to get with the rich boy – the Chuck Bass of the show – and white saviour, Guzman. The message seems to be that suddenly, after removing her hijab, Nadia is free. Free from supposed oppression and being submissive. As a Muslim woman viewer, I wanted to give this show the benefit of doubt and root for Nadia. I thought she could have a salacious storyline just like the other teens, without the backdrop of oppression or emancipation at the cost of her rejecting her identity or being saved by a white boy lover. But now, I feel like that famous Tyra Banks moment from America's Next Top Model, where Tyra is shouting: 'I was rooting for you, we were all rooting for you!'
It's not really that I'm frustrated with the character, or the actress. My main source of frustration is the writers – none of whom are Muslim women. I want to know when the stereotypes around Muslim women on TV will end. When they're depicted onscreen, there's always either oppression or terrorism involved. The BBC's Bodyguard, which had audiences gripped, ended with the reveal of the Muslim hijabi character being a jihadi terrorist. In Homeland, Muslim characters were either terrorists or US assets in some way. I'm sure that Elite would be yet another series to fail The Riz Test – The Bechdel test for Muslim representation, based on a speech given by Riz Ahmed, that checks whether Muslims are being portrayed as either threatening or culturally backwards. In season one of Elite, one of the characters tells Nadia that is must be 'hard to think… with that scarf wrapped around your head'. As a disclaimer, it's important to note that some Muslim women may be forced to wear hijab. I'm not arguing that those narratives shouldn't be portrayed or discussed. What I am saying is that this is all the media ever portray when it comes to the representation of Muslim women. Believe it or not, many Muslim women are out here living their best lives.
Where is the nuance for female Muslim characters? When and how are we going to dig ourselves out of these stereotypes that deny Muslim women their extraordinary successes and ordinary lives? When and how will anyone believe that Muslim women have agency, and the ability to make their own choices, if stereotypes like this consistently dominate every cultural space Muslim woman are a part of? Not all representation is good representation. And not all Muslims wear hijabs. Most Muslim women don't base their entire identity and independence on a hijab. I often feel like the imagination of writers and directors is simply stunted when they think of Muslim women. It's frustrating that someone can be in a position of such influence, such as writing a popular TV show, and yet they persistently refuse to accurately research authentic narratives outside of what they know. It's sheer laziness, and it's insulting.
I have come to realise that Muslim women being portrayed in this way is a malicious patriarchal technique that is employed to control Muslim women. Because if we aren't perceived as oppressed, then we have the possibility to be what we want to be. With the rising Islamophobia in the West, I don't think anyone wants to see Muslim women succeed in this way. It seems it is simply too complex to consider that a Muslim woman who wears hijab may have an identity outside of oppression or terrorism – and yet so many millions of us do. If shows like Elite continue to erase us, I worry about how portrayals like this may hold back young Muslim women for a long time to come.
https://metro.co.uk/2019/09/13/tv-needs-to-stop-empowering-muslim-women-by-removing-their-hijabs-10723969/
--------
Why Kuwaiti Women Are Increasingly Turning To Egg Freezing
September 12, 2019
Ramadan Al Sherbini
Kuwait City: Increasing numbers of Kuwaiti women are turning to freeze their eggs to preserve their reproductive potential, experts have said.
"There is interest from unmarried women aged over 40 in the technique amid growing awareness that reproduction is related to the age factor," Dr Hazem Al Rumheih, a gynecology and obstetrics consultant, told Kuwaiti newspaper Al Rai.
He added that the procedure is also used by female cancer patients who undergo chemotherapy.
"Egg freezing does not contradict the Islamic Sharia," he said.
Dr Mai Kamel, a reproductive health specialist, explains reasons that prompt women to have their eggs frozen.
"They include suffering from genetic diseases, late marriage or the desire to postpone pregnancy due to social or employment reasons," she told the same paper.
"The majority of women turning to this operation are aged above 30, who have gone beyond the marriage age or wish to postpone pregnancy. The procedure is simple and its risk percentage is low," Dr Mai added.
Egg freezing, scientifically known as oocyte cryopreservation, is a procedure in which a woman's eggs are extracted and stored for later pregnancy.
Some married women in Kuwait have also favoured the procedure, according to Dr Al Rumeih who did not give specific figures.
"For married women [in Kuwait], the husband's approval is a condition for conducting the egg freezing operation," he said.
The procedure costs around 5,000 Kuwaiti dinars.
https://gulfnews.com/world/gulf/kuwait/why-kuwaiti-women-are-increasingly-turning-to-egg-freezing-1.66375860
--------
French Court Finds Saudi Princess Complicit In Violence against Workman, Gives Jail Term
Sep 12, 2019
A court in France has sentenced the daughter of Saudi King Salman bin Abdulaziz to several months in prison after finding her complicit in violence with the threat of a weapon and complicit in abduction.
Prosecutors in Paris on Thursday handed down a 10-month suspended prison sentence to 43-year-old Hassa bint Salman, sister of Crown Prince Mohammed bin Salman, after accusing her of ordering a bodyguard to beat up a plumber, Ashraf Eid, in her luxury flat in the French capital in September 2016.
Hassa, who was tried in absentia, was also ordered by the Paris court to pay a 10,000-euro fine. She had never shown up at the trial, which got underway in July, and has so far denied any wrongdoing.
According to Eid, King Salman's daughter told her bodyguard, Rani Saidi, to bind his hands, punched and kicked him and forced him to kiss the princess' feet after she accused him of filming her on his cell phone.
Saidi was also sentenced to an eight-month suspended prison term and to pay a 5,000-euro fine.
Eid said he had only taken pictures of a damaged wash basin at the fifth floor of the luxury apartment block owned by the Saudi royals on Avenue Foch, claiming he needed the pictures to carry out his work of repairing the basin.
Hassa was infuriated after her reflection was caught in a mirror on camera and ordered her bodyguard to beat Eid, the plumber added.
In the past, the Saudi royalty has faced other legal problems in France. Back in 2013, a French court ordered assets of Saudi Princess Maha al-Sudairi, wife of the former interior minister Prince Nayef bin Abdul Aziz, to be seized, accusing her of not paying bills at a luxury hotel totaling almost six million euros.
https://www.presstv.com/Detail/2019/09/12/606014/Saudi-Arabia-France-Hassa-King-Salman-plumber-violence-prison
--------
Women Workers Return Scarred From Saudi Arabia
Sep 13, 2019
Migrant women workers from Bangladesh continue to be mistreated by their employers in Saudi Arabia. Other than having to adjust with the new environment and food, they are also often physically beaten by their employers.
Three women recently returning from Saudi Arabia, shared their traumatic experiences with Prothom Alo.
Kabirun Nahar emerged from the airport, limping with her right foot in a bandage. This middle-aged woman from Maulvibazar went to Saudi Arabia six months ago, hoping to earn enough to help her family. Instead she returned with a fractured foot.
Similarly, Hosne Ara of Chandpur also returned home with bitter experience in Saudi Arabia. She found it hard to adjust to her new surroundings and food habits. She was also often beaten up by her employer. She was forced to cut short her two-year contract to return home in just five months.
A total 18 such female migrant workers returned from Saudi Arabia along with these two women, arriving in Dhaka by an Emirates flight on Thursday morning.
All of these oppressed women had taken shelter at the Bangladesh embassy's safe home in Saudi Arabia. Upon return to Bangladesh, they related their tales of trauma to Prothom Alo.
The non-government development organisation BRAC runs a programme for the rehabilitation of women migrant workers returning from abroad. According to BRAC, 850 women returned back home over the last eight and half months, after being tortured by their employers. Last month alone, 109 women returned, many of them victims of mental and physical torture as well as sexual abuse. Prior to that, 1353 women returned, many of them also having faced sexual abuse.
However, secretary general of the Bangladesh Association of International Recruitment Agencies (BAIRA) Shameem Ahmed Chowdhury said that not all of the allegations brought about by the returning women are true. Speaking to Prothom Alo, he said if an investigation was carried out, the actual picture would emerge.
In a letter sent by the Bangladesh embassy in Saudi Arabia to the ministry of expatriates welfare and overseas employment, it was said that from January last year to March this year, 2222 women domestic workers had returned to Bangladesh.
Speaking to Prothom Alo over mobile phone on Thursday night, labour counsellor of the Bangladesh embassy in Saudi Arabia, Aminul Islam, said that the women workers actually returned home as they could not take the work pressure or adjust to the food, climate, language and environment. They ran away from their workplaces and took shelter at the embassy's safe home. However, this tendency had lessened in recent times.
After Indonesia and Philippines stopped sending housemaids to Saudi Arabia due to allegations or torture, the country signed an agreement with Bangladesh in 2015. Since then till July this year, around 300,000 women workers have gone to Saudi Arabia. The women go on a two-year contract for a monthly salary of 800 riyals, equivalent to around Tk 17,000. These housemaids do not have to pay their passage to Saudi Arabia.
Director (employment) of the bureau of manpower, employment and training, DM Atiqur Rahman, said that they immediately take measures to bring the women back home when allegations of torture arise. He said, 260 women who returned this year due to oppression and other reasons, were provided with compensation of around Tk 8 million to Tk 8.5 million from the relevant agencies. He said that vigilance was being stepped up to ensure that women migrant workers going to Saudi Arabia did not face any sort of problems.
Persons involved in the migration sector said that there was compulsory one-month training in language, work methods and climate adjustment before going to Saudi Arabia., but that was not followed. They felt the women could be sent to other sectors of employment rather than as housemaids.
Executive director of the Bangladesh Women Workers Centre, Sumaiya Islam, told Prothom Alo that women should not be sent to Saudi Arabia or any other country without ensuring their safety and protection. She said that the government must regularly monitor the working conditions of women migrant workers.
https://en.prothomalo.com/bangladesh/news/201727/Women-workers-return-scarred-from-Saudi-Arabia
--------
Survey Finds Modest Gains in Support for Arab Women's Rights
Burton Bollag
13 Sep 2019
A majority of Arabs would accept a woman head of state, yet only one-third think it is permissible for women to travel alone. At the same time, Arab young people are so disillusioned with their prospects in their own countries that large numbers want to emigrate.
These are a few of the latest findings from the Arab Barometer, a research network that has conducted surveys of public opinion across the Arab region since 2006. The nonpartisan, nonprofit initiative, run out of Princeton University, conducted its fifth and largest wave of surveys in 12 Arab countries between September 2018 and June 2019.
The survey's questions deal, among other things, with governance and political affairs, personal and national economic circumstances, religion, and international relations. The Barometer has begun releasing parts of the results, a process that will continue until the end of the year. It recently released reports concerning the status of women, and attitudes among youth.
The reports are based on responses collected by local partners who conducted 45-minute, face-to-face interviews with over 25,000 citizens in their homes. There were about 2,400 respondents in each of the 12 countries surveyed: Algeria, Egypt, Iraq, Jordan, Lebanon, Libya, Kuwait, Morocco, Palestine, Sudan, Tunisia and Yemen. The Barometer has been trying to expand to other Arab countries, including Saudi Arabia and the United Arab Emirates, but the initiative's organizers say they have been unable to get guarantees of "free and fair access" to the population, without which they will not include a country in the exercise.
In its report on attitudes toward women, "Women's Rights in the Middle East and North Africa," the survey found modest but mixed support for greater rights, with positions largely unchanged since the start of polling a dozen years ago. On many questions, the greatest support for women's rights came from people in Lebanon, Morocco, and Tunisia.
"We become very impatient with the Arab countries because they are not changing faster, but we forget how slow change has been in the U.S. and Europe," says Marina Ottaway, a fellow at the Woodrow Wilson International Center for Scholars. "It has been a century since women got the right to vote in the U.S., but there still has been no woman president."
Mixed Views on Women in Politics
Overall, 60 percent of respondents think a woman can be the head of state of a Muslim country. (By country, the proportion of respondents agreeing with that statement ranges from 77 percent in Lebanon to 37 percent in Algeria.) Yet 66 percent feel that men are, in general, better political leaders.
At the same time, there is support for greater women's political involvement. Over two-thirds of people support the idea of quotas that would reserve a certain number of seats in elected bodies, like parliaments, for women. Several Arab countries have such quotas, though experts say it's hard to keep track since the rules change often.
Views of women's rights in the social domain are also mixed. Only 20 percent of people think a university education is more important for men than for women, and most people think women who want to work outside the home should be allowed to. Moreover, 71 percent of Arabs polled believe women should have equal rights to men to get a divorce.
Yet 60 percent believe husbands should have the final say in family matters, ranging from 74 percent in Sudan to 46 percent in Morocco. Not surprisingly, this view is held more by men (70 percent across the region) than by women (50 percent).
In August, Saudi Arabia began allowing women to travel abroad without the consent of a male guardian. Yet in the region as a whole, only 30 percent of those polled said they think women should be allowed to travel on their own. By country, responses supporting that view ranged from 76 percent in Lebanon down to 22 percent in Palestine. And only 21 percent think women should have an equal share of inheritances.
Dissatisfaction Among Youth
As for the region's youth, the Barometer released a report in August, "Youth in Middle East and North Africa," that found them deeply dissatisfied. The Middle East has a very young population—47 percent are below 25 years old. The region has the highest youth unemployment rates of any part of the world—29 percent in North Africa and 25 percent in the rest of the region, with rates at least 10 percentage points higher for young women.
Less than half of young people feel they have the right to express themselves freely or join peaceful political demonstrations. That number has decreased by 20 percentage points since 2011, the year of the Arab Spring uprisings.
The mass demonstrations of the Arab Spring were, naturally enough, filled with young people. But "when people left the streets they were just sidelined," says Ottaway. "So there is a lot of disillusionment." (See a related article, "Arab Citizens Are Disenchanted with Politics.")
Less than one-third of young people say they are interested in politics, and many feel that the most recent parliamentary elections in their country were unfair. While young people may have cultural differences with their elders, "all of society tends to be very frustrated" with their governments and their country's economic situation, says Michael Robbins, a research specialist at Princeton University and director of the Arab Barometer.
One result is that many young people say they want to emigrate—in six of the countries surveyed half or more express this desire. The most coveted destination for French-speaking North Africans is Europe; youth in the rest of the region want to go to the wealthy Arab Gulf states, with North America as the next choice.
When asked about which world power they would like their country to have closer ties with, the clear favorite is China. "They don't have much experience with China," says Robbins, "but it is seen as a possible new hope."
The region is also seeing an increase in the portion of youth saying they are "not religious," a position not easy to hold openly in a region where religion is such a strong force and where atheism is illegal in some countries. The number expressing this point of view across the region has increased from 11 percent in 2013 to 18 percent today.
Finally, Internet use is extremely high—over 90 percent of the young people surveyed use it via computer or cellphone. The highest rates are in Lebanon (99 percent), followed by Jordan (96 percent), Palestine (95 percent), Algeria (93 percent), and Morocco (93 percent). Even in Yemen, where a disastrous civil war has been raging for over four years, 77 percent of young people manage to get online with some frequency. (See a related article, "Study of Arab Media Use: Facebook Down. Podcasts Up. But Don't Criticize the Government.")
Social media is widely used by the region's youth, for whom it is generally the primary source of news and information. Facebook is the most widely used service in all countries with the exception of Yemen, where WhatsApp is preferred.
https://www.al-fanarmedia.org/2019/09/survey-finds-modest-gains-in-support-for-arab-womens-rights/
--------
Saudi Women's Economic Participation Up By 23.2% In Q2
September 12, 2019
RIYADH — There has been an increase of 23.2 percent in the economic participation of Saudi women in the second quarter of 2019 while compared to 20.5 percent in the previous quarter.
The overall economic participation of Saudis (males and females aged 15 years and above) reached 45 percent in the second quarter compared to 42.3 percent in the first quarter.
This information was contained in the employment market bulletin issued on Thursday by the General Authority for Statistics (GASTA) for the second quarter of 2019, the Saudi Press Agency reported.
According to the estimates of the workforce survey, the unemployment rate of the total population (15 years and above) fell to 5.6 percent in the second quarter, compared to six percent for the first quarter of the year.
As for the unemployment rate of Saudis, there has been a decrease in the total number, reaching 12.3 percent in second quarter, compared to 12.5 percent in the first quarter of 2019.
According to the administrative records data, the total number of Saudi employees has decreased to 3,090,248 in the second quarter compared to 3,112,029 in the first quarter.
The data in the administrative records in the Kingdom showed that total number of Saudi jobseekers during the second quarter reached 1,002,855.
The GASTA clarified job seekers as Saudi men and women registered in the government in search of job with the Jadara and Saaed portals of the Ministry of Civil Service and the Taqat portal of Human Resources Development Fund.
The data was collected from the administrative records of the relevant authorities such as the Ministry of Labor and Social Development, Ministry of Civil Service, the General Organization for Social Insurance, the Human Resources Development Fund and the National Information Center.
http://saudigazette.com.sa/article/577145
--------
UN experts: UAE forces sexually abuse inmates in Yemen
September 12, 2019
The chairman of a UN body of experts on Yemen has confirmed the involvement of UAE forces in the sexual abuse of detainees held in secret prisons in the country's south.
In a television interview with Al Jazeera, Kamel Jandoubi exposed the detention and use of girls and women held as hostages in the Yemen war.
Jandoubi said the UN's Group of Regional and International Eminent Experts on Yemen documented 37 cases of sexual violence committed by the UAE-backed security belt and Emirati personnel.
"We have 600 testimonies and huge documents and reports of international institutions to indicate violations in Yemen," he explained.
The UN High Commissioner for Human Rights established the group on 4 December 2017, appointing Tunisian Jandoubi as chairman, following Resolution 36/31 of the Human Rights Council. It was mandated to carry out a comprehensive investigation into the alleged violations and abuses of human rights, perpetrated by all parties in the conflict.
The group of experts visited several Yemeni governorates including Aden, Sanaa, Saadah and Hudaydah but due to security constraints, were unable to visit all, most notably Taiz.
Their findings also implicated the Yemeni government, the coalition and the Houthi alliance with late President Ali Abdullah Saleh of recruiting child soldiers. Reports have revealed that children as young as eight have been forced to take up arms in the conflict.
https://www.middleeastmonitor.com/20190912-un-experts-uae-forces-sexually-abuse-inmates-in-yemen/
--------
URL: https://www.newageislam.com/islam-women-feminism/college-up-denied-entry-some/d/119734
New Age Islam, Islam Online, Islamic Website, African Muslim News, Arab World News, South Asia News, Indian Muslim News, World Muslim News, Women in Islam, Islamic Feminism, Arab Women, Women In Arab, Islamophobia in America, Muslim Women in West, Islam Women and Feminism