New Age Islam News Bureau
07 November 2020
• Jamilah Salem Al-Maliki, 75-year-old Saudi Woman, Turns Passion For Coffee Trees Into Family Business
• Maryam Nawaz 'Taking Advantage' Of Pakistanis' Respect For Women: Imran
• A Queer, Black Muslim Woman Who Wears A Hijab, Along With Other Muslim Women Championed US Presidential Elections Against Trump
• Afghanistan- What Afghan Women Want From Next US President?
• Strengthening Women's Participation in Iraqi Politics
• Two Women Arrested After Returning From Syria
Compiled by New Age Islam News Bureau
URL: https://www.newageislam.com/islam-women-feminism/clerics-deoband-fume-scores-muslim/d/123405
--------
Clerics In Deoband Fume As Scores Of Muslim Women in Lucknow and Agra, Observe Karva Chauth
Nov 7, 2020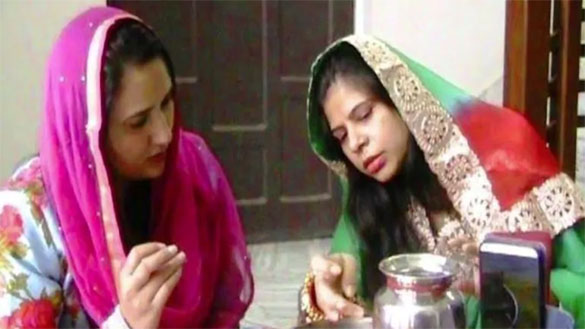 Women observe Karwa Chauth
-----
Muzaffarnagar: Scores of Muslim women including a few in Lucknow and Agra observed fast on Karva Chauth seeking health for their husbands, a gesture which has not gone down well with a section of clerics in Deoband, the seat of country's largest Islamic seminary. They called the trend "un-Islamic".
One of the women, Gulnaz Anjum Khan of Lucknow, observed Karva Chauth according to Hindu customs on Wednesday. Gulnaz's husband, Rashid Khan, supported her and said it will send out a good message. Gulnaz told media that some of her Muslim friends also observe the fast on the day every year. "People should celebrate all the festivals," she said.
The clerics disagreed. "Karva Chauth is not in Islam. And those who are adopting it have nothing to do with Islam," said Mufti Asad Qasmi, a cleric in Deoband, Saharanpur.
"There is a provision of Roza for those who follow Islam. But, despite this, if someone observes Karva Chauth, it is his choice. Islam does not force anyone," Qasmi added.
Another scholar of Islamic studies and patron of Jamiat Dawat Ul Muslimeen, Maulana Kari Ishaq Gora, said, "Every religion has its set of rules and regulations. Karva Chauth in not there in Islam."
Scores of Muslim women in Agra too observe the festival every year. They keep fast and pray to Allah for the well being of their husbands.
https://timesofindia.indiatimes.com/city/meerut/clerics-in-deoband-fume-as-muslim-women-observe-karva-chauth/articleshow/79086777.cms
--------
Jamilah Salem Al-Maliki, 75-year-old Saudi Woman, Turns Passion For Coffee Trees Into Family Business
November 07, 2020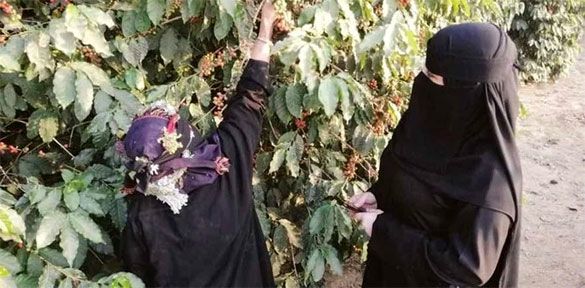 Al-Maliki's skills have been picked up by her eight daughters who now help run the family's farming business. (Supplied)
------
MAKKAH: A 75-year-old Saudi mom has turned her lifelong passion for growing Khawlani coffee trees into a family business venture.
Jamilah Salem Al-Maliki has been nurturing the trees on her land in the Kingdom's Jazan region for decades, following traditional practices passed down through generations of farmers.
Khawlani coffee beans have been cultivated in the region's rich soils for hundreds of years and are considered to be some of the finest in the world.
And Al-Maliki's skills have been picked up by her eight daughters who now help run the family's farming business.
Every morning after dawn, the women lovingly tend to more than 300 trees growing on their village plots.
Similar to many coffee farmers in Jazan, Al-Maliki learned the trade from a young age by watching others and through hands-on practical experience.
And despite her age, she still ploughs the land, trims leaves, harvests the beans, and dehydrates them before selling to market.
A native of Al-Dayer Bani Malek province, Al-Maliki has become something of a local legend in the Kingdom's southern coffee-growing community.
Her relationship with the trees stems from a feeling of natural belonging to the area where her family roots go back through several generations. Over the years, she has steadily expanded the farm and now owns eight plantations dedicated to growing her favorite trees.
Al-Maliki told Arab News that she considered the coffee tree to be "sacred" and would do anything possible to protect them.
Her family had originally only used the farm's produce for domestic consumption and to share with relatives and friends in the village.
"In the past, it was shameful to trade the coffee tree beans and instead they were presented as gifts to relatives and guests visiting from outside the area, a local tradition and custom," she said.
"However, Khawlani coffee beans have now become a product consumed globally." The international boom in demand for the coffee has helped to boost the local economy and many farms have grown to become large-scale manufacturing operations.
Al-Maliki said she fully intended to continue developing her agricultural talent. "I want to have the most accurate information that ensures caring for the coffee tree and learning ways to protect it," she added.
The provincial branch of the Saudi Ministry of Agriculture runs courses and workshops to help farmers hone their techniques and Al-Maliki hopes to attend sessions in the future. By increasing her skills and knowledge she also aims to compete for prize money worth SR3 million ($800,000) in a Jazan business awards scheme. Al-Maliki's farm is open to visitors who can watch age-old agricultural activities being carried out using traditional tools.
https://www.arabnews.com/node/1759406/saudi-arabia
--------
Maryam Nawaz 'Taking Advantage' Of Pakistanis' Respect For Women: Imran
November 07, 2020
Prime Minister Imran Khan said that Pakistan Muslim League-Nawaz (PML-N) Vice President Maryam Nawaz was "taking advantage" of Pakistan's respect for women and using it to get away with using offensive language against the military leadership.
The above was said after the Sehat Sahulat Card Programme's inauguration in Khyber Pakhtunkhwa (KP).
"I assure you, if it had been another country, she would have been thrown into jail. But because we respect women here, she is allowed to speak openly," the premier said on the occasion.
PM Imran said that Maryam continued to disrespect the military, who were laying down their lives every day, during a time when the BJP party in India and its "extremist" Prime Minister Narendra Modi, were oppressing the people of Kashmir and threatening Pakistan.
The premier reiterated his stance on not giving the opposition and NRO, and referred to the Pakistan Democratic Movement (PDM) as the "biggest thieves" who were trying to protect themselves.
The premier pointed out that PML-N supreme leader Nawaz Sharif and the Pakistan People's Party (PPP) Co-chairman Asif Ali Zardari, had accused each other of being corrupt for the past three decades, but had now joined hands.
"One goes to London and acts like he is very ill and we all feel sorry for him," he said, referring to PML-N supremo and Maryam's father Nawaz. "Even the courts felt sorry for him and asked the government to allow him to go abroad. I asked the courts to at least take guarantee of Rs7 billion from him but eventually, he went abroad."
PM Imran said that Nawaz was trying to get the army to have a mutiny against its chief in order to protect his money, and asked: "Who could be a bigger enemy of the country?"
He said that the only way for the country to progress was based on the rule of law, adding that the government was trying to turn Pakistan into a welfare state based on the model of the State of Medina.
https://www.pakistantoday.com.pk/2020/11/06/maryam-taking-advantage-of-pakistanis-respect-for-women-imran/
--------
A Queer, Black Muslim Woman Who Wears A Hijab, Along With Other Muslim Women Championed US Presidential Elections Against Trump
Nihad Amani
7th November 2020
US Election: Mauree Turner tried to recruit other Oklahoma City activists to run for state office, insisting that it was important to send underrepresented candidates into the capital. More than a year later, Turner — a queer, Black Muslim who wears a hijab and identifies as non binary — won a seat Tuesday in the Oklahoma state legislature' becoming the first openly non binary and one of the very few Muslim women, a state lawmaker in the country.
In what we understand as a groundbreaking election, with incumbent Republican President Donald Trump's chances of re-election getting slim by the hour, a special mention goes to the minority Muslim Americans who championed against him.
Including Turner, here are the four Muslim women who created history in the 2020 US Elections, the results of which are yet to be declared.
Mauree Turner
Progressive community organizer Mauree Turner won the race in House District 88 and broke barriers in Oklahoma's statehouse. Turner was raised in a Muslim and Baptist household and is a member of the Masjid Mu'Min mosque in Oklahoma City.
The Oklahoma Democrat who has created history as the first Muslim in the Oklahoma Legislature and the first non binary legislator in America. She has taken over 71 per cent of the votes in Oklahoma's 88th House District, which includes Oklahoma City, beating out Republican candidate Kelly Barlean, a retired attorney.
Turner hopes to be a role model for the next generation of Oklahomans. Speaking to USA Today said, "As a child, I honestly remember having conversations with my mom where I thought that things would just be better if I was white, or if I was just different in some way, shape or form," Turner said. "So, it means a lot to be able to provide that visibility for other folks."
Rashida Tlaib
An outspoken progressive and a Palestinian American, Rashida Tlaib, a member of the democratic party was a US Representative for Michigan, a 13th congressional district since 2019. She is a Palestinian American and won Michigan with about 66 percent of votes.
Tlaib is famously a part of the 'Squad' — staunch critics of President Donald Trump — along with Alexandria Ocasio-Cortez of New York, Ilhan Omar of Minnesota, Ayanna Pressley of Massachusetts. They all won the re-election from the respective constituencies this time too. The 44-year-old Tlaib has been shaking things up since she made history two years ago as the first of two Muslim women to be elected to the US House of Representatives.
Tlaib was always seen vocal over her critical views against Trump, speaking to Al-Jazeera she said, "I can't work with a white supremacist, corrupt, lawless president."
Ilhan Omar
Part of the 'Squad' along with Tlaib is Ilhan Omar, a Somali American congresswoman who held onto her US House seat in Minnesota after she won the re-election and defeated a well-funded Republican challenger.
Omar also became a high-profile target of criticism, facing attacks from congressional Republicans and President Donald Trump. Congressional Democrats have rallied around Omar in the wake of the attacks from the President.
In the year 2019, US Congresswoman Ilhan Omar has been at the center of controversy after she suggested former President Barack Obama is a "pretty face" who "got away with murder".
In a statement issued after the sworn-in ceremony, Ilhan also the first woman to wear a Hijab or a head cover worn by Muslim woman, putting an end to the 181-year-old ban on wearing any type of headwear on the floor, said she would fight the Trump administration's efforts to divide the American public and reject Trump's 'hateful' border wall, Quartz Africa reported.
Iman Jodeh
Democratic party candidate Iman Jodeh has been selected as the congresswoman for the Colorado House of Representatives beating Republican candidate Robert Andrews in the polls.
Jodeh was born in Colorado to two Palestinian parents who immigrated to the US in 1974. She earned a BA in Political Science, and then a master's degree in Public Policy from the University of Colorado Denver, where she is now lecturing.
In 2008, Jodeh founded the non-profit Meet the Middle East, a group seeking to build bridges of relationships and understanding between Americans and the people of the Middle East. She also works as a coordinator and community activist at the Interfaith Alliance of Colorado, which seeks to empower communities to defend themselves in the US Congress.
In her campaign, Jodeh won the support of Vermont Senator Bernie Sanders, a weighty figure in progressive political circles.
https://www.siasat.com/muslim-women-who-championed-us-presidential-elections-against-trump-2017403/
--------
Afghanistan- What Afghan Women Want From Next US President?
11/6/2020
KABUL: One day after the US Presidential election, a number of Afghan women called on the next US President to support them in achieving a real democracy in Afghanistan.
A number of women's rights activists in a gathering in western Herat province, said that the US should stand with Afghan women in the current peace process between Afghan government and the Taliban group in Doha. 'The next US President must weigh Afghan women in achieving equal status within the structure of the government.'
The rights activities said that Afghan women have made great sacrifices in the last two decades to achieve their rights, emphasizing these should not be ignored.
Golsum Seddiqi, an Afghan woman lawyer has called on the International Community, especially the US not to leave Afghan women alone, fearing this could trigger them back to the darkest era of twenty years ago.
Afghan women made a tremendous achievement in different areas such as politics, social, cultural and civil in the past two decades. 'These achievements were not possible sans support of the international community and the US directly, and we want to continue to work together to preserve these achievements,' she said.
Sakineh Hhosseini, a member of the Herat Provincial Council said the government of the US had always helped Afghan women improve their social and political statues. 'Now Washington must come to the fore and as usual support the women in achieving equal rights with men in the peace talks,' she demanded.
She also said that the next US President should also increase development budgets for women.
This is as Trump and Biden are in neck to neck on the US Presidential election and based on US media report after Joseph R. Biden Jr. pulled narrowly ahead in Georgia on Friday, the focus shifted to Pennsylvania, whose 20 electoral votes could lift Mr. Biden decisively above the 270 he would need to become the next president.
https://menafn.com/1101085051/Afghanistan-What-Afghan-women-want-from-next-US-president
--------
Strengthening Women's Participation in Iraqi Politics
11/6/2020
Most comprehensive report to date on women's participation in political life in Iraq: Challenges and ways to overcome them
Women's participation in political processes in Iraq is hampered by many obstacles, despite Iraqi women's determination to engage in the public sphere. In 2020, Iraq ranked 70th worldwide in terms of women holding seats in parliament.
These findings are highlighted in a new report by the United Nations Assistance Mission for Iraq ( UNAMI ) , the United Nations Economic and Social Commission for Western Asia ( ESCWA ) and the Iraq Foundation , which documents the challenges faced by women running for elected public office and the factors influencing voter choices regarding women candidates. The report also proposes a set of recommendations to overcome these challenges.
UNAMI's Deputy Special Representative Alice Walpole explained:
"Women's meaningful participation does not just mean increasing the numbers of women in public life - although that's a good start! It also means pursuing pro-women legislation; it means politics that address issues of concern to women, such as domestic violence; it means removing barriers that impede women's equal participation in decision-making.
"The research study that we are discussing today provides a compelling picture of the challenges women encounter when entering politics, suggests what could help them move ahead; and identifies areas where some simple changes would make a huge difference to women's access to the political arena."
In addition to quantitative data, the report relies on a large number of interviews and focus groups with women professionals, current and previous members of parliament and of provincial councils, and civil society and human rights activists in Iraq.
It reveals the different types of constraints on women's participation in political life, including socio-cultural constraints such as prevailing traditional stereotypes or traditional gendered divisions of labour; political constraints, with a quota system being implemented to increase women's participation rates; and economic and financial constraints including lack of funding for the political campaigns of women candidates.
"It is time for policymakers in Iraq to acknowledge that women's meaningful political participation is not a luxury or a gift. It is an inseparable part of establishing real democracy, justice and equality for all," underlined Iraq Foundation President Rend Al-Rahim.
Some of the challenges faced by women are of bureaucratic and structural nature, such as the media's portrayal of women as inadequate and ineffective.
Women are often excluded from decision-making in sensitive sectors relating to security and conflict resolution negotiations. Women candidates also face discouragement or even intimidation from family and society, and threats by opponents and challengers.
However, the report underlines that, despite these tremendous challenges, practical experience shows that women have proven their ability to manage State affairs and are also viewed as transparent, credible, efficient, responsible, honest and accurate.
"We call for the promotion and dissemination of a culture of gender equality and for the inclusion of women's participation among policy priorities to consolidate the values of equality, justice and democracy. It is also very important to establish a national machinery for the advancement of women," highlighted Leader of the Gender Justice, Population and Inclusive Development Cluster at ESCWA Mehrinaz Elawady.
The launch of the report will be followed by training courses for women interested in taking up a role in Iraqi public life, in addition to training for media professionals to explore their role in reporting on women's political activism.
https://menafn.com/1101086409/Strengthening-Womens-Participation-in-Iraqi-Politics&source=22
--------
Two Women Arrested After Returning From Syria
November 07, 2020
Two women aged 27 and 30 from The Hague were arrested at Schiphol on Tuesday evening. They have stayed in Syria in recent years and, according to the Public Prosecution Service, they were part of a terrorist organization. In any case, they will remain stuck for the next two weeks.
The 27-year-old woman traveled to Syria after the attacks in Paris in 2015 to join the Islamic State, according to the OM. The 30-year-old woman presumably left for Syria a year earlier.
The OM reports that both were in a camp in northeastern Syria and recently traveled to Turkey on their own via Iraq. There they reported to a Dutch diplomatic post. They had no children with them.
On the plane to the Netherlands they were accompanied by marechaussees.
These were the details of the news Two women arrested after returning from Syria for this day. We hope that we have succeeded by giving you the full details and information. To follow all our news, you can subscribe to the alerts system or to one of our different systems to provide you with all that is new.
It is also worth noting that the original news has been published and is available at news1.news and the editorial team at AlKhaleej Today has confirmed it and it has been modified, and it may have been completely transferred or quoted from it and you can read and follow this news from its main source.
https://alkhaleejtoday.co/business/5294632/Two-women-arrested-after-returning-from-Syria.html
--------
URL: https://www.newageislam.com/islam-women-feminism/clerics-deoband-fume-scores-muslim/d/123405
New Age Islam, Islam Online, Islamic Website, African Muslim News, Arab World News, South Asia News, Indian Muslim News, World Muslim News, Women in Islam, Islamic Feminism, Arab Women, Women In Arab, Islamophobia in America, Muslim Women in West, Islam Women and Feminism