New Age Islam News Bureau
22 Sept 2012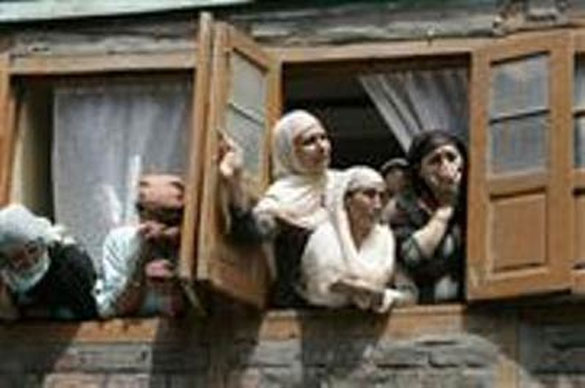 • Praise in Iran for Woman Who Beat Up Cleric over Dress Code
• Anti-Islam Film: Young Girls Protest in Kashmir
• Norwegian PM Appoints Muslim Woman Minister of Culture
• Iranian University Bans On Women Causes Consternation
• Pakistani Police Say No Evidence of Blasphemy Found Against Christian Girl
• Accused Parents Allowed To Attend Funeral of Daughter
• Woman gets bravery award for unveiling husband's terror plan
• Girl at Emirati-Jordanian Field Hospital named Al Emarat
• Efforts to Check Child Marriage Bear Fruits
Compiled by New Age Islam News Bureau
Photo: Anti-Islam Film: Young Girls Protest in Kashmir
URL: https://www.newageislam.com/islam,-women-and-feminism/new-age-islam-news-bureau/cleric's-daughter-stripped,-paraded-naked-in-a-village-in-pakistan/d/8754
----------
Cleric's Daughter Stripped, Paraded Naked in a Village in Pakistan
By Shamsul Islam
September 22, 2012
FAISALABAD: The daughter of a cleric was allegedly paraded nude in a village by young men seeking revenge for her brother's 'indiscretions' on Wednesday in the area of Nawan Lahore police station.
The three daughters of cleric Allah Ditta were returning home late Wednesday after shopping. Two of them were scheduled to be married on Thursday.
Upon their return, they were attacked by local feudal youths Asif, Saif, Sohna, Muhammad Elyas and Bhai Khan. Two of the girls escaped and hid in nearby houses while their sister, Rahila, was caught by the assailants.
The young men tore off her clothes and attempted to sexually assault her. They also paraded her before the entire village in her naked state and announced that whoever opposed them would face similar consequences.
"They attempted to kidnap and rape her but she offered resistance", said cleric Ditta.
On the direction of Inspector General (IG) Police Punjab Hajji Habibur Rehman, District Police Officer Toba Tek Singh, Ahsan Younas and DSP Gojra Alam Sher Rajoka visited the village and termed the FIR correct after investigating further. On Thursday, the police arrested all five accused on charges of kidnapping and attempting to rape a young girl
Earlier, cleric Allah Ditta had appealed to the Punjab Chief Minister Muhammad Shahbaz Sharif and Inspector General (IG) Police Punjab to take notice of the incident and provide him justice.
Villager Muhammad Shafi told The Express Tribune that a few weeks ago one of the accused, Saif, had levelled allegations of teasing his sister against Riaz.
A village jury met and passed the verdict which stated that Riaz must leave the village for two years. Later, the elders of the village, terming the accusation baseless, asked Riaz not to leave. This infuriated the youths, who took it upon themselves to teach Riaz and his father a lesson.
http://tribune.com.pk/story/440679/clerics-daughter-stripped-paraded-naked-in-village/
----------
Praise in Iran for woman who beat up cleric over dress code
Sharifa Ghanem | 22 September 2012
RIYADH: Iranian women are praising another woman who punched a cleric in the face after he criticized her attire, arguing it was in violation of the conservative country's regulations.
A cleric in Iran's northern Semnan province said he was beaten up by a woman after telling her to cover up, local reports in the country said.
Hojatoleslam Ali Beheshti, a top religious figure in Shahrmirzad, told a passerby that she was wearing a "bad hijab."
She at first told Beheshti to look the other way, but he repeated his demand. Beheshti told the Iranian Mehr news agency that the woman then pushed him to the ground and began kicking him.
"From that point on, I don't know what happened. I was just feeling the kicks of the woman who was beating me up and insulting me."
He said he was hospitalized for three days after the incident, and the region's prosecutor said he is "reviewing the case."
But women inside and out of Iran are praising the woman's actions, saying it is time "to show honor and praise when women stand up for themselves."
One Iranian woman living in the Saudi capital Riyadh told Bikyamasr.com on Saturday that "this woman is a hero because we all live in this horrible situation and the Iranian government must know that we women are not to be controlled for much longer."
She said that she and her Iranian female friends were excited when they heard the news and hoped the action "would be a wake-up call for all Islamic conservatives across the world who try to force women to wear something specific. We have our rights and will uphold them."
http://www.bikyamasr.com/78115/praise-in-iran-for-woman-who-beat-up-cleric-over-dress-code/
----------
Anti-Islam film: Young girls protest in Kashmir
September 22, 2012
Srinagar: Hundreds of burqa-clad girls staged a protest against the alleged anti-Islam film that portrays Prophet Mohammad in bad light, here on Saturday.
The protest held in a primary school here had girls from all age-brackets wearing black, white and green burqas, holding placards and banners, and raising slogans against the US and the makers of the film.
"This movie that has been made is outrageous and intolerable because when Fatima az-Zahra Rade-ul-anha (Prophet Mohammad's daughter) was about to depart from this world, she requested Prophet to take out her funeral procession and perform her burial in the dark. This depicts that she was a very traditional and pious woman. Even after her death she would not tolerate that any unknown men would see the glimpse of her corpse. Today, a film has been made on that same Fatima az-Zahra Rade-ul-anha; it has hurt the sentiments of all the Muslim women and it is intolerable," said Firdousa, one of the protesters.
The 13-minute English-language short film, which was filmed in California, portrays Prophet Mohammad engaged in crude and offensive behaviour.
The amateurish production, titled the ''Innocence of Muslims'' and originating in the United States, portrays Prophet as a homosexual and a child abuser, and shows him in a sexual act with a woman.
Muslims across the globe are questioning why the US failed to take action against the producers of the film.
http://zeenews.india.com/news/jammu-and-kashmir/anti-islam-film-young-girls-protest-in-kashmir_801154.html
----------
Norwegian PM appoints Muslim woman Minister of Culture
September 22, 2012
Prime Minister Jens Stoltenberg of Norway has appointed a 29-year old Muslim woman, Hadia Tajik, as Norway's Minister of Culture.
She's become Norway's youngest government minister, as well as the first ever Muslim cabinet member in the Scandinavian country.
She has already made public her programme for the next few months and pointed out that cultural diversity should become an inalienable part of Norway's everyday life.
Hadia Tajik was born into the family of Pakistani immigrants, had long worked for Norway's leading mass media until she was made an adviser to the Labour Minister on social issues.
On the same day Norway saw mass-scale Muslim protests against the US-made anti-Islamic movie Innocence of Muslims.
http://english.ruvr.ru/2012_09_22/Norwegian-PM-appoints-Muslim-woman-Minister-of-Culture/
----------
Iranian University Bans On Women Causes Consternation
By Fariba Sahraei
22 September 201
With the start of the new Iranian academic year, a raft of restrictions on courses open to female students has been introduced, raising questions about the rights of women to education in Iran - and the long-term impact such exclusions might have.
More than 30 universities have introduced new rules banning female students from almost 80 different degree courses.
These include a bewildering variety of subjects from engineering, nuclear physics and computer science, to English literature, archaeology and business.
No official reason has been given for the move, but campaigners, including Nobel Prize winning lawyer Shirin Ebadi, allege it is part of a deliberate policy by the authorities to exclude women from education.
Full report at:
http://www.bbc.co.uk/news/world-middle-east-19665615
----------
Pakistani police say no evidence of blasphemy found against Christian girl
By The Associated Press
September 22, 2012
ISLAMABAD - A Pakistani police official says no incriminating evidence has been found that a young Christian girl desecrated Islam's holy book.
But Munir Jaffery said his final report filed with an Islamabad court Saturday showed there is indication that the cleric of a nearby mosque tampered with evidence by putting pages of a Qur'an into a shopping bag the girl had been carrying.
The case gained huge attention because of the girl's age and questions about her mental capacity.
It was also a rare instance where someone was held responsible for an apparently false accusation.
Officials arrested the imam, and the girl was freed on bail. The final police report backs earlier revelations and will likely bolster the defence's plans to have the entire case thrown out.
http://www.theprovince.com/life/Pakistani+police+evidence+blasphemy+found+against+Christian+girl/7284907/story.html#ixzz27CHSaMV3
----------
Accused Parents Allowed To Attend Funeral of Daughter
Chris Purdy
September 21, 2012
EDMONTON - Islamic faith ensures that an Edmonton toddler, allegedly abused and starved for most of her young life by her parents, is on her way to paradise.
When children die they immediately pass into the next life where there is "no pain, no agony, no suffering," Mustafa Khattab, the imam of the Al Rashid mosque, said Friday.
He confirmed the funeral for the two-year-old girl will be held at his mosque, the largest in the city, on Saturday afternoon.
The girls parents, who face several criminal charges and remain in custody, will also be allowed to attend.
A judge granted an order Friday allowing the pair, who cannot be named, to be escorted by security officers to the service. A condition remains in effect that they not have any contact with each other.
Khattab said the father and mother are not members of the Al Rashid but the community is supportive of their difficult situation.
Full report at:
http://www.globaltvedmonton.com/bail+review+for+parents+of+baby+m+in+edmonton+friday/6442719776/story.html
----------
Woman gets bravery award for unveiling husband's terror plan
Ankur Jain
Sep 21, 2012
AHMEDABAD: Amdavadi braveheart who tipped police officials about her 'bomber' husband was given a bravery award on Friday.
Reshma Rangre, 30, a resident of Danilimda, blew the cover of her husband Shahzad's terror plans last year. Rangrez was given the Godfrey Phillips Bravery awards, an initiative of Godfrey Phillips for mustering courage to inform police about her husband, who was planning to plant bombs in Ahmedabad.
The state government was the first to award her Rs 25,000 for the tip-off leading to her husband's arrest. Later she was given cash rewards by various organizations from Surat and Kadi. However, Reshma's dilemma than was were to deposit the reward cheques as she didn't even have a bank account to deposit the Rs 4 lakh award money. Last year, soon after the Mumbai blasts on July 13, Reshma had a fight with her husband Shahzad. Reshma told police that she came to know about the explosives when he Shahzad came home with a few bags containing some unusual substance and when she inquired, he didn't reply and later started beating her. He threatened to blow her up with bomb and the woman promptly called up the police on the night of July 16.
The police found 8 bombs from Shahzad who also confessed to having conceived a plan to blow up the Rath Yatra in Ahmedabad on July 3.
http://timesofindia.indiatimes.com/city/ahmedabad/Woman-gets-bravery-award-for-unveiling-husbands-terror-plan/articleshow/16493395.cms
--------
Girl at Emirati-Jordanian Field Hospital named Al Emarat
Ola Salem
Sep 22, 2012
Stories from the Emirati-Jordanian Field Hospital will live on through the generations.
The hospital has seen the birth of two baby girls, one named Fatima after the mother of the nation, and the other Khalifa, in admiration for the President of the UAE.
While the mothers did this as a sign of gratitude to the UAE, one child was found to have already been named after the UAE without ever having met any Emiratis.
Three-year-old Al Emarat was brought in by her mother to meet staff at the hospital a few days ago and again yesterday.
Many Emirati staff and volunteers asked to see the young girl's passport as they could not believe she was named after their country.
"We named her Al Emarat for our love of the UAE," her mother, Muna, said. "Her dad also dreamt of Sheikh Zayed twice."
http://www.thenational.ae/news/uae-news/girl-at-emirati-jordanian-field-hospital-named-al-emarat
----------
Efforts to Check Child Marriage Bear Fruits
G. SATHYAMOORTHI
September 22, 2012
120 child marriages prevented in Perambalur district in a span of 18 months
"But for these two courageous women – District Social Welfare Officer K.Pechiammal, and Revenue Divisional Officer R.Revathi – we would not have stopped so many child marriages in this district, the most backward in the State in terms of gross domestic product (GDP)," said Darez Ahmed, District Collector.
(The district's per capita GDP that was Rs.2, 890 in 2002-03 slumped to 1,643 in 2008-09 while that of the State increased from Rs.3, 383 to Rs.4,460 during the same period.)
"It is their conviction that helped prevent 120 child marriages in a span of just 18 months – the highest in the State. The figures are all the more daunting if we consider the population of the district, which is just 5.5 lakhs, half of it women," he adds.
He admits that he had to face the fury of some Muslim organisations when one such marriage was stopped three months ago. "When they quoted Shariat Law saying that anyone who attains puberty is eligible for marriage, I told them that the Child Marriages Act 2006 explicitly says that it applies to all the citizens of India below 18 years and it is the constitutional duty of the District Magistrate to enforce it. I also told them that they are at liberty to move the High Court. I still stick to the stand."
Full report at:
http://www.thehindu.com/news/cities/Tiruchirapalli/efforts-to-check-child-marriage-bear-fruits/article3925713.ece
----------
URL: https://www.newageislam.com/islam,-women-and-feminism/new-age-islam-news-bureau/cleric's-daughter-stripped,-paraded-naked-in-a-village-in-pakistan/d/8754