New Age Islam News Bureau
18 Dec 2018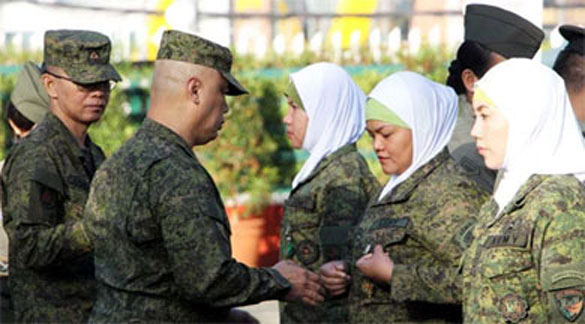 Hijab troopers during the army recognition day (Photo/Supplied)
------
• Jailed Women's Rights Activists Tell Saudi Investigators of Torture
• How Do Saudi Women contribute To the Kingdom's Space Industry?
• Woman Motorist's Car Set on Fire In front Of Her House in Jeddah
• Texas To Name School After Malala
• Locked Away, Forgotten: Muslim Uighur Wives of Pakistani Men
• Philippines to Deploy 'Hijab Troopers' Nationwide
• The Harvard-Educated Woman Helping Lead Iran's Sanctions Fight
Compiled by New Age Islam News Bureau
URL: https://www.newageislam.com/islam-women-feminism/cleric-tells-muslim-wives-husband/d/117191
--------
Cleric Tells Muslim Wives: Your Husband Is Meant To Be Shared With Other Women
December 17, 2018
Women protecting their husbands from polygamy are "thieves" who want everything for themselves, renowned Islamic scholar and founder of Baynakum Family Counseling Centre, Ustaz Abdulfattah Adeyemi, has said.
He advised Muslim women to share their husbands with other women, saying they have just 25 per cent access to their husbands, while the remaining 75 per cent belongs to other women.
The cleric said this in a paper entitled: "Charity, a path to Jannah," which he presented in Abuja during the inauguration of Sisters of Jannah, a Muslim women's charity organisation.
Charging women to be magnanimous in sharing their husbands, Ustaz admonished them "not to deny their husbands polygamy," but should only pray that the husbands treat all equally in any action taken.
He regretted that some married women were "so over-protective" of their husbands, thereby denying the men their wishes of having more wives, describing such as "ungodly."
Ustaz also said the over-protective tendencies of some women towards their husbands had made many men to devise "smart means" of engaging in illegal relationships outside their matrimonial homes, advising that the trend must stop.
He urged housewives to "stop being unnecessarily jealous of their husbands' relationships outside."
According to him, the faithfulness of men can only be known after their death, saying some men father children outside their marriages, only for their secrets to be uncovered after their death.
He blamed wives for the men's actions.
Ustaz said, "Let me tell you that your husband is only yours 25 per cent; your husband is not your property; your only share of him is 25 per cent. The remaining 75 per cent belongs to other women.
"If you want your husband 100 per cent, then you are a thief; you are going beyond the 25 per cent that is yours; the remaining 75 per cent belongs to other ladies.
"Don't think that because you are wives, other women should not share your husbands.
"Men are not stupid, the men are even becoming smart. It's until when some die that you know how many children they have.
"I am not saying that is what happens every time; but if you think you are too smart, men are smarter.
"You have never been a man before in your life, you can't imagine what goes through in the minds of men. Let us fear Allah, as much as possible.
"If Allah makes it easy for you, if they ask you to shift, please shift a little so that somebody else can also sit down.
"And you that is asking somebody else to shift, you have to fear Allah; you that they want to allow to come in, fear Allah. Don't go there and scatter their lives for them. Don't go there and constitute problem for them.
"The man may be doing it for the sake of Allah, don't let him regret it."
Ustaz said women were the reasons most polygamous homes fail, saying they should have a change of heart.
"Whenever you see polygamy that is not successful, it is because of a woman.
"Na woman dey do woman. The one that is inside the house and the one that is coming into the house and both women.
"It is women that are the enemies of women. If the man is trying to be just, it is the other woman that will go and enter him and turn his head the other way. You will be going North and he will be going South.
"It is two women that are both diabolical because of a man. We men are the Angels that Allah sends to help women."
Speaking on the topic: "Islam and Feminism", founder and chancellor of Islamic Online University, Dr. Bilal Philips, challenged Muslim women to seek knowledge so as to better their understanding of things.
He said he was speaking on the topic to clarify the distinction between western feminism and feminism within the context of Islam.
"These distinctions need to be made in order for Muslim women to understand where they should focus and stay within the modern path, so as not to go to the extreme and break the laws of Sharia.
"I advise Muslim women to seek knowledge, gain knowledge and apply the knowledge in their lives — knowledge that will benefit them in both this life and the next."
https://punchng.com/your-husband-is-meant-to-be-shared-with-other-women-cleric-tells-muslim-wives/
--------
Jailed Women's Rights Activists Tell Saudi Investigators of Torture
Dec. 17, 2018
A human-rights commission reporting to Saudi King Salman is investigating the alleged torture of detained women's rights activists, including accusations of waterboarding and electrocution, according to government officials and other people familiar with the activists' situation.
A top aide to Crown Prince Mohammed bin Salman, Saud al-Qahtani, allegedly oversaw some aspects of the torture and threatened at least one jailed woman with rape and death, according to testimony before the commission, those officials and others said.
One activist told the commission that security officials electrocuted her hands. "My fingers resembled barbecued meat, swollen and blue," the woman told Saudi investigators, according to a person familiar with her statement.
The alleged treatment of the activists, along with the killing of dissident Saudi journalist Jamal Khashoggi in the kingdom's consulate in Istanbul, are part of what critics of the Saudi government say is a broad effort to quash dissent and limit freedom of speech.
The Saudi government has dismissed the allegations as "wild claims" and denied security officials tortured the detained activists, many of whom were men and women campaigning for women's right to drive. Saudi government representatives didn't respond to a request for comment for this article.
The Saudi Human Rights Commission was created by the country's previous monarch, King Abdullah, in 2005 to primarily investigate allegations of government abuses and report them to the king. It has the power to refer cases to judicial authorities for criminal investigation, something it has done in the past. The commission began its investigation after The Wall Street Journal, rights groups and others in November reported on the alleged torture.
Saudi Arabia's attorney general is currently conducting a separate investigation into the killing of Mr. Khashoggi. It has exonerated Prince Mohammad, saying he had no knowledge of the operation, although his top aide, Mr. Qahtani, was dismissed from his job and is implicated in the investigation.
The U.S. Senate last week unanimously passed a resolution with broad bipartisan support that condemned Mr. Khashoggi's killing and said Prince Mohammed is responsible for his death.
Some of the imprisoned women's rights activists were labeled as traitors in pro-government media and accused by the government of conspiring with unnamed foreign entities and of spreading discord in society. None of them have been formally charged.
Critics say the government targeted activists to send the message that change can only come from Saudi Arabia's top leadership. Prince Mohammed has cracked down on internal opposition while he pushes through his agenda to liberalize Saudi Arabia's conservative society and open up its oil-dependent economy to foreign investors.
The commission's investigators began interviewing some of the kingdom's most prominent women's rights activists over the past month at Jeddah's Dabhan prison, including Loujain al-Hathloul, a 29-year-old who was a leading figure in a grass-roots campaign to have the driving ban lifted.
Saudi security officers physically abused them, including by electrocution, lashing and sexual harassment. Some of the most severe treatment was meted out to Ms. Hathloul, according to the Saudi officials and other people familiar with the women's situation.
Mr. Qahtani personally oversaw her interrogation, which included waterboarding, people familiar with her situation said. "Saud al-Qahtani threatened to rape her, kill her and to throw her into the sewage," one of those people said.
Mr. Qahtani, Prince Mohammed's former media adviser and a top lieutenant, has been sanctioned by the U.S. Treasury over Mr. Khashoggi's murder. The Journal, citing people familiar with the matter, has reported he played a central role in the operation that led to the journalist's death. Before he was fired, Mr. Qahtani was in charge of the monarchy's crackdown on those it viewed as dissidents.
Of the 18 detained activists, at least eight have been physically abused in custody, according to Saudi advisers, activists and others with knowledge of the prisoners' treatment. Much of the abuse occurred in a government-run guesthouse in Jeddah in the summer months, before they were transferred to a regular prison, they said.
According to people familiar with their situation, the victims also include driving activists Aziza al-Yousef, a 60-year-old university professor; Eman al-Nafjan, a mother of three; and Samar Badawi, who is known for having opposed Saudi Arabia's male guardianship rules and whose brother, liberal blogger Raif Badawi, is one of Saudi Arabia's most prominent detainees.
Last week, Ms. al-Yousef, Ms. al-Nafjan and Ms. al-Hathloul were transferred from Jeddah to Riyadh's al-Hayer political prison, according to two people familiar with the matter. The transfer could be an indication the activists will soon go to trial, as national security cases are often heard in Riyadh's Specialized Criminal Court.
The Human Rights Commission has typically avoided highlighting politically sensitive issues in public, such as cases involving activists.
Some Saudi officials monitoring the situation said they are doubtful the investigation would lead to criminal charges.
"I don't see how they will hold anyone accountable if they already publicly denied that the torture ever happened," said a Saudi official who is aware of the torture allegations and of the commission's investigation.
Disclosure of the probe could add to already intense pressure on the Saudi government over human rights.
"The detainment and torture of women's rights activists demanding equal rights in Saudi Arabia is another example of how the current Saudi leadership does not share our values," Sen. Chris Coons, Democrat of Delaware, told the Journal. "This pattern of human-rights violations is unacceptable, and it very well may have consequences for the bilateral relationship."
https://www.wsj.com/articles/jailed-womens-rights-activists-tell-saudi-investigators-of-torture-11545074461
--------
How Do Saudi Women contribute To the Kingdom's Space Industry?
17 December 2018
Saudi women have proven their competence in the space industry and satellite technology as 35 women currently work at the National Satellite Technology Center at King Abdulaziz City for Science and Technology.
Engineer Majed AlMeshari, the center's director, told Al Arabiya English that the women work in several fields related to optical engineering, engineering support and image processing systems.
According to AlMeshari, women's role was major in the SaudiSat-5 satellites as a group of female engineers participated in tasks related to capturing images and also worked on executing the necessary optical and mechanical tests to confirm the efficiency of the optical system.
AlMeshari noted that the Kingdom's Vision 2030 relies on its sources of power such as the energy of its youth. He noted that over 50 percent of university graduates are women, adding that Vision 2030 thus contributes to strengthening Saudi women's talents and empowers them to further develop society and the economy.
Commenting on Saudi women's history in contributing to the space field in the Kingdom, he explained that the women's department at the center opened in 2011.
"The Women's department was inaugurated in the National Satellite Technology Center in mid-2011 to achieve one of the main objectives of King Abdulaziz City for Science and Technology, which is the development of national cadres of both sexes. An appropriate working environment for girls ensures that they have the opportunity to participate actively in most of the projects in the center, provide appropriate training opportunities and develop basic skills in research, analysis and problem solving," he said. He added that the center cooperates with various Saudi universities in several areas to interact with female students, and enrich their scientific and practical knowledge to qualify them for the labor market.
In addition to training and developing skills at the center, the latter is distinguished for its cooperation with global centers like the University of Stanford. Female researchers can make use of such cooperation to carry out experiments and developmental research.
"The skills required to work in the space industry include (expertise) in optics and propulsion systems and control systems. This is in addition to skills in design, development of systems and applications, creative thinking, efficient communication, planning tasks, devising strategies to enhance performance and troubleshooting problems and resolving them," he said.
"Saudi women achieved a lot and made huge steps towards the future despite the limited university majors at the time (i.e. in the past)," AlMeshari also said, adding that efforts in the future will be focused on attracting more engineering competencies that will contribute to transferring and localizing space technologies.
AlMeshari noted that women have proven their capabilities to overcome the difficulties they faced and they continue to work to develop their skills as many will soon attain their Masters and PhD degrees.
https://english.alarabiya.net/en/business/technology/2018/12/17/How-do-Saudi-women-contribute-to-the-Kingdom-s-space-industry-.html
--------
Woman Motorist's Car Set on Fire In front Of Her House in Jeddah
2018-12-17
By Ahmed Sakouti
JEDDAH — In a second case of its kind in Saudi Arabia since women were allowed to drive in the country in June this year, a woman's car was burned down in front of her house in Mushrefah district of Jeddah early Thursday.
The first incident happened less than two months after the decision was announced. Two young men set fire to a woman's car parked outside her home in Jamoum near Makkah.
The General Court in Makkah acquitted the two young men for lack of sufficient evidence but Salma, the car owner, said she would appeal the verdict.
Nurhan Bassam never expected her car to have the same fate as that of Salma. She said she bought her 2016 model car only about two months ago.
She was surprised that her car was burned down though the street was lighted and her house was near some vital institutions, including the traffic police station and Al-Ittihad sports club.
Bassam said she was awakened by neighbors knocking hysterically at her door to inform her that her car was ablaze.
"I went down immediately to see what had happened. When I saw my car in fires, I fainted near it, inhaling a large amount of smoke," she said.
The neighbors and the Civil Defense put out the fire but that car was totally damaged.
Bassam, who lost her farther at an early age, said she depended on the car to transport her mother and siblings. "I relied entirely on myself to support the family since my father has died," she said.
She was surprised that someone would have the guts to set fire to her car just a few minutes before the Adhan (call) for the Fajr prayer.
Bassam said she parked the car in front of her building at about 6 p.m. and was sure that all the car's vital components were completely switched off.
"The fire was not caused by any technical fault but by the deliberate work of a criminal," she said.
She said she had made a complete technical check-up of the car about 10 days ago at a car agency and was sure that everything worked perfectly.
The Jeddah Police did not dismiss the possibility of a crime and said they were investigating.
http://saudigazette.com.sa/article/550450/SAUDI-ARABIA/Woman-motorists-car-set-on-fire-in-front-of-her-house-in-Jeddah
--------
Texas To Name School After Malala
Dec 18, 2018
TEXAS: A new elementary school in Sugar Land in Texas will be named after Pakistani women's rights activist and youngest Nobel laureate Malala Yousafzai.
This was decided in a meeting of the Fort Bend Independent School District's (ISD) board of trustees on Monday.
Veronica Sopher, the chief communications officer at the FBISD told a private media outlet that the district is proud to name the school after someone who is dedicated to education as "it is a fundamental right for everyone".
The FBISD Superintendent of Schools Dr Charles Dupre also issued a statement in which he called Malala a "true advocate for education".
The statement added that Malala's compassion for others and servant leadership makes her a representation of those characteristics why they want to instil in their students.
"More than 100 names were submitted for consideration, and the committee was comprised of district teachers, parents and students, community members, staff and a board member."
Malala Yousafzai Elementary is scheduled to open in January of 2020, and FBISD is currently in the process of establishing attendance boundaries for the new school.
Malala's father, Ziauddin Yousafzai reportedly expressed his gratitude over the news. He added that students could take inspiration from this as Malala's name is known worldwide.
"For a school to be associated with Malala's name, it just shows that the spirit of education is being wholeheartedly promoted," he added.
Malala also added that she was glad and grateful to the administration for their commitment to the cause of education.
Adding that around 130 million girls are out of school, her father emphasized that the number needs to be lowered.
He hoped that students who go to the new school will receive a good quality education and can work together for this case.
"I hope that these students will be given the best-quality education in the new Malala Yousafzai Elementary School."
"No child should think they are held back from educational opportunities because of their community, gender or background," he noted.
Ziauddin called for free education till at least Grade 12 for education allows children to understand the world and develop critical thinking skills.
When questioned if they were planning to attend the school's inauguration in 2019, he said that he cannot make any promises: "However, should we receive an invitation and are in Texas or nearby, we would definitely love to attend and meet these amazing people."
https://www.pakistantoday.com.pk/2018/12/18/texas-to-name-school-after-malala/
--------
Locked Away, Forgotten: Muslim Uighur Wives of Pakistani Men
Dec 17, 2018
ISLAMABAD: The last time Chaudhry Javed Atta saw his wife was over a year ago - the Pakistani trader in dried and fresh produce was leaving their home in northwestern China's heavily Muslim Xinjiang region to go back to his country to renew his visa.
He remembers the last thing she told him: "As soon as you leave, they will take me to the camp and I will not come back."
That was August, 2017. By then, Atta and Amina Manaji, from the Muslim ethnic Uighur group native to Xinjiang, had been married for 14 years.
Atta is one of scores of Pakistani businessmen - and he says there are more than 200 - whose spouses have disappeared, taken to what Chinese authorities tell them are education centers.
Beijing has been accused of interning members of its Muslim population - by some reports as many as 1 million - to "reeducate" them away from their faith. It is seen as a response to riots and violent attacks that the government blamed on separatists.
"They call them schools, but they are prisons," Atta said. "They can't leave."
Pakistanis often rally loudly in defense of Islam and Muslims whenever they are perceived offended around the world – most recently over cartoons depicting the Prophet Muhammad. In 1989, protests spread from Pakistan elsewhere, leading to the fatwa by Iran's Ayatollah Ruholla Khomeini against author Salman Rushdie for his depiction of Islam in his book Satanic Verses.
But political and economic factors, including concerns about losing out on vast Chinese investments, have kept Pakistan and other Muslim countries silent about the plight in China of fellow Muslims, the Uighurs.
"Cold, hard interests will always carry the day" in international relations, said Michael Kugelman, deputy director of the Asia Program at the Washington-based Wilson Center. "The Muslim world's deafening silence about China's treatment of Muslims can be attributed to its strong interest in maintaining close relations with the world's next superpower."
China is financing major development projects in cash-strapped Pakistan. Islamabad says Beijing's up to $75 billion development project known the China-Pakistan Economic Corridor - part of an effort to reconstruct the historic Silk Road linking China to all corners of Asia - will bring new prosperity to Pakistan, where the average citizen lives on just $125 a month.
For Atta, it's not just the separation from his wife.
He has also had to leave their two sons, who are 5 and 7 years old and whose passports were confiscated by the Chinese government, in the care of his wife's family. Otherwise, he said, the authorities would have put them in an orphanage.
He went back to China twice for a few months but both times his visas expired and he had to return to Pakistan. Getting in touch with family in Xinjiang is a circuitous route that involves reaching out to Pakistani friends still there, who then track down family members willing to talk.
"Now especially I am worried. It is now eight, almost nine months, that I have not seen my children," he said. "I haven't even been able to talk to them."
Last week, Atta finally talked to his brother-in-law after a friend discovered he had a heart attack and was recovering in a hospital in Urumqi, the capital of Xinjiang.
"He said my sons were good, but he had no news of my wife," said Atta.
China routinely responds to queries on Uighurs by saying its policies are aimed at creating "stability and lasting peace" in Xinjiang but President Xi Jinping's campaign to subdue a sometimes restive region, including the internment of more than 1 million Uighurs and other Muslim minorities, has alarmed a United Nations panel and the US government.
https://timesofindia.indiatimes.com/world/china/locked-away-forgotten-muslim-uighur-wives-of-pakistani-men/articleshow/67124839.cms
--------
Philippines to Deploy 'Hijab Troopers' Nationwide
December 18, 2018
MANILA: Hijab-clad female soldiers are to be deployed throughout the Philippines as part of a major counterterrorism initiative.
The so-called "hijab troopers" will provide vital support to communities traumatized by war. Their placement in key areas across the country follows the success of their deployment during the Marawi siege last year, when Daesh-inspired local terrorists seized the city.
Army Col. Romeo Brawner Jr. said the troopers have been trained in preventing and countering violent extremism.
"Because of their success in Marawi, it's believed that they'll also be effective in other places," he told Arab News. "They'll provide cultural and psychosocial services in urban communities." This will help in maintaining order and security in cities, he added.
As well as Marawi, the female troopers will also move into other areas, including the cities of Caloocan, Malabon, Navotas and Valenzuela, and the village of Maharlika.
Last week, the Philippine Army held a special ceremony during which the contribution of the "hijab troopers" to the ongoing rehabilitation of Marawi was recognized.
Members of the army unit, comprising four officers and 56 enlisted personnel, were awarded the Military Merit Medal for their services in Marawi in 2017.
Their main involvement was providing support to the local government and other agencies in helping those displaced by the five months of fighting between government forces and the Maute terror group. They were specifically focused on peace education and assisting in psychosocial debriefing, especially among children and young people traumatized by the war.
The deployment of the female soldiers wearing hijabs was concentrated in areas where the majority of the population practice Islam.
Diosita Andot, undersecretary of the office of the presidential adviser on the peace process in the Philippines, told the women at the awards ceremony: "As women in uniform, you are already in the task of peacekeeping. But I know that with the job you are doing in the IDP (internationally displaced persons) camps, you can also do peacemaking and peacebuilding as well."
http://www.arabnews.com/node/1422381/world
--------
The Harvard-educated woman helping lead Iran's sanctions fight
Dec 18, 2018
In Iran's hierarchical political system, it is rare to see an outsider granted a senior position. That is why the Islamic republic's newest weapon in its battle with US president Donald Trump is so unusual.
Laya Joneydi, a 50-year-old academic, is a woman with no ties to conventional politicians and no personal stories from Iran's revolutionary years. But as Iran's vice-president for legal affairs she has already secured a rare if symbolic victory over the US on the global stage.
After the Trump administration this year withdrew from the 2015 nuclear agreement and reimposed sanctions on Iran, Ms Joneydi filed a lawsuit in co-operation with other ministries against the US at the International Court of Justice (ICJ) — and Iran won.
"What the US administration has done to the Iranian people is illegitimate from a legal point of view and more illegitimate from a moral point of view," she told the Financial Times in her first interview with a foreign media group.
Ms Joneydi's rise is the result of mounting public pressure on Iran's leaders to appoint women to top jobs, with people voicing discontent over a rise in the number of female university students not leading to more women in senior official roles. She is one of Iran's 12 vice-presidents, two of whom are women.
In the ICJ case, Ms Joneydi helped Iran argue that the US reimposition of sanctions violated a 1955 Treaty of Amity between the two countries that encouraged trade, investment and closer economic relations.
On October 3, The Hague-based ICJ handed a victory to Tehran by ordering Washington to ensure its sanctions did not hit certain forms of trade, including humanitarian aid, food and medicine.
The provisional ruling cannot be enforced and the US immediately terminated the treaty, saying aid was never a target of its sanctions. But the ICJ win was nonetheless heartening for Iran, whose economy has been hit by the sanctions. The measures began to hit oil exports last month and weakened the rial by about 50 per cent against the dollar this year.
"This has been an injustice to Iranian people, who see their economy and welfare weakened while even their access to basic needs is hit," said Ms Joneydi.
"The US knows that it cannot ignore the ICJ's rulings. It may not be the perfect option [for Iran] but . . . it has been useful."
The ruling had helped in Iran's efforts to capitalise on an EU decision to stick with the nuclear accord, she said. Without it, she suggested, European countries might not have been willing to set up a sanctions-busting payments channel for trade with Iran, due to be launched in the coming weeks.
In addition, Ms Joneydi said, Iran was using the ICJ verdict in its negotiations with foreign companies and banks that are reviewing their ties with the country.
In a country where conservative ideologues are vying with moderates for primacy, Ms Joneydi is seen as a non-partisan pragmatist who is committed to defending Iran's sovereignty.
She was born into a middle-class family in the town of Babol on the shores of the Caspian Sea and moved to Tehran as a teenager to study law at the University of Tehran, where she was the only female student among her peers at masters and PhD levels. In 2002 she received a post-doctoral research scholarship at Harvard in the US.
She still teaches at the University of Tehran and is proud that most of her students are women. "This means growth. It is the ultimate satisfaction for me to see today's young and educated generation push for the country's progress," she said.
I do not claim that I represent them, but I belong to this class of educated, opinionated people who believe in consistent improvements."
After president Hassan Rouhani was re-elected in a landslide last year on a reform agenda, Ms Joneydi received a call from his office. She imagined it was something to do with a legal case thanks to her expertise in international commercial arbitration. But instead it was a job offer.
"[I] ended up here by destiny. My life was dominated by my academic profession as well as being a legal practitioner," she said. "I was never a politician and I am still not linked to any political group. I intentionally remain an independent person because in my position . . . we need to settle disputes impartially between various state organisations."
Being a woman in a male-dominated system brings more challenges, she said. But she has been joined by others in the top ranks of the Iranian elite: the head of Iran Air is a woman, as is the managing director of the National Petrochemical Company, and a new board member of the National Iranian Oil Company.
Beyond fighting sanctions, Ms Joneydi has reestablished the rights of religious minorities to be members of city councils and is working on a comprehensive plan to increase government transparency.
"I want to push for the rule of law at home and in international relations and help promote civil rights and individual freedoms," she says. "Our constitution has not been properly implemented yet [and] there is a lot of room for some articles, such as those on people's rights and freedoms, to be fulfilled."
But like many educated, middle class Iranians, she opposes any sudden policy changes that could lead to instability and unrest. "This may be desired by those who impose sanctions, but would put Iran at the risk of turning into another Iraq, Syria or Afghanistan," she says. "I want our 200 years of experience in struggling for the rule of law to bear desirable outcomes in a mature way, even if the process is difficult or slow."
https://www.ft.com/content/52176454-fec2-11e8-aebf-99e208d3e521
--------
URL: https://www.newageislam.com/islam-women-feminism/cleric-tells-muslim-wives-husband/d/117191
New Age Islam, Islam Online, Islamic Website, African Muslim News, Arab World News, South Asia News, Indian Muslim News, World Muslim News, Women in Islam, Islamic Feminism, Arab Women, Women In Arab, Islamophobia in America, Muslim Women in West, Islam Women and Feminism