New Age Islam News Bureau
24 May 2012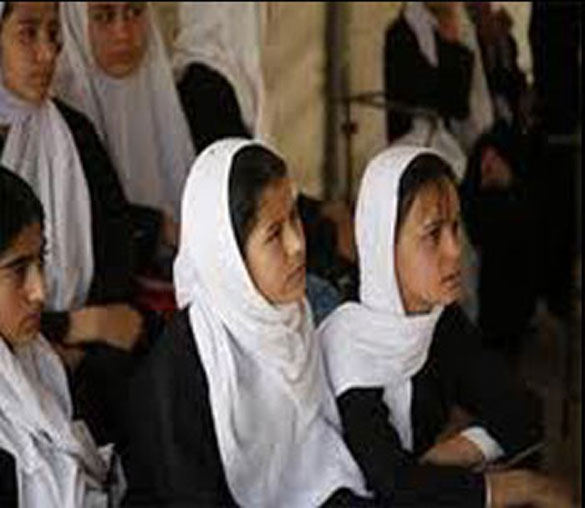 • More than 120 schoolgirls suffer from 'Poison attack' in Afghanistan
• Veil ban increased hostility towards Muslim women in France
• Hijab as an agreement to be treated like "second-rate human"
• The Hijab or the bikini: the shaping of young girls' sexuality
• Jordan bank fires Christian woman for refusing to wear headscarf
• Muslim Women & Girls Killed by Islamists
• Sharia challenge to Australian women's rights
• Will the Egyptian Muslim Sisters rise to the occasion and get their Human Rights
• Cairo's women have lost all their faith in the revolution
• Lady Gaga Refuses to Tone Down Her Shows: Manager
• Indonesian Maid Spiked Boss' Coffee With Her Menstrual Blood
Complied by New Age Islam News Bureau
Photo: Afghan schoolgirls sick after poison attack by Taliban
URL: https://newageislam.com/islam-women-feminism/circumcise-women-nominal-fee,-muslim/d/7417
---------
Circumcise Women for a nominal fee, Muslim Brotherhood's gift!
Mariz Tadros
24 May 2012
In Egypt the Muslim Brotherhood have offered to circumcise women for a nominal fee as part of their community services, a move that threatens to reverse decades of local struggle against the harmful practice argues Mariz Tadros
Voting in the Egyptian presidential election is underway and what better way to win over votes of the poor than through offering badly needed low cost services and free goods. The Muslim Brotherhood, who have a track record in community outreach through services and goods, have added a new service for Egyptians: circumcising girls for a nominal fee. The practice of female genital mutilation (FGM) or female circumcision as it is popularly called, involves the removal of the clitoris and part of the labia minora under the pretext ↑ that this will protect a girl's chastity. FGM, although practiced for thousands of years, has been on the decline in the past decade thanks to a socially sensitive and nationwide campaign to show that FGM is neither religiously prescribed, nor linked to a woman's moral behaviour. Thanks to the Muslim Brotherhood and the Salafis, the progress made in eliciting positive social change on curbing the practice now risks being reversed.
In the village of Abou Aziz, Minya, a young person phoned the child rights hotline to report that female circumcision was going to be offered by the passing mobile health clinic. The governor of Minya investigated the matter and warned that since the child rights law criminalizes the practice of FGM, legal action would be taken against the Freedom and Justice party if their health clinic undertook such illegal activity. The Muslim Brotherhood's response was to deny that their mobile health clinic had ever offered such a service and to claim that the Brothers are being vilified by a hostile press who are spreading rumours that have no basis in reality.
Magdy Helmy, a long time activist against FGM, said that the Ministry of Health's department in Minya informed him that they had spoken to the villagers who denied that girls were being circumcised, and that the Freedom and Justice party leaders also denied ever providing such a service for the people. The matter was closed on the basis of lack of evidence. While a handful of newspapers and media outlets did express their outrage, by and large, there was a media blackout on the matter. Many concluded that since the villagers denied girls were being circumcised and the Brothers said that this was never one of their clinic's services, then surely the news was inaccurate.
However, I have obtained the flyer that the Freedom and Justice party posted on the streets in the village of Abou Aziz. While the Freedom and Justice party denied that female circumcision was ever offered by the clinic, the information on the flyers suggests otherwise. The flyer which has the party's logo on it says "The Freedom and Justice party in Abou Aziz is honoured to organize the yearly health clinic which covers all specialisations for a nominal fee of LE 5 for a check up on Friday the 20/4/2012 at the Islamic Institute after Friday prayers". This was followed by a list of specialists including surgery, gynaecology and obstetrics, dentistry, dermatology etc. At the bottom of the list is a note saying "We receive cases for circumcision for males and females for LE30 a case". What is significant about this flyer is the reference to male and female circumcision as if the practices were similar, and the fact that these are treated as medical cases, "operations" to be performed by members of a medical team.
It is unclear whether the mobile health clinic did actually go ahead with circumcising the girls. Since the introduction of the law criminalizing the practice in 2008, the villagers have been circumcising their daughters secretly with the help of a nurse who visited once a year, in secret, and circumcised the girls in groups. Hence, it is unlikely that the villagers would readily admit to the clinic offering FGM as they have collectively been practicing it illegally for a long time. A resident of the Abou Aziz village - who spoke on condition of anonymity for fear of reprisals - said that the flyer was posted everywhere in the village, but that immediately after the publicity the flyers disappeared.
In view of the political standing of the Muslim Brotherhood and their religious influence among many Egyptians, there is no denying that the impact of their promotion of FGM is deep and far reaching. Whether girls were circumcised or not on the 20th of April is not the point: what is at issue here is their propagation of a practice that has been proven to be detrimental to women's well being and bodily integrity. The Brotherhood's strategy to undermine the national campaign to end FGM is three-pronged. Firstly, they contest the notion that the practice is not religiously prescribed. Many of the Brothers (and Salafis) argue that while it is not mandatory, it is nevertheless mukarama (preferable, pleasing in the eyes of God). They also quote hadith (saying attributed to the Prophet) which stipulates that FGM should involve "cutting, but only lightly". Renowned Egyptian Islamist scholars such as Mohammed Emara and Mohammed Selim el Awa (the latter a presidential hopeful) have written and publicly endorsed the position that FGM is not an Islamic practice, and that there is nothing in Islamic jurisprudence to endorse it - most Muslim countries, including Saudi Arabia, do not practice ↑ FGM. However, among the Muslim Brotherhood rank and file there is no consensus on rejecting the practice. In 2006, when I asked former Supreme Guide Mahdi Akef what the current position of the Brotherhood was on the permissibility of female circumcision, he said the question was shallow and their position on FGM is inconsequential in the light of the grander, more pressing political matters afflicting Egypt today. Today Egypt is at a critical juncture in its history, more so than at any other time in the past forty years, and yet the issue is on the Muslim Brothers' agenda and is promoted through mobile health clinics.
The second strategy of the Brothers to contest the undesirability of FGM is to present it as a medical operation or procedure. By doing so, they encourage people to go to doctors - rather than midwives - who will perform the "operation" under anaesthesia and in accordance with proper surgical procedures. The fact that FGM does not exist in any medical textbook as a procedure, and that conversely, medical research has shown its negative medical implications is, of course, kept out of the debate. One of the most effective resistance strategies to undermine efforts to stop the practice has been to medicalize it. Some people talk about taking their daughters to the doctor to check whether "they need it or not", as if there is a physiological condition that would justify mutilating a woman's reproductive organs. In many instances, the Brothers have combined the medical with the religious argument to make the case for female circumcision. In 1981, the late Sheikh Mohammed Khateeb, the Muslim Brotherhood's former Mufti, issued a fatwa in which he said "When Islam arrived, it approved this operation for males and females." (italics mine). While el Khattib maked reference to a hadith to substantiate the circumcision of males, for females, he also assumed a medical position, "there have been diverse views on circumcision. Some (views) see female circumcision as a religious duty for males and females, some see it as a sunna, and some see it as a requirement for males and not females, and that for females it is a mukarama ( preferable, pleasing in the sight of God). Some doctors believe that not circumcising females leads to sexual arousal and that this could lead to the committing unlawful acts. So circumcision is a duty for the protection of the honour of the believing woman and for the preservation of her chastity and purity…..".
The third strategy deployed by the Brothers to promote FGM is to push for its decriminalization, under the premise that it is a matter that should be left to the personal choice of the girls' guardians. In parliament the Muslim Brotherhood had objected to the criminalization of the practice under the Child Law passed in 2008 which imposes a prison penalty for whoever circumcises a girl. Farid Ismail and other Muslim Brotherhood MPs expressed their opposition to the criminalization of female circumcision, arguing that it is permissible under the Shari'a to circumcise one's daughter and that "the decision is up to the guardian and the doctor who decides on the extent to which the girl needs this operation". The Muslim Brotherhood MPs are in favour of "organizing" rather than criminalizing circumcision. Leaving the decision as a matter of choice is also the position that is currently being expressed by Muslim Brotherhood female MP, Azza Garaf.
A number of local human rights organizations have condemned the Brotherhood's act of offering to perform FGM through their mobile health clinic and insist that if that were to be true they should be prosecuted. However, in the absence of a strong feminist movement - though many women's NGOs are active - the collective contestation of the Muslim Brotherhood's position has been weak, not least because the national women's machinery, the National Council for Women, is tainted by its association with the former First Lady, Mrs Suzanne Mubarak, and its secretary General Mervat Tallawy, who was a former Minister of Social Affairs who endorsed a highly restrictive NGO Law.
Marie Assad, the co-ordinator of the now defunct FGM Taskforce, which comprised a coalition of development practitioners, physicians, activists and media personalities, is not fearful about the impact of the Muslim Brotherhood's propagation of the practice because she believes in Egyptian women's agency. She says, "there is no reason to be afraid, the women have the knowledge about the practice and knowledge is power, and they will know how to protect themselves and decide what is good for them. There is no going back for them."
On the ground, development practitioners interviewed in Fayoum and Minya argue that after more than15 years of awareness raising and sustained local grassroots efforts, there is now a new generation of girls who have grown up without being circumcised and have got married. This is significant in that it proves that women do not need to be circumcised to be chaste, and that their non-circumcision will not undermine their prospects of marrying and gaining social acceptance. Hence they predict that the Muslim Brotherhood's campaigns to undermine women's gains, whether through their policy on FGM or other matters - such as freedom of mobility and work, will not be so easy.
However, the Muslim Brotherhood's propagation of FGM in the village of Abou Aziz - irrespective of whether the mobile clinic went ahead or not - is an issue that necessitates vigorous resistance. While it is true that FGM is a hyper-sensitive issue partly because Western feminists' and policy-makers' engagement with the issue in the 1980s and 1990s reeked of Orientalism and racism. It is also true that FGM cannot be privileged as a social justice issue when unemployment, deprivation, poverty, security, political repression are very acute. However, local activists have developed contextually sensitive approaches to eliciting social change and champion an agenda to preserve and protect women's bodily integrity. The FGM issue is one tangible manifestation of the reconfiguration of power relations between men and women, state and society in Egypt .
While, on the one hand, women's agency and their capacity for resistance must be acknowledged, the Islamists' attempts at curbing women's rights cannot be underestimated. It is a great cause for concern because the conditions of choice that women are facing now are increasingly constrained by the power of the Islamists to use the religious card to make their case. With the increase in their power, will effectively seek to decriminalize FGM? Will the marriage age be lowered? Will they promote a discourse of restricting women's mobility and work? Already the position of Azza Garraf, MP, who blames women for their exposure to sexual harassment, has infuriated many activists who have struggled to demand safe streets for all Egyptians. The diffuse impact this agenda has on the wider society is generating a competition between highly conservative actors over who can control women more tightly. Very recently, Bishop Bishoy of the Coptic Orthodox Church, said that he admired the attire of Muslim women and that Coptic women should dress more modestly like Muslim women - a statement that has infuriated Coptic activists who have argued that the comparison is intended to play into the Islamists' agenda. We are witnessing the stalling of an incomplete process of progressive social change: while some villages have benefitted from the campaign against FGM, many others such as Abou Aziz have not, and now, emboldened by the Brothers, the trend may be reversed.
Sympathizers in Egypt and the west have long argued that once the Muslim Brotherhood assume power, they will play politics differently, and their positions on matters such as gender will become more "moderate" as their governance agenda shifts to addressing the economic and political crises. However, the evidence from the village of Abou Azziz tells a different story.
http://www.opendemocracy.net/5050/mariz-tadros/mutilating-bodies-muslim-brotherhood%E2%80%99s-gift-to-egyptian-women
---------
More than 120 schoolgirls suffer from 'Poison attack' in Afghanistan
May 24, 2012
TALIQAN, Afghanistan (Reuters) - More than 120 schoolgirls and three teachers have been poisoned in the second attack in as many months blamed on conservative radicals in the country's north, Afghan police and education officials said on Wednesday.
The attack occurred in Takhar province where police said that radicals opposed to education of women and girls had used an unidentified toxic powder to contaminate the air in classrooms. Scores of students were left unconscious.
Afghanistan's intelligence agency, the National Directorate of Security (NDS), says the Taliban appear intent on closing schools ahead of a 2014 withdrawal by foreign combat troops.
"A part of their Al Farooq spring offensive operation is ... to close schools. By poisoning girls they want to create fear. They try to make families not send their children to school," NDS spokesman Lutfullah Mashal said.
Afghanistan's Ministry of Education said last week that 550 schools in 11 provinces where the Taliban have strong support had been closed down by insurgents.
Last month, 150 schoolgirls were poisoned in Takhar province after they drank contaminated water.
Since 2001 when the Taliban were toppled from power by U.S.-backed Afghan forces, females have returned to schools, especially in the capital Kabul. They were previously banned from work and education.
But there are still periodic attacks against students, teachers and school buildings, usually in the more conservative south and east of the country, from where the Taliban insurgency draws most of its support.
(Reporting by Mohammad Hamid in Taliqan and Mirwais Harooni in Kabul; Editing by Rob Taylor and Jeremy Laurence)
http://uk.news.yahoo.com/afghan-girls-poisoned-second-anti-school-attack-112825891--business.html
---------
Veil ban increased hostility towards Muslim women in France
May 23 2012
(Ahlul Bayt News Agency) - New research shows that that there is a link between the banning of the veil in France and increased levels of hostility towards veiled Muslim women.
The Research from the Department of Criminology at the University of Leicester suggests that the veil ban stigmatises veiled Muslim women as "criminals" and fosters Muslim "otherness". Even if not explicitly inciting hate-motivated violence, the law in its application contributes to a climate of intolerance of Islam in the West.
Irene Zempi, who led the study, will present her research on Islamophobia at a Departmental Research Seminar at the University of Leicester tommorrow.
Ms Zempi argues: "In light of my interviews with veiled Muslim women, I am confident that the French veil ban is a 'trigger' event which has led to increased levels of anti-Muslim hostility towards women who wear the face veil – the most visual symbol of Islam in the West. The veil ban policy is a clear manifestation of Islamophobia. The veil ban is not a 'religious-blind' piece of legislation; rather it attacks 'Islam' through the religious code of dress for Muslim women."
Ms Zempi's research is qualitative in nature, drawing on individual and focus group interviews with veiled Muslim women. This research also includes interviews with French Muslim women who moved to Leicester from France because of the French veil ban.
Ms Zempi will discuss the implications of the veil ban for veiled Muslim women in France and the UK at the seminar on Wednesday. She argues that the veil ban policy – including support for state veil bans – is fertile ground for anti-Muslim hate crime/incidents in the public sphere.
She continues: "The veil ban not only overshadows the fundamental issue of religious freedom as a human right, it also undercuts individual agency, privacy, and self-expression. This law oppresses women who want to wear the veil by depriving them from having control over their bodies and the way they dress."
Jon Garland, Senior Lecturer in Criminology and Ms Zempi's co-supervisor, said: "Irene is undertaking some groundbreaking research that is shedding new light on a hitherto under-researched issue. She is uncovering alarming amounts of prejudice suffered by veiled Muslim women, but her work will hopefully help to increase understanding of this problem and thereby challenge these prejudices."
The research was funded by the University of Leicester.
Irene Zempi will present her research at the Departmental Research Seminar on Wednesday 23 May 2012, at the Department of Criminology, University of Leicester. The free event is open to the public and takes place 1-2
http://abna.ir/data.asp?lang=3&Id=317036
---------
Hijab as an agreement to be treated like "second-rate human"
May 24, 2012
Sabrina Loebis
I find some comments regarding Muslim women who wear Hijab on a blog post by Anahita, "Love at the Edge of Conservatism," to be very degrading.
The comments may attempt to sound like they defend "marginalized Muslim women," but how is it any defense when they suggest that Muslim women wearing Hijab don't have mind of their own, and when they interpret those women's willingness to wear Hijab as an agreement to be treated like "second-rate human"? I find such views to be shared not only by the commentators but also by many others, especially Westerners.
As a Muslim woman who has been wearing Hijab for half of my life -- out of my own free will -- I think the comments are full of prejudices and stereotypes.
I do admit there are many Muslim women in some Muslim majority nations, e.g. Saudi Arabia and Afghanistan, who wear head coverings, or even face coverings, because they are compelled by the states, by the tradition in their conservative communities, and by their families. Many of them, to this I agree, have been marginalized and oppressed but the use of power to force women to wear hijab hardly applies in the majority of Muslim states, including Indonesia.
Yes, there are an Indonesian province, i.e. Aceh, and a city, i.e. Padang in West Sumatra, that compels Muslim women to wear headscarves. But, how about in the 32 other provinces and hundreds of others municipalities/districts?
Anyone who knows well of Indonesia and its Muslim communities should be familiar with the fact that the majority of Muslim women who wear hijab here do not do so because anyone has forced them to (unless you count following the trend as "being forced").
Aside from the women in Aceh and Padang, others who are compelled to wear hijab in Indonesia are mostly students of Islamic boarding schools and some other schools which oblige the use of headscarves every Friday or during the Islamic subject class. Other than that, most Indonesian Muslim women wear hijab simply because they prefer to.
What has often been abused in Indonesia, on the contrary, is Muslim women's right to cover our bodies in accordance to what we believe, and this was rooted in the New Order regime's suppressing of the practice for the most part of its ruling period. I remember clearly that students were only finally allowed to start wearing headscarves around mid 90s. Before that, most schools banned it.
Yes, it was high-school and university students who started the waves of hijab wearing.
Following the New Order's loosening policy on Hijab, schools began to allow female Muslim students to wear Hijab. But even after that, many of the students faced their biggest opponents in their parents instead. These parents were still heavily influenced with the New Order's old propaganda linking hijab with Islamism, which was always quickly linked to infamous and outlawed organization Darul Islam.
Today, however, parents' ban of Hijab is practically outdated. And many mothers have instead started wearing their own hijab.
What still often happens nowadays, ironically, is the ban on hijab in workplaces, although more often than not it has nothing to with the work that the women have to do. My own sister was a very victim of this ridicule just a few years ago. She had been wearing headscarves when she got a job as a quality control manager of a food manufacturer in Jakarta. Less than a year later, the company underwent changes in its management structure and system. The new management asked her to remove her hijab.
My sister refused and got fired. A distant cousin of mine, also a hijab-wearer, was told to put her hijab off if she wanted a job as flight attendant in a local airline. She decided to take the job and sacrificed her right. She's now only wearing hijab when not on duty.
Let's revert back, who discriminates against Muslim women again? Who marginalizes them and denies their rights to adhere to their belief -- and at the same time to develop their career? The answer is not Islam.
Rather than serving as a restriction as the aforementioned commentators and many others have suggested, in Indonesia wearing hijab is more of a symbol of freedom: The freedom of Muslim women here to wear what they want or what they believe they have to, to cover and protect their bodies under hijab.
There are no other outfits I feel more comfortable wearing in public places than my hijab. Before I started wearing them in my late teenage years, I used to have to disguise as a boy when I felt the need to avoid some, if not many, sexual verbal harassments coming from some dirty-minded boys and men. And now that I wear my headscarves, the worst that they can do is teasing me with "assalamualaikum" (peace be upon you).
http://www.thejakartaglobe.com/talkback/hijab-misunderstood-symbol-of-freedom/519608
---------
The Hijab or the bikini: the shaping of young girls' sexuality
Rahila Gupta
17 May 2012
Where the line will be drawn between children's' rights and parents' rights will always be heavily contested. Issues from the veiling of young girls to the manufacture of padded bras for seven year olds, may best be dealt with by upholding the UN Convention on the Rights of the Child
The recent revival of feminist activity has focused predominantly, if not exclusively, on the pornification of our culture and the ways in which the representation of women as sex-objects has become ubiquitous and normalised. Worryingly, this trend has scooped up girls as young as four with high street stores selling bikinis aimed at them, padded bras for seven year olds ↑ , and shoes with three inch heels for eight year olds. Fears of commercialisation and the premature sexualisation of children have made the British government wade in to the debate along with web based campaign groups such as Mums net ↑ . Government commissioned reports starting with Australia in 2008, Britain, Quebec and Belgium in 2011, and the latest one in France published in March 2012 show that the phenomenon is widespread. Full report at:
http://www.opendemocracy.net/5050/rahila-gupta/hijab-or-bikini-shaping-of-young-girls%E2%80%99-sexuality
---------
Jordan bank fires Christian woman for refusing to wear headscarf
23 May 2012
The Jordan Dubai Islamic Bank on Wednesday fired a Christian employee because she refused to wear a scarf to cover her hair as part of uniform for female staff, its spokeswoman said.
"The bank warned Vivian Salameh to cover her hair as part of women's uniform approved earlier this year, but she refused," Iman Afaneh told AFP.
"Five other Christian women are working at the bank, and they are committed to wearing full uniform, including the headscarf."
But Salameh said she "refused to wear the partial head cover because it is against my principles."
"The bank uniform registered at the trade and industry ministry does not include wearing anything to cover my hair," she said.
The Jordan-based Islamic bank is a public shareholding company which launched operations in 2010.
http://english.alarabiya.net/articles/2012/05/23/215997.html
---------
Muslim Women & Girls Killed by Islamists
23 May 2012
Sarah Yaser Said 17, and Amina Yaser Said 18, killed by their Egyptian Muslim father in Texas on New Years Day 2008 in an apparent honor killing. Their father thought they were "too Western."
The United Nations (UN) reports that 5000 Muslim women and girls are killed every year in the name of Islam. The UN uses the term "honor killings." In reality there are thousands more killed but never reported, or the investigative agency does not realize the death was related to Islamic values. It is very important for readers to know that 91% of honor killings are committed by our so-called friends in Pakistan. Later I will discuss why this is important for everyone to understand. In America there are only a handful of deaths that are attributed to Islam and its ideology. This needs to be discussed in further detail because it is the author's opinion, based on thousands of hours of firsthand research, that the number is likely to be in the hundreds.
Full report at:http://www.varight.com/news/muslim-women-girls-killed-by-islamists/
---------
Sharia challenge to Australian women's rights
May 22, 2012
STEVIE MODERN
A recent case before the ACT Supreme Court has again drawn attention to the treatment of women in Sharia law, renewing calls among rights activists against its acceptance within Australia's legal system.
In March, the daughter of Ms Mariem Omari, a devout Muslim, contested an inheritance worth only half of the financial share given to each of her brothers.
Australian Federation of Islamic Councils president Hafez Kaseem, through his spokesman Mr Keysar Prad, said the division of assets in favour of males, like the Omari case, reflected Muslim men's responsibility under Sharia to support their wives.
AFIC called for provisions of the Islamic code to be formally included into family law, part of its submission last year to a Federal Government inquiry into multiculturalism.
Mr Prad said secular law failed to reflect their faith and urged inclusion of Sharia law for Muslims where it applies to marriage, divorce, contracts and custody in Australia.
Full report at:http://imodernreview.com/2012/05/22/sharia-to-challenge-australian-womens-rights/
---------
Will the Egyptian Muslim Sisters rise to the occasion and get their Human Rights
Hania Sholkamy
14 March 2012
In the days ahead a struggle looms over women's human rights and gender justice in Egypt. Will the Muslim Sisters rise to the occasion?
On March 8th 2011 a small number of civil society and development professionals along with a few students and academics staged a celebration of International Women's Day in Tahrir square. This was a month after the fall of Mubarak and the assumption of control by the army. It was a time of seemingly infinite possibility and boundless liberation. It therefore came as a surprise when the few hundred huddled in the middle of the square were berated, ridiculed and finally chased into the side streets and physically attacked. This was the first appearance of what would later come to be known as the 'third' or 'invisible' hand- the hand that later tormented and killed hundreds of protestors. This hand is assumed to be operated either by the old establishment, or by the military or by Egyptians fed up with protestors: in short, it is the hand of counter revolutionary elements! However there was little sympathy for those attacked in the square. Progressive political groups were un-interested in questions of gender equality and justice.
Full report at:http://www.opendemocracy.net/5050/hania-sholkamy/egypt-will-there-be-place-for-womens-human-rights
---------
Cairo's women have lost all their faith in the revolution
NABILA RAMDANI
24 MAY 2012
This election is all about giving women humble roles in society and leaving the important jobs to men
A women-only voting station on the west bank of the River Nile is an obvious place to gauge the state of female empowerment in post-revolutionary Egypt. Thousands of determined voters trooped in and out of the converted school in the Aguza district of Cairo yesterday in what looked like an inspiring symbol of a truly democratic, enlightened republic choosing its own president for the first time in its history. The truth is far less inspiring, unfortunately.
As I chatted to women of all ages, classes and professions, it soon became obvious that most have no faith whatsoever in the post-Arab Spring order. Not only do women make up less than 2 per cent of the new Egyptian parliament, but all of the 12 candidates standing to become head of state are men.
Full report at:
http://www.independent.co.uk/opinion/commentators/nabila-ramdani-cairos-women-have-their-say--but-they-have-lost-all-their-faith-in-the-revolution-7782492.html
---------
Lady Gaga Refuses to Tone Down Her Shows: Manager
May 24, 2012
Pop superstar Lady Gaga would rather cancel dates in her world tour than make changes to appease censors and religious groups, the US singer's manager said on Thursday as controversy dogs her in Asia.
Troy Carter said that in any case, nothing would appease the religious hardliners who have denounced Lady Gaga in South Korea, Indonesia and the Philippines since her tour kicked off in Asia.
"We'll skip them," Carter told a music conference in Singapore, insisting that Lady Gaga would not tone down any upcoming concerts. "We play the show as it is. It's a very specific show, it's a very specific audience."
Conservative Christians in South Korea and the Philippines, and militant Islamic groups in Indonesia, have accused the provocative US singer of espousing blasphemy and devil-worship.
Indonesian police are refusing to issue a permit for her June 3 show in Jakarta after threats of violence from the militant groups, but the promoters say they are still fighting to stage the event.
Full report at:
http://www.thejakartaglobe.com/home/lady-gaga-refuses-to-tone-down-her-shows-manager/519877
---------
Indonesian Maid Spiked Boss' Coffee With Her Menstrual Blood
May 23, 2012
An Indonesian maid was charged with mischief in a Singapore court on Tuesday for adding her menstrual blood to her employer's coffee.
The 24-year-old woman pleaded guilty through an Indonesian interpreter. The petite woman, who goes by the single name Jumiah, is said to have served the spiked coffee at her employers home on Aug. 2011.
At the time, the maid had worked for the man for about a year. No other details were available, and her case was adjourned to another court for mention next Tuesday.
Bail of $5,000 was offered, but the woman was remanded because she could not obtain a Singaporean bailor.
The maximum penalty for the offense is a year in jail and a fine.
In July 2009, a 26-year-old Indonesian maid was cleared of a similar offense.
She had mixed her discharge into a pot of vegetables, but prosecutors dropped the case against her, because the charge could reportedly not be sustained when the government laboratory and doctors said menstrual blood is not toxic — although it may carry viruses.
http://www.thejakartaglobe.com/home/indonesian-maid-spiked-boss-coffee-with-her-menstrual-blood/519597
---------
URL: https://newageislam.com/islam-women-feminism/circumcise-women-nominal-fee,-muslim/d/7417