New Age Islam News Bureau
27 October 2021
• Women in Saudi Arabia Have Thirty-Three Percent Share of Human Rights Reforms Approved In Recent Times
• Fifty-four Percent Workers in Tourism Sector of Saudi Arabia Are Women
• Iran's Women's Basketball Team to Hold Camp in Turkey
• Aminah Shafiq a Birmingham Engineer's PPE Headscarf Design to Inspire Muslim Women
• In Somalia, a Rare Female Artist In The Highly Conservative Horn Of Africa Promotes Images Of Peace
• Egypt Reviews Efforts To Empower Women At UNHCR Session
Compiled by New Age Islam News Bureau
URL: https://www.newageislam.com/islam-women-feminism/christian-misbah-imdad-pakistan-conversion/d/125658
--------
Christian Girl Misbah Imdad of Pakistan, Hiding To Escape Forced Marriage and Conversion to Islam
10/26/2021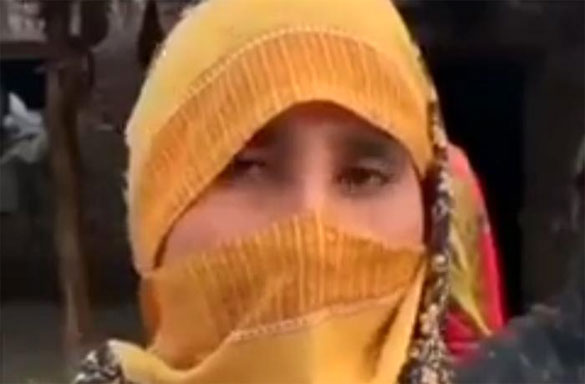 17-year-old Christian Misbah Imdad
-----
By Shafique Khokhar
Faisalabad (AsiaNews) - For over a month, 17-year-old Christian Misbah Imdad has been forced to live with her family hidden in fields and makeshift shelters to escape from Muslim Muhammad Saqib.
Faisalabad (Punjab) has the record for the highest number of cases in Pakistan of forced marriages and conversions to Islam. The minor has ended up in the sights of the man who wants her in marriage against her will. Pakistani law, often disregarded in practice, does not allow marriages of minors without explicit consent.
Local sources report Saqib's repeated threats to the girl's father, Imdad Masih, to force him to give up his daughter in marriage. Faced with refusal, the Muslim denounced his son (and Misbah's brother) Shahnawaz Masih for stealing money and kidnapping Saqib's daughter. In reality, these are trumped-up charges for crimes that never happened, but the police were satisfied with the complaint to arrest Shahnawaz, who is currently in prison.
Contacted by AsiaNews, from her hiding place Misbah confirms the situation of extreme difficulty in which the family finds itself: "My brother's small children are here with me, but we can not feed them because we have to stay hidden to escape Saqib." Meanwhile, her father Imdad launches an appeal for his son to be cleared of false charges and to be allowed to return to freedom, in addition to calling for justice for the whole family.
The Christian activist Baba Intazar Gill says the release of 24-year-old Shahnawaz should be a matter of hours upon payment of a bail, but there is no official announcement yet.
The story of Misbah is not an isolated case. According to the NGO based in Lahore Centre for Social Justice (CSJ), in mid-October there were at least 36 young people under 18 years old who were not Muslims but were kidnapped and forcibly converted to Islam. Of these, 21 are Christian and 15 are Hindu. In addition, cases of forced conversions increased by 177% last year.
Against the phenomenon of kidnappings for forced marriages had also intervened the Pakistani Parliament, with a law discussed and approved in the Senate in May 2019, but never applied in practice. In the House, in fact, members of the Assembly and the government linked to the Ministry of Religious Affairs opposed it because it was "contrary to sharia and Islam." 2019 Unicef data for Pakistan reported that 21% of girls are given in marriage by their family of origin before they turn 18, 3% before even 15. The country is 6th in the world for the number of child brides.
Source: Asian News
http://www.asianews.it/news-en/Faisalabad:-Misbah,-17-year-old-Christian-girl-hiding-to-escape-Muslim-(VIDEO)-54363.html
--------
Women in Saudi Arabia Have Thirty-Three Percent Share of Human Rights Reforms Approved In Recent Times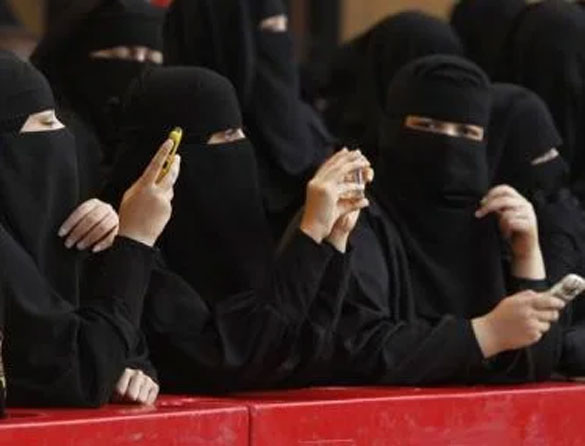 (Representational Photo)
----
By Syeda Faiza Kirmani
27th October 2021
Women in Saudi Arabia have had a significant share of human rights reforms that the Kingdom has approved in recent times, a senior official was quoted by the local media. Out of over 90 human rights reforms that the Kingdom has approved, 30 reforms cater to women and family alone, boosting women's rights.
In a speech at the Saudi Family Forum 2021, Head of the Human Rights Commission, Dr Awwad Al Awwad said that there are several programs to support families including those for the women, the elderly and those with disabilities. Al Awwad hailed the recent changes as 'historic' and informed that there has been a significant decrease in cases of violence, issues of divorce, custody and alimony.
The Secretary-General of the Family Affairs Council, Dr. Hala Al Tu.waijri said that they worked on many steps including family counselling, providing support for the first 100 days of a child's life, taking into account the child's best interest in all procedures and legislations.
The Forum is one of the building blocks of awareness for the Saudi family and helps them to chart the right path to a better future.
"The radically new approach reflected in Vision 2030, the National Transformation Programme 2020, recognizes the need to encourage full female participation in the job market, which will drive the cultural changes needed to enable women to become both more economically productive and more independent," Al Tuwaijri said.
Reforms for women have only come in recently with crown prince Mohammad bin Salman's plans to introduce a family law to safeguard women from facing discrimination and difficulties in marriage, divorce and all aspects involving their family.
A few of the many laws introduced and amended to suit a modern Saudi woman's needs include rights of inheritance, enforcing court rulings regarding child custody and family law with the help of police. The laws also ensure that the man refusing to abide by these new reforms is brought to court, by force, and may also be punished with imprisonment of up to 3 months.
Source: Siasat Daily
https://www.siasat.com/33-of-reforms-in-saudi-arabia-cater-to-womens-rights-official-2215346/
--------
Fifty-four Percent Workers in Tourism Sector of Saudi Arabia Are Women
October 26, 2021
RIYADH — Minister of Tourism Ahmed Al-Khateeb said that 54 percent of workers in the tourism sector are women.
Al-Khateeb made his remarks at the fifth edition of the Future Investment Initiative (FII) here Tuesday.
"The salaries of female employees in the tourism sector are fair enough when compared to their male peers."
He expressed optimism for the pandemic to end soon and for the sector to receive a growth era soon, especially that nations are now interconnected.
Al-Khateeb revealed that the tourism sector in Saudi Arabia targets 100 million visitors annually by 2030.
"Saudi Arabia will witness a huge wave of growth and many initiatives will be launched in the near future in this sector, as it is considered one of the largest investment areas in the region."
The minister stressed that the Kingdom is working to unify travel protocols around the world, especially that travel during the novel coronavirus pandemic has become a nightmare for passengers. He highlighted the importance of developing unified travel laws for the world.
The tourism sector is one of the most affected sectors by the pandemic, as it has decreased by 80 percent, he said. The minister added that 60 million jobs were lost in the tourism sector during 2020 due to the coronavirus pandemic.
Al-Khateeb noted that the crisis resulting from the pandemic forced countries to offer several long-term plans with the aim of recovering from the pandemic, noting that the tourism sector is among the most affected sectors in the world along with the travel and transport sector. The crisis has severely affected the sector that contributes to one out of ten jobs.
The minister also called on countries to cooperate with the private sector that runs the tourism sector, noting that the role of the Ministry of Tourism is legislative and organizational and that there are more than seven billion people living on the planet, including 1.6 billion who managed to travel in 2020.
This is a record number, where the World Travel Organization estimates the number to exceed three billion, noting that 80% of the tourism industry are served by small- and medium-sized enterprises.
He also expressed Saudi Arabia's aspiration to play an important role to create several initiatives, whether at the training or sustainability level, through launching a global center for sustainability.
During a session titled "Future of tourism-global perspectives", in the FII, which saw the participation of Corporation Carnival CEO Arnold Donald along with the minister, the Carnival CEO said that government and the private sector have to cooperate to contribute to the recovery of the tourism and travel sector and face challenges that the sector endured during the COVID-19 pandemic.
He noted that several jobs in the sector have been lost in 2020, stressing the importance of harmony among all sectors in all countries.
He also highlighted the importance of fair distribution of vaccines among countries, enabling people to take it as easily as possible, noting that countries should prepare laws and health procedures to allow travel for all, such as the digital passport and putting public health as a top priority.
He said: "Governments should support their economies in a way that serves growth according to certain policies, and countries should work together to guarantee speeding up achievements related to sustainability and economic sustainability to ensure the resumption and sustainability of travel and tourism sector and caring for the climate change."
He pointed out that life is gradually coming back to normal, which allowed creating more than two million jobs after the pandemic.
Source: Saudi Gazette
https://saudigazette.com.sa/article/612759/SAUDI-ARABIA/54-of-workers-in-tourism-are-women-rlm-rlm-Al-Khateeb
--------
Iran's women's basketball team to hold camp in Turkey
October 26, 2021
The Iranian team are going to play Botas, Cankaya Universitesi and Ormanspor ahead of the competition.
The FIBA Women's Asia Cup 2021 Division B will be played at the Prince Hamza Hall in Amman, Jordan from Nov. 7 to 13.
For the Group Phase, the six teams are separated into two groups of three according to the latest update of the FIBA World Ranking..
Iran will play Lebanon in their opening match on Nov. 7. The 2017 runners up Kazakhstan will then start their search for promotion to Division A against Indonesia. Hosts Jordan will play their first game against Indonesia later on Nov. 8 against Indonesia.
The Final Phase starts on Nov. 10 with two Qualification to Semi-Finals games between teams that finished 2nd and 3rd place in their groups.
The top team from each group will directly advance to the semi-finals which will be played on Nov. 12 after a rest day. The 5th place classification game will also be played as the first game on this day.
The Final of the FIBA Women's Asia Cup 2021 Division B will then be played on Nov. 13 as well as the 3rd place classification game.
The winner of the FIBA Women's Asia Cup 2021 Division B gain promotion to play in the Division A for the next edition of the Women's Asia Cup.
Source: Tehran Times
https://www.tehrantimes.com/news/466357/Iran-s-women-s-basketball-team-to-hold-camp-in-Turkey
--------
Aminah Shafiq a Birmingham Engineer's PPE Headscarf Design to Inspire Muslim Women
Oct 27, 2021
A senior engineer says she hopes her PPE headscarf design will inspire Muslim women who want to pursue a career in engineering and construction.
Aminah Shafiq, from Birmingham, said her design makes it safer for women wearing a headscarf to work in operational jobs.
The 24-year-old, who works for Severn Trent, said she came up with the idea during lockdown.
She said she hopes it "represents them and accommodates" women.
"I started thinking about the two concerns I had - the free flowing material and the fact that the helmet wouldn't fit over my head," she said.
"I took inspiration from the athletic headscarves which have more of a snug fit and none of the free-flowing materials."
Ms Shafiq, who graduated in engineering two years ago and is now a senior water advisor, added that she did not want women to "struggle" like she did.
"Let's create something that represents them and accommodates them and maybe convince them to pursue operational roles."
Dr Freeha Azmat, an associate professor at University of Warwick's manufacturing group, welcomed the integrated design.
"When you have a hijab you have a lot of pins and by having the pins away from the PPE, this gives a lot of advantage because you don't need to worry about adjusting your hijab," she said.
"On top of that, pins could be a hazard as well, so I think by having something that is just integrated into the uniform, it gives a lot of protection."
Student Nageen Fatima said she felt it helped Muslim women to "visualise themselves" and "not limit themselves to different professions that do not allow for these customisations."
Source: BBC News
https://www.bbc.com/news/uk-england-birmingham-59053217
--------
In Somalia, A Rare Female Artist In The Highly Conservative Horn Of Africa Promotes Images Of Peace
By HASSAN BARISE
Oct 27, 2021
MOGADISHU, Somalia (AP) — Among the once-taboo professions emerging from Somalia's decades of conflict and Islamic extremism is the world of arts, and a 21-year-old female painter has faced more opposition than most.
A rare woman artist in the highly conservative Horn of Africa nation, Sana Ashraf Sharif Muhsin lives and works amid the rubble of her uncle's building that was partially destroyed in Mogadishu's years of war.
Despite the challenges that include the belief by some Muslims that Islam bars all representations of people, and the search for brushes and other materials for her work, she is optimistic.
"I love my work and believe that I can contribute to the rebuilding and pacifying of my country," she said.
Sana stands out for breaking the gender barrier to enter a male-dominated profession, according to Abdi Mohamed Shu'ayb, a professor of arts at Somali National University. She is just one of two female artists he knows of in Somalia, with the other in the breakaway region of Somaliland.
And yet Sana is unique "because her artworks capture contemporary life in a positive way and seek to build reconciliation," he said, calling her a national hero.
Sana, a civil engineering student, began drawing at the age of 8, following in the footsteps of her maternal uncle, Abdikarim Osman Addow, a well-known artist.
"I would use charcoal on all the walls of the house, drawing my vision of the world," Sana said, laughing. More formal instruction followed, and she eventually assembled a book from her sketches of household items like a shoe or a jug of water.
But as her work brought her more public attention over the years, some tensions followed.
"I fear for myself sometimes," she said, and recalled a confrontation during a recent exhibition at the City University of Mogadishu. A male student began shouting "This is wrong!" and professors tried to calm him, explaining that art is an important part of the world.
Many people in Somalia don't understand the arts, Sana said, and some even criticize them as disgusting. At exhibitions, she tries to make people understand that art is useful and "a weapon that can be used for many things."
A teacher once challenged her skills by asking questions and requiring answers in the form of a drawing, she said.
"Everything that's made is first drawn, and what we're making is not the dress but something that changes your internal emotions," Sana said. "Our paintings talk to the people."
Her work at times explores the social issues roiling Somalia, including a painting of a soldier looking at the ruins of the country's first parliament building. It reflects the current political clash between the federal government and opposition, she said, as national elections are delayed.
Another painting reflects abuses against vulnerable young women "which they cannot even express." A third shows a woman in the bare-shouldered dress popular in Somalia decades ago before a stricter interpretation of Islam took hold and scholars urged women to wear the hijab.
But Sana also strives for beauty in her work, aware that "we have passed through 30 years of destruction, and the people only see bad things, having in their mind blood and destruction and explosions. ... If you Google Somalia, we don't have beautiful pictures there, but ugly ones, so I'd like to change all that using my paintings."
Sana said she hopes to gain further confidence in her work by exhibiting it more widely, beyond events in Somalia and neighboring Kenya.
But finding role models at home for her profession doesn't come easily.
Sana named several Somali artists whose work she admires, but she knows of no other female ones like herself.
Source: AP News
https://apnews.com/article/africa-religion-islam-somalia-mogadishu-e7f7959afc49a1b80a6f33c0b7429fe4
--------
Egypt reviews efforts to empower women at UNHCR session
26 Oct 2021
In a speech before the United Nations Commission on Human Rights (UNCHR) in Geneva, Maya Morsy reviewed the progress Egypt made to implement the articles of the Convention on the Elimination of All Forms of Discrimination against Women (CEDAW) in the past 10 years.
The NCW chief pointed to the prime minister's decision to establish the first unit to combat violence against women nationwide.
Egypt was the first Arab country to conduct the Economic Cost of Gender-based Violence Survey, which showed an increase in the rates of domestic violence by 19% and an increase in the rate of wives being subject to violence from their husbands by 7%, Morsy said.
She added that the 2014 constitution included more than 20 articles regulating the issues of citizenship, equality and criminalising violence and non-discrimination.
Since 2014, the representation of women in parliament has increased to 28%, in the Senate to 14%, in ministerial posts to 25%, and in the diplomatic posts to 56%, she said.
A woman, Faiza Abu El-Naga, was appointed as a presidential adviser for national security in 2014 for the first time in Egypt, Morsy said. Two women have been appointed as governors, a female has been named president of an economic court, and a woman was appointed as first deputy governor of the Central Bank.
She added that, for the first time, 109 female judges and prosecutors have been appointed in the State Council and the Public Prosecution last week.
The unemployment rate among women decreased from to 17.7% from 24% in 2020.
On women health, the chairman of the NCW said presidential health initiatives were launched for women, including one for the early detection of breast cancer and other diseases which reached 19 million women, leading to a decrease in the percentage of women suffering from the disease.
Source: Ahram Online
https://english.ahram.org.eg/NewsContent/1/2/436563/Egypt/Society/Egypt-reviews-efforts-to-empower-women-at-UNHCR-se.aspx
--------
URL: https://www.newageislam.com/islam-women-feminism/christian-misbah-imdad-pakistan-conversion/d/125658
New Age Islam, Islam Online, Islamic Website, African Muslim News, Arab World News, South Asia News, Indian Muslim News, World Muslim News, Women in Islam, Islamic Feminism, Arab Women, Women In Arab, Islamophobia in America, Muslim Women in West, Islam Women and Feminism