New Age Islam News Bureau
29 Nov 2019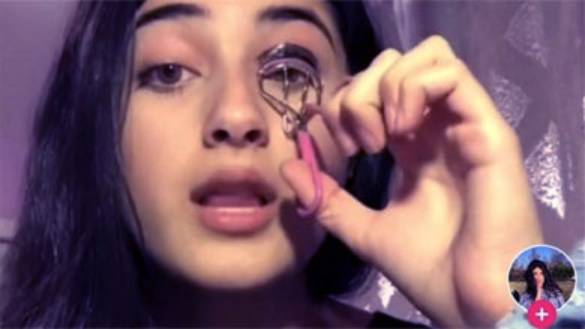 Ms Aziz said she wanted to raise awareness about China's detainment of "innocent Muslims"
------
• Chinese-Owned Social Network TikTok Apologises and Reinstates Banned US Teen, Feroza Aziz
• Pakistan Army's Female Officer Awarded UN Secretary-General Certificate
• The Burqa And Niqab Are Giving Islam A Bad Name
• Osama Bin Laden's Niece Spotted Performing In Band In London With Guinness Heiress
• Quebec Organization Creates Pamphlet to Educate Muslim Women About Their Rights
Compiled By New Age Islam News Bureau
URL: https://www.newageislam.com/islam-women-feminism/chinese-owned-social-network-tiktok/d/120393
------
Chinese-Owned Social Network TikTok Apologises and Reinstates Banned US Teen, Feroza Aziz
28 November 2019
By Dave Lee
Chinese-owned social network TikTok has apologised to a US teenager who was blocked from the service after she posted a viral clip criticising China's treatment of the Uighur Muslims.
The firm said it had now lifted the ban, maintaining it was due to 17-year-old Feroza Aziz's prior conduct on the app - and unrelated to Chinese politics.
Additionally, the firm said "human moderation error" was to blame for the video being taken down on Thursday for almost an hour.
TIkTok, owned by Beijing-based ByteDance, has insisted it does not apply Chinese moderation principles to its product outside of mainland China.
Ms Aziz posted on Twitter that she did not accept the firm's explanation.
"Do I believe they took it away because of a unrelated satirical video that was deleted on a previous deleted account of mine? Right after I finished posting a three-part video about the Uighurs? No."
In an interview with BBC News reporter Vivienne Nunis, Ms Aziz said: "I will continue to talk about it, and I will talk about it on Twitter, on Instagram, on any platform I have, even TikTok."I'm not scared of TikTok, even after the suspension. I won't be scared of TikTok."
Eric Han, TikTok's head of safety for the US, said Ms Aziz had been banned earlier this month after she posted a video containing an image of Osama Bin Laden.
"While we recognise that this video may have been intended as satire," Mr Han said, "our policies on this front are currently strict."
When TikTok bans users, it also prevents the same device being used to set up another account.
It was on a new account, set up on the same device, that Ms Aziz posted her video about the Uighurs, done in the style of a make-up tutorial, a popular genre on the network.
TikTok said that account was disabled after it ran a "platform-wide enforcement" that locked out Ms Aziz's device, as well as 2,406 devices belonging to other users who had fallen foul of the site's policies.
Mr Han wrote: "Because the user's banned account (@getmefamousplzsir) was associated with the same device as her second account (@getmefamouspartthree), this had the effect of locking her out of being able to access her second, active account from that device.
"However, the account itself remained active and accessible, with its videos continuing to receive views."
But on Thursday morning, the viral video - which has been viewed more than nine million times, across multiple networks - was also removed from TikTok, due to what Mr Han described as a "human moderation error".
"It's important to clarify that nothing in our community guidelines precludes content such as this video, and it should not have been removed," he said.
"We would like to apologise to the user for the error on our part this morning."
Human Rights Watch told the BBC that a lack of transparency is deserving of increased scrutiny.
"It is hard for outsiders to know the real reasons for the suspension of Aziz's account," said Yaqiu Wa, the non-profit's China researcher.
"TikTok does not make public the data on the videos it removes or the users it suspends, or the artificial intelligence tools it uses to determine the removals and suspensions.
"While TikTok has repeatedly stressed that it does not take orders from the Chinese government in terms of what content it promotes or removes outside of China, it has done little to quench the suspicion, given that all Chinese companies are not only accountable to its shareholders, but also to the Chinese Communist Party."
The incident marks an early, high-profile censorship dispute for TikTok, a network which has exploded in popularity over the past two years.
Globally, the app has now been downloaded 1.5 billion times, according to mobile intelligence analysts Sensor Tower.
It looks set to end 2019 as the third most-downloaded non-gaming app, ahead of rivals Facebook and Instagram.
That surge in popularity has caused concern in Western markets, due to the nature of its Chinese ownership.
In the US, TikTok's deal to buy Musical.ly, a music-based social network, is now being examined by the US Committee on Foreign Investment in the United States. The committee is looking specifically at data storage and privacy practices.
In February the firm was handed the largest ever fine for a US case involving children's data privacy. The company agreed to pay $5.7m (£4.3m) over its handling of data on users who were under 13, acquired thanks to its takeover of Musical.ly.
https://www.bbc.com/news/technology-50582101?ocid=global_bbccom_email_28112019_top+news+stories
------
Pakistan Army's female officer awarded UN Secretary-General certificate
November 29, 2019
Woman in the Pakistan Army have been breaking barriers, and Major Samia Rehman is the latest warrior from Pakistan who has awarded for her exceptional achievements in the line of duty.
Earlier this week, Major Samia was selected for the UN Special Representative of the Secretary-General (SRSG) certificate of the year. She is the first female officer of the Pakistan Army to get the honour.
The certificate was awarded to Major Samia for her extraordinary performance in Mission Level Studies, analysis, and other valuable contributions. Major-General Thierry Lion presented the certificate to Samia Rehman on behalf of SRSG.
In March this year, a Pakistani peacekeeper honoured with UN medal posthumously. Pakistan's Permanent Representative to the United Nations Ambassador Maleeha Lodhi accepted the award on behalf of the family of Naik Muhammad Naeem Raza.
The solider had embraced martyrdom while serving with the UN Organisation Stabilization Mission in the Democratic Republic of Congo (MONUSCO). Speaking to APP, Lodhi said she was "humbled and honoured" to receive the award on behalf of Shaheed Raza.
"Pakistani peacekeepers continue to serve UN peacekeeping missions with distinction and fly the flag of Pakistan high," she said. "Their sacrifices are a testimony to Pakistan's commitment to upholding international peace and security."
https://www.thenews.com.pk/latest/576095-pakistan-armys-female-officer-awarded-un-secretary-general-certificate
------
The Burqa and Niqab are giving Islam a bad name
November 28, 2019
United Kingdom Prime Minister Boris Johnson's comments on Muslim dress caused a tsunami last year, and the ripples are still being felt. He asked why Muslim women should wear a Burqa or Niqab, which makes them look like "letterboxes".
It certainly wasn't prudent for a prime minister to poke fun at Muslim women, and some alleged his analogy caused a spike in anti-Muslim sentiment. In his defence, Johnson did support a Muslim woman's right to wear whatever she chooses, but his implied question remains a pertinent one: Why choose such a garment when all it ever does is give Islam a bad name?
Predictably, the "letterbox" jibe drew out Muslim activists. They defended the Niqab as a personal choice or as something that makes women feel secure. Yet, no matter how they try to defend it, such Muslim garb is cumbersome, patriarchal and even dangerous, and it limits opportunities for women in otherwise free and open societies.
An article by Sarah Baxter on this issue in The Times of London this week caught my eye. It was entitled I am no snowflake, but the Niqab scares me. To Baxter, if the Niqab symbolizes anything it is the unsettling reminder that women in much of the world are still repressed, and the past century's progress in women's emancipation in developed countries may be "just a blip in history".
Baxter's disdain and fear are justified. Why create a walking barrier between the wearer and the confidently unmasked rest of the world? Concealment is what the Niqab does best; its very reason for being is to conceal that female allure. But can't it also conceal a whole lot more, even weapons?
The faithful offer endless justifications, apart from the standard one about looking unsexy: to "attain closeness" with Allah, to make a political statement, and to ensure Islam's precepts are being fully observed. Advocates here in Canada have even offered the specious argument that, far from being patriarchal, donning the Niqab is a feminist choice for a woman. Perhaps they are implying that in this #MeToo era, swaddling medieval clothing will keep them safe!
Retreating behind a mask is an odd action to call feminist. The most extreme Muslim garment, the Burqa, reflects ultra-conservative interpretations by men. It is valued by cruel misogynists like the Taliban as a convenient means of repressing women. The moderately less restrictive Niqab serves to marginalize women in Saudi Arabia. All of this garb is nothing but an endorsement of the chauvinism and patriarchy that defined seventh-century Arabia.
And it has nothing to do with Islam. In fact, covering the hair and face is a practice uncritically inherited from the patriarchal cultures that preceded Islam. Women who don the Niqab should take a closer look at the requirements of their faith. The recommendation is merely to dress modestly. The language of the Quran is vague and always followed by a reassurance of forgiveness if its injunctions on the matter cannot be met.
In fact, the main principle behind Islam's modest attire is not to draw attention to women. But the political statement women make by wearing the Niqab has the opposite effect. If they care about the reputation of the faith they profess to love, they should consider how the Burqa and Niqab, as recognized symbols of separation and oppression, continue to give Islam a bad name.
https://edmontonsun.com/opinion/columnists/hassan-the-Burqa-and-Niqab-are-giving-islam-a-bad-name/wcm/7f0fcb20-c91d-476d-b1c4-e0b963c87bbc
------
Osama bin Laden's niece spotted performing in band in London with Guinness heiress
ByMyriam Toua
28 NOV 2019
Osama bin Laden's niece has been spotted performing in London.
Wafah Dufour, 44, was performing as part of all-female band Deep Tan alongside Celeste Guinness, heiress to the brewing company, and French model Melia Beaudoin at venue Peckham Audio.
The former model has been touring for almost a decade, with reports emerging in 2009 of her recording a debut album.
The Deep Tan front-woman is the daughter of terrorist bin Laden's half-brother Yeslam, and his Swiss-Iranian ex-wife Carmen.
https://www.dailystar.co.uk/news/latest-news/osama-bin-ladens-niece-spotted-20984607
------
Quebec organization creates pamphlet to educate Muslim women about their rights
BY BRITTANY HENRIQUES
November 28, 2019
Montreal Muslim women are binding together to fight for their rights.
On Thursday night, Justice Femme, an organization dedicated to the protection of women's rights, along with the Women's Federation of Quebec, launched a pamphlet titled, "Muslim Women, Know your Rights and Seize them!"
Hanadi Saad, president of Justice Femme, said the pamphlet is aimed at helping Muslim women navigate the current climate since the introduction of Quebec's secularism law, Bill 21.
The law prohibits teachers and public employees in positions of authority from wearing religious symbols at work.
Justice Femme says they have noticed an alarming rise in Islamophobia and racism, which sometimes result in verbal aggressions and crimes in Quebec.
"Assaults on Muslim Women wearing the Hijab have multiplied. These women are already being discriminated against in the labour market and suffer from constant pressure and harassment in their workplace," said Saad in a press release.
"With Bill 21, we see that there's an urgency to give them a guide to let them know their rights and to seize them," said Saad.
"Muslim women are facing exclusion, they don't know their rights and they don't want to complain because they don't trust the system anymore."
Saad said this guide is a way to educate them and send them a strong message.
"We are here for you."
https://globalnews.ca/news/6231034/quebec-organization-muslim-women-rights/
------
URL: https://www.newageislam.com/islam-women-feminism/chinese-owned-social-network-tiktok/d/120393
New Age Islam, Islam Online, Islamic Website, African Muslim News, Arab World News, South Asia News, Indian Muslim News, World Muslim News, Women in Islam, Islamic Feminism, Arab Women, Women In Arab, Islamophobia in America, Muslim Women in West, Islam Women and Feminism