New Age Islam News Bureau
6 March 2014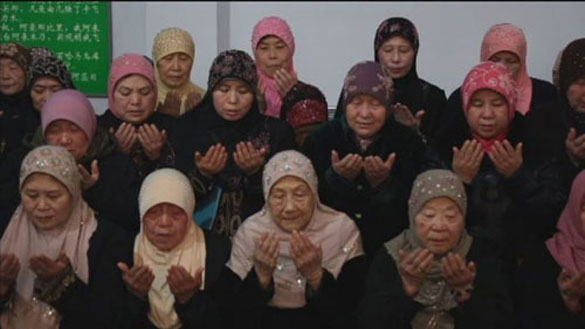 Photo: China's Female Imams Carrying On Ancient Islamic Tradition
-------------
• Women with New Wombs Try To Conceive In Sweden
• UK Urges World to Tackle Child Marriage in Same Way as FGM
• Colombia's ELN Rebels Recruit Girls to Extort Illegal Miners
• UK Party Suspends Member for Insulting Muslim Women
• Canadian Province's Religious Bill 'Targets Headscarf'
• AFC Welcomes Lifting Of Headscarf Ban
• Saudi Lawyers Refuse To Leak Data to Women on Potential Grooms
• No Uniform Policy of Indian Waqf Boards on Muslim Widow Pension
• Malala Admits She Has No Cell
• Ministry Of Gender Celebrates Ghanaian Women
• Pak, Punjab Assembly Female Members Form Caucus
• Pakistan Mother Kills Two Starving Infants
Compiled by New Age Islam News Bureau
URL: https://newageislam.com/islam-women-feminism/china-female-imams-carrying-ancient/d/56014
------------
China's female imams carrying on ancient Islamic tradition
06 March 2014
China isn't the heartland of Islam, but it's the only country in the world to have a long history of female imams.
A small group of women in central China's Henan province have been imams in their community for centuries.
This part of China is home to less than four per cent of China's roughly 23 million Muslims.
The believers are from an ethnic minority known as the Hui.
A group of Muslim grandmothers wander into a mosque behind an ancient city wall shortly before noon prayers on a Friday.
A crowd of 50 soon fill the prayer room.
Ge Caixia is their religious leader, a female imam in the mosque that's dedicated only to women.
She takes her place among them along the first row when it's time to pray.
If Ge Caixia were a male imam, the rest of the congregation would be standing behind her.
"When we have to conduct prayers at funerals, it's the man who leads," she said. "The woman can only participate."
These differences set her aside from her male peers.
Ge Caixia's standing in the community remains significant. There aren't many people like her in China, let alone the world.
Henan province has about 100 female imams. No other place in the country has such a high proportion.
Teaching Islam Ge Caixia's calling
Ge Caixia says she found it difficult to say no to her heart when the time came to make a decision between the secular world and the chance to spread the teachings of Islam.
She had a chance to take over her father's position inside a state-owned enterprise which in the days of the Chinese planned economy, meant a job for life.
She let her cousin have the opportunity instead.
Ge Caixia says most people have treated her with respect even though she has met some disapproving looks along the way.
"I met a male imam when I was in the northwest of China," she recalled.
"He said that women should stay at home, let their husbands teach them and told me their way of doing things is better.
"I guess it's their practice but it's not the Islamic way."
However, this centuries-old practice wasn't born out of a feeling by women to make a statement.
"It all started because Muslim women wanted to learn basic religious studies," researcher Shui Jingjun, who is also Hui Muslim, said.
"That's why they started female-only classes. Female imams began during the mid-Qing dynasty around the 18th century."
The practice has spread to other parts of the country, while places like Xinjiang remain male-dominated Muslim communities.
Big shoes to fill
Finding someone to replace Ge Caixia won't be easy because there aren't that many people willing to assume the heavy responsibility.
The four students that Ge Caixia last trained have all left to pursue other opportunities.
One of them is married to a male imam and looks after affairs concerning the Muslim women in their mosque. It's a common arrangement in China.
"It's not realistic to expect the young to give up their career to become a female imam," Ge Caixia said.
"Being a female imam requires special expertise, you must have a very deep and thorough knowledge of the religion and have the confidence and responsibility to fulfil this calling."
The next person to lead her congregation will have to be carefully chosen.
She can't be too young otherwise it will be difficult to command the respect of her ageing congregation - something that has happened at a female-only mosque in Shanghai.
But Ge Caixia isn't fazed by the challenges that lie ahead.
She and others believe the tradition will continue, making sure the story of the female imams of Henan lives on.
http://www.radioaustralia.net.au/international/2014-03-05/chinas-female-imams-carrying-on-ancient-islamic-tradition/1274966
http://au.news.yahoo.com/a/21823865/chinas-female-imams-carrying-on-ancient-islamic-tradition/
------------
Women with new wombs try to conceive in Sweden
06 March 2014
LONDON: A Swedish doctor says four Swedish women who received transplanted wombs have had embryos transferred into them in an attempt to get pregnant.
Since 2012, nine women have received wombs donated by relatives in an experimental procedure designed to test whether it's possible to transfer a uterus into a woman so she can give birth to her own child. The women had in-vitro fertilization before the transplant, using their own eggs to make embryos.
"We have already begun transferring embryos into four of the women and plan to make attempts with the others when they are ready," said Dr. Mats Brannstrom, a professor of obstetrics and gynecology at the University of Goteburg, who is leading the research.
He would not say Monday whether any of the women are pregnant. Of the nine who got transplanted wombs, two had to have them removed because of complications.
Brannstrom predicted that three or four of the seven women might successfully give birth.
http://www.arabnews.com/news/534501
------------
UK urges world to tackle child marriage in same way as FGM
06 March 2014
LONDON (Thomson Reuters Foundation) - It's time to break the silence on child marriage and recognise that it is "exploitation as serious as any other form of child abuse", Britain's development minister Justine Greening has said.
She called for leaders and campaigners to replicate the recent global effort to tackle female genital mutilation (FGM), which has succeeded in getting the once taboo issue on the international agenda.
"All over the world millions of girls are being forced into marriage, many while they are still children, where they will come under immediate pressure to have children themselves," Greening said in a speech ahead of International Women's Day..
"…for these girls, whatever may be the case for their brothers, when they reach adolescence their world shrinks … It is time for us to break the silence and take action."
Every year, around 14 million girls are forced to marry early or against their will. One in three girls in the developing world is married by 18, one in nine by 15 and some as young as eight.
Child marriage deprives girls of education and opportunities, jeopardises their health and increases the risks of exploitation, sexual violence, domestic abuse and death in childbirth.
Greening cited the case of an 8-year old Yemeni girl who reportedly died on her wedding night from internal injuries after being married last year to a man five times her age.
BEAT THE DRUM
The minister said early marriage had generally been considered "too difficult, too taboo and maybe too entrenched" to tackle, but things were beginning to change.
"As with FGM, we are starting to hear voices across the developing world saying enough is enough. We must support them," she told Tuesday evening's event at London's South Bank centre, hosted by charity Plan UK, campaign group Girls Not Brides and the Gender and Development Network.
She called for Britain to "beat the drum internationally" and play a leading role in galvanising action to end child marriage.
"I want to replicate the success that DFID and others are having on FGM," she added, referring to the Department for International Development.
Her comments came on the same day Britain agreed a law which means DFID must consider gender equality before it funds any project.
Greening said early marriage was not just a tragedy for the girls, but also "a disaster for development".
"Girls who marry young are more likely to be poor and stay poor," she said.
They are more likely to contract HIV from older husbands, said Greening. Those who give birth before 15 are five times more likely to die in childbirth than girls in their 20s. Their babies are also far more likely to die in their first year.
Delaying marriage, which enables girls to improve their education, health and job opportunities, not only helps them move out of poverty, but can also transform the lives of their own children, giving families the chance to break cycles of poverty that pass from generation to generation.
"For as long as girls are being locked out of progress - valued only for their bride price - a country cannot develop properly. Transforming her future, means transforming the future of whole communities and countries," Greening added.
She said DFID was already working with communities to stop early and forced marriage, and cited the success of a project in Ethiopia aimed at keeping girls in school which has already seen 600 marriages cancelled.
But forced marriage is not just an issue in the developing world. She said Britain was about to make forced marriage a crime. Some studies suggest that 5,000-8,000 forced marriages happen every year in Britain.
Lakshmi Sundaram, global coordinator of Girls Not Brides, said organisations working on the ground to end child marriage often faced strong opposition and death threats. But she said it should be possible to end the practice in a generation.
"We've seen that when girls do have the opportunity to not get married when they are children, and have the opportunity to go to school … it's so unlikely that they will marry off their own daughters. So, we can break this cycle."
http://www.trust.org/item/20140305154418-qlkwn/?source=hpeditorial
------------
Colombia's ELN rebels recruit girls to extort illegal miners
06 March 2014
BOGOTA (Thomson Reuters Foundation) - The National Liberation Army (ELN), Colombia's second-biggest guerrilla group, is recruiting girls to charge extortion payments from illegal miners and is giving them weapons, El Tiempo newspaper has reported.
The newspaper said that in a rebel video, which the Colombian army says it seized during a raid on an ELN jungle camp last January, around 15 girls aged 13 to 17 are shown holding AK-47 assault rifles and M-60 machine guns. They are dressed in camouflage uniforms with ELN insignia.
"They (ELN) attract youths with small gifts and make them believe that in guerrilla ranks they are going to have everything they need, "an anonymous military source is quoted as saying in El Tiempo."
"In the jungles they perhaps have what they need, like stuff to wash themselves with and daily meals, but the rebels take away their opportunity to see their families, have children and live a normal live."
Inspired by the Cuban revolution and set up by radical Catholic priests in 1964, the ELN has fought against consecutive Colombian governments and is considered a terrorist group by the United States and the European Union.
The 3,000-strong ELN is largely financed by "war taxes" or extortion payments levied on landowners, oil companies, illegal gold and silver mining operations, and to a lesser extent kidnapping for ransom.
CHILD SOLDIERS
Colombia's military says the ELN, propped up by child soldiers, is seeking to take control of some mining areas in the northwest and along its Pacific coast, where rebels and criminal gangs are fighting for a stake in the mining boom, an increasingly important source of revenue for rebel groups and criminals.
Illegal armed groups from both sides of Colombia's 50-year war - leftist rebels and right-wing paramilitaries - along with drug-running criminal gangs have recruited children to their ranks, the government says.
Colombia's largest guerrilla group, the Revolutionary Armed Forces of Colombia (FARC), forcibly recruits more children into its ranks than any other illegal armed group in the country, according to the government.
Rights groups have documented rebel groups using children as messengers, informants, porters and cooks, as well as training them to fight in combat, use weapons and plant homemade landmines. Girls are also used as sex slaves for rebel commanders and undergo forced abortions, according to Human Rights Watch.
Since 1999, Colombia's child welfare agency (ICBF) has looked after more than 5,000 former child combatants.
Peace talks between the FARC and the Colombian government have been taking place in Havana, Cuba, since November 2012 in a bid to end five decades of war that has killed more than 200,000 civilians and uprooted over 5 million Colombians.
The ELN is also seeking a place at the negotiating table in Havana. Bringing the ELN rebels into the peace negotiations is vital for lasting peace, a recent report by International Crisis Group (ICG) warned.
http://www.trust.org/item/20140305172936-ta26i/?source=hptop
------------
UK party suspends member for insulting Muslim women
06 March 2014
A council member in the London borough of Enfield has been expelled from his party after he compared Muslim womens' burkas to black dustbin liners.
Chris Johannides, who is of Greek Cypriot origin, was banned by the Conservative Party after making the offensive statement on his Facebook profile.
Johannides, who became the party's youngest council member when he was elected at the age of 26 in 2006, has been suspended for one year.
http://www.worldbulletin.net/todays-news/130303/uk-party-suspends-member-for-insulting-muslim-women
------------
Canadian province's religious bill 'targets headscarf'
World Bulletin / News Desk
06 March 2014
A draft law in Quebec, Canada, which could forbid government employees from wearing religious symbols and clothes in the workplace – including the Muslim headscarf – has sparked debate ahead of elections in the French-speaking province.
The proposal has come from the ruling Party Québécois (PQ), which has held power since 2012. PQ premier, Pauline Marois, is set to call an election on Wednesday in a renewed push for Quebec's independence from Canada.
Muslim and Sikh communities in Quebec have reacted against the proposed bill, sparking arguments on state secularism, with a new survey revealing that a majority of people believe the legislation targets Muslim women who wear headscarves. Findings from Canadian research company, EKOS, showed that almost 80 percent of English-speaking respondents and 70 percent of 'allophones' (non-native English or French speakers) thought the bill aimed at banning women from wearing a headscarf.
If the law came into force it would ban Jews from wearing kippahs, Sikhs from wearing turbans, Christians from wearing crucifixes and Muslim women from wearing headscarves when working in government institutions.
http://www.worldbulletin.net/muslim-world/130298/canadian-provinces-religious-bill-targets-headscarf
------------
AFC welcomes lifting of headscarf ban
06 March 2014
KUALA LUMPUR: Asian football authorities claimed success after the sport's governing body allowed women to wear headscarves for competitive matches, saying the move will benefit women's football in Muslim-majority West Asia. The Asian Football Confederation (AFC) welcomed Saturday's decision by FIFA and rule-makers the International Football Association Board (IFAB) to allow female players to cover their heads after two years of testing a safe headscarf design. "Women's football is still at the beginning stage in West Asia but I hope that it (the ruling) will give a big boost as the member associations will be able to field teams in international events," said AFC president Sheikh Salman Ebrahim Al Khalifa in a statement.
He added that AFC had been at the forefront of the issue and had made a strong case for the ban to be lifted with the safe headscarf designs. FIFA said male players would also be authorised to cover their heads following a request from the Sikh community of Canada. The wearing of head covers had been banned until 2012, with FIFA saying they posed too great a risk of injury to the head or neck. However, the IFAB then allowed them to be tested over a two-year period following a request from the AFC. Not all countries have supported the decision, with the French Football Federation saying they would continue to ban the wearing of head covers out of respect to France's status as a secular country.
http://www.dailytimes.com.pk/sport/05-Mar-2014/afc-welcomes-lifting-of-headscarf-ban
------------
Saudi lawyers refuse to leak data to women on potential grooms
06 March 2014
A number of Saudi lawyers have refused to participate in a project reportedly being prepared by the Justice Ministry to enable women to look at the health, judicial and security records of potential suitors.
The lawyers, reported al-Hayat newspaper on Monday, considered such a scheme to be not only against Shariah but also a gross violation of human rights.
Turki al-Rasheed, a lawyer, said looking at the people's records and spying on them for no good reason was totally against Shariah. He said: "The past lives of people should be protected.
"They might have committed mistakes during the early years of their life but this should not be revealed to others."
Al-Rasheed said it is totally against Islam to reveal the secrets of other people. He recalled a number of the prophetic teachings (ahadith) that warn against spying on others.
Bandar al-Bishr, another lawyer, said the ministry has no right to come out with such a scheme.
He said: "The ministry has no right to leak data on citizens. "Marriage should be kept within its social framework and any attempt to reveal the past life of marriage seekers is against Islam."
Bishr asked the government to protect the privacy of its citizens and said personal data should not be revealed to anyone.
Bandar al-Niqaithan, another lawyer, doubted the Justice Ministry would adopt such a project.
He said: "There is no such thing as a health, judicial and security record. "All we have is what is known as the criminal record, which the ministry has nothing to do with."
Niqaithan said if the project existed, it would be a gross violation of Article 12 of the Human Rights Declaration that protects the private lives of people and their families, in addition to their honor, accommodation, correspondence, reputation and others.
Local media recently claimed the Justice Ministry was preparing a special record to enable women to review the health, judicial and security records of potential suitors. The reports have sparked a debate on social media.
This article was first published in the Saudi Gazette on March 4, 2014.
http://english.alarabiya.net/en/variety/2014/03/04/Saudi-lawyers-refuse-to-leak-data-to-women-on-potential-grooms.html
------------
No uniform policy of Indian Waqf boards on Muslim widow pension
06 March 2014
New Delhi: In March, 2013 West Bengal Chief Minister, who also holds the charge of minority affairs and madrasa education, had announced honorarium for Muslim widows and divorced women. The honorarium, it was decided, would be given from the special funds of the Chief Minister, but would be delivered through State Waqf Board.
The idea of giving pension to divorcees or widows, who have no one to take care, is part of the Wakf Bill of 2010. According to the amended Bill that passed in 2013, Waqf Boards are to provide payment for "maintenance to Muslim women in terms of orders of a competent court, under the provisions of the Muslim Women (Protection of Rights on Divorce) Act, 1986."
Andhra Pradesh: In 2012, AP State Waqf Board released Rs.12 Lakh for giving pensions to the Muslim widows. However, there appears no clarity on the scheme. All our efforts to contact the office of the Waqf Board was in vain.
Assam: Syed Rafique Ali, Chief Executive Officer of the Assam Waqf Board informed that it gives Rs 200 per month, as pension to one woman Sahera Begum from North Guwahati or over 15 years now, after a court order. There is no scheme of giving pension to divorced women.
Bihar: As per the notification of Department of Minority Welfare, a sum of Rs.10000 is given to Divorcee Muslim women. Md Irshadullah, Chairman of the Bihar State Sunni Waqf Board, told TCN that the scheme is running since 2007 and so far they have given the honorarium to 800 women.
Bihar was in fact the first state to start this scheme. The money comes from the Bihar government, and is distributed through the State Waqf board.
Chhattisgarh: Dr. S.A. Farooqui, Chief Executive Officer of the State Waqf Board said that the board had passed a resolution to give pension to old and divorced women in 2005, but for want of fund, they have not been able to implement it so far. He lamented that the little money they get from the government, goes into the payment of the salary of staffs.
Delhi: Muslim divorced women or widows get Rs 500 per month. The State Waqf Board, however, could not give any number of the beneficiaries.
Gujarat: G.S. Khan, Chief Executive Officer of Gujarat, said that they have no such scheme for widows, adding that they do give scholarships to students.
Jharkhand: Md. Nasim Khan, Chief Executive Officer of the State Waqf Board, appeared unaware and asked to call at his office. An office staff, who picked the phone, said that the state has no such scheme yet.
Maharashtra: Staffs of the Maharashtra State Waqf Board appeared irritated when asked about any such scheme. Thy expressed their helplessness, adding, "We can implement any such scheme only if we have some fund. There are many issues currently in the Waqf Board, and we do not get much fund from the state government as well."
Manipur: Since 2009, Manipur Waqf Board gives Rs 1000 per annum to widows. So far nearly 1000 women are the beneficiaries.
West Bengal: Justice Mohd. Abdul Ghani, Chairman of the West Bengal Waqf Board, informed TCN that they plan to give honorarium to about 20,000 women, and are in the process of distributing it.
The respective state Waqf boards of other states, including Andhra Pradesh, Karnataka, Tamil Nadu, Kerala, etc. either did not receive calls or said that no such scheme is in place. The contact number of Uttar Pradesh Waqf Board, as provided on the list of Central Waqf Council, appears to be no more in use.
In effect thus respective Waqf Boards of only three states, Bihar, Manipur and now West Bengal, give some honorarium to divorcee or widows. The case Chhattisgarh is interesting where a decision to this effect was taken in 2005, much before any other state, but this could not be implemented, due to lack of fund. Most other state Waqf Boards expressed their helplessness in implementing any such scheme for want of money and apathy of the respective state governments, that included states ruled by political parties of all colours.
http://twocircles.net/2014mar04/no_uniform_policy_waqf_boards_muslim_widow_pension.html?utm_source=feedburner&utm_medium=email&utm_campaign=Feed%3A+Twocirclesnet-IndianMuslim+%28TwoCircles.net+-+Indian+Muslim+News%29
------------
Malala admits she has no cell
06 March 2014
Malala Yousafzai may be the only teenager who doesn't have a mobile phone — and is willing to admit it.
The girl who was shot by the Taliban for daring to want an education set off a chorus of chuckles Monday night when she said she didn't own a handset during a conference showcasing cell phone provider Vodafone's initiatives to support women.
With Vodafone Chief Executive Vittorio Colao in the front row, it's a good bet she'll get one soon — and with the best 4G available. If not, International Development Minister Justine Greening offered to give her a spare.
The admission charmed the crowd that had already melted into her enthusiastic appeal that children, especially girls, must be guaranteed the right to an education.
Copyright 2014 The Associated Press. All rights reserved. This material may not be published, broadcast, rewritten or redistributed.
http://www.washingtonpost.com/world/europe/get-the-phone-malala-admits-she-has-no-cell/2014/03/03/37a00324-a31e-11e3-b865-38b254d92063_story.html
------------
Ministry Of Gender Celebrates Ghanaian Women
06 March 2014
The Ministry of Gender, Children and Social Protection has organised the first ever Ghana Women's Summit, in Accra, to celebrate the achievements of Ghanaian women, draw inspiration from others, and speak about their challenges.
The summit, held at the Banquet Hall of the State House in Accra, attracted women from across the professions, women in executive positions on retirement, traditional rulers and Ministers of State and market women.
There were also women Heads of State, and private institutions at the celebration, with the theme: "Equality for Women is Progress for All Through Total Inclusion."
The summit was a prelude to celebrate the role of Ghanaian women towards the nation's independence on March 6, as well as to the United Nations International Women's Day, which falls on March 8.
Dr Rabiatu Deinyo Armah, Member of the Council of State, who represented President John Dramani Mahama, expressed Government's concern about wealth disparity, and reiterated the commitment of government to bridge the gap between the richest and the poorest of Ghanaians.
She said government would also ensure an all-inclusive society where the disadvantaged have a stake in the development process and progress.
"This means creating equal opportunities for both men and women to have holistic national development.
"It is for this reason that Government has created the gender machinery and tasked it to ensure gender equality for total development," Dr Armah, said.
Dr Armah paid glowing tribute to Ghanaian women who had made significant contributions to the economic, political and social progress of the nation, and the "many changes in education, business, science and technology, the arts and industry, sports agriculture, commerce and social development that have resulted in the efforts of women".
Dr Armah, who is also a Muslim Cleric, gave the assurance that government would continue to honour its obligation to Ghanaian women, by supporting the Gender Ministry as evident in the tripling of its budgetary allocation for 2014.
"As we join the Gender Ministry, our mothers, sisters, wives, and daughters at this historic Summit to mark International Women's Day, a day set aside to celebrate the achievement of women and advocate for their empowerment and equality across the world, let us move forward as a nation well-endowed to impact the world," Dr Armah said.
Nana Oye Lithur, the Minister for Gender, Children and Social Protection said the footprints of distinguished Ghanaian women have reflected the resources they have marshal in solidarity, strength, and binding hopes to keep dreams alive for a transformational change in Ghana.
She praised Ghanaian women for steadily breaking up the pink glass ceilings to achieve success for the growth of the country.
Nana Oye Lithur made a roll of distinguished Ghanaian women as Mabel Dove Danquah, Justice Annie Ruth Jiagge, Mrs Akua Asabea, Mrs Hannah Cudjoe, Mrs Mary Koranteng, Mrs Susana Alhassan, Mrs Regina Asamany, Mrs Grace Ayensu, Mrs Christiana Wilmot, Mrs Comfort Asomoah, and Mrs Lucy Anim.
The Gender Minister noted that for the first time traditional sector queen mothers have been admitted to the National and Regional House of Chiefs.
She stressed the need to continue and sustain the efforts to ensure gender equality for women to become an integral part of national development free from gender based violence and harmful traditional practices.
Nana Oye Lithur gave the assurance that the Government would continue to create an enabling environment to honour its national commitment and international obligation towards women.
Accordingly, the Ministry has spearheaded the drafting of an affirmative action bill to be laid before parliament, co-sponsoring of the intestate succession bill and property rights of spouse's bill, regulations on human trafficking and domestic violence, review of the disability Act and campaign against gender based violence all in recognition of the safety of women.
Mrs Affenyi-Dadzie, a former Member of the Council of State, said the participation of the male counterparts during the celebration makes a strong statement to the effect that there is the need to develop together for a holistic and sustainable nation building
http://www.ghana.gov.gh/index.php/2012-02-08-08-32-47/general-news/4940-ministry-of-gender-celebrates-ghanaian-women
------------
Pak, Punjab Assembly Female Members Form Caucus
06 March 2014
AHORE: A group of female members of the Punjab assembly have formed the Punjab Women Parliamentary Caucus to make better legislations and to promote women's rights in the province.
Members of the opposition and minority are also included in the group along with a treasury member. Pakistan Muslim League-Nawaz (PML-N) member Azma Zahid Bukhari who is an advocate by profession has been announced as the convener of the caucus while PML-N's Hina Pervez Butt will be the general secretary.
The caucus' treasurer is Dr Nausheen Hamid who belongs to Pakistan Tehreek-e-Insaf (PTI), while Pakistan People's Party's (PPP) Faiza Malik and PTI's Saadia Sohail Rana are also part of the group.
One minority member, Marry Gill, is also part of the caucus. Other members are Shamoona Qaisarani, Begum Khaula Amjad, Gulnaz Shahzadi, Suriya Naseem, Dr Najma Afzal Khan and Ghazala Shaheen.
Commenting about the formation and objectives of the caucus,Secretary Hina Pervez told the media that the group would work to enhance the status of women economically, politically and socially and would also table a resolution in the Punjab Assembly.
She said that the group wants to promote the women's rights in accordance with the vision of Chief Minister Shahbaz Sharif. She said that they would work to make better policies for women. Hina was optimistic about introducing new legislations in favour of women of the province.
http://www.dailytimes.com.pk/national/05-Mar-2014/promotion-of-women-s-rights-punjab-assembly-female-members-form-caucus
------------
Pakistan Mother kills two starving infants
06 March 2014
LAHORE - A wife of an unemployed drug addict killed her two kids at a Johar Town house on Wednesday. The penniless woman was reportedly unable to feed the kids for the last three days.
The deeply depressed mother strangled her eight-month-old baby boy shortly after she dipped her two-year-old daughter to death in a water tub. Her husband was in deep slumber on the bed when she killed her kids in the attached bathroom.
Police arrested 23-year-old Bissma and her 29-year-old husband, Sunny Khan. Investigators say the mother, who confessed to the killings, is mentally fit. A police officer told The Nation that the killed baby girl Minahal appeared to have been dipped in water tub while toddler Muhammad Yousaf died from injuries and suffocation.
The woman told the police that Khan was a drug addict with no job and no earnings. Her marriage with Khan was arranged through a private marriage bureau four years ago. Her father Muhammad Tahir, said to be a scrap-dealer, was bearing the expenses of his daughter and her kids since her marriage.
Recently, Tahir told his daughter that he could not finance her family anymore because he himself was facing financial constraints. Tahir told reporters that he had given 15-tola gold ornaments to her daughter as dowry but her husband sold out the jewellry to smoke chars. The woman said that her father had also helped her husband start a rent-a-bike business but he sold all motorcycles for drugs.
The couple was residing in a single bedroom – with attached bath – of the one-Kanal house (228, Block E) in Johar Town. The rest of the house was occupied by Khan's other family members, including his brothers and their wives. Block E is adjacent to Block E1, where a cancer patient last month killed seven members of his family before committing suicide.
Police said the couple was screaming when the other family members rushed to their room and found the babies lying dead on the bed, next to each other. They contacted the police instantly. The husband admitted to investigators that he was addicted to chars but claimed that he had no role in the killings.
Police removed the bodies to the morgue for autopsy and registered the case against the woman on the complaint of a brother of Sunny Khan. Sitting outside the police station, the great-grandmother of the kids demanded the police hang the couple. "They are merciless and they deserve no mercy," the sobbing old woman said.
A police investigator who examined the crime scene told this reporter that the mother removed the bandage of her son, who underwent circumcise just four days ago, and strangulated him with the bandage. When the man woke up at about 11am, he asked his wife why there was silence and where the kids were. He asked the mother to bring their son so he could change his dressing. "The woman replied. It is not needed anymore. Kids have been silenced," an official quoted a family member as telling the investigators. The killer mother told the police that her children had not been fed for last three days.
"Poverty is not a crime but destitution is indeed," wrote renowned Russian playwright Dostoevsky in his widely read novel 'Crime and Punishment', and it seems so true in this unfortunate case. Sixty percent of Pakistan's population is living below the poverty line, according to a World Bank report entitled World Development Indicators (WDI) 2013. In January, Federal Minister for Planning and Development Ahsan Iqbal admitted that poverty had gone from 34 per cent in 2007 to 40 per cent in 2012.
http://www.nation.com.pk/national/06-Mar-2014/mother-kills-two-starving-infants
------------
URL:
https://newageislam.com/islam-women-feminism/china-female-imams-carrying-ancient/d/56014