New Age Islam News Bureau
25 Sept 2012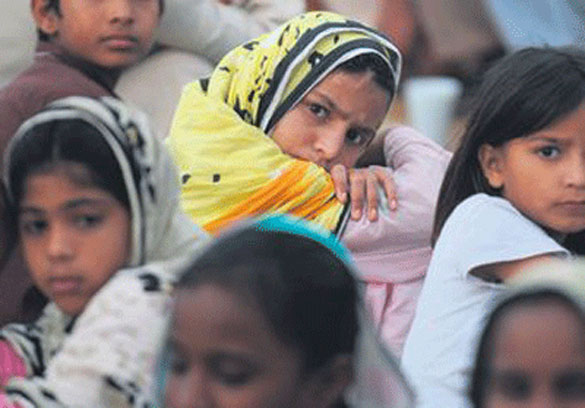 • Nigerian Women Pilgrims Held In Saudi Arabia for Travelling Unescorted
• Anger over 16-Year-Old Girl Flogging In Afghanistan
• Worker Accused of Showing Indecent Video to Emirati Woman
• India Muslim Women Demand Qur'anic Laws
• Daughters of Islam Demanding Justice
• Women's right to inheritance violated in Gaza
• Deputy Speaker Sindh Assembly urges passage of domestic violence bill
• IHC seeks records, issues notice to police in Rimsha case
• US-Pakistan Women's Council launched
• Yemeni Women Worse Off After Uprising
• Strengthening women's access to justice
• Afghan women who fight for freedoms
• Women's Groups Crucial to Support Equality
• Improve Opinion of Muslim Women One Voice at A Time
Compiled by New Age Islam News Bureau
Photo: Children Used As Beggars and Prostitutes in Pakistan
URL: https://newageislam.com/islam-women-feminism/children-used-beggars-prostitutes-pakistan/d/8779
----------
Children Used As Beggars and Prostitutes in Pakistan
SEPTEMBER 25, 2012
By Washington Post
FORCED marriages at a young age. Teenaged Hindu girls converted to Islam against their will. Children sold into servitude.
These stories often occupy the headlines in the Pakistani media. And now a new report backs up what was already obvious: Pakistan is an increasingly dismal place to be a kid.
The report from one of Pakistan's leading child advocacy groups, the Society for the Protection of the Rights of the Child, presents an overwhelmingly bleak picture. But solutions are not easy to come by. Under the country's constitution, the federal government cannot impose blanket child protection regulations on the provinces, officials say.
More than a third of the nation's population aged five to nine is not enrolled in school — some seven million children, the report found. The statistic is compounded by mass displacements and damaged schools caused by floods, adding an additional 1.8 million children to that total.
Pakistan is also the only country in the world where polio rates are increasing. In 2005 there were 28 reported cases of polio in the nation of 180 million. This increased to 197 cases reported in 2011.
There are 35 cases so far in 2012, according to the Global Polio Eradication Initiative, but that may rise. Taliban leaders have issued fatwa (religious edict) against the administration of polio drops in parts of the tribal areas.
Foreign aid workers have increasingly been leaving the country, citing dangerous conditions. This creates even more vulnerability for children.
Pakistan is among the five most dangerous countries in the world for kidnapping, with about 7,000 child abductions reported across the country in 2011 (3,090 of those children were kidnapped in the southern city of Karachi), the advocacy group's report said.
Victims are reportedly transported throughout the country and trafficked for use in begging rings, forced to work as child prostitutes or used as camel jockeys or in domestic servitude.
In 2011 there were 11 cases of abuse, torture and death of child domestic workers. Poverty-stricken parents also reportedly relinquish their children to militant groups who groom them for use as suicide bombers.
Another recent report, this one by the United Nations, also targeted Pakistan on a list of countries and groups that recruit, kill, or sexually victimise children in armed conflicts. But Pakistan strongly objected to that designation, saying it was terror groups that recruited children.
"This not only misrepresents Pakistan's law enforcement and counter-terrorism measures but also serves to accord undeserved respectability to terrorists and criminals," said Raza Bashir Tarar, Pakistan's deputy UN ambassador, according to the Associated Press.
Other areas of perennial concern include practices like arranged child marriages and the giving away of young daughters in marriage to settle disputes. But Islamic and local cultural traditions are so ingrained that little progress has been made human rights advocates say.
Poverty rates also play a role in keeping children uneducated. Only 49 per cent of children have completed primary education in Pakistan (59 per cent of boys and 39 per cent of girls). Location also affects young children's education: While 67 per cent of children in urban areas have completed primary education, only 40 per cent of children in rural areas have attained a primary education.
http://www.mmail.com.my/story/children-used-beggars-and-prostitutes-31267
----------
Nigerian Women Pilgrims Held In Saudi Arabia for Travelling Unescorted
09/24/12
SOKOTO, Nigeria -- Nigerian officials say 398 Muslim women pilgrims travelling to Mecca were temporarily held at a Saudi Arabian airport for travelling without male relatives.
A spokesman for Nigeria's National Hajj Commission said Saudi authorities held the Nigerian women between Thursday and Monday at King Abdulaziz Airport in Jeddah.
Spokesman Uba Mana said the women were allowed to proceed with their pilgrimage Monday following diplomatic intervention.
He said Saudi authorities held them for not travelling with a male relative due to a "communication gap."
He said an agreement between the countries exempts Nigerian women from requiring a male relative to escort them during the Hajj pilgrimage, which costs about $4,000 per person.
All able-bodied Muslims who can afford it are expected to perform Hajj at least once in their lives.
http://www.huffingtonpost.com/2012/09/24/unescorted-nigerian-women-saudi_n_1909111.html
----------
Anger over 16-Year-Old Girl Flogging In Afghanistan
25 Sep 2012
Protests have been held in Afghanistan over the public flogging of a 16-year-old girl.
She was accused of having illicit relations, but relatives say she is a rape victim.
The parliament is investigating the case, but many say the government isn't doing enough to protect women.
Al Jazeera's Will Jordan reports.
http://www.aljazeera.com/video/asia/2012/09/201292513949172636.html
----------
Worker Accused of Showing Indecent Video to Emirati Woman
Marie Nammour / 25 September 2012
A woman phone operator accused a worker of breaching her modesty by showing her a sex video on his mobile phone and grabbing her by her abaya against her will, a court heard on Monday.
The incident dates back to May in Rafaa when a 21-year-old Emirati woman told the police and the prosecution that the defendant, a 32-year-old Bangladeshi, came to her while she was on duty and offered her tea but she declined.
He then suggested he would show her some videos on his mobile phone which she also declined. He insisted and closed the door and came from behind her chair. He put the phone on in front of her and it started playing a sex video. He held her chair still and grabbed her abaya near her chest, she alleged. She pushed him away.
He said he was sorry and left the office asking her not to report it to anyone. The complainant said during the investigation that the defendant meant to take her abaya and her clothes off when he grabbed her. Her boss informed the police after learning about the incident.
The worker faced charges of molestation and possession of indecent material to show to others.
The boss's deputy, a 30-year-old Emirati, said that the complainant looked upset when recounting what happened. She said that the defendant touched her hand and tried to molest her. He aimed at assaulting her by showing her the indecent film, she said.
When the deputy asked the accused about whether he showed the complainant indecent film the accused allegedly kept quiet with tears in his eyes. In his statement, he said that the accused tried to hold his hand and vowed to stay away from the woman. The defendant admitted during investigation that he had porn film stored in his mobile phone and that he touched the complainant's hand when he took his phone off the table. — mary@khaleejtimes.com
http://www.khaleejtimes.com/nation/inside.asp?xfile=/data/courtroundup/2012/September/courtroundup_September85.xml&section=courtroundup
----------
India Muslim Women Demand Qur'anic Laws
24 September 2012
CAIRO – Demanding rights granted in the Noble Qur'an, Indian Muslim women have joined hands to find solutions for their problems and to press for enacting Islamic laws that protect their rights in the community.
"We strongly believe that while Qur'an has bestowed umpteen rights upon women, these rights do not get reflected in the law as practiced in the country," Naish Hasan, president of Bharatiya Muslim Mahila Andolan (BMMA), told Hindustan Times on Monday, September 24.
"In order to restore Qur'anic rights and incorporate them in the law, we want to seek expert opinion in this matter."
Themed "Daughters of Islam Demanding Justice", a conference organized by BMMA brought together activists, lawyers and community leaders to discuss problems facing Muslim women.
It was a trial to understand Islamic law as it is practiced in India and identify the gaps that exist between the Qur'anic ideals and the practice of law, said Sabra Habib, a woman activist.
Full report at:
http://www.onislam.net/english/news/asia-pacific/459182-india-muslim-women-demand-quranic-laws.html
----------
Daughters of Islam Demanding Justice
September 24, 2012
Muslim women shared their experiences of pain and injustice at a conference 'Daughters of Islam demanding justice' at Thrust auditorium in Bhartendu Natya Akademi on Sunday. The conference was organised by Bharatiya Muslim Mahila Andolan (BMMA) that works for the rights of minority women.
"We strongly believe that while Quran has bestowed umpteen rights upon women, these rights do not get reflected in the law as practiced in the country. In order to restore Quranic rights and incorporate them in the law, we want to seek expert opinion in this matter," said Naish Hasan, president BMMA.
Full report at:
http://www.hindustantimes.com/India-news/Lucknow/Daughters-of-Islam-demanding-justice/Article1-934749.aspx]
--------
Women's right to inheritance violated in Gaza
Radio programme gives advice to women on how to deal with family, society and court
By Nasser Najjar
September 25, 2012
Gaza: In a male-dominated society such as Gaza's, women's rights might be violated in various ways, but one of the most common violations is that women do not receive their share of family inheritance.
Gaza is known to be a conservative society where men usually deal with all the financial matters without involving the women despite their equal rights in Sharia and Palestinian law.
Dr Hasan Al Joujo, the head of the higher Sharia court council said: "Islam has given women their rights in inheritance; any manipulation or fraud in the name of the customs, traditions, or treatment is forbidden in Islam."
Full report at:
http://gulfnews.com/news/region/palestinian-territories/women-s-right-to-inheritance-violated-in-gaza-1.1080775
----------
Deputy Speaker Sindh Assembly urges passage of domestic violence bill
September 25, 2012
KARACHI: Parliamentarians, lawyers and activists on Monday took strong exception to a biased mindset of the bureaucracy towards women friendly legislation, especially those aimed at protection of women against violence.
Participating in a roundtable discussion organised by Aurat Foundation on issues related to women legislation they particularly regretted hindrances caused in adoption of Domestic Violence (prevention and protection) Bill.
They also urged the women parliamentarians to rise above their respective party affiliations for the collective good of women in the country.
Full report at:
http://www.dailytimes.com.pk/default.asp?page=2012\09\25\story_25-9-2012_pg12_1
--------
IHC seeks records, issues notice to police in Rimsha case
25 Sep 2012
ISLAMABAD: The Islamabad High Court (IHC) on Tuesday sought all relevant records pertaining to the Rimsha Masih case upon a petition seeking dismissal of the case from the Ramna police station, DawnNews reported.
During the hearing on the petition seeking dismissal of the Rimsha Masih case, the Chief Justice of the IHC, Justice Iqbal Hameed-ur-Rehman issued a notice to the SHO of the Ramna police station and sought all relevant records concerning the case.
The court instructed the police to submit a reply within three days while, adjourning the next hearing until September 28.
Full report at:
http://dawn.com/2012/09/25/ihc-seeks-records-issues-notice-to-police-in-rimsha-case/
----------
US-Pakistan Women's Council launched
By Huma Imtiaz
September 25, 2012
NEW YORK: US Secretary of State Hillary Clinton has announced the launch of the US-Pakistan Women's Council, which aims to promote the economic advancement of women in Pakistan.
A press release from the US State Department said that the State Department and American University in Washington DC would co-fund the council, in coordination with the Organisation of Pakistani Entrepreneurs of North America.
"American University President Dr Cornelius Kerwin and Ambassador-at-Large for Global Women's Issues Melanne Verveer will serve as co-chairs," said the State Department.
The announcement of the US-Pakistan Women's Council came on the sidelines of the UN General Assembly session.
Full report at:
http://tribune.com.pk/story/442128/us-pakistan-womens-council-launched/
----------
Yemeni Women Worse Off After Uprising
September 25, 2012
DUBAI: Oxfam has warned that women in Yemen are worse off than before the uprising that ousted long-time dictator Ali Abdullah Saleh as a deepening humanitarian crisis in the country shows no signs of abating.
In its latest report, entitled "Still waiting for change," Oxfam said "four out of five" Yemeni women report that their "lives have worsened over the last 12 months."
The findings were based on a series of focus group discussions held throughout the country.
"Although a transition towards democracy is under way, women's hopes for a better life are wearing thin," the report said, adding that a "deepening humanitarian crisis and conflict are limiting women's role in shaping Yemen's future."
"The humanitarian crisis is making a bad situation worse for women by exacerbating deep-rooted gender inequalities," it added.
Full report at:
http://www.dailystar.com.lb/News/Middle-East/2012/Sep-25/189127-oxfam-yemeni-women-worse-off-after-uprising.ashx#ixzz27Tt1SKbi
----------
Strengthening women's access to justice
Bikya Masr Staff | 25 September 2012
United Nations officials on Monday called on countries to implement measures to improve women's access to and participation in justice systems, stressing that the rule of law can help break down gender barriers.
"Our theme of women's access to justice reminds me of all the women I have met who suffered terrible crimes, including sexual abuse in wartime," said Secretary-General Ban Ki-moon in his remarks at an event at UN Headquarters in New York, entitled 'Strengthening Women's Access to Justice.' "But women are not only victims – they are champions for justice."
Full report at:
http://www.bikyamasr.com/78354/strengthening-womens-access-to-justice/
----------
Afghan women who fight for freedoms
BY: YALDA HAKIM From: The Australian September 25, 2012 12:00AM
WHEN a burka-clad young woman crouched helplessly awaiting her death sentence in Afghanistan two months ago, many feared little had changed in the 11 years of US-NATO occupation of the troubled central Asian nation.
The grainy mobile phone footage, captured by one of about 200 witnesses to the 22-year-old's death in northern Parwan province, shocked the world and brought back chilling memories of the recording of a public execution in Kabul's football stadium in 1999 at the height of Taliban rule. That faceless, nameless woman became a symbol of the suffering and oppression of Afghan women under the strict Islamic doctrine practised by Taliban.
Full report at:
http://www.theaustralian.com.au/news/world/afghan-women-who-fight-for-freedoms/story-e6frg6so-1226480544161
----------
Women's Groups Crucial to Support Equality
Fitri Bintang Timur
September 25 201
Some countries adopt policies that are supportive toward women while other countries, despite being rich with oil and resources, having a democratic system and a high number of women in parliament, are still not overturning regulations unfavourable to women.
Last month, Laurel Weldon and Mala Htun published The Civic Origins of Progressive Policy Change: Combating Violence against Women in Global Perspective, 1975-2005. The two professors researched data from four decades and 70 countries, including Indonesia.
Weldon and Htun argue that in some parts of the world, violence against women is far more dangerous to the female population than terrorism or cancer. It is happening not only in homes or public transportation but also in offices and in government institutions. The range of violence varies from domestic abuse, rape, harassment, the sati practice of burning widows in their husbands' funeral pyre and genital mutilation to sex-selective abortion.
Full report at:
http://www.thejakartapost.com/news/2012/09/25/women-s-groups-crucial-support-equality.html
----------
Improve Opinion of Muslim Women One Voice at A Time
Diana Hamade
Sep 25, 2012
My heart beat faster when I saw the invitation to speak next month about women in Islam, at the annual conference of the International Bar Association, in Dublin. This would be an opportunity to address the western fascination with Muslim women - which is as persistent as it is negative - as a Muslim woman activist, not how I usually present myself.
I started writing an address aimed at disconnecting the word of God from the conflicting cultural interpretations that have misled so many in the West into some unrealistic perceptions of Islam.
Full report at:
http://www.thenational.ae/thenationalconversation/comment/improve-opinion-of-muslim-women-one-voice-at-a-time
----------
URL: https://newageislam.com/islam-women-feminism/children-used-beggars-prostitutes-pakistan/d/8779