New Age Islam News Bureau
13 Aug 2017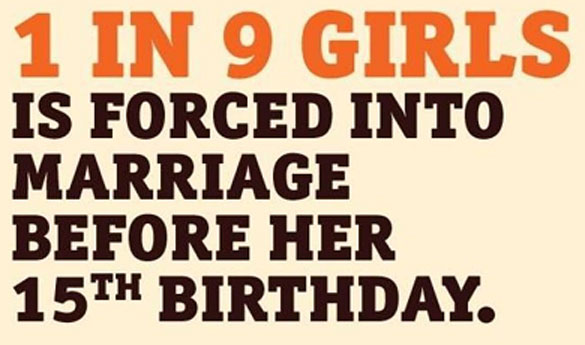 Source: pinterest
------
• Female Saudi Fitness Coach Reveals Secret to Her Success
• AUB a Partner in International Conference on Arab Women in Computing
• Women Leaders Are Qatar's Pride
• Female Palestinian Attacker Tries To Stab Ultra-Orthodox Man but Misses
• Moroccan Video Sparks Debate on Sexual Harassment
Compiled by New Age Islam News Bureau
URL: https://www.newageislam.com/islam-women-feminism/child-marriage-major-global-issue/d/112192
-----------
Child marriage is a major global issue, not just an Arab problem
2017-08-13
Child marriage has long been an issue in the Middle East, but you may be surprised to hear that it is not limited to the region.
It occurs in every corner of the globe, including the United States.
Globally, UNICEF claims 39,000 child marriages occur daily. While one in three girls in the developing world are forced into marriage before the age of 18.
But even with the general public frowning upon child marriages, most governments in the world still allow it.
The World Economic Forum states that 117 countries around the world allow child marriages either because there is no age specification or it is allowed under certain circumstances.
That's two-third of the world's countries.
In South Africa, an 8 year old boy weds a 61 year old woman Source: dailymail
In America, child marriages under some circumstances are legal in almost every state with parental permission, while 27 of those states do not even have a minimum age requirement for marriage.
The American law does not grant children under the age of 18 the ability to initiate legal action, therefore they can legally marry but cannot divorce.
The Independent, a British daily, claims that from 2015 to 2017, more than 200,000 child marriages took place in the U.S. alone. That number is based on available statistics, but the actual one is estimated to be much higher.
The youngest known marriage was a ten-year-old girl.
The New York Times reported a few months ago, the marriage of an 11-year-old, Sherry Johnson, to her rapist - a 20-year-old member of her church.
Sherry had become pregnant; her family and church officials decided to organize a wedding for the two in order to avoid a criminal case.
In the Middle East, the current situation of Syrian refugees in countries such as Lebanon and Jordan has only added to the global numbers.
Child marriages in such situations are often seen as a way out of poverty.
For females, marriage to Lebanese men will offer them the right to claim Lebanese citizenship, which allows these girls to leave the camps.
The result has meant that 41% of young displaced Syrian women were married before the age of 18 in Lebanon alone.
For refugees, aside from economic and social reasons, protection is another reason why these girls are married off young. Sexual violence both within camps and conflict zones is a prevalent product of war.
stepfeed.com/child-marriage-is-a-major-global-issue-not-just-an-arab-problem-2725
---------
Female Saudi fitness coach reveals secret to her success
Arab News | Published — Saturday 12 August 2017
Need 'gymspiration?' The top fun fitness bloggers to follow for a healthier you
Amal Baatia, a Saudi CrossFit and calisthenics coach in Jeddah, has been a role model, encouraging women in Saudi Arabia to engage in fitness activities and a healthier lifestyle.
Baatia, who had a full-time job working as an investment manager and a proud mom of two, got into fitness training two years ago, after discovering it in Dubai. She has been devoted to sports activities since then.
"I started my career two years ago and I faced many challenges since there were no CrossFit facilities in Saudi Arabia. I had to travel to Dubai most of the time, and to the US as well, in order to learn and practice this type of sport and gain more experience," Baatia said in an interview with Okaz Daily.
"I was an investment manager, and I had to attend my full-time job every morning. Moreover, I am a mother of two children. However, with God's will, I somehow was able to cope with my new lifestyle," she said. She managed to fulfill her duties as an employee and a mother, and she did not stop practicing her favorite sport activities.
As for her achievements, last year, she participated in the 5-km obstacle course race in Kuwait and ranked third with a time of 28 minutes. She also participated in the 12-km running race that took place at King Abdullah City and came in 2nd.
"Nowadays, I am fully devoted to sports as I have left my job as an investment manager," she said, explaining that she now has more free time to train and reach more achievements in the future.
Regarding CrossFit in Saudi Arabia, she said that things have become much easier now as health club licenses are being granted by the authorities and more sports facility openings are looming on the horizon in several regions. "We started to develop a sense of awareness regarding physical training, and with God's will, we will have greater skills in Saudi Arabia, and we will compete against other people from different regions and countries in the world," Baatia said.
"I want Saudi women to know that there is nothing to strike fear into their hearts," she said, adding, "my target is to allay this fear. I believe we can do whatever we long to. We can go to work, take care of our children and live our life normally."
She explained that she is an ordinary woman who does not differ from all the others: "Every single woman has a particular skill that should be refined. Any Saudi woman can do what I did if she overcomes her fears."
Baatia said that would like to pursue her career as a CrossFit and calisthenics coach and enhance her skills in sports activities.
"I am looking forward to seeing a new Saudi generation full of ambitions and resilience, a Saudi generation that will be at the top of the Olympic games all around the world," she concluded.
arabnews.com/node/1143651/saudi-arabia
---------
AUB a Partner in International Conference on Arab Women in Computing
Published August 13th, 2017
The Fifth International Arab Women in Computing (ArabWIC) Conference was hosted at the American University of Beirut (AUB) as a partner in the support of women in technology and a key promoter of quality research in the region. Hosted for the first time in Lebanon, the conference attracted more than 400 participants from 30 countries and was opened in the presence of the Minister of State for Administrative Reform InayaEzzeddine, AUB President Dr.Fadlo R. Khuri, students, professionals, and academics in the global tech ecosystem.
The annual conference is the largest gathering of women in technology in the Arab world. It aims to inspire, retain, and encourage collaboration among Arab women in computing, while increasing their visibility and elevating their status within the field.
President FadloKhuri shared at the opening session the University's vision and the various faculties' initiatives to increase women's interest and involvement in the technology field and to combat any disparity in contribution rates. "It is my firm belief that in the Arab world we have the capacity to show the rest of the human race how things can be done more equitably and more fairly, I do think this is our time," said President Khuri. "Your vision in ArabWIC is paired with our vision and our ability to empower and launch all those young people of talent into the world who want to make it a better place, for all of us, whether women or men."
Minister InayaEzzeddine called AUB "a cultural and intellectual beacon that has greatly impacted the region and Lebanon," and thanked it for its support of the conference. Dr.Ezzeddine called for an examination during the conference of four fundamental and related issues: education as a sustainable development goal; the role of technology in human development; democracy and e-governance (transparency, accountability and the participation of civil society); and the engagement of women in technology for greater economic growth.
The conference is organized by ArabWIC, an association that connects Arab women in technology and tackles the entire ecosystem – the various computing/technology sectors (academia, industry and entrepreneurship) – to create linkages with international women in computer science organizations, facilitate women's reach of their career goals, and bring applied tech skills to the region. Through 18 chapters, the organization encompasses more than 2,500 members worldwide.
Dr. Sana Odeh, chairperson and founder of ArabWIC, spoke to us about "AUB's crucial role and suitability" as a partner and host for this international event. Seen as a leader in research and a key element in the tech ecosystem in the Arab World, AUB was one of the partners who facilitated the conference and brought in academics, students, alumna, and speakers who helped in the planning and execution of the conference. Both founders of the Lebanese Chapter of ArabWIC are AUB affiliated: NisreenDeeb is currently a master's student at AUB, and Mona Itani is an AUB alumna.
"The support we received is a testimony that the ecosystem is eager and ready to support women's integration," said Dr.Odeh in her speech. "We are giving a message that in the Arab world we are ready to make things different and women here are demanding that they be hired based on their talent, not their gender."
Over the past year, the department of Computer Science at AUB coordinated with ArabWIC in preparation for the conference. The mission of the department revolves around teaching computer science to students at all levels and benefitting the community. Over one year, 35 schools from all over Lebanon were trained by the department on computer science topics. The computer science department also runs "Future Developer" summer camps to teach recent technologies to students between the ages of 11 and 17. It partnered with the Center of Civic Engagement and Community Service at AUB and the World Food Program to teach basic and advanced IT skills to Syrian refugees and under-served Lebanese people; benefitting one thousand participants.
"The conference goals match those of the AUB upper administration regarding the support of women and their contribution to research and the workforce," Dr.Wassim El Hajj told us. "AUB's endorsement of this event is in fact an endorsement of how important this is for AUB, putting women's integration in the forefront and investing in them through many initiatives."
The three-day conference program includes more than 100 sessions of keynotes, panel discussions, research talks, applied technology lectures, as well as coaching and networking sessions showcasing top tier research in data science and machine learning. A hackathon will be held on the third day to teach 50 girls from refugee camps to create apps that help them solve problems within their communities. Career booths are set up on site for on-the-spot interviews for short and long-term hiring of aspiring women.
Although the rate of enrollment of women in computer science is higher in the Arab world (an estimated 50%) compared to that in the US (15%), their rate of employment in the field, compared to their male counterparts, is very low. Diversity in the workforce has been proven to increase productivity and the production of a balanced society, yet collaboration to increase this diversity in the region is minimal. The conference aims to involve entrepreneurs, policy-makers, and universities in a conversation on the future of technology, the challenges faced, and a better integration of women in education and work in the field.
albawaba.com/business/pr/aub-partner-international-conference-arab-women-computing-1008752
---------
Women leaders are Qatar's pride
August 12 2017
Some puerile-minded people may use her name to make jibes, or drag her into their petty political squabbles, but her name in Arabic, a name of quintessential Gulf origin, is a world of meanings.
It underlines a rich linguistic history, where Arabs, when naming their daughters, had made sure to pay tribute to the sources of their natural wealth that represented the engine of their economy, even a century ago.
Indeed, a Moza, plural al-Moz, is a type of rare Arab pearls, and so are Hessa, Dana, and Lulua, all common names of women in the Gulf.
Pictures of these pearls exist and interested people can visit national museums in Gulf countries and see them firsthand.
It is necessary to highlight this history, which cannot be falsified, for those who have spared no lies to wage superficial but ill-intentioned, immoral campaigns against Qatar and the exemplary women in its leadership, disregarding all norms and religious traditions.
The Moza they have targeted is Her Highness SheikhaMoza bint Nasser, the mother of His Highness the Emir of Qatar, whose stances on his nation's issues have made many an Arab proud.
His father, His Highness the Father Emir, is the Arab leader behind Qatar's modern renaissance, a supporter of oppressed peoples who was the only Arab leader to break the siege of Gaza in 2012.
With ill-intentions, some referred to His Highness the Emir Sheikh Tamim bin Hamad, Glorious Tamim, as Tamim bin Moza, without realising it is not an insult to attribute a person to his mother.
One day, we will all be called by our mothers' names.
None of this makes any difference in the ladder of glory, for what matters is that before resurrection, one must be upstanding and righteous.
Prophet Muhammad, praise be upon him, was sent by God to "perfect noble morals" before all else.
In Qatar, we all take pride in righteous mothers who have given birth to us and to entire generations.
And we are proud of the ideal represented by the mother of His Highness the Emir of Qatar.
But as journalists, we have the right to go further, and highlight certain things we have seen, beyond media coverage, that bear witness to her character and achievements.
On the day His Highness the Father Emir and Her Highness SheikhaMoza inaugurated Education City, in an event that was the largest yet in Qatar, we saw him emerge from the ceremony on television, then drive his car personally, with HH SheikhaMoza sitting by his side.
He held her hand, before he took the wheel, and that gesture announced without words that Qatar's march would be led by both its men and women.
The image is still engraved in our memory.
Qatar, it was plain for all to see, was embarking on a renaissance, following the vision of its leader, to be led by men and women with direct blessing for competent women like her to be in the driver's seat, including in education and social development.
Qatar was racing against time. The education of Tamim and his siblings was not the only concern of their mother, but so was the education of all Qataris and residents of Qatar, in a vision that saw knowledge from a new, different perspective.
In 1997, Qatar University invited us to attend the first-ever open and direct debate between female students and graduates, at the initiative of HH SheikhaMoza.
She had a lot to say about the future of the university and education in general in the state.
This was in the early days of His Highness the Emir Sheikh Hamad's tenure.
In 1998, Qatar witnessed a new shift in the public education system.
An initiative was launched to develop education in science schools, implementing world-class standards and moving Qatar away from curricula full of theories and redundancies, towards critical thinking and practical education.
HH SheikhaMoza bint Nasser carried the concerns of public education in Qatar.
This sense of responsibility and push for diversity drove her independent vision, which sought to unlock different academic specialties and infuse competitiveness and freedom of academic choice in an over-bureaucratic school system.
It was not an easy thing to accomplish.
Even at the level of the world, it was a completely new endeavour, at the heart of which was a quest for fulfilling high-quality international standards in public education, and equality between Qatari citizens and expatriates.
Since everything new entails many challenges, and pros and cons, the initiative received its fair share of analysis and criticism.
Yet HH SheikhaMoza welcomed it, and closely followed everything that was written and published about it, out of a keen desire to improve it and implement all constructive feedback.
While we cannot deny the associated challenges and setbacks, we also cannot deny that the initiative led to a new generation of graduates who are critical thinkers, rather than copycats who memorise information, and who can compete with their peers in the world.
And Qatar reaped the fruits of this effort, including during the blockade of Qatar, in various fields.
In higher education, HH SheikhaMoza, by chairing the Qatar Foundation and Qatar University, sought to match opportunities to specialties.
Education in Qatar University improved in quality, opening horizons that were untapped before, under the vision of HH SheikhaMoza and other pioneering women, such as Sheikha al-Misnad, former president of Qatar University, and her deputy Sheikha Bint Jabr al-Thani.
In addition, Qatar Foundation introduced advanced majors, including by opening seven branches of some of the world's most prestigious universities and research centres, and the Qatar National Library linked to the British Library.
Internationally, it is hard to count SheikhaMoza's achievements in education, not just in Qatar, but in the world.
In 2003, Unesco chose her as Special Envoy for Basic and Higher Education.
Her international memberships and initiatives – such as Education Above All, Educate a Child, Protect Education in Conflict, Fakhoura, and Silatech – helped create new hopes for children, youths, and women in poor and developing nations, and job opportunities for unemployed youths in the Middle East and North Africa region.
In 2010, she served in the Millennium Development Goals Advocacy Group, focusing on basic education, and in 2012, she advised the steering committee of the UN Secretary-General's Global Education First Initiative.
Beyond education, in 2016, the UN secretary general asked her to join as advocate of the UN Sustainable Development Goals Group.
In 2008, she served as ambassador for the UN Alliance of Civilizations.
I will not enumerate further achievements, which can be seen with a simple Google search, but I want to mention something I witnessed and was not covered in the media.
During the Alliance of Civilizations conference in Rio in 2010, HH SheikhaMoza visited the city's impoverished favelas, launching education programmes there, away from the limelight.
This is who SheikhaMoza bint Nasser is, and no opinion article can be sufficient to do her justice.
But in short, throughout her work, she was not only a mother for Tamim, but for Qataris and others.
We are proud of Tamim not only because he is the son of his father, Hamad, but also because he is the son of a giving mother, and Qataris can be proud to be the children of HH SheikhaMoza bint Nasser, as he is.
*Maryam al-Khater is a Qatari writer and media personality.
gulf-times.com/story/559921/Women-leaders-are-Qatar-s-pride
---------
Female Palestinian attacker tries to stab ultra-Orthodox man but misses, police clip showsIn security footage, female assailant seen attempting to target Haredi passerby before stabbing another man, said to be Arab East JerusalemiteBY TIMES OF ISRAEL STAFF August 12, 2017, 9:52 pm 7
3,000 swell protest over Netanyahu graft probesMan stabbed, lightly wounded in Jerusalem attackJordan continues to block Israeli ambassador's returnSeeing 'opportunity' to renew talks, Trump sends three envoys to regionIran accuses Trump of 'bad faith' on nuclear dealTemple Mount saw record number of Israeli visitors last month
A female Palestinian assailant who carried out a stabbing attack in Jerusalem on Saturday had attempted to stab an ultra-Orthodox man before stabbing another person, said to be an Arab East Jerusalem resident, injuring him lightly, according to security footage released by police.
In the clip, the attacker, a 29-year-old mother of five from East Jerusalem, can be seen crossing a street before pulling out a knife and taking a few swipes at the ultra-Orthodox man, who dodges the weapon and manages to get away. The footage does not show the stabbing of the victim, who according to some reports in the Hebrew-language media was a resident of East Jerusalem wearing a shirt with Hebrew writing, whom she mistook for a Jew.
The man, who was lightly wounded in the arm as a result of the attack, was taken to Jerusalem's Hadassah Hospital Mount Scopus for treatment before being released.
Police said the attacker was overpowered and arrested by police officers at the scene after stabbing the man. She was then taken for questioning.
The attack occurred on Sultan Suleiman Street near Damascus Gate, the same street where Border Police officer Hadas Malka was stabbed to death in June.
Hebrew-language media reported that the woman's husband was arrested following the attack and that police raided the couple's home in the East Jerusalem neighborhood of Sur Baher.
View image on Twitter
Follow
Micky Rosenfeld @MickyRosenfeld
Heightened police security continues, old city #jerusalem after stabbing attack by Arab female terrorist. Knife seized, Man injured lightly.
3:03 PM - Aug 12, 2017
1 1 Reply 26 26 Retweets 15 15 likes
Twitter Ads info and privacy
Over the past two years, the Old City, and the Damascus Gate in particular, have seen several attacks by Palestinians, and in two cases by Jordanian nationals.
Since September 2015, mainly Palestinian assailants have killed 48 Israelis, two visiting Americans, a Palestinian man and a British student, mainly in stabbing, shooting and vehicular attacks. In that time, some 259 Palestinians were killed by Israeli fire, a majority of them attackers, according to authorities.
Israeli security officials believe that aside from the ostensible ideological motive, many of these attacks — particularly those carried out by women or young girls — are a form of "suicide by cop," or "suicide by soldier."
However, tensions in Jerusalem have risen dramatically in recent weeks following the July 14 killing of two Israeli police officers by three Arab Israelis who smuggled guns into the flashpoint Temple Mount compound.
Israel shut the compound for two days for security reasons while police investigated the incident. Israel then reopened the site with newly installed metal detectors and cameras — security measures that led to two weeks of protests by Palestinians. The measures were eventually removed. Five Palestinians were killed in near-daily demonstrations.
Also during that time, a Palestinian terrorist claiming to be motivated by the Temple Mount protests stabbed to death three Israelis in their home in the West Bank settlement of Halamish.
The fate of the Temple Mount is an emotional issue at the heart of the Israeli-Palestinian conflict. Even the smallest perceived change to delicate arrangements pertaining to the site sparks tensions.
Jews revere the hilltop compound as the Temple Mount, site of the two Jewish biblical temples. It is the holiest site in Judaism, and the nearby Western Wall, a remnant of one of the temples, is the holiest place where Jews can pray.
The walled compound is home to the Al-Aqsa Mosque and the Dome of the Rock. It is Islam's third-holiest site after Mecca and Medina in Saudi Arabia. Muslims believe the site marks the spot where the Prophet Muhammad ascended to heaven.
Agencies contributed to this report.
timesofisrael.com/palestinian-attacker-tries-to-stab-ultra-orthodox-man-but-misses-police-clip-shows/
---------
Moroccan video sparks debate on sexual harassment
Aug 12,2017
RABAT — A video showing a group of men hounding a young woman walking alone in a Moroccan street has been shared widely on social media, sparking a heated debate in the North African country.
The video, lasting just 10 seconds, shows a clearly panicking woman in jeans and a t-shirt being chased by a large group of young men.
The mob tries to surround her on a well-known avenue in the northern town of Tangiers.
The video triggered contrasting reactions on social media. Some condemned the young men, but others blamed the woman for wearing "indecent" clothes and suggested she was promiscuous.
"She can strip off if she wants, but not in our conservative town," wrote one.
Another wrote that the woman "got what she deserved".
Moroccan media and human rights activists condemned the harassment.
"I am as scandalised by this violent and collective aggression as by the reactions blaming the victim for her supposedly provocative dress, although she wore only simple jeans and a t-shirt," NouzhaSkalli, a gender rights activist and former women's minister, told AFP.
Mustapha Ramid, minister of state for human rights, said Moroccan law "condemns harassment of women at work, but not in public spaces".
But he said parliament was examining a "comprehensive" bill that would for the first time criminalise harassment in public places.
Media outlets said the incident reflected a wider problem in society.
"The group chase of a young Moroccan woman brings to the forefront the issue of sexual harassment", said Hespress.ma, the kingdom's most popular news website.
Another popular site, Ladepeche.ma, suggested harassment had become "a national sport".
Morocco has been ruled since 2011 by the Islamist Justice and Development Party (PJD), which came to power following Arab Spring-inspired protests.
The PJD was the first Islamist party to win an election in Morocco and lead a government, raising concerns in a country traditionally among the more liberal Arab nations.
Official discourse plays up the kingdom's long tradition of religious moderation and women are not required to wear the veil.
But official figures show that nearly two out of three Moroccan women are victims of violence. That violence is most visible in public places.
Many women say walking alone in the street has become uncomfortable. Many have been subjected to derogatory remarks, insults and sexual assault.
"It's a real crisis of values in our society," said Khadija Ryadi, former president of the Moroccan Association of Human Rights and 2013 winner of a United Nations award for human rights work.
"Women are assaulted in the street, humiliated, insulted. At a certain moment of the night, they start to feel under siege," she told AFP.
In the heart of the capital Rabat, few women sit on the terrace in the countless cafés that line the famous Boulevard Mohammed V.
"We're in an upscale neighbourhood! Go and look in the poorer parts of town. Women are excluded from the public space," said Sara, a resident of the district in her 30s.
"Not to mention conservative cities or remote villages. This gives you an image of the male hegemony."
Skalli said the issue reflects a "traditional culture" which regards public space as reserved for men and "the presence of women as an undue intrusion".
She said there had been an upsurge in public harassment of women, revealing the contradictions of a society torn between modernity and conservatism.
That pits the "liberalisation of morals, which legitimises sexual attraction towards women and trying to seduce them" against "a misogynistic and aggressive ideology which accuses women of dressing provocatively and considers them responsible" for being harassed.
Recent years have seen several high-profile cases of sexual assault, especially on beaches, where women are increasingly reluctant to wear swimsuits.
Harassment is often collective and carried out by young people who consider themselves "defenders of virtue", Skalli said, calling it a "medieval and dangerous ideology."
In 2016, a Facebook page encouraged people to take photos of women in bikinis to single them out for public condemnation.
Ryadi said that "retrograde ideas carried via satellite channels from the Middle East, along with religious discourse, have poisoned our society".
jordantimes.com/news/region/moroccan-video-sparks-debate-sexual-harassment
URL: https://www.newageislam.com/islam-women-feminism/child-marriage-major-global-issue/d/112192