New Age Islam News Bureau
25 March 2016
• Child Marriage Chart Reveals Girls Can Wed At 12 in Some Parts of the US - As Lawmakers Battle to Raise Age To 16
• Perak Deputy Mufti: 'Muslim Men Who Let Women Commit Sins Won't Enter Paradise'
• The Quran Does Not Oppress Women, Sharia-Based Islam Does
• How Can The Rights Of Islamic Women Be Improved?
• Kilburn Man Charged for Allegedly Grabbing Woman's Headscarf and Intimidating Her on Bus into City
• Witnesses Say Public Library Officer Tells Muslim Woman to Remove Head Covering Or Leave
• The Daily Explaining That Comes With Being a Muslim Woman In A Post-9/11 World
Compiled by New Age Islam News Bureau
URL: https://newageislam.com/islam-women-feminism/child-marriage-chart-reveals-girls/d/106758
------
Child Marriage Chart Reveals Girls Can Wed At 12 in Some Parts of the US - As Lawmakers Battle to Raise Age To 16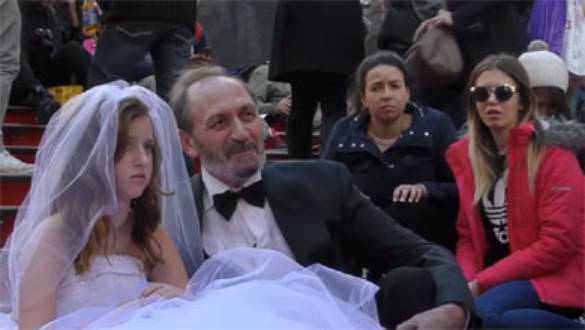 65-year-old man "marries" 12-year-old girl in Times Square social experiment YouTube/Coby Persin
------------
Victoria Richards: Wednesday 9 March 2016
Lawmakers in America are battling to overturn some of the country's most archaic laws, which stipulate that children as young as 12 can be married.
In the state of Virginia, it is officially still legal for girls as young as 12 or 13 to be brought to a courthouse with evidence of a pregnancy and wed, a practice that has come under increased scrutiny thanks to the Virginia Senator Jill Vogel R-Fauquier.
Legislation she introduced, which is now moving through the Virginia General Assembly, seeks to raise the minimum age for marriage to 16 to bring it in line with other states - and similar moves are under way in Maryland and New York, where 3,853 minors were married between 2000 and 2010, according to State Health Department data published in the New York Times.
In Virginia itself, according to state health statistics, more than 4,500 minors were married between 2000 and 2013, including about 220 who were 15 or younger.
And a separate Statista chart plotting the minimum legal age of marriage for girls worldwide reveals that the US is one of the lowest on record, with several places - including Massachusetts - allowing girls as young as 12 to be wed with the consent of a judge.
It is matched only by Saudi Arabia and Yemen, where age of consent for marriage ranges between nine and 13 years old.
"It's rarely the case that the 13-year-old is marrying a 17-year-old," Ms Vogel told Washington Top News.
"It's more often the case that it is a child marrying somebody decades older than they are."
Ms Vogel pointed out that often, young women who go on to be abused in early marriages are not old enough to go to court to get a protection order - and aren't even old enough to drive.
She said officials should be looking out for what's in the child's best interests - not handing out marriage licenses.
"Someone should be asking the question, 'Well if this 13-year-old is pregnant, isn't that evidence of statutory rape?'" Ms Vogel said. "Is that not a crime? They are truly victims in every way."
Senate Bill 415, which passed in the Senate last month, has passed in a House sub-committee and in a full-committee and is due to face a vote.
The bill would see those between 16 and 18 having to petition courts for a marriage license - at which point a judge would need to determine whether or not they were mature enough or were being coerced.
The judge could also grant emancipation as part of the petition, giving teens similar rights to adults under the law.
But Ms Vogel said she was surprised at what she found when researching marriage laws in other states, which she said acted as a "veil" to sex abusers to protect themselves from prosecution.
There is currently no minimum age for marriage in the Commonwealth.
In the UK legal consent can be given as young as 16 - as long as it's with parental consent.
In July last year, the Spanish government announced it was to raise the marriage age from 14 to 16 to bring it into line with the rest of Europe.
Estonia now has the lowest marriage age in Europe with teenagers able to wed at 15 with parental approval.
Globally, the average legal age of marriage for boys is 17 and 16 for girls but many countries permit them, particularly girls, to marry much younger.
According to the campaign group Girls Not Brides, one in three women in the developing world are said to be married before they turn 18.
In Niger, for example, where the age of legal marriage for girls is 15, 76 per cent of girls are believed to be married before their 18th birthday.
And some countries only permit marriage among the young for certain groups.
According to the US state department's human's right report on Trinidad & Tobago from 2014, though the official marital age is 18 for men and women, Muslims and Hindus have a separate Marriage Act.
Muslims are permitted to get married at 16 for men and 12 for girls and Hindus at 18 and 14.
http://www.independent.co.uk/news/world/americas/child-marriage-chart-reveals-girls-can-still-get-married-at-12-in-some-parts-of-the-us-as-lawmakers-a6921246.html
-----
Perak Deputy Mufti: 'Muslim Men Who Let Women Commit Sins Won't Enter Paradise'
FMT Reporters
March 25, 2016
KUALA LUMPUR: Perak Deputy Mufti Zamri Hashim has urged Muslim men to be more manly and firm in protecting and guiding their wives and daughters against committing sins, such as taking part in beauty contests.
He said in Islam, when a man lets his wife or daughter commit sins, the man would fall into the same category as those who are considered "dayus" (unmanly).
In an article in the Malay daily Berita Harian today, Zamri reminded readers that there are three types of people forbidden in Islam from entering paradise, and "dayus" men are on the list.
"Prophet Muhammad said the three groups of people he would ignore during the Day of Judgement are those who disobey their parents, women who look like men and those who are 'dayus'.
"Even if he looks strong and brave, a man is still a 'dayus' if he fails to use his God-entrusted powers as a protector of women.
"Be their protector from physical hardship by providing sustenance, protector from emotional hardship by moulding their spirits, and their protector from hell in the afterlife," he urged.
Zamri gave several examples of how men are considered as "dayus".
According to him, there are a lot of fathers and husbands out there who have lost control over their women.
He said men are considered as "dayus" if they are permissive in the name of gender equality, without considering the consequences of it.
He elaborated that men are "dayus" if they let their women go out in public without covering their bodies properly, neglect the compulsory prayers, participate in beauty pageants, or work in professions which don't suit their lady-like personalities.
http://www.freemalaysiatoday.com/category/nation/2016/03/25/muslim-men-who-let-women-commit-sins-wont-enter-paradise/
---
The Quran Does Not Oppress Women, Sharia-Based Islam Does
ABDUR RAB
24 MAR 2016
The Mistreatment Of Islamic Women Should Be Blamed On Sharia Law, Not The Quran.
The campaign theme of this year's International Women's Day is a pledge for accelerating gender parity. This requires action on all fronts, including efforts that create greater awareness of existing untenable faith-or-culture-based gender inequities and appropriate reforms to address them. This article is an attempt to highlight the ways Sharia-based Islam oppresses women. The Quran Does Not Oppress Women, Sharia-Based Islam Does TWEET THIS Like many Muslims, Patheos-Muslimah in Progress blogger Nancy Qualis-Shehata would contend that Islam does not oppress women. However, the key question is: What Islam does she refer to? Certainly this is not the Islam that Muslims generally practice. She errs on three counts. First, she unquestioningly places the husband as the head of a family and as the maintainer and protector of his wife, ignoring the contextual nature of the Quran and its essentially egalitarian worldview. Second, she defends unequal inheritance distribution between descendants of different gender, again ignoring the context-specific nature of the relevant Quranic passages and giving precedence to the male patriarchal position. Third, she blames the oppression of women in Muslim countries on cultural practices and not on Sharia-based practiced Islam. The Sharia Law that governs traditional Islam is rooted in the legal opinions established by a group of Muslim jurists during about 150 to 250 years after the death of the Prophet Muhammad and is a varied sort according to different schools of thought. The majority – some 65 percent – of Muslims is Sunnis and they generally follow Hanafi and Shafii laws. There are more than six thousand Sharia laws in each of the Hanafi and Shafii Law books. Another point we need to note is that this Law draws on the Quran in a miniscule way that is rigid and non-contextual. Its main source is the Hadith literature, which is overtly and overwhelmingly biased against women. This trickles down to a widespread perception, especially in the non-Muslim world, that Islam is misogynistic and it oppresses women. This is terribly at odds with the compassionate and egalitarian teachings of the Quran. Saudi Arabia typically and rigidly applies the Sunni Sharia Law, and has vigorously promoted its brand of Wahhabi Islam throughout the Muslim world. This ideology treats women in a particularly demeaning manner. In recent days, the problems the Saudi women face in traveling and driving independently without male escorts have received media attention. But there are other serious Sharia-related human rights violations against women that are endemic throughout much of the Muslim World. Below we provide a checklist of such violations, drawing, in part, on an earlier published article of ours.
Disqualifying women to serve as guardians in conducting marriages and considering a woman's witness for a marriage as half of that of a man Sanctifying child marriage Unconditionally allowing polygyny up to four wives at a time Giving unilateral and instantaneous divorce rights to husbands and imposing difficulties on wives to exercise their divorce rights Distorting remarriage provisions victimizing divorced wives Providing for little or no financial support to divorced wives Allowing believers to have sexual relation with war captives or slave girls Using child custody rights favoring husbands Using inheritance laws favoring male descendants Applying the brutal punishment of stoning to death for adultery, which often goes against women as the offense gets much more easily detected in the case of women Barring Muslim women from marrying non-Muslim men, while allowing Muslim men to marry non-Muslim women Exempting parents from murder charges for killing their children and condoning honor killings Giving unequal authority to women to testify and denying women's testimony in hudud cases such as adultery, apostasy, murder, theft, injury, defamation, and drinking cases Disqualifying women to lead the Muslim ummah and to head the government Allowing a rapist to get indemnified by offering the raped woman an amount equivalent to just the marriage dowry, in case his rape is condoned for some reason SHARIA OPPRESSION OF WOMEN THROUGH FAMILY LAWS For conducting marriage services, Sharia not only disqualifies women to serve as guardians, but in requiring two witnesses for marriage, it also considers a woman's witness as half of that of a man. The latter provision is made apparently keeping in view the Quranic provision for witnesses in the context-specific case of financial transactions. However, this discrimination against women is no longer justified in the modern age when women are almost as educated and qualified as men. Sharia sanctifies child marriage. This it does by taking recourse to an alleged Hadith that the Prophet Muhammad married Aisha when she was six years old and consummated this marriage when she was nine. However, citing historical evidence, Ridhwan ibn Muhammad Saleem of West London School of Islamic Studies provides a well-documented refutation of the above assertion about Aisha's age at her marriage and suggests that Ayesha was over fifteen when her marriage with the Prophet was consummated. Other scholars such as T. O. Shanavas also explode the 6-9 year myth. The Quran advises marriage when the couple attains maturity to be able to provide sound judgment and consent for marriage (4:5-6). Under the Convention on the Rights of the Child adopted in 1989 by the United Nations, a child is defined as a person below the age of 18, unless adulthood is set at a younger age by a particular country's laws. The Convention calls for review by countries of ages set lower than 18. Sharia allows polygyny up to four wives at a time without any restrictions. However, the Quran, on the other hand, has talked about and permitted polygyny only in the context of orphan girls (4:3-6, 127), while talking about providing justice to them, and permits polygyny subject to certain clear restrictions. The two basic restrictions are financial capability of the husband to support more than one wife and his ability to do justice to more than one wife. The Quran requires one to postpone marriage until one is financially solvent (24:33). The Quran cautions against multiple marriages, saying that however much one wishes, one is hardly able to do justice to multiple wives (4:129). Sharia grants virtually unilateral power of divorce to the husband. It requires the wife seeking divorce to go to a court and take her husband's consent. These restrictions often prove tyrannical to an aggrieved wife, who has to tolerate unbearable torture of her husband in the face of his refusal to divorce. These Sharia provisions flagrantly violate the Quran's directions that a wife has rights over her husband similar to those of her husband over her (2:228), that a wife should not be compelled to stay with her husband against her will (33:28, 4:19), and to her hurt (2:231), and that a husband needs to treat his wife in a compassionate manner (2:228, 229, 231, 65:2). Worse still, Sharia entitles a husband to divorce his wife instantaneously by uttering the word "talaq – I divorce you" three times and, importantly that also, without requiring any witness. The divorce is considered valid even if the husband may utter this in a fit of rage or when drunk and does not really mean it. However, these Sharia provisions are in complete defiance of the Quran's clear directions on divorce. The Quran requires two witnesses (65:2) and a well-defined waiting period for divorce to be effective (2:228, 229, 231, 65:1, 4). In fact, the Quran even wants husbands who want to dissociate from their wives to wait four months to give them a chance to see if they would like to change their mind during this period (2:226). A crowd protests Sharia Law in London in 2014. Source: Flickr Sharia stipulates that once the divorce becomes irrevocable (after the waiting period), the divorced wife cannot go back to, or remarry, her husband unless and until she marries another person and until that husband divorces her. This despicable halala or hilla system is prevalent in Bangladesh, Iran and other parts of the Muslim world, where the Sharia Law is rigidly enforced. However, as shown vividly by us in a short film and an article, this despicable halala system is counter to the very spirit of the Quran's clear directions and egalitarian message on the subject. The Quran urges believers to create no obstacles in the way of the divorced wife remarrying her husband (2:232), if the couple so wants. The halala system exacts a terrible human cost in terms of enormous suffering inflicted on the couple willing to reunite and has resulted in destroying many Muslim families. Under Sharia Law, wives divorced instantaneously get nothing for livelihood from their husbands, while those divorced normally get only three months' provision from their husbands after divorce. Then husbands are absolved of their duty to see where they go and how they live. The Quran, on the other hand, urges husbands not to take back anything that has been given to them (2:229) and to retain or release them in kindness, and not to hurt them (2:231). A perplexing aspect of the Sharia Law is that it allows believers to have sexual relation with war captives or slave girls, which Sharia labels as "those that believers' right hands possess." Wahhabi ideologue Zakir Naik gives a similar interpretation of this Quranic passage as does Abul Ala Mawdudi. This view, however, blatantly ignores the Quranic directions that the believers should either demand ransom for freeing war captives or they should be released with generosity (47:4). It does not befit a human being to enslave another human being. The raping of slave women is incompatible with the very spirit of the Quran's message, which vividly and strongly encourages manumission (90:12-13) and the marrying of freed slaves (4:25), and which forbids them to compel slave girls to prostitution without marriage (24:33). In 5:5, the Quran also vividly encourages us to seek chastity, not lewdness. Sharia displays a patriarchal bias in dealing with child custody rights. It allows mothers custody of her children generally up to the age of nine for sons and seven for daughters. A mother is deprived of her child custody rights, if she does not pray or when she takes a mahram husband (i.e., a husband who is not lawful according to Sharia). The Quran allows separated or divorced couples to decide about child custody by mutual consultation, and it makes the husband squarely responsible for bearing the financial costs of children under mother's custodial care, if he has financial capability (65:6-7). In the area of inheritance, as discussed more elaborately in another article of ours, Sharia rigidly applies, in most cases, the provision that the male heir should receive twice as much as the female counterpart, ignoring the spirit of the exceptions that the Quran itself makes about this rule and ignoring the socioeconomic background in which this rule was made in the first place in the seventh-century Arabia, when women were totally dependent on their husbands for financial and other support. As argued by many modern Islamic and feminist scholars, the socioeconomic conditions for women have vastly changed in the modern context, when women are almost equally participating in contributing to the family income and welfare. Furthermore, the human rights instruments such as the Universal Declaration of Human Rights (UDHR, 1948) and the Convention on the Elimination of All Forms of Discrimination Against Women (CEDAW, 1979), to which most Muslim countries are also signatories, also oblige them to move toward removing all forms of discrimination against women, including in the inheritance case. SHARIA RULES IN OTHER AREAS OPPRESSING WOMEN Although the Quran does not prescribe it, Sharia applies the brutal punishment of stoning to death for adultery. Although this punishment is equally applicable to both men and women, it often goes against women since the offence gets much more easily detected in the case of women. Sharia permits Muslim men to have marital relationship with women of the Ahle al-Kitab (the people of the Book traditionally interpreted as Christians and Jews), but does not extend the same option to Muslim women to wed non-Muslim men. This it does by narrowly interpreting the Quran's verse 5:5, which is addressed to men. However, as Professor Khaleel Mohammed of San Diego State University rightly contends, this Quranic verse, like other verses, is addressed to men simply because of the custom of the time. The Quran's direction applies equally to both men and women. This Sharia restriction on women often leads to honor killings of Muslim women by their parents, when their daughters seek to marry non-Muslim men. Sharia condones honor killings, as there is a Sharia provision that parents are not liable for punishment for murders of their children. Also, Sharia allows the family of the victim to pardon the killer in exchange for blood money, or even nothing – Sharia allows only boys to receive the blood money, not girls. Note also that the family often pardons the killer, who is the member of the same family, as it does not want to lose another additional member of the same family. Note also that Sharia applies its narrow interpretation even to the marriage of a Muslim woman with a Muslim man and considers their marriage dissolved when he is declared an apostate. This was applied to the Cairo University professor Nasr Abu Zayd, when the Egyptian clergy declared him an apostate, which led the couple to seek exile abroad and leave the country. Sharia does not recognize testimonies from women in hudud cases such as adultery, apostasy, murder, theft, injury, defamation, and drinking cases, not even along with a male witness. Nor are women judges considered eligible for conducting hudud cases under Sharia. This is a gross discrimination against women in ensuring justice in society. Under Sharia, it is forbidden for women to lead the ummah or to head a government. This despite the Quran's mention of rule by the Queen of Sheba (23:27) and rule by many Muslim women in different Muslim countries. If for some reason the crime of rape by a male person is condoned, the rapist is required under Sharia to give as compensation to the raped woman an amount that is equivalent to just the marriage dowry. This is a punishment that flagrantly dehumanizes women. CONCLUSION Sharia-based traditional Islam routinely and ruthlessly oppresses women in numerous ways. Sharia not simply violates the Quran's compassionate and egalitarian message, but is also incompatible with the very norms of human decency and human rights.
http://www.worldreligionnews.com/issues/the-quran-does-not-oppress-women-sharia-based-islam-does
----
How Can The Rights Of Islamic Women Be Improved?
BY MAHA AKEEL
3/23/16
As a Muslim woman, I am empowered by my religious identity. But for many women, religion holds them back. As long as Muslim women suffer social and cultural marginalization, political exclusion, economic discrimination and threats, and acts of violence, we will never reach our full potential.
There have certainly been examples of female achievement in the Muslim world. Many Muslim countries—Turkey, Indonesia, Pakistan, Bangladesh—have had female heads of government, and many have had ministers, parliamentarians and senior officials in public and private sectors. But these accomplishments do not undo a pernicious legacy of segregation and discrimination.
Even where there is progress, it remains uneven. From Indonesia, Pakistan and Afghanistan to Saudi Arabia, Iran, Sudan and all the way to Somalia and Nigeria, laws on divorce, child custody, inheritance, ownership, early marriage, female genital mutilation (FGM), education, health care, job opportunities and wages as well as protection from abuse and violence continue to oppress and discriminate against women, even though Islamic texts and tradition are clear on women's rights.
Try Newsweek for only $1.25 per week
My remit at the Organisation of Islamic Cooperation (OIC) includes addressing challenges faced by women across our 57 member states. In many countries, Islam is not only used to justify misogyny; many Muslims believe Islam actually sanctions such practices, which is why efforts at reform so often fail.
Positive, well intentioned efforts at meaningful social change are transformed into existential threats to a people's cultural identity and belief about their destiny.
At a time when many Muslims feel themselves under attack, it's unsurprising to see a hardening of attitudes and a fear of ideas perceived as foreign. But that in turn only entrenches the problem, which the OIC is working to address.
Its flagship women's empowerment initiative, for example, OIC Plan of Action for the Advancement of Women (OPAAW), has spawned numerous conferences, workshops and reports. Designed to compliment this is the impending ratification of the Statute of the Women's Development Organisation, an organization dedicated to the advancement of women.
I hope our partners in the U.S, the EU and the U.N. join us in these initiatives, because we share a common goal of protecting women from violence, creating greater opportunities for women's participation in society and governance and addressing a growing trust deficit between the Muslim world and the West.
But I should also like to see more Muslim women reclaim the language of religion—because religious misogyny is most thoroughly defeated through religious empowerment.
The Islamic language we hear today, justifying misogyny, is not authentic, faithful to the seventh-century text, or somehow purer only because it is narrower and less inclusive. The problem with such religious discourse is that it is extremely selective (and hence can become extremist), pursued in bad faith and consciously overlooks or suppresses the many parts of the Islamic tradition that encouraged gender parity and overturned wildly discriminatory practices in favor of a more egalitarian society.
In the present day, for example, many Muslim voices describe women as secondary to, if not dependent on, men, which justifies second-class citizenship, from the right to travel freely or to pass on citizenship to their children. But when Abraham was ordered to leave Hagar and Ishmael in the wild, Ishmael survived, because Hagar looked after him.
Nor does Islamic tradition honor women simply as caregivers, as supporting actors and never as protagonists themselves. The Prophet Muhammad was employed by a successful businesswoman, Khadija. She proposed marriage to him. She was the first to support him. She stood by him during years of persecution. In her work before and after Islam, she was at the heart of the Meccan economy, not marginal to it.
The daughter of the first Caliph, Aisha, is the source through which a huge proportion of the Prophetic tradition, the basis for Shariah, is derived. Is it not ironic that a legal tradition so much of which is derived through a female scholar is now used to restrict women's rights, including their right to speak as religious authority figures?
And the first ever institute of higher learning was founded by a Muslim woman —Fatima al-Fihri. Yet, equal access to education in the Islamic world today still falls short.
In early Islamic history, women played critical roles and displayed the strength and sophistication of any man. They were persecuted alongside men, worked alongside them and sacrificed with them.
The great challenge facing Muslim women is the rise and entrenchment of a discourse that denies this history that erases the important roles played by women in the past and for no other reason than to enable the marginalization and oppression of women in the present. That has to stop.
The good news is that Muslim women across the world through governmental and nongovernmental initiatives and movements are rising up and beginning to make the change.
http://www.newsweek.com/how-can-rights-islamic-women-improved-439153
---
Kilburn Man Charged for Allegedly Grabbing Woman's Headscarf and Intimidating Her on Bus into City
March 23, 2016
VILE ABUSE: Suspended sentence for woman who ripped off stranger's hijab
MUSLIM CONVERTS: Three Aussie women who choose to wear a headscarf
THE Imam of the Islamic Association of South Australia fears local Muslims may take matters into their own hands and "it could get very dirty", following the alleged assault of a woman wearing a headscarf.
Association Imam Shaikh Mohammad Tawhidi, who is also the representative of the Islamic Seminaries, said the association was appalled by the alleged assault on a bus at Kilburn earlier this month.
Police arrested a Kilburn man, 27, over the incident on a bus on Churchill Rd, Kilburn, about 11.15am on March 16, during which the woman allegedly had her headscarf grabbed and was intimidated on the journey.
The man was charged with assault and offensive behaviour, and was granted police bail to appear in the Elizabeth Magistrates Court next month.
Imam Tawhidi said the accused man should not have been granted bail and that laws around headscarves needed to change.
"The Australian Government must ... review its laws on female headscarves," he said.
"The (alleged) assaulter has been granted bail on the expense of an Australian woman's dignity and honour.
"Yes, he might legally deserve bail, but ethically, he doesn't."
Imam Tawhidi said such incidents could prompt reactions from the Muslim community.
"Us Muslim Imams are striving hard to reform the Muslim community of South Australia into a tolerant community," he said.
"But it is (alleged) actions like these, and non-strategic rulings that could spark a reaction from the affected families that will result in violence.
"Kilburn, Prospect and surrounding areas have a large Muslim population. If government laws do not prevent such assaults, then I fear that a day will come where the Muslim community might take matters into their own hands to protect their women and mothers. And it could get dirty, very dirty."
The Islamic Society of SA — which has no link to the Islamic Association of SA — does not condone violence against Muslim women and supported Imam Tawhidi's comments in that regard.
But society president Ahmed Zreika said he did not support a violent reaction to the alleged assault by the Muslim community.
"We do not know this association, we do not know this Imam and we do not know what he relies on to say something like that," he said.
"We trust the law here — I'm not sure why his reaction was emotional like that."
A spokesman from Attorney-General John Rau's office said the State Government did not support people taking the law into their own hands.
"Assault of any citizen is against the law," he said.
"The government believes that all citizens who are victims of assault should expect that the perpetrator be punished according to the law.
"The Government does not condone people taking the law into their own hands."
Police said the woman was not physically injured in the incident.
http://www.adelaidenow.com.au/news/south-australia/kilburn-man-charged-for-allegedly-grabbing-womans-headscarf-and-intimidating-her-on-bus-into-city/news-story/3b03d964c68addb668002978d8017983
----
Witnesses say Public Library Officer tells Muslim woman to remove head covering or leave
THURSDAY, MARCH 24TH 2016
WASHINGTON (ABC7) — "I was shaking. I was frustrated. I couldn't believe what I had just seen," says Jessica Raven.
Jessica Raven says she was inside the Shaw Library in NW DC Wednesday afternoon standing near a woman when she says a DC Public Library police officer threatened to handcuff the woman if she did not remove her hijab, a head covering worn by some Muslim women to express modesty and humility.
Raven, who works for Collective Action for Safe Spaces, says, "He came towards her and he took out her handcuffs and said if you aren't going to take it off then you are going to have to leave."
"I was enormously angry about it," says another witness Eric Robinson.
Robinson, who was sitting next to the woman wearing the hijab, says the officer told her initially to take her "hoodie" off. He says at first she turned her head, grimaced in humiliation and declined to remove the hijab. But when it escalated she quickly left.
"Her response was why I was upset because she just got up and walked away," says Robinson.
Robinson says he reported the incident to library officials. Raven took the twitter, blasting the officer's behaviour.
"What are you going to arrest her for wearing a hijab, reading a book?," says Raven.
Rizwan Jaka is the board chairman at the All Dulles Area Muslim Society in Sterling, Virginia.
"They are challenging times but we feel that the true American spirit comes out from the Jewish community, the Christian community and people of all faiths in support of the Muslim community knowing that we are peaceful, law abiding citizens."
A spokesperson for the DC Public Library said in a prepared statement "We welcome all, we serve all and we deeply regret this happening and are taking it very seriously."
That spokesperson added that the officer has been removed from duty during the investigation and that they are trying to find the customer to express their regret.
A spokesperson for The Council on American Islamic Relations, the nation's largest Muslim civil rights organization, said he's pleased with the library's response but if this incident proves true he would view it as a symptom of growing Islamophobia nationwide.
http://wjla.com/news/local/dc-public-library-police-officer-threatens-to-arrest-muslim-woman-for-her-head-covering
-----
The Daily Explaining That Comes With Being a Muslim Woman in A Post-9/11 World
By Shakira Hussein
24 MAR 2016
I've dedicated my book Muslim women since 9/11 to you not just for the usual reasons that a parent might dedicate a book to their offspring, but because the topic of this particular book has overshadowed almost your entire life. And with US President Barack Obama describing the current conflict with the so-called Islamic State as a "generational struggle", it's a topic that seems destined to dominate all our lives for a long time to come.
You were only five years old on September 11, 2001. Even though our apartment in Canberra was about as far from New York and Washington as it is possible to get, when I saw the news on the television late at night, I went through to your bedroom to make sure that you were still safely asleep. Amid all the uncertainly about the future, it was immediately clear that Muslims living in Australia and around the world would feel the consequences of al Qaeda's crimes.
A couple of weeks later, I left you with your grandmother in Queensland while I travelled to Pakistan to try to work out how any of us were going to manage life in the strange new post-9/11 world. Friends in Pakistan were horrified that I had left you in Australia. They had heard reports about Muslim women in the West having their headscarves torn from their heads and about the firebombing of a mosque in Brisbane. It isn't safe for Muslims to live in the West anymore, they told me. Bring your daughter back here – we'll find you a job in a posh girl's school. A Pakistani journalist suggested that we could move to Abbottabad, the town where he had grown up. It was a popular holiday destination, a beautiful location with good schools. And it was a military town, so it was very safe.
But Pakistan has been a frontline state in the war on terror and Abbottabad eventually turned out to be the hiding place of Osama bin Laden. Although we visited Pakistan together in 2004, we've spent the post 9/11 years as Muslims living in Australia.
Back when we lived in Canberra, we enjoyed many happy trips to the South Coast with a group of friends from the Canberra Islamic Centre. We were a diverse little tribe who had been born in locations ranging from Morocco to Indonesia to Australia. Some of the women wore hijab and some did not - Adalya and I do not wear headscarves in our day-to-day lives - but all of us enjoy a trip to the beach. And all of us were shocked by the footage of the riots at Cronulla beach in the summer of 2005 in which Muslim women and girls were attacked and abused alongside their menfolk.
After Cronulla, Muslims stepped up our efforts at reconciliation and bridge-building, with women playing a key role. Muslim women pitched in for the catering at interfaith dialogue events, gave interviews to media outlets, organised fashion shows in an attempt to answer people's question about Muslim women's dress codes. Many of us campaigned on multiple fronts – against the mandatory detention of asylum-seekers who arrived by boat, against the introduction of ever-more stringent anti-terrorism laws, against the apparently endless wars in Afghanistan and Iraq.
And after each new terrorist attack, each new crime committed by one of our co-religionists, we explained. We explained that most Muslims were horrified by such events, we explained that Islam is a religion of peace, we explained how Muslim women (particularly those whose faith is made visible by their headscarves) were coping with the impact of discrimination and harassment, we explained and explained and explained. We explained to politicians and policy-makers and journalists and we explained to total strangers on public transport who noticed a signifier of our religious identity and asked us to explain the role of Islam in everything from international politics to the application to build a new mosque in the neighbouring suburb.
Women in all communities are conscripted into the role of peacemakers and healers. It's a role that many willingly undertake, but after nearly a decade and a half, even the most tireless among us are growing weary of explaining crimes which we did not commit and events over which we have no control. And such explanations have become an expectation. If we don't explain, we are asked to explain why we've refused to do so.
You have grown up listening to this low hum of explanations and you've also done your fair share of explaining. I hope that my book may help to lighten this burden of explanation – if only by explaining why we ought not to be expected to explain.
http://www.sbs.com.au/topics/life/culture/article/2016/03/24/daily-explaining-comes-being-muslim-woman-post-911-world
-----
URL: https://newageislam.com/islam-women-feminism/child-marriage-chart-reveals-girls/d/106758