New Age Islam News Bureau
11 Apr 2014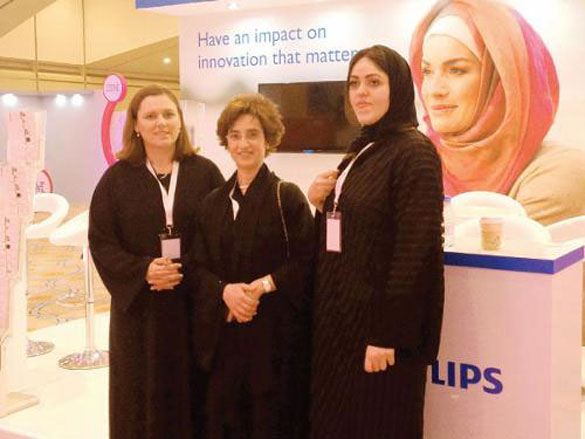 Promising female graduates at Glowork — Courtesy photo
--------------
• Cleric Warns Offering Girls PE Classes Could Lead to 'Prostitution'
• Lady Health Workers refuse to take part in Sehat Ka Insaf Program in Pakistan
• Saudi Women Use Instagram Accounts to Sell Products
• Burqa-wearing gang 'posed as wealthy Muslim women in £1.4MILLION Selfridges raid'
• Meet Ayesha Islam a Homemaker Who Broke the Political Barrier
• Turkey's Ex-Army General Says Headscarf Ban Was 'Mistake'
• Former Egyptian President's Widow Slams American Policy
• French Jihadist Defends Taking Baby to War-Torn Syria
• Islam Critic Ayaan Hirsi Ali Speaks Out On Brandeis Decision to Withdraw Degree
• UN Chief Teams Up with Global Leaders, Celebrities to Get All Children into School By 2015
• Philips Seeks To Empower Young Saudi Female Talents
• Pregnant Rohingya woman killed by nurses in Myanmar
Compiled by New Age Islam News Bureau
URL: https://newageislam.com/islam-women-feminism/child-bride-forced-marriage-killed/d/66499
-----------
Child Bride Forced Into Marriage Killed Her Husband and Three of His Friends
Apr 11, 2014
A child bride forced into marriage in Nigeria killed her husband and three of his friends by lacing a meal with rat poison, police said.
Wasila Umaru, 14, was married last week to 35-year-old Umaru Sani, according to assistant superintendent Musa Magaji Majia.
But when Umaru invited a dozen friends to celebrate in northern Ungwar Yansoro village, near the city of Kano, the teenager slipped the deadly chemical into a rice dish.
Umaru died the same day along with friends Nasiru Mohammed and Alhassan Alhassan, while another female victim, Indo Ibrahim, died in hospital while receiving treatment.
Wasila admitted buying the poison at a local market and putting it into the food.
'The suspect confessed to committing the crime and said she did it because she was forced to marry a man she did not love,' Majia said.
Umaru is cooperating with police and likely will be charged with culpable homicide, according to Majia.
Child marriage is common in Nigeria and especially in the mainly Muslim and impoverished north, where the numbers increase in times of drought because a bride price is paid and it means one less mouth to feed.
Fifty percent of Nigerian girls living in rural areas are married before they turn 18, according to the U.N. children's agency.
Child brides suffer difficult pregnancies and can often die in childbirth, the leading cause of death worldwide for girls aged 15 to 19.
They are also much more likely to contract AIDS and be subjected to domestic violence, according to the International Center for Research on Women.
Early and forced marriage is classified as modern-day slavery by the U.N. labor organization, and Nigeria's Child Rights Act prohibits marriage before 18.
But the ruling is often ignored in favour of Islamic Shariah law that holds in most northern states.
No one in Nigeria has been prosecuted for marrying a child, including Sen. Sani Ahmed Yerima, infamous for divorcing a 17-year-old that he married when she was 15.
Yerima got the divorce so he could marry a 14-year-old Egyptian girl in 2010, when he was 49. He had to divorce one of his child brides because Islamic law allows a maximum of four wives at a time.
Many child brides are divorced to make way for another partner, and because of incontinence and other medical problems caused by difficulties during childbirth pregnancies.
According to local child rights advocates who say such girls are put out on the street.
http://www.dailymail.co.uk/news/article-2601718/Child-bride-forced-marriage-makes-poisoned-meal-kills-groom-three-friends-Nigeria.html#ixzz2yZa8tdw0
-----------
Cleric Warns Offering Girls PE Classes Could Lead to 'Prostitution'
Apr 11, 2014
As a policy advisory council debates whether to allow physical education classes for girls in Saudi public schools, some hard-line Islamic clerics are warning against the reform, with one saying sports instruction could lead to "infidelity and prostitution."
"If we keep silent about the step of adding PE classes to girls' schools then we are giving the Shoura Council a green light to continue the steps of Westernisation and these steps will end in infidelity and prostitution," Abdullah Al Dawood tweeted according to the Wall Street Journal.
Saudi Arabia's Shoura Council, which advises the government on policy, voted 92-18 on Tuesday to instruct the Education Ministry to study the possibility of starting to offer girls gym classes in state-run schools, the Wall Street Journal reported. This as long as the classes conform to Sharia rules of modest dress and gender segregation. There is currently a ban on sports instruction for public school girls, Reuters reported.
The Shoura Council last year permitted female students at private schools to participate in physical education lessons, as long as they wear "decent clothing" and are taught by female instructors, the Independent reported.
The kingdom for the first time included women on its Olympic team two years ago.
The conservative Islamic country bans women from driving and requires women to have a male guardian for various activities including travelling or opening a bank account.
Those who favour girls' exercise classes also took to social media, "arguing that gym classes in public schools would make for healthier girls and women," the Wall Street Journal noted.
Director of global initiatives at Human Rights Watch Minky Worden told the Independent, "All of Saudi Arabia's women and girls should be able to enjoy the social, educational, and health benefits of taking part in sports."
"If the government can take down this barrier for private schools, it should give girls and women in publicly funded schools the same benefit," she added.
http://www.theblaze.com/stories/2014/04/10/islamic-cleric-warns-offering-girls-physical-education-classes-could-lead-to-prostitution/
-----------
Lady Health Workers refuse to take part in Sehat Ka Insaf Program in Pakistan
April 11, 2014
Peshawar- Lady Health Workers of Peshawar have refused to continue with the Sehat Ka Insaf program, as no salary has been paid to them since last five months.
According to details, Lady Health Workers said that they had not received their pays from last five months and inflation was on rise therefore they had decided not to be the part of the campaign till they receive their pays. Lady health workers had also decided to protest outside of the DCO office.
http://www.nation.com.pk/national/11-Apr-2014/lady-health-workers-refuse-to-take-part-in-sehat-ka-insaf-program
----------
Saudi women use Instagram accounts to sell products
Apr 11, 2014
Away from the daily hustle of the job market's noise and exhaustion, several Saudi women are using the social media application, Instagram, as an outlet for the establishment of shops. They publish pictures of their goods on Instagram to attract customers. Some of them have resorted to displaying cosmetics, jewelry and clothes, while others display their skill of inscription on gifts. Al-Madina Arabic daily interviewed several businesswomen who shared their experiences of selling their products on Instagram.
Hadeel Store
Owner of Hadeel store said her passion for cosmetics led her to start her project. She said with every visit to the market, she would purchase one or two items until she got used to following the latest in cosmetics by watching educational clips on YouTube.
She added that the unavailability of all European and American brands in the Saudi market and their high price led her to think about providing genuine products at suitable prices. Despite facing some difficulties, she got support from her family. She further said that at first, she was concerned with distributing the quantities of products she had. "However, by time, I increased the products for customers and gave them advice on selecting the suitable product and following the latest trend," she said.
She said there is an excellent acceptance towards her products. She further said that 60 percent of her clients continue to purchase from her while 40 percent are new customers. The majority of her clients are Saudi women while 2 percent are from other GCC countries. Women from Egypt and other countries also follow her account. Her products include single items of cosmetics, economic sets, cosmetic tools and skincare products. She pointed out that 99 percent of her displayed products are imported from the US, Britain, Sweden and the rest are from Saudi companies, but are manufactured abroad.
The young woman said delivery of her products is within three weeks. She pointed out that her profits range between 10 and 25 percent adding that her monthly income ranges between SR10,000 and SR20,000. She said she started her project through a forum, then Twitter and finally, on Instagram. She now has 10,000 followers on Instagram. "We now rely on the experience of customers in their personal accounts and patronizing contests with bloggers interested in cosmetics, skincare and fashion," she added.
Senderyla_store
Meanwhile, female owner of senderyla-store said her project started by coincidence. She said she was selling excess accessories she owned. There was a big response to the extent that she decided to purchase more quantities for customers.
She added: "I seriously thought of selling blouses and dresses. I started with a capital of SR200. My project is successful by all means." She believes she won the confidence of her clients. She pointed out that she provides them with the latest fashion including accessories, blouses, jackets, dresses and handbags. Her goods are delivered to her customers homes by an international shipping company within 10 to 13 days. She said her profits range between SR1000 and SR4000 a month.
She added that she won followers of her shop through exchange of advertisements with other shops. Also, her clients shared her account to their female friends, family members and relatives.
Instagram: BOONGIFTS Twitter: Boon_Gifts
The owner of Instagram account BOONGIFTS and twitter:Boon_Gifts said the idea of establishing her shop sprung during her search for a unique gift to one of her female friends. "I could not find such a gift. I collected ideas and implemented the least common in the local market," she said. She lauded the support she obtained from her husband and his encouragement to start her personal project for embroidery of gifts.
She said her products have reached GCC countries, Germany, Australia and Ireland. She attributed this to the beautiful Arabic calligraphy. She said she imports dresses and towel sets from Turkey bearing her shop's logo "Boon". She imports requirements for newborn babies from Britain and then carries out embroideries on them. She said her profits range between 15 and 60 percent per piece.
Al-Abeer Kitchen
Meanwhile, the owner of Al-Abeer Home Kitchen said she started her project after her divorce. She said her female neighbors suggested she started a home kitchen which provides the needs for parties and other events. "I was convinced with the idea after studying it and I decided to carry it out," she said. She further said her project achieved great success within less than a year due to her cleanliness, quality and her integrity. She said most of the food she prepares are Hijazi dishes. Her profit reaches SR5000 per month.
She said many people follow her cuisine on Instagram due to the exchange of advertisements and customers' comments on the quality of the dishes. Her eldest daughter helps her in advertising her dishes through Instagram.
http://www.saudigazette.com.sa/index.cfm?method=home.regcon&contentid=20140411201556
-----------
Burqa-Wearing Gang 'Posed As Wealthy Muslim Women in £1.4MILLION Selfridges Raid'
April 11, 2014
A court heard how customers and staff at the West End store were terrified as the male raiders smashed their way into showcases with axes and fled on motorbikes
An audacious gang put on Burqas and posed as wealthy Muslim women to steal designer watches worth almost £1.5 million from Selfridges, a court heard.
Customers and staff at the West End store were terrified as the male raiders, armed with axes, smashed their way into showcases, the jury was told.
The men fled using three stolen motorbikes and a BMW car after grabbing 143 watches worth £1,496,280 and damaging others worth £1.1million, it was claimed.
Sam Curtin, still in his Burqa, and driver Connor Groake were arrested when their bike crashed nearby and they were seized by passers-by, the court heard.
Some of the gang also wore Burqas to rob jewellers two months earlier, it was alleged.
Roger Smart, prosecuting, said of the Selfridges raid: "The plot was audacious, well-planned and carried out with the same degree of professional execution as the previous robbery."
Ramela Gordon, 18, Ritchie Graham, 24, Vincent Bellamy, 37 and Leon Wright, 25, all of north London, deny conspiracy to rob.
The four – along with Curtin, Groake and two others who have previously pleaded guilty to the same charges – allegedly carried out the raid last June.
Gordon and Graham are also accused of joining Curtin to steal Rolex watches worth £170,000 in Windsor, Berks, and two months earlier.
A ninth man accused over both crimes will appear later.
The trial continues at Kingston crown court, south west London.
http://www.mirror.co.uk/news/uk-news/Burqa-gang-selfridges-raid-male-3397803#ixzz2yZckRktH
-----------
Meet Ayesha Islam a homemaker who broke the political barrier
Apr 11, 2014
Ayesha Islam | SP candidate from Bareilly: Born in a conservative Muslim family of Bareilly, she grew up in Sharia governed Saudi Arabia. After obtaining commerce degree in Jeddah, she returned to her roots in 2003 to become a homemaker. She is Ayesha Islam, Samajwadi Party candidate from Bareilly.
Ayesha's transition from a housewife to a politician has been sudden but smooth. "My husband and father-in-law were already into politics. So it was never anything new, especially when the situation came for me take the responsibility after nine years of marriage," says Ayesha, adding that initially it was difficult to balance time since she has two sons, Ridan and Sharf.
Speaking about the change politics has brought in her life, Ayesha says, "Now there is no life of my own. You never know when you are needed in your constituency." But that is what politics is all about and I have no complaints, she adds.
Initially her parents were not sure of her decision to turn a full-time politician. "They were a bit unsure how would the community, relatives and social contacts in Saudi Arabia respond to it. But eventually they stood by me," she says.
She doesn't see herself as a role model for Muslim women. "I am not doing some which a Muslim girl has not done before. There are likes of Mohsina Qidwai from UP who has been in politics since decades," she says.
With her husband and father-in-law by her side for any political advice, Ayesha is still getting familiar with the art of speaking the right words at the right time. This is perhaps the reason why she is always accompanied by husband Shehzil Islam. This interview was no exception. Shehzil chipped in whenever Ayesha was hesitant. In fact, photographers complain they are yet to click Ayesha Islam alone. But she is not complaining. "I am thankful that he is with me. He understands politics much better than how I would have had if I were in his place," Ayesha says.
http://timesofindia.indiatimes.com/home/lok-sabha-elections-2014/news/Meet-Ayesha-Islam-a-homemaker-who-broke-the-political-barrier/articleshow/33469129.cms
-----------
Turkey's ex-army general says headscarf ban was 'mistake'
World Bulletin / News Desk
Apr 11, 2014
Turkey's former Chief of Army Staff, Ilker Basbug, has admitted that the banning of mothers who wore headscarves from attending the funeral of Turkish soldiers killed in battle was wrong.
Speaking to reporters on Friday, the retired general rejected claims the the Turkish Armed Forces was against religion and said that one of his favorite sayings to his soldiers was 'there is no such thing as an Atheist on the battlefield.'
However, he admitted that the Turkish Armed Forces had committed mistakes in the past, one of them being the prevention of headscarved women from attending initiation ceremonies and the funerals of their sons who had given their lives serving on the front line.
'Of course we had mistakes,' he said, pointing out the army's former practice of banning the headscarf from its premises.
'I discussed this problem with my companions during my era and urged them to find a solution for it,' he said.
He also said that the preventing of Turkish soldiers from participating in the Janazah (funeral) prayer for the deceased soldier was wrong, but said that this mistake has now been corrected.
General Ilker Basbug had been sentence to jail in August after being found guilty of conspiring as part of the shadowy 'deep-state' Ergenekon network which was planning to carry out a coup on the Turkish government.
However, Basbug released from prison early in March after Turkey's constitutional court found that his rights had been violated in the run up towards his sentencing.
The headscarf ban in Turkey was officially lifter late last year when Prime Minister Recep Tayyip Erdogan announced his 'democratization packet', which removed a number of restrictions on religious and cultural freedoms that had been enforced in Turkey since a military coup ousted former Prime Minister Necmettin Erbakan on 28 February 1997.
http://www.worldbulletin.net/todays-news/133510/turkeys-ex-army-general-says-headscarf-ban-was-mistake
-----------
Former Egyptian President's Widow Slams American Policy
Apr 11, 2014
The widow of Egypt's former president recently blasted the United States' policy towards Egypt, saying she was "sick and tired" of it.
Jehan Sadat, the widow of Anwar Sadat, said in a TV interview that the U.S. was trying to fragment Egypt, just like it fragmented Iraq and Syria. The interview aired on the Saudi-owned Egyptian MBC TV channel on February 17, and was translated and posted to YouTube on Thursday by the Middle East Media Research Institute (MEMRI).
"The truth is that [Abdel Fattah] Al-Sisi saved Egypt... In fact, not just Egypt... He saved all the Arab countries," said Sadat.
"The U.S. was about to fragment Egypt, just like it fragmented Iraq and Syria, and struck a blow against the Iraqi army, the Syrian army, and the other Arab armies – of Yemen, of Libya, and so on. The Egyptian army was next, because it was the only one remaining," she charged.
"Let me tell you, seeing what the U.S. did in Egypt... After we were such good friends, the U.S. treats us like that, trying to fragment the Egyptian people and break down the Egyptian army... I am sick and tired of U.S. policy. I loathe it," declared Sadat.
"I can't believe that Obama would do what he is doing. It's not just Obama. It's a plot hatched years ago, but Obama is the one implementing it," she claimed.
In October, three months after the Egyptian army ousted Islamist and pro-Muslim Brotherhood President Mohammed Morsi, the United States announced it would cut hundreds of millions of dollars in aid to Egypt over its displeasure with the military's pace of restoring democracy.
U.S. law forbids sending aid to countries where a democratic government was deposed by a military coup, though Washington has never qualified Morsi's ouster as a "coup" and has been cautious about doing so, choosing only to condemn the violence in the country.
Late last month, Washington again threatened that U.S. aid to Egypt was in jeopardy after an Egyptian court sentenced 529 supporters of the Muslim Brotherhood to death.
http://www.israelnationalnews.com/News/News.aspx/179523#.U0fMSKhdU4U
-----------
French jihadist defends taking baby to war-torn Syria
Apr 11, 2014
The French father of 2-year-old Assia has denied kidnapping charges after he took the girl to Syria and joined an armed rebel group linked to al Qaeda, saying he has acted in accordance with Islamic law. His ex-wife is suing for custody.
In a telephone interview with FRANCE 24's sister station Radio France Internationale (RFI) on Wednesday, Hamza Madhouj said his decision to move to Syria with his daughter was not a kidnapping. "Assia is not a hostage. I took my daughter with me, that's completely different," he said.
On October 24, 2013, Madhouj left his home in Lyon with his 18-month-old daughter. He drove through Italy, Greece and Turkey and joined Jabhat al-Nusra, a Syrian armed group affiliated with al-Qaeda.
Madhouj's ex-wife Meriem Rhaiem has not seen their daughter since then. Rhaiem is suing Madhouj for kidnapping and he is now on Interpol's wanted list.
"In our religion, there's a command called hijra – it's an obligation for all Muslims not to live in a non-Muslim country. Her mother refused to follow us," Madhouj argues.
Rhaiem and other parents of French children taken to Syria by relatives held a press conference on Wednesday, calling on the government to help bring them back.
"Is someone looking after her?"
"The questions I have to live with every day are what is she drinking, what is she eating, is she keeping clean, is someone looking after her?" she told FRANCE 24 in an interview prior to the press conference. "I'm living in constant anxiety – in my struggle, every second counts."
Rhaiem says her ex-husband told her he would rather see their daughter die in Syria than return to France.
Madhouj insists he is taking care of his daughter. "I never said I would rather my daughter died in Syria. I never said that, it's not true," he told RFI.
He added that they were near the Turkish border, away from the worst of the fighting. "She eats like every child and sleeps like every child. We are not in a war zone, there are no bombings, I'm not crazy enough to take my daughter into a war zone," he said.
http://www.france24.com/en/20140410-france-syria-jihadist-baby-assia-nosra-war/
-----------
Islam critic Ayaan Hirsi Ali speaks out on Brandeis decision to withdraw degree
Apr 11, 2014
Ayaan Hirsi Ali, a staunch critic of Islam and its treatment of women who was supposed to receive an honorary degree from Brandeis University only to have it withdrawn amid criticism of her political positions, told Megyn Kelly Wednesday that she wasn't surpised by the school's decision.
"Everytime I say, 'hey, it's important that we talk about this' ... you have people like (the Council on American-Islamic Relations) who deny this," Ali said on "The Kelly File." "This should be addressed."
Ali said she wasn't surprised that the degree was rescinded, though she said she was surprised it was offered in the first place.
"I'm used to it," Ali said. "What surprised me is the decision by Brandeis, first to say we want to give you this honor, we know what you do. In the age of Google, all of this is out there, it's all public."
She went on to speculate that the decision was motivated in part by a fear of offending Muslims.
"There's always this fear that if you insult Muslims, there's going to be some kind of violent reprecussion," she said. "They're not doing their students any favors, and they're not doing their Muslim students any favors."
However, Ibrahim Hooper, a spokesman for CAIR, told Kelly on Wednesday that the organization believed Ali showed bias against Muslims in general, not just radical Islam.
"When a prestigious university like Brandeis is about to honor her and endorse her views, that's when we speak out," he said.
Ali, a member of the Dutch Parliament from 2003 to 2006, has been quoted as making comments critical of Islam. That includes a 2007 interview with Reason Magazine in which she said of the religion, "Once it's defeated, it can mutate into something peaceful. It's very difficult to even talk about peace now. They're not interested in peace. I think that we are at war with Islam. And there's no middle ground in wars."
Ali was raised in a strict Muslim family, but after surviving a civil war, genital mutilation, beatings and an arranged marriage, she renounced the faith in her 30s. She has not commented publicly on the issue of the honorary degree.
In 2007, Ali helped establish the AHA Foundation, which works to protect and defend the rights of women in the West from oppression justified by religion and culture, according to its website. The foundation also strives to protect basic rights and freedoms of women and girls. This includes control of their own bodies, access to an education and the ability to work outside the home and control their own income, the website says.
More than 85 of about 350 faculty members at Brandeis signed a letter asking for Ali to be removed from the list of honorary degree recipients. And an online petition created Monday by students at the school of 5,800 had gathered thousands of signatures from inside and outside the university as of Tuesday afternoon.
The Associated Press contributed to this report.
http://www.foxnews.com/politics/2014/04/10/islam-critic-ayaan-hirsi-ali-speaks-out-on-brandeis-decision-to-withdraw-degree/
-----------
UN chief teams up with global leaders, celebrities to get all children into school by 2015
Apr 11, 2014
Secretary-General Ban Ki-moon today joined a prominent roster of global leaders, campaigners and celebrities in Washington, D.C. to help launch a new worldwide campaign that aims to get 57 million children into school.
The launch of the Emergency Coalition for Global Education Action comes in response to the news that the international community could fall short on the UN Millennium Development Goal (MDG) to get all children into education by 2015. If the current pace continues, it will be 2086 before all children are in school and learning.
The coalition – which includes singer and songwriter Shakira, actors Jude Law and Goldie Hawn, and CNN International anchor Isha Sesay – will work even harder to accelerate progress until the end of 2015 to ensure all girls and boys are in school.
"You are here to help ensure that every child enjoys his or her right to education – and I am pleased to stand with all of you in working towards that goal," the Secretary-General said in his remarks on the launch of the new campaign.
Mr. Ban noted that too many children are kept out of school because of displacement, conflict, child labour, child marriage, and sexual and gender-based violence. Moreover, entrenched poverty and lack of security often turn schools and neighbourhoods into places of vulnerability and brutality, instead of opportunity and vitality.
"No girl should be enslaved instead of being in school. No child should be married instead of being in school. No child should be denied an education because his or her country is at war. No child should be targeted for violence because she or he wants to exercise the fundamental right to education," he stated. "Together, we can change this."
The Emergency Coalition – convened by UN Special Envoy for Global Education, Gordon Brown – calls for four zeroes: zero child marriage; zero child labour; zero discrimination against girls; and zero exclusion from education.
Mr. Brown called the current situation "unacceptable from a moral, economic and global security perspective" and stressed the domestic governments and non-governmental organizations must be pushed to honour their commitments to out-of-school children.
"We made a promise to children worldwide that they would be in school by 2015," the former British prime minister stated. "We must now put education on the international agenda in a way that cannot be ignored. Together, we will tackle the key barriers to education – child marriage, child labour and discrimination against girls."
The launch of the Emergency Coalition took place at the 2015 Countdown Summit held in the United States capital to pressure the international community to take action on behalf of children everywhere.
The summit is organized in collaboration with 'A World at School' campaign and more than 100 civil society partners working to accelerate progress for children across the world. Sarah Brown, Founder of A World at School, will unveil a network of 500 youth ambassadors from 80 countries who are to work internationally to promote learning for all.
The youth ambassadors form the UN Youth Advocacy Group for the Global Education First Initiative launched by Mr. Ban in September 2012 with the following three priorities: to put every child in school; to improve the quality of learning; and to foster global citizenship.
The ambassadors, including education campaigners Shazia Ramzan and Kainat Raiza who were caught up in the Pakistan gun attack on Malala Yousafzai, will be lobbying Governments for change, getting involved in local projects and trying to raise the profile of what is now a full-blown education emergency. They will also announce a June takeover of the African Union on the Day of the African Child to highlight need for urgent action for education.
A Global Faiths Coalition for Education will also be announced at the summit, which will culminate with a shared plan of action for a 500-Day Countdown campaign to highlight important areas representing the key barriers to education.
Among his other activities today, the Secretary-General attended a symposium organized by the World Bank on learning for all, at which he stressed that there is no greater return than investing in education. "I call on political leaders to show the leadership and foresight needed to reap the many benefits of a well-educated and highly-skilled population," he said.
"I also call for those investments to be targeted to countries most in need and the young people who are hardest to reach," he added, noting that this includes children in fragile and conflict-affected States, girls, children with disabilities, children living in remote rural areas and those living in poverty.
Mr. Ban also attended a World Bank event at which leaders called on young people to help make this generation the first in history to end extreme poverty. "I know that your generation can break this vicious cycle of extreme poverty, and I count on your strong engagement and leadership," he told the event, which featured the inspiring voices and stories of young leaders taking on critical issues – from entrepreneurship to education to gender equality.
http://www.un.org/apps/news/story.asp?NewsID=47543&Cr=education&Cr1=for+all#.U0fEn6hdU4U
-----------
Philips Seeks To Empower Young Saudi Female Talents
Apr 11, 2014
RIYADH — Philips recently participated in 'Glowork', the largest female career fair in Saudi Arabia, in an effort to expand its engagement with future female leaders and empower them to consider careers in the professional workforce of the Kingdom.
At the event held on April 6-8 at a hotel in Riyadh, Philips organized a series of workshops to highlight the rewarding career opportunities available for talented Saudi female students across its businesses and offers specialized insights on enhancing their career opportunities.
"Philips is committed to supporting young Saudi talents and we will leverage every opportunity that will allow us to continuously engage them. We have taken several initiatives to train and recruit local talents in various roles across Philips," said Munnera Aldakheel, Talent Acquisition Specialist at Philips Saudi Arabia.
"We would also like to thank 'Glowork' for holding such a great event and providing us with a chance to try and position ourselves as the future employer of choice for local talents in the Kingdom," Munnera added.
Khalid Alkhudair, a founder and CEO of 'Glowork', said: "We are delighted to have Philips participating at the 'Glowork' event. As a leading e-portal career gateway dedicated to match women with jobs by creating opportunities in sectors previously inaccessible to females, it has placed over 3,000 women in the workplace and found work-from-home jobs for 500 others."
Philips has a highly diverse workforce of 100 nationalities from 32 countries, with 30 percent women, believing that diversity is the key to a propel business growth engines and sustain momentum. Multifaceted teams of employees with a broad range of skills, experience and qualifications promote the wealth of ideas at the company and strengthen its power of innovation.
The Career Fair attracted more than 22,000 graduates from various major schools and provided a professional platform where they could be in direct contact with future employers while exploring recruitment and training opportunities. — SG
http://www.saudigazette.com.sa/index.cfm?method=home.regcon&contentid=20140411201580
----------
Pregnant Rohingya woman killed by nurses in Myanmar
World Bulletin / News Desk
April 11, 2014
It has been claimed that nurses in Myanmar killed a pregnant Rohingya woman who had checked into hospital due to a urinal infection but never checked out.
28-year-old Hasina Begum, a Rohingya refugee who had been displaced after her village was razed to the ground by Buddhist extremists, arrived at Arakan's Sittwe General hospital on April 5. On the night of April 8, however, she was pronounced dead at the hospital.
Speaking to Rohingya Vision, an eye-witness Jamila Begum claimed that her cousin Hasina, who was two months pregnant, was killed by the nurses upon the orders of the doctor.
The witness said that two Rakhine nurses had turned up to give her an injection even though she had recovered and was not in need of one. When the witness refused the allow the nurses to give her the injection, the witness was beaten.
The two nurses then proceeded to give Mrs Begum the injection, asking her threateningly 'will you still claim to be Rohingya?'
Withing three minutes, Mrs Begum was dead. Her body was discharged the next day.
She leaves behind a 6-year-old child and a physically disabled father in the Depaing (Refot Baariza) refugee camps.
Rohingyas, the native Muslim minority of Myanmar, have been denied citizenship by the Myanmar government and representation in the national census as the authorities claim that they are illegal immigrants from Bangladesh.
Ongoing violence against the community by Buddhist extremists in the Rakhine State have forced many of them to risk their lives fleeing the surrounding countries across dangerous seas and terrain.
Many of those who survive the dangerous trek have fallen victim to traffickers who hold them hostage in remote locations. Many also face deportation a persecution in the countries where they seek refuge.
http://www.worldbulletin.net/headlines/133527/pregnant-rohingya-woman-killed-by-nurses-in-myanmar'
-----------
URL: https://newageislam.com/islam-women-feminism/child-bride-forced-marriage-killed/d/66499